Here's how to make a flounce hem the best easy way
Article may contain Amazon & affiliate links. As an Amazon Associate I earn from qualifying purchases at no additional cost to you.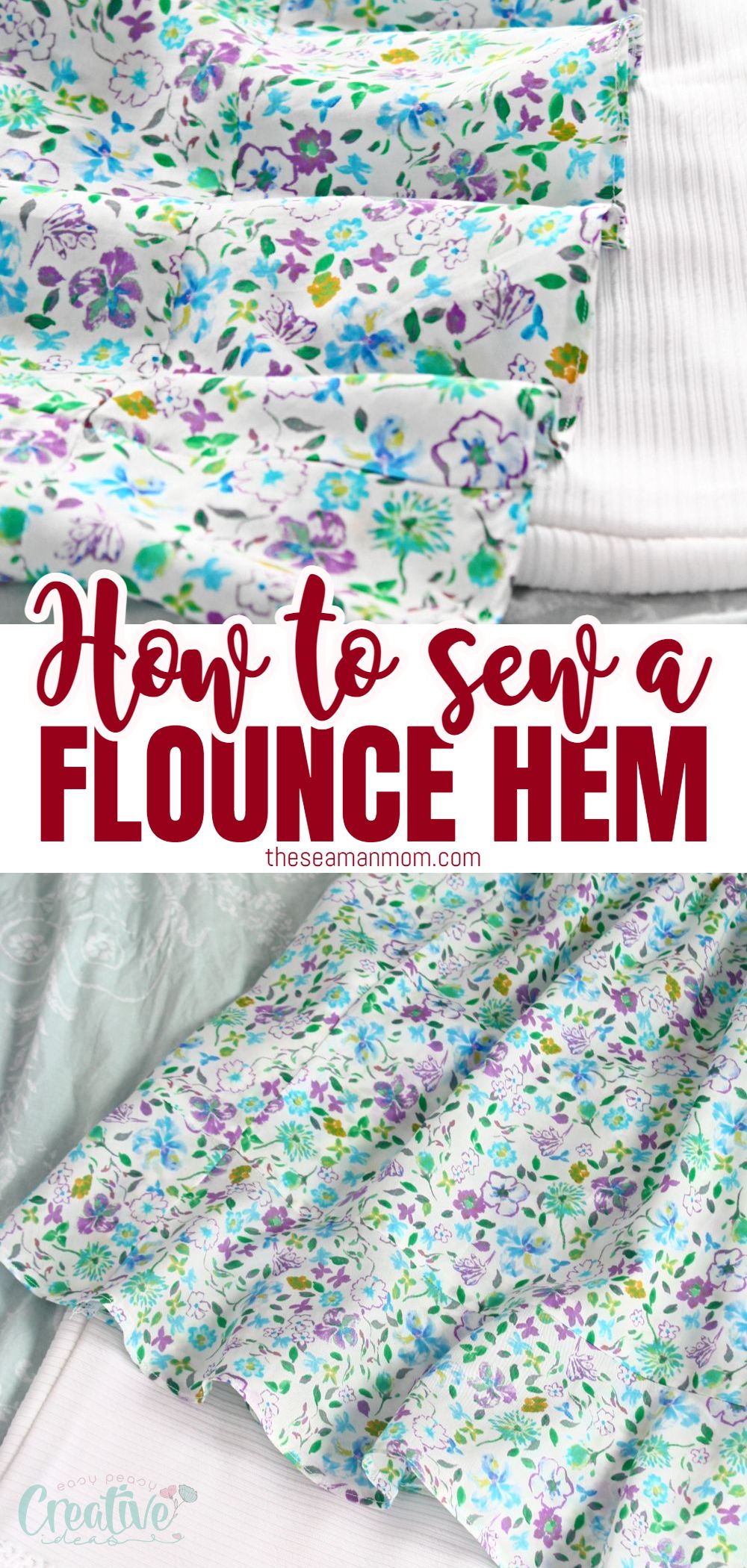 Did you know that there's more than just one way to sew beautiful ruffles? Here's how to make a flounce or a circular ruffle without gathering the fabric or using a special gathering or ruffling foot!
Flounce hem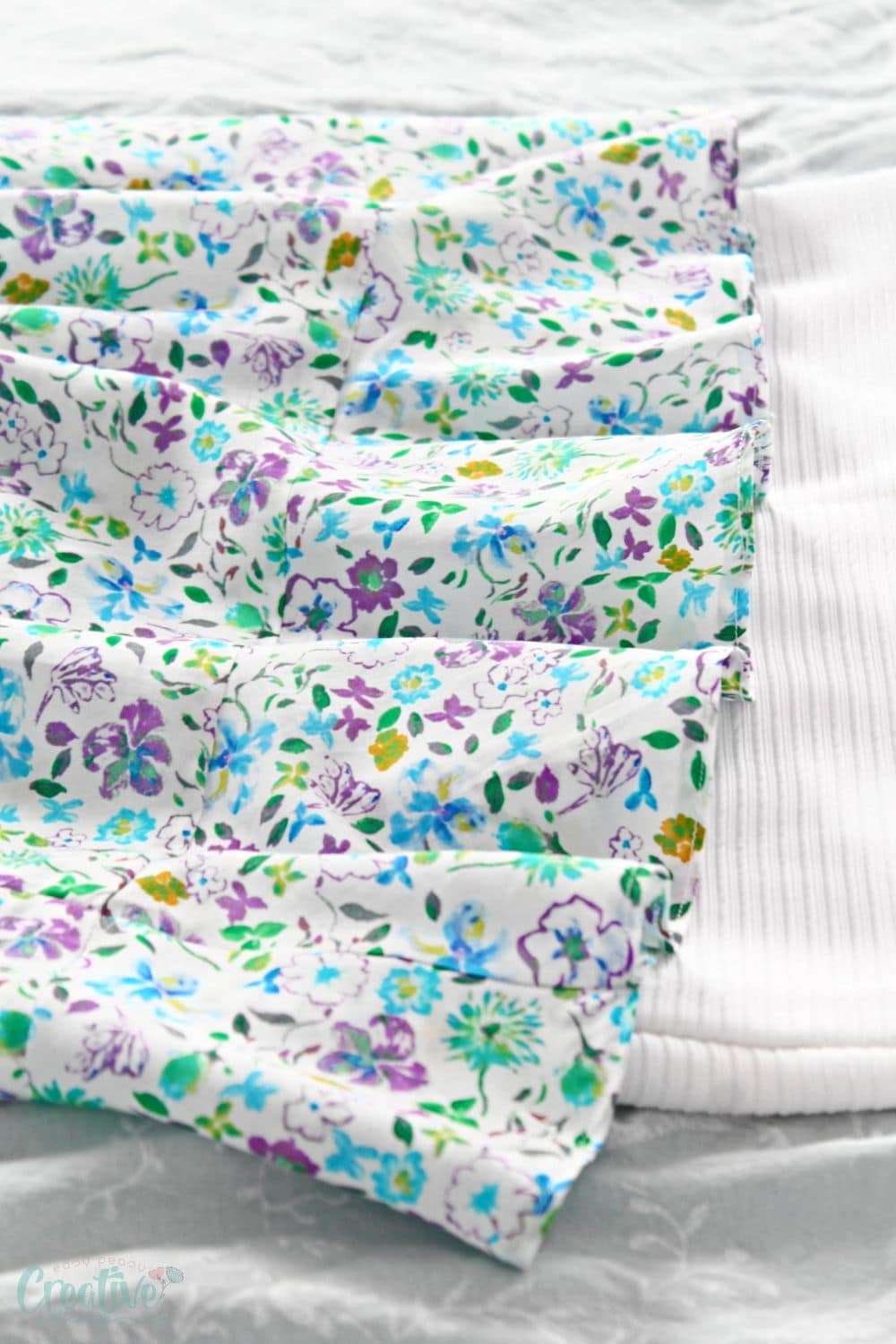 Adding a gorgeous ruffle to any piece of garment cannot get easier with a flounce ruffle. Making ruffles with a gathering foot might be the most popular method but learning how to make a flounce could save you lots of time! Not to mention it will add a sense of sweetness that is totally different than when making gathered ruffles.
---
This tutorial has been converted to a PDF file, available to purchase HERE. This article is completely free to read.
---
Making a flounce pattern is also super easy for any piece of garment! A flounce hem is basically a circular ruffle cut from a circular piece of fabric rather than a straight strip as you do with a regular ruffle. Below I'll show you how to make a flounce in just a couple of simple steps. But the basic idea is to cut a strip of fabric in a circle and sew it to a straight piece of fabric (like a blouse, dress or skirt). This straightens the circle and creates a beautiful wave. The size of the curve and the depth of the ruffle creates more of a wave so the deeper the curve, the wavier the ruffle!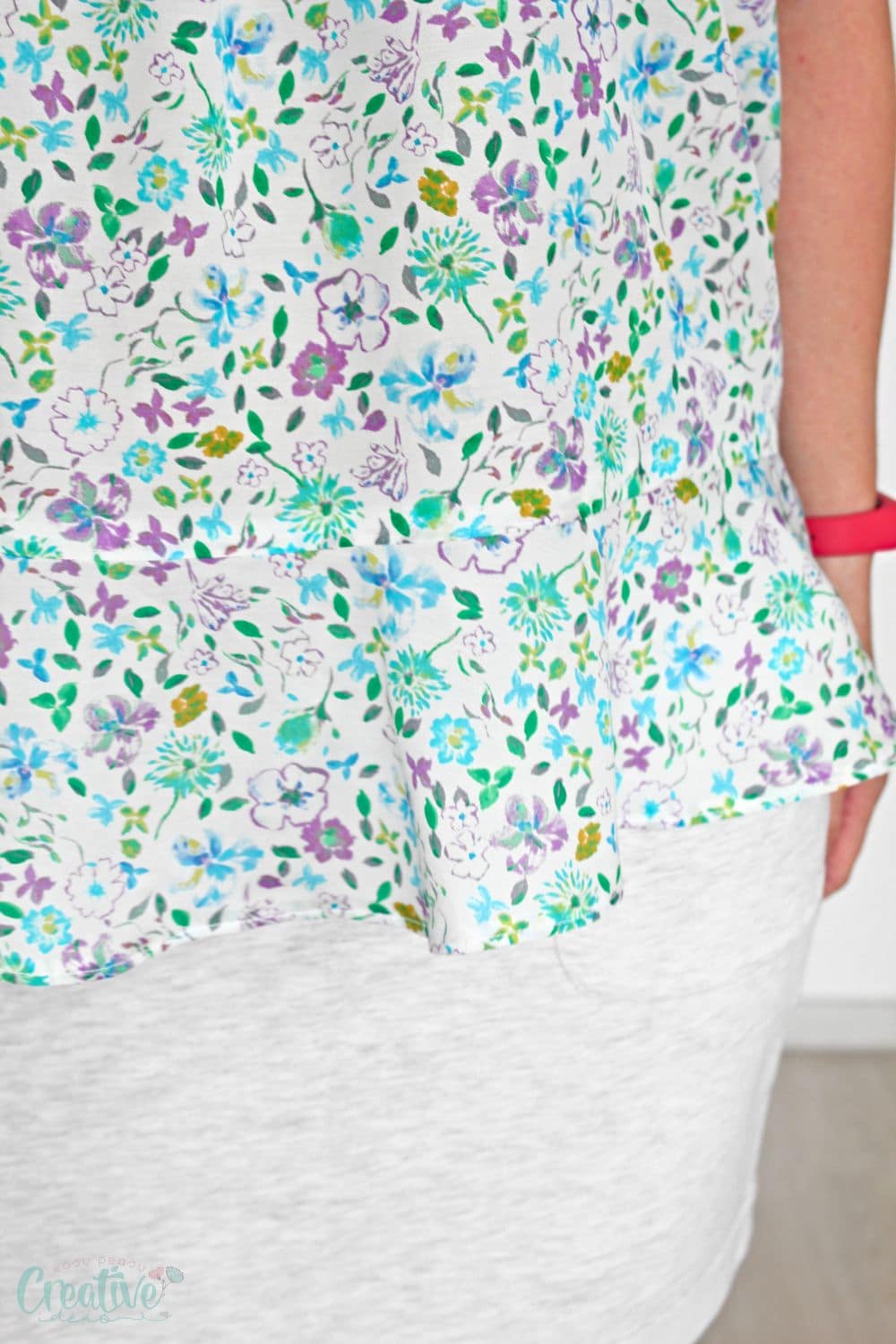 Want more sewing tips?
In addition to being quick to make and super sweet, a flounce ruffle creates little to no bulk, making it easier to attach to any piece of garment with absolutely no problems. The gathers won't move as it may happen in a regular gathered ruffle.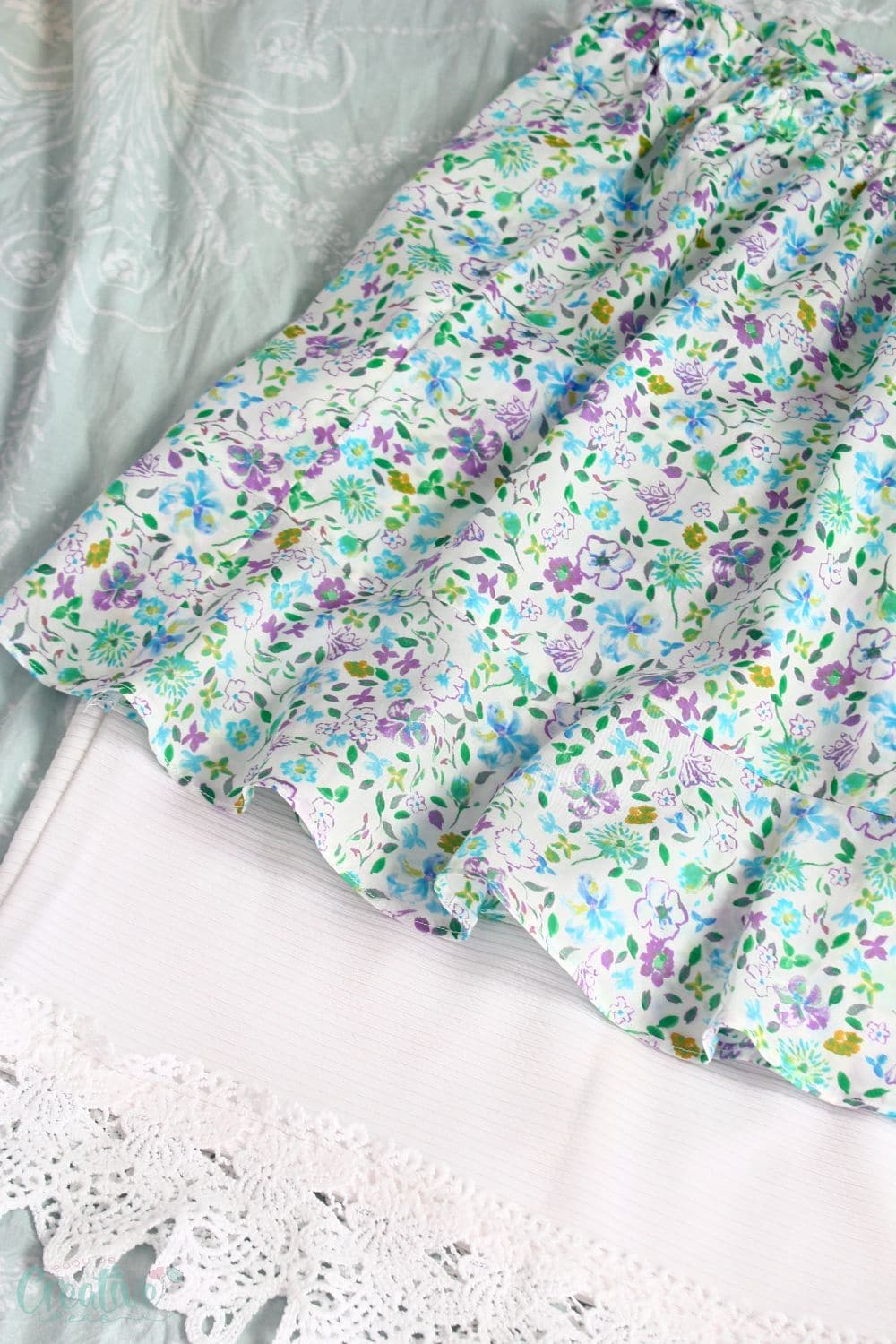 The circumference of your circular ruffle should match the edge of the garment. As for the width that is up to you. A wider flounce will look better as hems on skirts, dresses and blouses. A narrower flounce is best suitable as a hem for sleeves, as a finishing touch to a neckline or as a diagonal detail for blouses, t-shirts or swimsuits.
When I learned how to make a flounce I found it easier to just cut a long strip of circular fabric, attach the inner circle to the garment and then trim the excess off. I didn't want to accidentally cut a flounce that is too small for my project. But if you've confident in your skills, just match the edge of the garment and the circumference of your circular strip and you're good to go.
How to make a flounce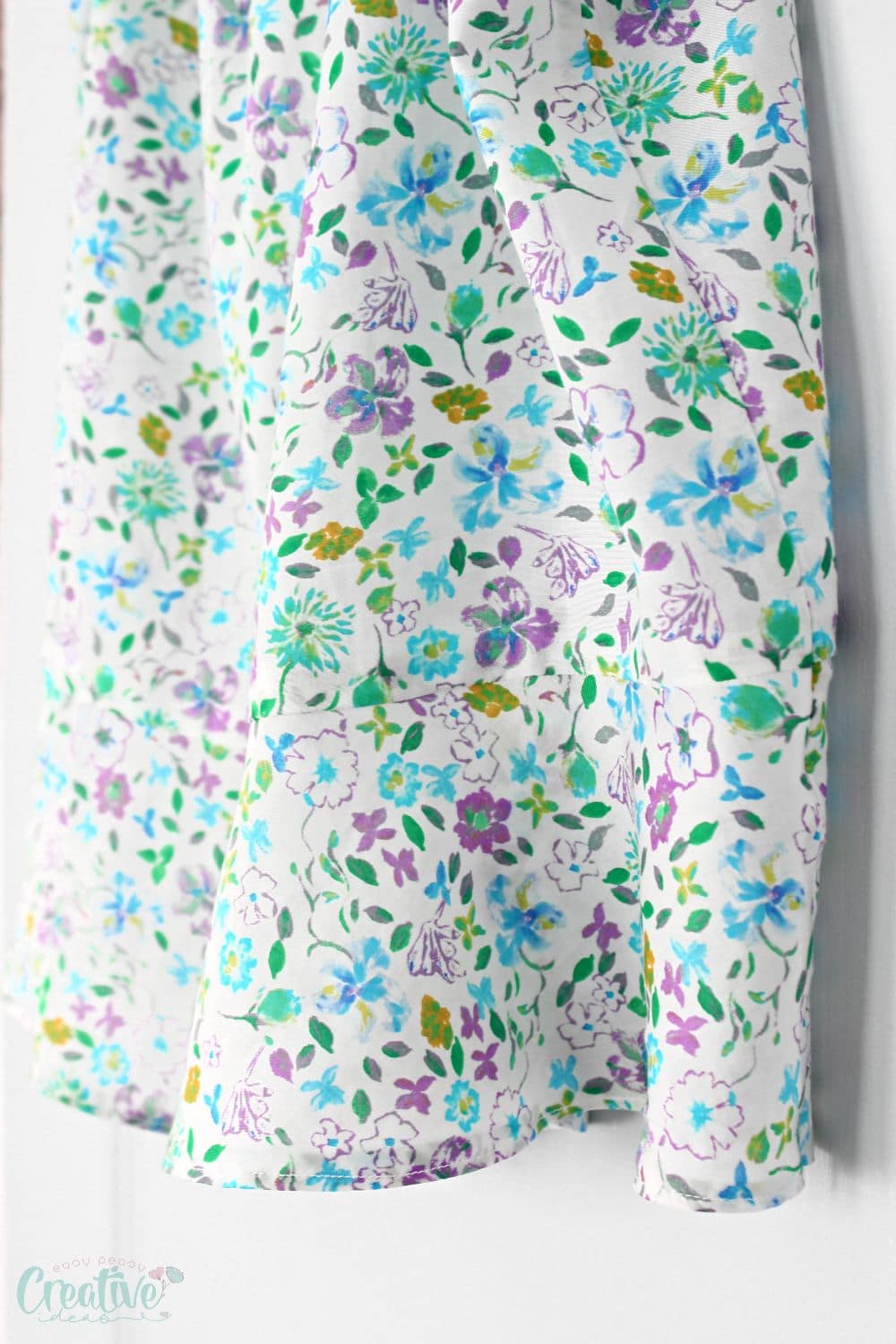 Materials:
square of fabric
measuring tape
a round object with the circumference the same length or large than the edge of the garment you need to attach the flounce to
a round object that is smaller than the object above (when picking these objects, bare in mind that the distance between the smaller circle and the larger circle is be the height of the ruffle)
Directions:
There are two ways you can create your flounce, using a half circle strip of fabric or a full circle strip.
Making a half flounce pattern
You can use a full flounce pattern or a half pattern as I did. The reason I wanted to make a half circle flounce is that I needed two layers of flounce. I added one to the front of a blouse and the second one to the back of my garment, then I joined the two piece of the blouse together at the sides.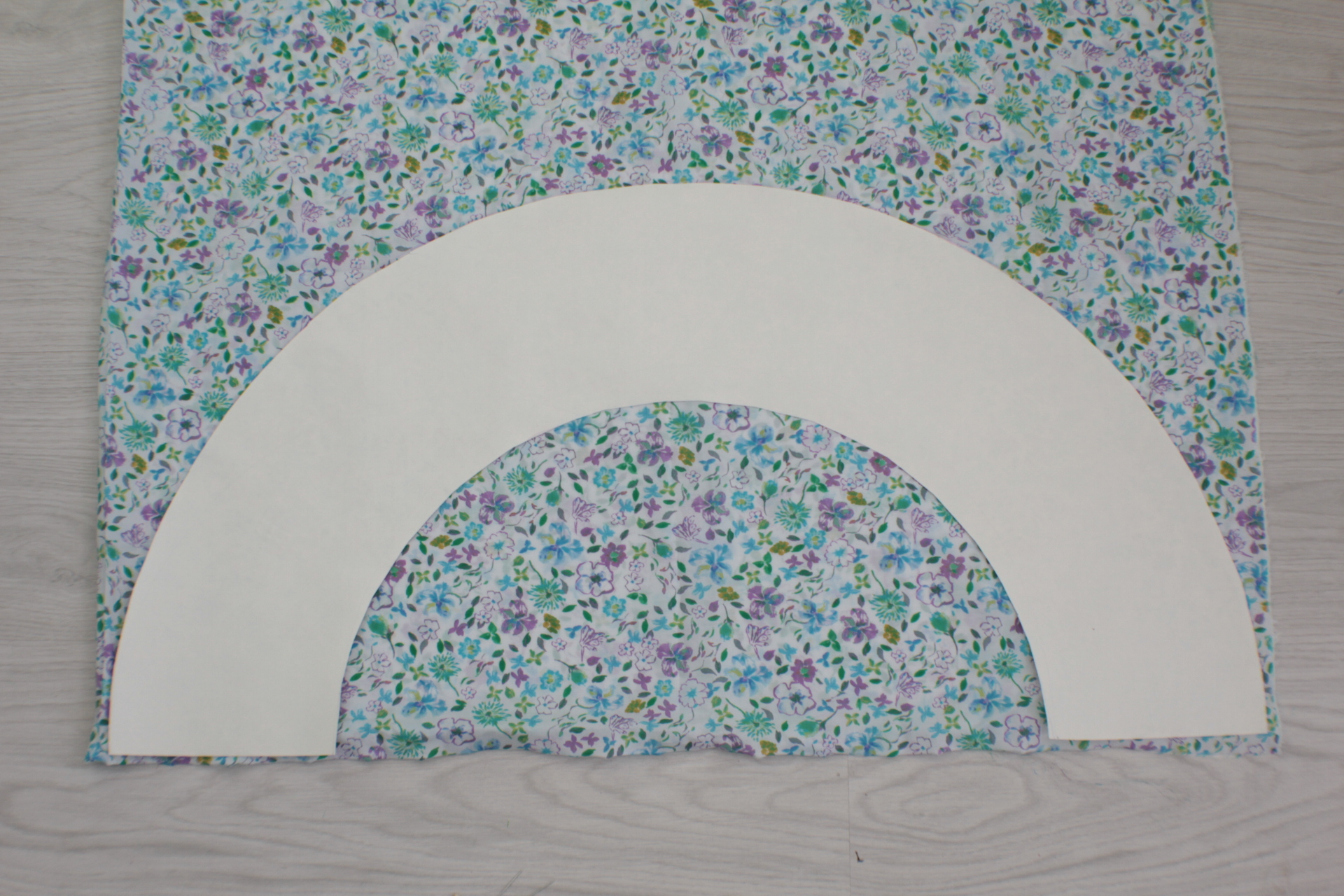 The process started with measuring the bottom of my blouse and divided it in half.
I used this measurement to draw a half circle on a large piece of paper, using a super large bowl.
After deciding how wide I wanted the flounce, I added that measurement to the circle I drew above and made a smaller circle, inside the larger one, using a smaller bowl.
Then I used the half circle to cut two flounce ruffles from my fabric.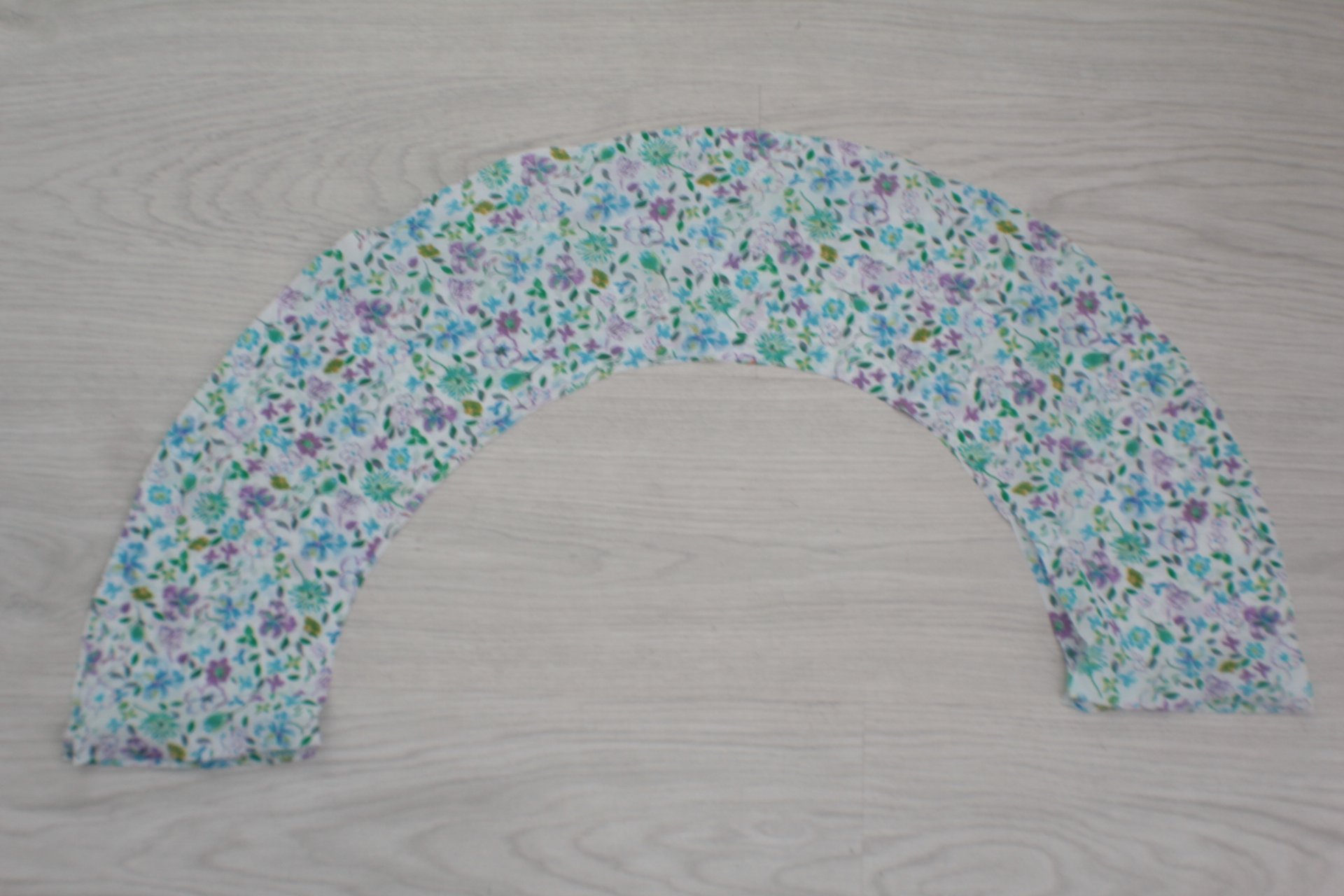 You can also make a half circle, fold the fabric in half, place the half circle on the fold then mark and cut out. This will give you a continuous circle that you need to cut open so you can attach it to the garment.
Making a full flounce pattern
Another alternative is to make a full circle directly on the fabric.
Lay your fabric square on a table and place the larger round object on the fabric.
Using a fabric pen, draw a circle around the object, onto your fabric.
Get the smaller round object and draw a smaller circle inside the larger circle.
Using your scissors, cut out the circle in the fabric.
Attach the inner circle to the edge of the garment, using a regular stitch then finish the seam with a zig zag stitch or by serging it.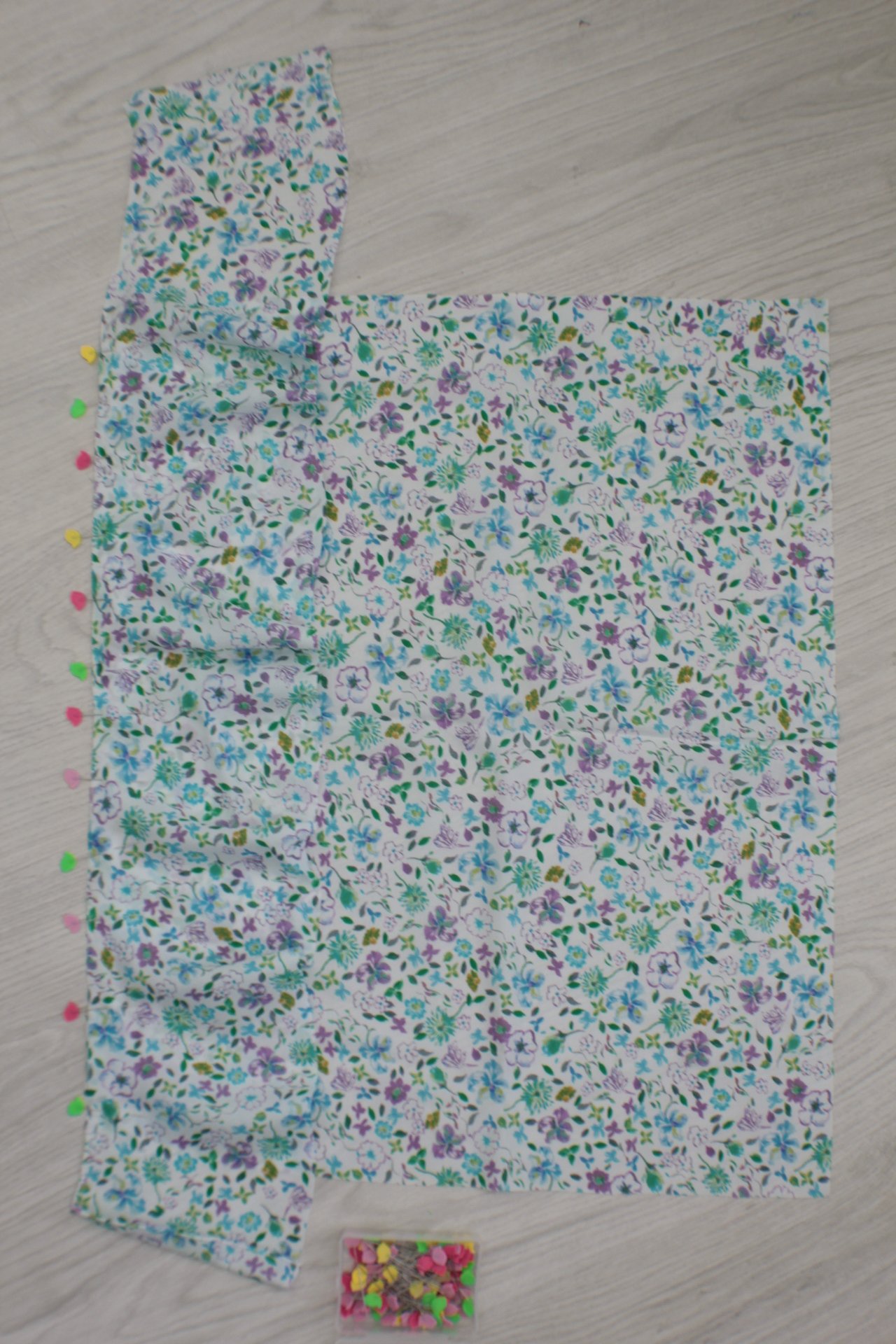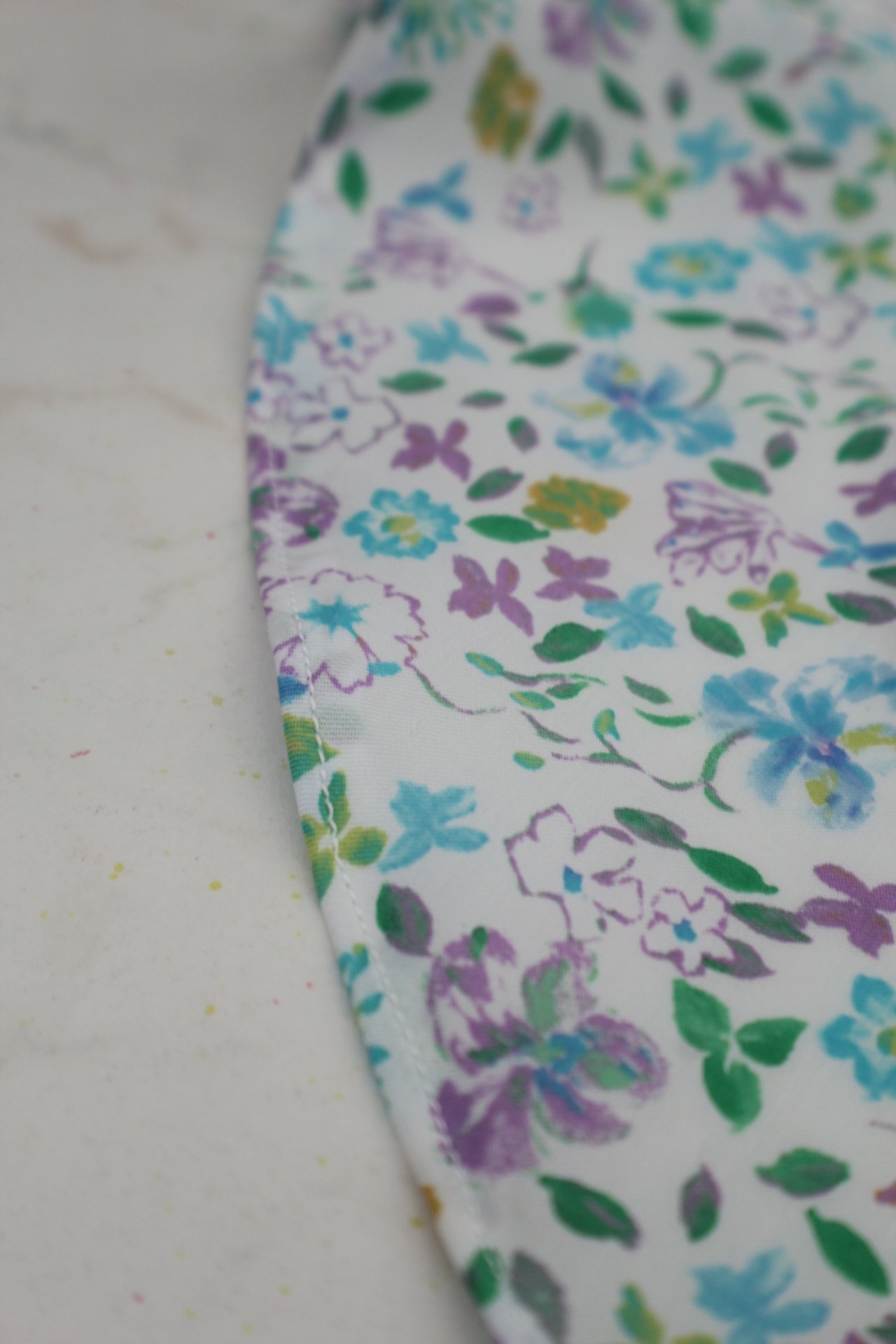 Please note that if you're using striped fabric, the direction of the strips in your flounce hem will change in all kinds of different directions, giving an unpleasant look to your ruffle. So you might want to use plain fabric to make your flounce ruffle.
I hope you enjoyed this tutorial. Please let me know your thoughts in the comment section below and don't forget to rate this tutorial. Thanks!
Pin to save for later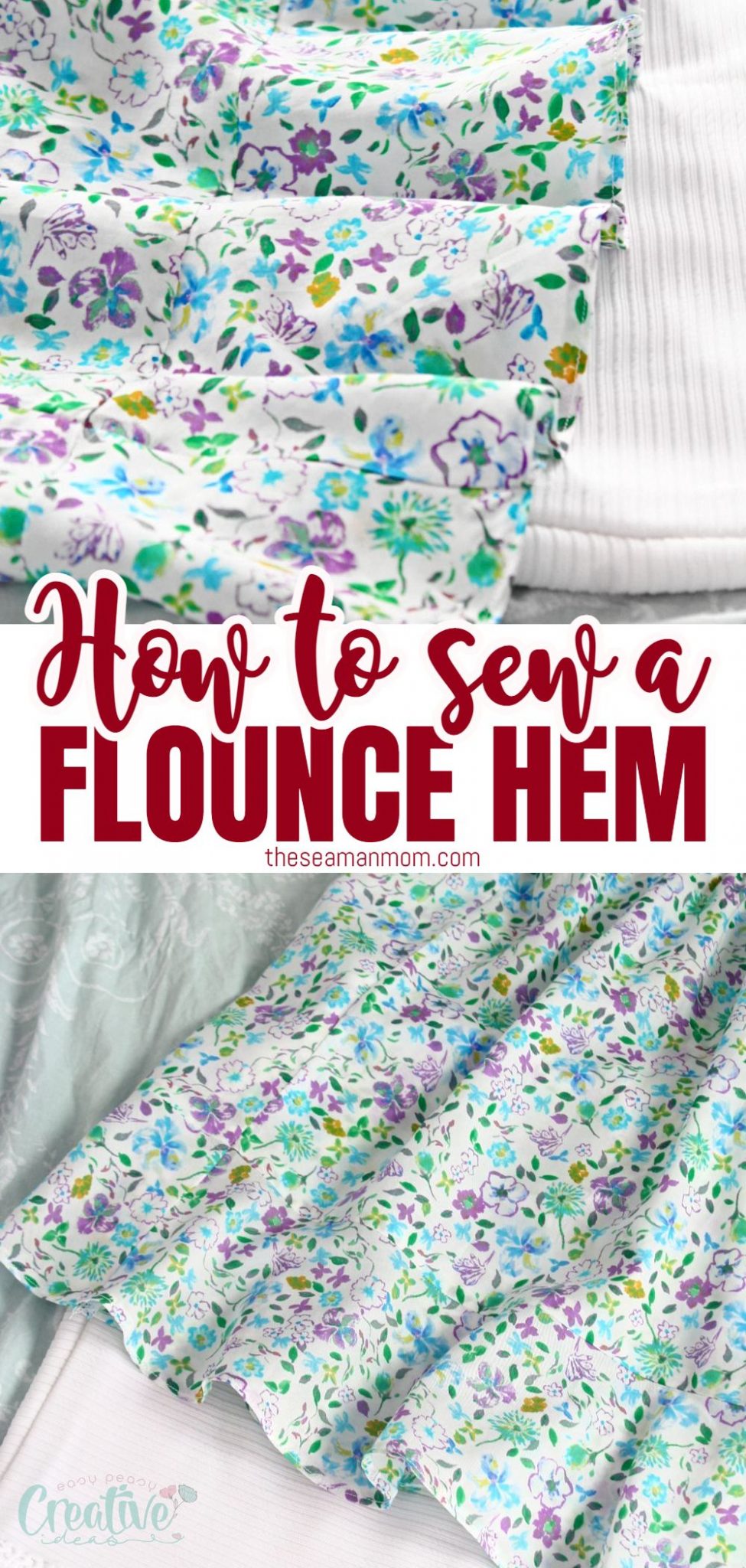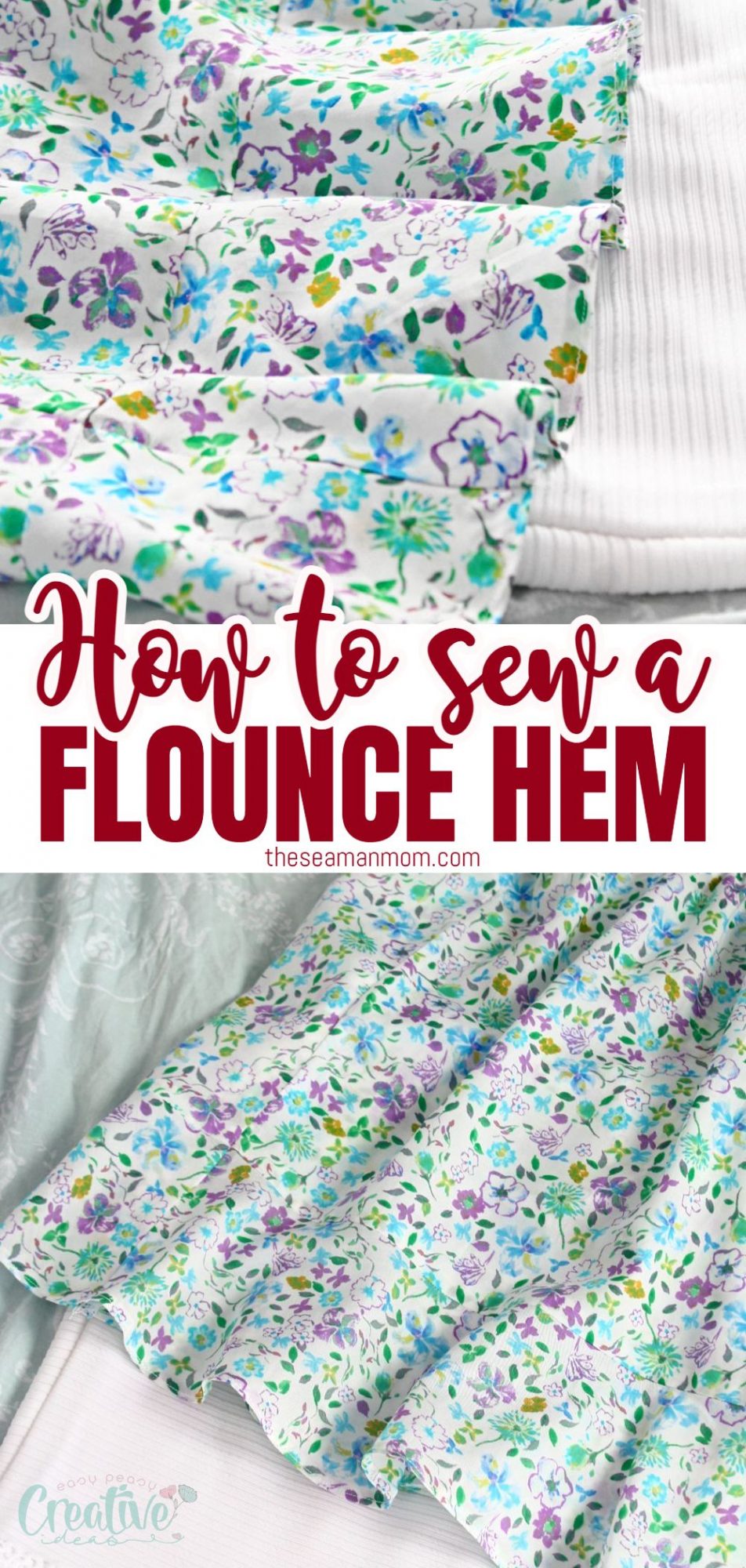 Most popular sewing projects: