Article may contain Amazon & affiliate links. As an Amazon Associate I earn from qualifying purchases at no additional cost to you.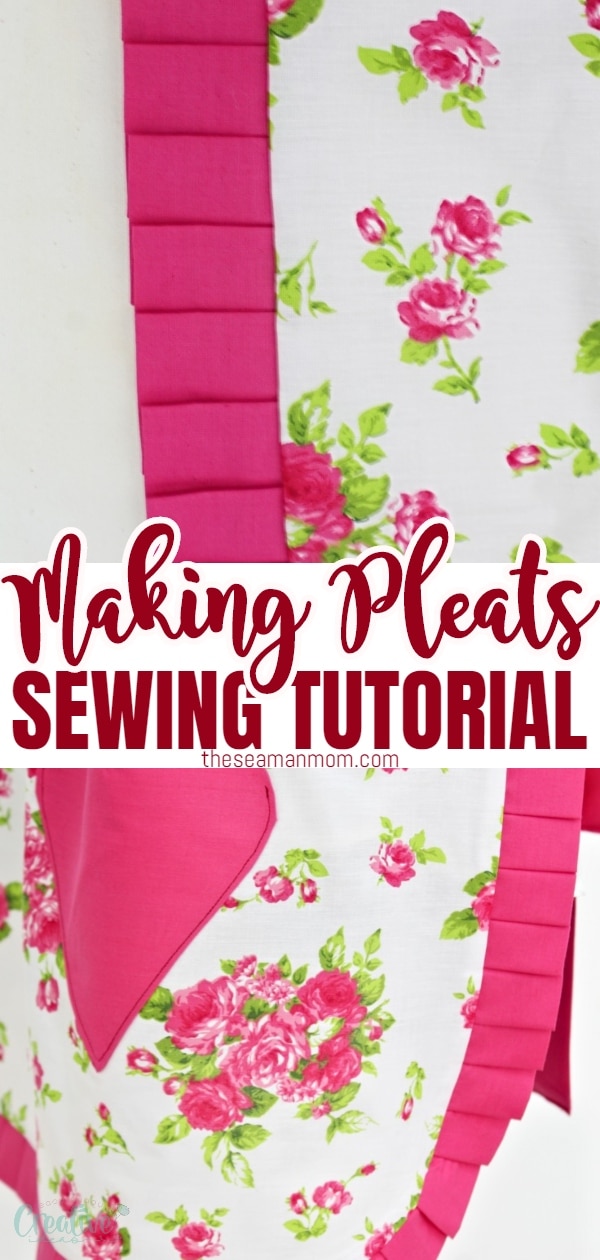 Pleated fabric looks so pretty, with knife pleats being the most common and for some, the easiest of their family. In this tutorial you'll learn how to make pleats with an easy peasy method, without the need for expensive or complicated sewing tools.
How to make pleats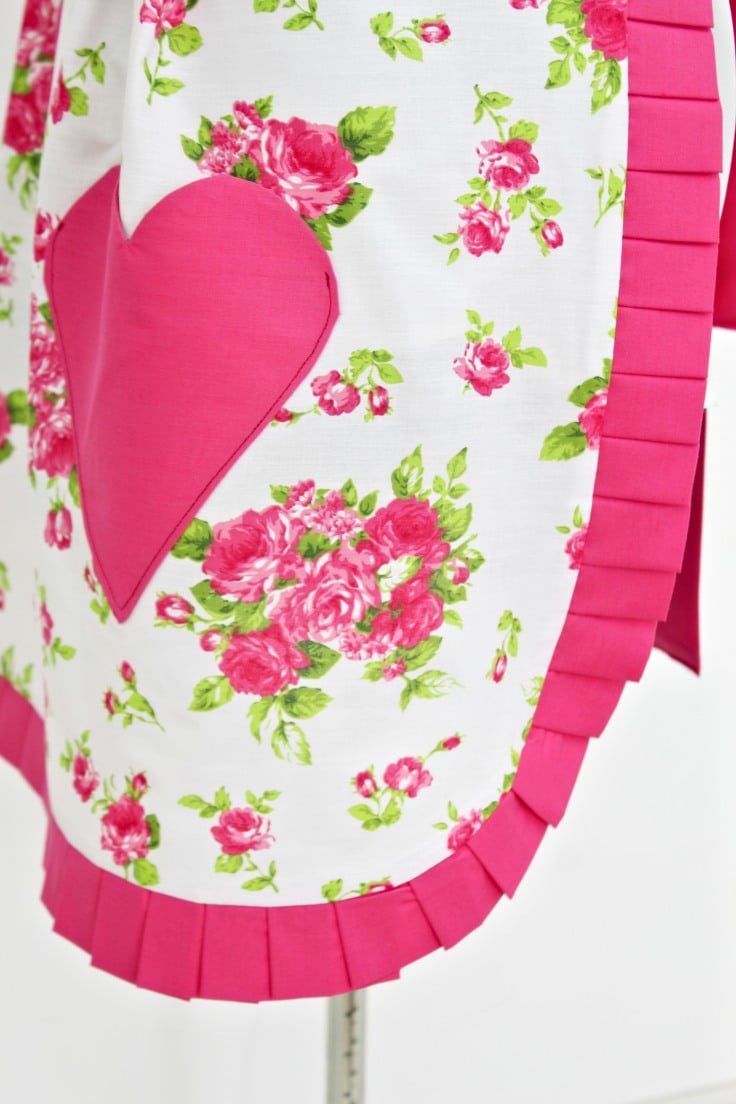 There are many types of pleats and I personally absolutely love the accordion type, these are one of my sewing dreams. But I find them a bit hard to make! That's why I resort to its (almost) twin sister: the knife pleats. In this quick tutorial I'll show you how to make pleats using my simple method.
When making these I'm not using any complicated sewing tools and I find that both making and sewing pleats with this method are such a breeze. I learned how to make pleats a while back, I don't think I was even sewing back in those years. My mom was making a skirt for her and wanted to add some so I took a look at her method out of pure curiosity, I never thought I'd actually have the chance to apply this method ever!
Need more sewing tips?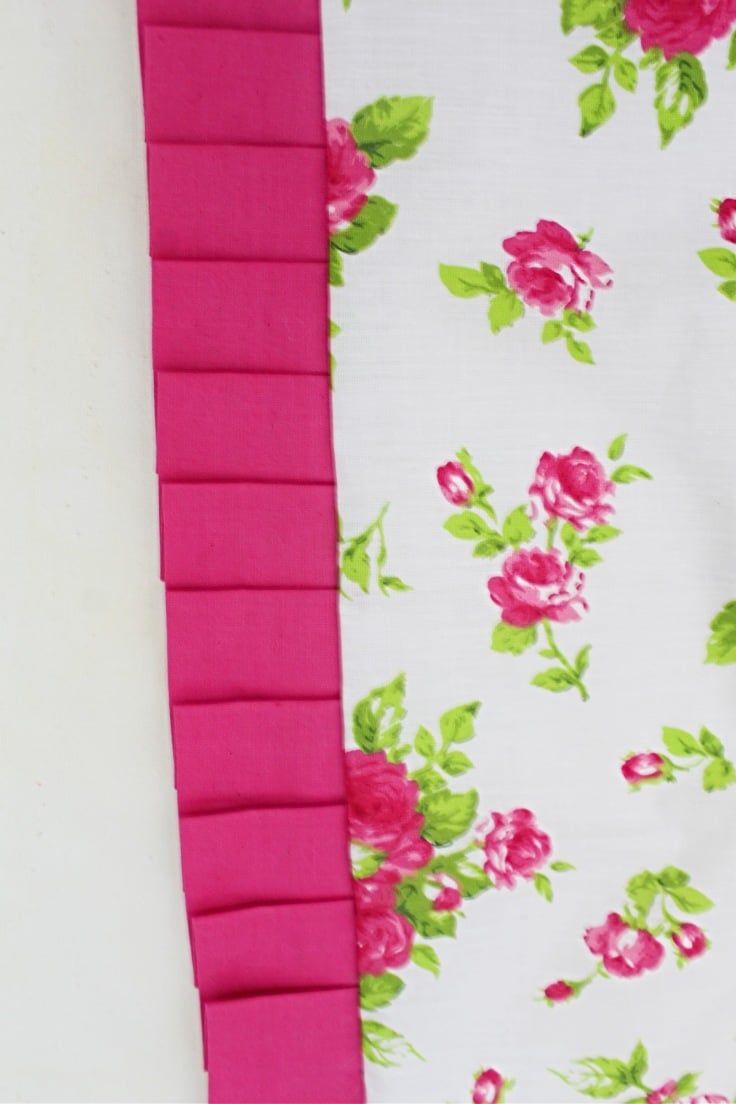 The information slipped my mind for several years and to be honest I didn't think I was gonna remember how to make pleats after just a few minutes of watching and never practicing. Turns out it was stuck in my mind for good! As I was making this pretty half apron, I wanted to make something new instead of just adding the same old ruffles to the edges of my apron. And this lovely method on came back to mind!
As I started working on making them, I realized why I never forgot mom's method: it's so crazy easy, I'm actually embarrassed to call this a tutorial. There no science behind this method, just some measurements and all you need are your bare hands, a seam gauge, a fabric pen, an iron and pin to keep the pleats together. And of course for sewing pleats you'll need thread and sewing machine, duh!
But wait, what are knife pleats?
Knife pleats are a great way to add fullness to a garment or a project the clean way, without adding bulk. This works well especially with skirts, when they are stitched at the top. They are mostly used in wide skirts to take in the fullness and make them fit at the waist.
Actually, the most popular skirts made this way are school uniform skirts and Scottish kilts. Draperies are another popular item that uses this kind of pleats, as they look a lot better when full than the plain fabric hung from the ceiling.
Basically, knife pleats are folds of fabric pressed on one direction on the right side of the fabric. No matter if using only a few to style the garment, or many of them alongside the whole piece, thee always have to be accurately measured to look professional.
You can use this method of making pleats for basically anything that uses pleats: skirts, pillow covers, shirts, napkins, etc. Always keep in mind that pleats should fall on the grain of the fabric. Patterned fabrics are the easiest, as the vertical design can help you a lot in planning the pleats.
What kind of fabric works best with pleats?
Fabric is very important when making pleats. Natural fabrics tend to hold pleats a lot better than synthetic ones when pressed and won't come back to their straight texture. Synthetic fabrics will eventually hold pleats, but they need a lot more work.
Also, fabric weight is an important factor, especially for the pleat width. Fine, linen fabrics are great for narrow pleats, as they don't add bulk, while heavier fabrics like wool or velvet, are better used for wider pleats.
Another important aspect of making knife pleats is that they don't overlap, instead they may touch each other in order to create a continuous look. This is not a must, though, as you can also use the knife pleats in different points to only add some accent to your project.
To tell you the truth, although they are called knife pleats, a fork will work just as well to help you make the pleats (check out this fork pleats tutorial for more details), especially when you need to make continuous pleats that touch each other. This way, you can make sure they are even-sized, without the need of measuring them.
Let's go see how to make pleats with my mom's method. You'll love it and want to use it in all your projects because sewing projects with pleated fabric are so darn sweet, aren't they?
How to sew pleats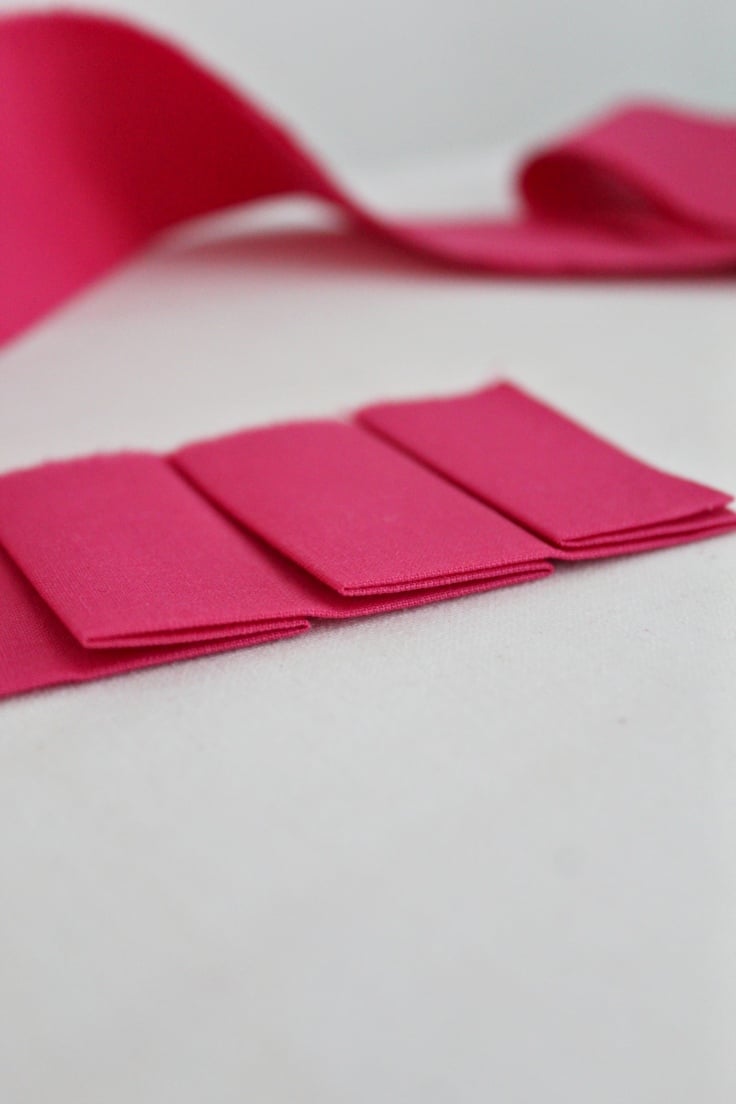 Materials:
strip of fabric
pressing iron
pins
matching thread
sewing machine
Directions:
Measuring
For the purpose of this tutorial I'll use the measurements I used in the half apron tutorial. So the pleats I was making were 1″ wide and the fabric strip I needed for my project was 4″ wide.
Fold the strip in half and press very well, with the iron on high steam, until you get a sharp fold.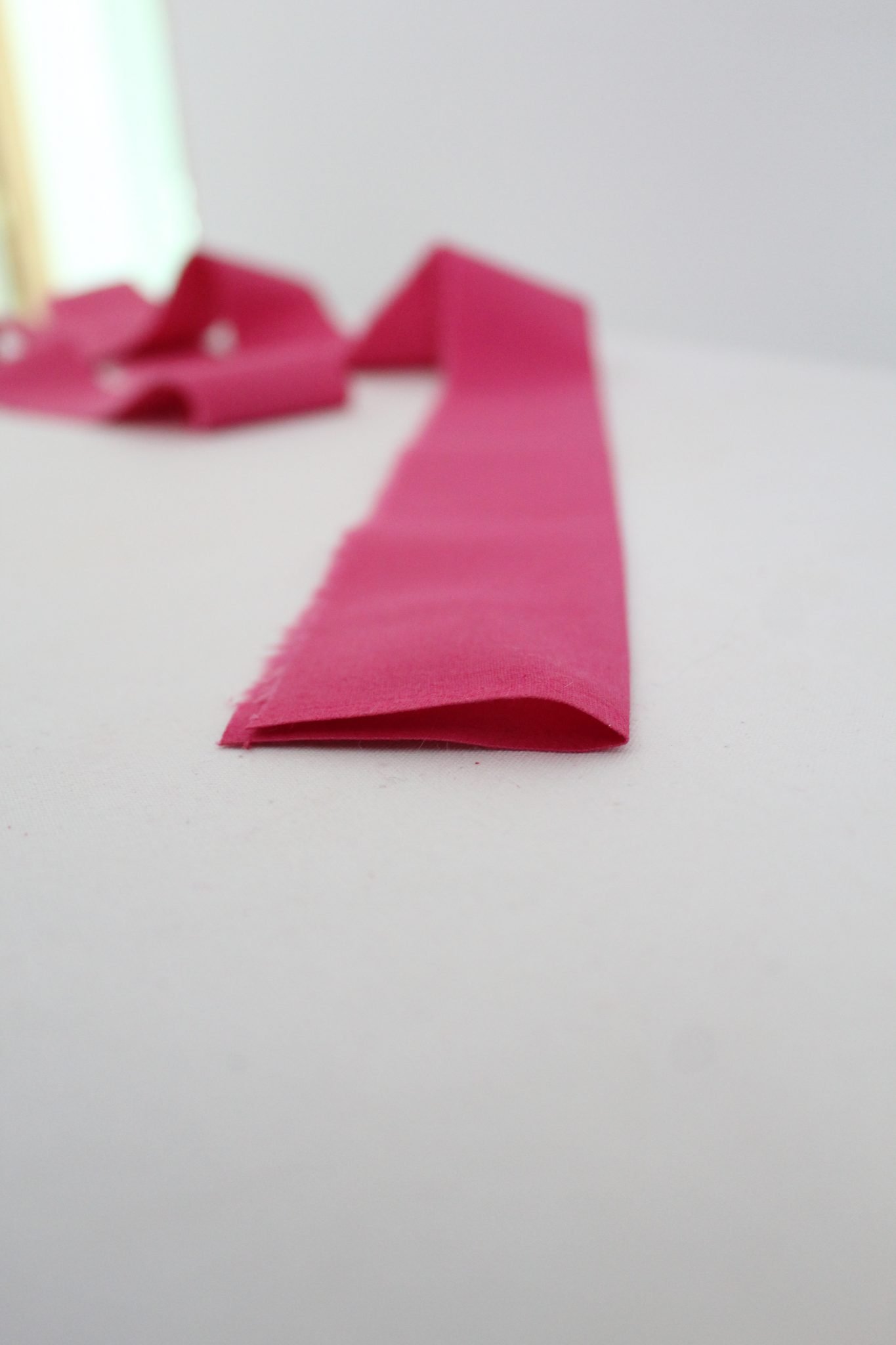 Take the fabric pen and the seam gauge and mark every inch onto the fabric strip, along the folded side. As a heads up you will be working with three of these marks at a time, for each pleat.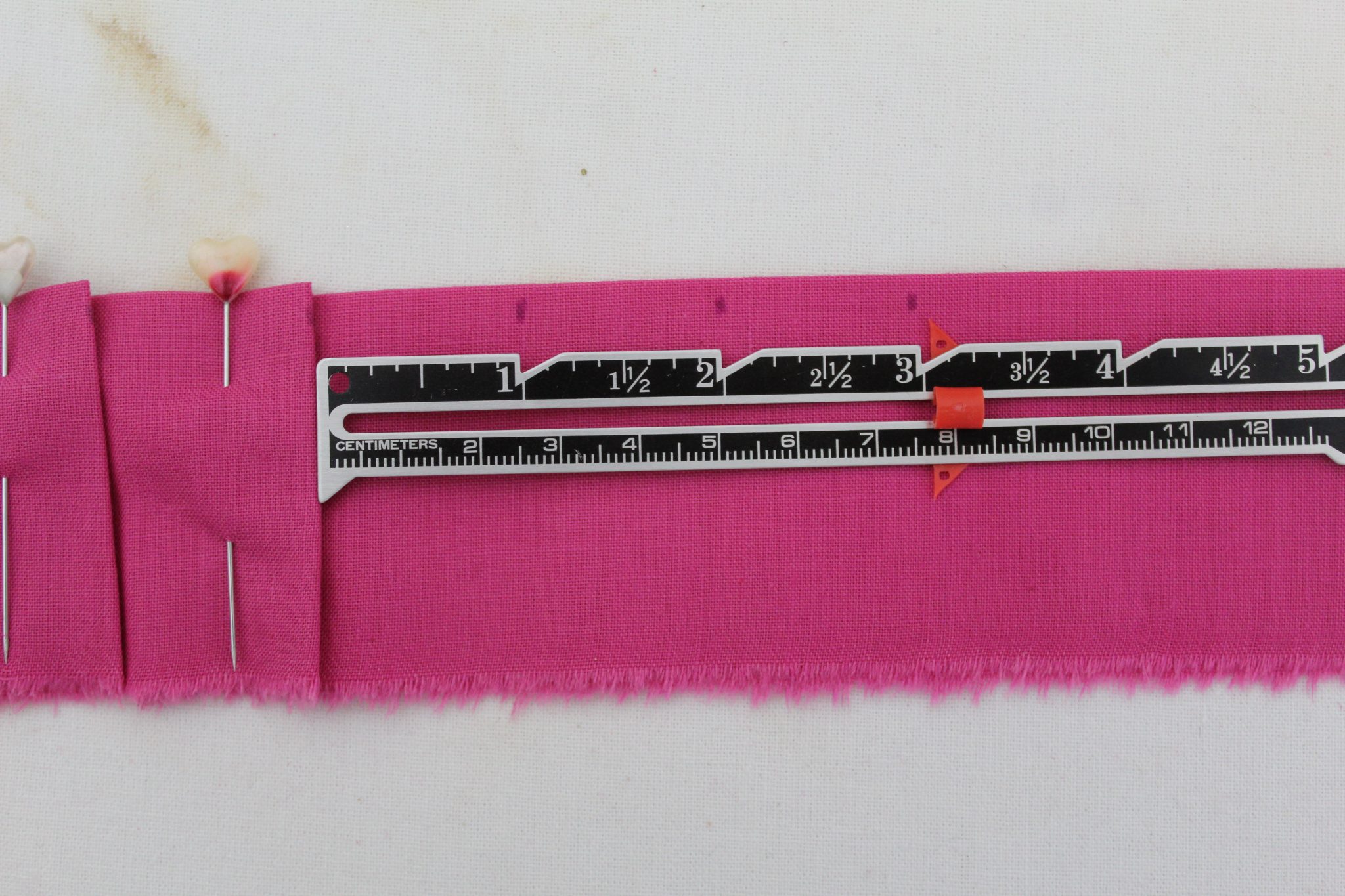 Making the folds
Starting at the left hand side end of the folded strip, place the seam gauge perpendicular to the second 1″ mark and hold it in place with one hand.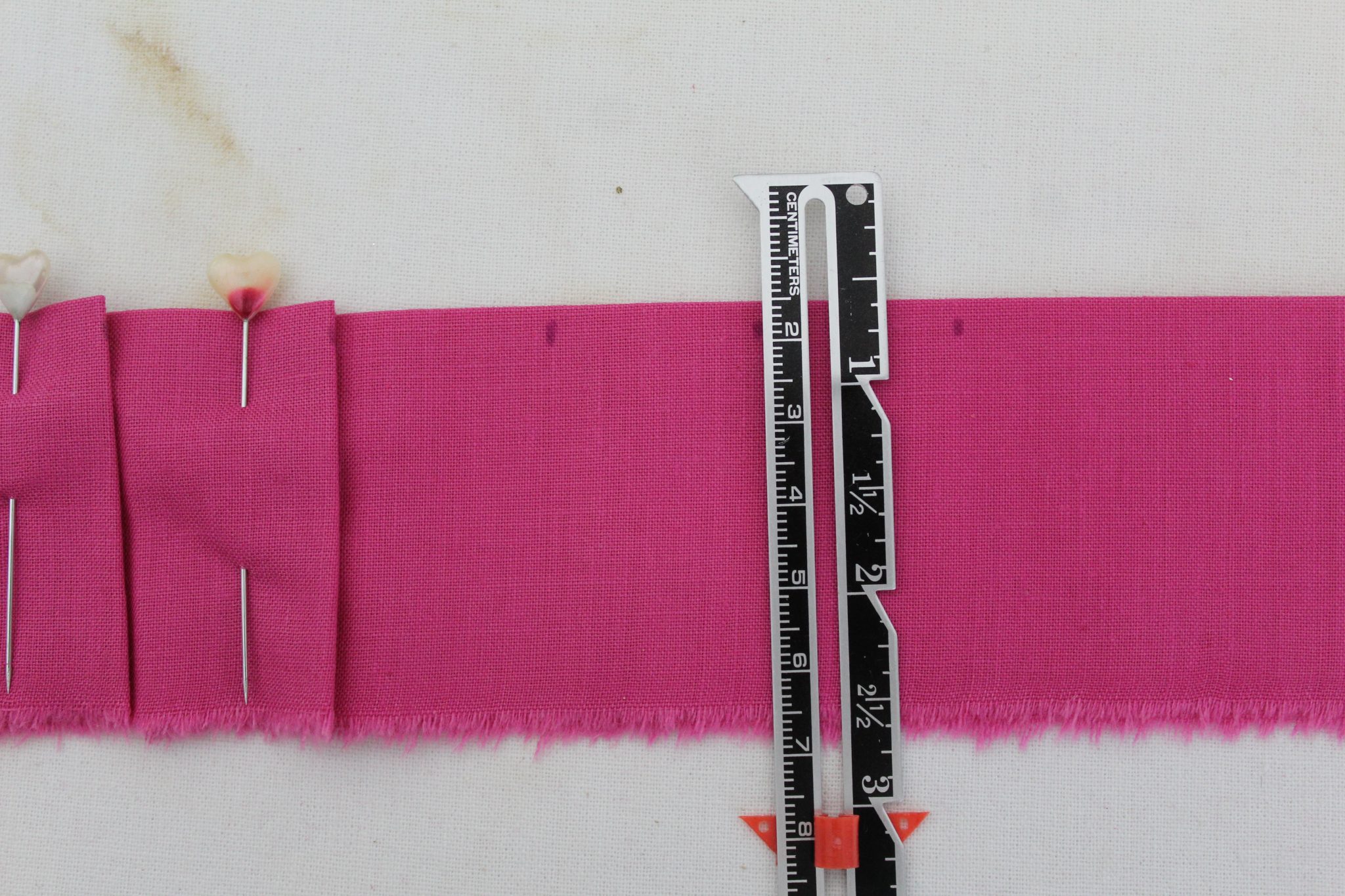 With the opposite hand, grab the first 1″ mark and fold it over the seam gauge until it meets the third 1″ mark.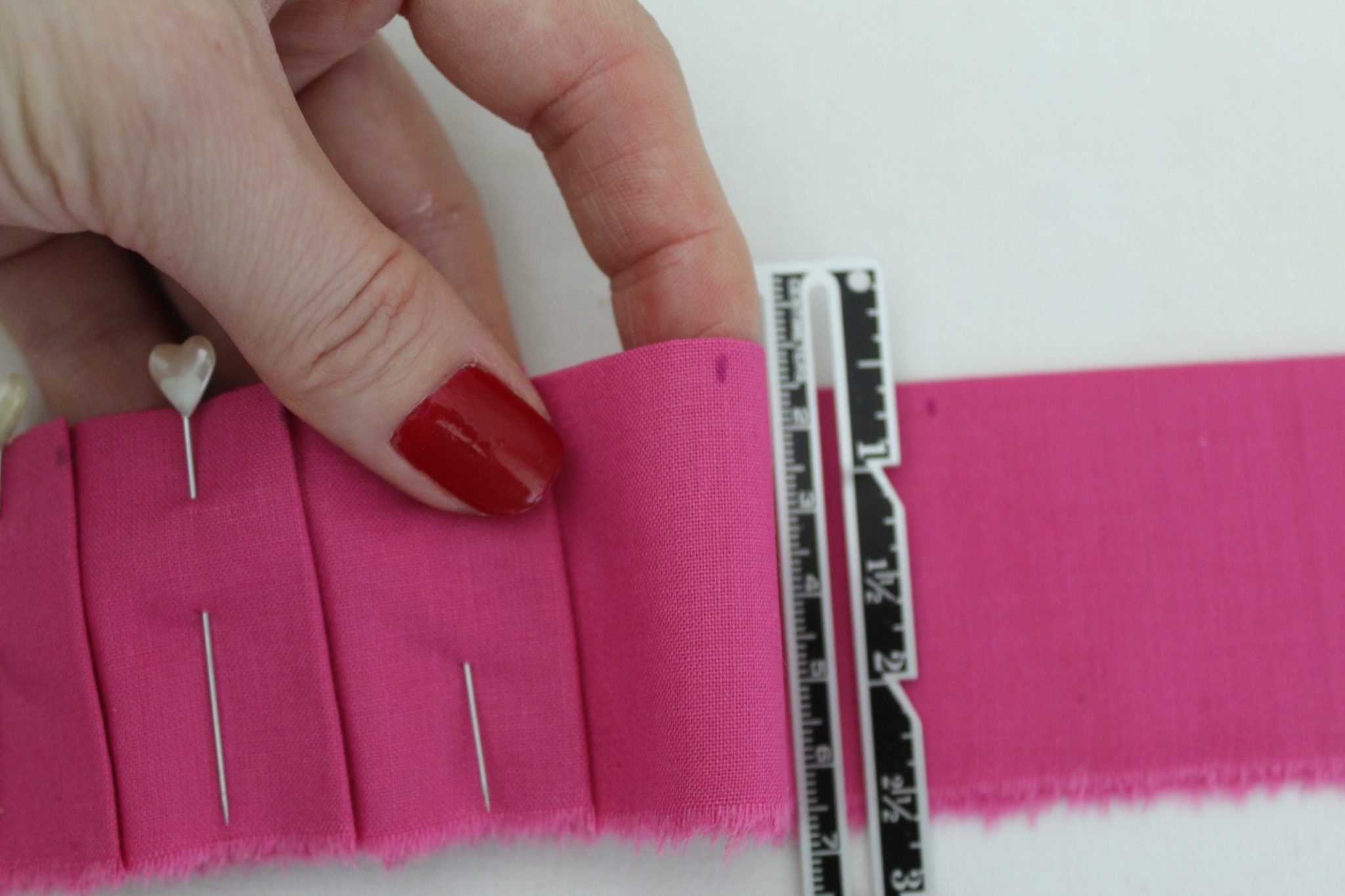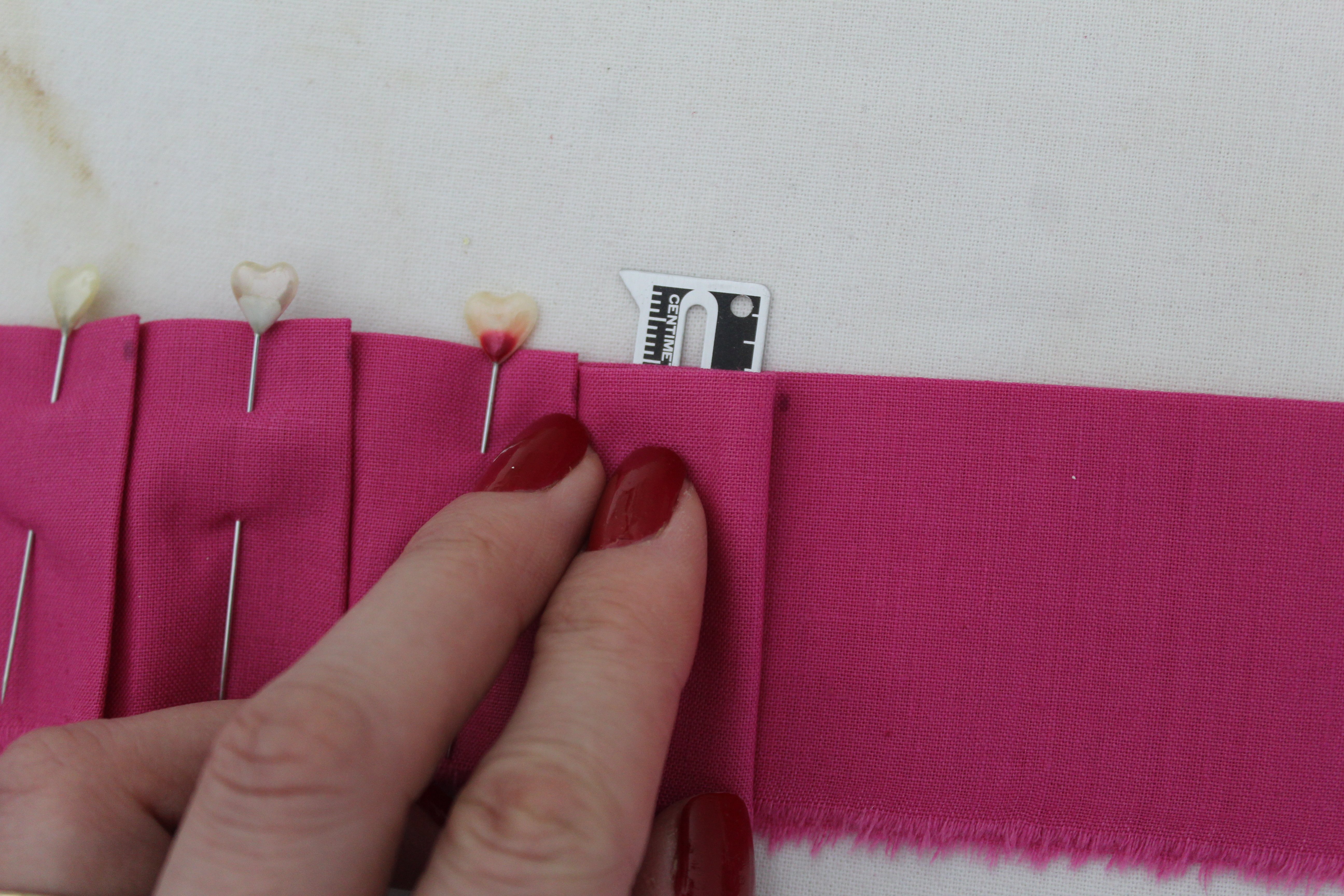 Press the fold and gently slide the seam gauge out.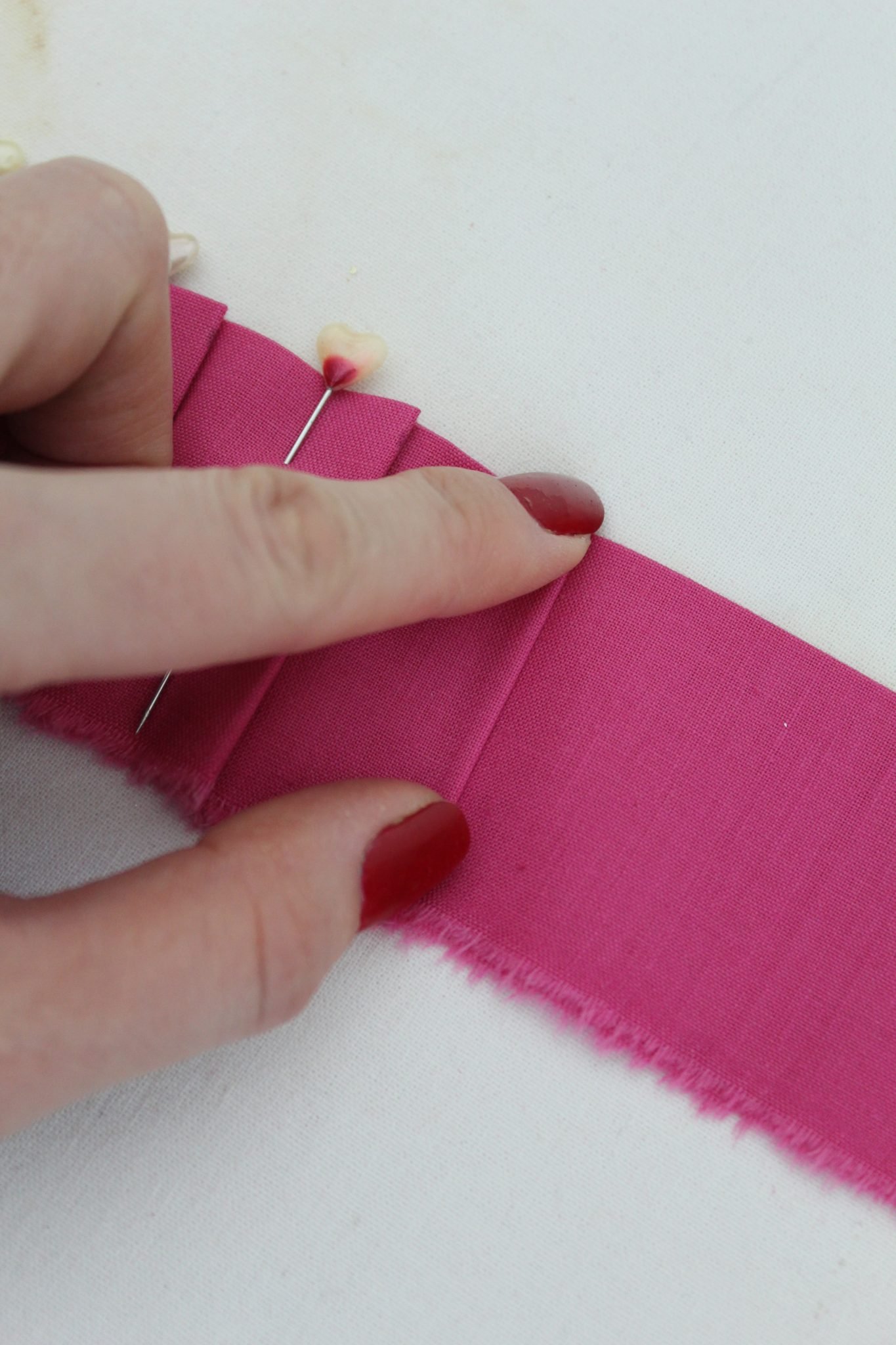 Press with your iron on high steam.
Keep the pleat in place by pinning it perpendicularly and catching all the layers of fabric.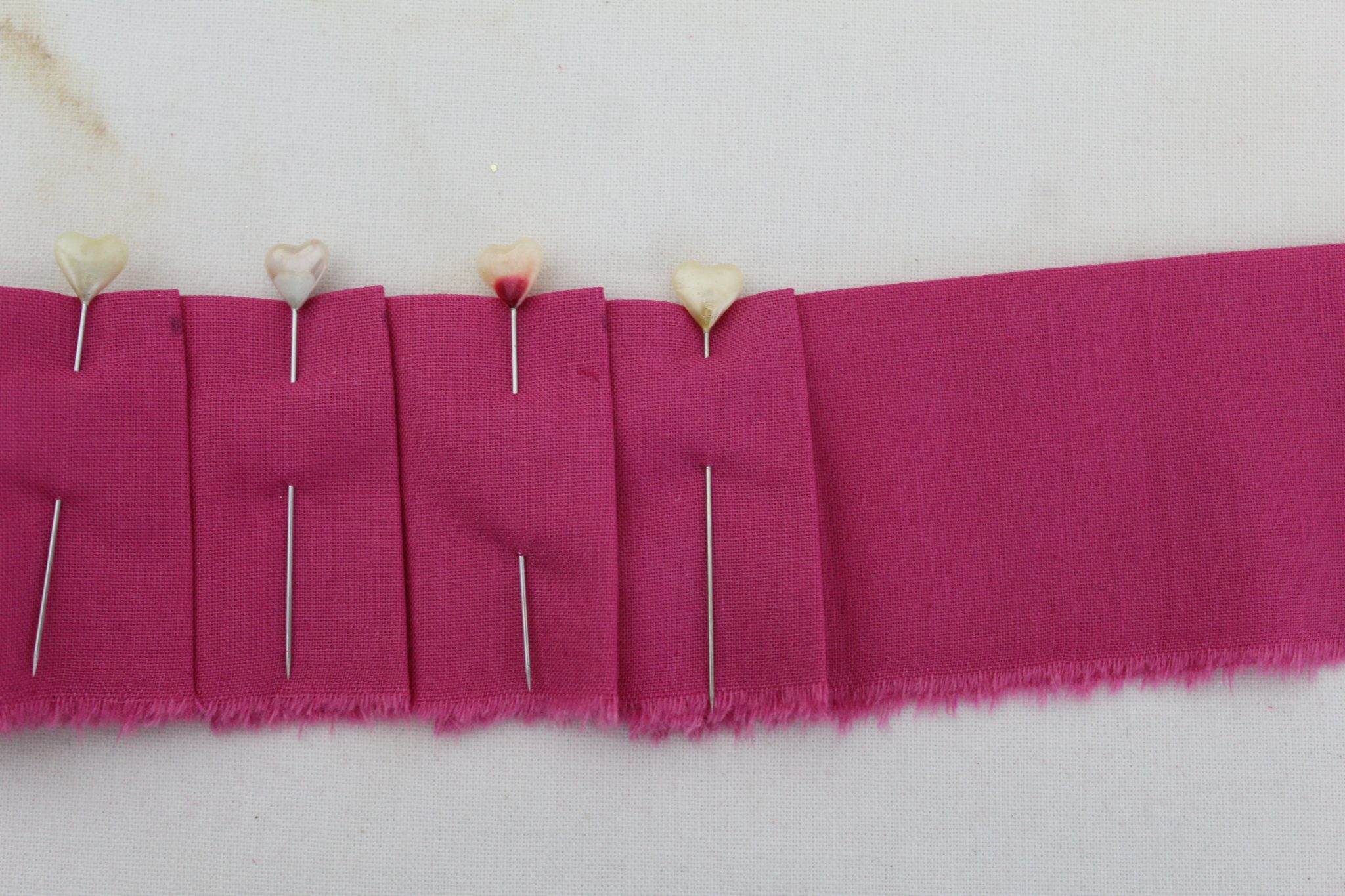 Repeat until the strip is done and all fabric is pleated.
Take the pleated and pinned strip to the sewing machine and sew along the raw edge with 1/4″ allowance.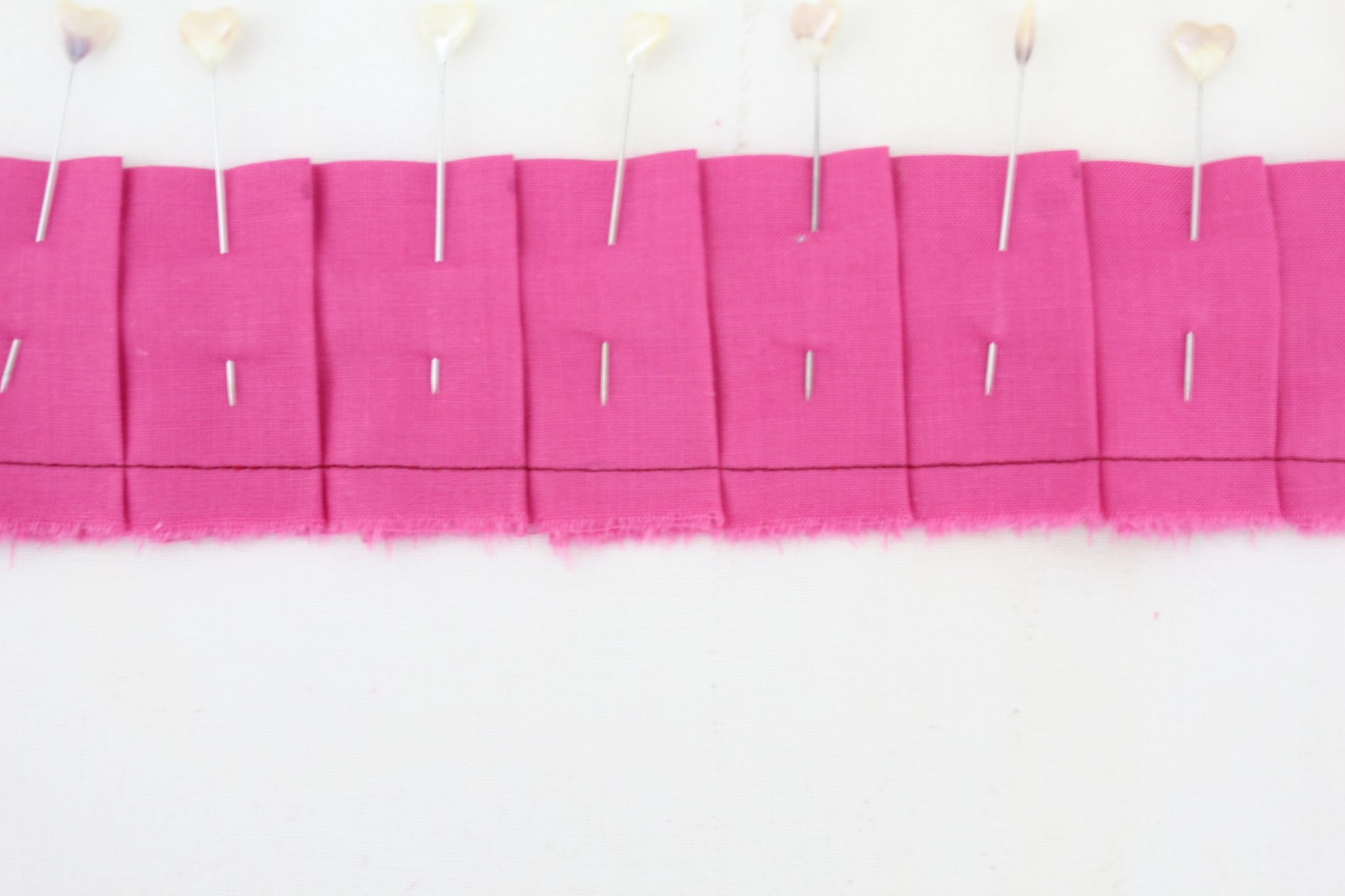 Remove the pins.
At this point you can either serge or zig zag the raw edges of the pleated strip. Or leave the edges raw and serge them after the strip is attached to the project like I did for the half apron.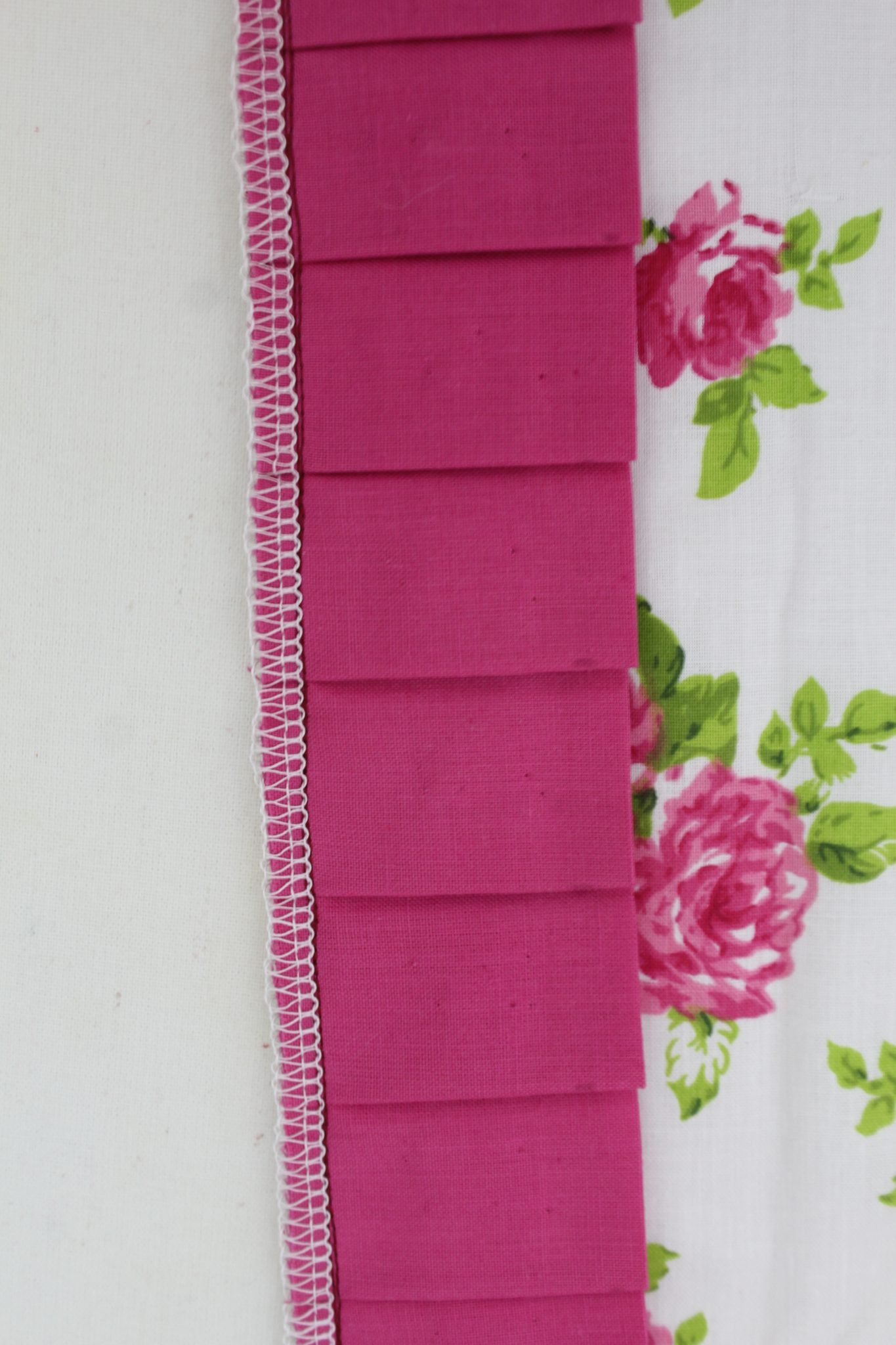 You might think making pleats this way is better suited for a sloth lol. But trust me, you'll only be moving like a sloth on the first couple of these. Once you get the hang of it you'll be moving through a huge strip of fabric with the speed of light. It took me about 10 minutes to pleat a strip of fabric of about 20ft.
I hope you enjoyed my tutorial and if you found it useful! I'd love to hear your thoughts so please leave a comment below. Thanks!
Pin to save for later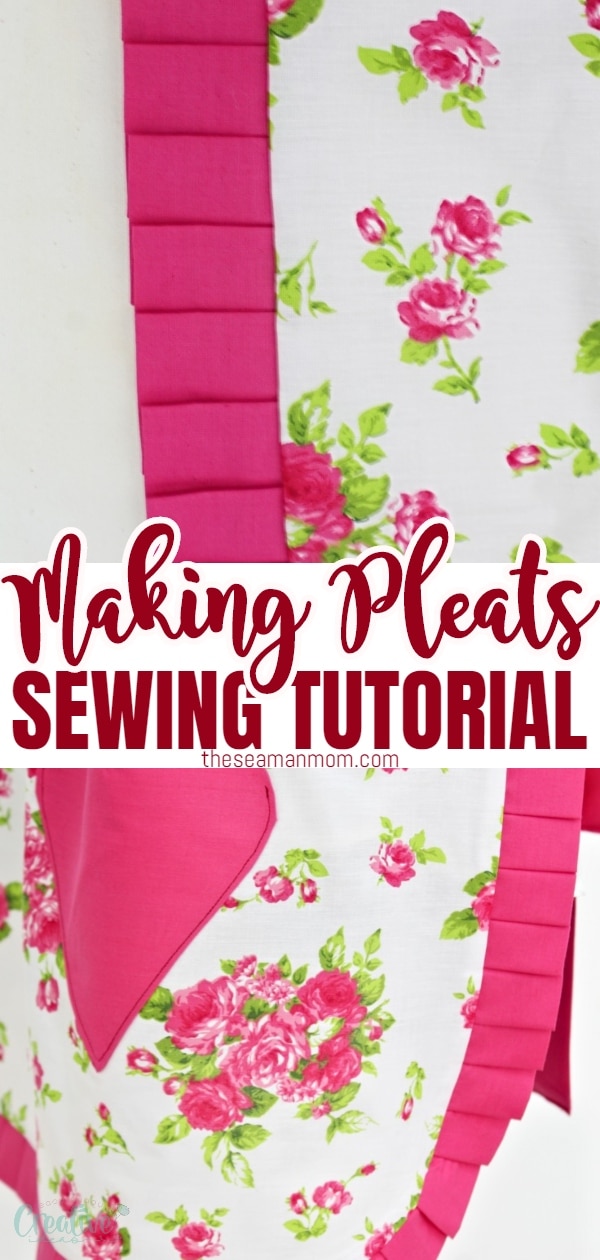 Most popular sewing projects: