V neck sewing may seem complicated because of the tricky, pointy shape! Here you'll learn how to sew a v neck on a dress or a blouse the easiest and simplest way!
V Neck Tutorial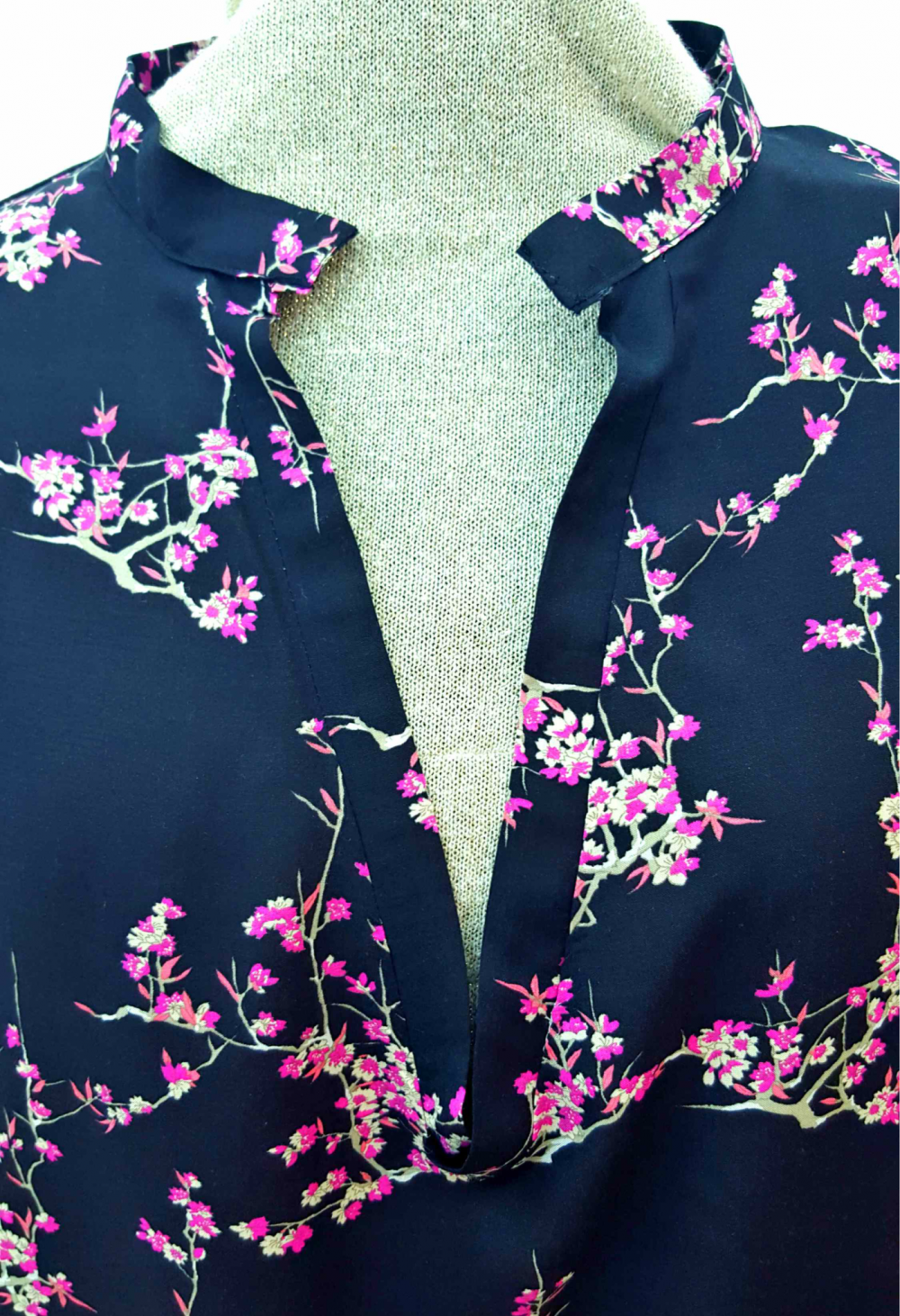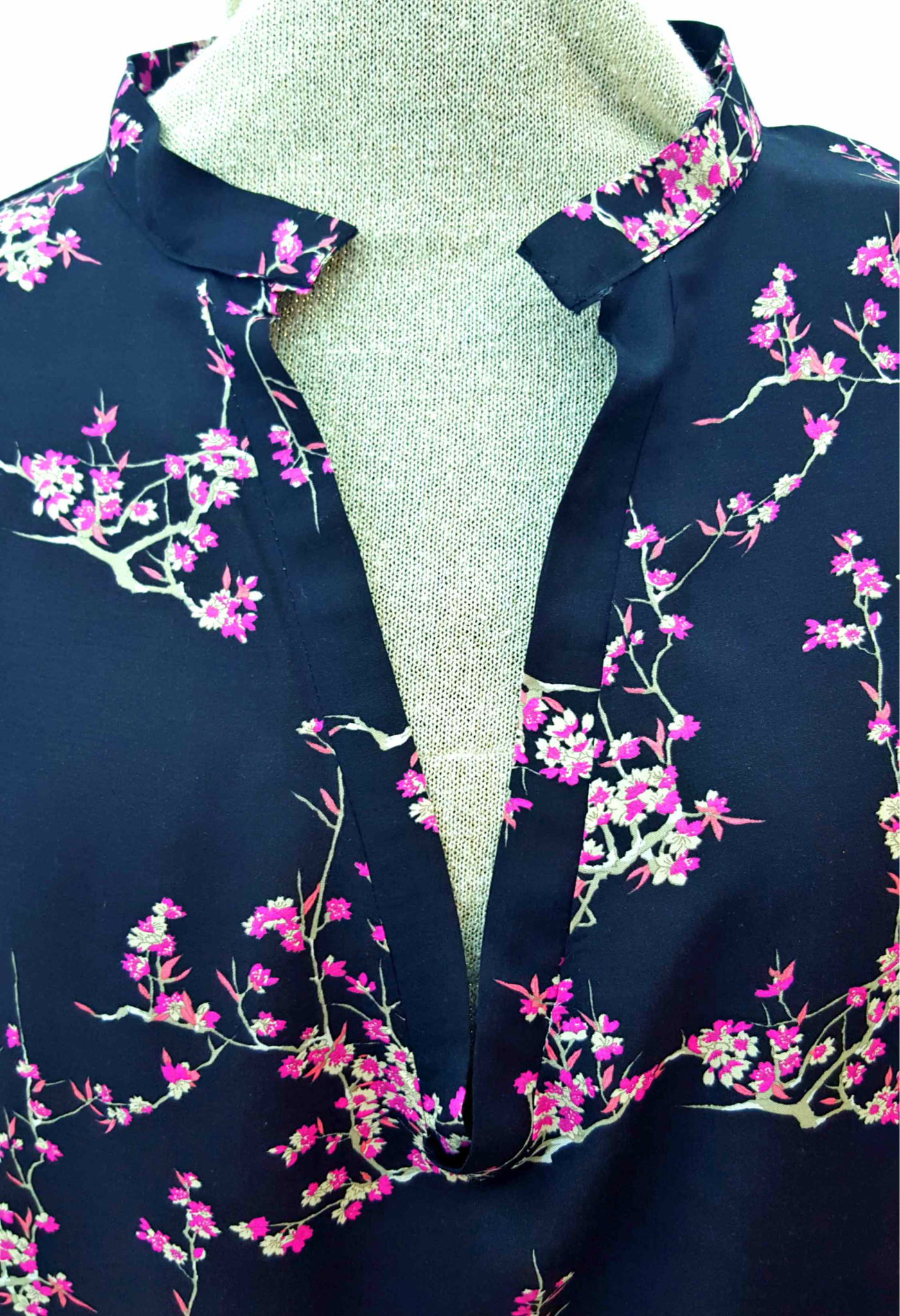 If you've been scared of making pretty v neck garments, now it's time to put all those fears away! V neck sewing is easy peasy if you know just a couple of tricks. In this simple and quick tutorial I'll show you how to sew a v neckline on a dress, using a very easy and simple method. I chose to work on a dress because I just happened to work on this item but the tutorial applies to basically any garment with a v neck.
It's been ages (think years!) since I got my mind on making myself a pretty v neck dress! But I was always too scared I might mess it up, I ended up postponing the project for several times. I've done v necks before but not on lightweight fabric and not on a garment but mostly as practice. Then one day I decided my fear of sewing a v neck on an actual piece of clothing is not gonna stand in my way anymore! I needed to put on my big girl pants and just start working on that beautiful dress!
Similar posts you will love:
Turns out once you actually learn v neck sewing and practice just a bit on scrap fabric, it works like magic on any project! I'm so happy I finally stopped being a chicken because the dress I made is incredibly beautiful! And I love, love, love the way it fits me and how comfortable I feel when I wear it. Fair enough, the fabric is super soft and pretty and helps a lot with making the garment look super sweet!
My dress pattern didn't require a full neckband, just the front part of the V neckline. So I used 2 strips of fabric, folded in half and raw edges serged first so it's a little easier to sew a v neck like this. But the same principle goes for any garments and for a full v neck band too. In fact it's easier to learn v neck sewing this way and then upgrade to the next level of sewing a full neckband.
If I convinced you to leave your fears behind and learn how to sew a v neck, I think this type of v neck is perfect for a first project. Let me show you the easy step by step!
V Neck Sewing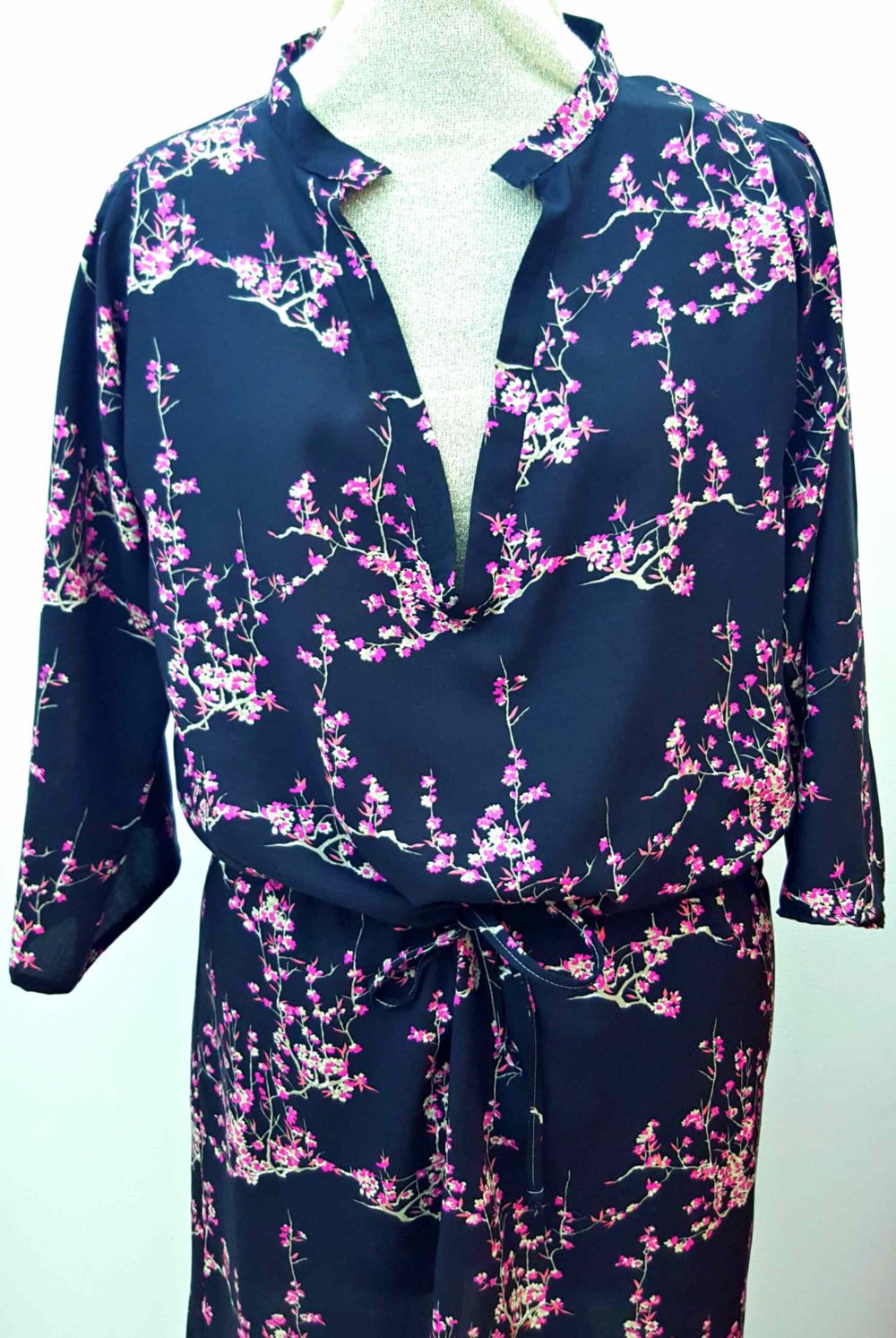 Materials:
Sewing classes I love
Machine Savvy: Tips for Creative Sewing (FREE mini-class w/ Linda McGehee)
Sew Better, Sew Faster: Advanced Industry Techniques (w/ Janet Pray)
The Essential Guide to Sewing With Sheers (w/ Sara Alm)
Custom Fitting: Back, Neck and Shoulders with Kathleen Cheetham
Directions:
Preparing the fabrics
If you're using this tutorial on a dress like mine, you'll need to cut 2 strips of about 2 1/2″ in width, with the length matching the actual V in your dress (without the back of the neckline).
Fold each strip in half.
I like to serge the raw edges so the threads won't get in my way as I pin and sew the strips to the dress. If you don't have a serger, use a zig zag stitch.
For a dress like mine you won't need to have the front and back pieces of the dress already joined at the shoulders, to be able to sew the v neck band.
If you're making a full V neck, you'll need to cut a full band that matches the whole neckline (v neck area plus the back of the neckline) and the same width as above. In this case, you'll need to have the front and back pieces of the t-shirt/dress joined at the shoulders.
Preparing the V area on the garment
Take the front piece of your dress and stay stitch the V with contrast thread, using a 1/4″ allowance.
Clip the V, up to the stay stitching. Go as close as you can get but be careful not to clip through the stitching line! This will help you open up the seam allowance in the v neck so when you install the neck band or the strips you'll get a clean V point at the bottom of the V.
Preparing the strips or neckband
Take the 2 fabric strips and overlap them, with the folded edges facing the inside. If you're using a full neckband, do the same with the ends of the neckband.
Pin the strips together at the overlap and stay stitch the bottom (the raw edges) using contrast thread.
Attaching the strips
Place the front of the dress right side up.
Take the stay stitched strips and match the stay stitch with the stay stitch in the v neck of the dress (in other words, both V's should match). Pin these V's but only to line these up, don't go up and down with the pin. This pin is only going to hold the neck band to the dress while you are pinning the neck band onto the dress. It will also allow you to pivot the neck band when pinning
Start pinning the neck band to the dress on either side, then pivot and pin the other side.
If you're sewing a v neck into a dress like mine, at this point you can take the dress to the sewing machine and sew down the neck band with a 1/4″ allowance. If you're sewing a full V neck band, you'll need to twist the band a little at the top to match the back of the t-shirt or dress, pin that area too then sew down.
Remove any visible stay stitch, if any.
That's all! We're pretty much done!
Pin to save for later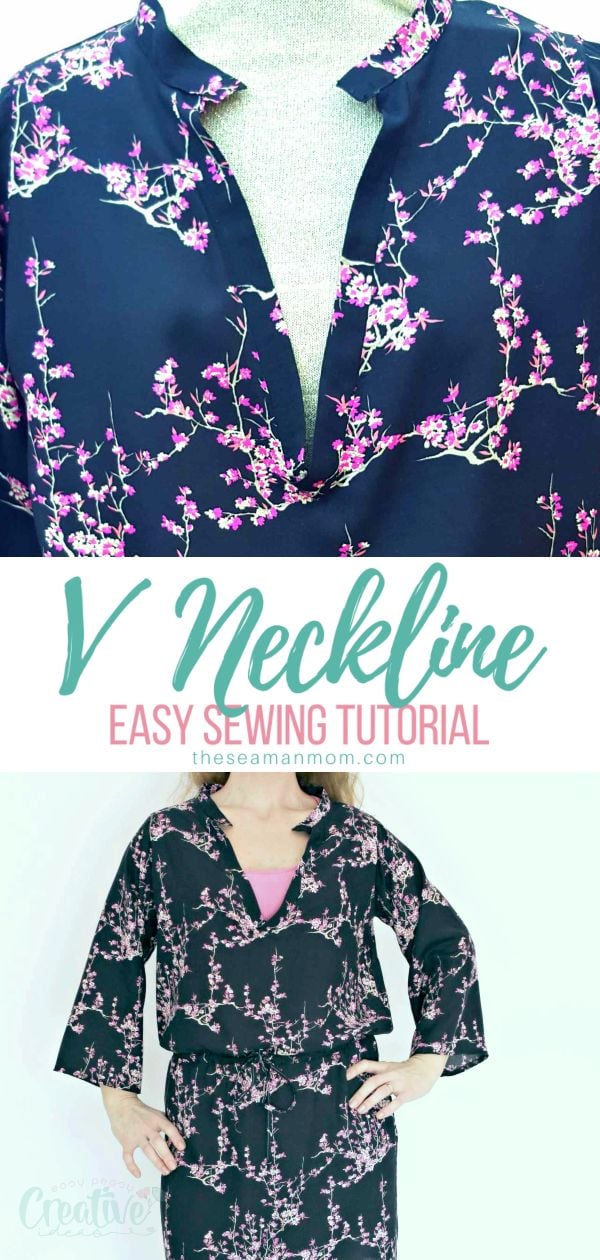 Most popular sewing projects: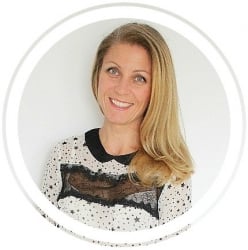 Hi, I'm Petro, author and founder of Easy Peasy Creative Ideas. Sewist, crafter, avid DIY-er, foodie, photographer, homemaker and mommy to one. I'm an expert at coming up with quick, clever sewing tips, recycling crafts and simple, easy recipes! You can find my ideas featured in reputable publications such as Country Living, Good House Keeping, Yahoo News, WikiHow, Shutterfly, Parade, Brit & Co and more. Thanks for stopping by and hope you'll stay for a while, get to know me better and come back another time. Stick around for real fun projects!