Printable deep cleaning checklist
Article may contain Amazon & affiliate links. As an Amazon Associate I earn from qualifying purchases at no additional cost to you.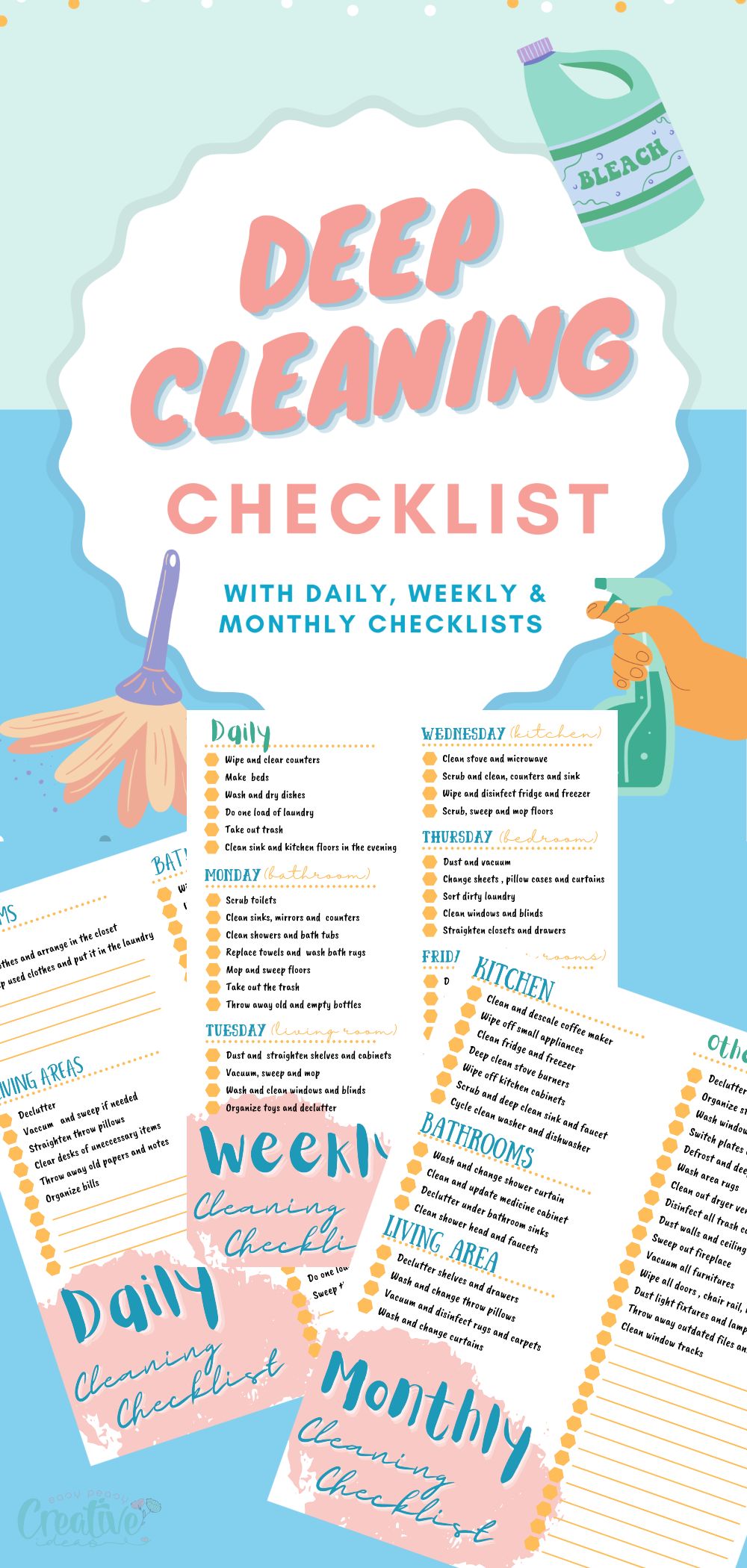 Keeping up with all the cleaning you need to do around your house can be pretty exhausting. And if you're not organized, you're probably causing much more work for yourself than you need to. That's why I love using a deep cleaning checklist as I clean. It helps me stay on track and ensures everything gets cleaned on a regular basis.
Deep Cleaning checklist
Getting your house clean and keeping it that way takes a little bit of time and effort. But it's worth it in the end! And with a simple deep cleaning checklist and some tips and tricks, you'll be on your way to having a clean home in no time.
Keep your supplies on hand. There's nothing worse than having to stop in the middle of your cleaning routine because you need a tool or cleaner.
That's why it's essential that you start by organizing your supplies and your strategy before you begin cleaning. Make sure you have everything on hand and ready to go so you can quickly move from task to task without worrying about forgetting something important.
Similar ideas you will love:
What is deep cleaning checklist?
A deep cleaning checklist is a list of tasks that need to be completed in order to thoroughly clean a space. This type of checklist is typically used for larger cleaning projects, like deep-cleaning a home or office, and can be used as a guide to make sure all areas are covered.
How often should you deep clean?
Most people recommend deep cleaning your home or office at least once a quarter, but it's really up to you. If you feel like your space needs more attention, then deep clean more often. And if you have more time and can deep clean less frequently, that's perfectly okay, too!
What to expect for a deep cleaning?
When you deep clean, you should expect to spend more time on each task than you would during a regular cleaning. This is because deep cleaning requires getting into all the nooks and crannies of your space to remove dirt, dust, and grime that has built up over time.
What are the benefits of deep cleaning?
Deep cleaning has many benefits, both for you and your space. Some of the most notable benefits include:
Improved air quality: When you deep clean, you remove all the built-up dirt and dust that can cause allergies or respiratory problems. This can lead to improved air quality and breathing, especially for people with asthma or allergies.
Better mental health: A clean space can lead to a clearer mind. When your space is cluttered and dirty, it can be hard to focus or relax. But when everything is in its place and sparkling clean, you'll feel more relaxed and at ease.
Improved physical health: Just like deep cleaning can lead to improved mental health, it can also lead to improved physical health. This is because when your environment is clean, you're less likely to get sick. Dirt and germs can cause a variety of illnesses, so by deep cleaning, you're reducing your risk of getting sick.
More productive: A clean space can lead to a more productive lifestyle. When your environment is cluttered, it can be hard to focus on what you need to do. But when everything is in its place and you have a designated area for everything, you'll be able to focus more on the task at hand and get things done more quickly.
Where to start deep cleaning house?
The best place to start deep cleaning your house is in the kitchen. This is because the kitchen is where we prepare food, and it's important to make sure that all surfaces are clean and free of bacteria.
The next best place to deep clean is the bathroom. This is because bathrooms are often full of germs and can be a breeding ground for illness if they're not cleaned regularly.
After the kitchen and bathroom, you should focus on deep cleaning the living room and bedrooms. These are the areas where we spend the most time, so it's important to make sure they're clean and comfortable.
Finally, you should deep clean any other areas of your home, like the laundry room, basement, or garage. These areas may not be used as often, but it's still important to keep them clean and free of dirt and dust.
For cleaning the outside areas of your house like the gutters or the chimney, I advise hiring a professional.
Deep cleaning tips and tricks
To deep clean your home, you'll need several items, including:
Paper towels
Sponge
Microfiber cloths
Dusting wand
Trash bags
Dish soap
All-purpose cleaner
Disinfecting cleaner
Glass cleaner spray
Floor cleaner
Carpet and upholstery cleaner
Vacuum
Mop
Rags
Bucket
1. Work from the top down. To avoid cleaning areas of each room twice, start at the top of the room and work your way down. Clean the ceilings and light fixtures first. Then, clean the walls and windows followed by the furniture. Finish by wiping the baseboards and cleaning the floors.
2. Go room to room. Another great way to ensure your entire house gets cleaned more quickly is to stick to one room at a time. Dividing your tasks by rooms helps you conquer all the items on your to-do list for each room before moving on to the next.
3. Keep a checklist nearby. As you're cleaning, it can be easy to forget everything you need to do in each room. That's why using a checklist is a great idea. The list helps you outline each area of the room that needs to be cleaned. Once you're finished with that task, check it off the list and move on to the next to help you get your room thoroughly cleaned with ease.
4. Separate your daily, weekly, and monthly chores to keep your house clean every day. Not all cleaning chores need to be completed every day. By dividing your cleaning into daily, weekly, and monthly tasks, you can cut down on your daily workload while still keeping your house spotless.
Now that you know all about deep cleaning, it's time to get to work! Use the deep cleaning checklist below as your guide, and be sure to check out the tips and tricks for each room to make the process a little bit easier.
Printable deep cleaning checklist
Printing out this deep cleaning checklist is a great way to ensure you get everything on your to-do list finished. Simply download the file and print it out each time you're ready to clean, then mark the items off the list as you complete them. And if there are tasks you usually do around the house that aren't on the list, just fill in the blanks with your own ideas.
The check list is broken down into three easy-to-follow guides: daily cleaning tasks, weekly cleaning tasks, and monthly cleaning tasks. On each checklist, you'll also notice that the tasks are divided according to room to help you stay organized as you clean.
Daily Cleaning Checklist
Keeping up with these daily chores is the best way to keep your house neat and organized between deep cleanings:
Bedrooms: Fix bed, fold clothes and arrange in the closet, pick up used clothes and put in laundry
Bathroom: Wipe the toilet seat and keep it dry, wipe of the shower and bathtub, clean mirrors and countertop, change dirty towels
Living areas: Declutter, vacuum and sweep if needed, straighten throw pillows, clean desks of unnecessary items, throw away old papers and notes, organize bills
Kitchen: Sweep and pick-up crumbs off the floor, wash and put away the dishes, clean sink and garbage disposal from food debris, wipe down countertops and table, store leftovers properly, take out trash. If you used the stovetop or oven, wipe those clean too. I use this vinegar and baking soda method for my stovetop.
Others: Check mail and daily paper, bring deliveries and packages inside, do one load of laundry, sweep the porch
Weekly Cleaning Tasks
In addition to your daily chores, you should also take care of some deep cleaning tasks in each room throughout the week. This weekly cleaning checklist will help you stay organized as you deep clean every room in your house:
Daily: Wipe and clear counters, make beds, wash and dry dishes, do one load of laundry, take out the trash, clean sink and kitchen floors in the evening
Monday (bathroom): Scrub toilet, clean sinks, mirrors, and counters, clean showers and bathtubs, replace towels and wash bath rubs, mop and sweep floors, take out the trash, throw away old and empty bottles
Tuesday (living room): Dust and straighten shelves and cabinets, vacuum, sweep, and mop, wash and clean windows and blinds, organize toys and declutter
Wednesday (kitchen): Clean stove and microwave, scrub and clean counters and sink, wipe and disinfect fridge and freezer, scrub, sweep, and mop floors
Thursday (bedroom): Dust and vacuum, change sheets, pillow cases and curtains, sort dirty laundry, clean windows and blinds, straighten closets and drawers
Friday (other rooms): Dust and vacuum, straighten shelves, desks, and drawers, clean washer and dryer, dust ceiling fans and light fixtures
Weekend (outdoors): Sweep porch and patio, organize garage, mow the lawn and remove weeds, clean out the car
Monthly Cleaning To-Do List
Taking the time to focus on deep cleaning tasks throughout the month allows you to tackle all your deep cleaning a little bit at a time. These deep cleaning items can be done once per month:
Kitchen. Clean and descale the coffee maker, wipe off small appliances, clean the refrigerator and freezer, deep clean stove burners. Wipe off cabinets, scrub and deep clean sink and faucet, cycle clean washer and dishwasher. Take the time to do a thorough oven cleaning too.
Bathrooms. Wash and change shower curtain, clean and update medicine cabinet, declutter under bathroom sinks, clean showerhead and faucets. And don't forget to clean the grout too.
Living area. Declutter shelves and drawers, wash and change throw pillows, vacuum and disinfect rugs and carpets, wash and change curtains..
Other rooms. Declutter and sort out garage, organize storage in basement or attic, wash windows, switch plates and cutlery. Defrost and deep clean freezer, wash area rugs, clean out dryer vent. Disinfect trash cans, dust walls, ceiling corners and ceiling fan blades, dust picture frames, sweep out fireplace, vacuum all furniture including the mattress. Wipe all doors, chair rails, and moldings, dust light fixtures and lamp shades, throw away outdated files and papers, clean window tracks and window sills, wipe light switches.
Deep cleaning can be a daunting task, but with the help of this checklist it can be a little less overwhelming. This deep cleaning checklist will help you stay organized as you deep clean every room in your house. Don't miss a single spot with my thorough checklist and get started on making your home sparkle!
---
Get your printable Deep cleaning checklist HERE!
---
And don't forget, sharing is caring so send this to your friends! They'll love you forever!
Pin to save for later