Article may contain Amazon & affiliate links. As an Amazon Associate I earn from qualifying purchases at no additional cost to you.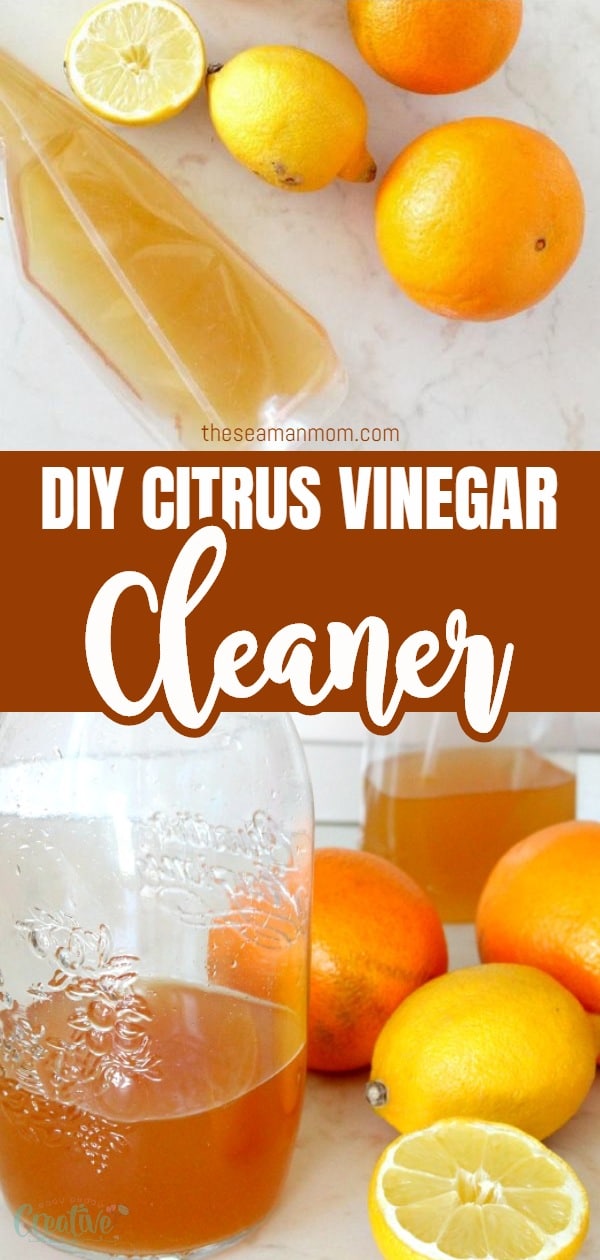 Try this citrus vinegar cleaner for a sparkling home, safe from unhealthy chemicals! This amazing homemade vinegar cleaner is perfect for cleaning mirrors, sinks, counter tops, moping floors and much more!
Citrus Vinegar Cleaner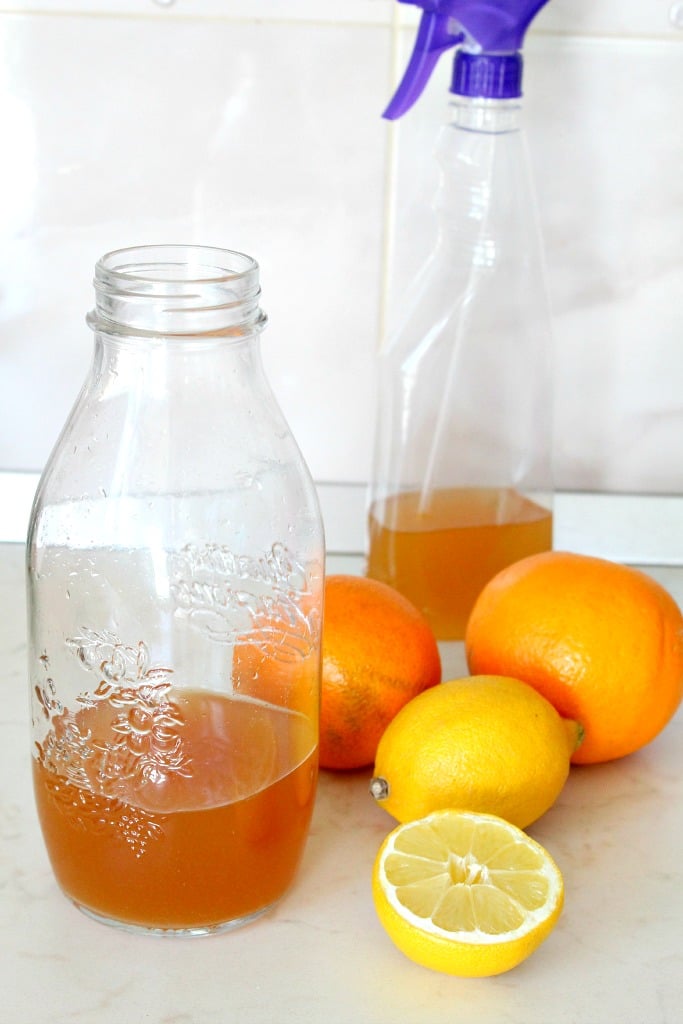 I love citrus! We eat a lot of lemons and oranges around here; Ellie loves her daily fresh orange juice and hubby likes grapefruit as it helps cleanse the liver. But I hate wasting the peel, especially since it smells so divine. So I thought I would put them to a good use and make a super duper citrus vinegar cleaner!
---
Keep on track with a cleaning schedule! I made this easy peasy handy dandy printable cleaning schedule to help you make cleaning a lot more manageable!
---
Need more cleaning ideas?
There are so many other great uses for citrus peel, not only for making a natural citrus cleaner! I like to spread some citrus peel around the house so it smells so fresh and nice for a couple of days and at winter time I keep them on the stove. The peel warms up and spreads such an amazing smell around the house. I also use the orange peel halves to make super easy and quick bird feeders!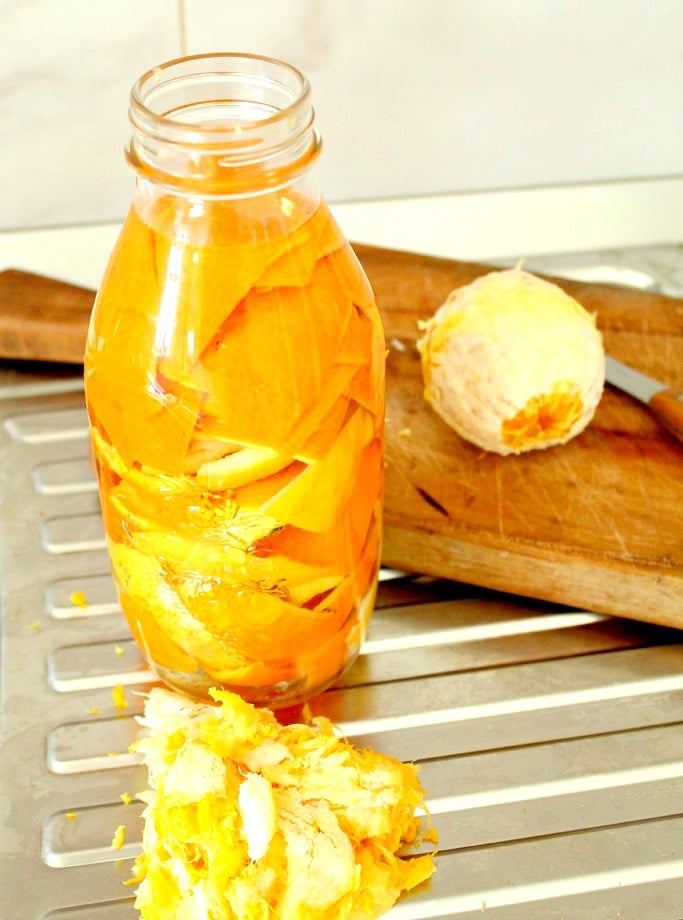 I lately started to use them in my homemade compost, together with egg shells, mowed grass and other fruit and veggie residue, so the peel is not completely wasted. But my favorite by far is this citrus vinegar cleaner that can double up as a hair rinse too. What a brilliant idea, right? I, know, I'm such a genius! (scoffs)
This DIY citrus cleaner is perfect for cleaning mirrors, glass, counter tops, kitchen and bathroom sinks, oven or for moping floors when diluted with water. For super dirty surfaces, don't dilute, use your citrus cleaner concentrated.
Ready to learn how to make citrus vinegar cleaner? My cleaner is very easy to make and although it has to sit for 10 to 14 days until the peel works its magic into the vinegar, it's totally worth the wait!
Citrus Cleaner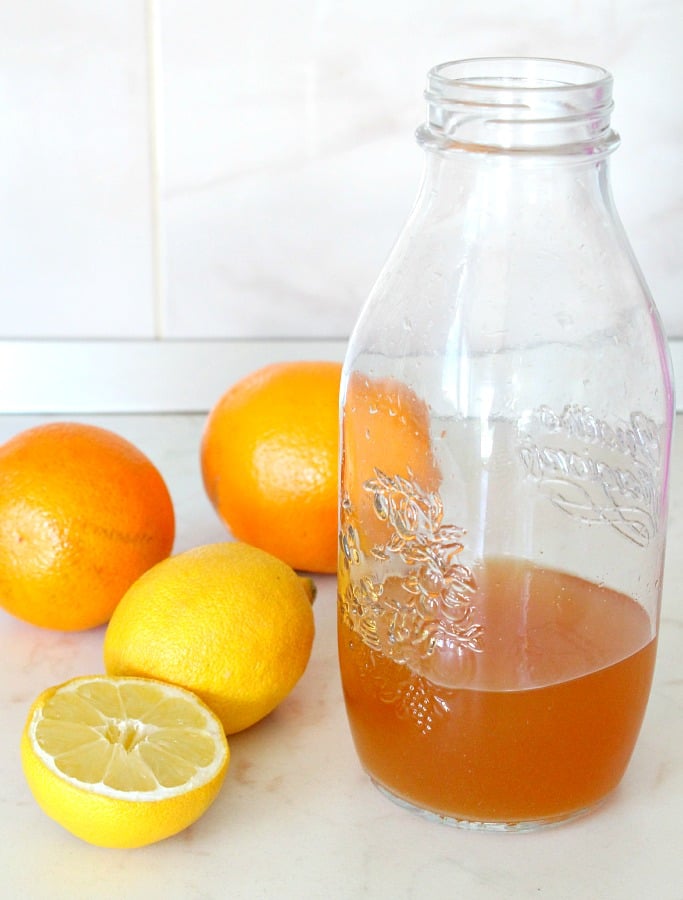 Ingredients:
citrus peel (I used orange, lemon, grapefruit)
white wine vinegar
water
You will also need:
sharp knife
cutting board
mason jars or milk bottles
spray bottle
Directions:
To make this citrus vinegar cleaner, start by saving all your lemon, orange and grapefruit peel.
Remove white pith as much as possible. This will help with preventing molding while you're working on collecting as many citrus peels as possible to fill a bottle or jar.
Cut the peels into small pieces that would fit a mason jar or a milk bottle (I used a glass milk bottle because it's so pretty).
Fill the entire jar/bottle with peel.
Cover in vinegar
Allow to sit for 10 to 14 days, in a cool, dry area, or until the vinegar has turned dark orange. It should also smell citrusy.
And there you go, your citrus vinegar cleaner is ready! To use it, you'll have to remove peel, strain liquid through a sieve and dilute the citrus vinegar recipe 1:1 with water, for most times. Pour the final orange citrus cleaner into spray bottles. For super dirty areas, you will need to use the solution undiluted.
Notes:
Bear in mind this will never entirely remove the vinegar smell but it will cover it up pretty nicely. I personally love the smell, fresh and citrusy!
Always test the cleaner in an inconspicuous area when using for the first time, especially on wood
For extra cleaning power, mix with baking soda and clean with the paste.
For soap scum and grease use undiluted cleaner. You may need to add baking soda for resistant spots.
Pin to save for later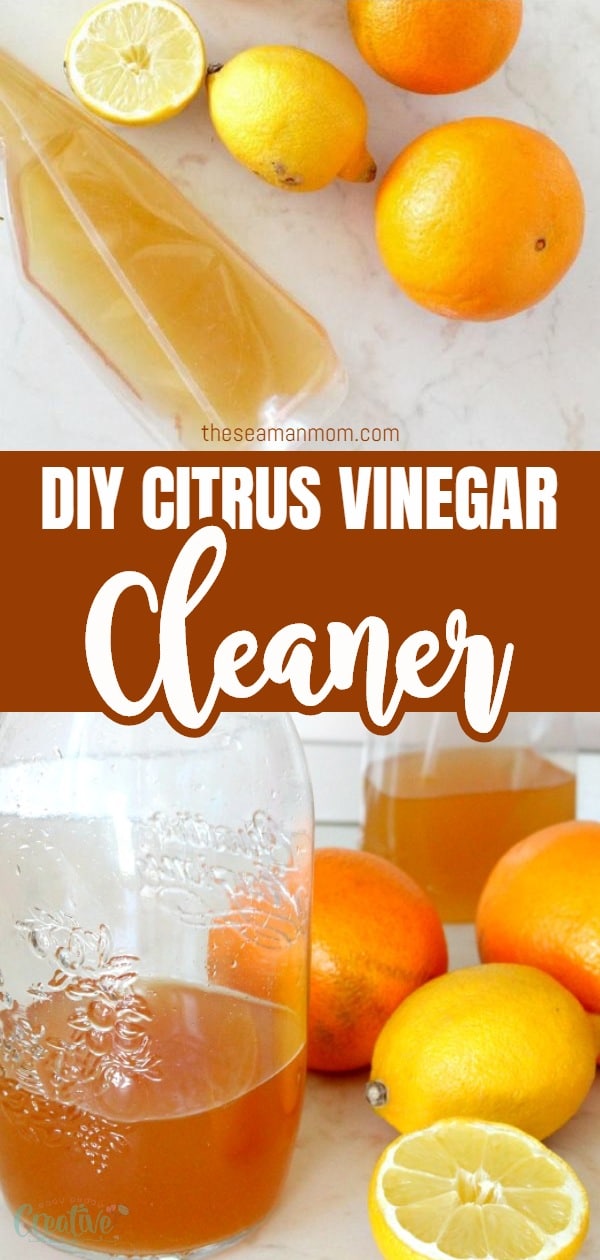 More DIY household products home you might like:
Most Popular DIYs: