How to sew a fabulous PUMPKIN MUG RUG in 30 minutes
Article may contain Amazon & affiliate links. As an Amazon Associate I earn from qualifying purchases at no additional cost to you.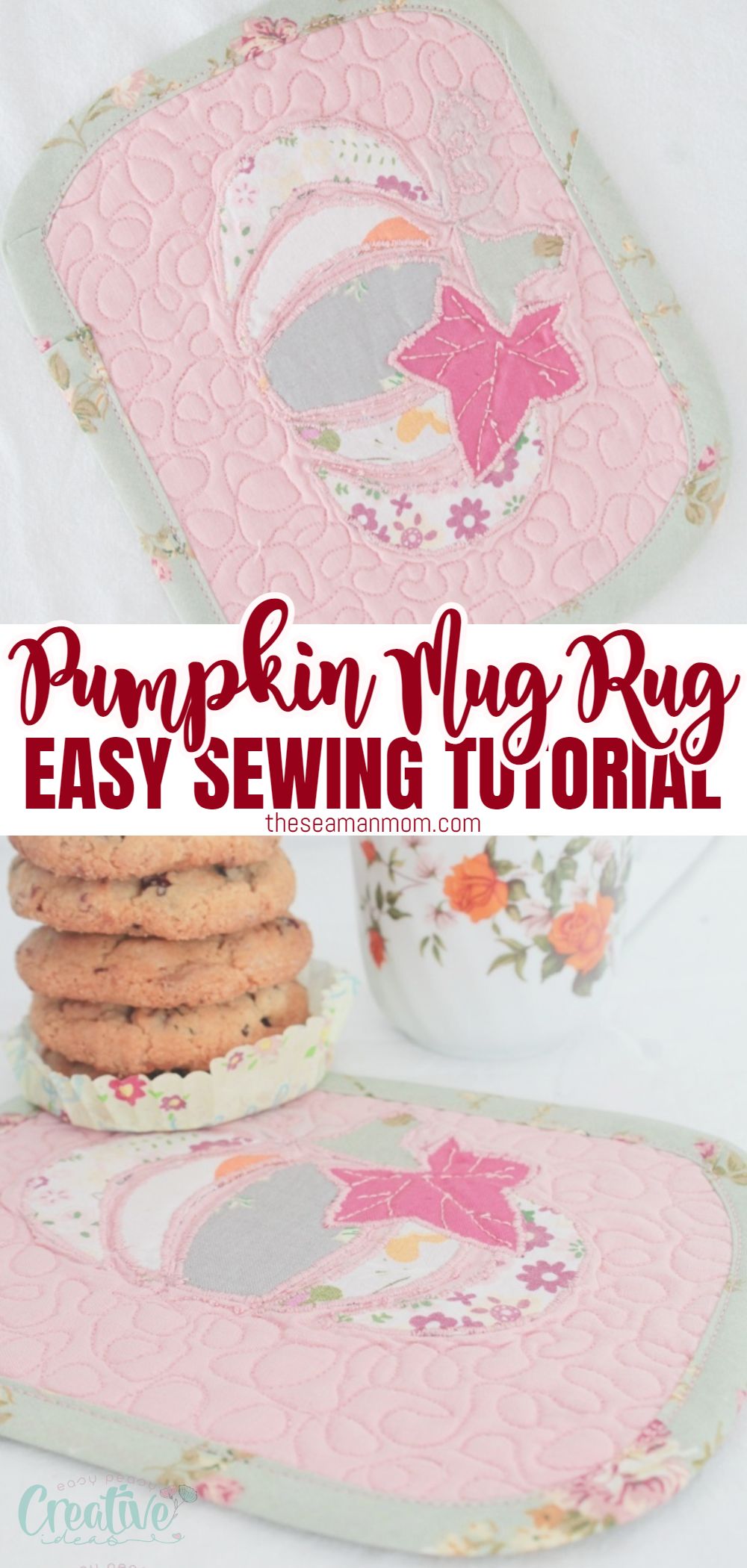 No need to go to the pumpkin patch to get yourself a cute gourd! Just sew a little pumpkin mug rug with this easy peasy tutorial for a quilted mug mat decorated with a pumpkin applique!
Quilted Pumpkin Mug rug sewing tutorial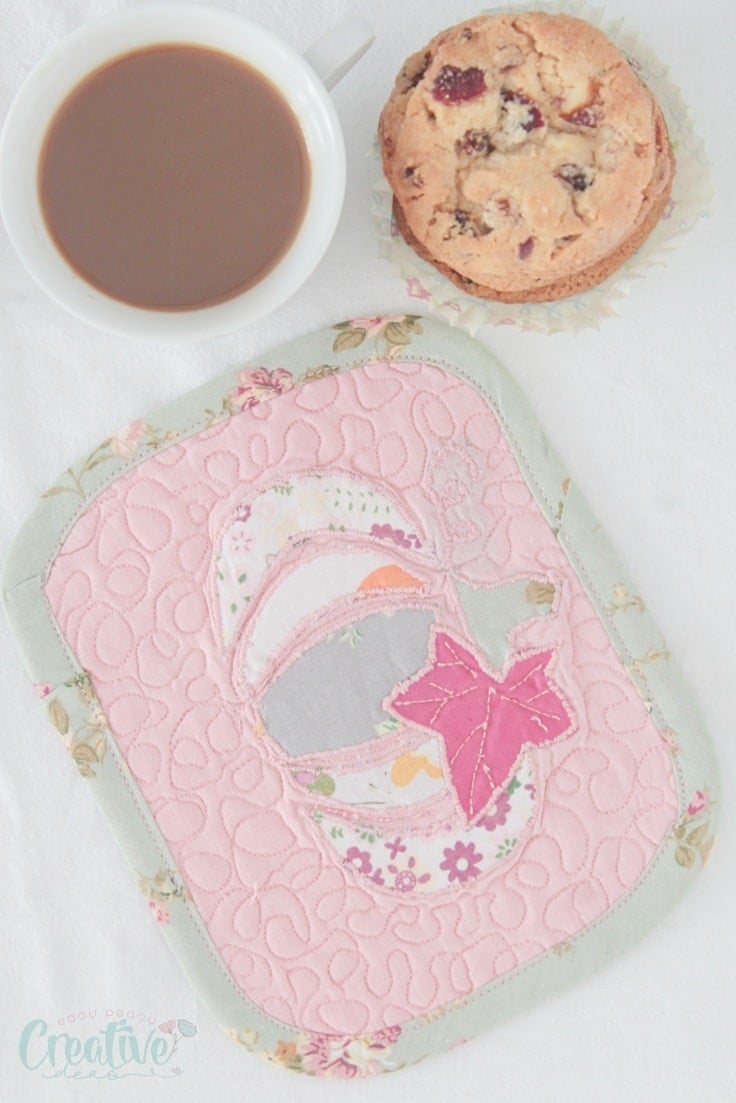 This adorable pumpkin mug rug is such a fun way to decorate for fall, Halloween or Thanksgiving! And it's so easy to make (and quite fast for a quilted piece) you'll want to make tons of these beauties! This quilted mug rug is a great gift idea too!
If you're a newbie you might be wondering what a mug rug is. A mug rug is a mini quilt that can be made in various sizes (mine is quite tiny) to accommodate a cup or a mug of coffee, milk or tea and a cookie or two. Quilters add all sorts of fun details to a mug rug (also known as a mug mat), like applique pieces or free motion quilting designs.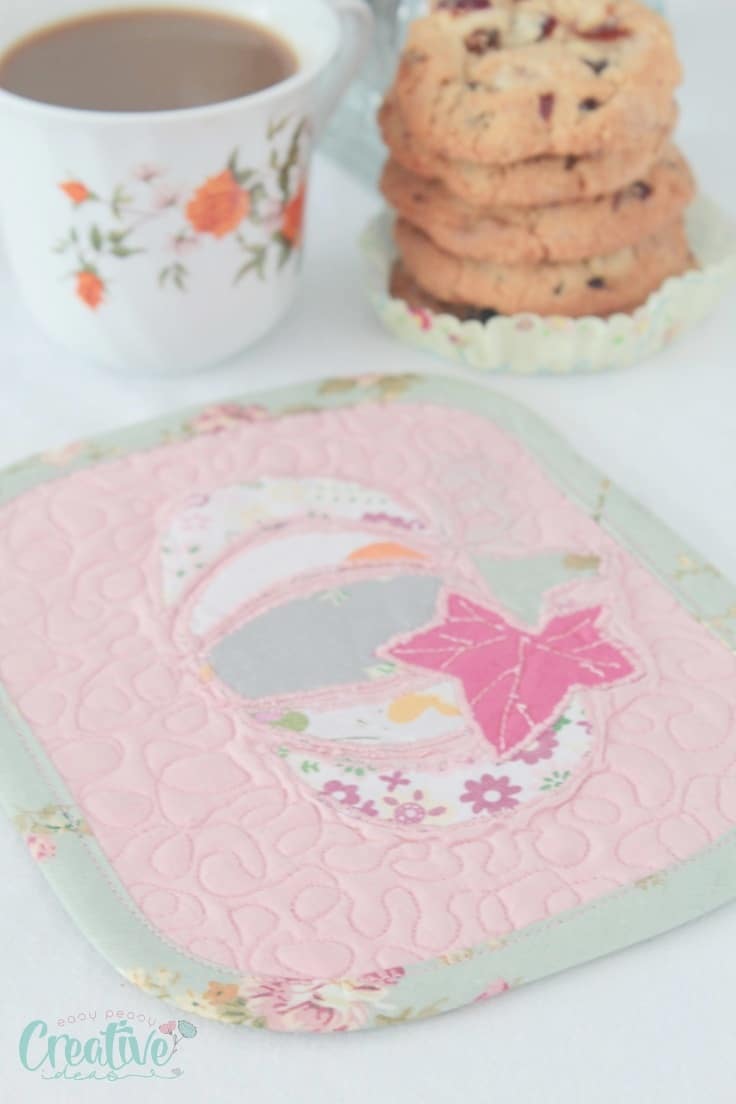 I made this pumpkin mug rug as a gift for my little daughter, Ellie, but I'll be honest, I'm having a hard time parting ways with this cutie! I might need to make a couple more right after I'm done putting this mug rug tutorial together! Ellie has a glass of milk and a cookie or two as a snack before bed and I thought this mug rug pattern would be a cute idea!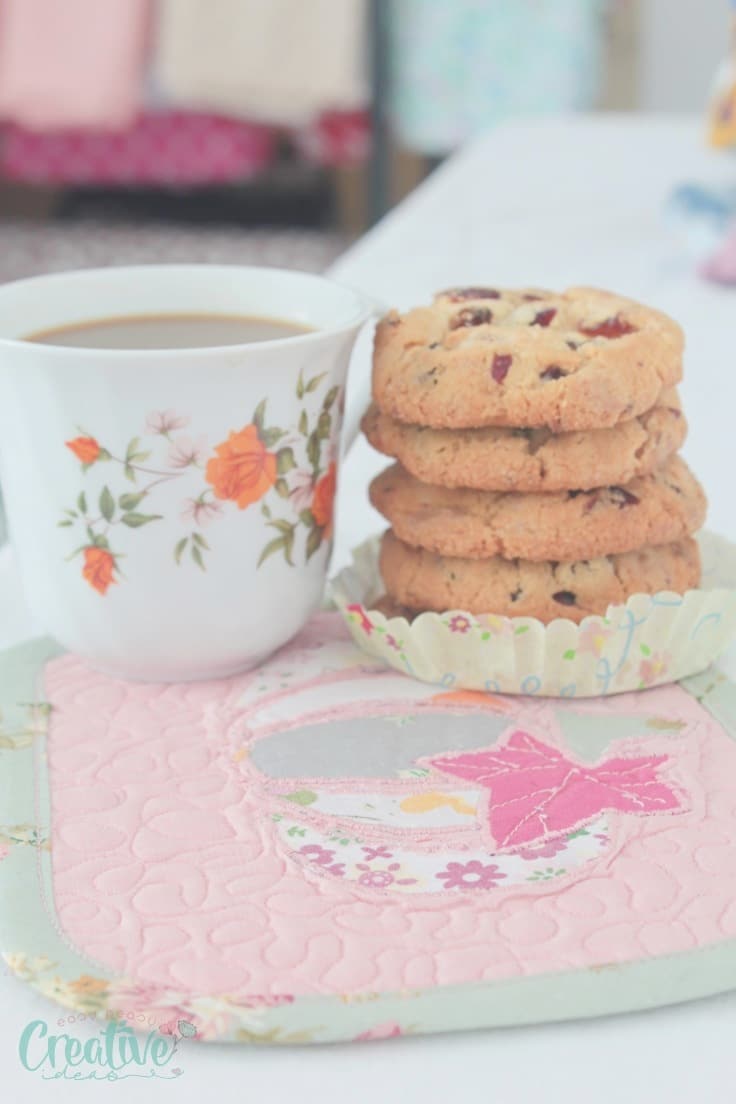 More fabric scrap projects you will love!
We love decorating for fall and holidays and this adorable pumpkin mug rug is such a nice addition to our fall decor! Cheap to make with fabric scraps, this quilted mug rug looks quite elegant and like you've spent loads of time making it. It's also a great opportunity to practice your quilting skills before moving onto a larger project.
As you may have noticed, I fell in love with free motion quilting and of course I couldn't pass the opportunity to practice a little more on this project too. I think I'm doing better and better every time. I'm hoping to be able to move to a larger project soon (fingers crossed!).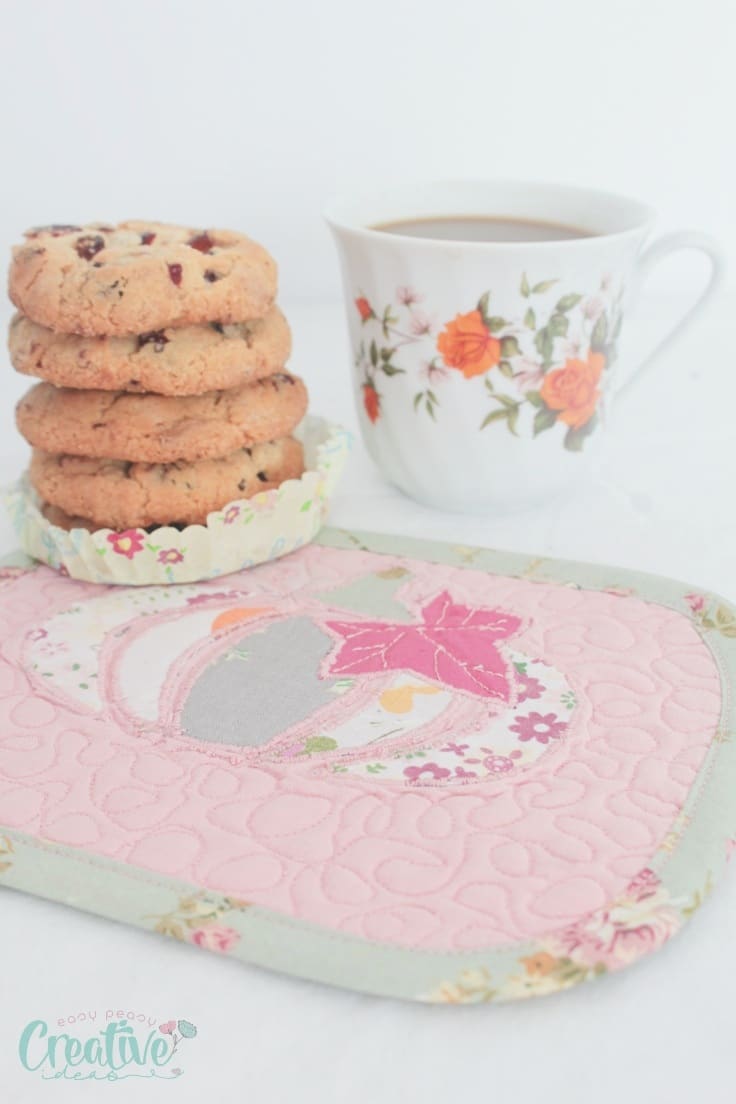 I made a template for the pumpkin applique. It has a smaller pumpkin template, like the one used in this project and a taller one, perfect for larger mug rugs. Or you can use both, that would be a fun mug rug! The templates are available here.
How to sew a Pumpkin mug rug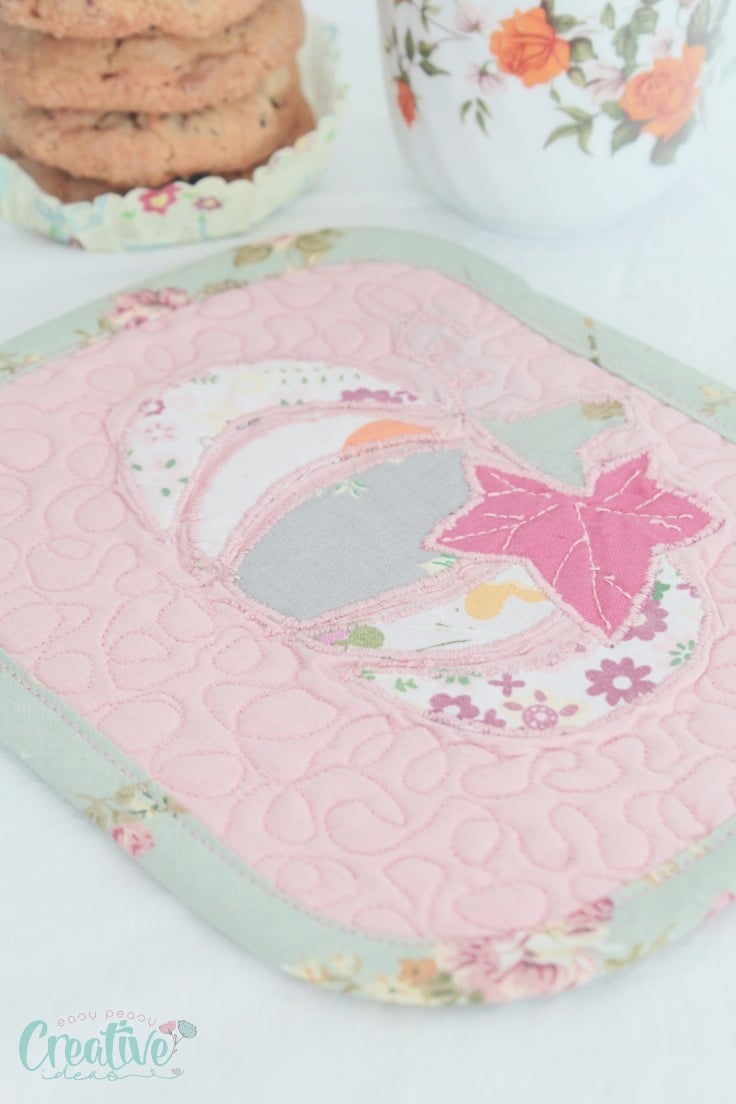 Materials:
Directions:
Preparing the fabrics
Using craft scissors, cut the template pieces for the pumpkin and leaf.
Cut fabric for the outer side of the mug rug and the backing.
Cut the batting or fleece the same size as the fabrics.
Place the pumpkin templates over the fabric scraps and trace around templates with the fabric marker.
Cut out using the sewing scissors.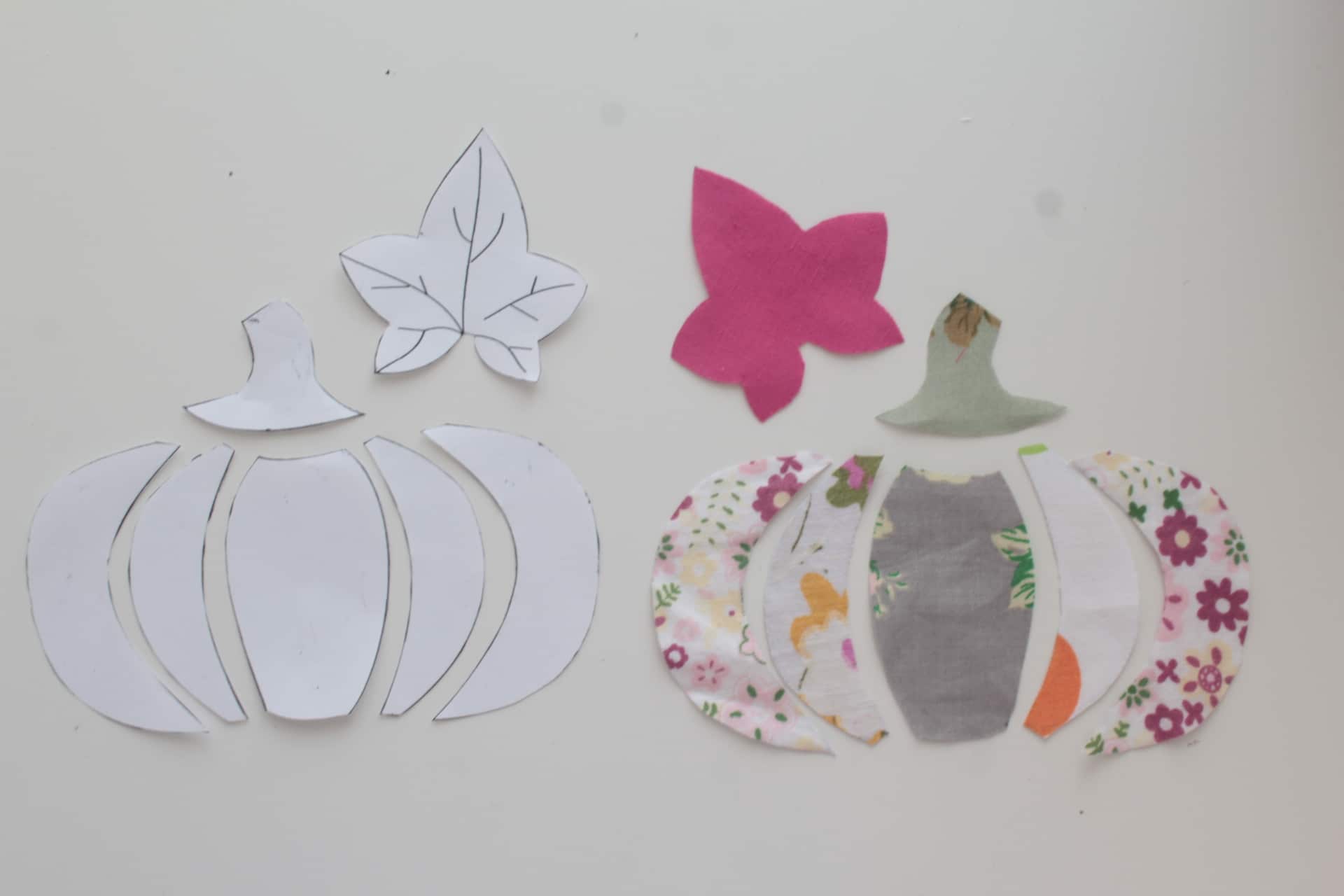 Repeat for the double sided interfacing.
Interface the back of the fabric pieces.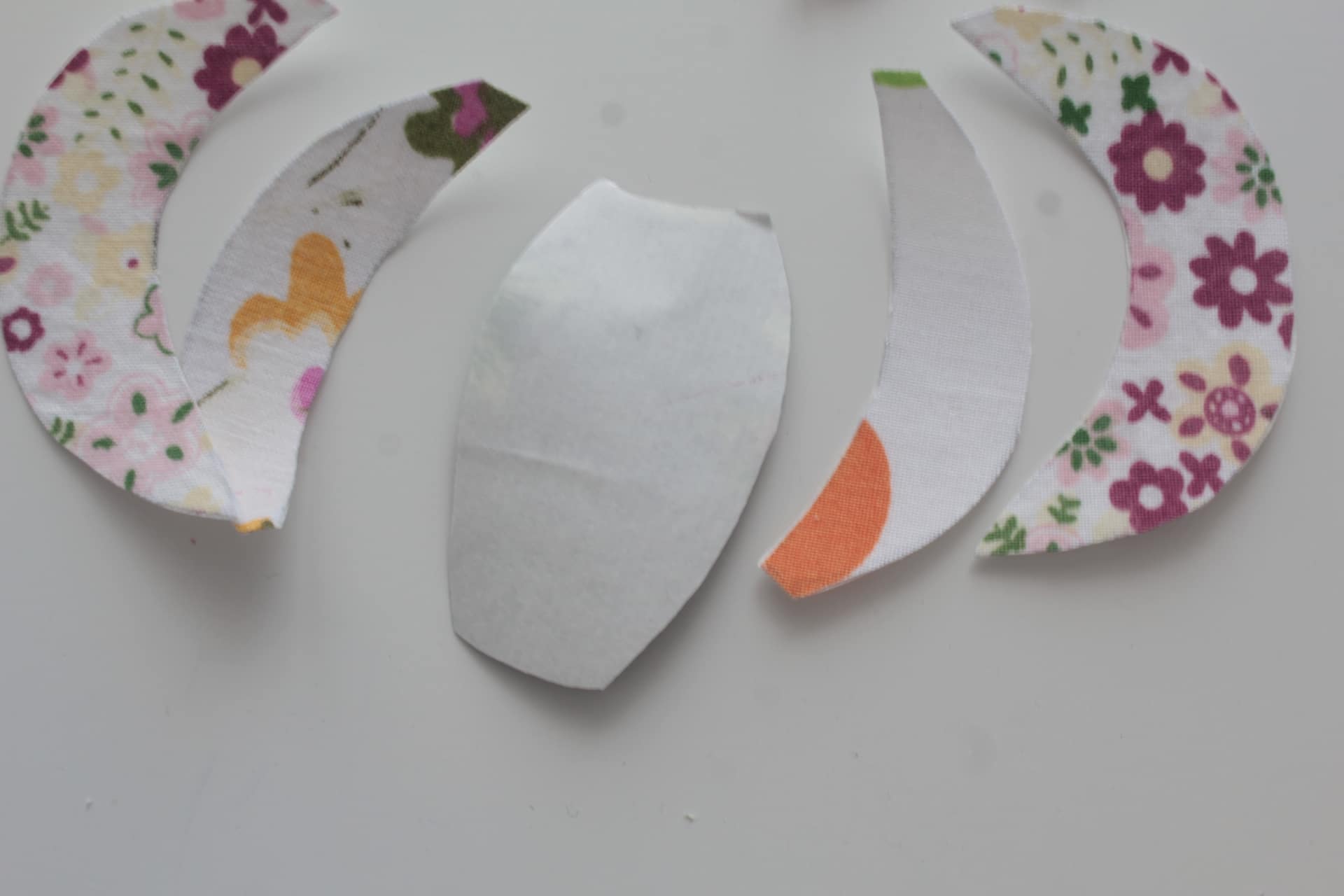 Doing the pumpkin applique
Remove the paper from the double sided interfacing and place the pumpkin pieces on the outer fabric piece of the mug rug.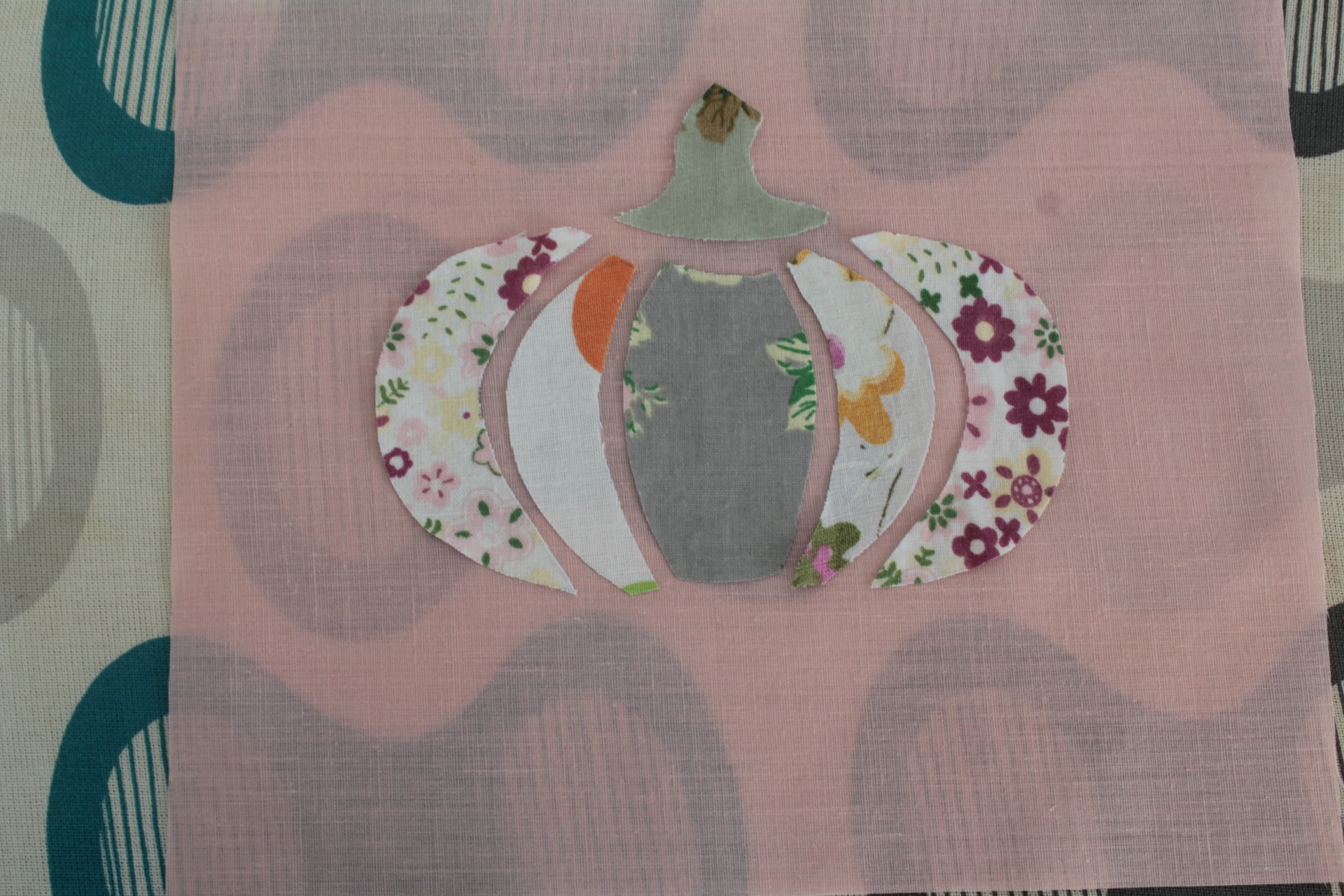 Iron press to set the pieces in place.
Apply embroidery interfacing (highly recommended! I skipped this step for this project as I couldn't find any interfacing at that time and I had a hard time stitching the applique nicely).
Install an embroidery foot, a quilting/darning foot and using a zig zag stitch, sew around the raw edges of each template piece. I used my darning foot, a small zig zag stitch and small tension and length. I'd advise you test your settings first on a scrap piece of fabric the same texture as the fabric used for the project and change the settings until you're happy with the stitch. Once you're happy with the settings move onto the actual project.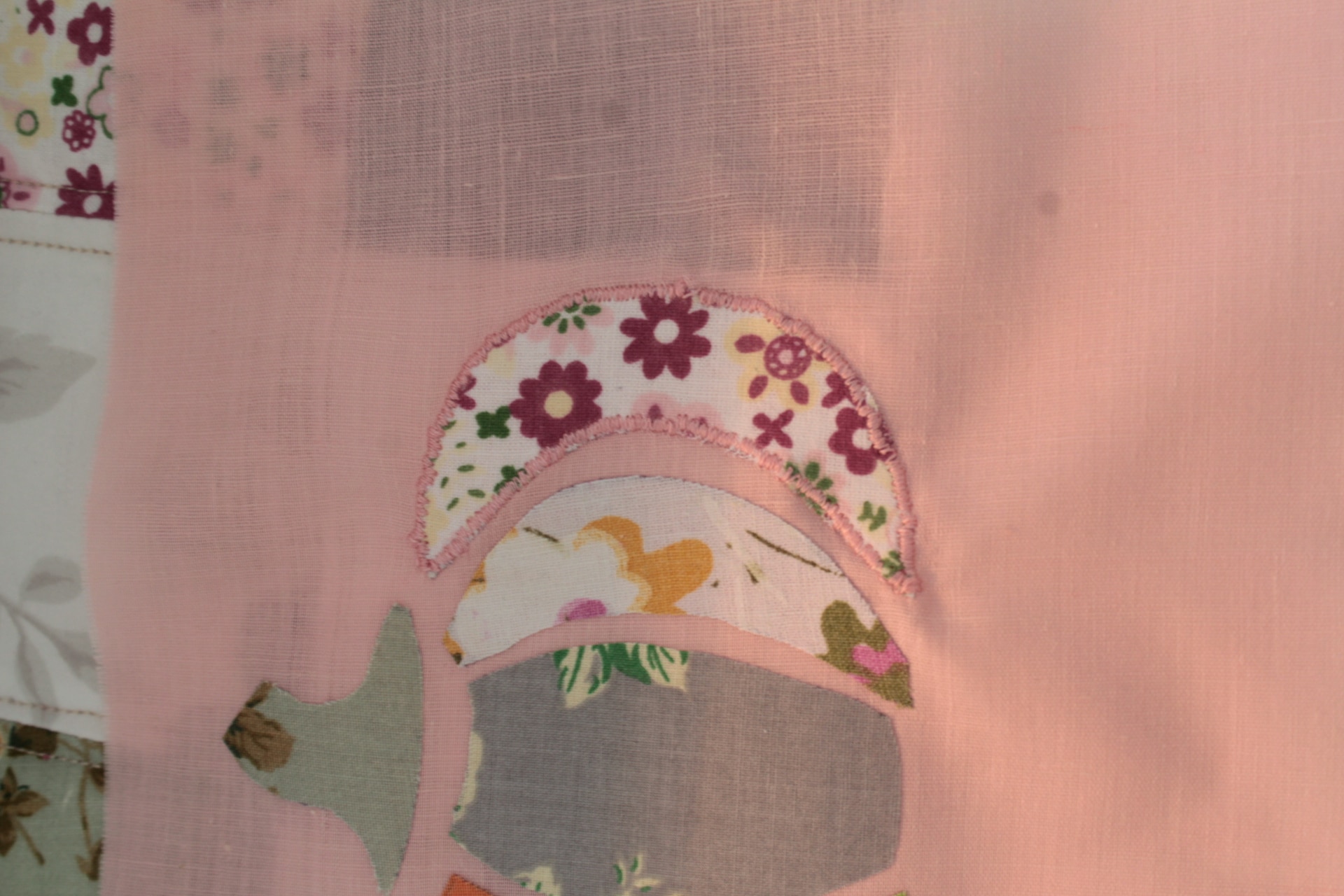 When all the pumpkin pieces are done, apply the leaf in the same manner as above then stitch the edges.
Draw the curl and sew using a tight zig zag stitch.
Putting the mug rug pieces together
Place the backing fabric wrong side out, top with the batting and then add the outer fabric (the one with the pumpkin applique), right side out.
Pin through all three layers or clip the sides with quilting clips to keep all layers together.
Do some free motion quilting all around the pumpkin and between the pumpkin pieces.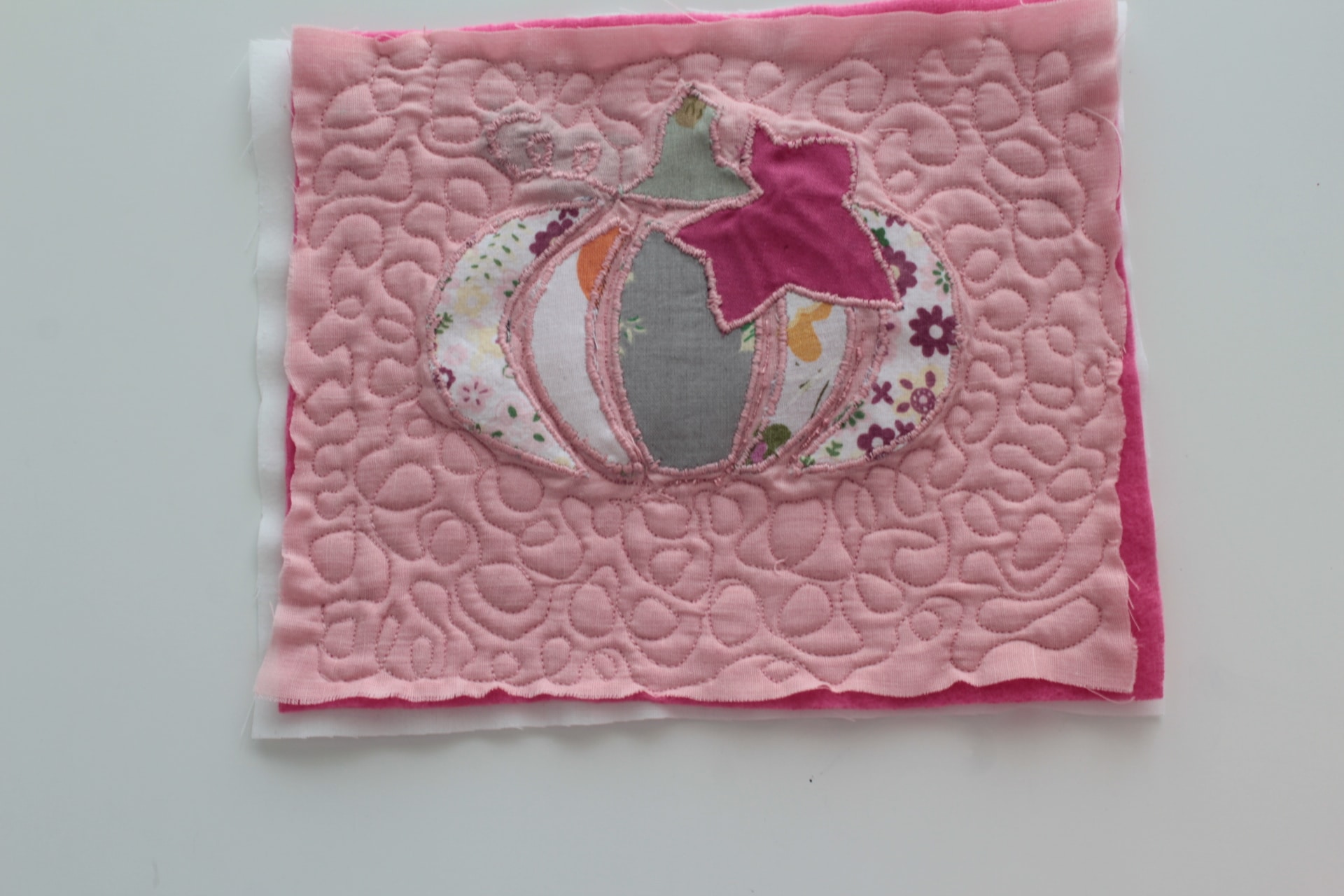 Place the mug rug on the cutting mat and using a quilting ruler and a rotary cutter, trim the edges to perfectly square the mug rug.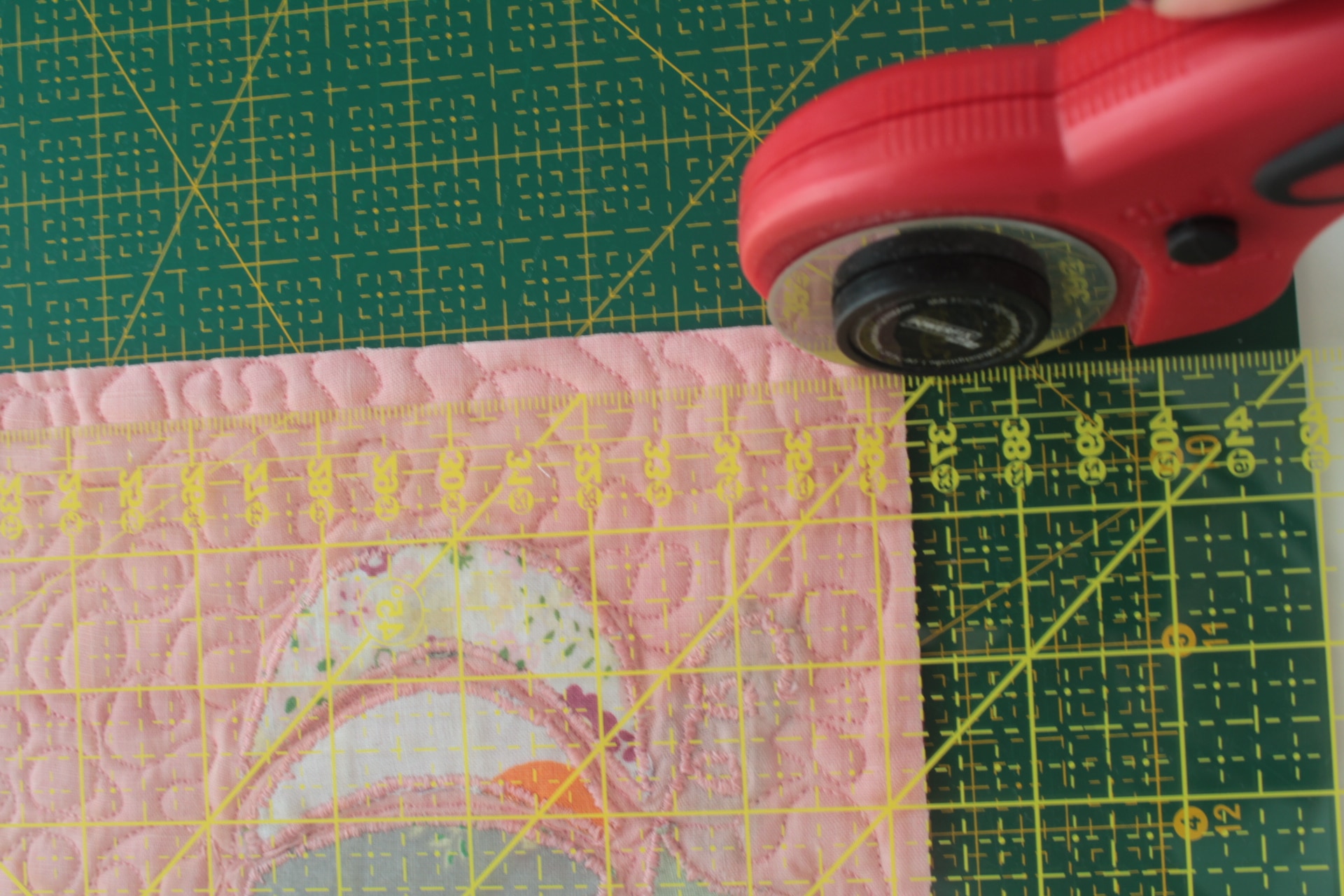 Round the corners a little.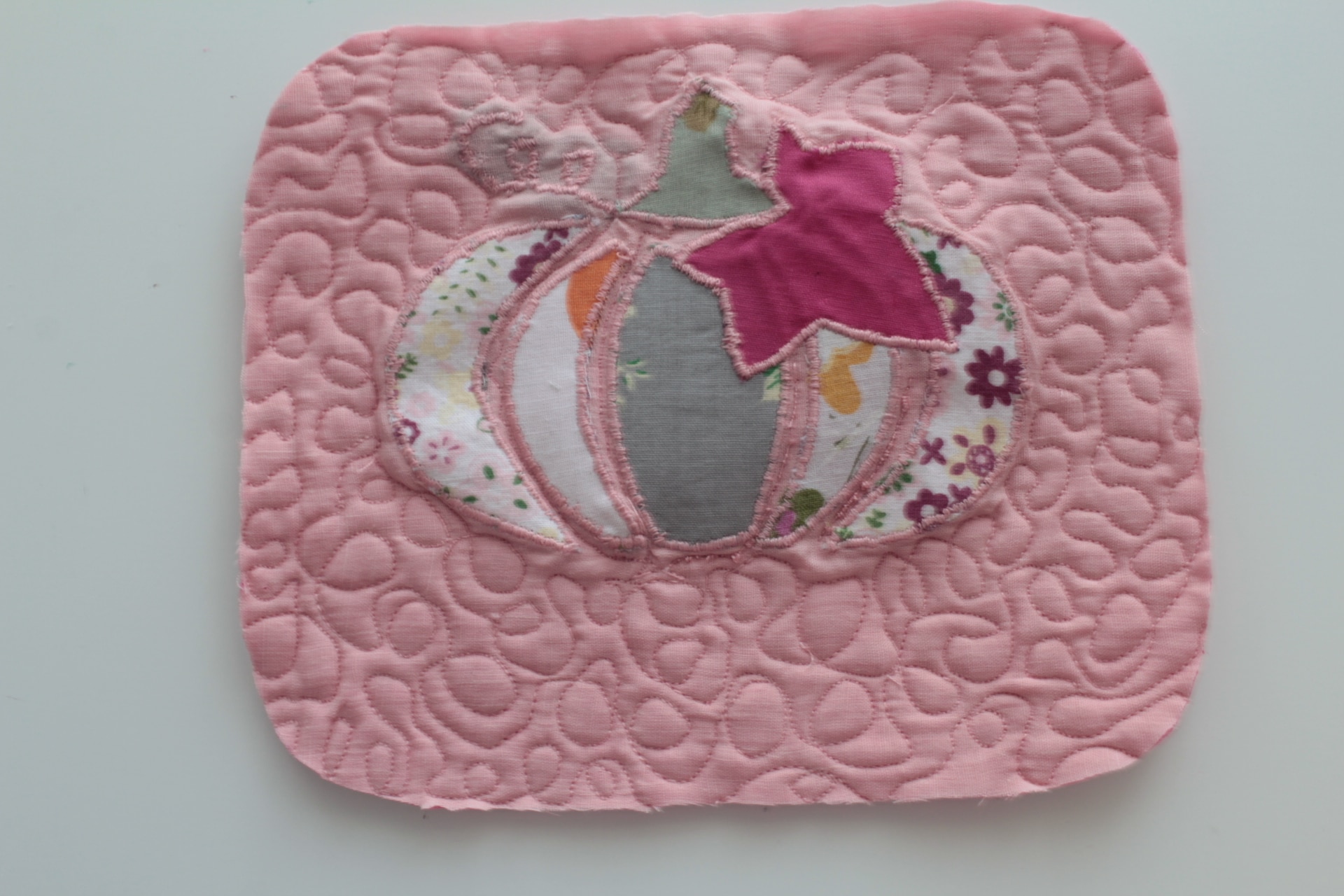 Apply double fold bias tape or bias binding.
Give your pumpkin mug rug a good press and you're ready to enjoy it with your coffee or tea mug and a well deserved cookie!
Pin to save for later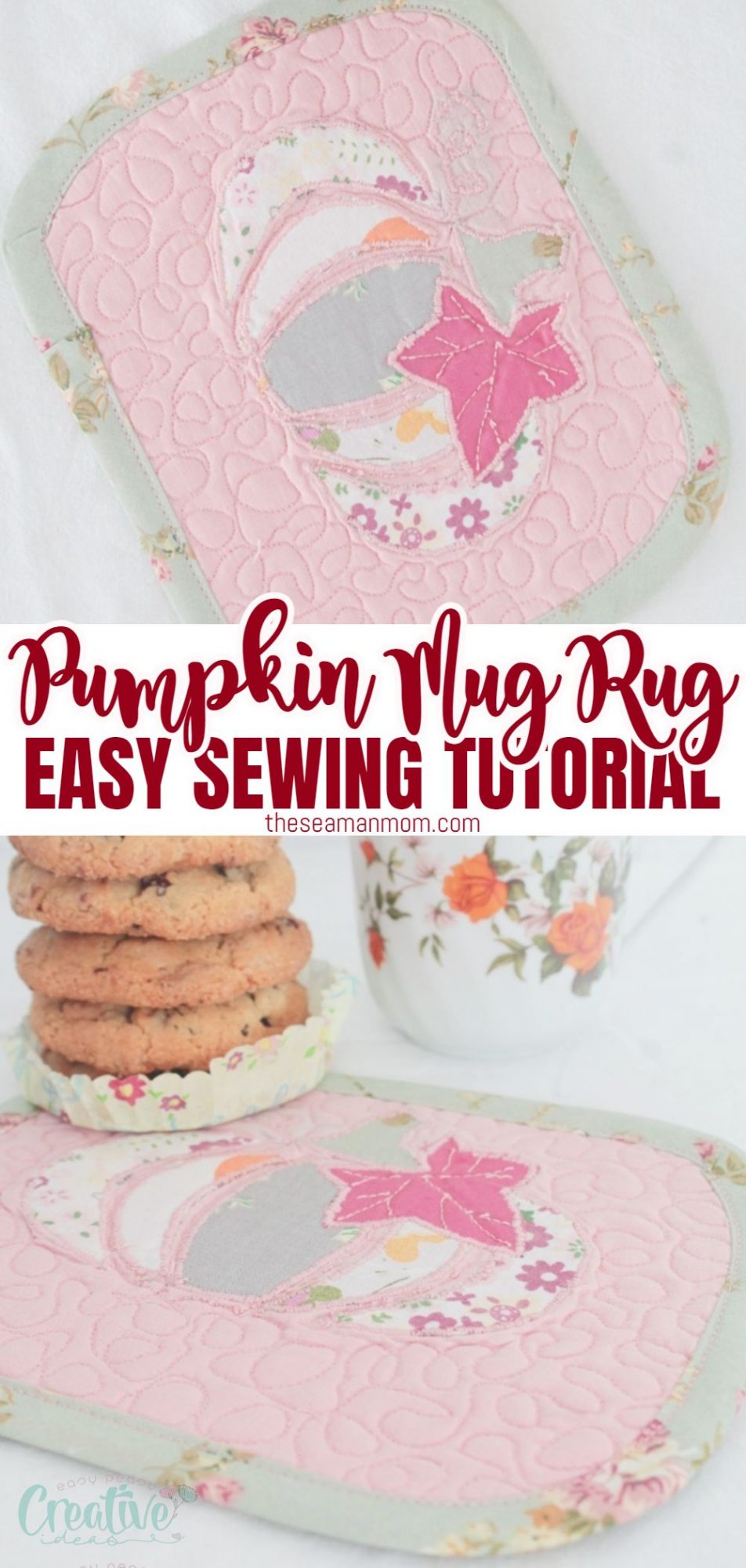 Most popular sewing projects: