You need to make these amazing triangle fabric weights
Article may contain Amazon & affiliate links. As an Amazon Associate I earn from qualifying purchases at no additional cost to you.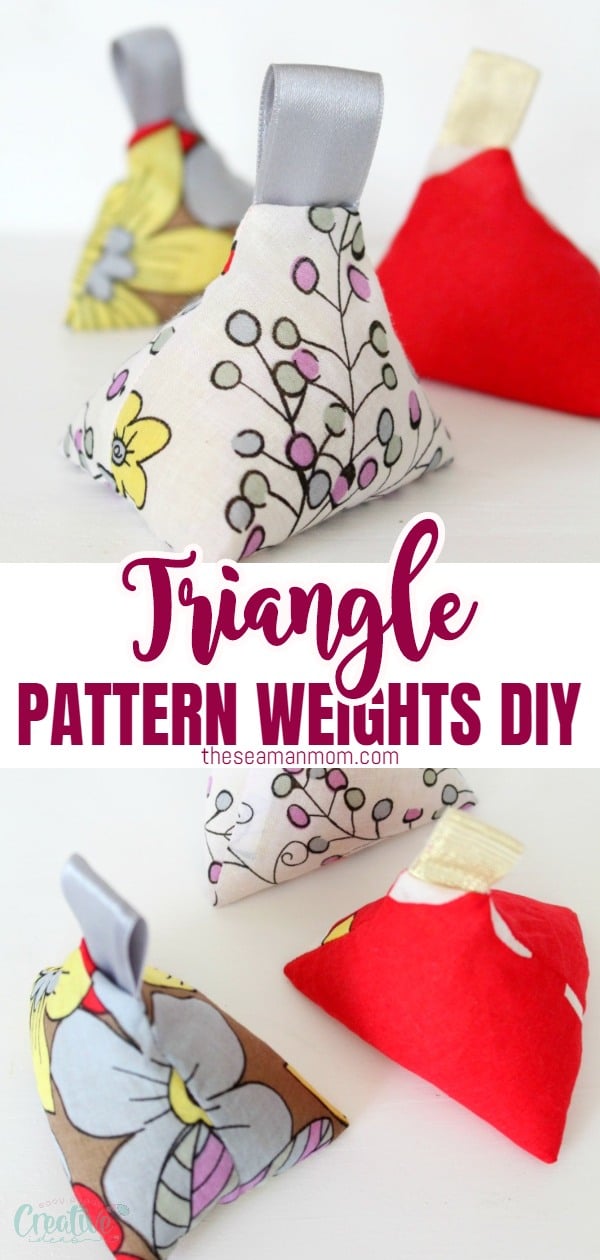 Make your own fabric weights with this 10 minutes tutorial! These sewing weights are perfect for skipping pins when tracing your patterns but are also cute enough to use as home decor!
Pattern weights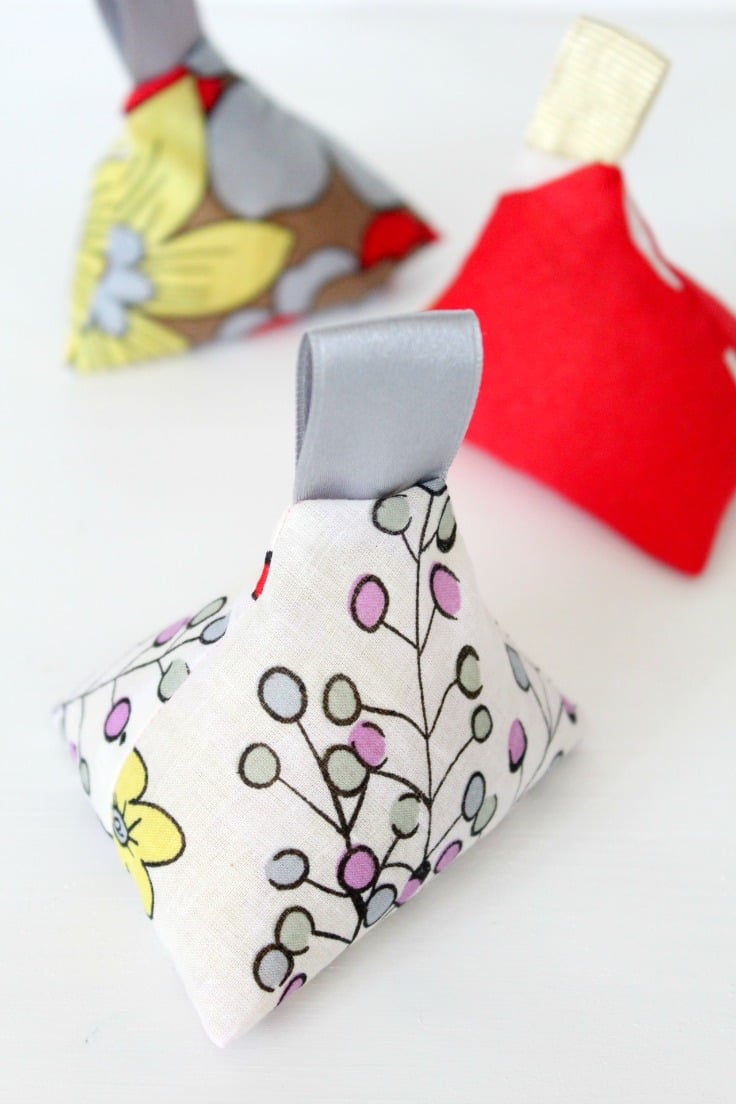 Fabric weights are a great alternative to pins for holding pattern pieces onto fabric when you're tracing them off or cutting them out, especially on slippery fabric. These sewing pattern weights are cute little triangle sachets that you can use as fabric weights for sewing or as air fresheners placed around the house. Simply add a few drops of your favorite oils!
These cute triangle fabric weights are a very quick project that you can make in under an hour and require very basic sewing skills.
Cutting out patterns can be both challenging and boring, and you risk cutting it out wrong when pinning with straight pins and using scissors. Fixing it with weights and cutting with a rotary cutter is a lot easier and more accurate. You will also finish cutting a lot faster and you can pass on to the actual tailoring and sewing.
This way, you also save a lot of time and get to make more amazing sewing projects.
More beginner projects you might like: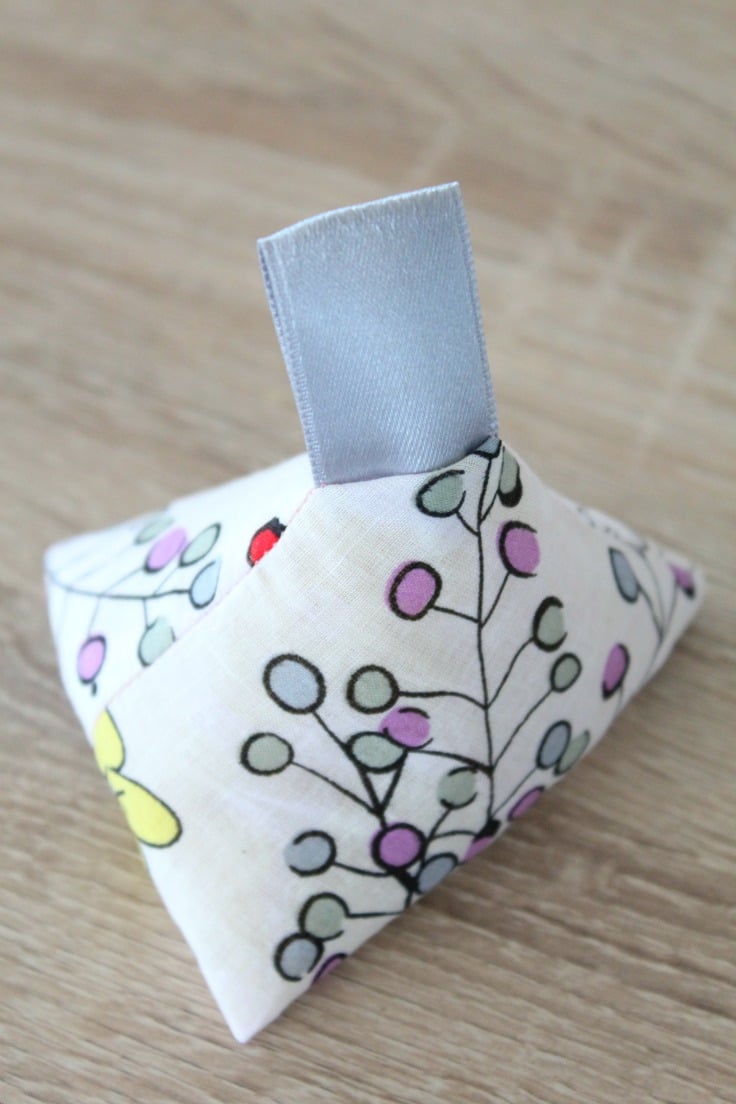 Silk, veils, organza and other fine and slippery fabric can be damaged by pins and shears, so it's always better to use fabric weights while tracing the pattern and cutting. Use a rotary cutter for this kind of fabrics to make cleaner cuts.
I use these fabric weights for both purposes and also because they're so darn cute! I like to have them laying around the house for no practical reason, really. They have a little ribbon loop so you can hook it onto something or grab it easy. You can use them in your drawers and maybe your fabric shelf too!
They can also be great holiday gifts, especially when made out of themed fabrics. Just use some pine essential oil or cinnamon extract to make them smell amazingly.
A sewist will love receiving a set of these cute weights as a gift, as we all know the struggle of laying a pattern and cutting it out neatly.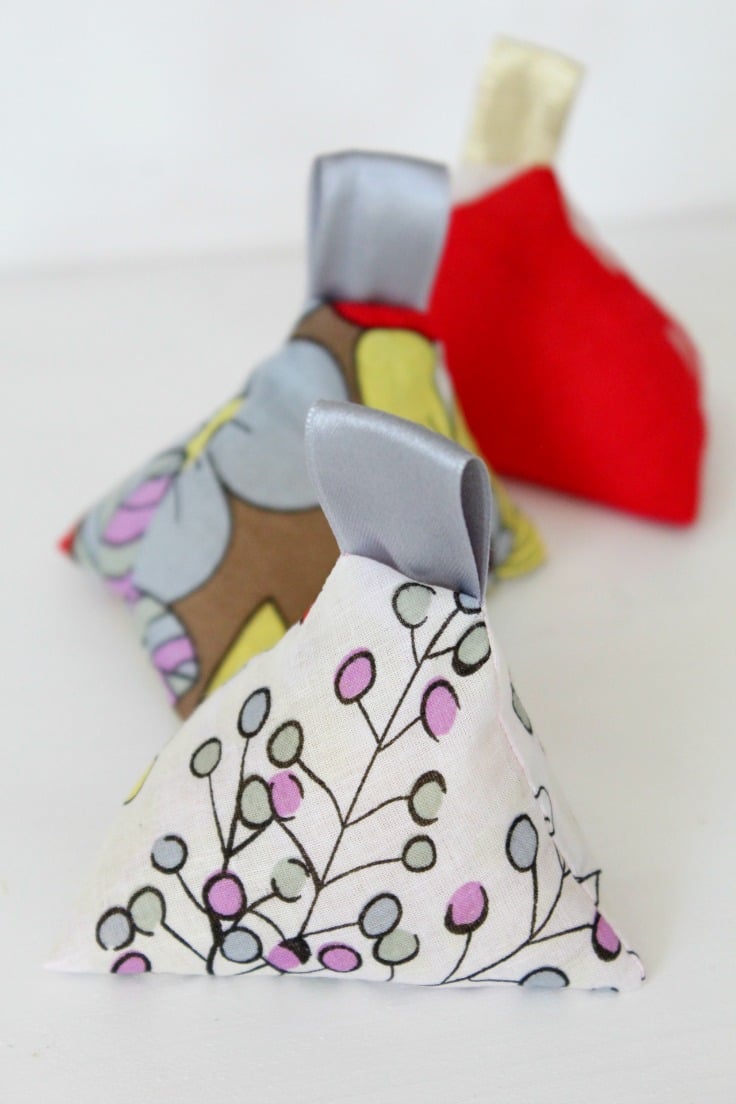 They are not very heavy, but a bunch of them will surely keep your fabric in place while cutting. And you can also use them for other crafts, like applique. They are very useful for holding down the paper pieces while tracing the designs.
You can repurpose old socks with cute designs that you didn't still want to throw away because of the patterns. This is the time to put them to good use and give them a new life.
Larger triangle weights can also be used as phone, Kindle or iPad holders while talking to your loved ones or watching some interesting videos.
Tips and tricks to make these fabric weights:
Batching will make it a lot quicker when you are short on time and need to make more weights;
Gravel, dried peas, barley or dried lentils are also good fillings in case you don't have rice on hand. Aquarium gravel is the heaviest, if you plan on making very heavy weights;
Use up all the fabric scraps you've been keeping so long and didn't find something to do with;
Kids will also love playing with them and using them as small balls, so keep this in mind and make some for them too, if you want yours to be safe;
Make some fun animal-shaped weights by adding beaks, rooster crests, eyes or other elements to make them a lot cuter.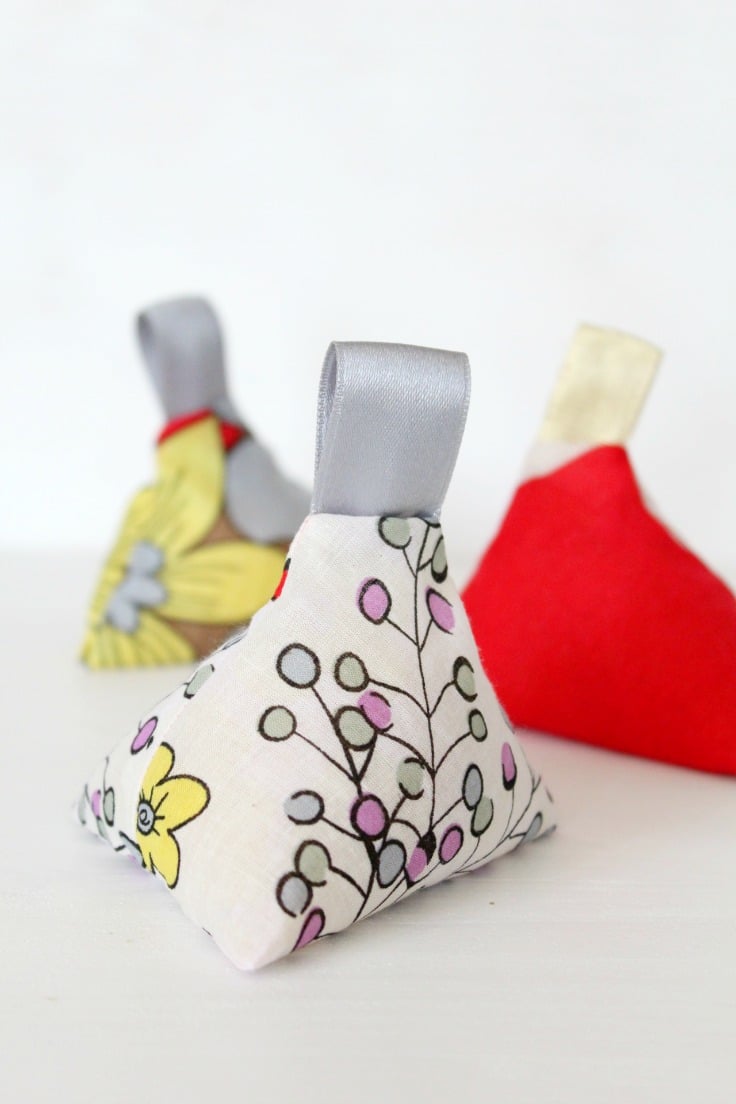 These pattern weights are also a great project for beginners where they get the chance to practice sewing a triangle (which might sound scary but it's so crazy easy!). And it's a great scrap buster! The size on these little sachets is quite small but you can easily adjust it to fit your needs and style.
Most popular sewing projects:
Fabric weights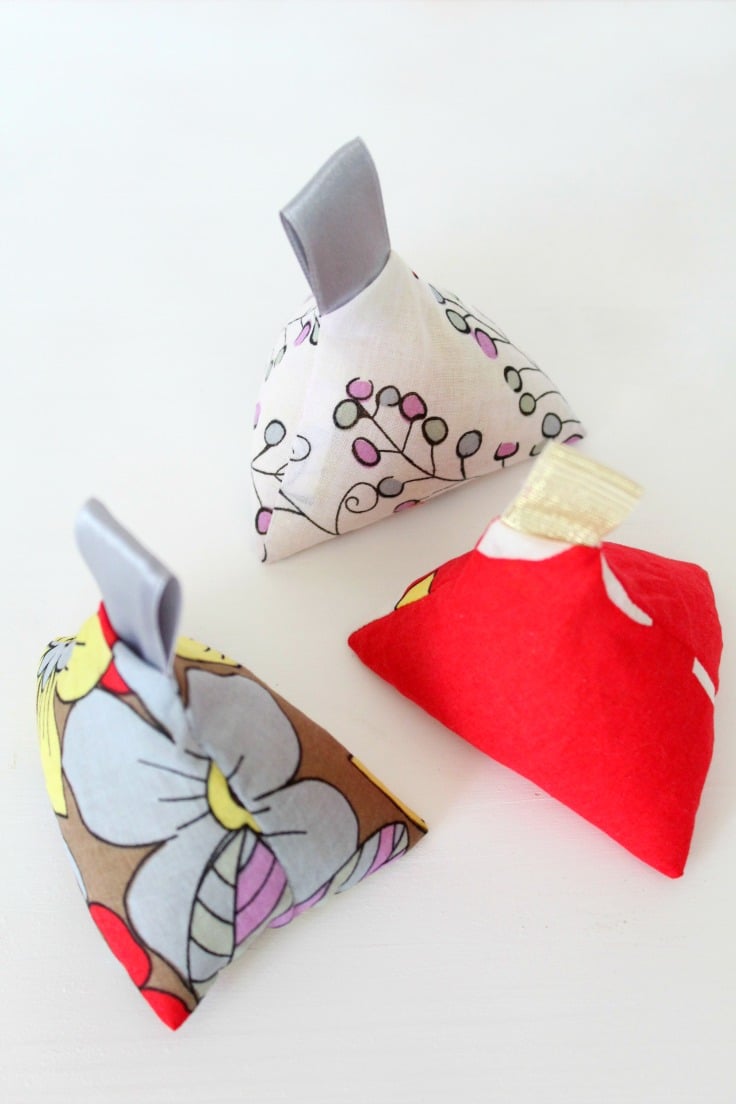 Materials: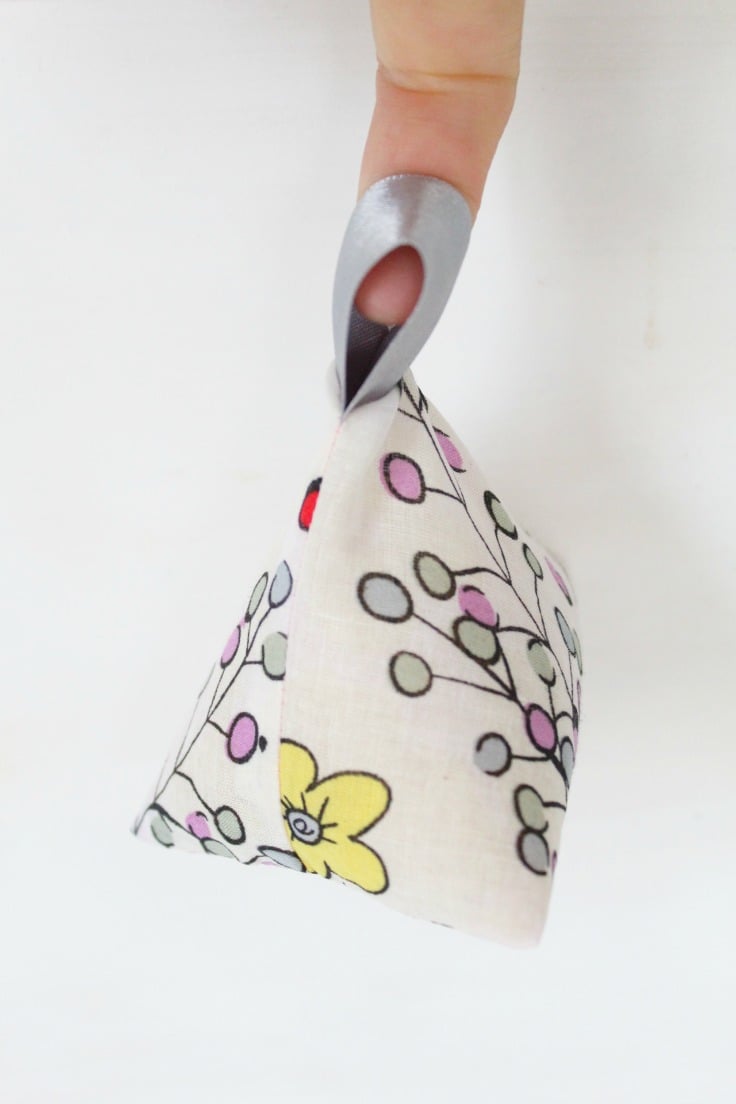 Directions:
Place the fabric strips right sides together.
Open one corner.
Fold the ribbon in half and pin or stay stitch in that corner.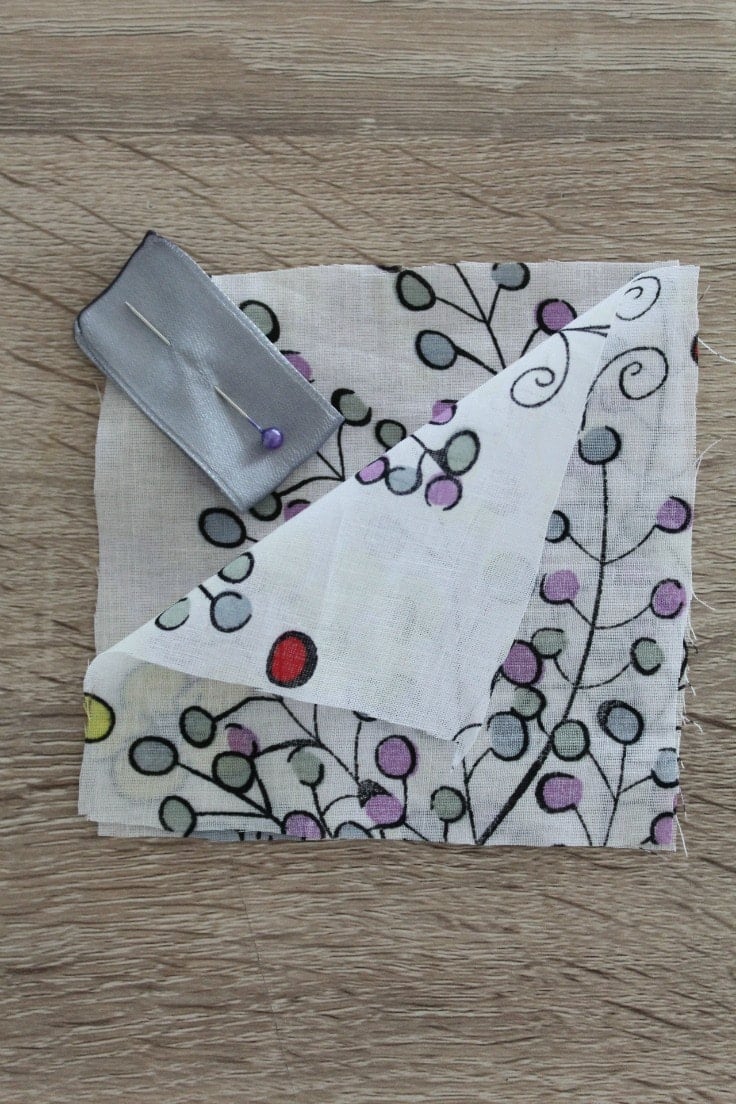 Lay the strips together again and sew around 3 sides.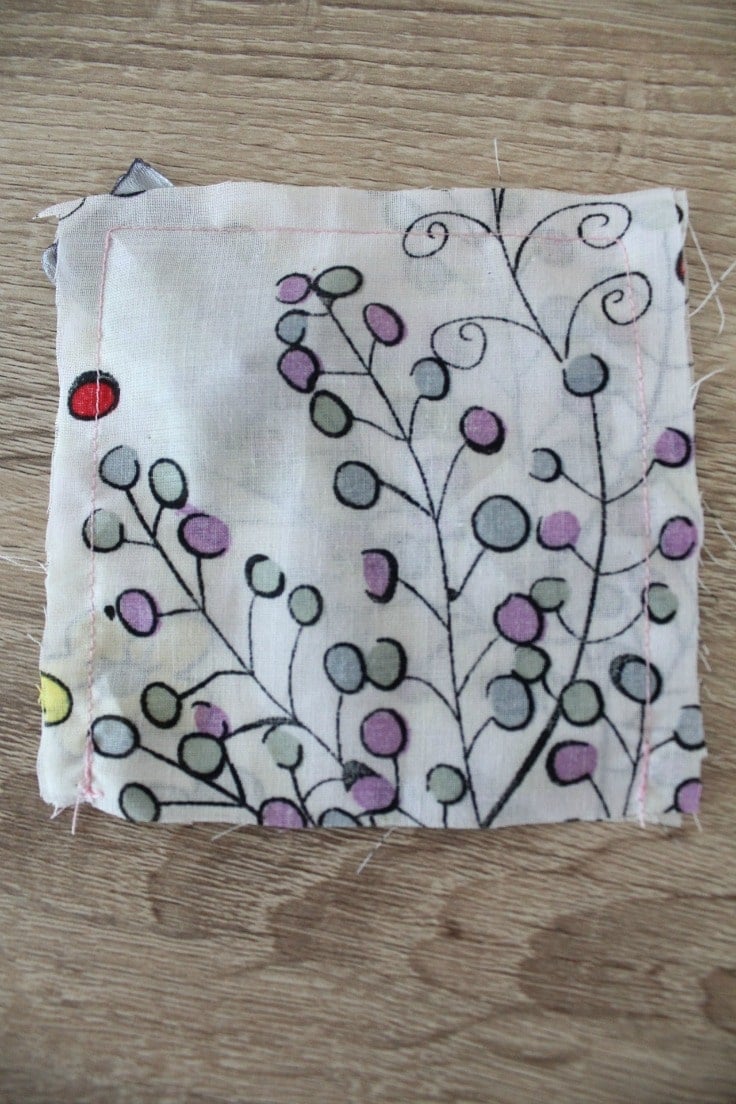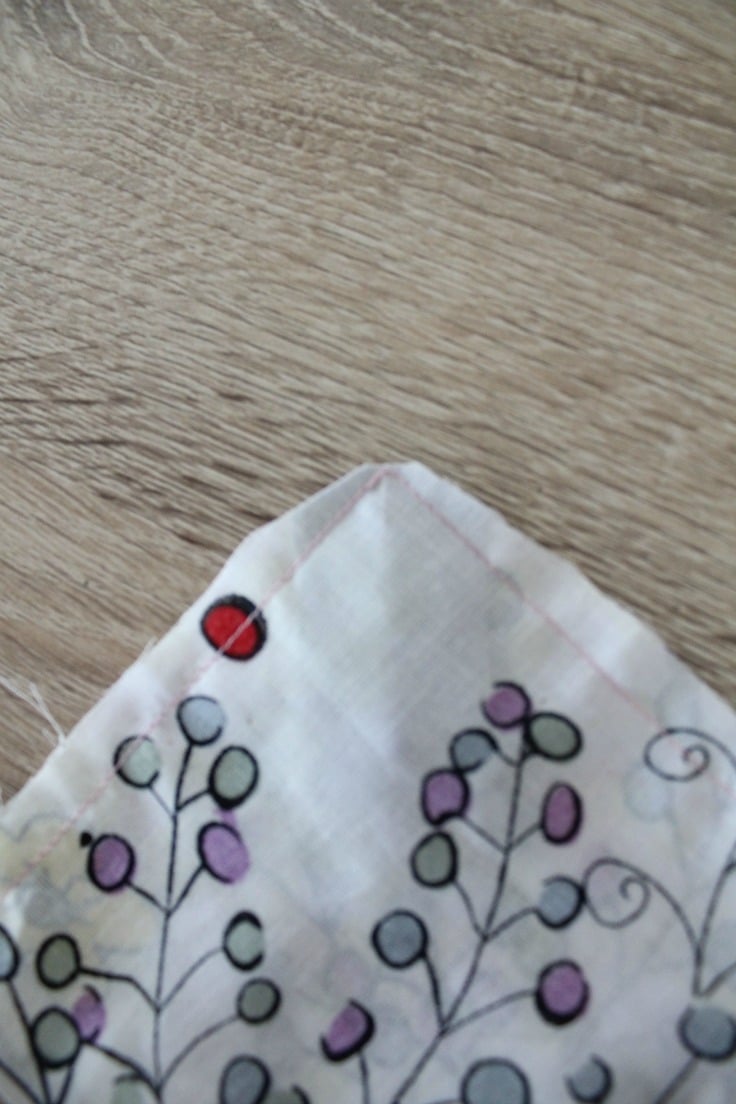 Open the open side a bit and re-arrange it so the seam hits the middle of the opening. This is how you create the triangle shape. In other words match the side seams.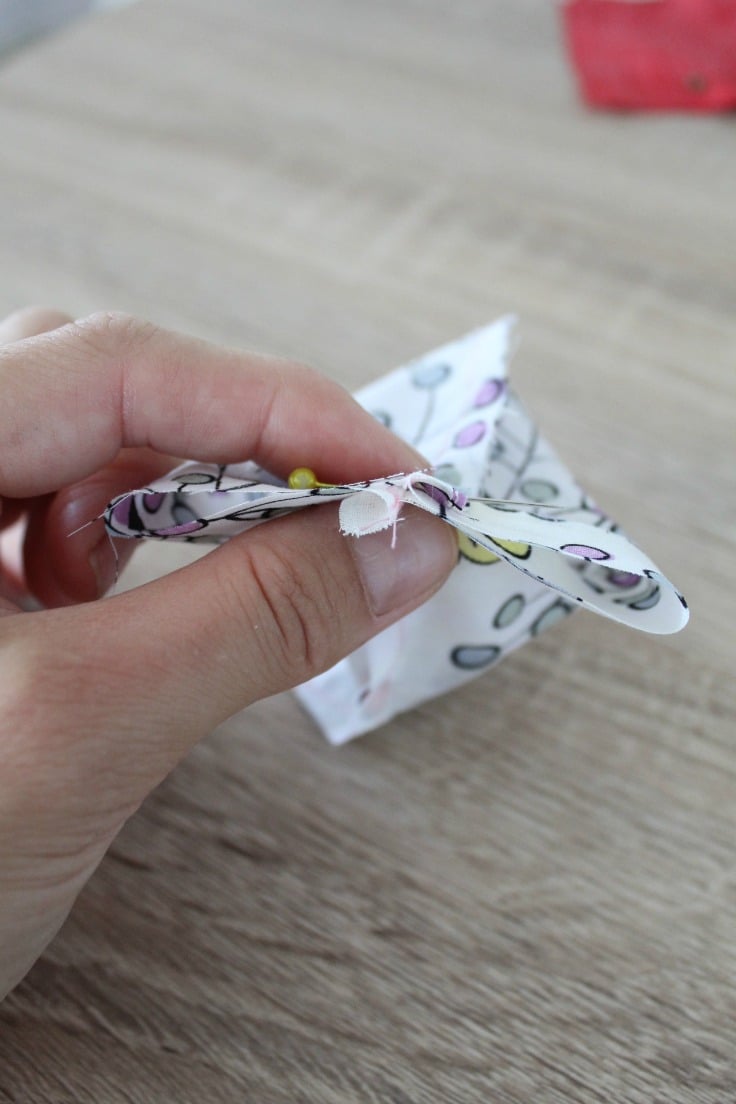 Sew the seam leaving a small opening in the center for turning and filling with rice or walnuts.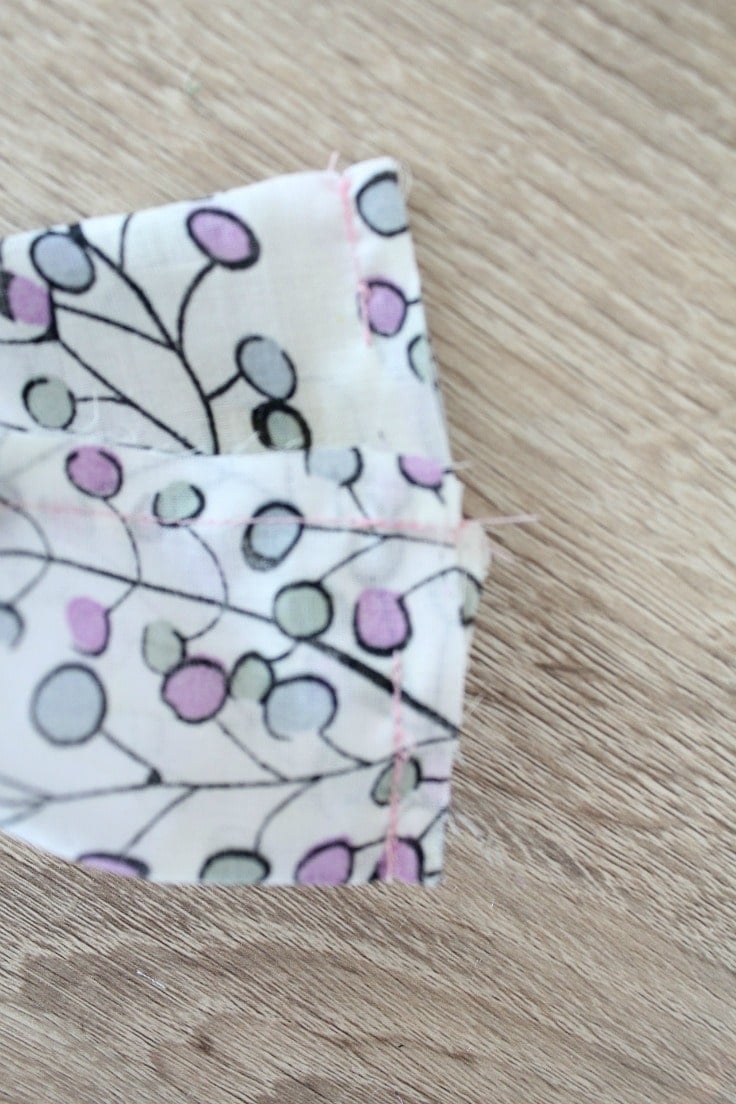 Fill the sachets with rice or walnuts (and if you use essential oils, add some drops to the filling at this point).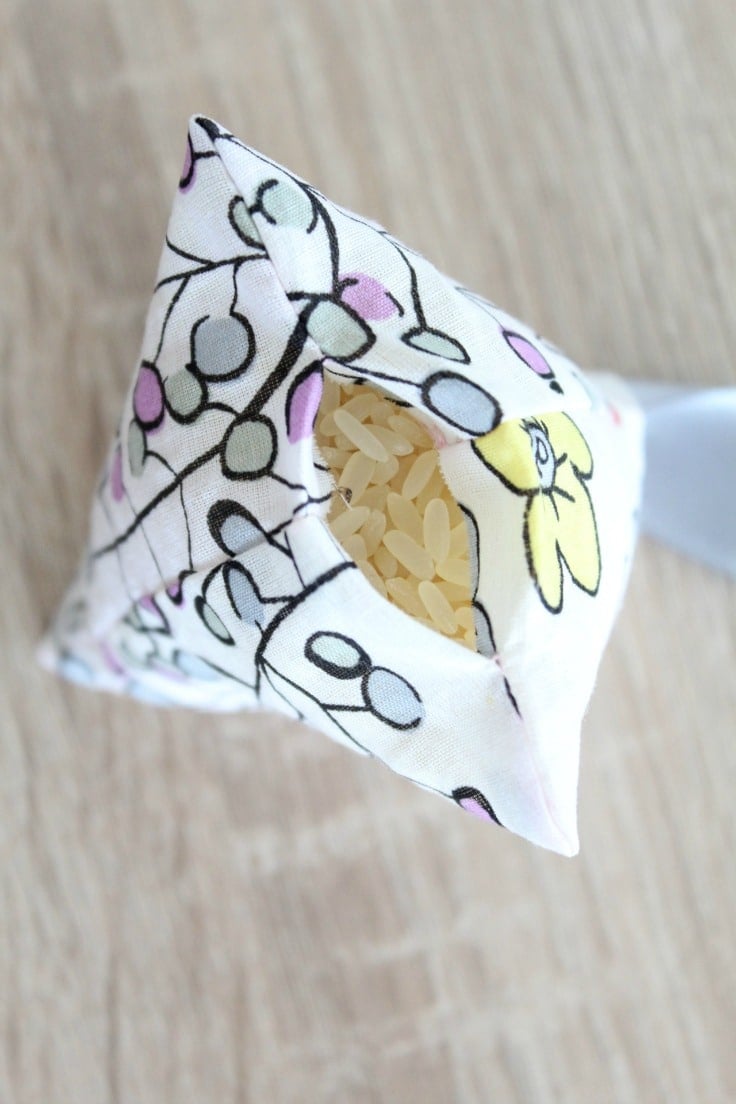 Fold the raw edges in and press.
Hand stitch the opening with a ladder stitch.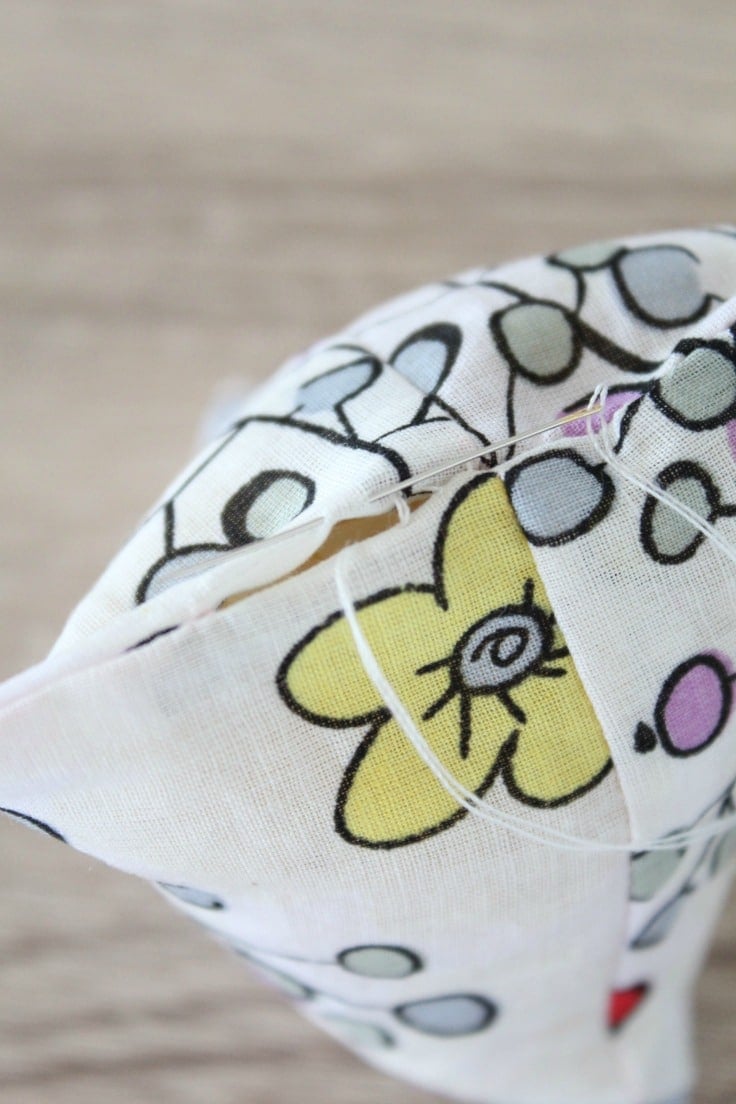 Pin to save for later