This recipe is perfect not only for Valentines but any holiday. These moist Red Velvet cake balls with coconut are festive, sweet and make a wonderful indulgent treat or gift!
Red Velvet cake balls with coconut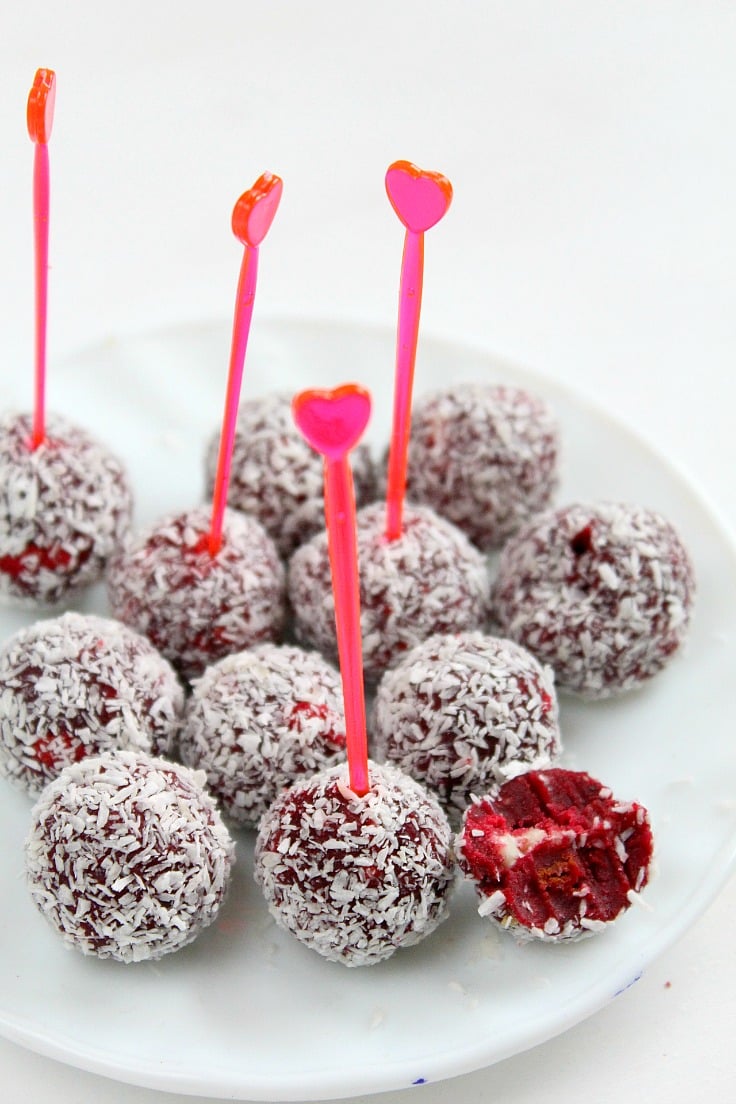 I didn't plan to make these cute balls but after making these yum and adorable Valentine mini LOVE cakes I ended up with some left over cake which I wasn't willing to throw away because 1: I worked hard for that cake and 2: it was too pretty to part ways with just like that. So I thought about something simple that won't take more than a few minutes to make so Red Velvet Cake Balls with coconut came to mind.
I didn't have the patience to make cake pops; after baking for a few hours then taking photos for another hour, I just needed the simplest recipe ever. And this one delivers! It literally took 5 minutes to make and it was so tasty I almost ate them all before having the chance to take any photos.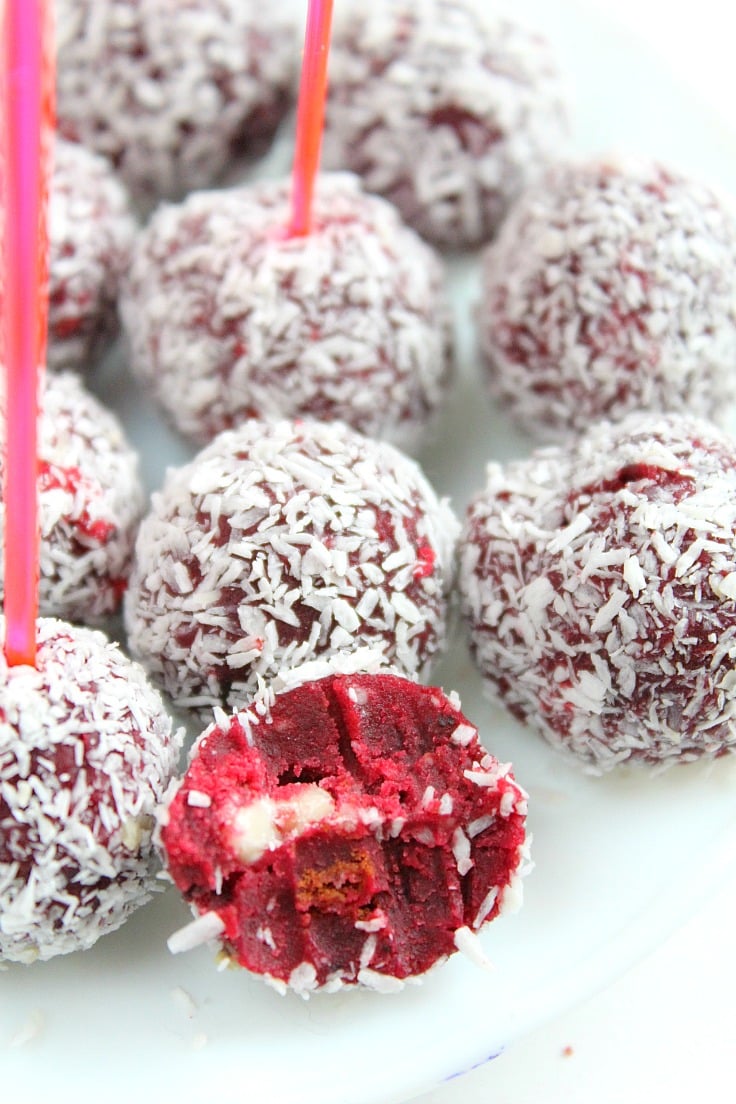 I made these with red velvet cake but any cake is good, you just need to add red food coloring if you want to, or just skip any food coloring and use the cake as is. I also added baking white chocolate, cut into small pieces but you can use your favorite chocolate, even milk or dark chocolate, there are no set rules. After rolling the balls in coconut flakes I realized these would've made an awesome treat with a special flavor if I was gonna cover them in grounded nuts, like almonds or cashew. Well, there's always a next time! Though if you give these options a try please let me know how they taste.
Red Velvet Cake Balls with coconut recipe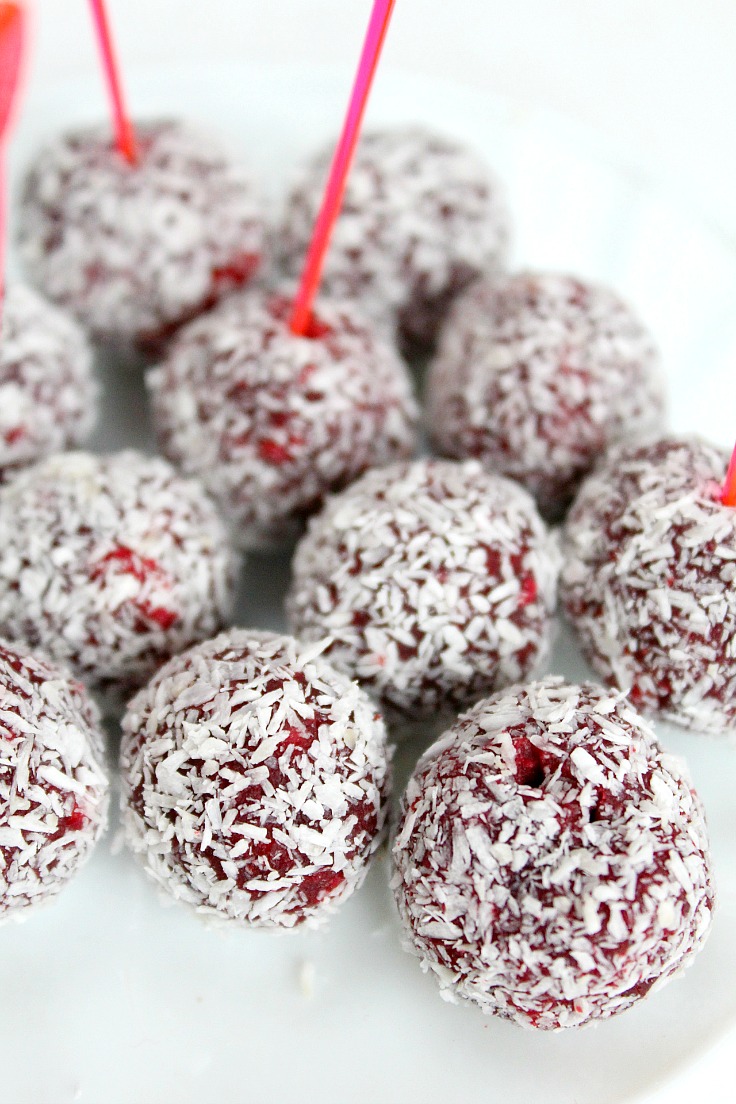 Ingredients for 12 small balls:
2 cups red velvet cake, recipe here
2 tablespoons butter, melted
1/2 cup white chocolate in small pieces
coconut flakes
Directions:
Crumble the red velvet cake by hand or using a food processor
Add butter and mix well so there are no dry spots
Add chocolate and mix well
Scoop out small balls with an ice cream scoop or a teaspoon and roll in your palms to make even balls.
Roll through coconut flakes (or grounded nuts or cover in chocolate if you have the patience)
Decorate with cocktail sticks (optional). If you like mine, these cocktail poker picks are very similar
Refrigerate for half an hour before serving
Red Velvet cake balls with coconut & white chocolate bits
Ingredients
2 cups red velvet cake, recipe here
2 tablespoons butter, melted
1/2 cup white chocolate in small pieces
coconut flakes
Red Velvet cake balls with coconut
Instructions
Crumble the red velvet cake by hand or using a food processor
Add butter and mix well so there are no dry spots
Add chocolate and mix well
Scoop out small balls with an ice cream scoop or a teaspoon and roll in your palms to make even balls.
Roll through coconut flakes (or grounded nuts or cover in chocolate if you have the patience)
Refigerate for half an hour before serving
https://theseamanmom.com/red-velvet-cake-balls-with-coconut-and-white-chocolate-bits/