This sparkling ice tea is a light and refreshing summer drink! Made with Bigelow breakfast tea, lemon juice and mixed berries, this delicious berry tea is perfect for picnics, parties, BBQ's or just because!
Berry Iced Tea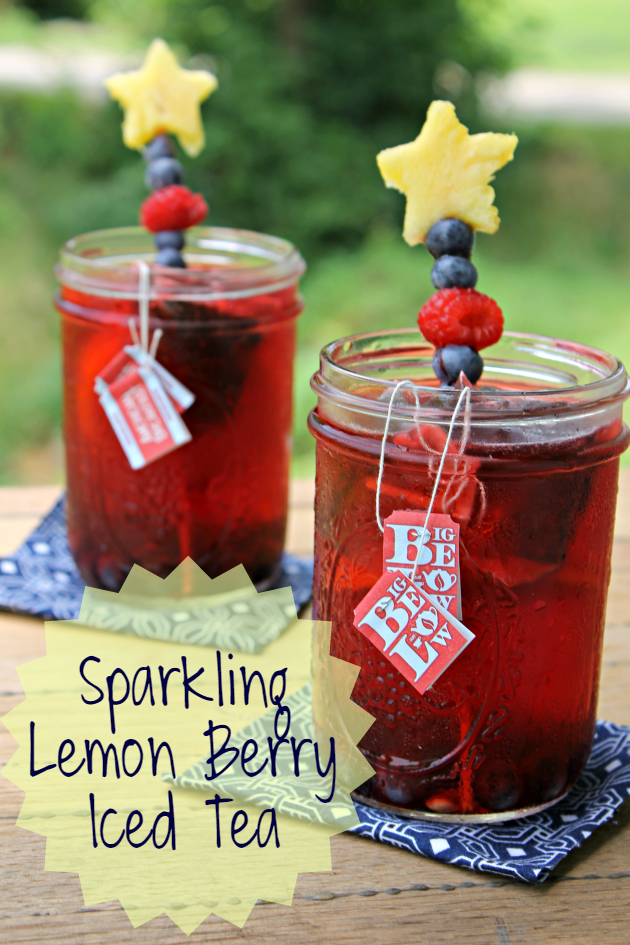 This lovely sparkling iced tea is part of an old family tradition! And I'm so proud that I am able to pass along from my childhood down to my own children. Ellie loves this sparkling lemon berry tea and helps me make it all the time!
When I was really young, my uncles joined the Armed Forces to serve our country. I was obviously too young to understand the impact of their service, but my relatives sure did. Both of my uncles became decorated officers! My mom had two gold stars in our front window to indicate that to passersby. Each week, we looked forward to receiving a tape of their recorded diary of the events of the previous week.
More tea recipes you might like:
Because this took place in the summer, mom would often sit out on the porch and listen to each of the boy's tapes. Mom would make a pitcher of sparkling ice tea and all of us would grab a glass and sip from it as we gathered around the picnic table on our patio. I swear we hung on every single word! This became a weekly tradition for my mom, dad and my relatives and I until the boys were home safe.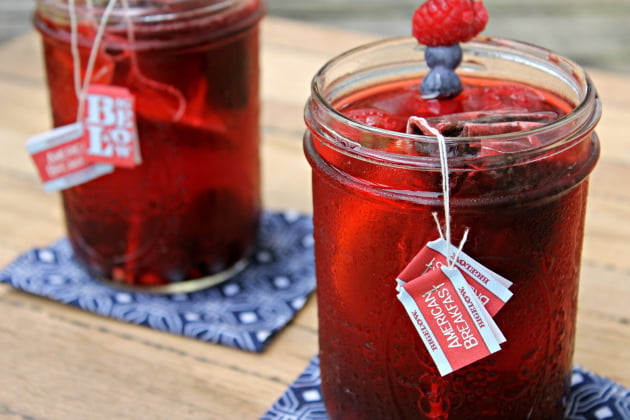 Because we live in the south, iced tea is a big part of our culture. We drink hot tea with breakfast, with iced tea usually being served with lunch and dinner. One thing mom taught me was how many recipes you could come up with for iced tea. We may make many variety of iced tea, but we have a couple of preferred brands, one of them being Bigelow!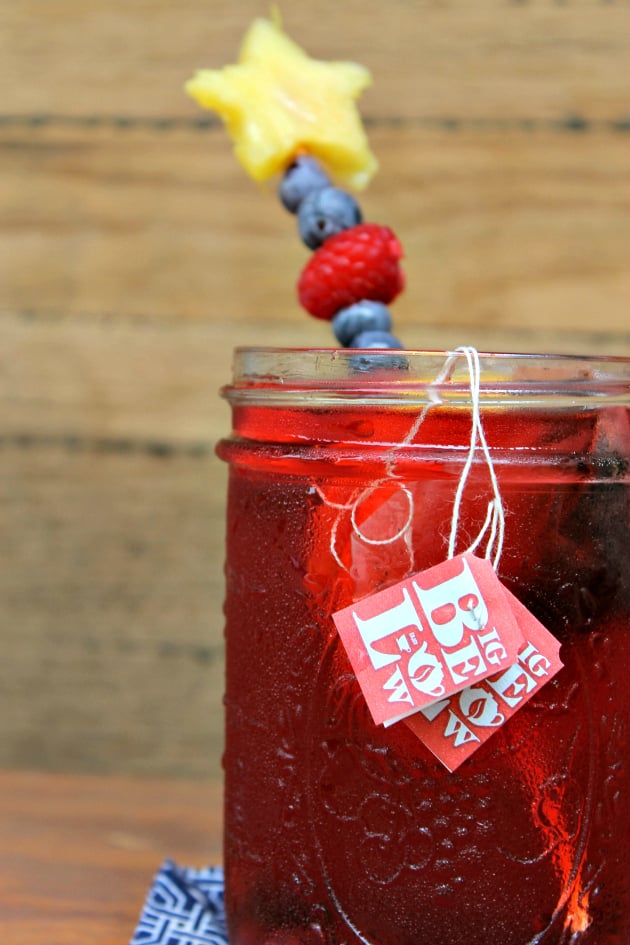 Want more summer drinks?
We lived in a tight community, and our house was the place everyone gathered at summer. Dad would man the grill and mom would make this amazing fried chicken, her famous yellow beans salad and gallons of iced tea. Mom would set the pitchers on a huge table and would let the sun do all the work while the tea bags lazily floated in the water. Mom would make probably 6 or 8 gallons of different flavors of tea. There would always be one plain, one sweetened with sugar, one with lemon, one with fresh peaches and one with strawberries from our strawberry patch.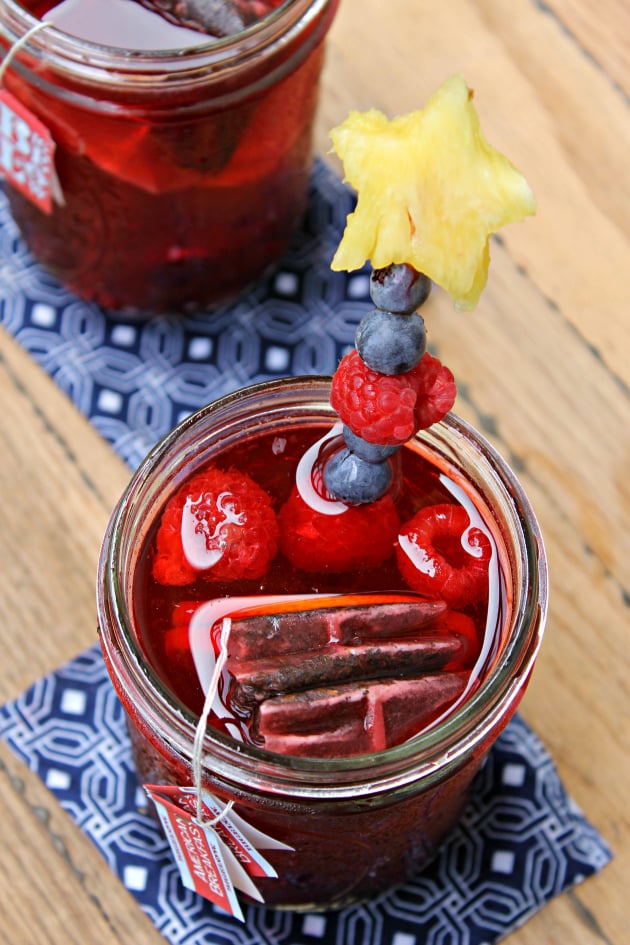 One of the family favorites was mom's sparkling ice tea, made with Bigelow Tea, lemon juice and mixed raspberries. This tea was filled with raspberries and blueberries from our backyard, making it even more delicious. If I'd close my eyes right now, I can see mom standing there, manning the "Tea Table" with a huge smile on her face. She would let my us hand the plastic cups to our guests and run into the house for more ice or fruit. As an adult, I still make mom's sparkling iced tea recipe with the American Breakfast tea from Bigelow.
Sparkling Ice Tea
Sparkling Ice Tea With Lemon And Berries
This sparkling ice tea is a light and refreshing summer drink! Made with Bigelow breakfast tea, lemon juice and mixed berries, this delicious berry tea is perfect for picnics, parties, BBQ's or just because!
Ingredients
12

Bigelow American Breakfast Blend tea bags

12

cups

water

1

cup

raspberries

fresh

1

cup

lemon juice

fresh & divided

1

cup

fine sugar

3

cups

sparkling water or lemon lime soda

mixed berries

raspberries & blueberries

pineapple

for skewers
Instructions
Bring 12 cups of water to boil. Turn off burner and add Bigelow American Breakfast Blend tea bags. Allow to steep while completing remaining steps.

Put the raspberries and 3 tablespoons of lemon juice in a blender and puree until smooth.

Strain mixture through a fine strainer into a bowl.

Pour tea into a pitcher and add remaining lemon juice, sugar and sparkling water or soda and stir until sugar dissolves.

Add puree and mix well.

Add lemon slices and raspberries

Garnish with stacked fruit skewers
Pin to save for later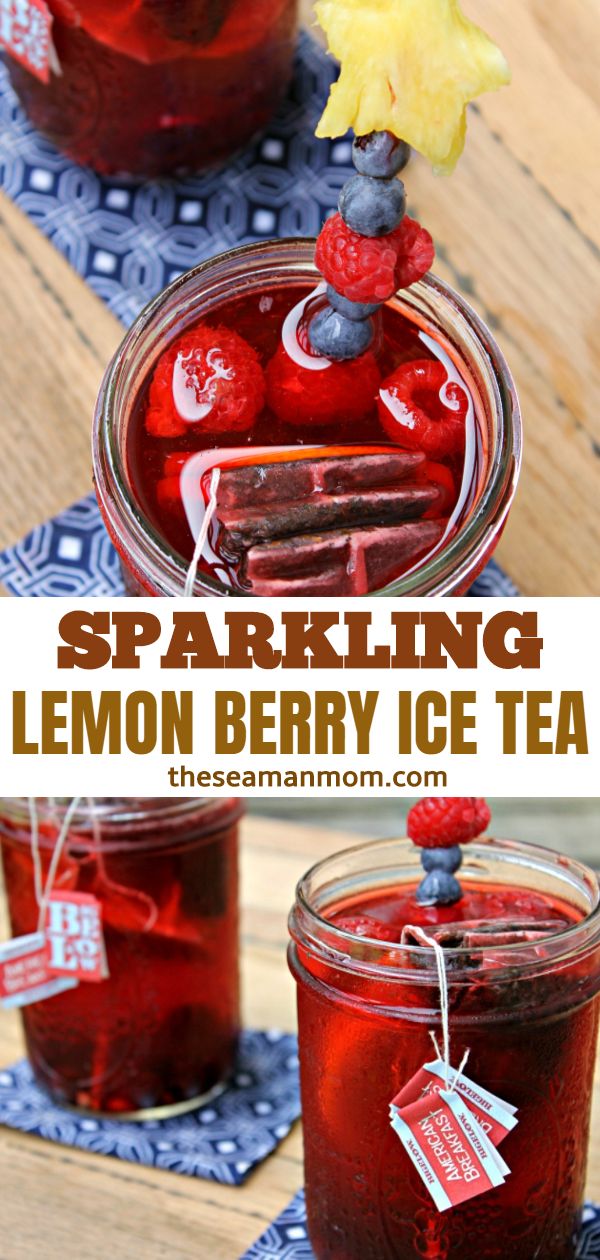 Most popular recipes: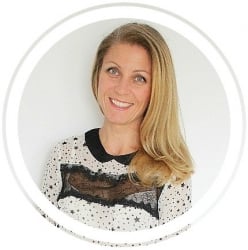 Hi, I'm Petro, author and founder of Easy Peasy Creative Ideas. Sewist, crafter, avid DIY-er, foodie, photographer, homemaker and mommy to one. I'm an expert at coming up with quick, clever sewing tips, recycling crafts and simple, easy recipes! You can find my ideas featured in reputable publications such as Country Living, Good House Keeping, Yahoo News, WikiHow, Shutterfly, Parade, Brit & Co and more. Thanks for stopping by and hope you'll stay for a while, get to know me better and come back another time. Stick around for real fun projects!