Article may contain Amazon & affiliate links. As an Amazon Associate I earn from qualifying purchases at no additional cost to you.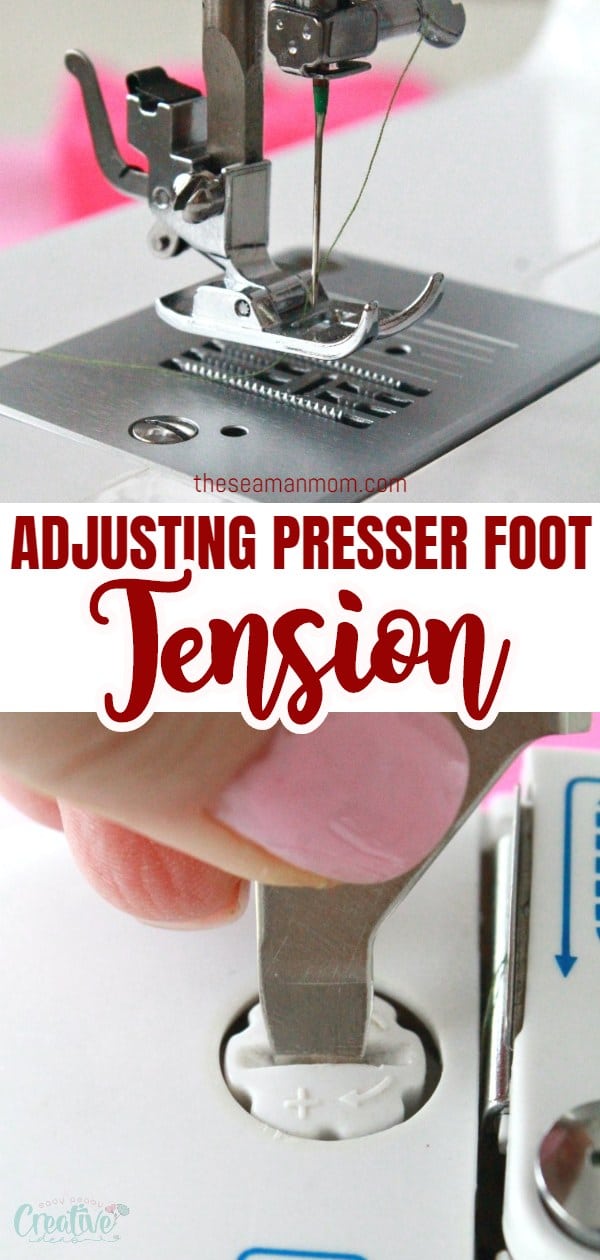 Every type of fabric needs a different sewing machine presser foot adjustment. Here you'll learn how to change the presser foot tension on a sewing machine according to your own project! This may be the best kept secret of your sewing machine!
Singer sewing machine presser foot adjustment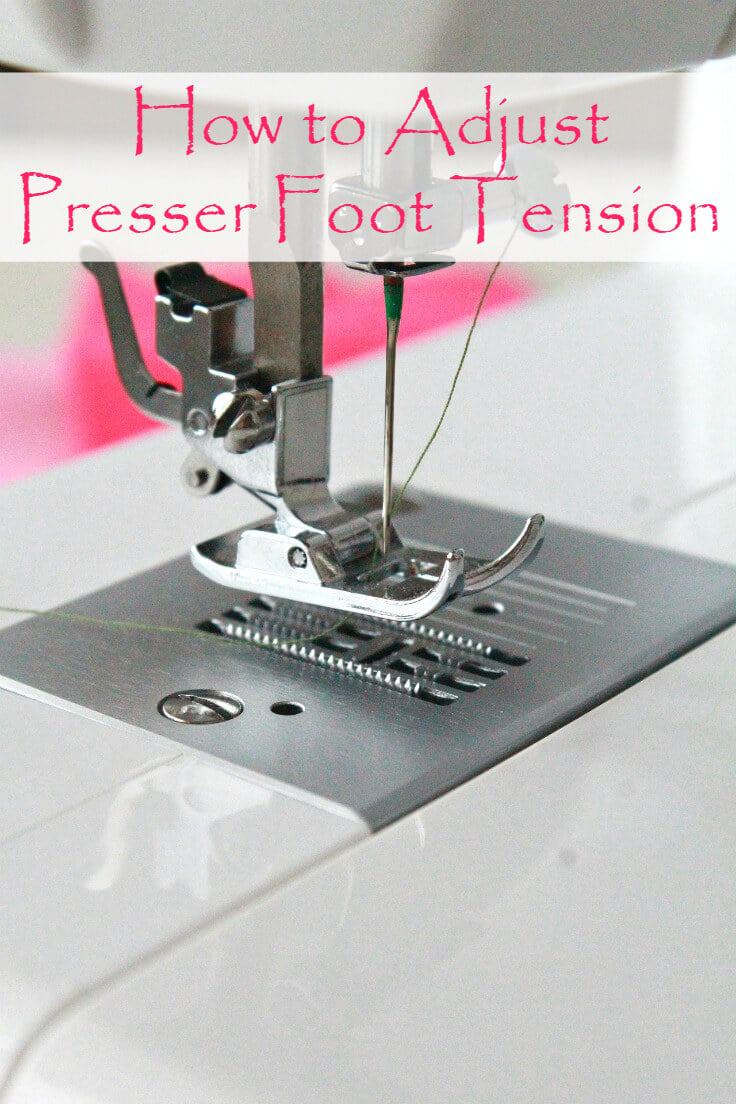 Adjusting the pressure on your presser foot is a very important step you might need to take in each and every sewing project. Setting the correct pressure on the presser foot has a big impact on your sewing project and the quality of the end result. And in this short tutorial you'll learn a few simple tips about sewing machine presser foot adjustment.
---
This tutorial has been converted to a PDF file, available to purchase here. This article is completely free to read.
---
I'll be referring to Singer sewing machines in this tutorial, since these are the machines I own and worked with. But adjusting presser foot pressure is not only a Singer machines issue, the principle is valid for every sewing machine presser foot.
What is presser foot and presser foot tension?
First a few words about the presser foot and the presser foot pressure before proceeding to the actual process of how to adjust presser foot pressure.
The presser foot is the footplate of a sewing machine that holds the fabric down onto the part that feeds it under the needle.
The presser foot tension also known as pressure simply presses on the fabric so the sewing machine's feed dogs can nicely pull the fabric through.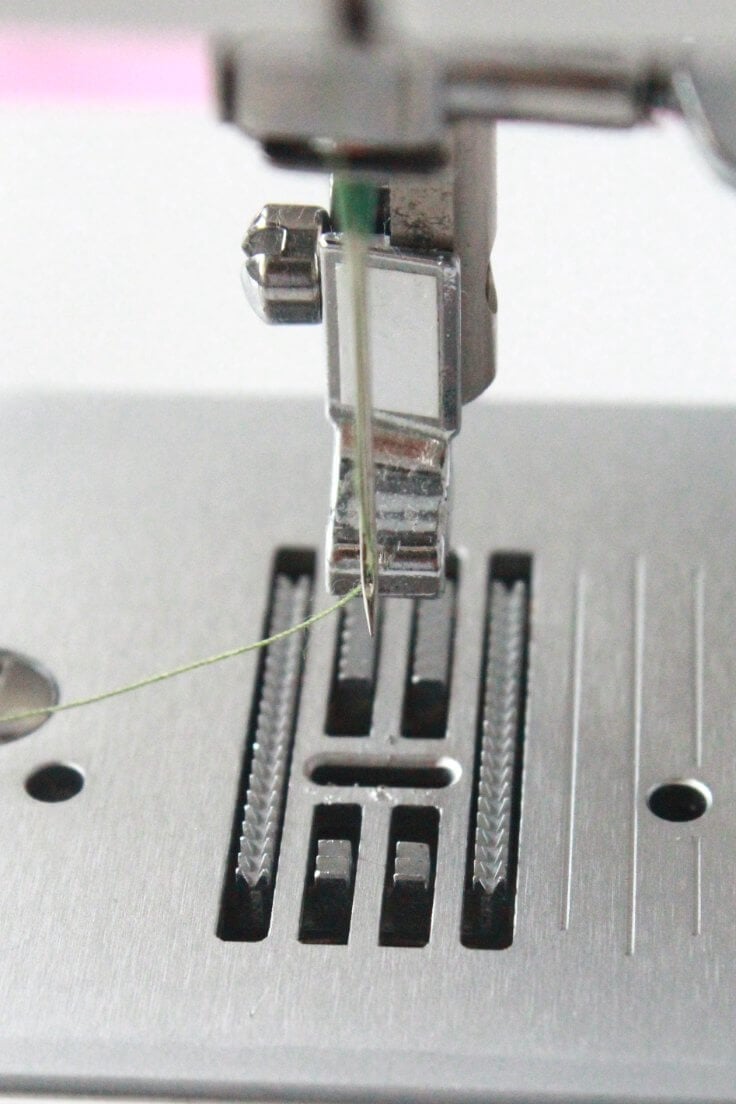 More tips you might like:
If the presser foot tension is set correctly, your stitches are of the same length and the fabric slides through easily without the need to be pulled or guided through.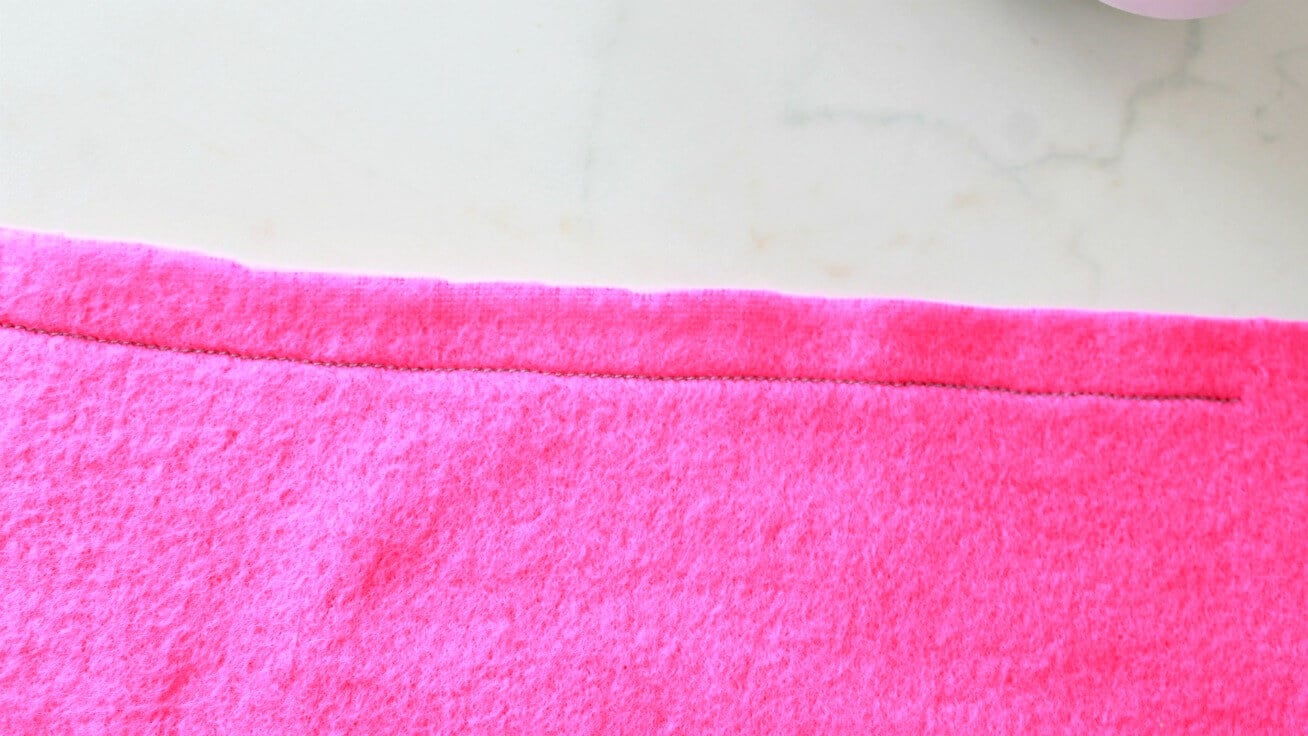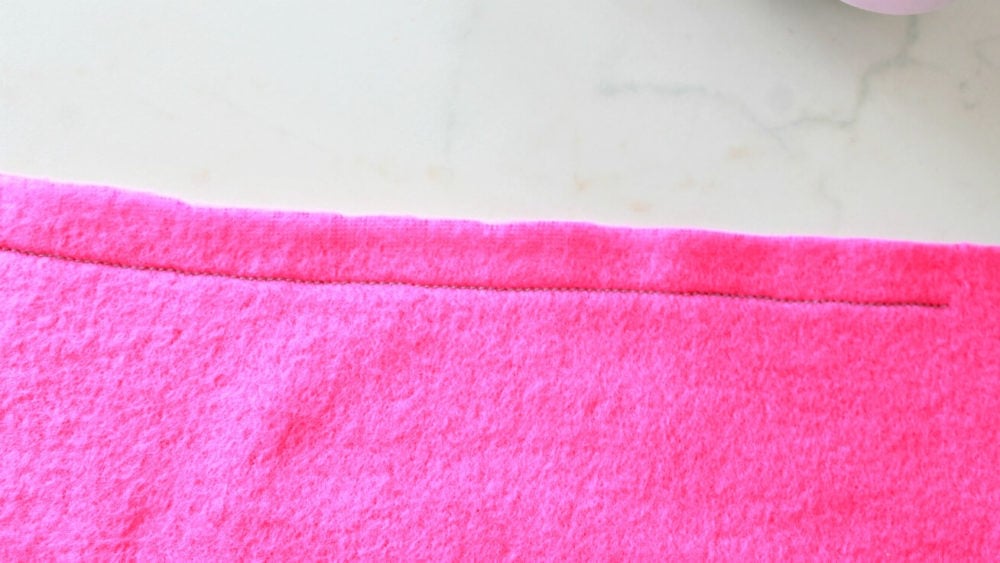 If there's too much pressure put down on the presser foot, your fabric will pucker. Not enough pressure and the presser foot will also make your fabric pucker or your thread gets tangled, in the front or the back of your sewing project.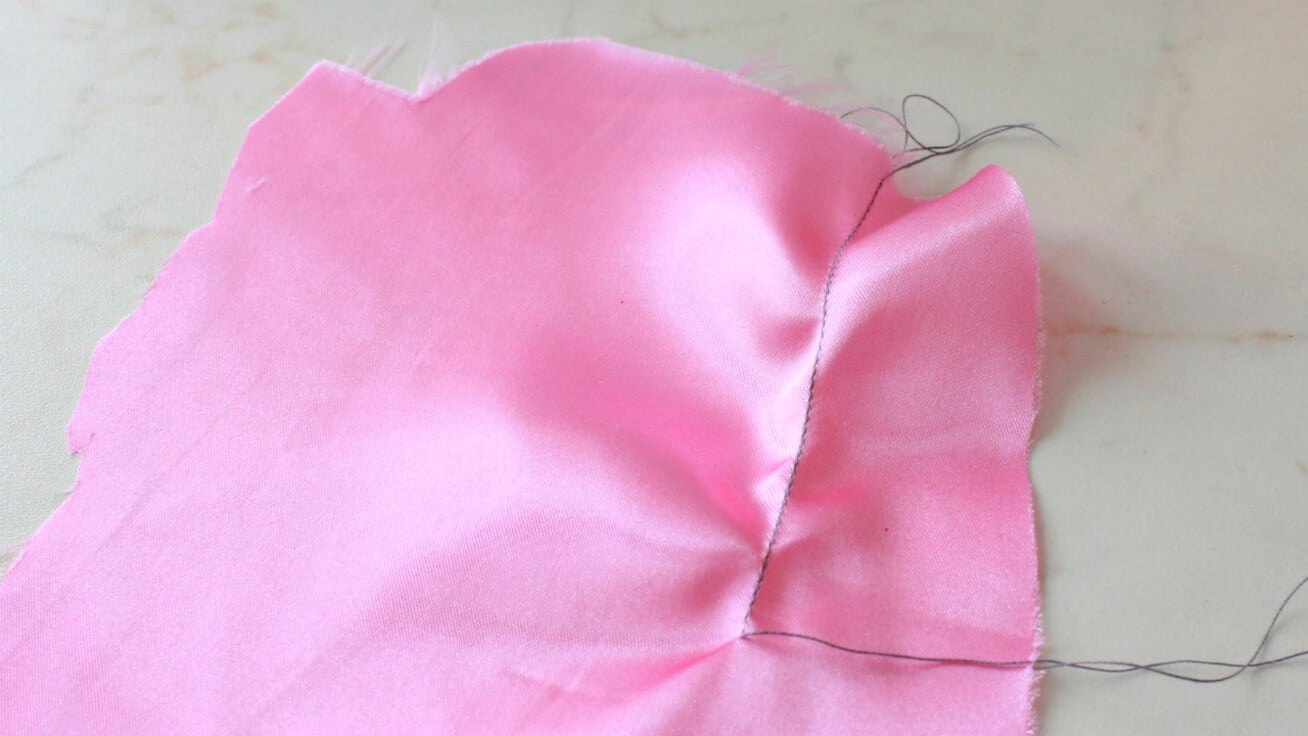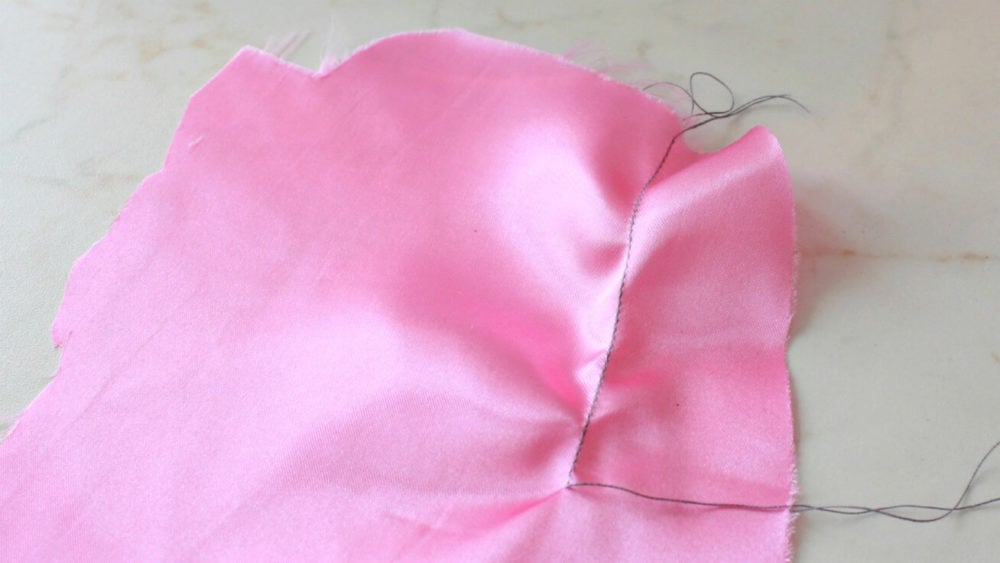 How to recognize if your presser foot tension is correct or not?
If the fabric slips away when the presser foot is down, the pressure is too low and you have to increase the tension.
If the fabric doesn't move and you have to push it to make it slide, you have to lower the tension.
When you're working with more layers and one of them moves faster than the others, the pressure is wrong and needs to be adjusted.
When you see skipped stitches or puckered fabric you need to adjust the presser foot pressure: skipped stitches mean the pressure is too low, and puckered fabric means the pressure is too high.
Usually, most sewing machines come with a universal pressure that is good for most fabrics. From time to time, though, some fabrics will require pressure adjustment and you need to know how to do this.
As a rule of thumb, presser foot pressure adjustment works like this: to sew heavy fabrics (or sewing through several layers of fabric, like in quilting), you need to have the presser foot set on light pressure, while for lighter fabrics you need a heavier pressure.
Please note: machine issues can vary, from presser foot tension to bobbin or top tension. They can also be related to wrong threading or using a wrong needle or thread type that are not appropriate for your project or even a dirty machine that hasn't been cleaned and oiled in a long time. Most common problems are threading related. So please don't proceed to changing the presser foot tension or any other tension before ruling out all the other issues.
What is the pressure dial on a sewing machine?
Some machines have four to six pressure levels, 1 being the lightest and 4 being the strongest. So, for thick and heavy fabrics, the correct pressure is one; for sewing lightweight fabrics like sheer curtains or chiffon, you have to set it on 3 or 4 (5 or 6 if the dial has more levels).
To make the necessary sewing machine presser foot adjustment you'll first need to locate the presser foot regulator for your particular sewing machine. This can be a button, a knob, a dial (on some machines this is small, on others the dial is large), a pin that pops up or a screw. This particular machine features a screw, the white one with a plus and a minus sign on it.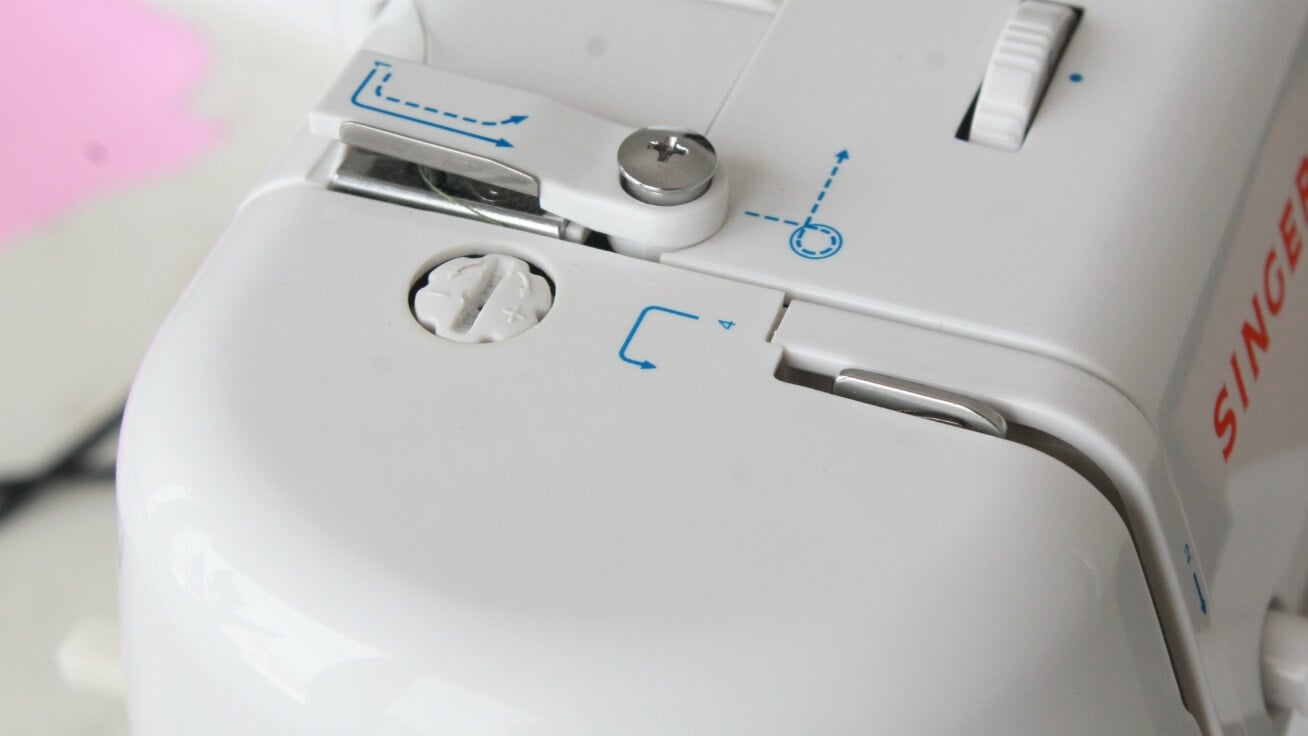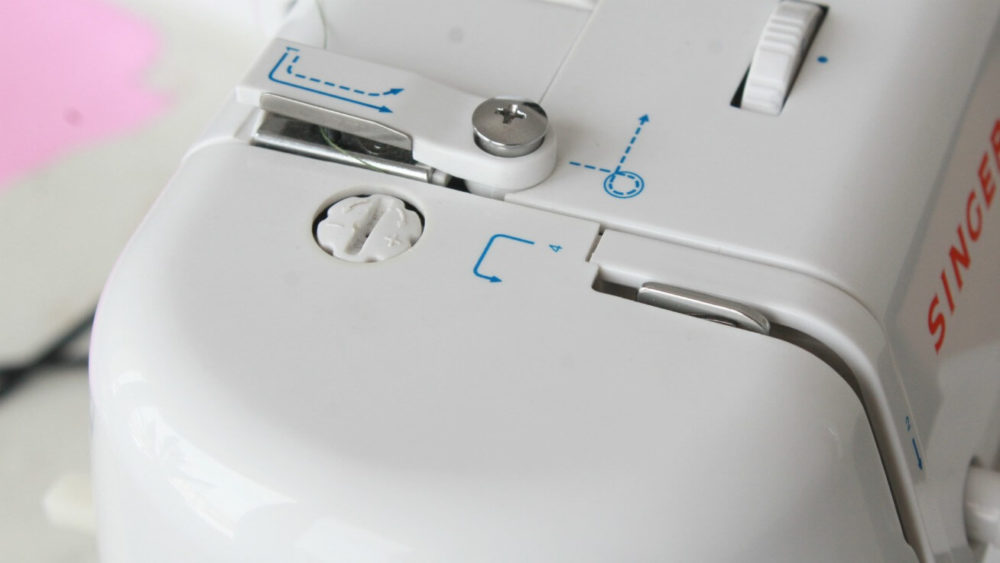 These can be found either on top of the sewing machine, directly above the needle and presser foot or on the side, in the same area as your needle and presser foot.
Don't confuse the presser foot pressure dial with the thread tension dial. The right presser foot pressure will make your fabric slide evenly while stitching, while the correct thread tension will make a nice and smooth stitch without loose or puckering threads. They are both important to make your project look great in the end.
A few related presser foot tension tips to keep in mind
1. Keep in mind that there's also the possibility that the fabric may not feed properly because of the foot itself. Sticky fabrics like faux leather or vinyl may adhere to the metal foot even if the pressure is right.
To avoid this, change to an ultra-glide foot (like a teflon foot), which is made of a special resin and will help the fabric feed correctly.
A walking foot can also help you get your fabric running, as it has a set of feed dogs. These, together with the machine's feed dogs, will have a better grip and will feed the fabric better.
2. When working with very thick fabrics or more layers, a longer stitch length will help increase the feed dogs' movement and the fabric will feed a lot better.
3. If you are sure all of your tensions are well set and the fabric or thread still pucker, break or are too loose, you may want to check if your sewing machine is clean or oiled properly. Not oiling the mechanisms can affect the quality of your sewing.
Sewing machine presser foot adjustment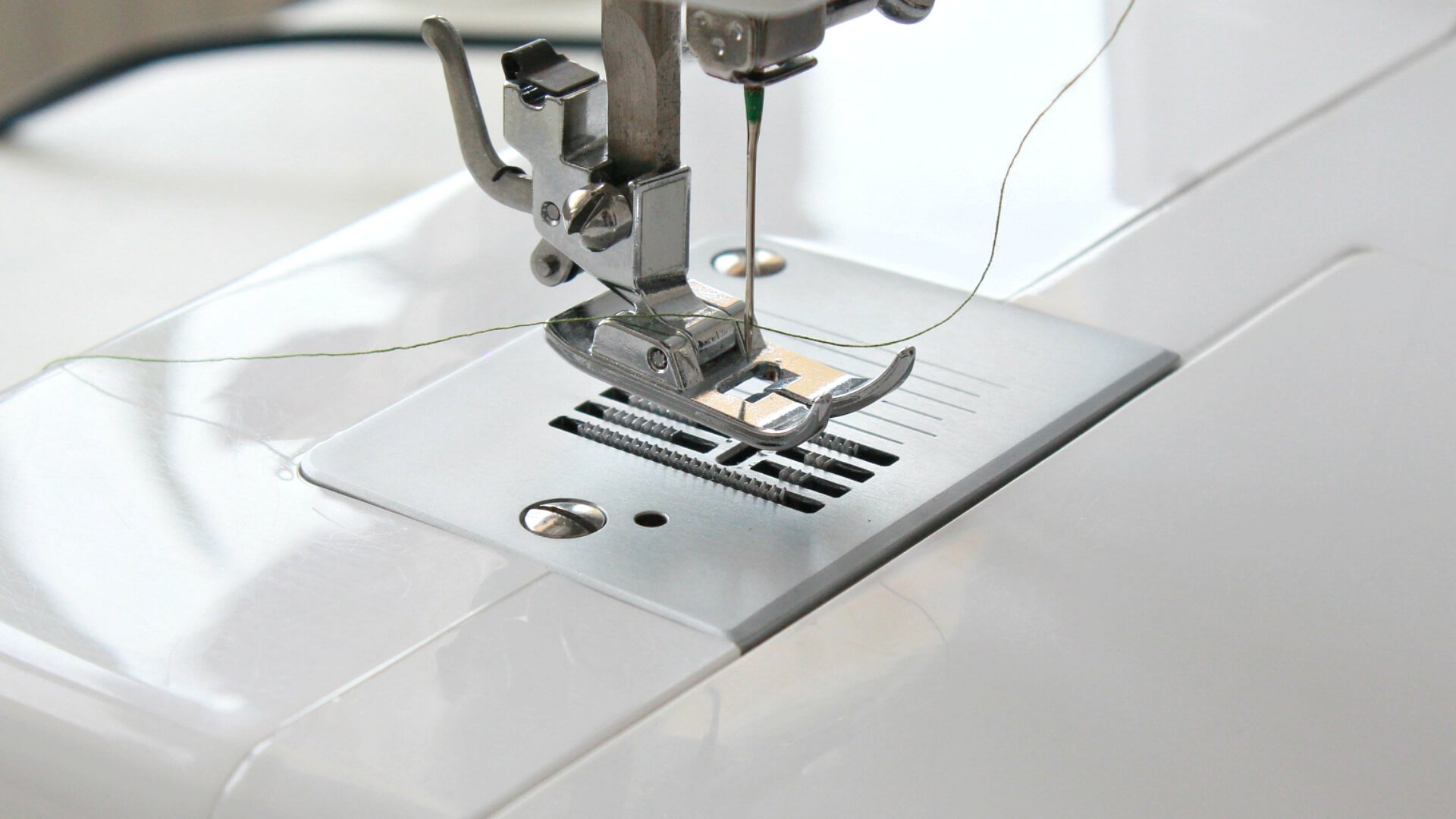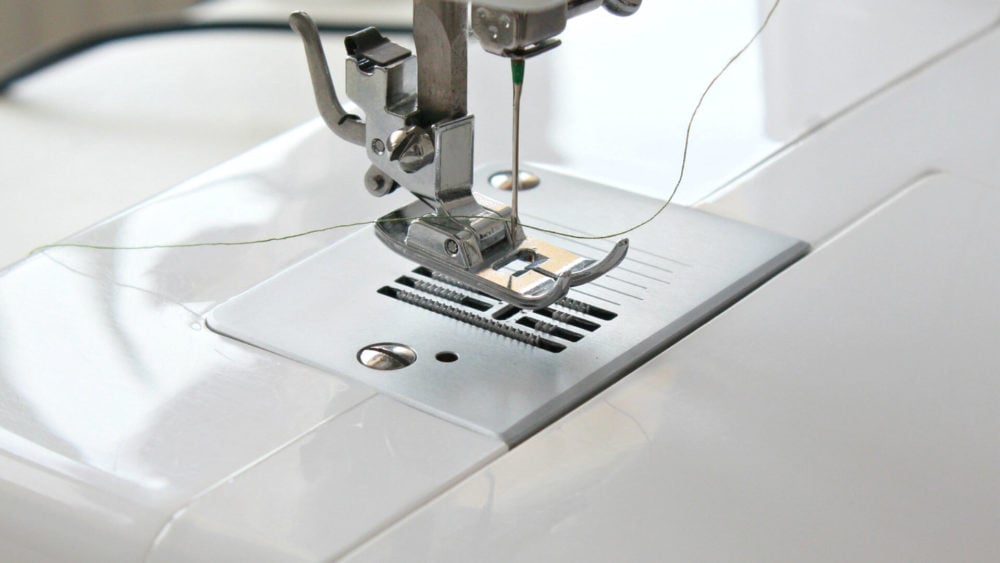 Materials:
screw driver (for screws); most machines come equipped with the right tool for that specific type of regulator (mine comes with a little key you'll see in the images below)
scraps of fabric to test the pressure as you change it
Directions:
Locate your presser foot tension regulator
If your regulator is a dial, spin it towards the plus sign to tighten the pressure. Spin towards the minus to loosen it.
If you have a pin, pressing down the pin will make it pop up and will create a light pressure, needed for heavy fabric. Press down on the pin again to create heavy pressure if you are sewing light fabric.
In case you have a knob, it usually comes with an indicator next to it. Pressing up or down the indicator will increase or reduce pressure on your presser foot.
If your machine has a screw, use the screwdriver to turn the screw and change the presser foot tension. Turning the screw clockwise or towards a plus sign will create heavy pressure. When turning it counterclockwise or towards the minus sign, it will give you light pressure.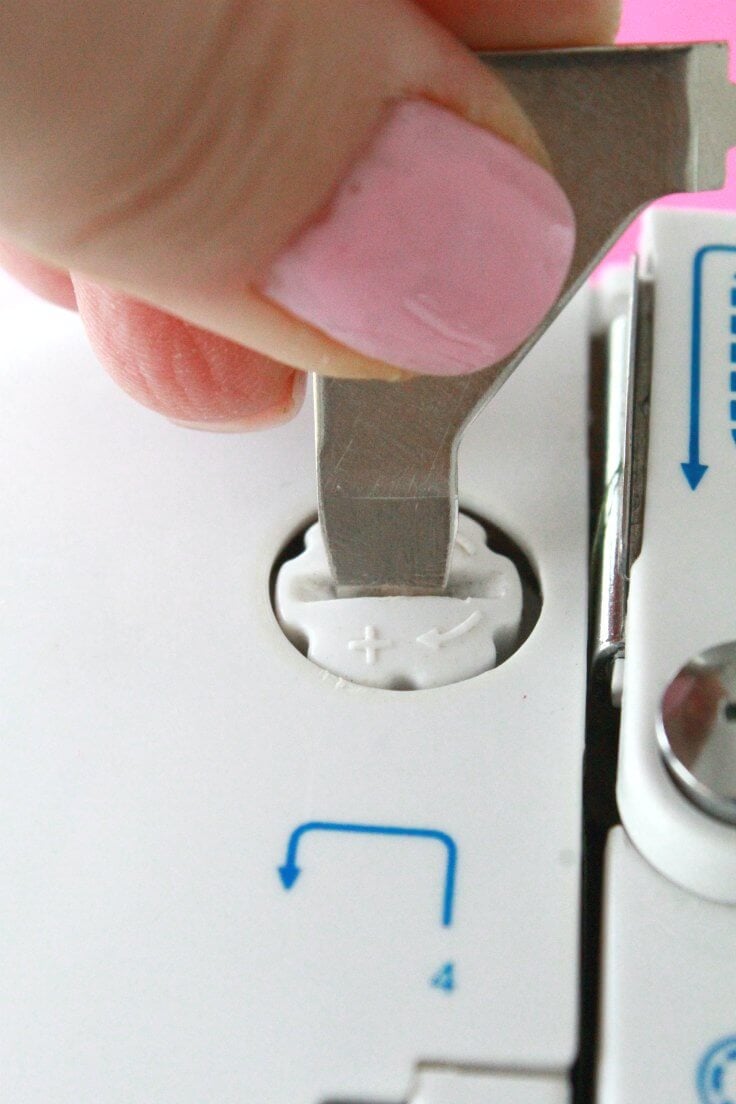 This is my screwdriver/key that came with the sewing machine. If you own a Singer, chances are yours looks pretty similar.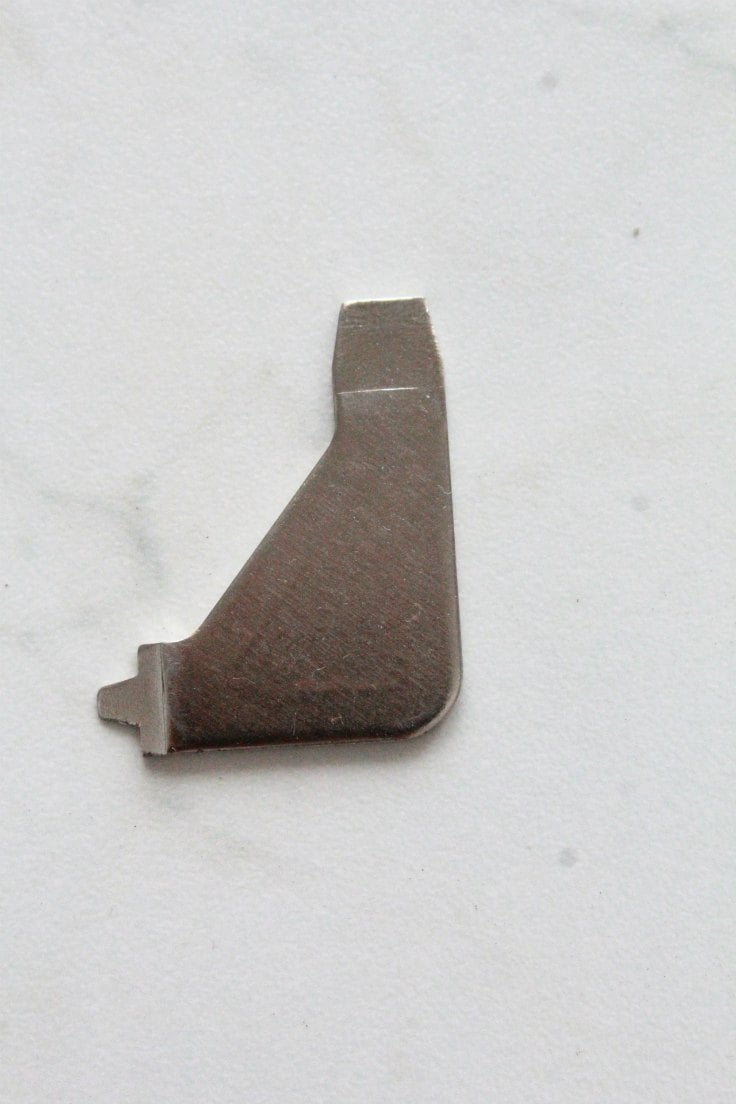 Before starting working on a new sewing project, test the pressure foot tension. Sew on a scrap of fabric that is the same thickness as your project. Adjust pressure according to your results. You have the right settings when the fabric doesn't pucker, the thread is not tangled, your stitches are of the same length and the fabric slides through the feeding dogs smoothly.
Pin to save for later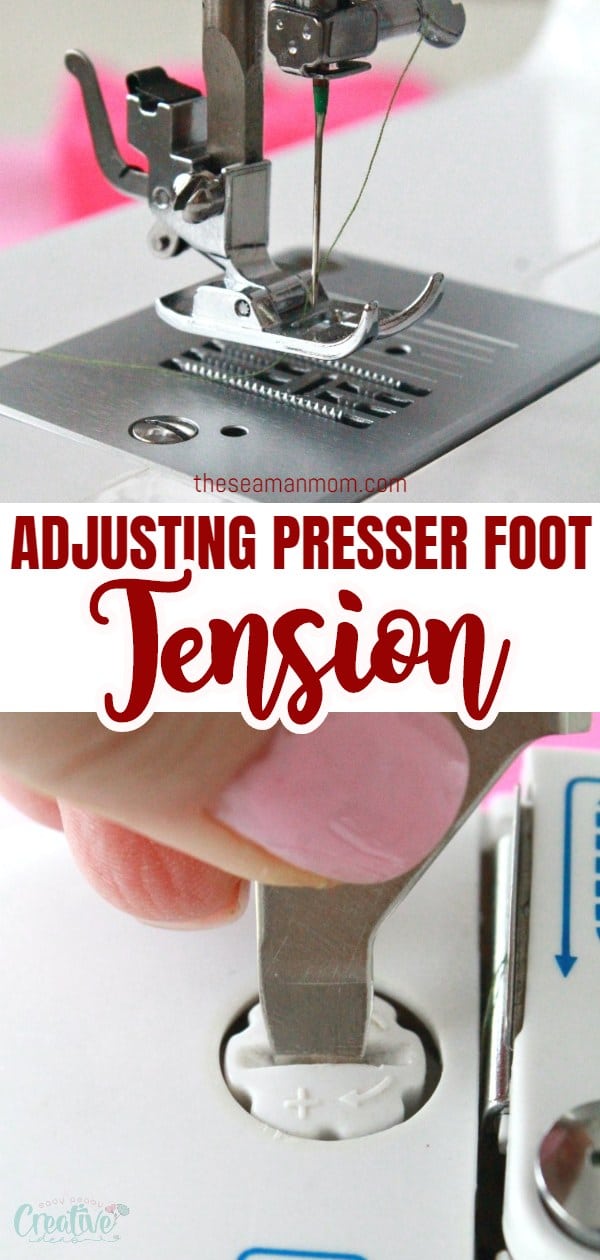 Most popular sewing projects: