How to sew a zipper on a skirt to look concealed
Article may contain Amazon & affiliate links. As an Amazon Associate I earn from qualifying purchases at no additional cost to you.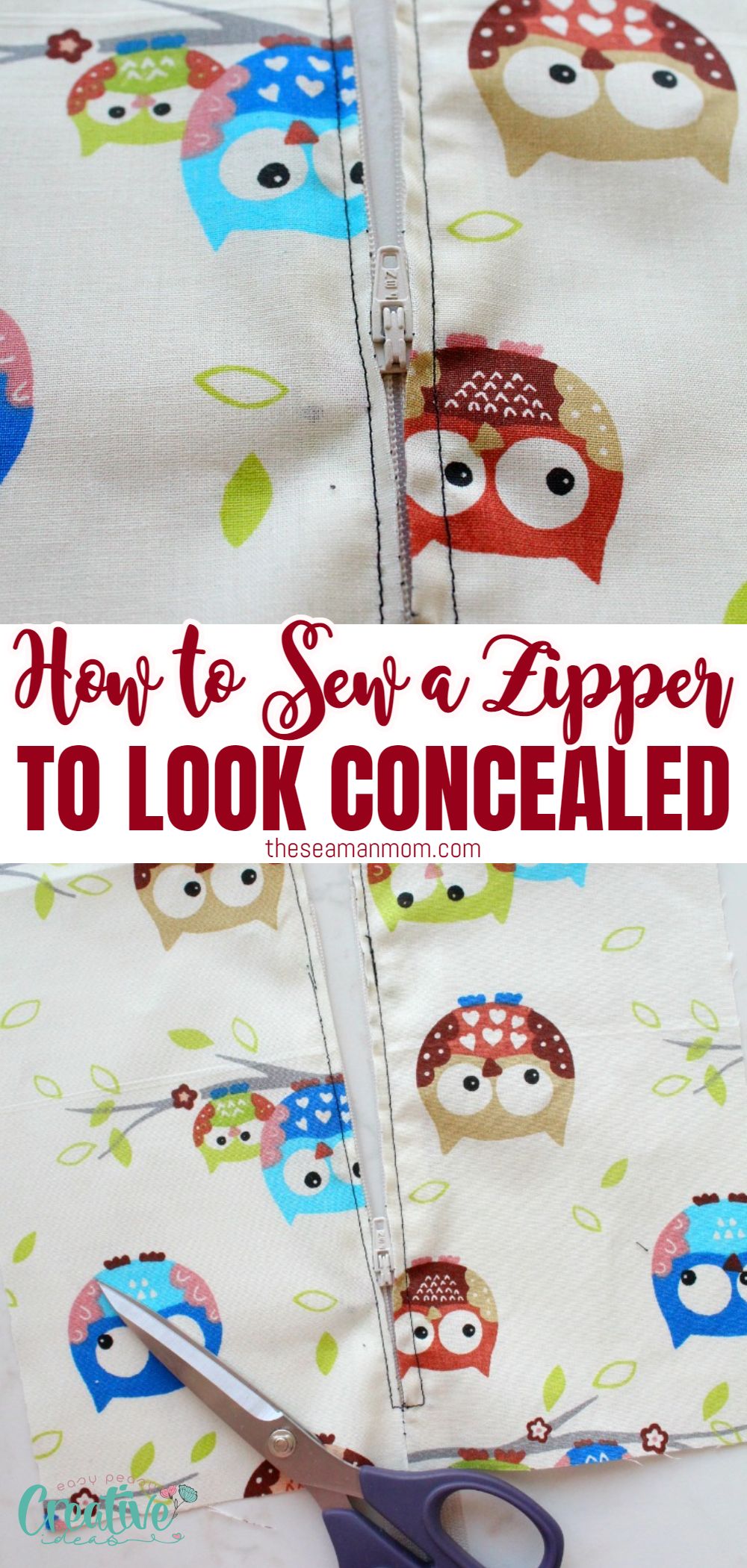 Daunted by the idea of sewing a zipper into your skirt? Look no further! This straightforward and effortless technique will teach you how to successfully insert an invisible zip in any apparel. With this quick guide, installing zippers won't be something that intimidates you anymore! Here's how to sew a zipper on a skirt to look concealed.
How To Sew A Zipper On A Skirt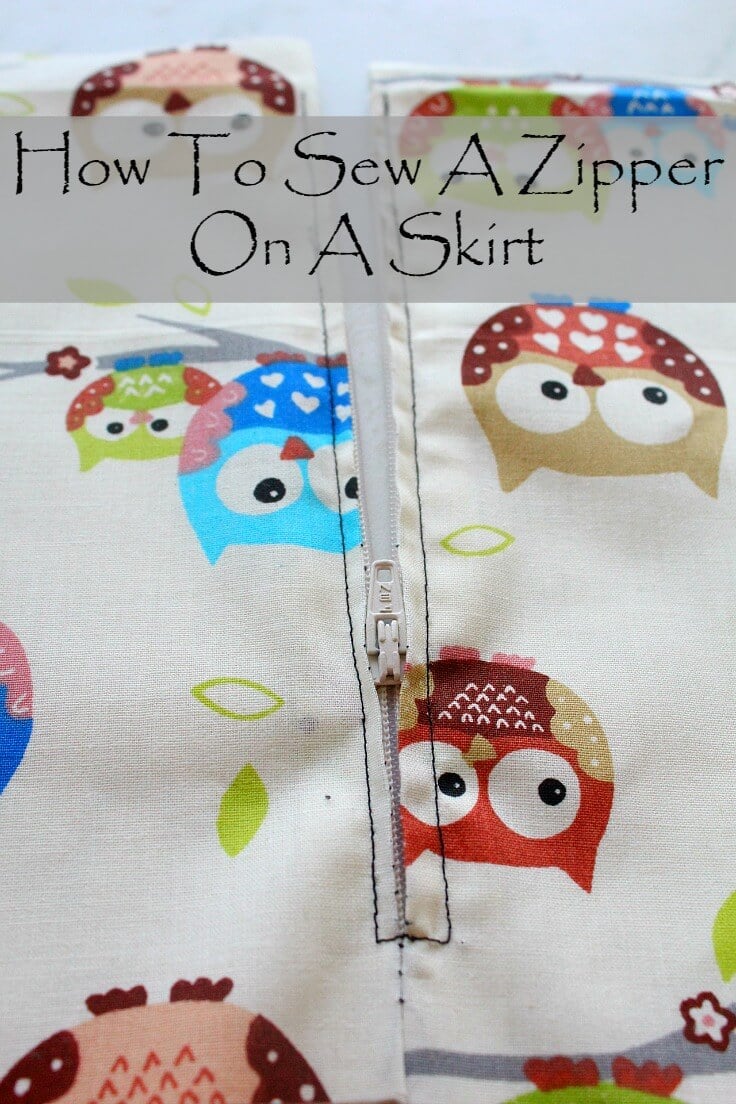 If you're looking to learn how to sew a zipper on a skirt the best easy way, then you've come to the perfect place. Today I'm going over an easy method for sewing your zipper in such a way that it is concealed from view – not completely invisible but nicely tucked away within the fabric. And with just my regular sewing machine and this tutorial, I'll show you how it's done step-by-step.
I am officially in love with zippers, they are so easy to use! I really don't know why I was so terrified of them before, they really are easy to insert into about anything. It all takes just a little practice and some patience at first. In this short and easy tutorial I'll continue the series of zipper installation with how to sew a zipper on a skirt. This concealed zip technique applies to basically any piece of garment, most commonly dresses or blouses.
When making garments, a lot of us encounter the problem of zippers. It may seem complicated, but it's very easy if you follow these steps. If you can sew on a button, you can sew on a zipper! Whether you are a long time seamstress or a sewing newbie, following my instructions will make it a breeze. This is an easy tutorial with comprehensive step-by-step instructions and color photos showing you how to make sewing a zipper on a skirt easy.
More sewing tips you will love:
Why use a zipper?
Zippers are the best way to close up your garments and secure the fabric, they are much more durable than a snap or button closure. Zippers also add an extra layer of security and make sure that your garment stays closed no matter what you're doing. Plus, it gives off an elegant look with its sleek lines and streamline design.
You can choose zippers with a range of colors and materials, from metallic to plain fabric. And if you're feeling adventurous, you can even mix up the zipper teeth for an added design element. You can also use lace zippers or colored zippers for a more whimsical look. All these will add a unique look to your garment so zippers are a great way to turn your clothing from basic to modern!
Zippers can be both stylish and practical, and this tutorial will show you how to sew a zipper on a skirt so that it's both. This method is great for skirts because it keeps the zipper out of sight while still allowing you to easily open and close your garment.
Adding a zipper to a garment piece is usually very easy but can be a bit daunting if you've never sewn one. I'm here to make it easier for you with this tutorial.
Similar posts you might like:
Zippers are most times a really nice addition to any item, from clothing to bags or pouches. A dainty and elegant addition to an everyday wardrobe. A zipper can really add a nice pop of color and an interesting design feature to any of these. This simple method will teach you how to sew a zipper on a skirt so that it looks more concealed and you can sew it on to be as visible or concealed as you like, using this simple and easy method. Note: This is not an invisible zipper tutorial though, that's actually a different technique that you can find here.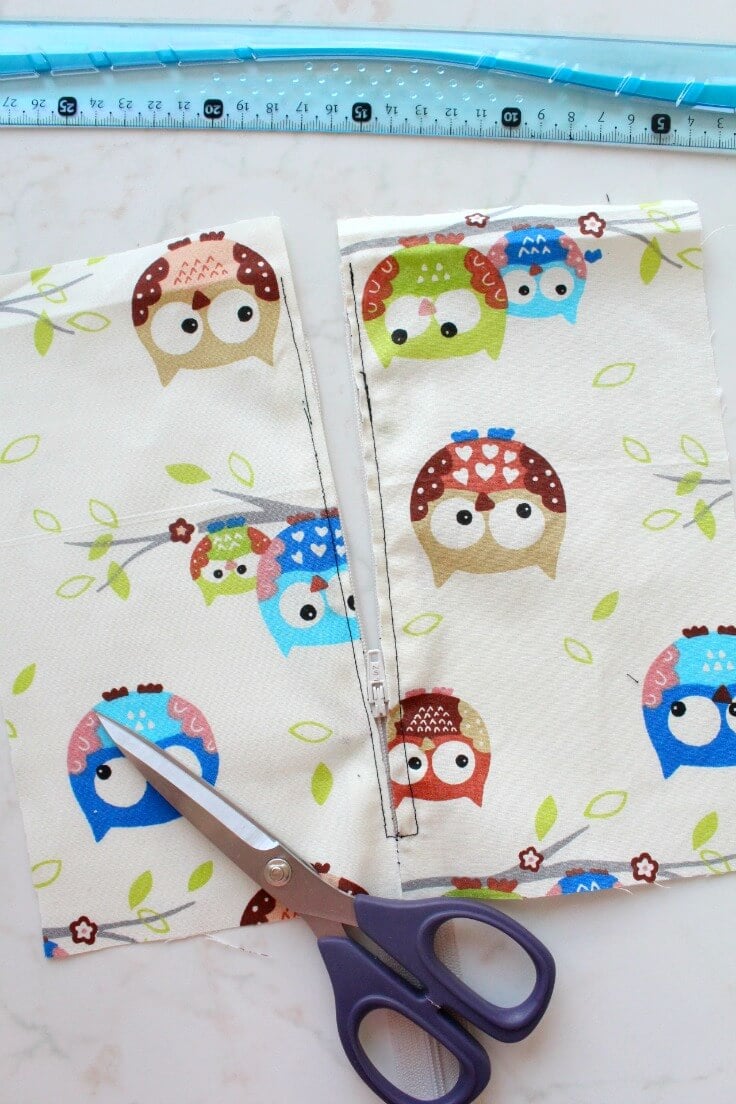 Are zippers hard to sew in?
No! It's actually quite simple and easy. All you need is a zipper, fabric, thread and your sewing machine. With the right tools, this easy tutorial and a bit of practice you can have that concealed zip in any garment in no time!
This tutorial will show you how to sew a zip on a skirt with a concealed finish in just a few easy steps.
What stitch do I use to sew a zipper?
A straight stitch is the best stitch to use when you are sewing a zipper on. The straight stitch gives it enough strength and prevents the fabric from pulling away from the zipper and it's very easy to sew since it's such a basic stitch.
What stitch length for a zipper?
Use a standard stitch length of 2.5 – 3mm when you are sewing a zipper, this is the best stitch length to use as it's not too long and not too short so it gives you a nice even, secure stitch. Most sewing machines come with a standard stitch length but you'll need to take into consideration the type of fabric used as well as the matching thread and needles when setting the stitch length for your zipper.
Do you need a zipper foot to sew a zipper?
Yes, you do need a zipper foot when sewing a zipper. A zipper foot is specially designed so that it fits into the groove of the zipper and helps to keep the fabric in place as you sew. It's also much easier to maneuver your machine with a zipper foot since its position allows for greater visibility while you are stitching.
Can I sew on a zipper without a zipper foot?
Yes, you can sew a zipper without a zipper foot but it will be much harder and the result won't be as clean or precise. A zipper foot gives you more control when sewing in zippers and makes the process easier and faster so it's always better to use one when available.
Can you sew a zipper without a sewing machine?
It's possible to sew a zipper without a sewing machine. Hand-sewing zippers can be done with just an ordinary hand needle and thread. It will take much longer but it is possible and the result will be just as good as if you had used a sewing machine. However, using a sewing machine is highly recommended if you want to ensure a secure and even stitch and a professional finish.
What can I use instead of a zipper?
If I haven't convinced you yet that zippers are not hard to sew in, there are other options you can use.
A hook and eye closure is an easy alternative and can be sewn on by hand or with a machine. It's a quick and easy way to close a garment without using a zipper.
You could also try using buttons, snaps or velcro as closures instead of a zipper.
These are all easy alternatives that you can use to secure and close garments without the hassle of sewing in a zipper.
Now that you have the tools, techniques, and guidance to create a stylishly concealed zipper on your skirt – congratulations! With practice and this tutorial as your guide, you'll soon be creating beautiful garments with zippers added. All the best!
How to put a zip in a skirt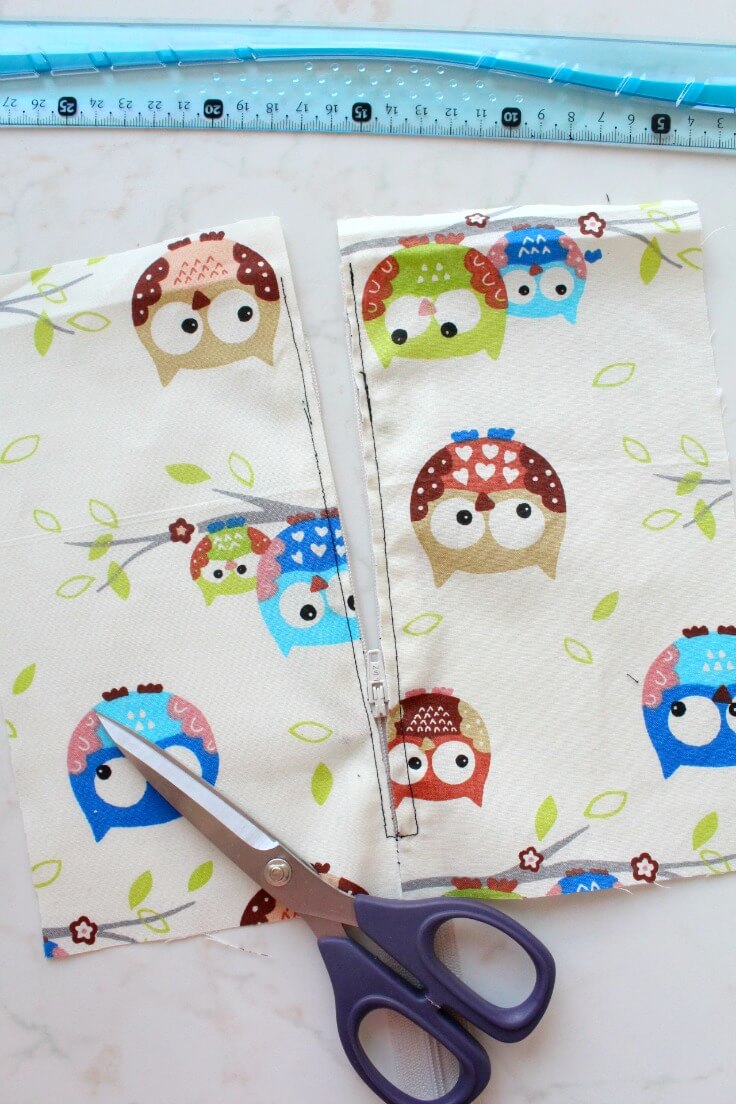 Tools needed:
2 pieces of fabric
zipper foot (regular zipper foot, not an invisible-zipper foot, that particular foot is used for sewing invisible zippers and that's not what we're doing here)
zipper (for beginners the type of zipper I recommend is one with plastic coils)
matching thread (for this tutorial I used contrast)
needle matching your fabric and thread
pins
iron and ironing board
seam ripper
fabric marker or chalk
How to sewing a zipper
Sew the fabrics together
Put your 2 strips of fabric right sides together and sew them together on the wrong side, using a basting stitch.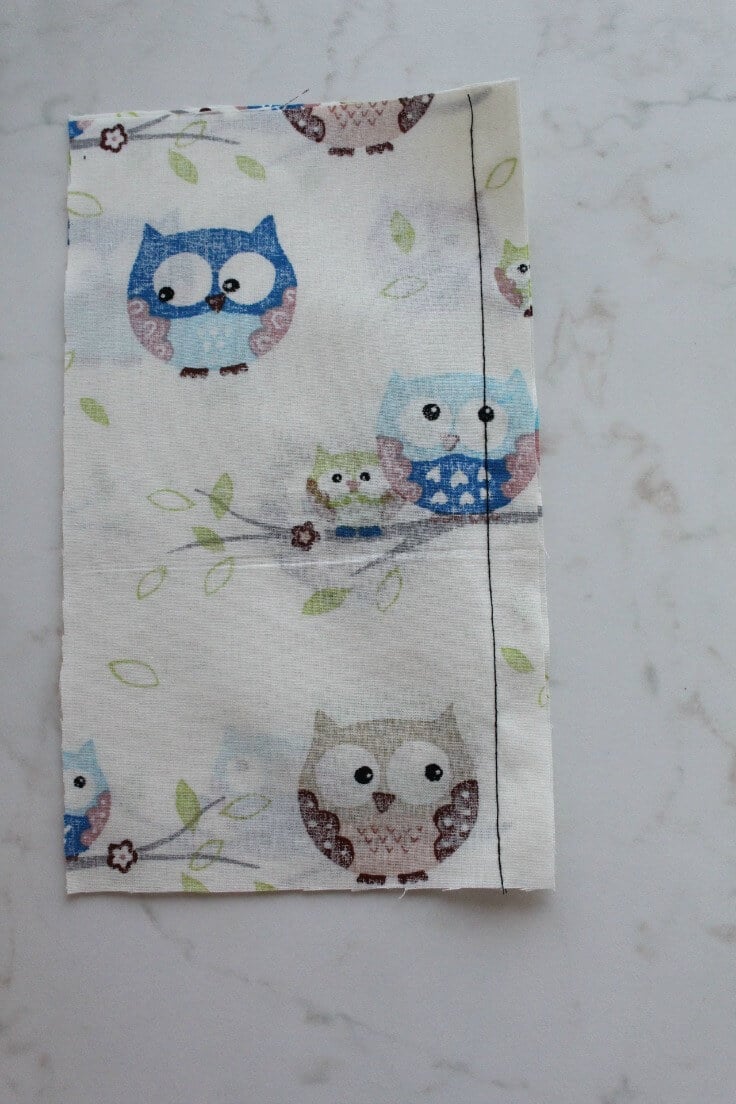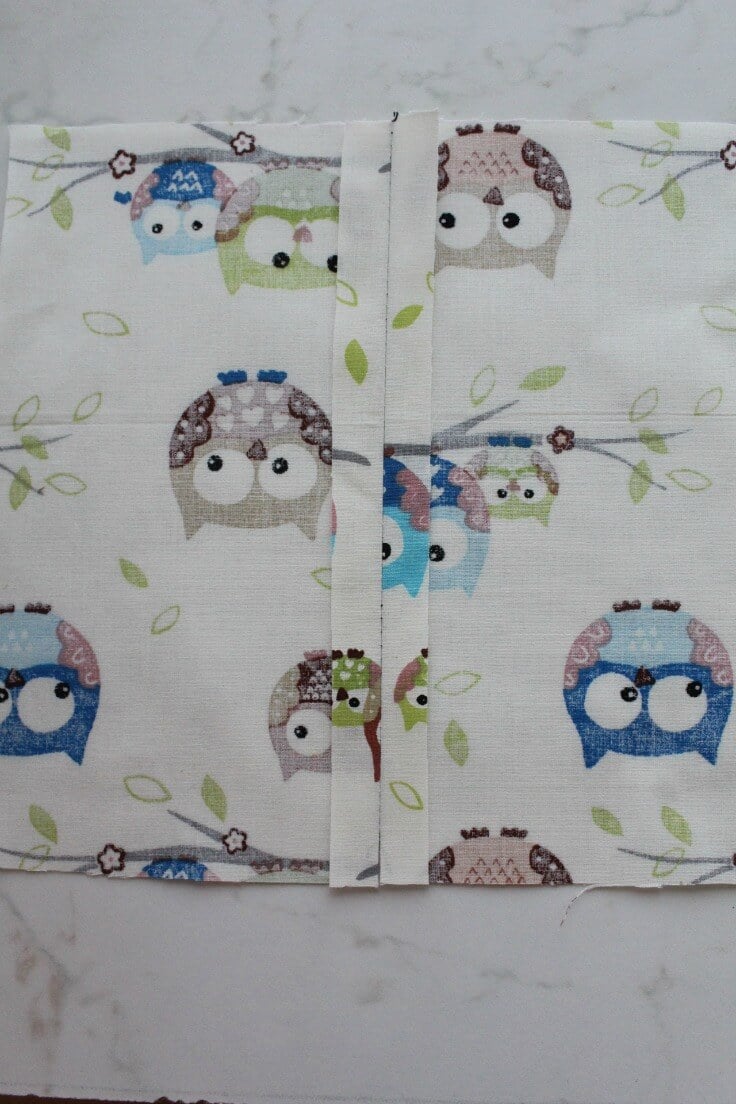 Center the zipper
Place your zipper with the right side facing down on that seam, starting about 1/2″ from the top of the fabric to have some room for a seam allowance at the top (assuming you're sewing this zipper on a piece of garment and not just for practice).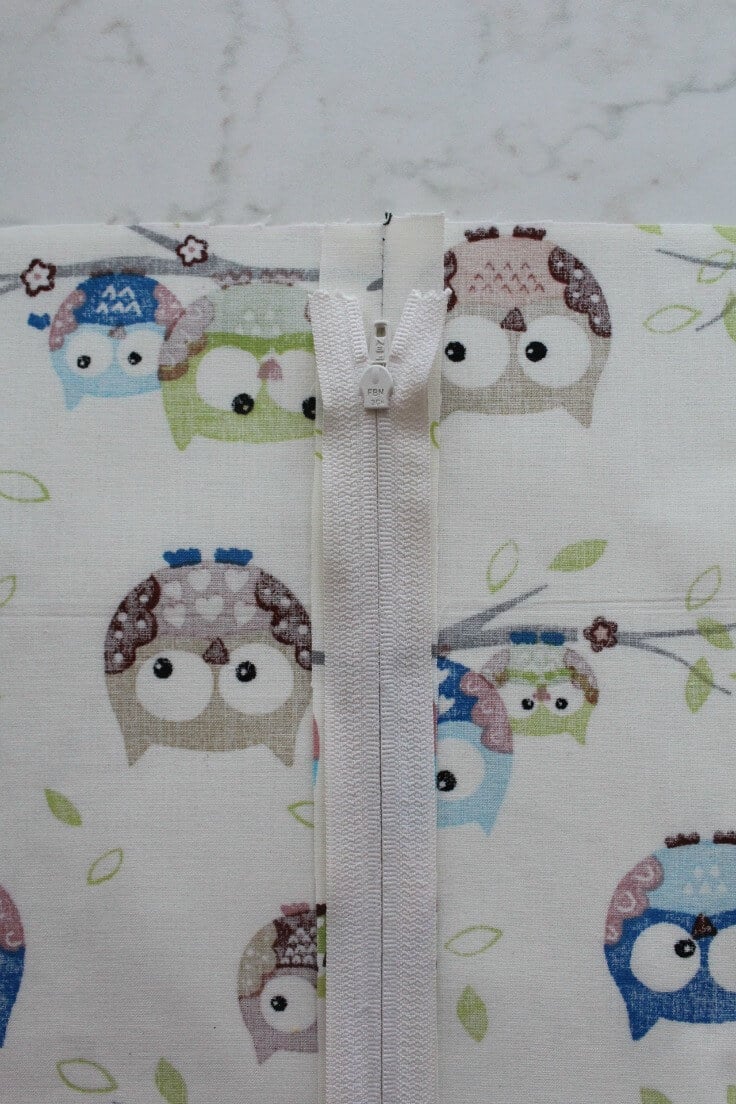 Make sure you place the teeth of the zipper right on the line of the seam and pin it in place. If you're using a longer zipper, make a mark to the bottom of the zip, where you'll need to cut it short. You might find it useful to tape the zipper down to the fabrics to keep it from moving. Then remove the tape after sewing the zipper in place.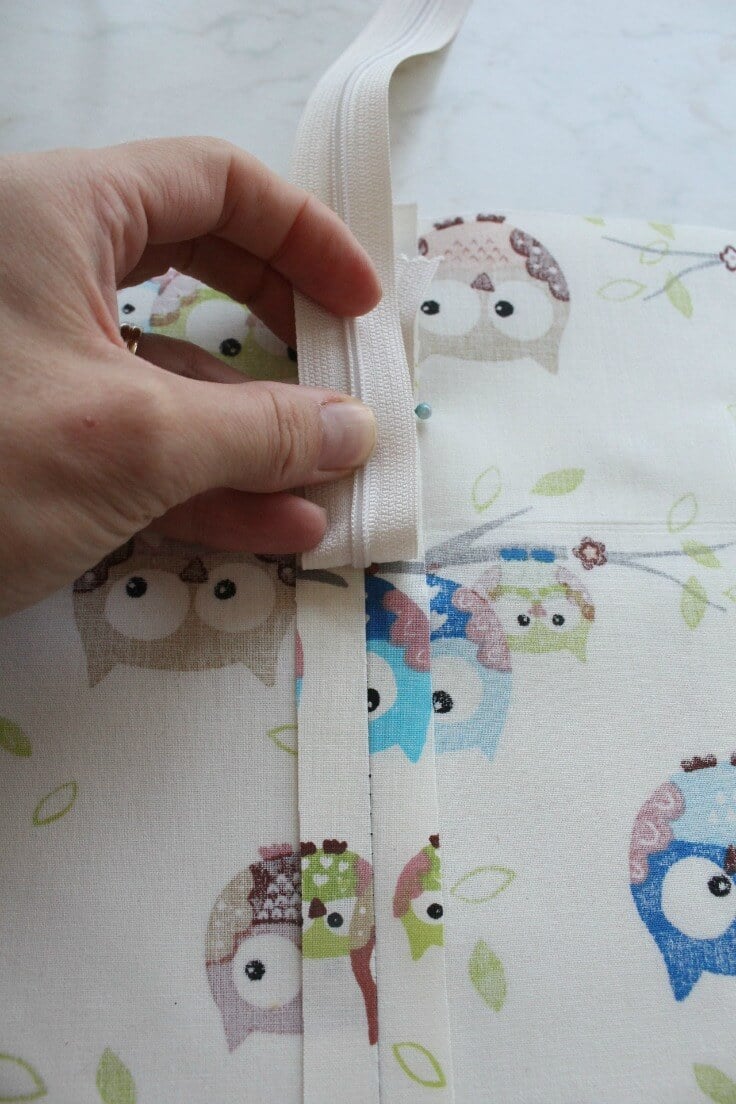 Pin the centered zipper to the fabrics.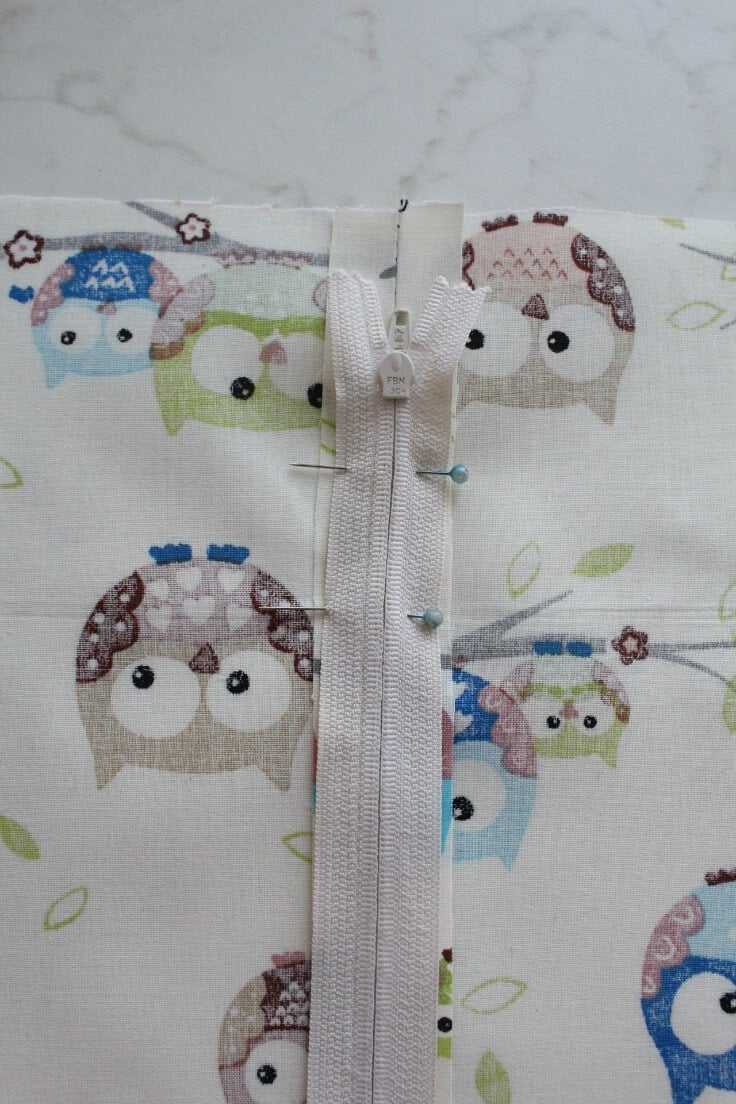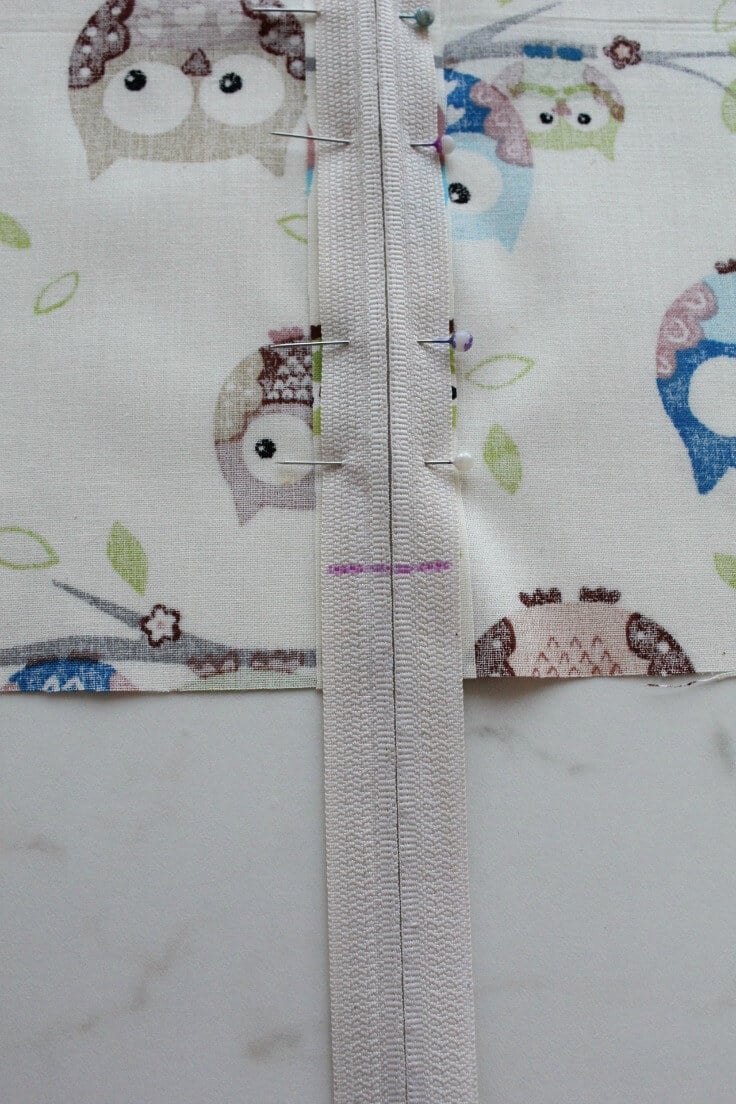 How to sew a zipper
Install your zipper foot and take the fabric over to your machine. Pass the zipper pull and press the presser foot down, run a backstitch at the top of the zipper. then start sewing along the edge of the zipper but as close to the zipper teeth as you can.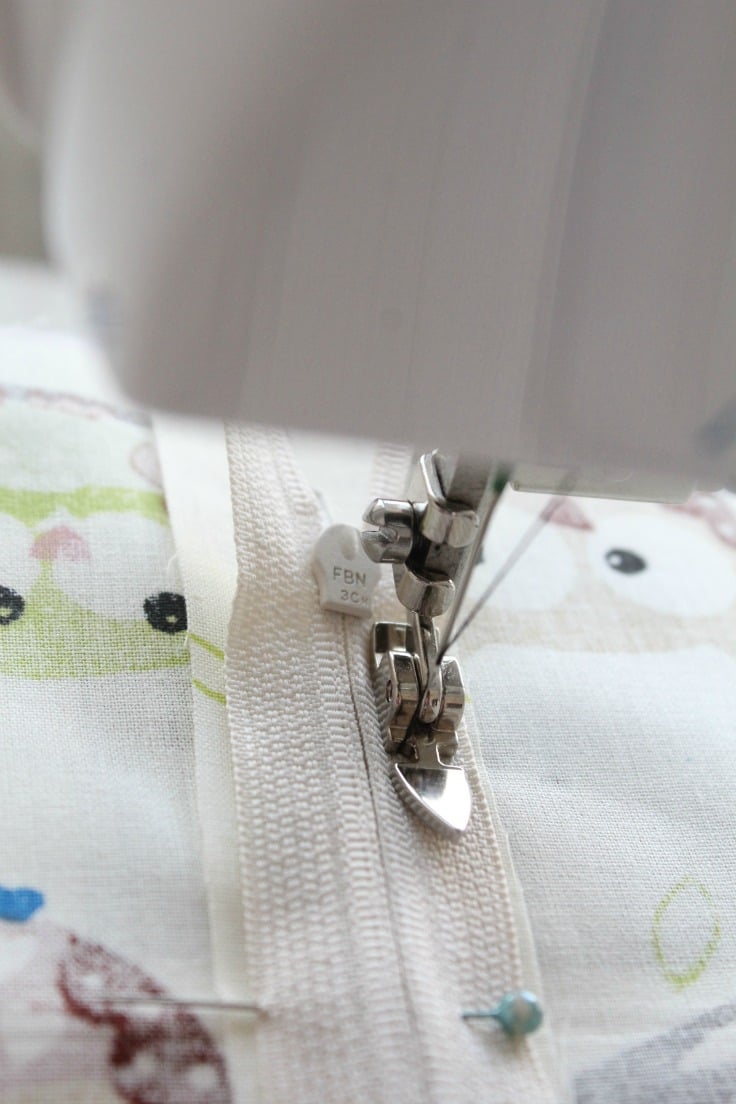 As you reach the end of the zipper, lift your presser foot, pivot the fabric and sew across the bottom of the zipper, lift your presser foot and pivot again then sew down the other side of the zipper.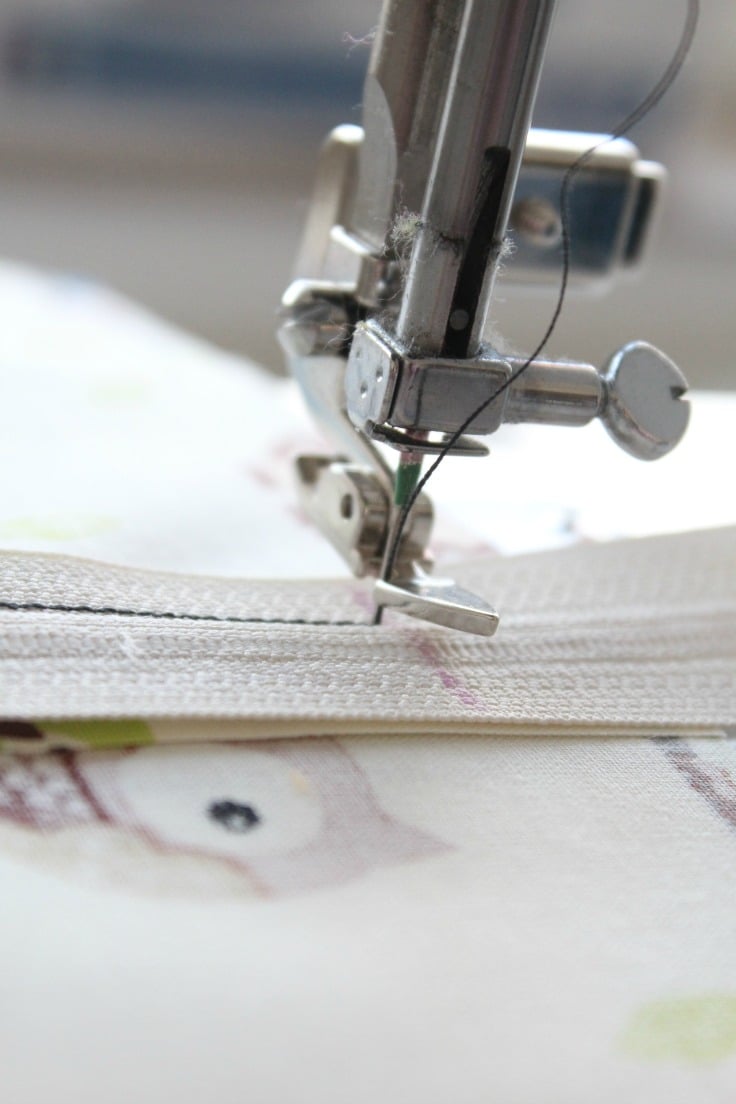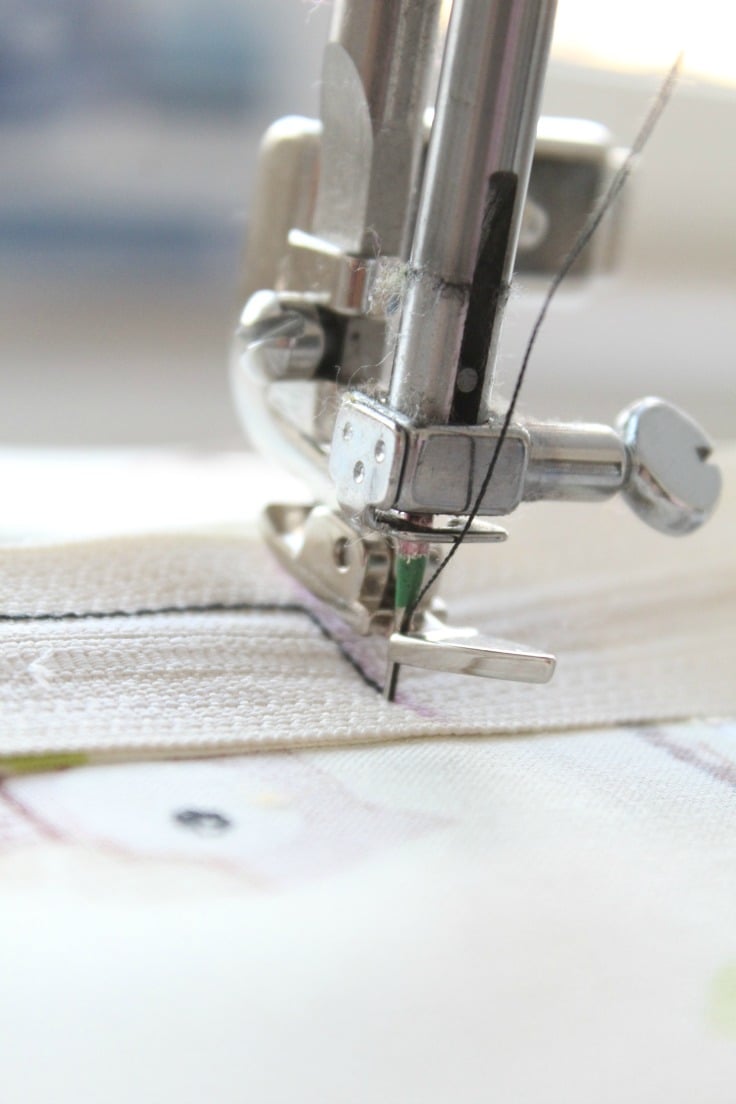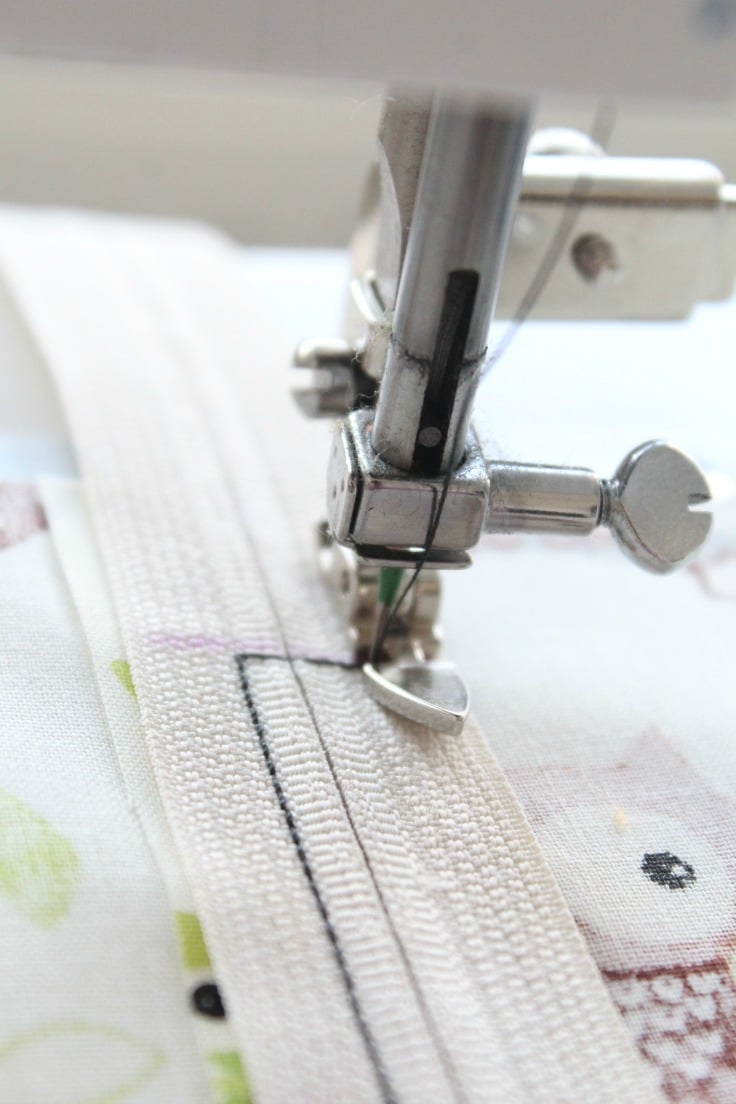 Stop as you get close to the zipper pull.
Trim excess zipper tape.
Finishing touches
At this point you have the option to leave the zipper edges as they are or use a zig zag stitch or a serger /overlocker (or any of these finishing methods) to finish the raw edges. This is particularly useful if your fabric frays a lot so you need to finish the edges of the fabric to prevent fraying when washing the garment.
Take your fabric on a side and rip the seam open so you can expose the zipper on the right side of the fabric too. Just make sure you don't rip down to the bottom where you've sewn the zipper in place.
Open zipper a little, go back to your machine and continue sewing where the zipper pull used to be.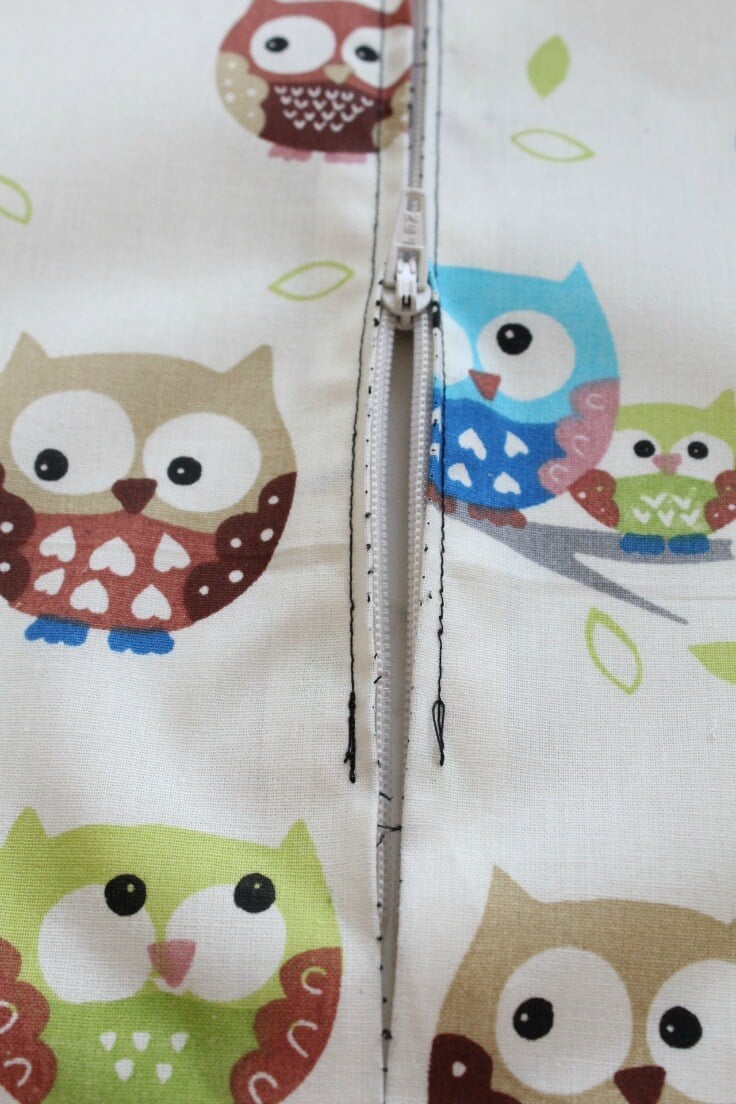 And you're done! If you're using this technique on a real piece of garment such as a skirt or dress, all you have left to do now is sew the side seams and the waistband.
This strategy is perfect for ensuring that your zipper remains unseen within the fabric, even when an invisible zipper isn't used. Furthermore, it's ideal for incorporating zippers into pants as well as other projects such as a zipper pouch, a pillow cover, cushions etc.
Have fun using this easy and simple technique on all your skirts and dresses that require sewing a zipper! For any questions, leave a comment below or reach out to me on social media. I'm here to help! Happy sewing!
Pin to save for later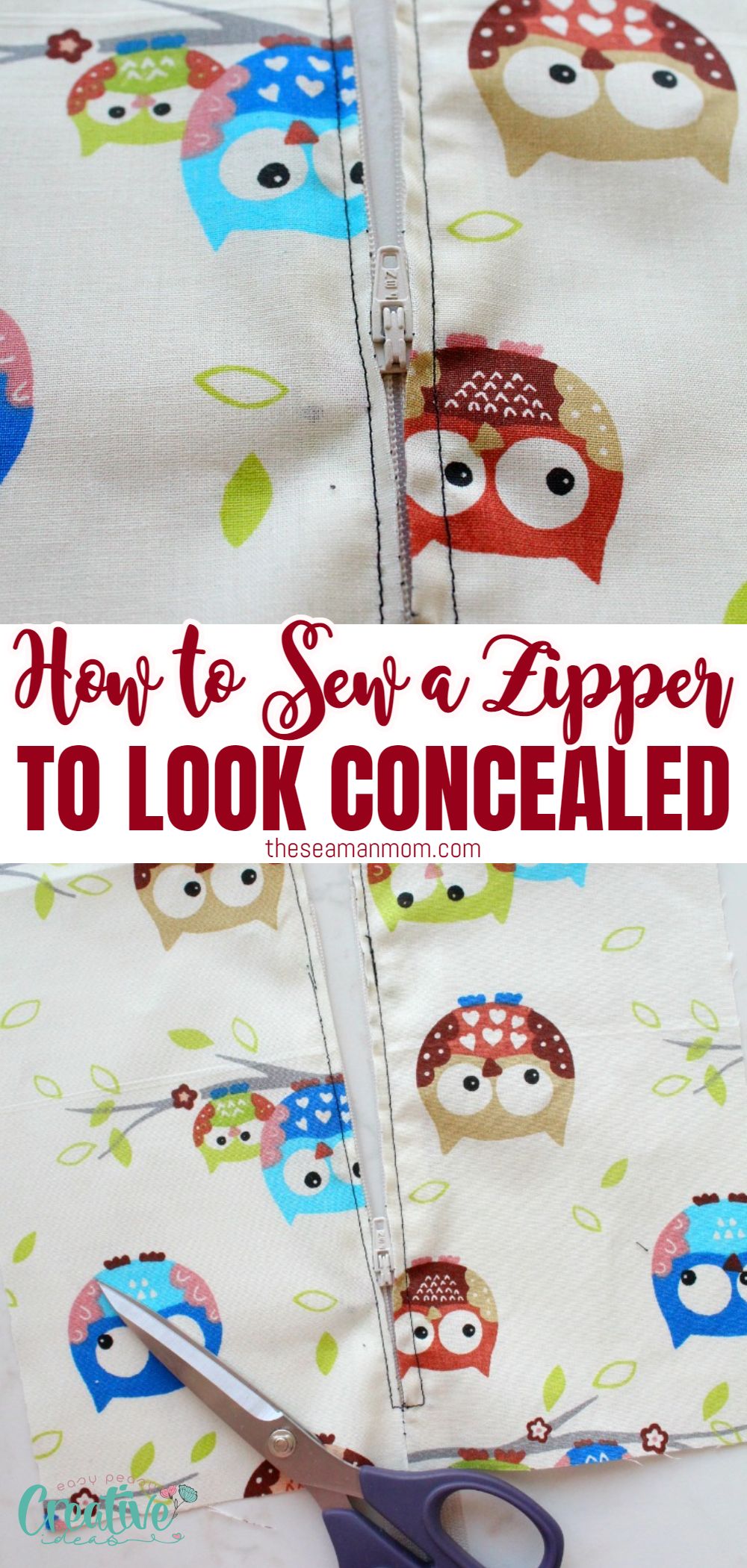 Most popular sewing projects: