How to Cook Tender CROCK POT KIELBASA
Article may contain Amazon & affiliate links. As an Amazon Associate I earn from qualifying purchases at no additional cost to you.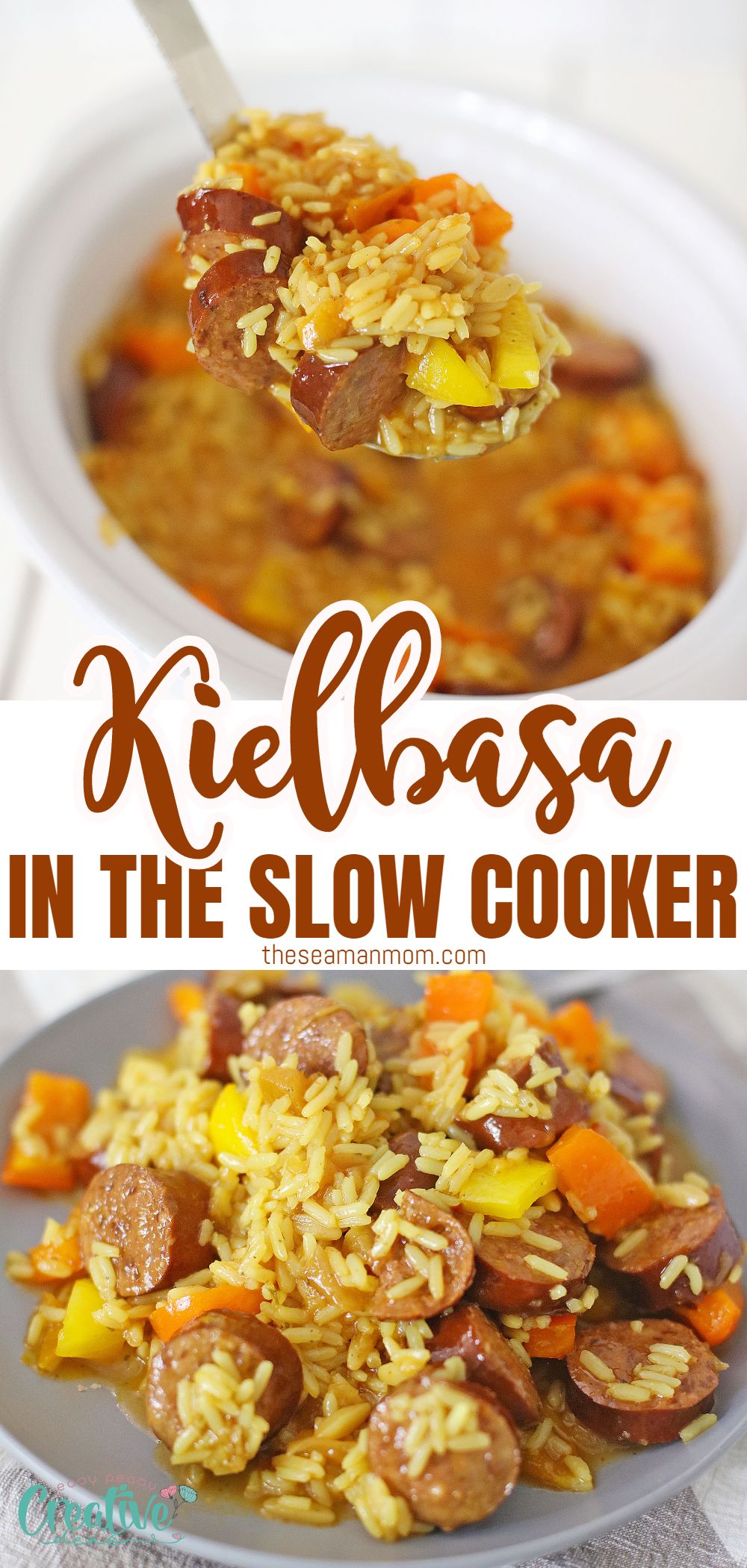 Do you love easy dinner recipes? This crock pot kielbasa sausage recipe is a great way to use up your leftover vegetables. It's also a perfect dish for those busy weeknights when you don't have time to cook. You can just throw everything in the slow cooker and come back later to an amazing meal!
Crock pot kielbasa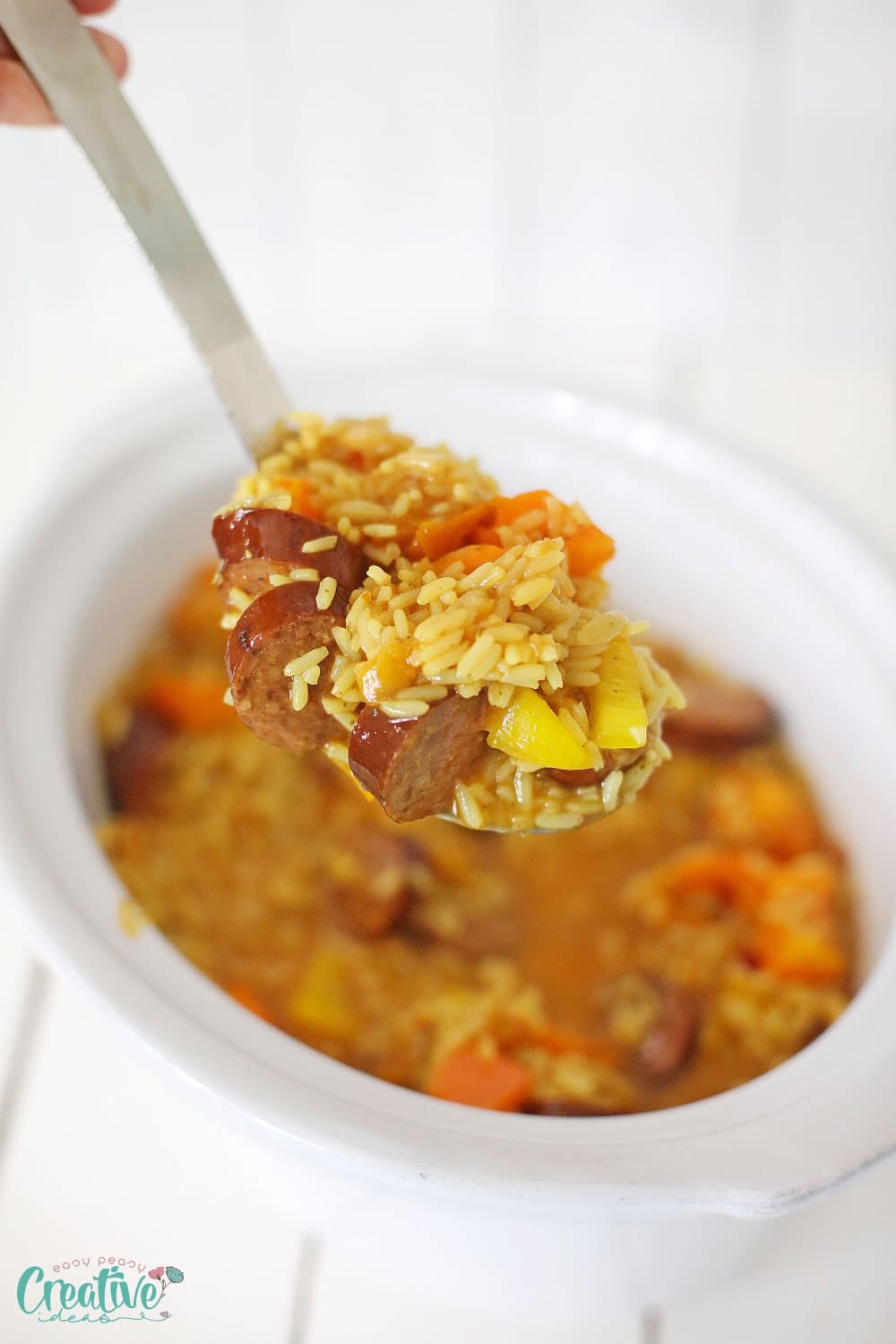 This Crock Pot Kielbasa is so simple to make! That's because all you have to do is add everything to the Crock Pot, let it cook, and in a few hours, you have a wonderful one-pot dinner. And since this dump and go recipe is full of vegetables, you can be sure you're serving a healthy meal that your family will love. This is a great recipe for those busy days when you want to make sure you have a hearty dinner for your family, but you're short on time.
The best part about this kielbasa crockpot recipe is that it tastes like summer even though it's made in the wintertime. It has all of your favorite flavors from pineapple, bell peppers, onion and kielbasa sausage – but with less work than usual! You won't believe how simple this crock pot kielbasa really is until you try it yourself. I promise that once you do, we'll be seeing more of each other soon enough!
More slow cooker recipes you will love:
What is kielbasa?
Kielbasa is a smoked sausage made out of pork, sometimes beef, and spices. It's popular in Polish cuisine, but it has become more widely available throughout the world due to an increase in immigration from Eastern Europe. Try this easy kielbasa recipe next time you have leftover vegetables or are craving classic comfort food.
How do you make kielbasa tender?
Kielbasa is known for its unique texture. The outside of the sausage is often quite firm, while the inside is soft and juicy. This dish does a great job of reproducing that combination by cooking it low and slow in your Crock Pot. This not only helps to tenderize the kielbasa, but also makes it nice and juicy.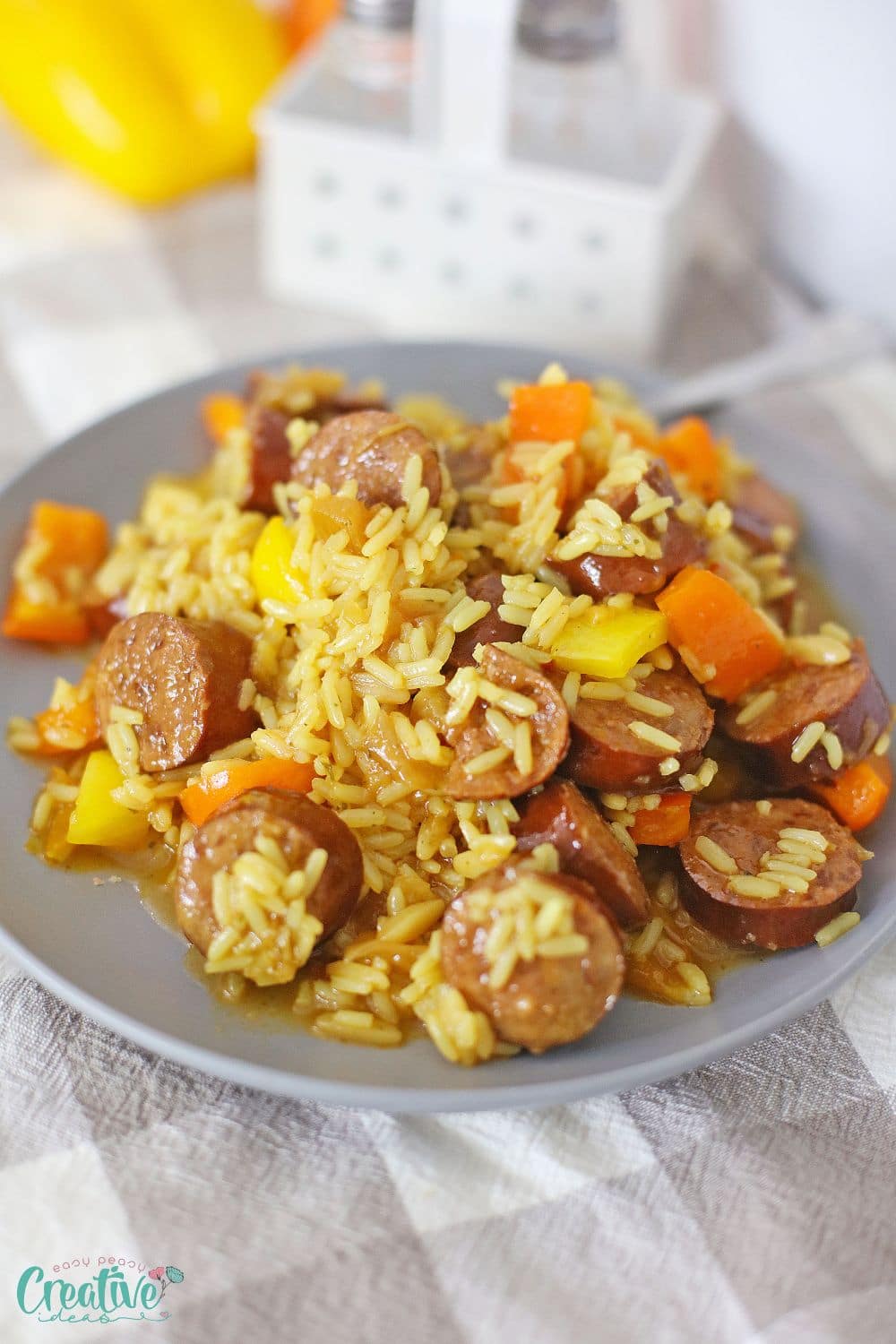 Do you have to brown sausages before putting in slow cooker?
In this Crock Pot Kielbasa, you will not brown the kielbasa before adding it to your slow cooker. Browning the sausages is a great way to add some extra flavor to your dish though, but if you're strapped for time, you don't have to do it first.
How long does kielbasa take to cook?
This Crock Pot Kielbasa takes 4 to 5 hours on low heat. However, if you're in a rush or want to let it cook while you're not at home, you can also cook it on high for 2 to 3 hours.
This sweet and sour kielbasa is delicious, healthy, and super simple to make. Plus, it only takes 10 minutes of prep time so you don't have to spend hours in the kitchen. Make this tonight!
Crock Pot Kielbasa Ingredients
Your family will love the combination of sweet and salty ingredients in this slow cooker kielbasa recipe so much that they won't even notice it's healthy, too! The combination of veggies, meat, and rice turn this simple dinner into a one-pot meal that's packed with flavor.
To make this easy slow cooker recipe, you'll need:
Orange bell pepper
Yellow bell pepper
Crushed pineapple
Yellow onion
Kielbasa
Vegetable rice pilaf
Garlic powder
Garlic salt
Brown sugar
Pineapple juice
Soy sauce
The best part about this dish is that there are no rules – feel free to add or remove any ingredients as needed. If you want more veggies or less meat, go ahead and adjust your portions accordingly!
And if pineapple isn't your thing, try swapping it out with another fruit instead like apples or peaches.
If you feel like adding extra fat, drizzle or spray some olive oil when the dish is almost cooked.
There's no wrong way to cook up this tasty meal!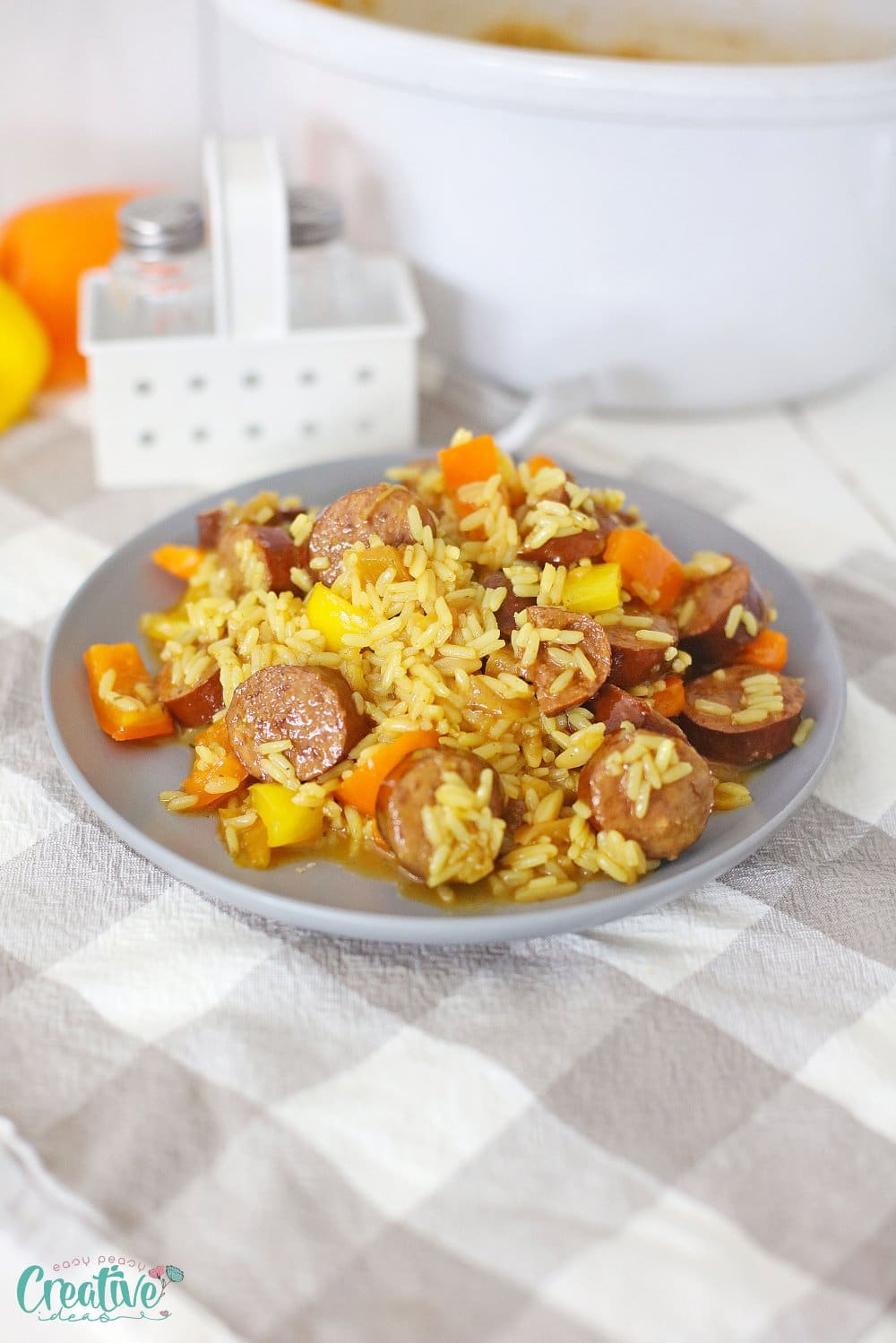 How to Make Crock pot Kielbasa
My favorite part about this easy recipe is that it requires just a few minutes of prep work! After that, all you have to do is add everything to your slow cooker and let it do the cooking for you. To make this sweet and salty dish, follow these three simple instructions:
Prep the ingredients. The hardest part about this quick recipe is preparing your fresh ingredients before adding them to the crock pot. Start by slicing the orange and yellow bell pepper into thin strips. After that, cut the yellow onion into bite-sized pieces. Then, slice the Kielbasa sausages into bite-sized coins.
Make the sauce. Once all your meat and veggies are prepped, the next step to making this sweet and sour kielbasa recipe is to prepare the sauce. Combine the crushed pineapple, garlic powder, brown sugar, pineapple juice, and soy sauce.
Toss everything in the slow cooker. Now that you have all your prep work done, the only thing left to do is dump and cook! Start by placing the peppers, onion, and Kielbasa to the bowl of the slower cooker. Top the meat and veggies with the sauce mixture, then add the rice pilaf. Stir everything together, place the lid on the slow cooker, and cook until the veggies are tender.
What can you serve with crock pot kielbasa?
This main dish is perfect for a family-style meal. Not only does it taste delicious, but it's also really filling and hearty. Serve your Crock Pot Kielbasa with some steamed broccoli, green beans or instant pot potatoes on the side to round out the meal. You could even add a simple salad if you're looking for something light and refreshing. And for dessert, how about some warm apple crumble? Delicious!
What other vegetables can you add to crockpot kielbasa?
If you're looking to add some extra veggies to your slow cooker kielbasa recipe, there are plenty of different options to choose from. Try adding some chopped carrots, celery, or zucchini. If you have some leftover roasted vegetables in the fridge, those would be perfect too! The possibilities are endless when it comes to creating a delicious and satisfying one-pot meal.
This Kielbasa is a healthy, simple, and delicious way to feed your family. This dish only takes 10 minutes of prep time, and then the slow cooker does all the work! With just a few simple ingredients, you can create a tasty meal that the entire family will enjoy!
While not exactly a traditional appetizer for parties, this easy recipe also makes a great potluck, game day or barbecue dish or if you have guests over. Everyone will love the sweet and savory kielbasa bites-and-veggie combo, served over rice. And best of all, they can choose what ingredients to add for their perfect slow cooker kielbasa! So don't hesitate to choose this recipe for your next party!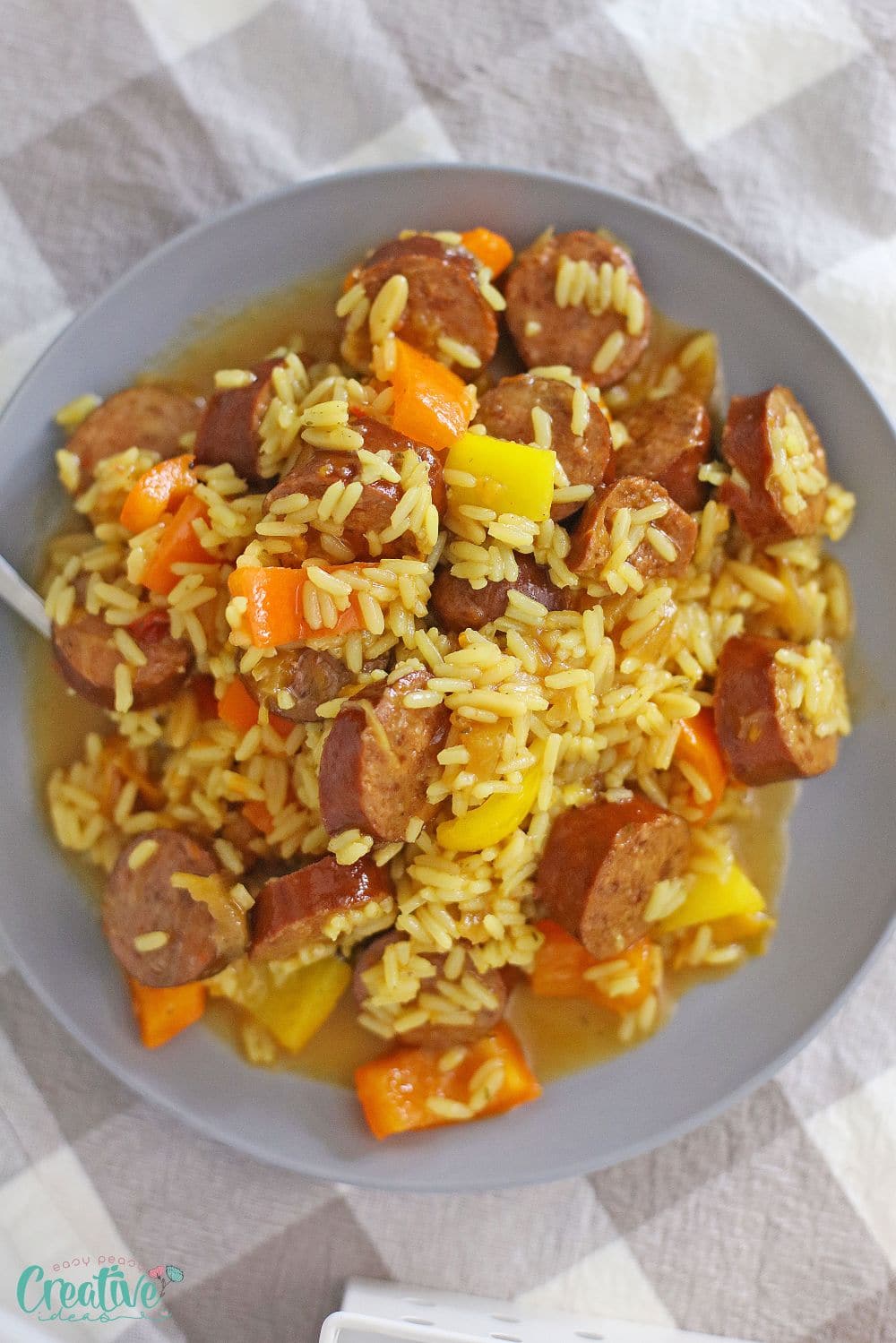 Slow Cooker Kielbasa Recipe Ideas
This simple recipe couldn't be easier to make! And that means there are so many ways to customize the recipe to suit your family's tastes. Try these recipe ideas the next time you prepare Kielbasa for your family:
Sauté the sausage before adding it to the slow cooker. While slow cooking your Kielbasa is a quick and easy way to prepare it, you can add even more flavor to your dinner by adding just a few minutes of prep work to your recipe. After slicing your Kielbasa into coins, add it to a warm skillet. Heat the sausage slices for a few minutes, just until the pieces begin to brown. Then, transfer the sausage to your slow cooker. Giving the meat time to brown before slow cooking it will keep the outside of your Kielbasa crisp as it cooks.
Make ahead for easier prep work. Putting this recipe together in the morning is a great way to get dinner started before you leave for the day. But if you don't have a lot of time to prep your ingredients at the beginning of the day, try making some of the elements ahead of time. You can slice the veggies and sausage and store them in the refrigerator until you're ready to cook. The sauce can also be mixed up to one day in advance and stored in the fridge.
Substitute any type of sausage. Kielbasa is the classic meat in this dinner, but you can substitute any type of sausage to your slow cooker with the rest of the recipe ingredients. Use turkey sausage for a low-fat option or add some spicy sausage for even more flavor.
Add some chicken broth to enhance flavor.
How Do You Store Leftover Kielbasa?
This simple dinner is so good, I'd be surprised if you have any left over! But if you do have some sausage and peppers left in your slow cooker, it's important to store those leftovers in the refrigerator. Transfer the leftover meat and veggies to an airtight container and store them in the fridge. Your cooked sausages will stay good for up to four days in the refrigerator.
Leftovers can also be stored in the freezer if you don't think they'll be eaten within a few days. Make sure to store the ingredients in a freezer-safe container or freezer bag, then remove all the air from the container.
The leftovers can be reheated in the microwave by cooking on high for one minute. Or you can place the meat and veggies in a skillet and cook over medium heat until the ingredients are heated through.
Does cooked kielbasa freeze well?
This Crockpot Kielbasa freezes well, so don't worry if you have leftovers. Just store them in an airtight container in the freezer and they'll be good for up to 6 months. That way, you can enjoy this delicious dish all over again later on!
If you've been looking for new recipes to add to your kitchen repertoire, this simple slow cooker kielbasa couldn't be easier to make! It's such a quick and easy recipe, there's no excuse not to try it the next time you want a delicious Kielbasa dinner. Plus, this simple slow cooker kielbasa can be modified with so many different flavor combinations! With its terrific taste and ease of preparation, this is one recipe you'll definitely want to keep in your regular dinner rotation.
What other flavors would you mix into this easy kielbasa recipe? Add your suggestions in the comments below!
Pin to save for later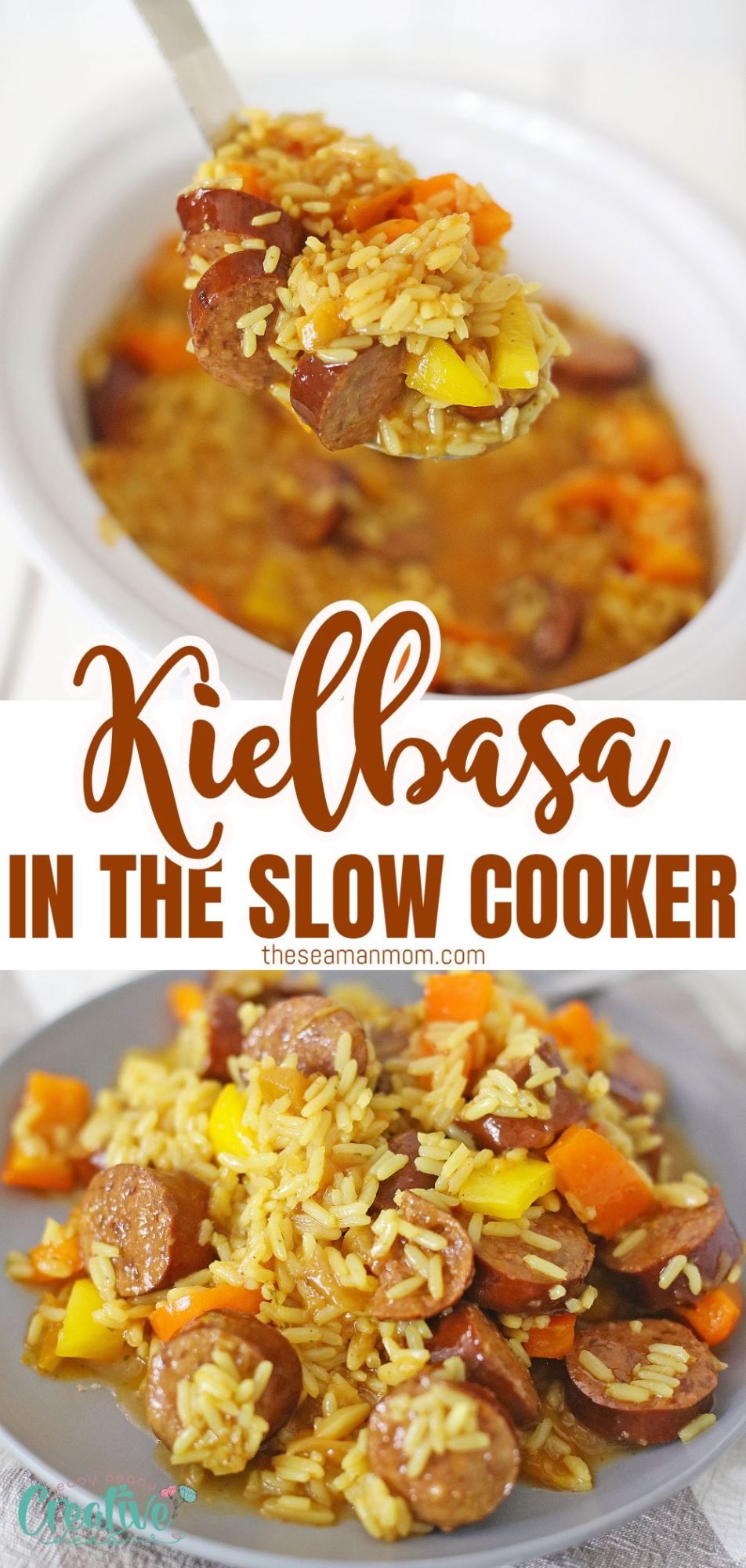 Print the recipe card
Crock Pot kielbasa
Do you love easy dinner recipes? This crock pot kielbasa sausage recipe is a great way to use up your leftover vegetables and the perfect dish for those busy weeknights when you don't have time to cook.
Ingredients
1

Orange Bell Pepper

sliced

1

Yellow Bell Pepper

sliced

1

can

Crushed Pineapple

in Heavy Syrup

1

Yellow Onion

Cut in bite size pieces

2

pkg

Kielbasa

sliced in coins

1

tsp

Garlic Powder

1/2

tsp

Garlic Salt

1/3

cup

Brown Sugar

6

ounces

Pineapple Juice

sweetened

3

tbsp

Soy Sauce

plus more if preferred
Instructions
Place the lid on the Crock Pot and turn the heat setting to High.  Wash the Peppers, and slice them, and set aside.  Slice the kielbasa.

Cut the Onion and place it with the Kielbasa in the Crock pot.  Add the Peppers. 

In a large bowl, add the Crushed Pineapple and Pineapple juice, and stir.  Add the Garlic Powder, Garlic Salt, Brown Sugar and Soy Sauce to the Pineapple, and stir well to blend.  Pour the Pineapple mixture over the Peppers and Kielbasa in the Crock Pot. 

Sprinkle the Rice over the Crock Pot, and stir Rice into Sauce.  Place the lid back on the Crock Pot, and cook on High for 2 to 3 hours or low for 4 to 5 hours, or until Rice and Vegetables are tender.
Most Popular recipes: