Super easy to make, healthy and delicious INSTANT POT POTATOES
Article may contain Amazon & affiliate links. As an Amazon Associate I earn from qualifying purchases at no additional cost to you.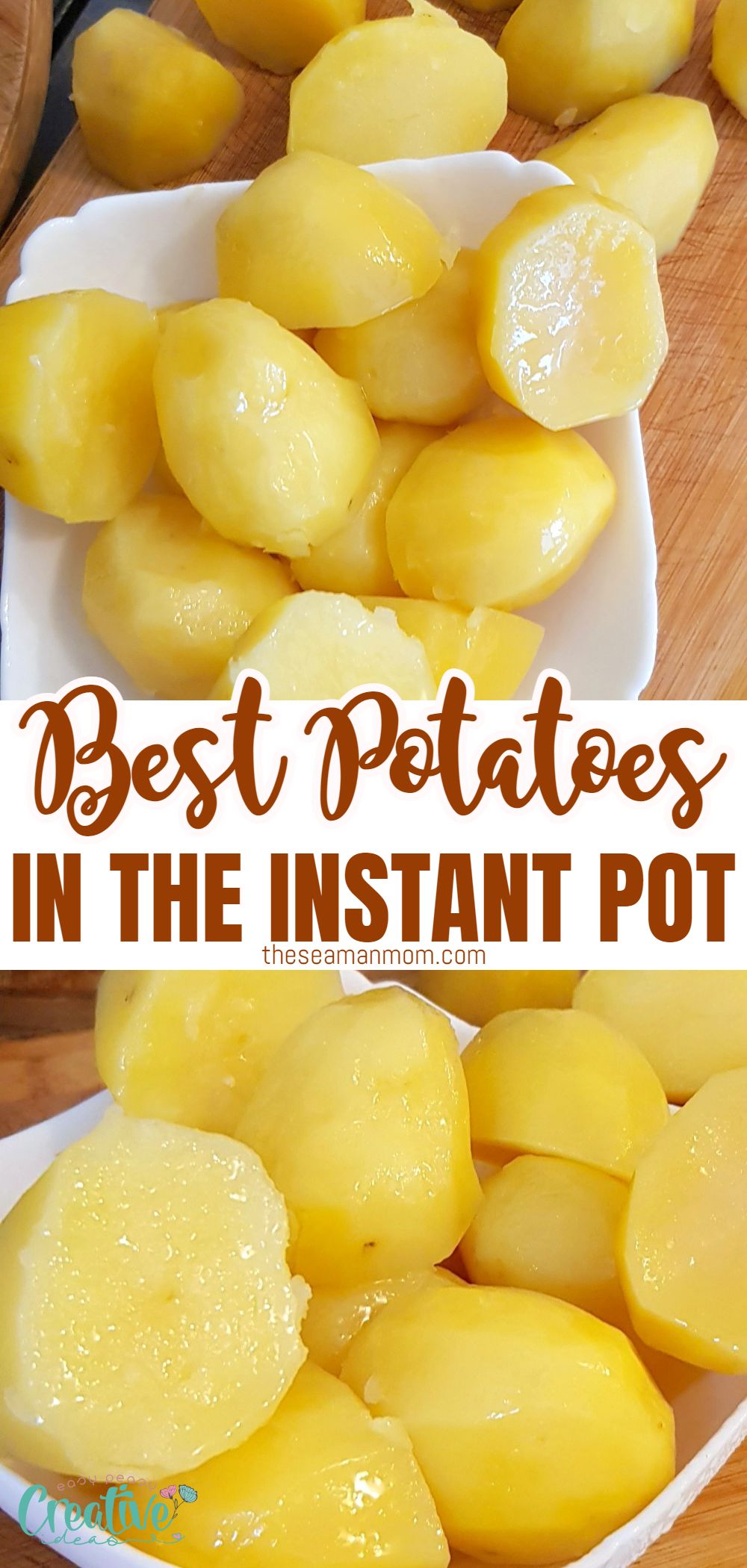 Learn how easy it is to cook perfect instant pot potatoes! This recipe will save you time but still give you that flavorful meal you've been craving! Perfect dish for the whole family and it takes less than 15 minutes! Great for using on weekend lunches or after a long day at work!
Instant pot potatoes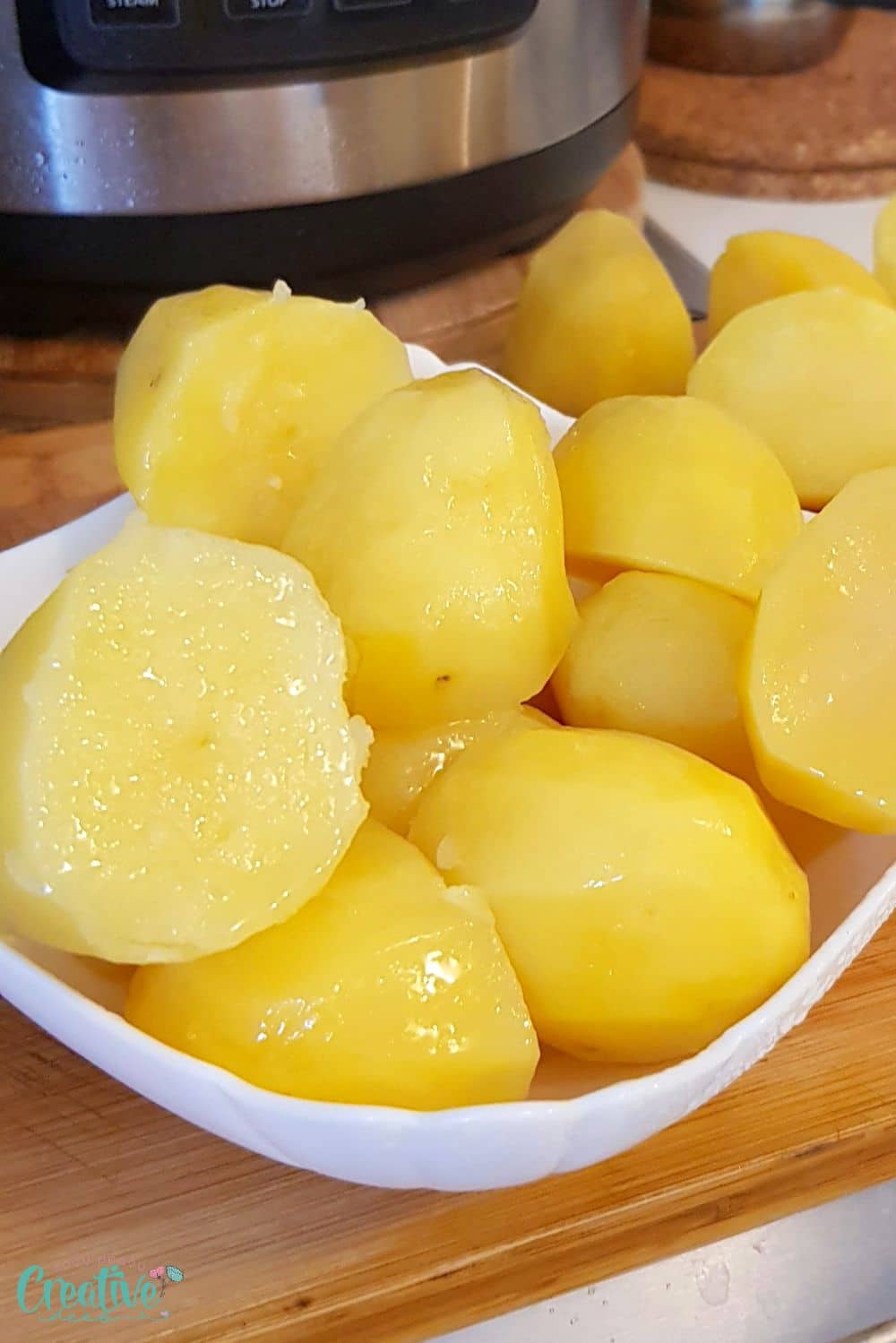 If you're looking for an easy, healthy, and delicious side dish to make then this is the perfect recipe for you! This super simple recipe will help you create instant pot potatoes that are packed with flavor.
The Instant Pot is one of the most popular kitchen appliances today. This easy recipe for Instant Pot potatoes will teach you how to cook potatoes quickly, so you can save time and eat healthy at the same time!
These healthy, delicious potatoes in the instant pot are the perfect side dish for any busy weeknight meal. They cook quickly and can be customized to your liking with different herbs and spices! Try them today by following this easy recipe.
When you think instant pot, you're probably thinking of hard recipes that take longer to cook like instant pot chicken, instant pot pork chops, instant pot beef roast, and instant pot ribs. Well, it's time that we make instant pot potatoes the star of the instant pot! So let's talk about potatoes in the instant pot.
More potato recipes you might like:
These steamed potatoes are healthy as well as delicious! Potatoes are naturally gluten-free and dairy-free. They can easily be made vegan friendly as well by using olive oil instead of butter.
These potatoes are heart-healthy as well! They contain a lot of potassium, vitamin c, and B6! In addition, instant pot potatoes contain fiber as well as other essential vitamins and nutrients.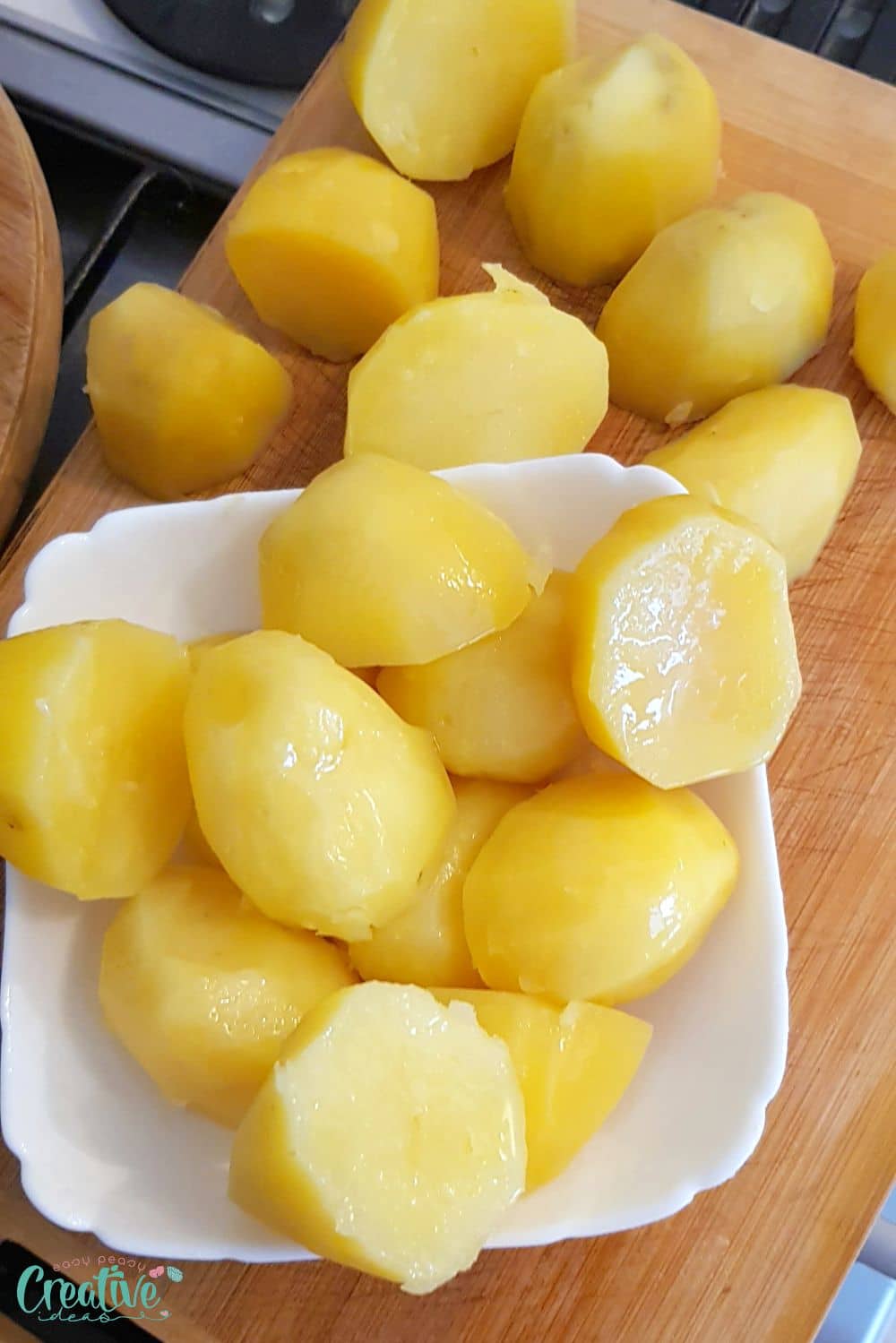 What are instant pot potatoes?
Potatoes in the instant pot are potatoes that are cooked with steam in an instant pot or other pressure cookers. They can be cooked with or without the peel. I choose to cook them peeled so I can put them on the table immediately after cooking.
The benefits of using an instant pot to make potatoes
The instant pot is a kitchen appliance known as an electric pressure cooker and it cooks food faster than normal cooking ways like the oven and stovetop. It's also easier to clean, uses less energy, and cooks food evenly.
These potatoes are made by steaming them under pressure and that gives them a great taste and texture and even cooking inside. You don't need butter or oil for this recipe to be tasty! Plus, they cook quickly so you can make instant pot potatoes in no time flat.
The benefit of using an instant pot for potatoes is that potatoes come out soft and creamy every time. If you were to cook them in a regular pan on the stove, they would turn out dry and chalky and it would take longer to cook.
By pressure cooking potatoes using this pot recipe, you'll have perfect potatoes for any dinner or lunch in less than 15 minutes!
How do instant pot potatoes taste?
Potatoes cooked in a pressure cooker are… well… delicious! They are soft and creamy throughout, even when you don't add butter or oil. They have a fluffy texture that is so flavorful.
The potatoes in instant pot are perfectly seasoned, creamy, and savory. Just simply delicious!
These potatoes are very flavorful and savory. They're best seasoned with garlic powder, onion powder, salt, and pepper. You can also add rosemary or chives for extra flavor. But they taste just as good when served plain or brushed with just a little bit of butter.
How long does it take to make potatoes in the instant pot?
Well, instant pot cooking times vary depending on the ingredients. Cooking potatoes in instant pot takes less than 10 minutes to cook! How amazing is that?
Instant Pot potatoes are ready in no time for any weeknight dinner or even weekend lunch. They can be cooked with different seasonings and spices and they will still taste delicious every time.
You don't ever have to worry about instant pot potatoes not turning out good, because potatoes in instant pot are perfect every time!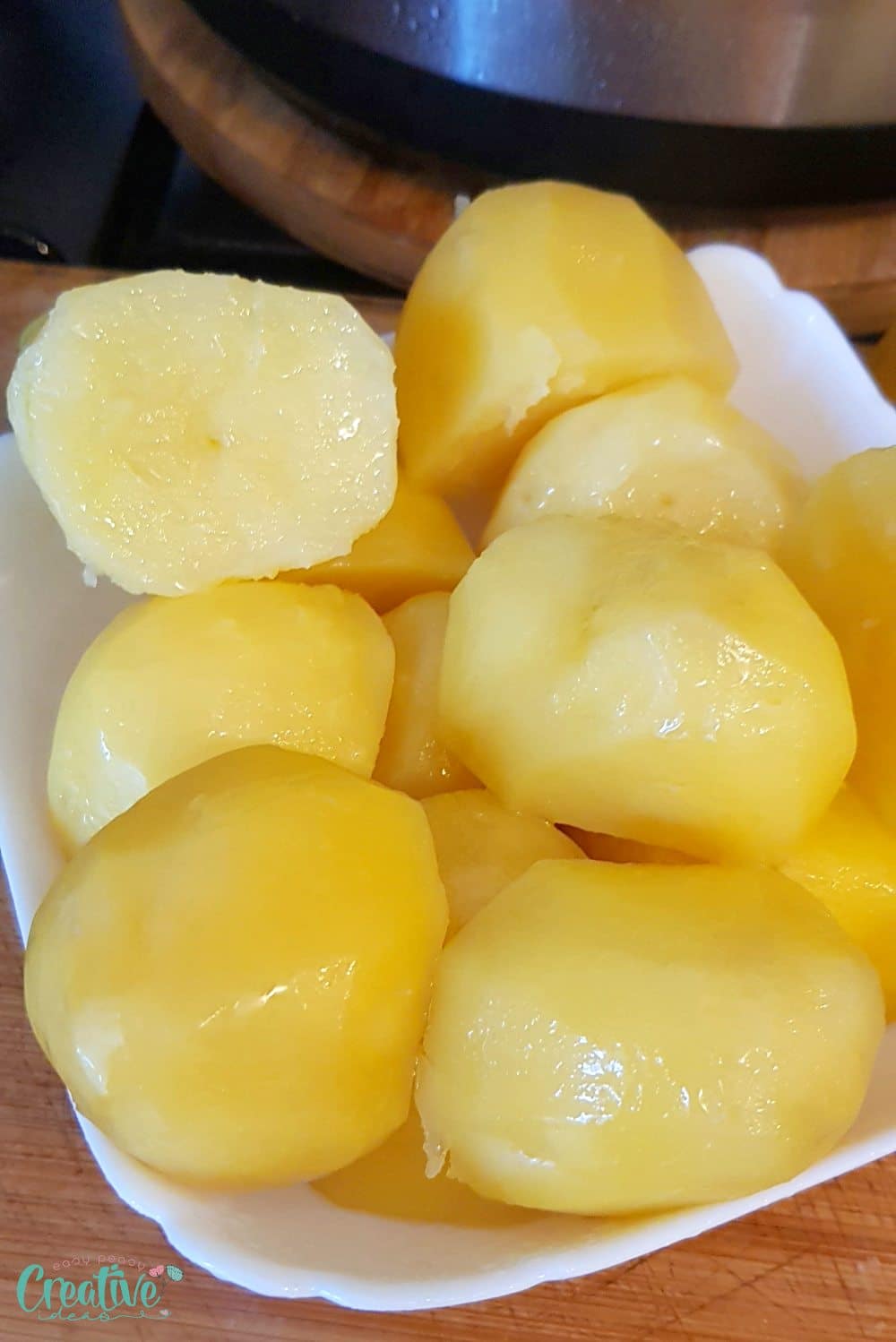 How to prepare your ingredients for cooking these pot potatoes?
Peel and cut potatoes in half. Make sure they are of similar size for even cooking. You can opt to mix potatoes with spices such as garlic salt, onion powder, salt, pepper, and chives if you wish. Or brush with butter or oil. Butter makes instant potatoes creamy while olive oil makes them healthier but still delicious!
You can also cook potatoes diced into smaller pieces but in that case, reduce the cooking time to half.
How do I add flavor to these potatoes?
It's always best to cook instant potatoes with some broth, brush with butter or oil after cooking or season them before adding to the pot.
Most common pressure cooker potatoes mistakes and how to avoid them
Don't overcook your instant potatoes. Overcooked potatoes are dry and chalky. The key to instant pot steamed potatoes is cooking them just right.
Potatoes aren't seasoned well. To fix instant potatoes that need seasoning, season with salt and pepper until they taste good! As mentioned above, you can cook them plain and add the seasoning afterward or season before cooking.
Using too much water. The instant pot cooks the potatoes in their own steam! Be sure to use a rack/trivet when cooking pressure cooker potatoes. Using a rack helps the steam flow all around the instant pot potato and makes it cook faster! The water should be just below the trivet.
Not using enough liquid. For instant potatoes, the liquid is important to create steam! Water is good but if you have chicken broth on hand, use that instead of water for added flavor! These potatoes are tastier cooked with chicken broth since it adds more flavor.
Using potatoes that are too small or too big for an instant pot. Smaller potatoes require less time to be cooked in the instant pot. Larger potatoes such as russet will take longer. So adjust the time according to your potatoes.
Overloading the instant pot. Don't try to make instant potatoes in your instant pot if it's already loaded with other food. If you're doing several dishes at once, you need to let instant potatoes cook first before adding other instant pot recipes. Also don't overcrowd the potatoes when cooking.
Potatoes don't cook evenly. This happens if potatoes are too big for the pot or in different sizes.
How to store instant potatoes after cooking?
Instant potatoes can be stored in an airtight container or plastic bag for up to 3 days in the fridge. You can reheat leftovers in the oven for a few minutes or a microwave oven for 20-30 seconds.
You can also freeze instant potatoes for up to 3 months.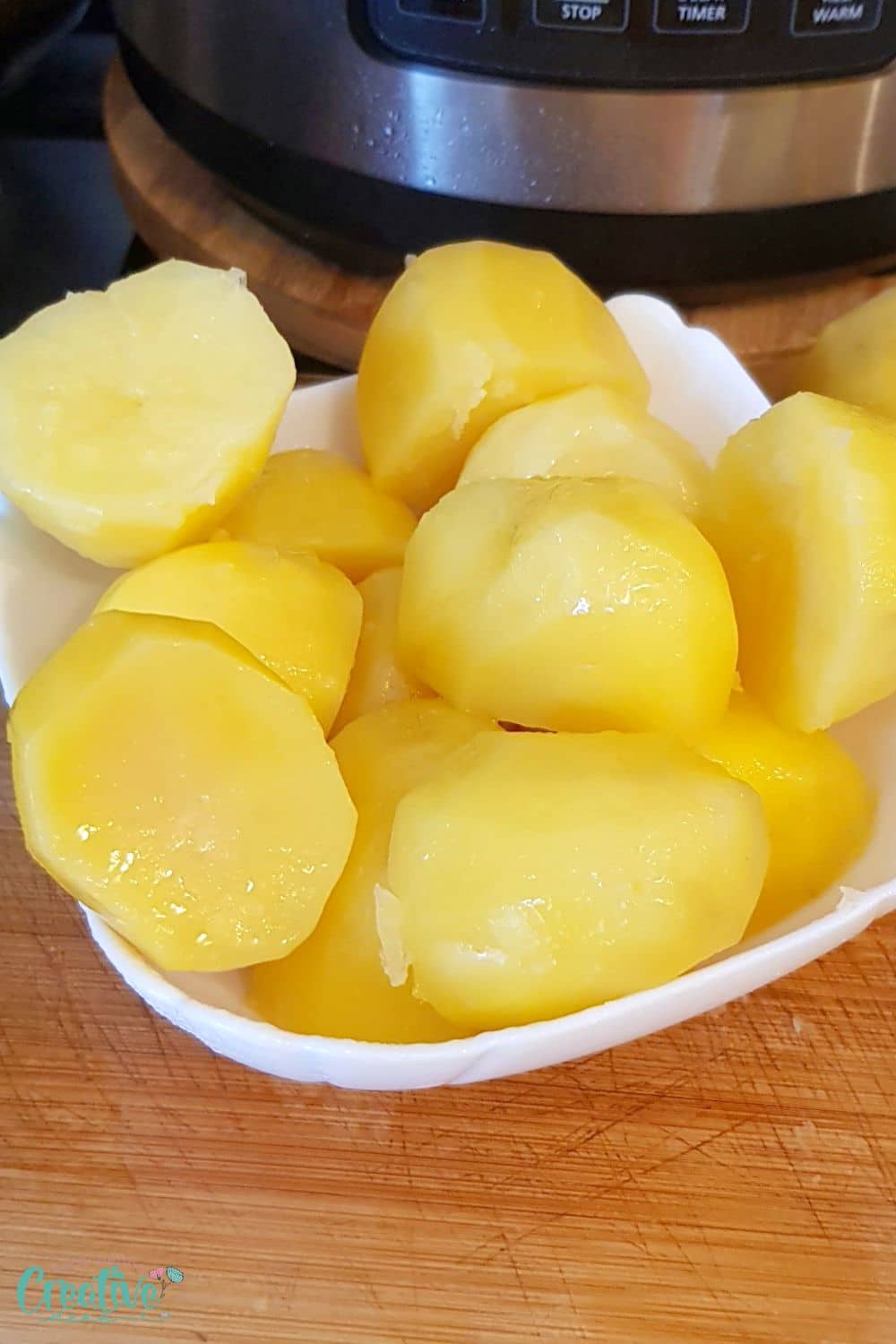 Ingredients needed to make the recipe
Well, these potatoes are fun and super easy to make because you don't need too many ingredients, the cook time is super quick but the outcome is always fantastic. My particular recipe calls for the most basic ingredients so you probably have everything in your pantry right now.
medium potatoes
water
oil or butter – optional
also optional – seasoning such as: garlic powder, onion powder, salt and pepper, dry herbs such as rosemary or thyme etc
How to use the instant pot for cooking potatoes
First, rinse and peel instant potatoes and cut them roughly the same size. You can also keep them whole if the potatoes are not large.
Place the trivet to the bottom of the instant pot and pour water to just below the trivet.
Then you can cook the potatoes plain or mix them with spices such as garlic, onion powder, salt, pepper, chives, rosemary, etc if you wish. You can also brush instant potatoes with butter or olive oil. Butter makes instant potatoes taste creamier.
Add them to the instant pot. Close instant pot lid and turn the pressure valve to lock position. Press the manual button(high pressure) and set the timer for 8 minutes. Medium size potatoes will be done in 8 minutes, larger potatoes will take 10 to 12 minutes. Small potatoes take 4 minutes to cook.
Wait for the potatoes to finish cooking, pressure release naturally (don't quick release), and remove them from the pot with a slotted spoon or silicone tongs onto a cutting board. You may want to re-season if needed.
Slice potatoes and serve with your favorite recipe!
There you go, simple steamed potatoes cooked in a snap! Awesome recipe without losing time and flavor!
What can you serve with instant potatoes?
Here are some great easy recipes to try out and create equally easy meals with minimal effort:
Green beans and potatoes dinner is a complete vegan meal in one!
Brats and potatoes is a perfect recipe for summer BBQ.
Serve them with chicken drumsticks for a fun family dinner!
Or with this delicious and easy baked honey mustard fish!
Balsamic baby carrots go amazingly well with potatoes cooked in the pressure cooker.
Try these potatoes with your favorite soup. This cheddar beer broccoli soup is so good!
If you don't want them plain, these steamed potatoes are also great with gravy, sour cream, cheddar cheese or cream cheese (sprinkling them with fresh parsley adds even more flavor).
This turkey breast recipe with potatoes is a delicious and easy meal that you can do in 20 minutes!
Do these potatoes go well with steak? They sure do.
Instant Pot Teriyaki Chicken goes perfect with these potatoes.
Use steamed potatoes to make a simple potato salad with bacon to flavor it.
Thanks for visiting and reading my recipe! If you'd like to find other great recipes please check out my recipes page where we have more deliciousness waiting for you.
Have fun cooking the best potatoes! Let me know how it goes in the comments below.
Pin to save for later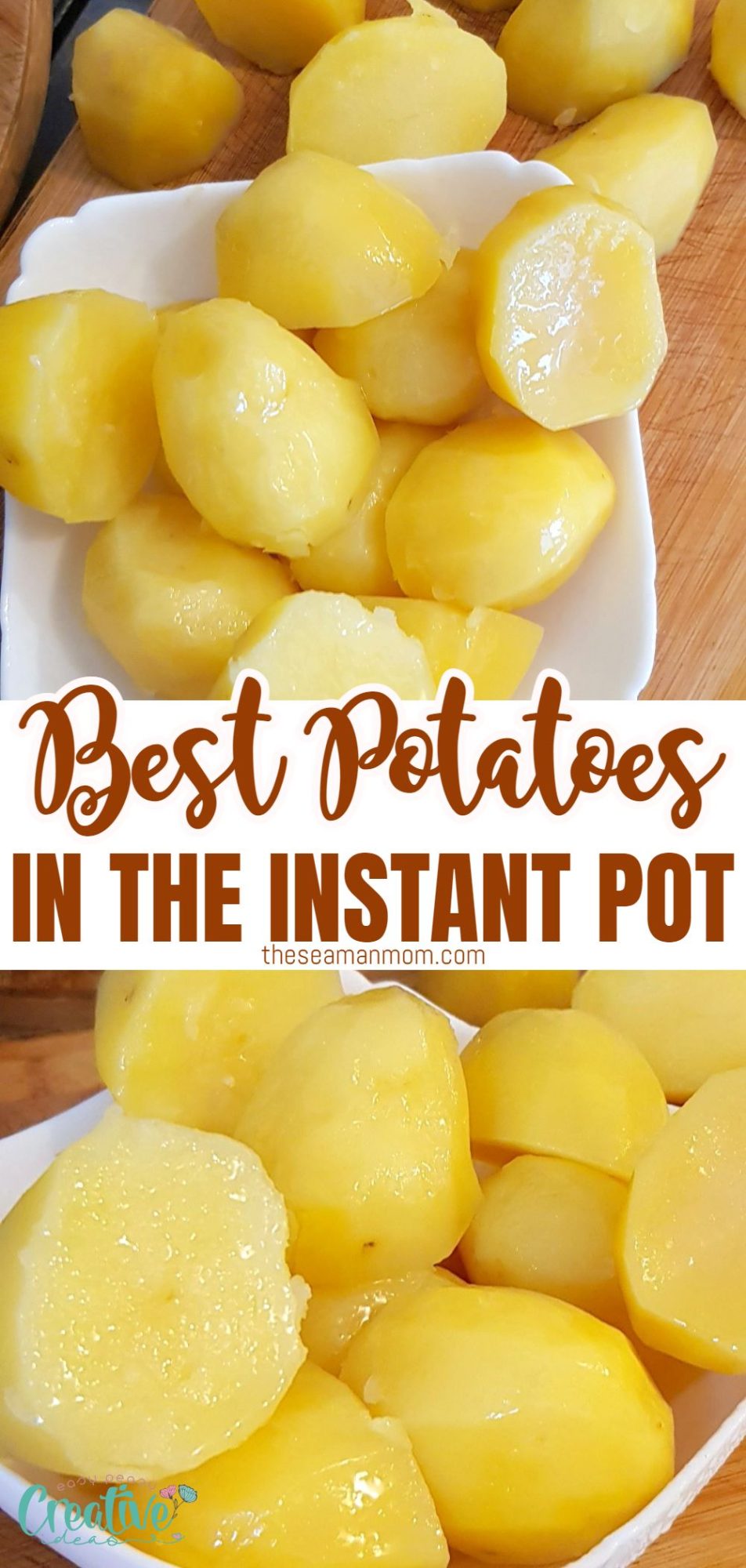 Print the recipe card
Instant Pot potatoes
Learn how easy it is to cook perfect instant pot potatoes! This recipe will save you time but still give you that flavorful meal you've been craving!
Ingredients
9

medium potatoes

vegetable oil or butter

optional

seasoning of choice

optional
Instructions
Peel potatoes and cut in half. Wash well. Poke each piece with a bamboo skewer, a couple times per potato. This help releasing the steam while potatoes are cooking

Place the trivet to the bottom of the instant pot and add 1 cup water. Stop just below the trivet. Place potatoes on top of the trivet. Set the steam release valve to closed. Set to manual on high for10 minutes.

After 10 minutes, quick release steam and remove potatoes with silicone tongs. Add butter, salt and pepper, fresh herbs or seasoning of choice
Most Popular recipes: