Crazy Easy And Delicious Nut Balls Recipe
Article may contain Amazon & affiliate links. As an Amazon Associate I earn from qualifying purchases at no additional cost to you.
In need for a quick snack? This caramel balls recipe made with crunchy walnuts are a convenient and tasty way to nourish your body, satisfy your hunger and keep your energy levels up.
Easy Energy Balls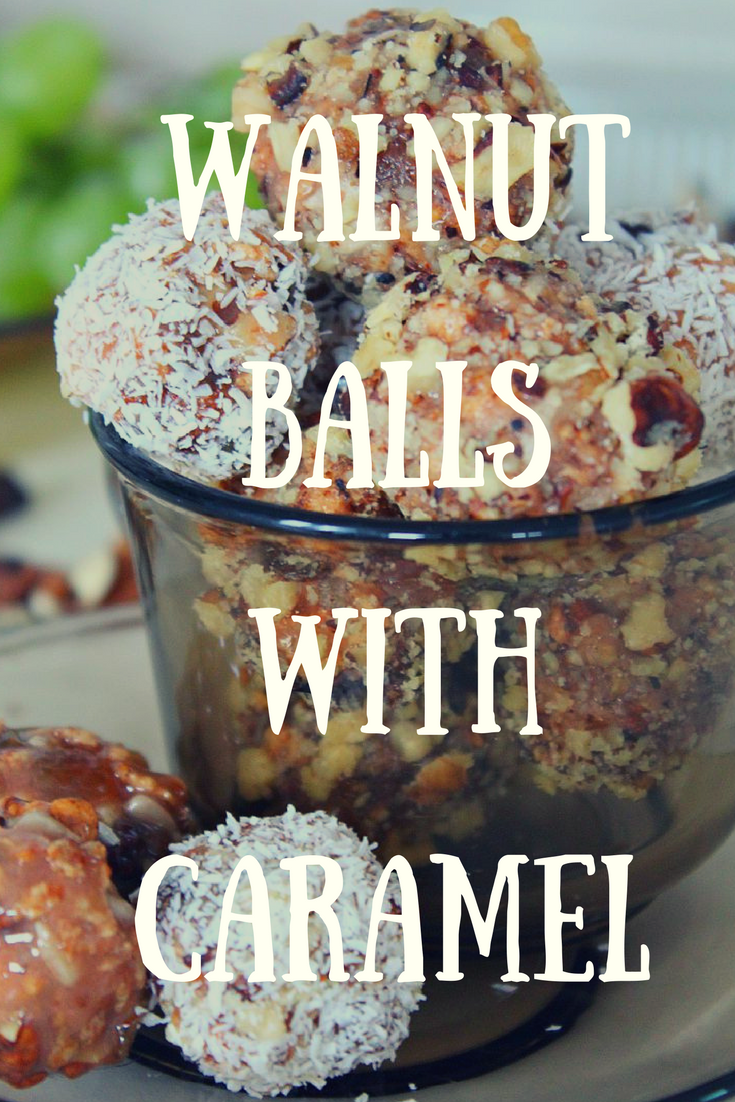 The other day my daughter and I were just hanging out in front of the TV and realized we could use some nice walnut snacks to munch on while watching a movie (a Disney movie, of course!). We like to bond over a lot of stuff and food is by far our most favorite (I wonder why!). This caramel balls recipe made total sense and sounded like a super quick snack too!
I particularly love making power bites as they're so easy and quick to make and a great way to fuel my body with when I feel sluggish. We didn't have much around the house though except for a bunch of nuts and some caramel sauce so I thought I'd try an easy caramel balls recipe.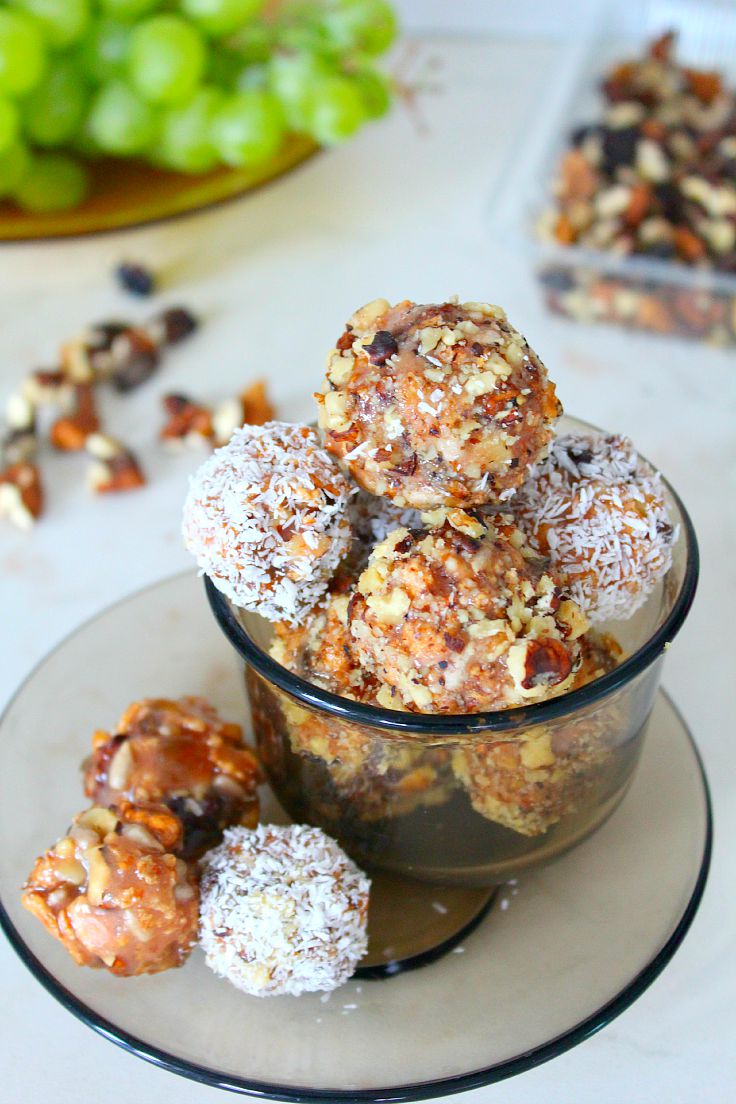 This no bake energy bites recipe turned out great! The only thing I wasn't very happy about is the fact that these lovely energy balls need to be stored in the fridge or the caramel sauce will melt a little. Which means we can't have this deliciousness on the go. For future attempts, I will probably need to make a basic caramel, with sugar and water only. Here's the caramel sauce recipe I used.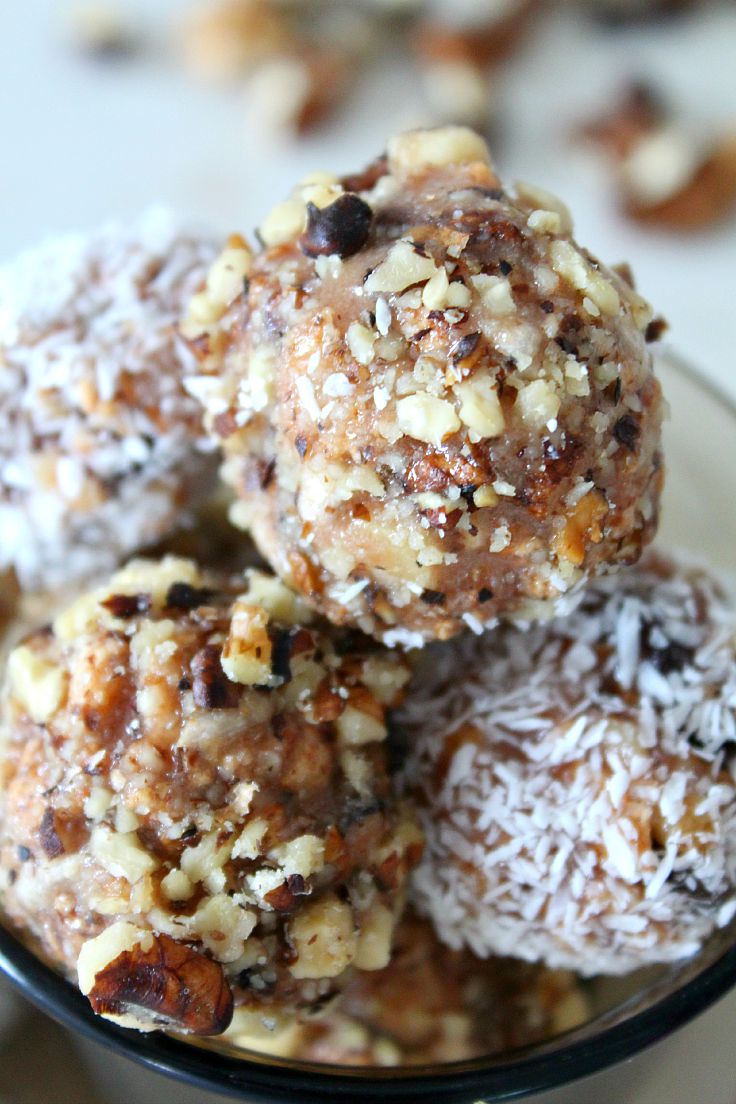 These little power bites will soon become a favorite among kids and are the perfect snack bar replacement! Crushed walnuts and caramel are rolled into compact energy snacks perfect for after-workout too, if you workout at home as I do.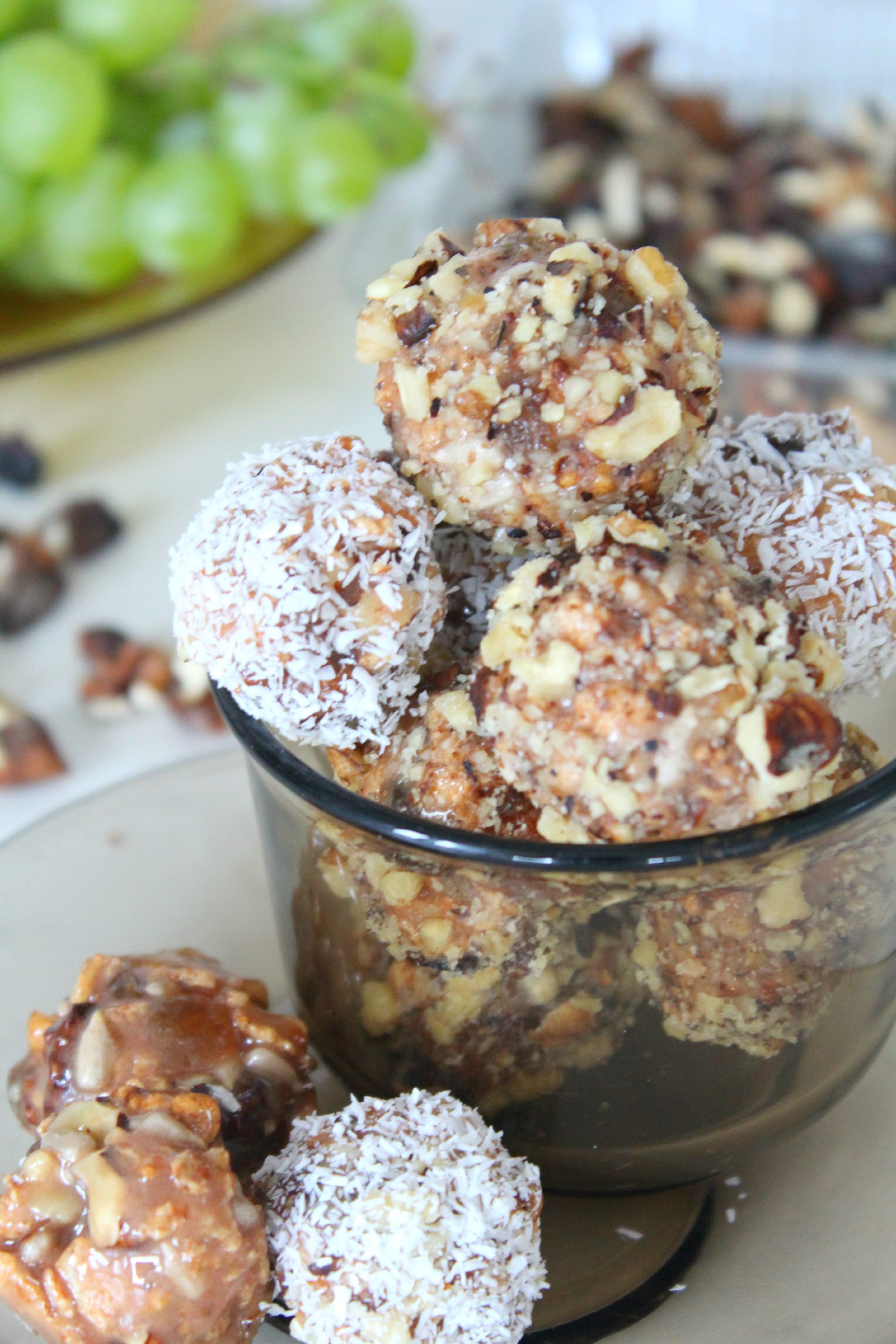 My easy caramel balls recipe is totally customizable as you can add your favorite nuts or seeds instead of walnuts and you can roll these homemade energy balls through coconut flakes, cocoa or chocolate powder, finely ground nuts or simply leave them as they are. I also used some raisins mixed with the walnuts but when tasting the bites I realized they're a bit too sweet for my taste so you might wanna skip the raisins or make half the recipe without raisins.
Caramel Balls Recipe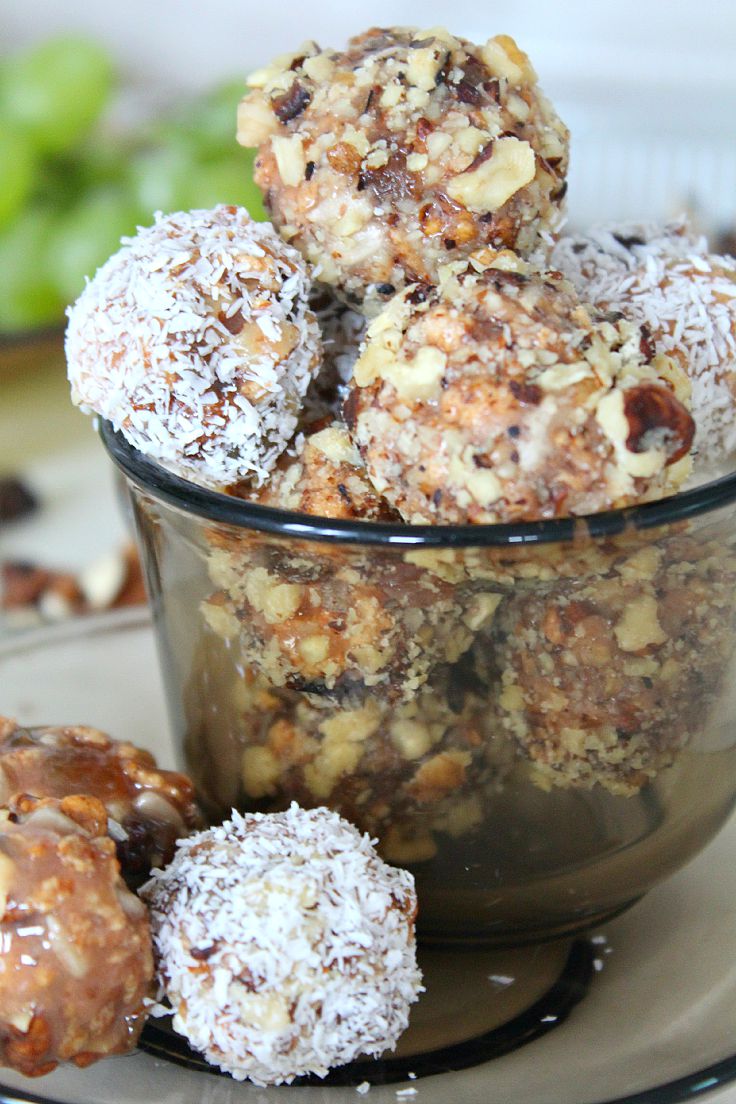 Ingredients:
2 cups walnuts
3 table spoons raisins (optional)
caramel sauce (recipe here)
coconut flakes and crushed walnuts for decorating the balls
For the caramel sauce:
1 cup sugar
1/4 cup water
3 tablespoons heavy cream
1 cups miniature marshmallows
You will also need:
saucepan
large mixing bowl
bamboo spatula
cooking spray
baking sheet
wax paper
Directions:
Line the baking sheet with wax paper
Crush the walnuts in small bits
Dice the raisins
Make half the caramel sauce indicated in the linked recipe
Leave the caramel sauce on a side for a few minutes to cool a bit
Mix walnuts and raisins
Slowly pour caramel sauce over walnuts/raisins mixture while mixing using a bamboo spoon/spatula. Add the sauce bit by bit until you're happy with the texture and firmness.
Stop when walnuts and raisins are well coated with sauce (you might not need all the sauce, based on your preferences)
If the walnut caramel mixture is cool enough to touch, spray cooking oil on your palms and quickly start making small balls then place them in the lined baking sheet
Transfer the balls to a freezer for about 5 minutes
Reshape them if you need to; make sure your palms are coated with oil
Roll through coconut flakes/crushed walnuts/chocolate powder
Store the bites in the fridge for no longer than a week
Nut Balls Recipe
Ingredients
2

cups

walnuts

3

table spoons raisins

optional

caramel sauce

recipe here

coconut flakes and crushed walnuts for decorating the balls
For the caramel sauce:
1

cup

sugar

1/4

cup

water

3

tablespoons

heavy cream

1

cups

miniature marshmallows
You will also need:
saucepan

large mixing bowl

bamboo spatula

cooking spray

baking sheet

wax paper
Instructions
Line the baking sheet with wax paper

Crush the walnuts in small bits

Dice the raisins

Make half the caramel sauce indicated in the linked recipe

Leave the caramel sauce on a side for a few minutes to cool a bit

Mix walnuts and raisins

Slowly pour caramel sauce over walnuts/raisins mixture while mixing using a bamboo spoon/spatula. Add the sauce bit by bit until you're happy with the texture and firmness. 

Stop when walnuts and raisins are well coated with sauce (you might not need all the sauce, based on your preferences)

If the walnut caramel mixture is cool enough to touch, spray cooking oil on your palms and quickly start making small balls then place them in the lined baking sheet

Transfer the balls to a freezer for about 5 minutes

Reshape them if you need to; make sure your palms are coated with oil

Roll through coconut flakes/crushed walnuts/chocolate powder

Store the bites in the fridge for no longer than a week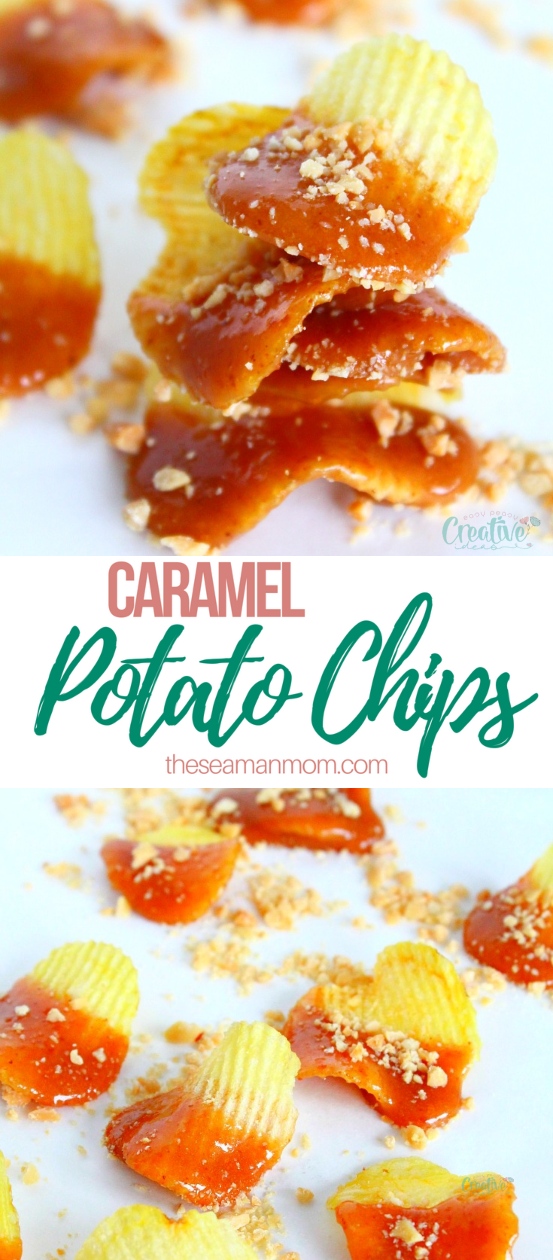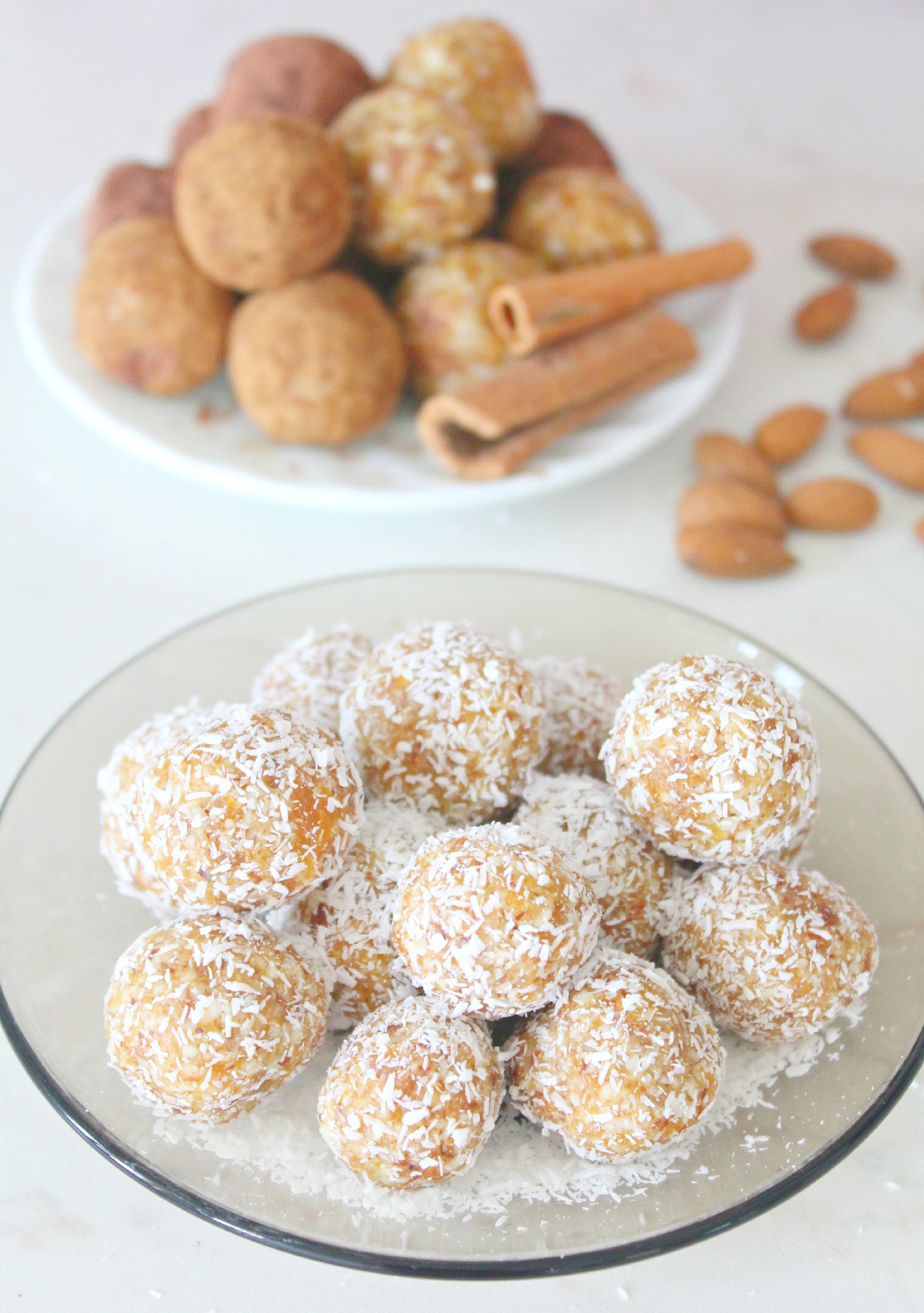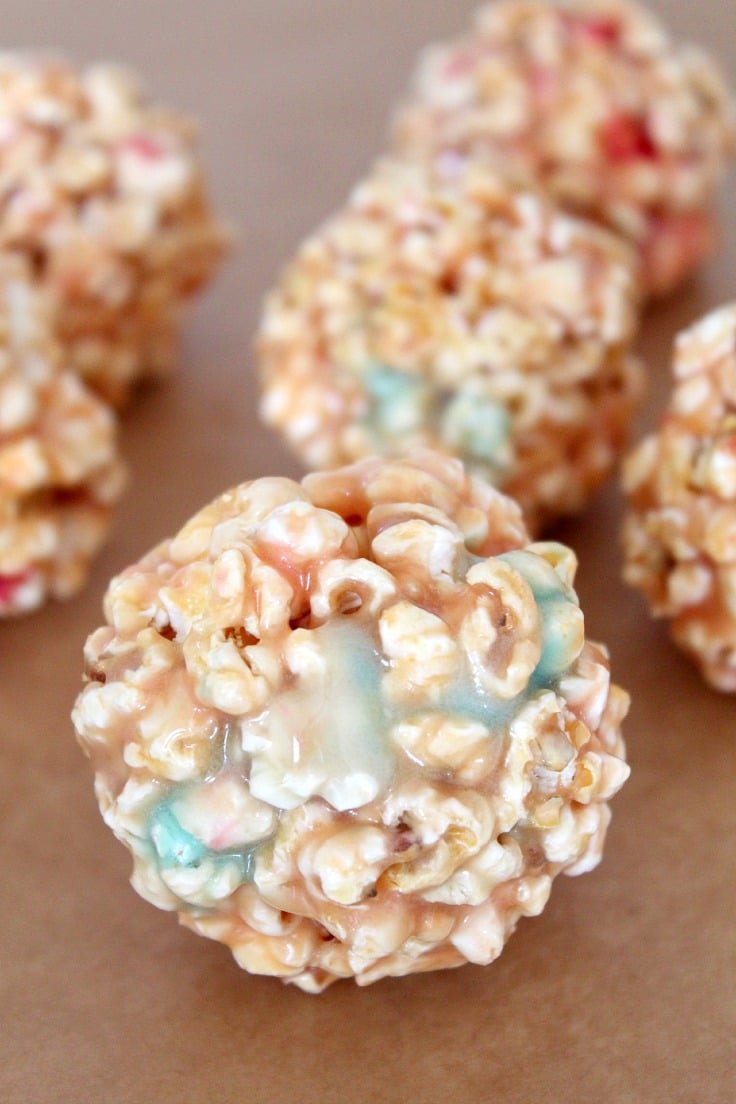 Most Popular Recipes