Chicken Pattern For Fabric Weights
Article may contain Amazon & affiliate links. As an Amazon Associate I earn from qualifying purchases at no additional cost to you.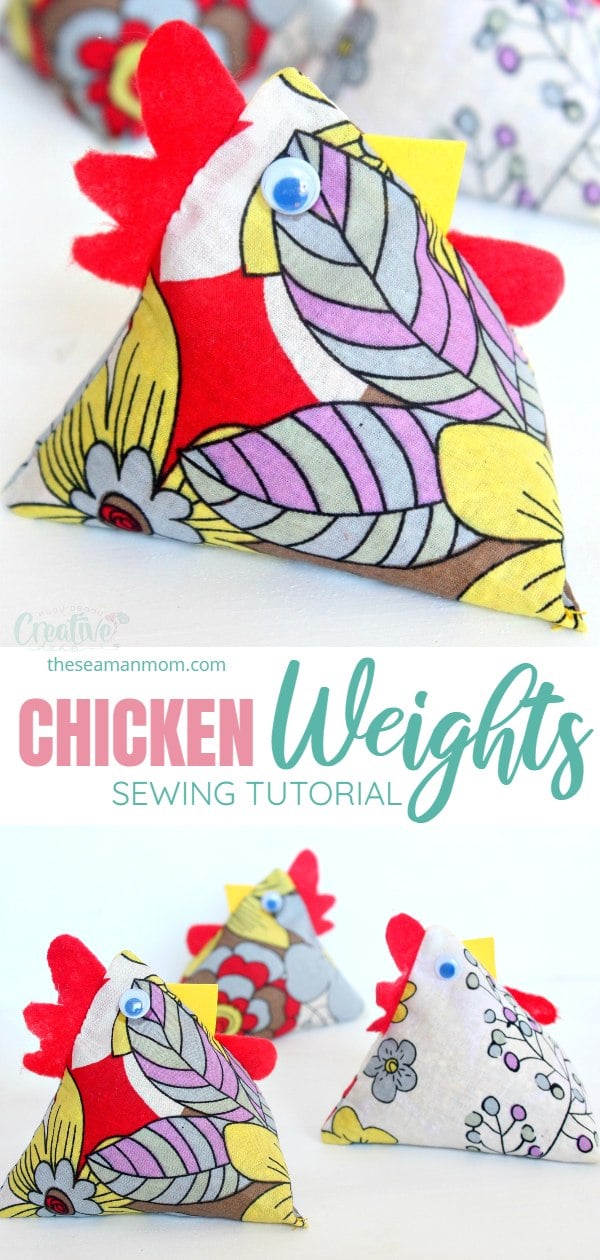 These fabric chickens are an adorable way to keep your sewing patterns or fabrics from moving! Make your own DIY pattern weights in just a few minutes with this chicken pattern! Such an easy project and great scrap busters!
Fabric Chicken Pattern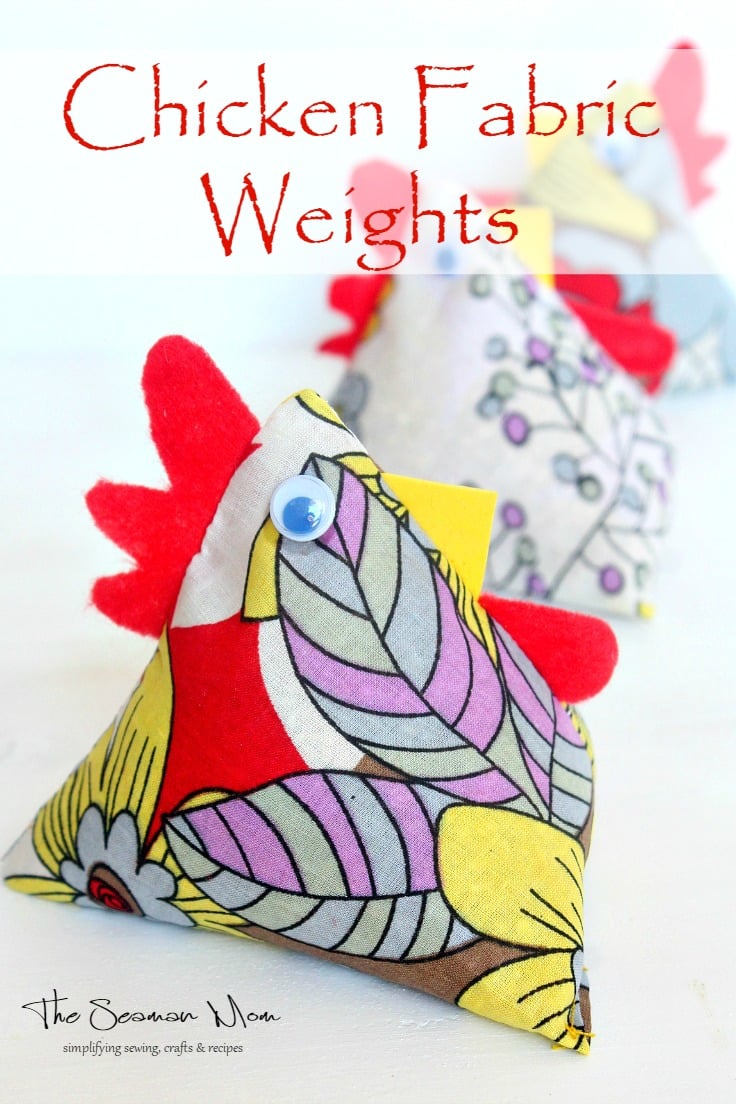 If you're looking for sewing crafts for beginners, these cute fabric weights are great! Also a nice way to use up some of the fabric scraps you have left from old sewing projects (these keep piling up, right?). These little chicken pattern weights are also wonderful to display around the house or you could drop some essential oils on the filling and use them as fresheners for your house, drawers or even your car.
Other projects you will love: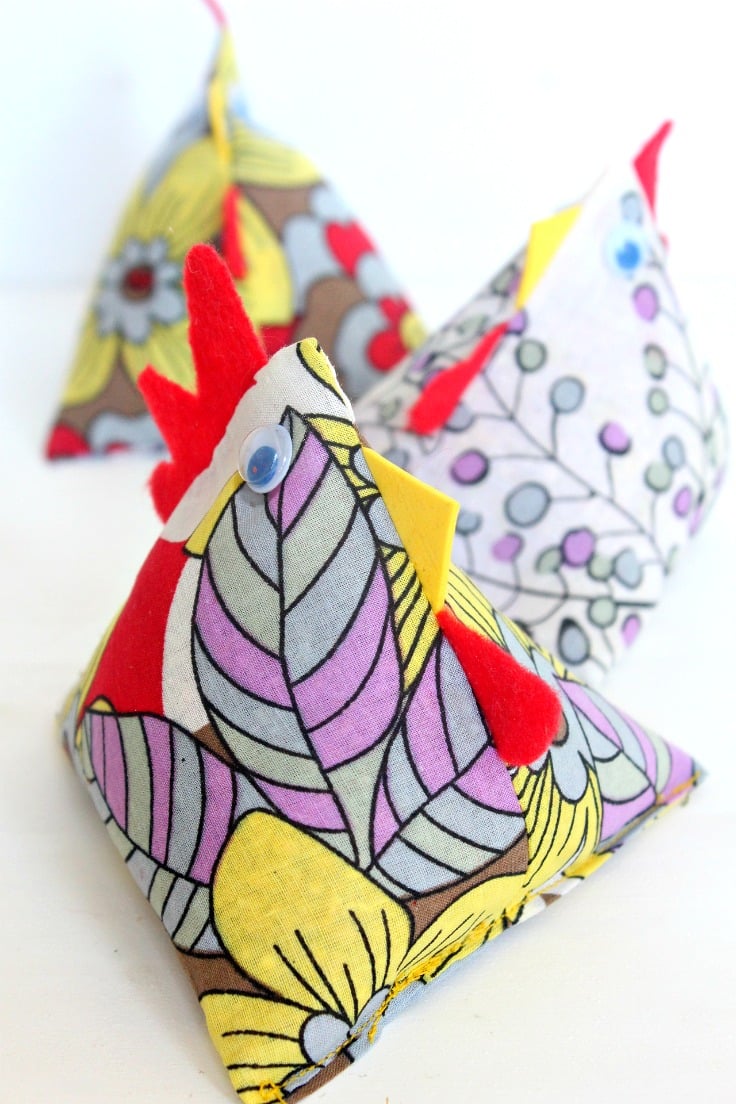 With this chicken pattern you could whip up a bunch of lovely chicken weights in less than half an hour and offer them as gifts to friends and family. Particularly useful for friends who love sewing, they'll simply adore these gifts! These cute fabric chickens are great sewing crafts for beginners and just perfect for skipping pins when tracing sewing patterns!
I used my triangle weights tutorial as a starting point to make this chicken pattern and I even used the same fabric so I can use all of these fabric weights together. They're so darn cute, I keep my fabric weights for sewing displayed on my window, right in front of my sewing machine; very handy and pretty to look at! And so crazy easy to make! It takes about 5 minutes to sew one of these up!
Chicken Pattern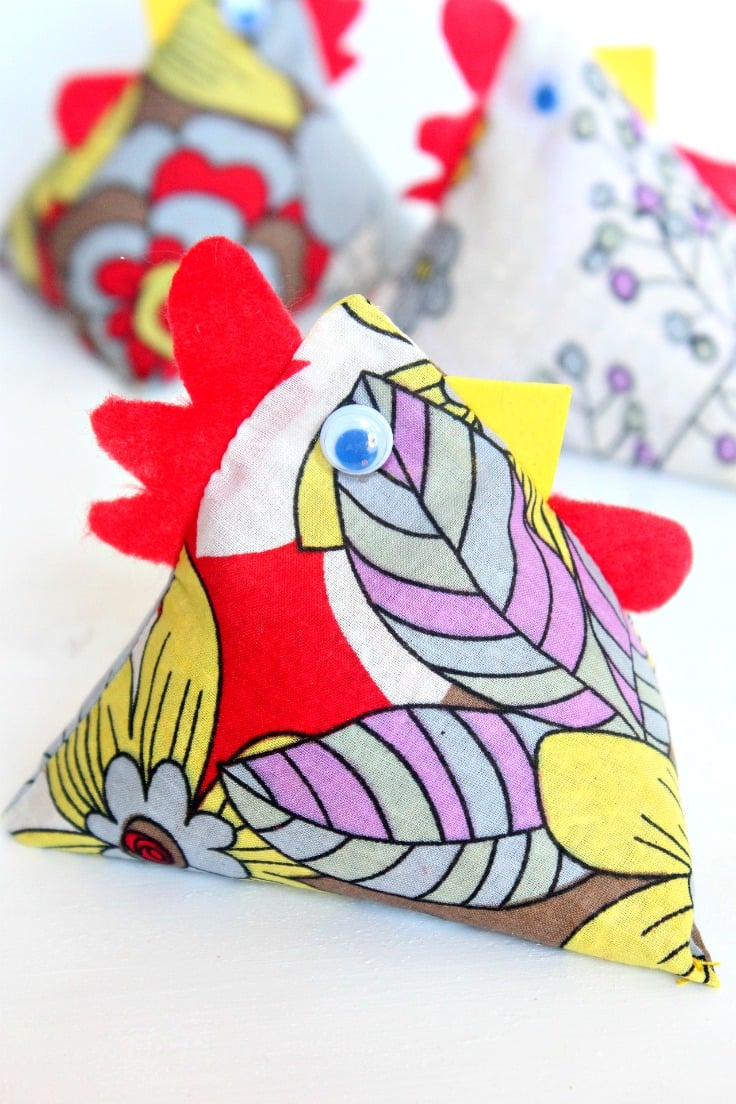 Materials:
cotton fabric 2 pieces of 4″ x 4″
red fleece for comb and lobe
yellow foam sheets for beak (I didn't have any yellow fabric so I used a foam sheet. I love it so much! It's so useful in so many projects, both sewing and crafts)
fabric scissors
craft scissors to cut the paper
ruler
fabric marker
rice, crushed walnuts or barley for filling
matching thread
Directions:
Place one fabric strip right side up and arrange the comb, lobe and beak towards the inside. Comb goes near the top, beak on the right hand side and lobe right under the beak.
Place the second strip of fabric right side down and pin the sides and the top.
Sew down the sides and the top, leaving the bottom open.
Turn fabrics right side out (RSO) and press.
Turn the bottom in and press.
Meet the side seams and press gently (this is to create the triangle shape)
Fill the chicken with rice, walnuts or barley.
Hand stitch the bottom with a ladder stitch.
Most popular sewing projects: