Article may contain Amazon & affiliate links. As an Amazon Associate I earn from qualifying purchases at no additional cost to you.
These s'mores treats are the perfect summer dessert! No bake and ready in no time, these indoor s'mores are a great addition to potluck and barbecue menus!
No bake s'mores bars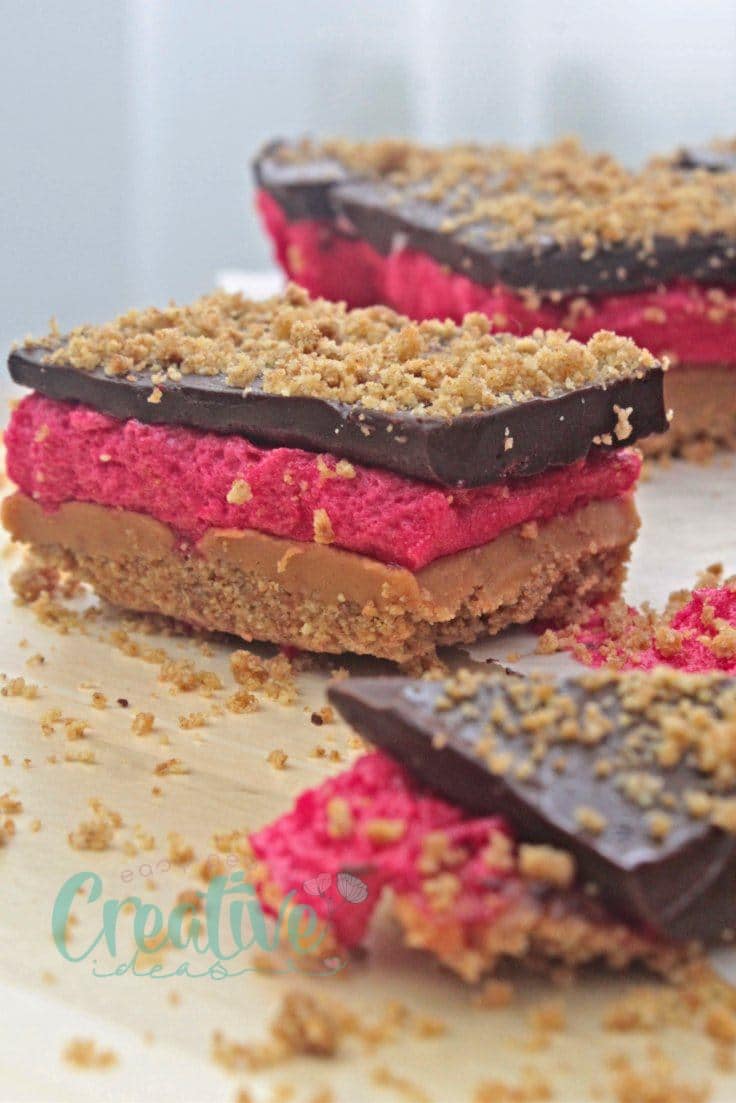 The other day my daughter wanted me to make something sweet for her but I really wasn't in the mood for baking. It was pretty warm and didn't want to turn my oven on so I thought I should try something new that is no bake and is ready real quick, like these s'mores treats!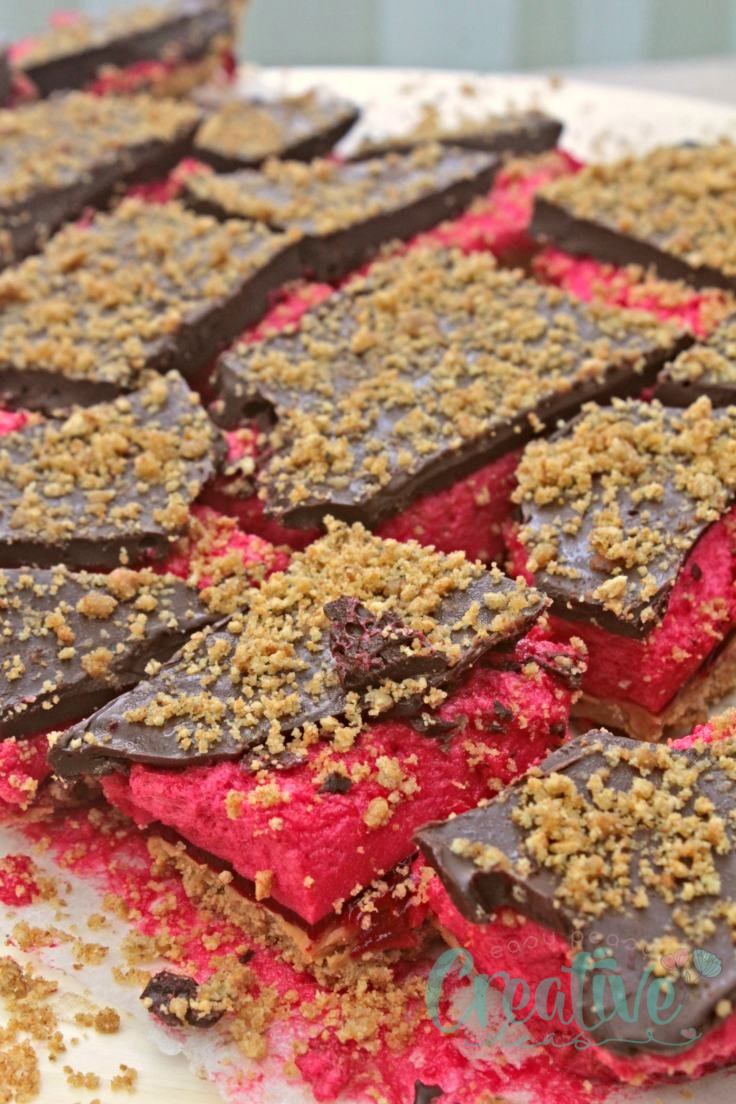 Want more no bake recipes?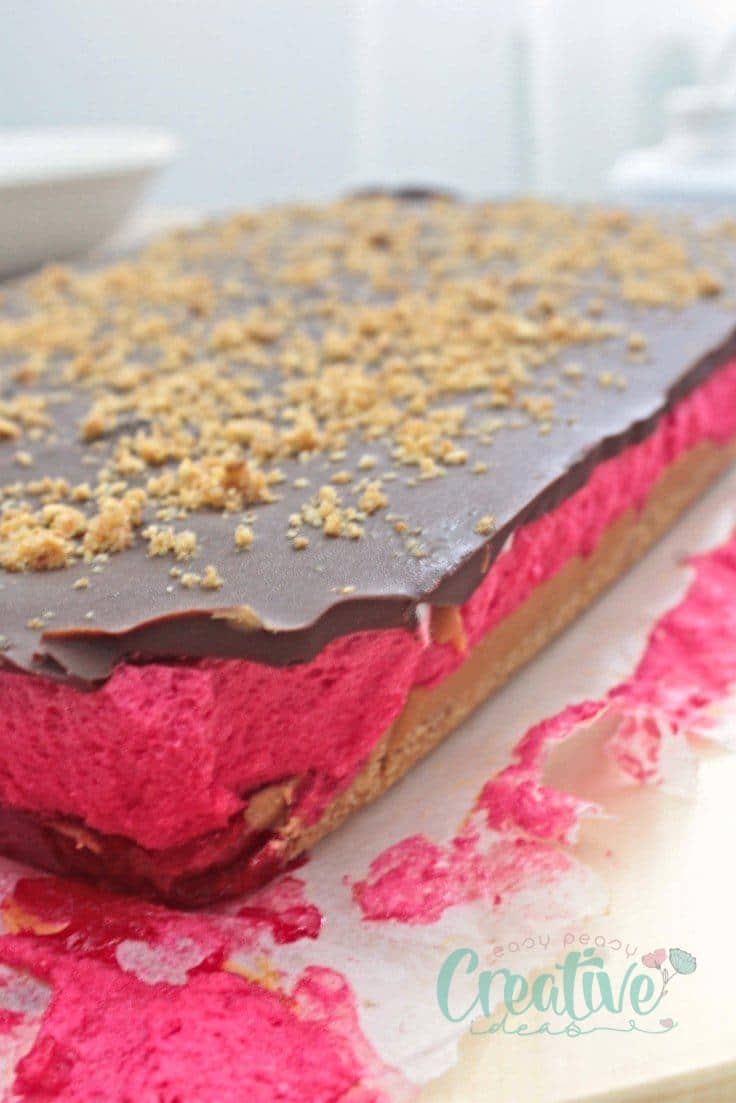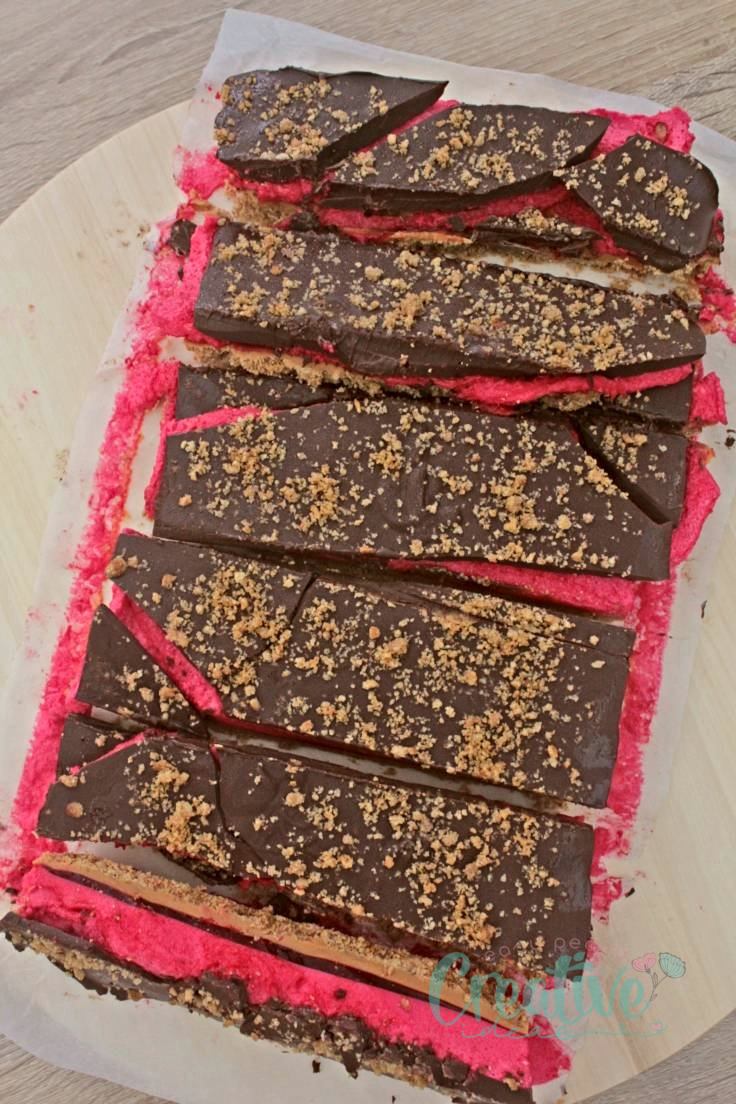 These yummylicious no bake s'mores were initially planned as s'mores bars but since I'm such a mess in the kitchen they turned out a delicious mess too, looking more like candy crack or bark. They did taste like candy heaven though and my daughter was super hyper about the pink marshmallow layer. So these peanut butter s'mores might not look like a fancy dessert but they were a success that didn't last more than half an hour. Yup, we ended up stuffing our faces with this heavenly yumminess!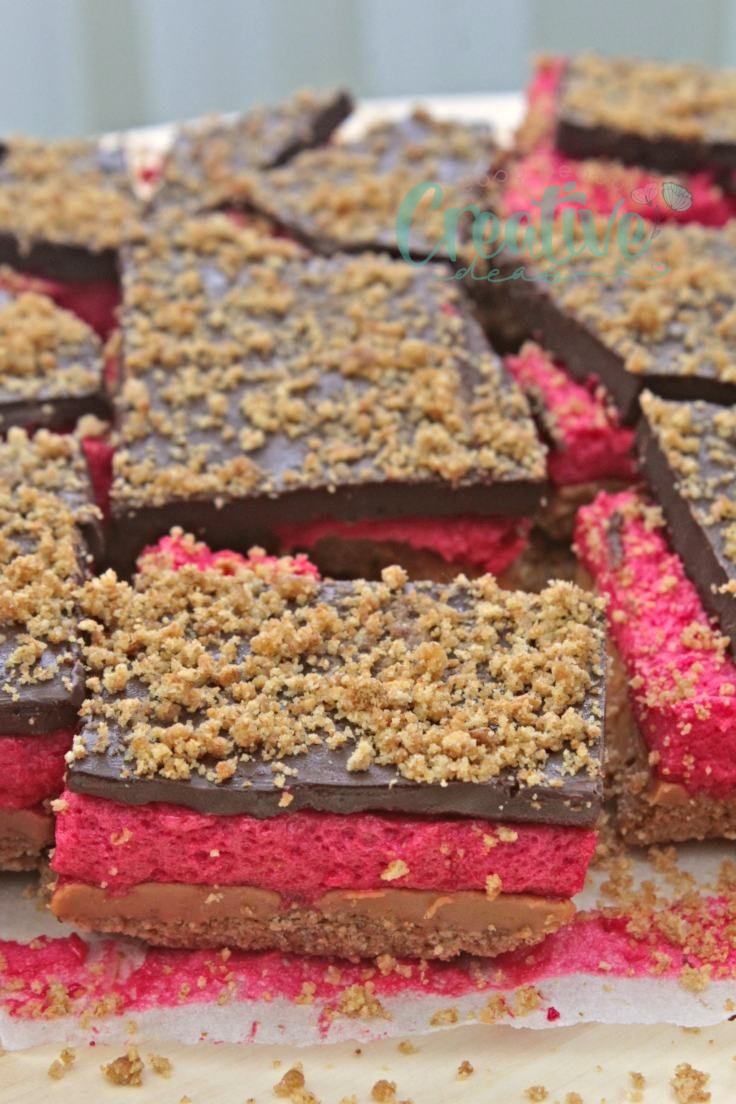 Because my daughter recently discovered the amazing effect peanut butter has on her taste buds I thought I should make her even more happy and decided to add a layer of peanut butter to my s'mores treats. I also added some food coloring to the melted marshmallows and made the marshmallow layer real pink. Needless to say the level of her excitement was up the roof.
S'mores treats
People normally use graham crackers for their s'mores but for this indoor s'mores you can also use unsalted whole wheat cracker. The treats will end up very sweet anyway because of the layers of peanut butter, marshmallow and chocolate.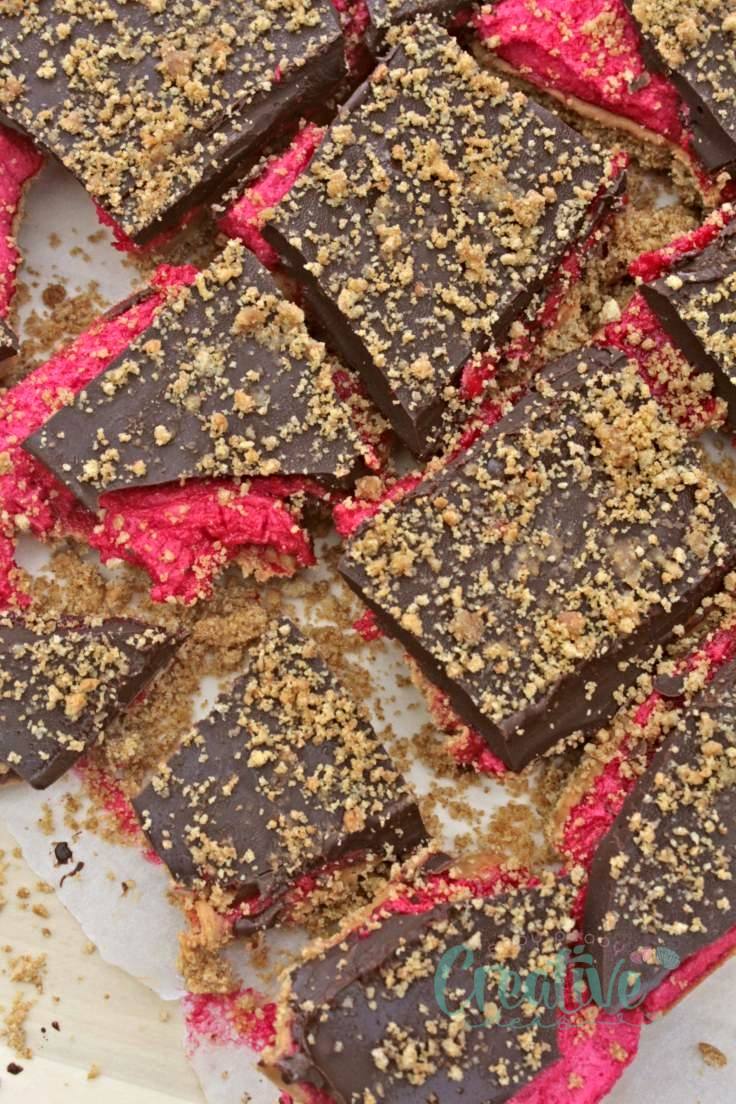 I use dark chocolate as I figured the marshmallow and peanut butter will add too much sweetness to this recipe and it turned out to be a great decision. Milk chocolate would make these too sweet to enjoy!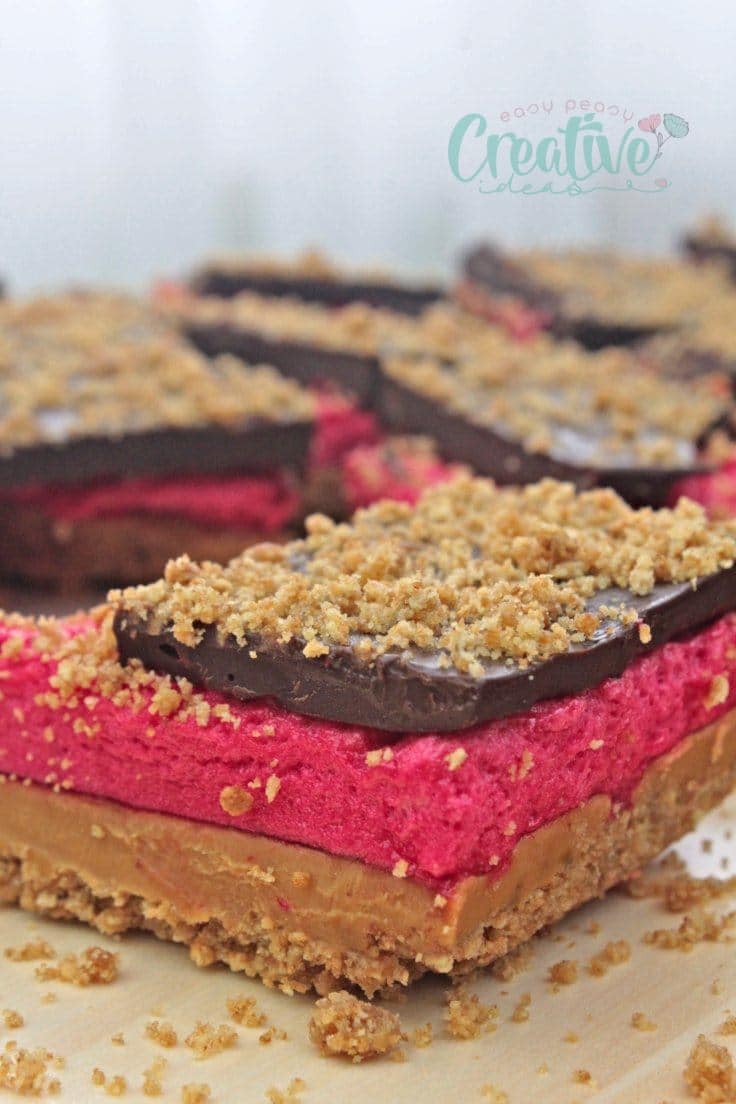 For my s'mores threats I decided to melt the marshmallows so I can add the food coloring and make the middle marshmallow layer a bright pink. But if you couldn't care less about coloring your marshmallows you can simply add a layer of chopped marshmallows instead.
No bake s'mores treats
These s'mores treats are the perfect summer dessert! No bake and ready in no time, these indoor s'mores are a great addition to potluck and barbecue menus!
Ingredients
20

pieces

graham crackers

or unsalted whole wheat crackers

15

tbsp

butter

melted

7

oz

peanut butter

melted

3

cups

marshmallows

melted

food coloring

optional - for marshmallows

20

oz

dark chocolate

melted
Instructions
Place crackers in a zip bag and smash with a rolling pin until you get fine crumbs

Transfer crumbs to a medium bowl and add the melted butter

Mix well with a spoon so all crumbs are soaked in butter. Save some of this in a small bowl to decorate, if you like

Layer a loaf pan or a deep cookie sheets with baking paper

Transfer crackers to the cookie sheet, layer evenly and press with a spoon or a silicone spatula

Add a layer of melted peanut butter. I used my microwave to melt the peanut butter. I melted gradually, first for 30 seconds then again for 15 seconds

Place the cookie sheet in a freezer until marshmallows are ready

Melt the marshmallow in a bowl that is at least twice in size as the marshmallows. The reason is, when melted marshmallows double in size. Melt the marshmallows in the microwave in increments of 30 seconds. Mix with a silicone spatula after each session until marshmallows are completely melted.

Add a few drops of food coloring and mix well to incorporate. I recommend gel food coloring

Pour the melted marshmallows in the cookie sheet and spread evenly with a silicone spatula

Return the cookie sheet to the freezer until the chocolate is melted

Place half the chocolate in a large bowl and melt in the microwave. Start with 30 seconds than continue in increments of 15 seconds until all chocolate is melted. Mix with a spatula after each session. Add the other half of chocolate and continue melting in increments of 15 seconds until the chocolate is fluid enough to pour

Add the chocolate layer and spread evenly with a spatula

I added some crumbs as decor but you can skip this part.

Return the cookie sheet to the freezer for 10 minutes

Cut into bars or simply break with your hands. It will be messy in any case but the treats will taste amazing either way!
Nutrition
Serving:
1
treat
|
Calories:
422
kcal
|
Carbohydrates:
26.77
g
|
Protein:
4.56
g
|
Fat:
33.4
g
|
Saturated Fat:
18.582
g
|
Polyunsaturated Fat:
2.261
g
|
Monounsaturated Fat:
9.767
g
|
Trans Fat:
0.565
g
|
Cholesterol:
34
mg
|
Sodium:
331
mg
|
Potassium:
335
mg
|
Fiber:
4.8
g
|
Sugar:
14.19
g
|
Vitamin A:
850
IU
|
Calcium:
40
mg
|
Iron:
5.2
mg
Pin to save for later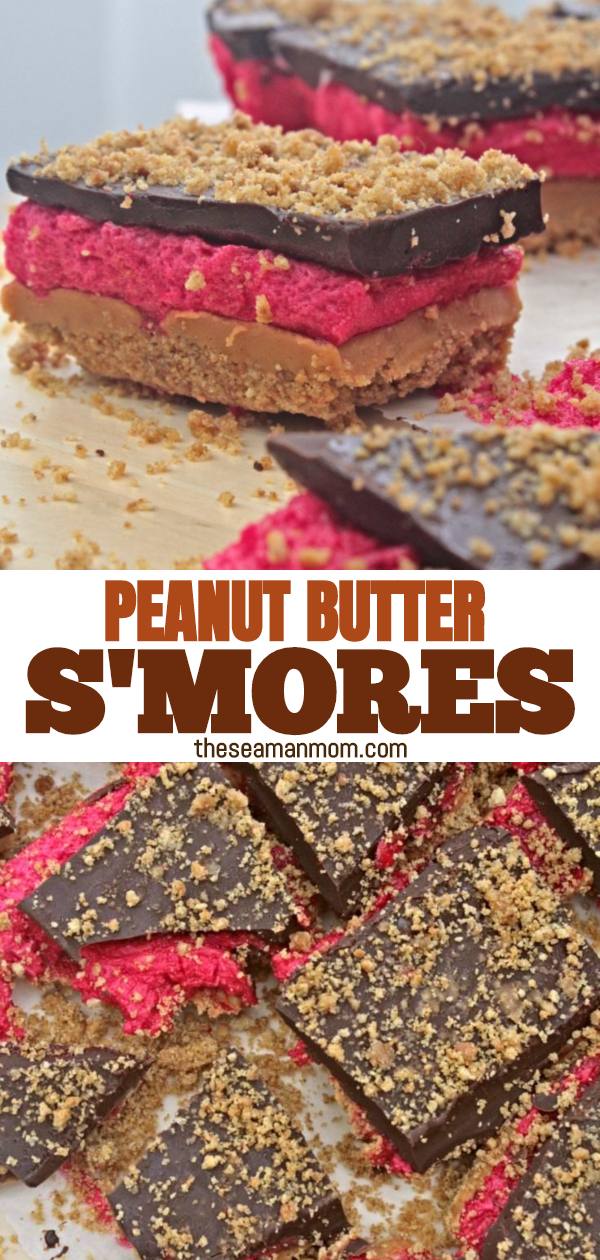 Most popular recipes: