Paper finger puppets craft
Article may contain Amazon & affiliate links. As an Amazon Associate I earn from qualifying purchases at no additional cost to you.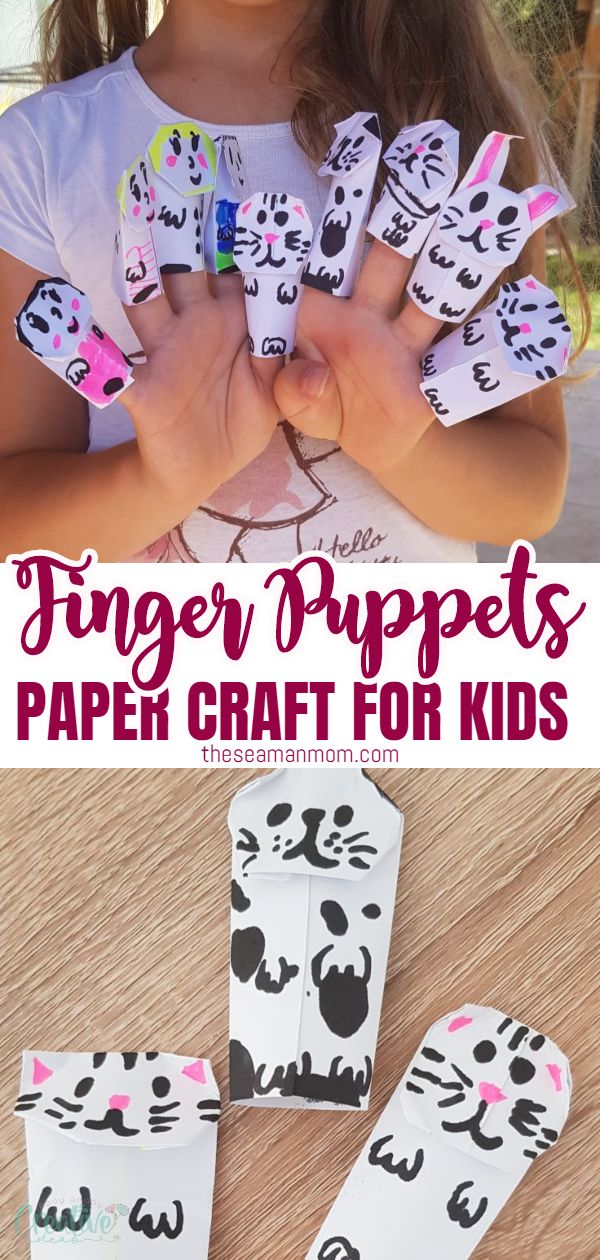 Kids absolutely love creating their own puppets and set up their own plays! There are endless possibilities of creating lots of paper finger puppets in just a little time! Today I'm going to show you how to make finger puppets the super-easy way and you can create this fun and cute finger puppets craft at home or in class.
Paper finger puppets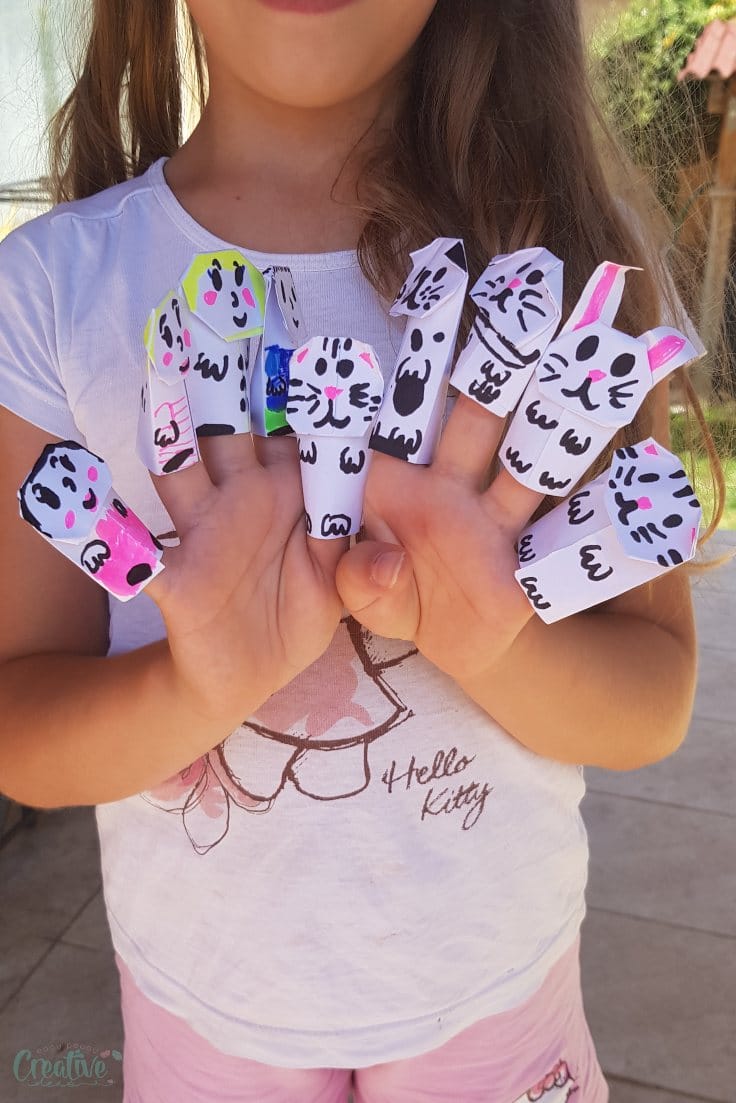 Paper finger puppets are extremely easy to make and require no special skills, probably the easiest of the finger puppets family! This is a cool craft to make for Christmas, Easter, Halloween, Thanksgiving or just to have some fun, relax and get new toys. The good part is: the fun is not over after finishing the puppets. In fact, it's only just beginning!
This paper finger puppets craft is great as an indoor activity when the weather is not so great for playing outside. With this fun craft for kids, you can also save up any leftover paper scraps from previous invitations and cards or scrapbooking, to avoid throwing them away. Trust me, even if you don't have any idea of new uses, the kids will put them to good use, they're so good at "recycling" stuff adults can no longer find any use for!
More kids crafts you will love: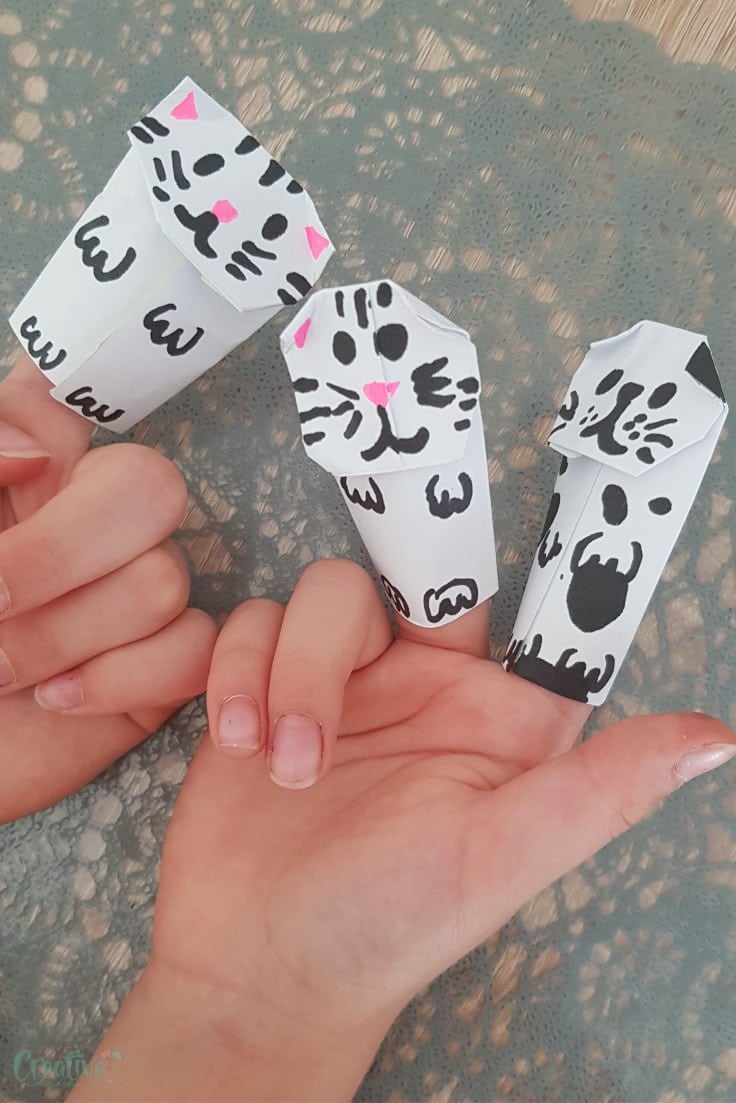 Why you should make finger puppets for kids more often
Making these puppets is such a fun, relaxing craft not only for kids but adults too. But the benefits don't stop here!
Puppets are excellent for improving kids' creativity and social skills. They allow them to express their imagination and draw their own characters that allow them to express their feelings.
While working together with their friends or colleagues, they would also improve their social and communication skills.
Another great benefit of finger puppets is that by creating their own stories and scripts, kids can improve their writing skills. Who knows if you're not raising a future successful script writer?
Crafting finger puppets is great for enhancing kids' fine motor skills, as they have to draw and cut out small figures, as well as glue them on and add the details. It's something they do need to learn while young in order to develop more complex motor skills.
Puppets are not the only ones that kids can create for their plays. They also need a setup, with a background and scene decorations to make the play more entertaining. How about a stage, also? Use an old cardboard box and help them decorate it like a real show stage.
Have a DIY birthday party by making blank puppets for the kids to paint at the party and play together. This way, they'll get the coolest DIY party favors and can go on playing a long time after the party is over. They also make great personalized gifts for birthdays and holidays.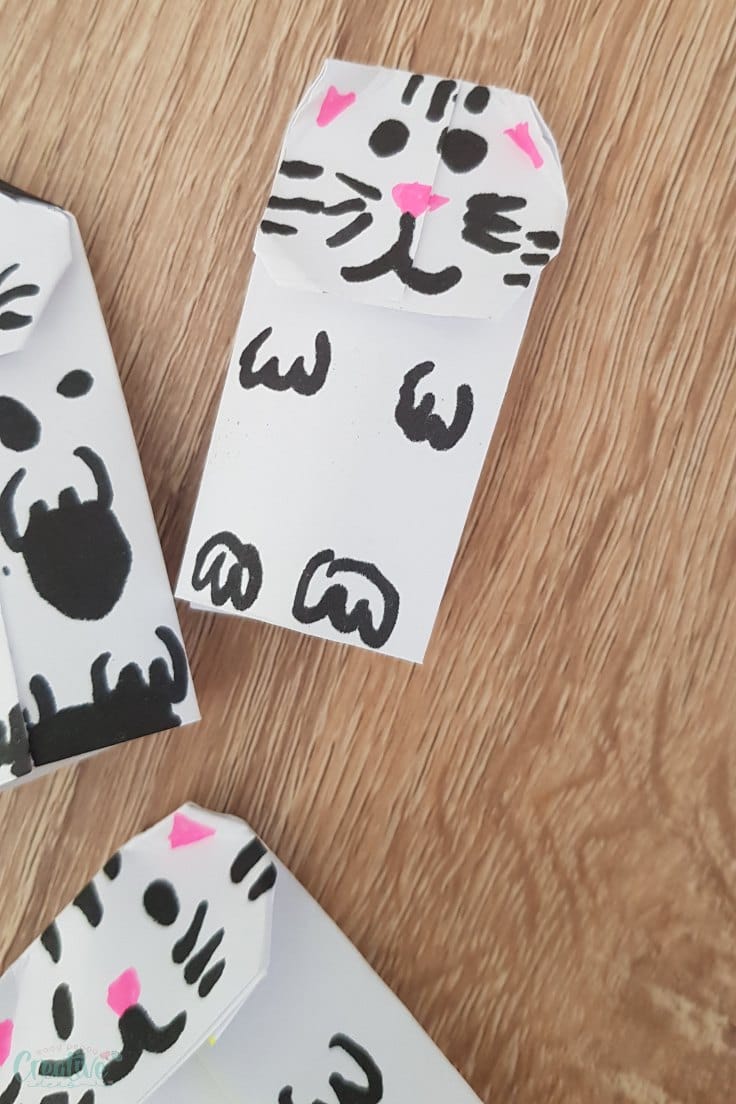 Which puppets are the easiest to make?
The paper finger puppets are the easiest, but you can use any paper material. You'll need paper, scissors, glue, and some color markers or paints, if that's your preference.
You can draw your own figures or download some simple patterns and printables from the tutorials on the internet. If you're looking for inspirations for creating paper finger puppets, you might want to check out paper doll coloring books.
For my simple finger puppets you won't need a template, just start with a square of fabric and fold into an easy origami as instructed below.
How to make finger puppets
Finger puppets can be made several ways: origami, round to fit the finger, cone-shaped, or just plain 2-D figures with holes for the fingers. In this case, the puppeteer's fingers will act as legs for the puppet.
You can craft finger puppets out of other materials too: old gloves fingers, socks, heavy-duty fabric, leather or felt scraps are great and keep their shape well, while they can be modeled in more ways than paper. Plastic bottle necks can also make great puppet bases, as well as small cardboard tubes.
How do you personalize paper finger puppets?
Make them out of colored paper and glue details on like face, spots or hands, or just draw them on the puppet body without adding anything else. If you like more advanced puppets, feel free to add glitter, sequins, googly eyes, hair and whiskers from pipe cleaners, a beak if you're making a bird, tails, wings, ribbons, crowns or even small pieces of clothing. It's all up to you to drees them up. Ellie was after a super fast craft so she made her little finger puppets quite basic, using just paper, glue stick and markers.
To make them more durable you can opt for making felt finger puppets in various colors instead of using paper. Use a hot glue gun to stick the parts together or if you like sewing, use a needle and thread and sew a few stitches where needed.
Feel free to explore all the possibilities and you can also ask your toddlers or preschoolers what else they think they can use. You may be surprised with the answers!
Tell me about the paper finger puppets your kids (or yourself) created. I'm sure it's going to be very inspiring!
Finger puppets DIY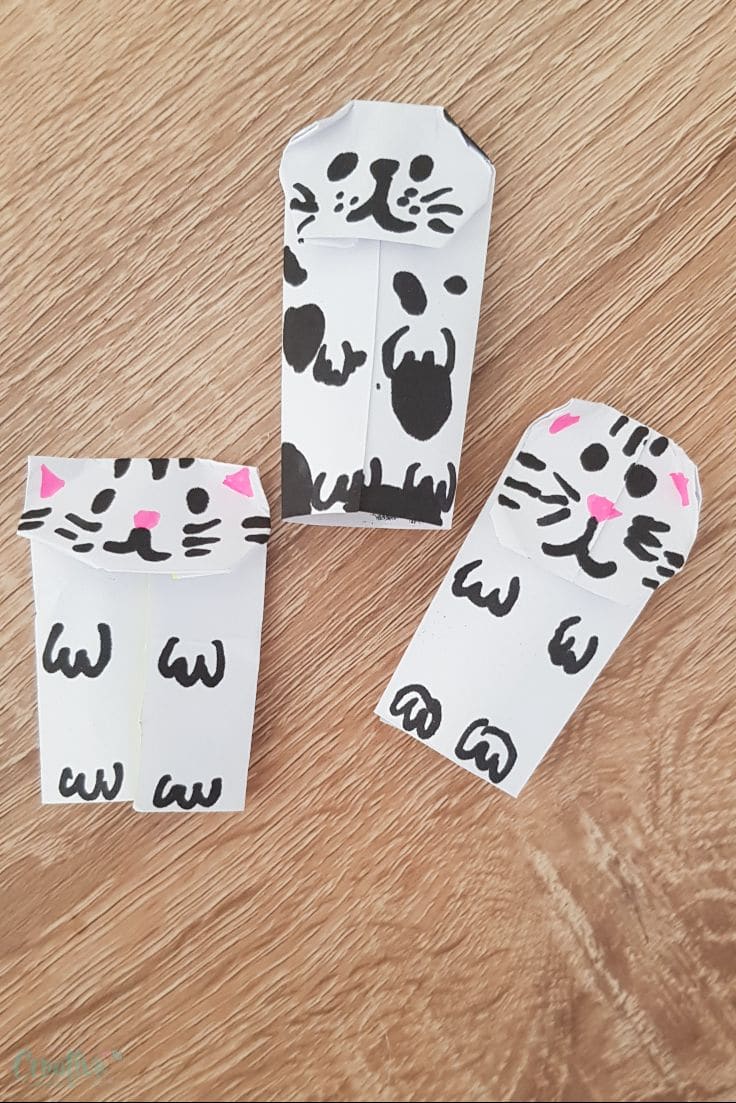 Materials:
How to make finger puppets with paper
Cut a 3″ square piece of paper.
Fold one side in.
Run the glue stick over the opposite side then fold over the other and press to form a tube.
Fold the top of the tube down to form the "head".
Fold the bottom corners of the head inside.
If you're making an animal puppet, fold the top corners of the head down to the front side of the puppet. For a human puppet, fold the top corners to the back side of the puppet. If you're making a bunny, cut out a couple of ears from another piece of paper and glue them to the back of the head.
Using your markers decorate your origami finger puppet: for the animals with ears, eyes, whiskers, nose, paws, mouth and tail; for humans with hair, eyes, nose, mouth, hands, feet and buttons (these are just a few ideas, play around with decorating as much as you like).
Paper finger puppets are such an easy craft and a great way for kids to let their imaginations and emotions run wild while exploring the art of paper crafting. With just paper, scissors, glue and markers, your children can create adorable paper puppets that they can use in pretend play or as gifts. They're also an easy and fun craft to do together with friends or at parties. Get creative and have fun with your DIY puppets!
Pin to save for later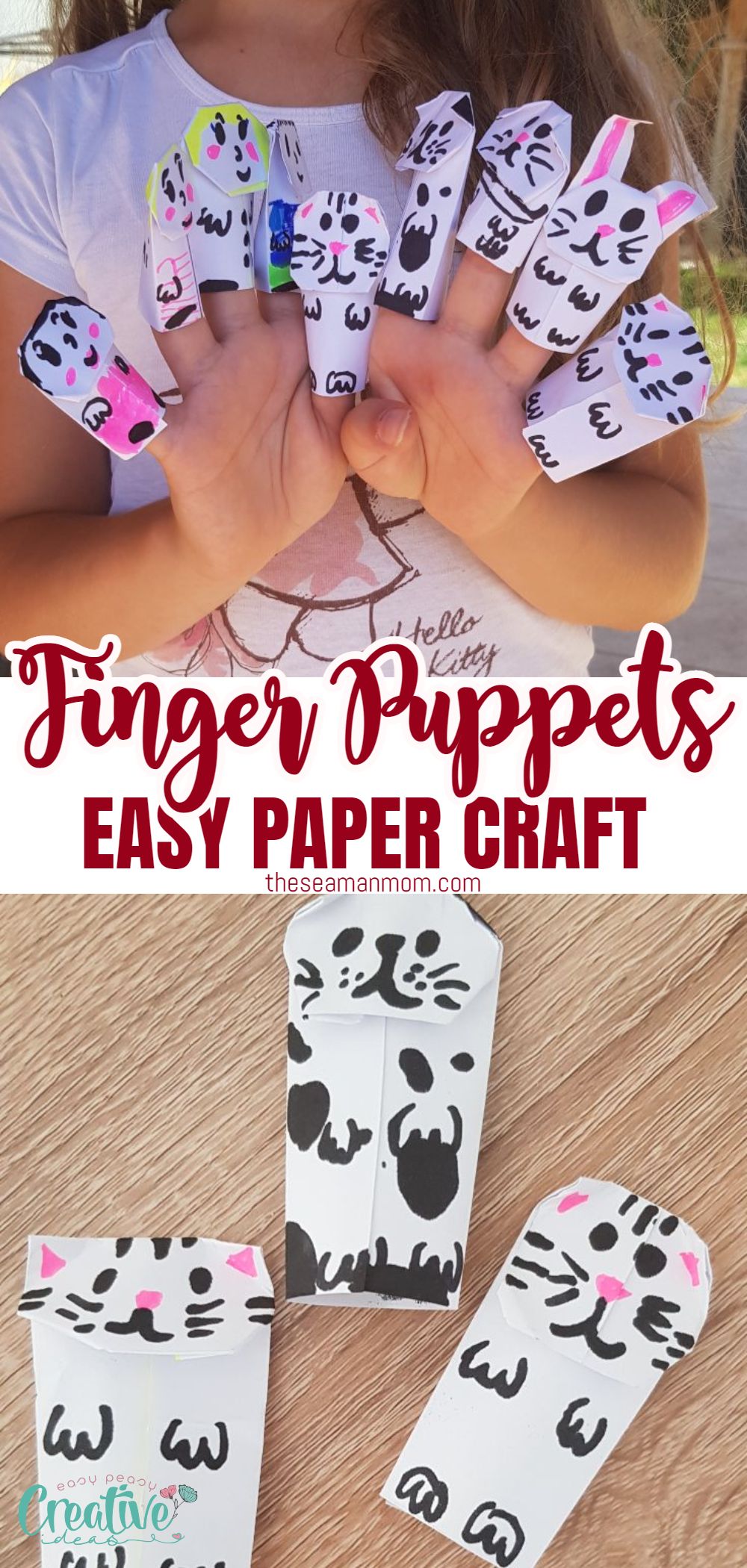 Print the craft card
Paper finger puppets
There are endless possibilities of creating lots of paper finger puppets in just a little time! Here's a super-easy way of making this fun and cute finger puppets craft at home or in class.
Materials
Instructions
Cut a 3" square piece of paper.

Fold one side in.

Run the glue stick over the opposite side then fold over the other and press to form a tube.

Fold the top of the tube down to form the "head".

Fold the bottom corners of the head inside.

If you're making an animal puppet, fold the top corners of the head down to the front side of the puppet. If you're making a human puppet, fold the top corners to the back side of the puppet. If you're making a bunny, cut out a couple of ears from another piece of paper and glue them to the back of the head.

Using your markers decorate the puppet: for the animals with ears, eyes, whiskers, nose, paws, mouth and tail; for humans with hair, eyes, nose, mouth, hands, feet and buttons
Other paper crafts you might like: