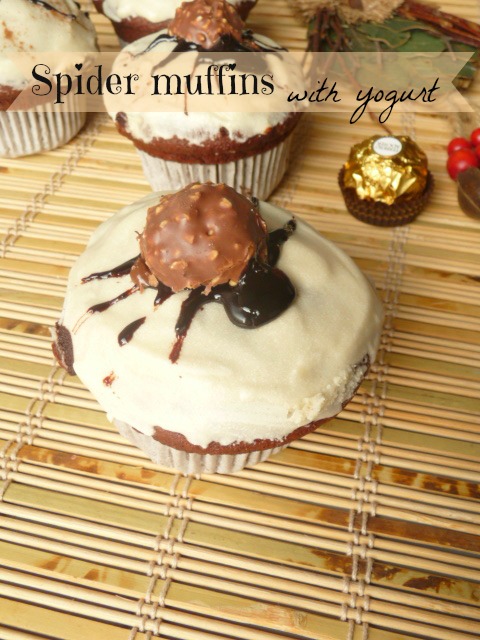 Chocolate and yogurt Spider muffins
I've never been good at food design or food decoration but this time a year I'm being forced to challenge myself, almost every day. As Ellie grows she understands better the meaning of holidays such as Halloween. Media doesn't help me either, they're the main culprit as that's where the ideas come to Ellie's pretty head.
So here I am trying to fulfill her dreams, not quite successfully I might add, with a spider muffins recipe using Ferrero Rocher bonbons and white icing. I've decided to be a bit cheeky and added yogurt too to bring a bit of a healthy touch to this spider muffins recipe. And yes, I'm perfectly aware they look more like lady bugs but if a child says they're spiders, they must be spiders.
Good news is my poor design wasn't a turn off, the muffins were a hit, both my daughter and niece enjoyed them plenty. They thought the spiders are super cute and when they found out they're made of chocolate they went ballistic. Kids are so easy to trick sometimes.
Other than the decoration part, these spider muffins are very easy to make, delicious and soft and totally appropriate for any holiday.
Spider muffins recipe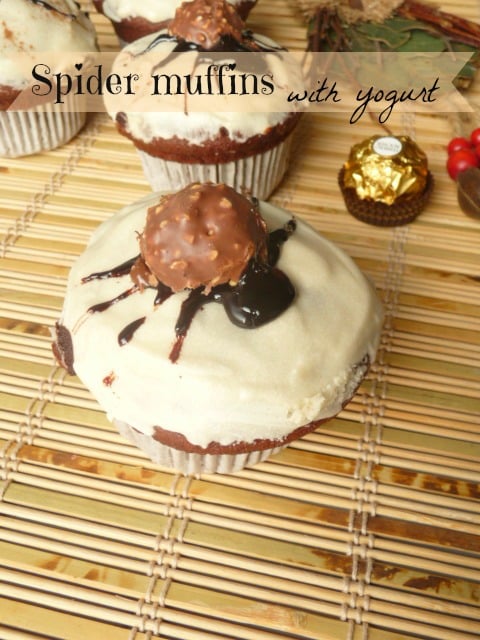 Spider muffins with Ferrero Rocher and yogurt
2014-10-11 06:03:09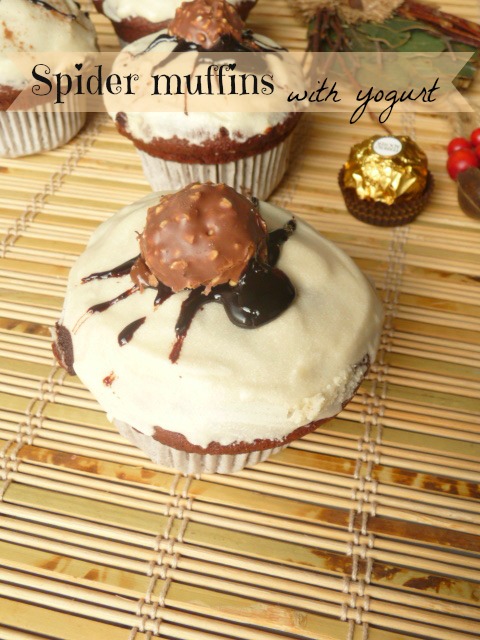 Serves 12
These spider muffins are very easy to make, delicious and soft and totally appropriate for any holiday.
Ingredients
2 cups flour (I used whole wheat)
3 tablespoons cocoa powder
1 teaspoon baking powder
1/2 teaspoon baking soda
1/4 teaspoon salt
4 tablespoons melted butter
1 1/2 cup sugar
1 egg
2 teaspoons vanilla sugar or flavoring
1 cup yogurt
Decor
2 egg whites
10 tablespoons powdered sugar
1 teaspoon vanilla sugar powdered
2 tablespoons fresh orange juice
black or brown food coloring (I used cocoa powder)
Instructions
Preheat oven to 175 degrees C.
Grease muffin forms with butter or line them with parchment paper.
In a medium bowl mix flour, cocoa powder, baking powder, baking soda and salt.
In a large bowl mix butter and sugar using a mixer on medium speed.
Add egg and vanilla and mix well.
Incorporate flour mixture and add yogurt.
Fill muffin molds with the mixture, up to two thirds.
Let the muffins bake for 16-20 minutes (test with a toothpick to see if they're done).
Remove them from the oven and let them cool in the molds for 5 minutes, then move them to a rack and let them cool to room temperature.
For decoration
Put egg whites in a bowl and mix with a mixer at high speed until you get a soft foam. Add powdered sugar, vanilla sugar and orange juice, and mix until you get a thick, glossy composition (If it's too soft, add more powdered sugar, if too thick add orange juice).
Move 1/3 of the mixture in a small bowl and add food coloring or cocoa powder.
Put the colored mixture in a decorative cloth or plastic bag or syringe.
Apply the icing with a spoon over muffins and spread it with a knife.
Draw lines using colored (I made spider webs on some and spider legs and head on others)
Cut Ferrero Rocher bonbons in half and use as spider body
Notes
You can decorate with M&M's, cereals or raisins
White icing can be replaced with melted white chocolate
Add walnuts, nuts, raisins, fresh fruit into the muffins composition if preferred
Easy Peasy Creative Ideas https://theseamanmom.com/