DIY sweater slipper boots
Article may contain Amazon & affiliate links. As an Amazon Associate I earn from qualifying purchases at no additional cost to you.
Upcycle a favorite sweater into cute slippers! With this simple tutorial you could make a pair of these adorable sweater slipper boots in just a few minutes!
Sweater slippers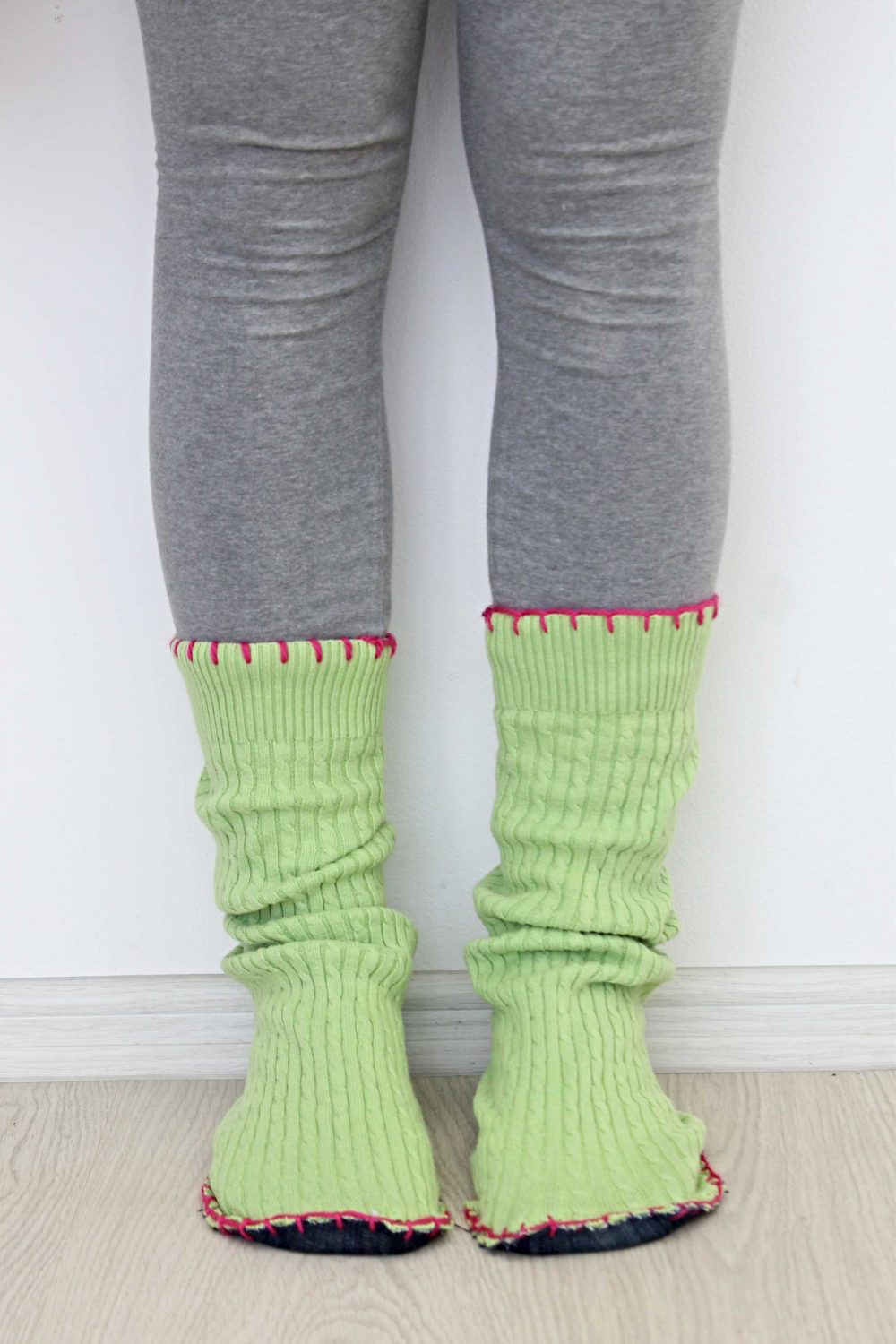 I am totally smitten with these upcycled sweater slippers! I got a cute sweater a few years back but it stopped looking good on me lately so I decided to turn it into sweater slipper boots, instead of tossing it in the trash bin.
Need more recycled crafts?
I thought about donating it too but I don't have anything else to donate and I thought it would seem weird to give away just one item! Upcycling it into diy slippers seemed like the best option and the best way to extend its functionality for a little longer.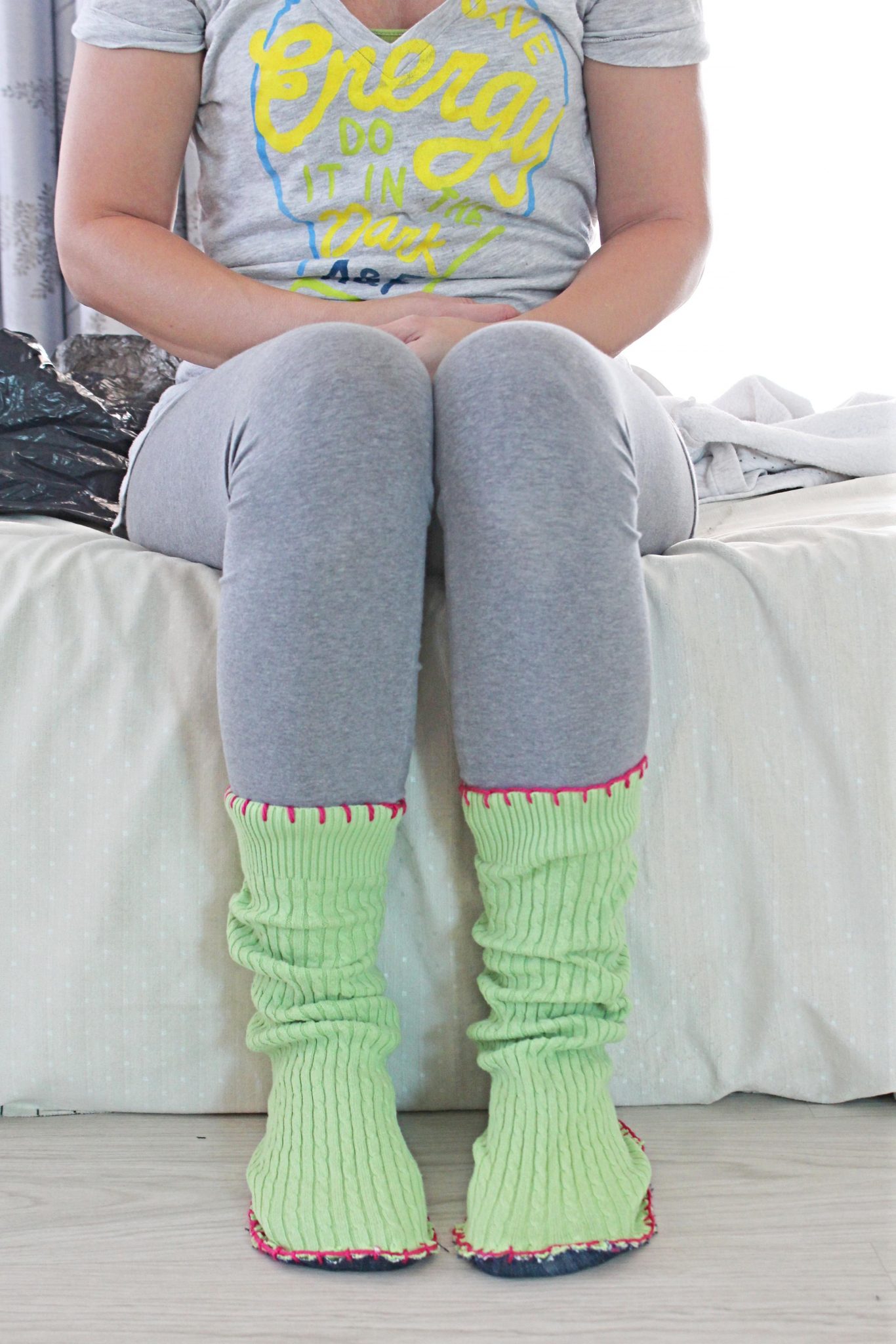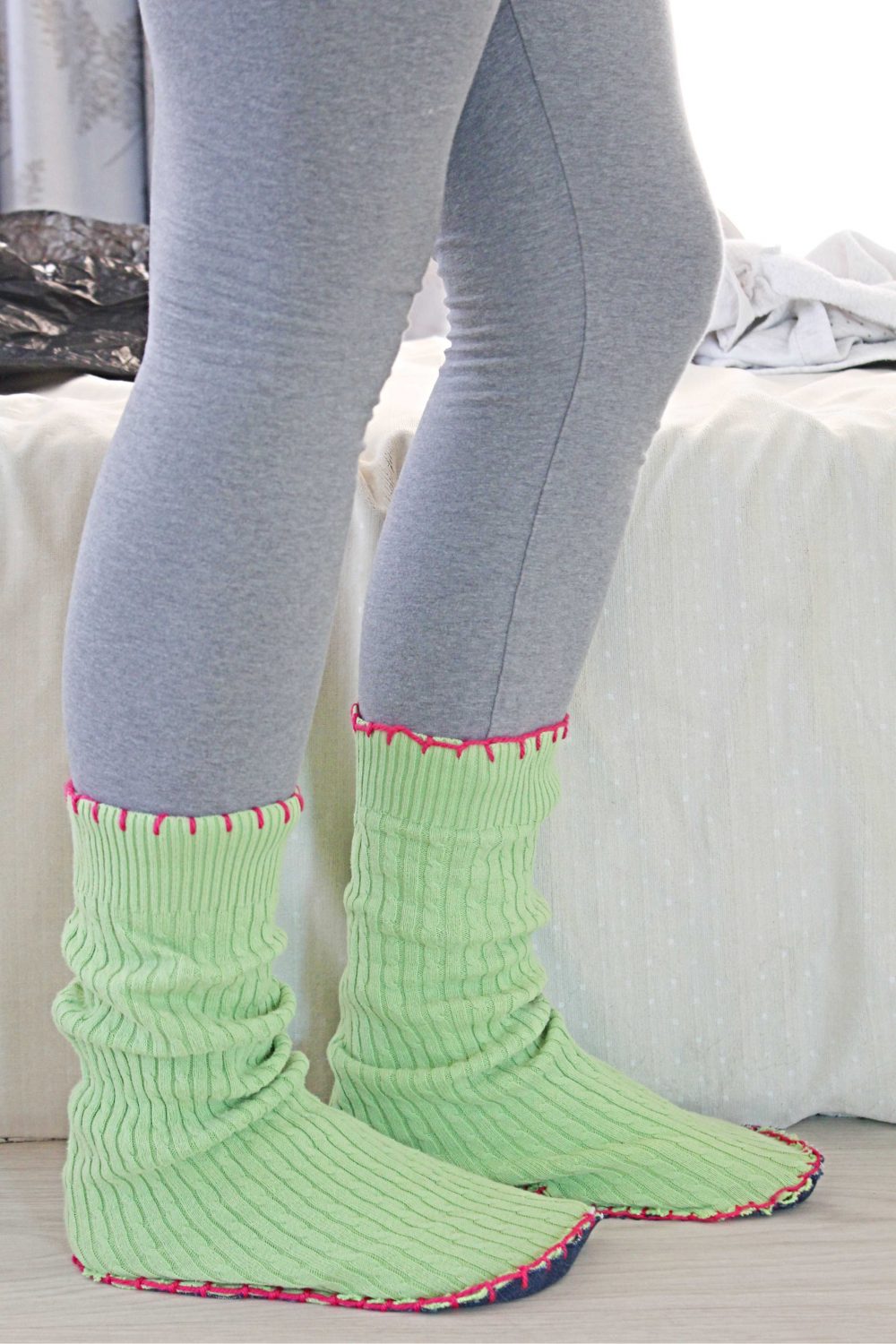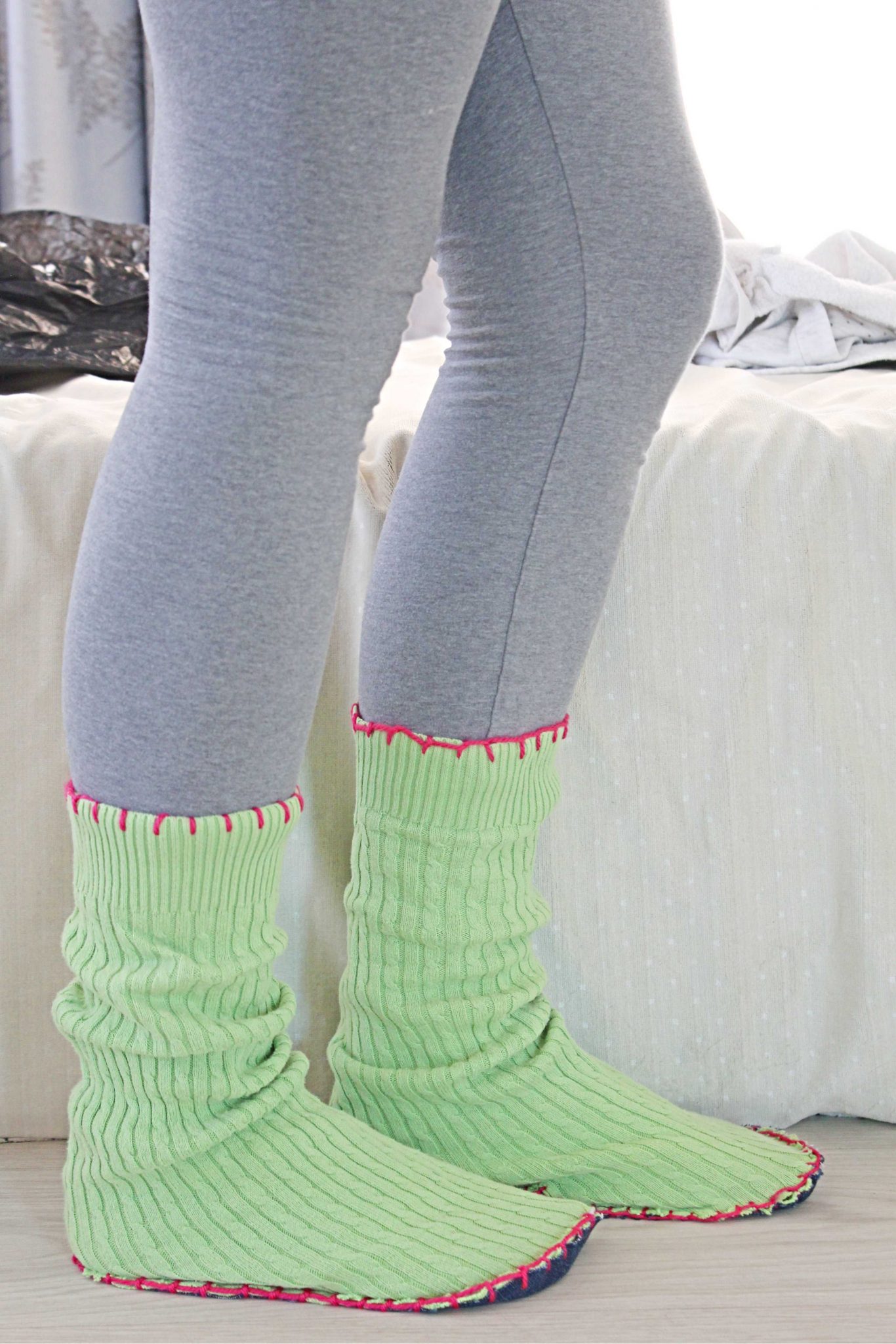 I loved how these sweater slipper boots turned out, even though I kind of rushed when making them (I could totally need more hours in a day!!). So my cutting and stitching kind of give it away, if you look close. They're still a cute pair though!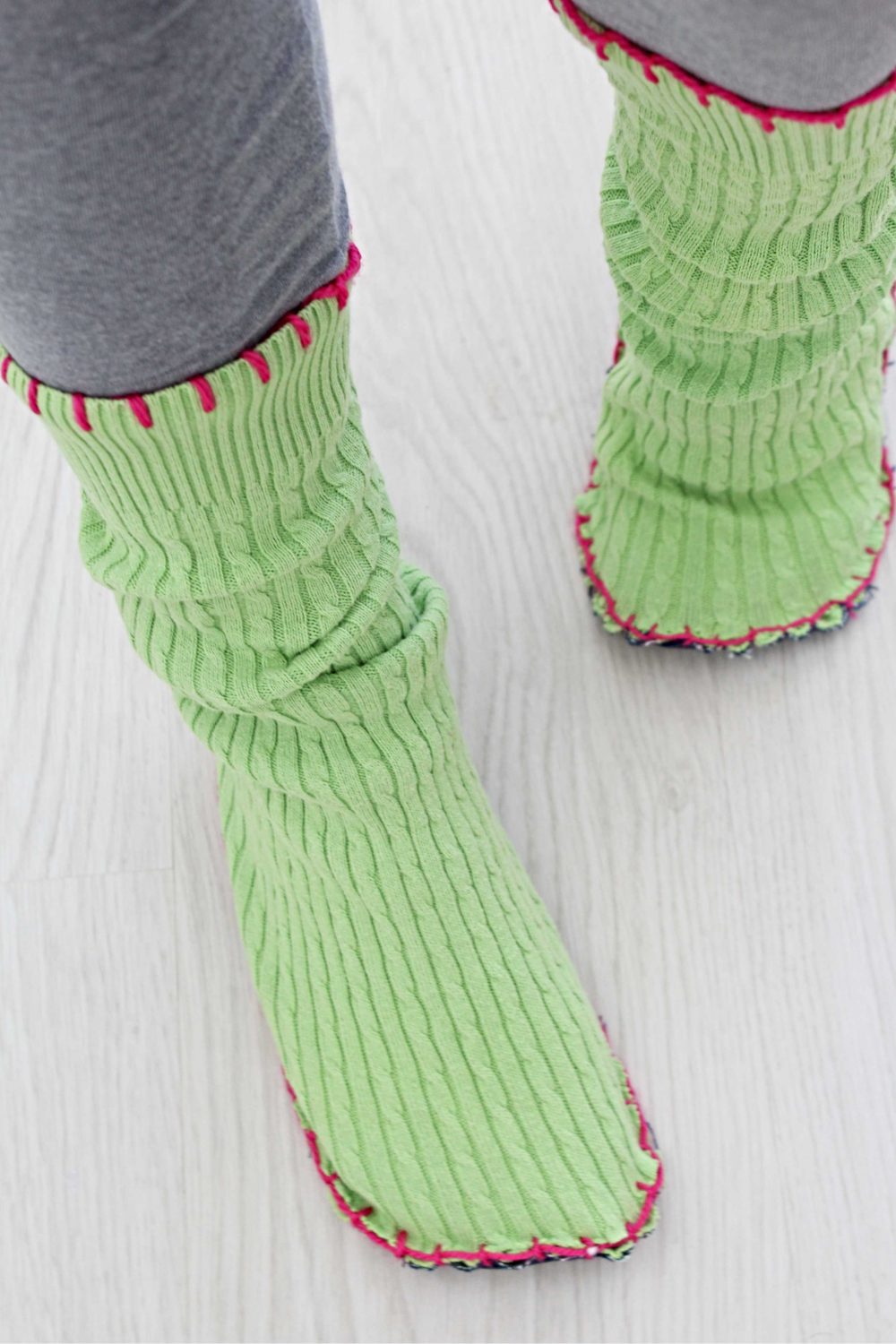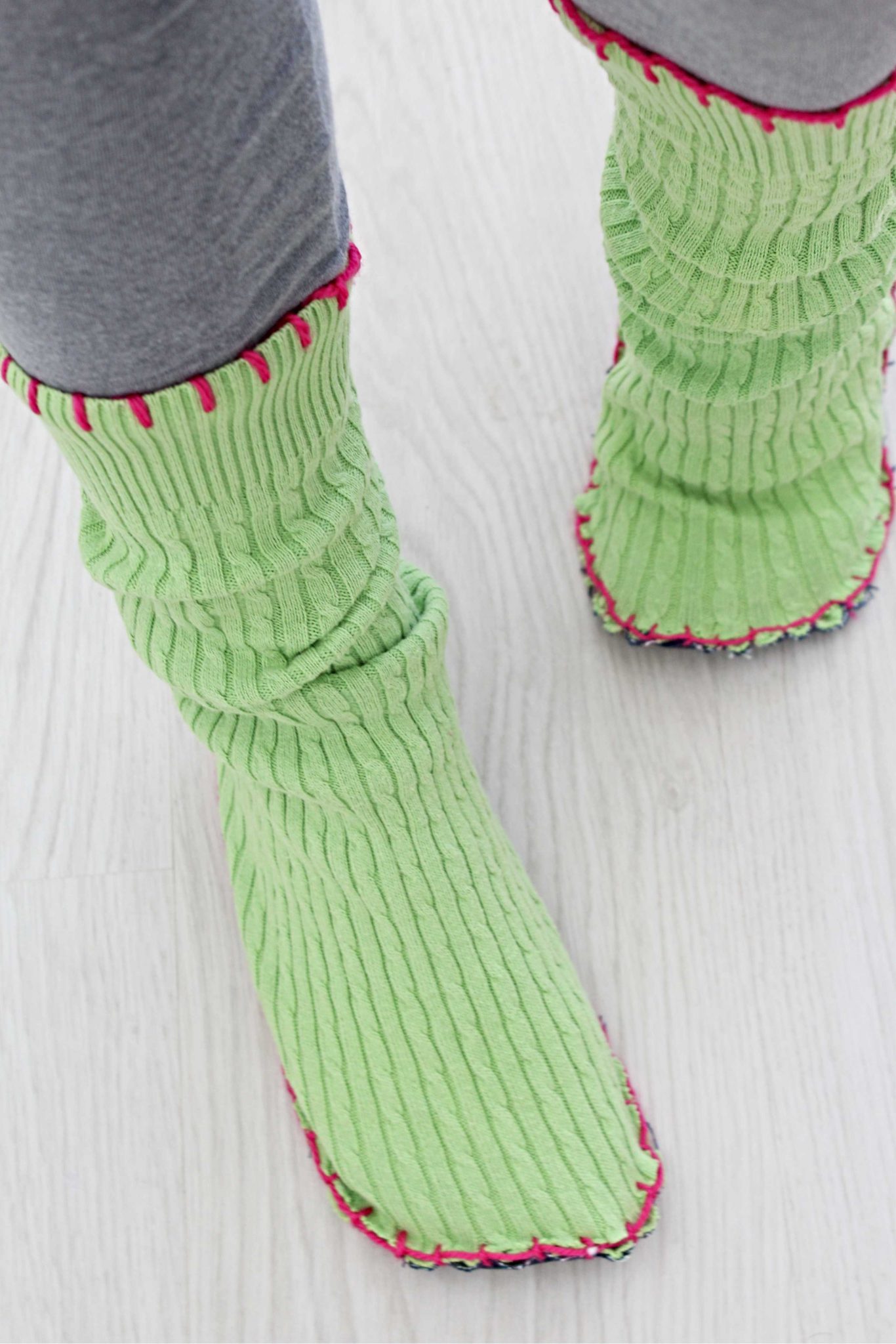 I wanted my homemade slippers to have a durable sole so I used an old pair of jeans I haven't been fitting into for ages (man! I can't believe I've ever been that tiny!). I added an extra layer of jeans fabric to the sole in addition to the sweater layer which makes the slippers feel soft and cozy. These sweater slipper boots are perfect house slippers in cold season and they won't cost you a thing (you probably have all the supplies on hand if you love crafting).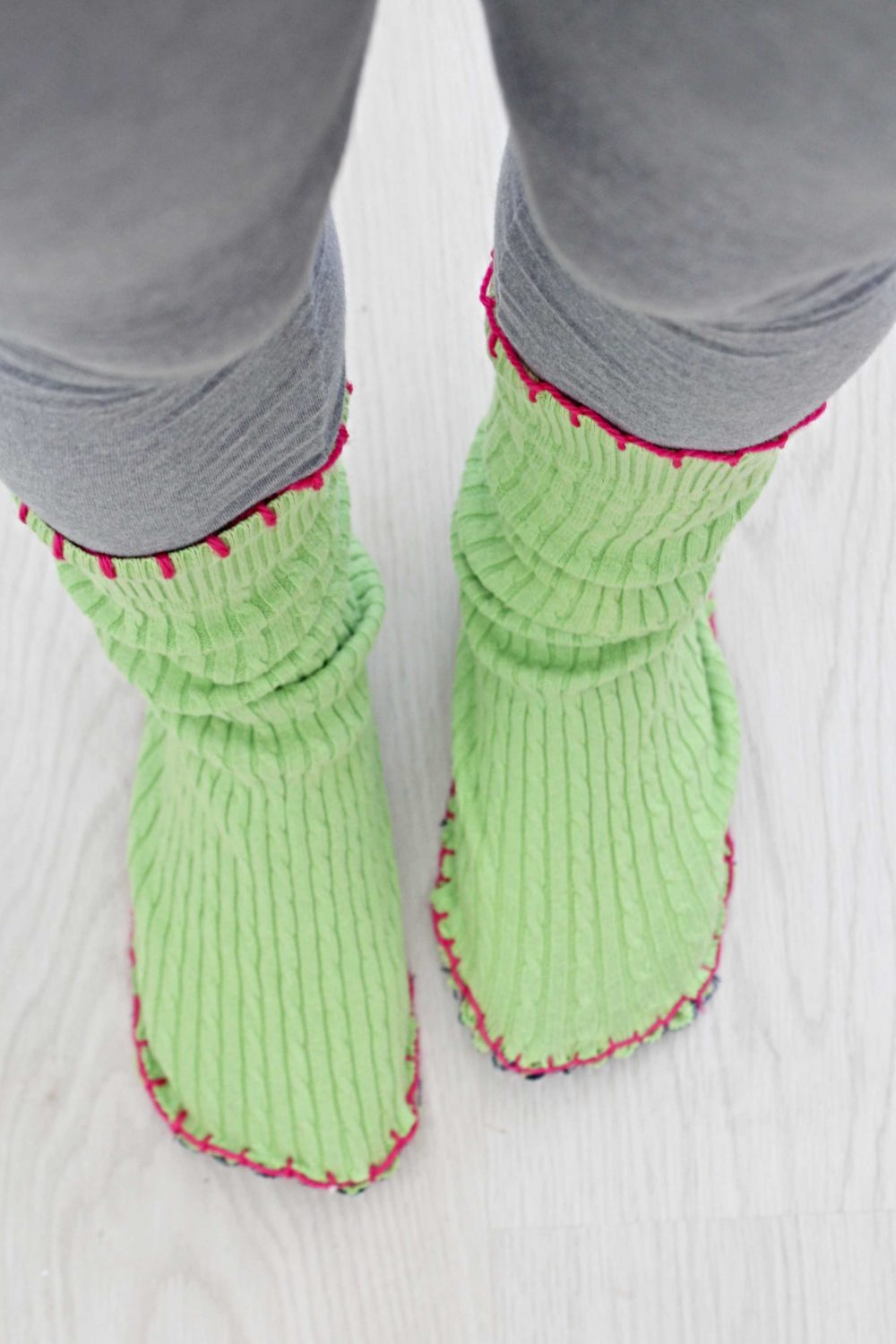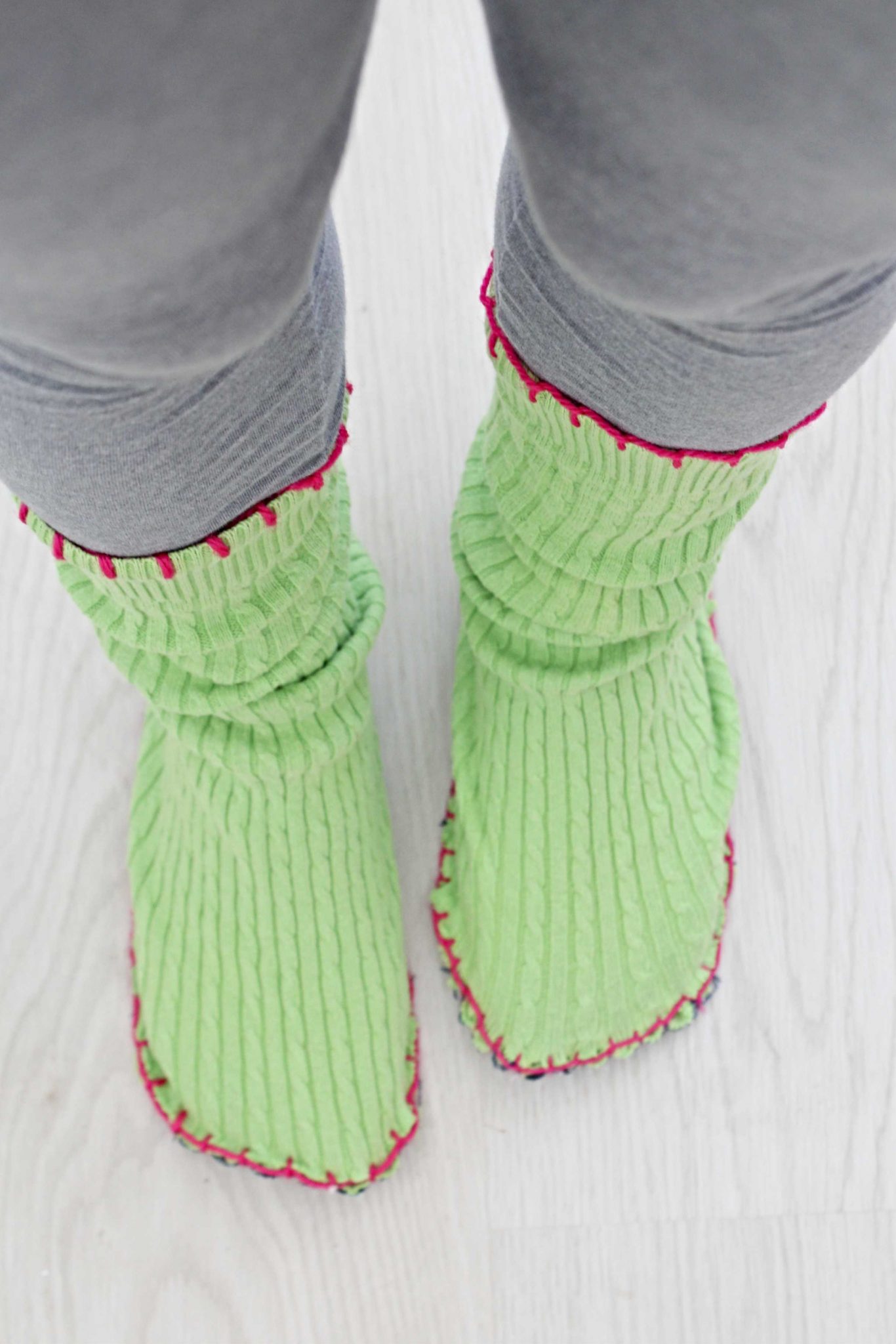 They could also make a great Christmas present if you have a sweater in a Christmas pattern or colors! You could easily customize these beauties to suit your style and fit any occasion (like adding fur or hanging a few pom poms).
Sweater Slipper Boots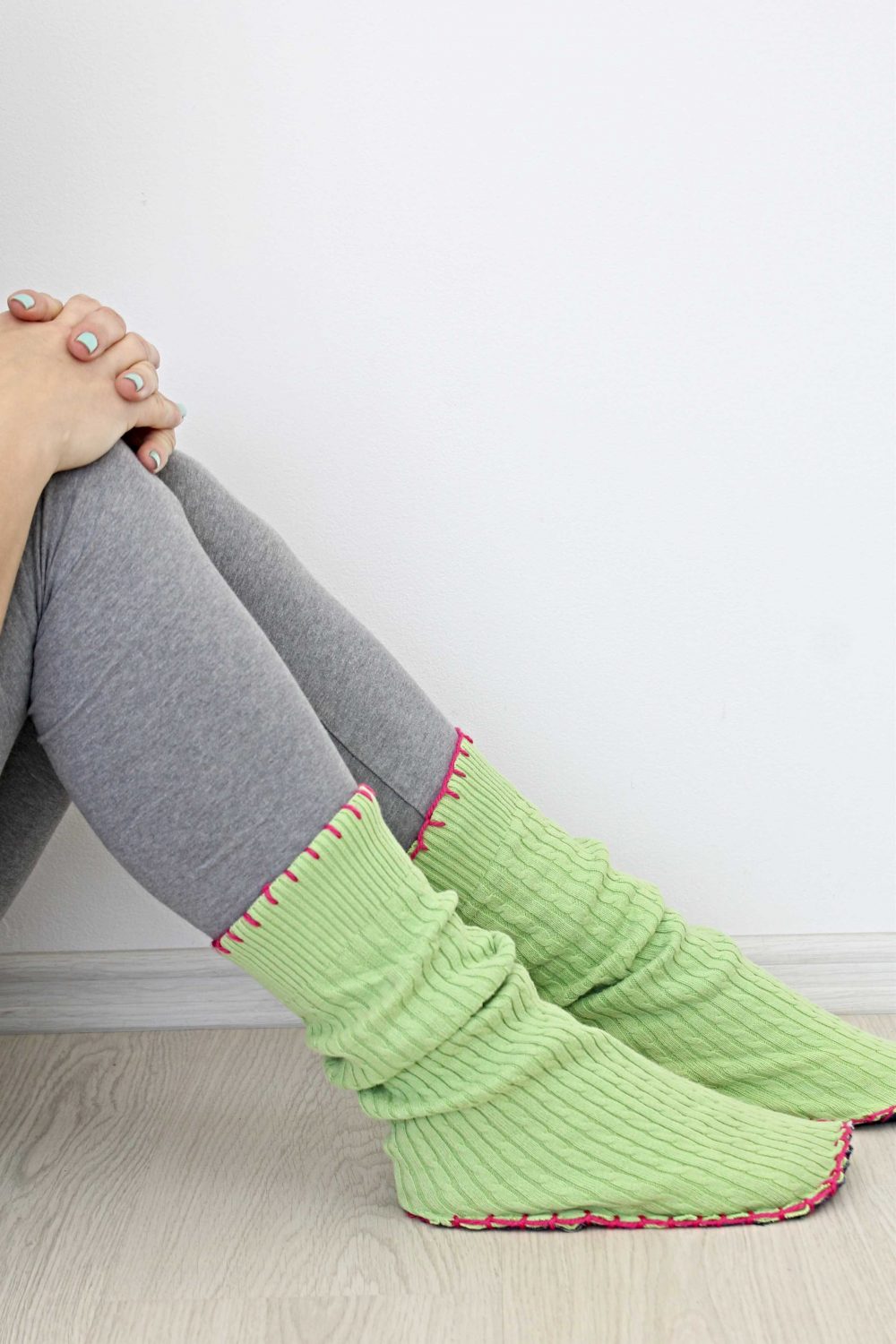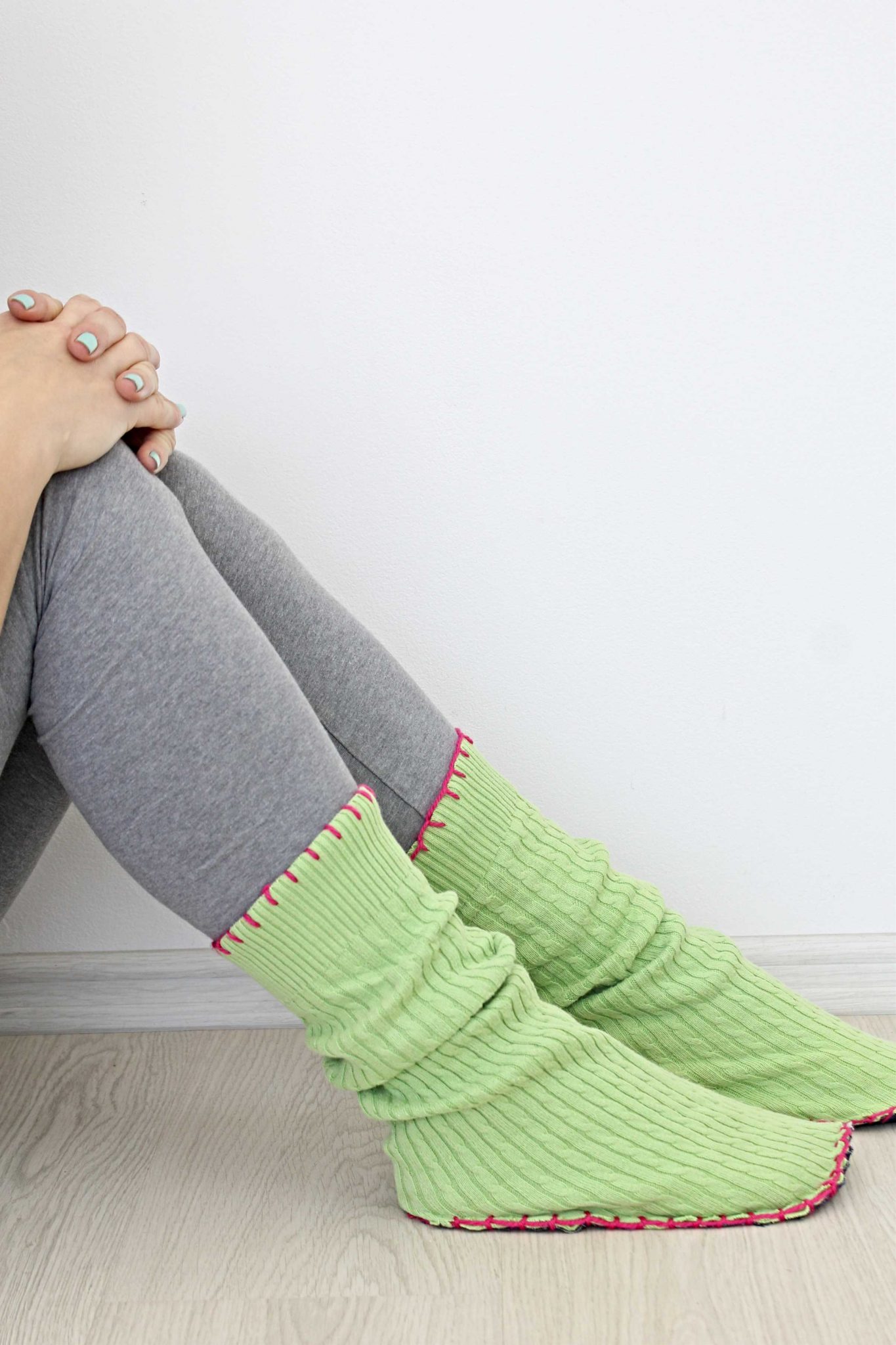 Materials:
Old sweater that won't begin to unravel when cut
canvas fabric or a pair of old jeans
fabric scissors
pins
yarn
large needle or darning needle
fabric marker
white marker or chalk
Directions:
Take the sweater and slip your foot into one of the sleeves, through the wrist opening.
Pull the sleeve up your leg to the desired length.
Cut the fabric around the sole of your foot. This is your leg piece.
Place your foot on a piece of canvas or jeans fabric and using a white marker trace around your sole.
Cut out the sole pattern.
Place the template over your sweater, with the wrong side up and trace using a fabric marker. Then cut out.
You now have two pieces for your sole.
Place the canvas sole wrong side up. Add the sweater sole, right side up.
Connect the two soles to your leg piece, using pins. Stretch the fabric as needed to match the three pieces.
Thread your needle with yarn and start stitching the pieces together using a blanket stitch.
Optional – decorate the top of the boot with a blanket stitch in the same color as your sole.
Repeat all steps for the other leg.
And you're done! Your adorable sweater slipper boots are ready to wear!
Pin to save for later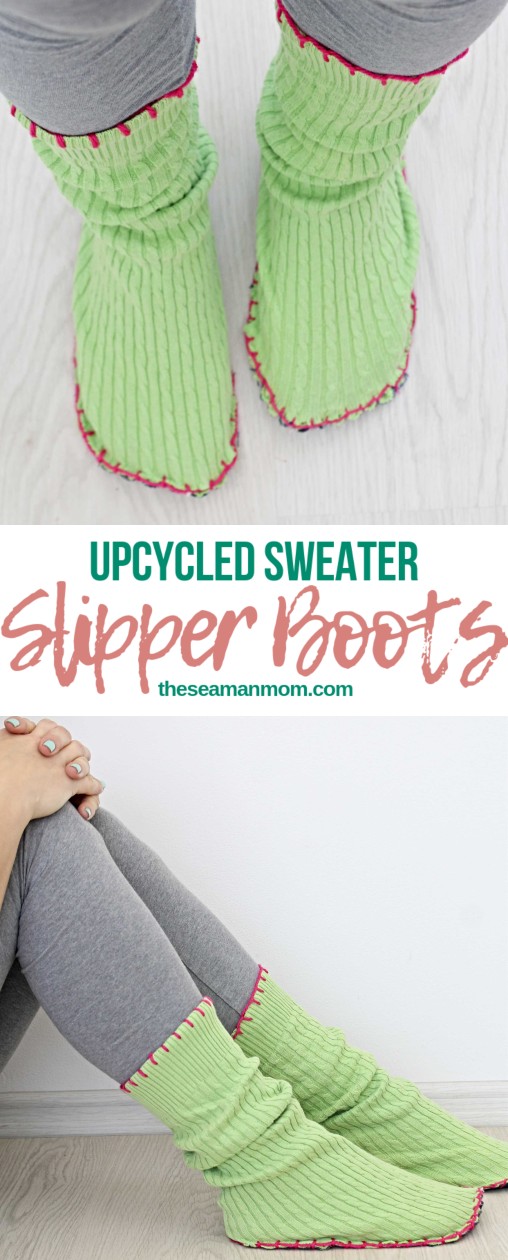 More no sew ideas: