Bamboo Handle Bag sewing pattern
Article may contain Amazon & affiliate links. As an Amazon Associate I earn from qualifying purchases at no additional cost to you.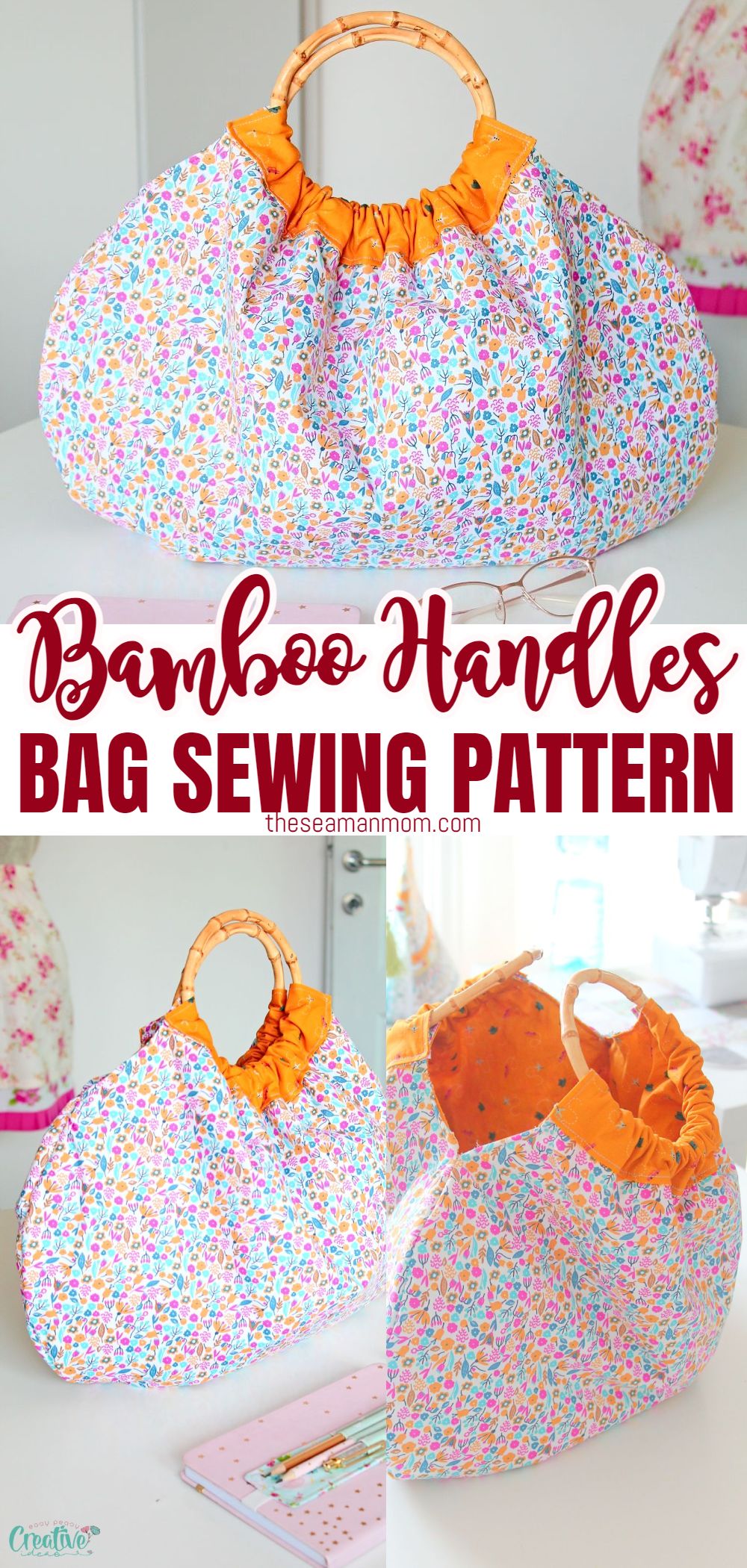 Take your bag collection to the next level with a bamboo handle bag pattern. Explore the unique design possibilities and easy step-by-step instructions to create trendy and eco-friendly bags that will turn heads. Upgrade your style and show off your fashion-forward choices!
Bamboo handle bag sewing pattern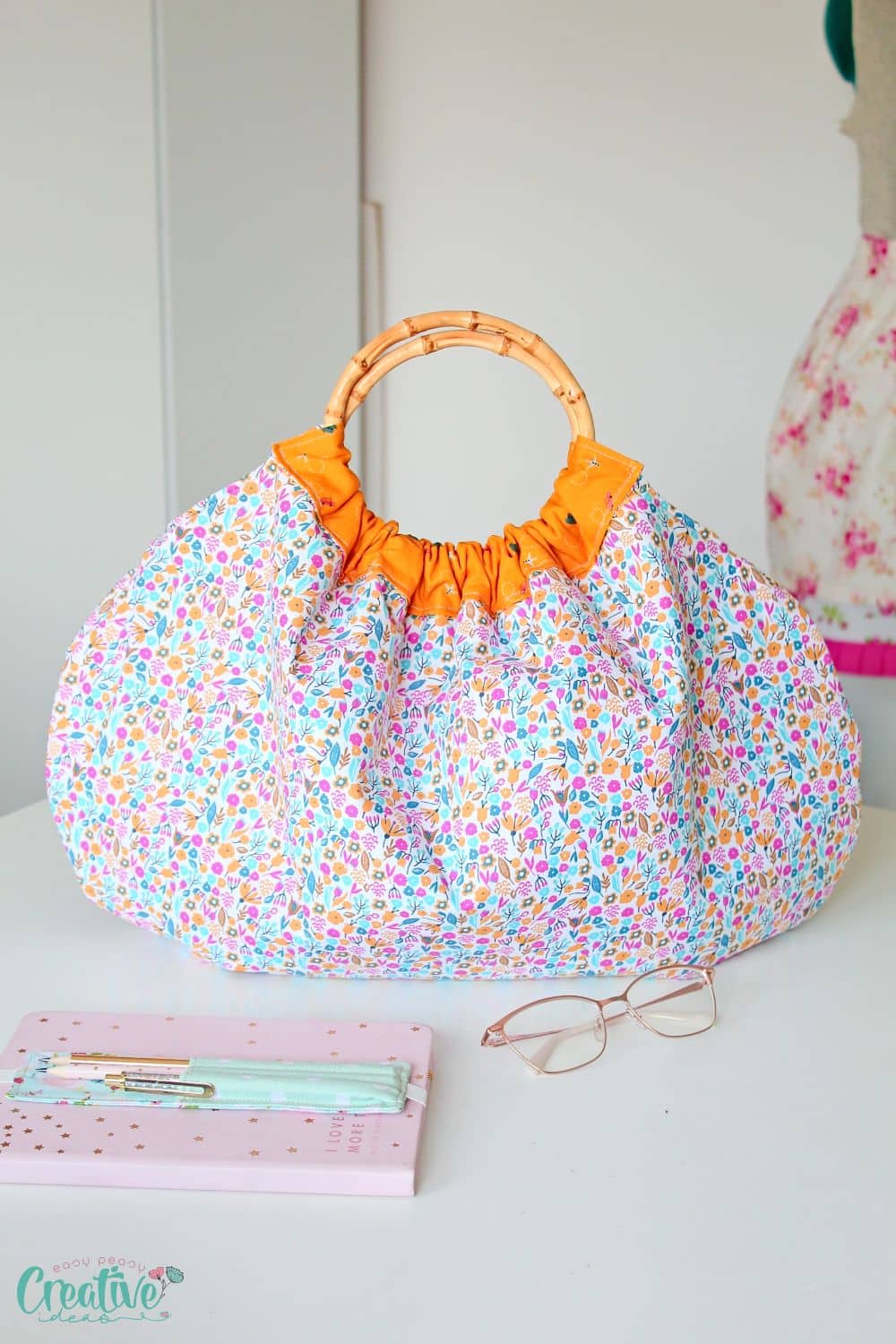 Are you ready to revolutionize your bag collection and make a stylish statement? Look no further than a cute bamboo handle bag! These trendy and eco-friendly handbags are the perfect addition to your fashion arsenal. With their unique design possibilities and sustainable appeal, bamboo handle bags are taking the fashion world by storm.
In this article, we will explore why choosing bamboo handle bags is a smart move, delve into the various design options available, provide tips for creating your own stylish bags, share where to buy these fashion-forward accessories, and guide you through the process of making your very own bamboo handle bag.
So, get ready to upgrade your style and show your commitment to sustainability with this ultimate guide. Turn heads and make a fashion statement like never before!
More bag patterns you will love!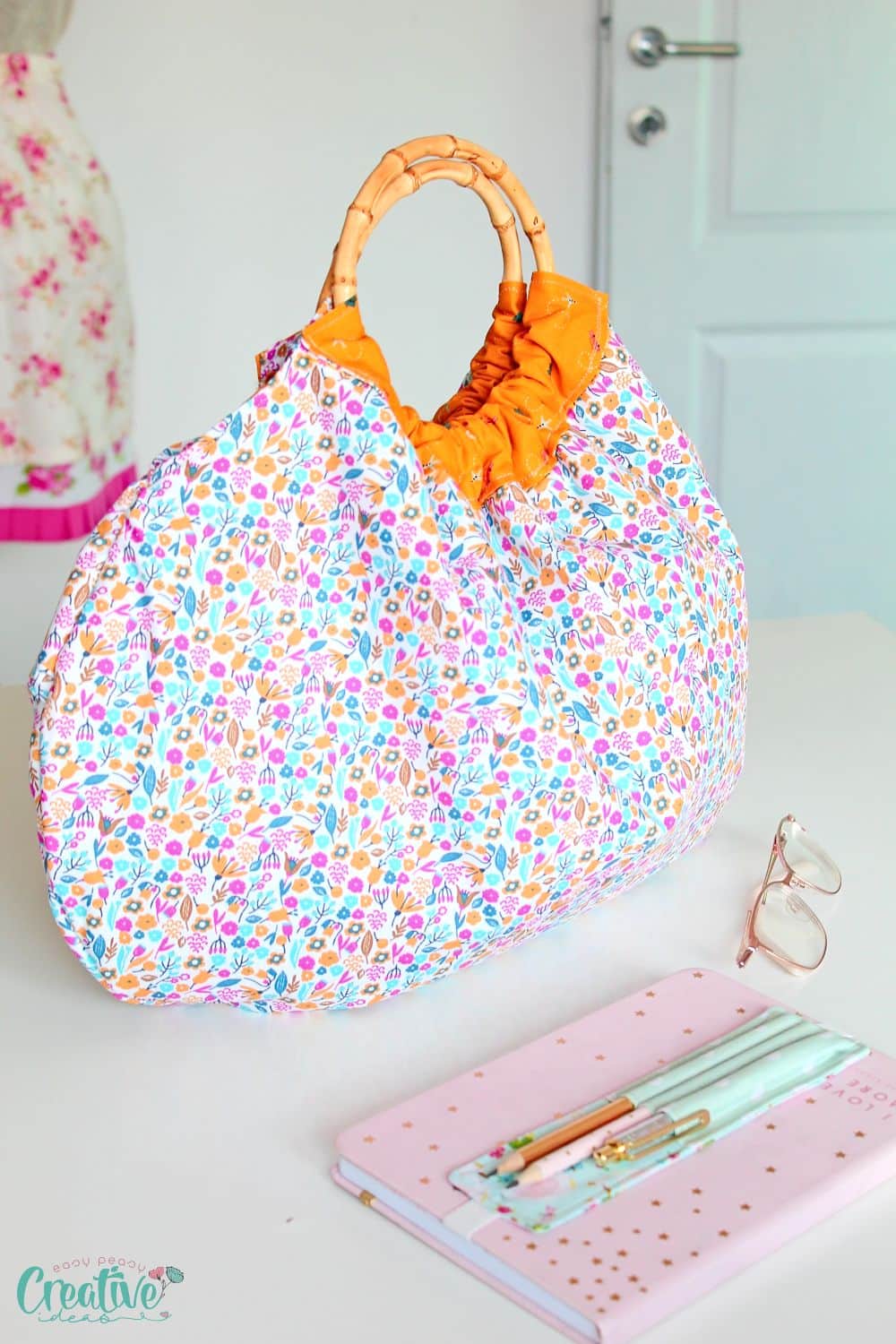 Why Choose Bamboo Handle Bags?
Bamboo handle bags are becoming increasingly popular in the fashion world, and for good reason. Not only do they add a touch of elegance and uniqueness to your bag collection, but they also come with a range of benefits that make them a smart choice for any fashionista.
One of the most appealing aspects of bamboo handle bags is their eco-friendly nature. Bamboo is a sustainable and renewable resource that grows quickly and requires minimal water and pesticides. By opting for a bamboo handle bag, you are making a conscious choice to support environmentally-friendly fashion.
In addition to being environmentally conscious, this bamboo handle purse offers a range of eye-catching design options. From sleek and minimalist to bold and intricate, there is a bamboo handle bag pattern for every taste and style. The natural texture and color of bamboo add a touch of organic beauty to the bags, making them stand out in a sea of ordinary accessories. Whether you are attending a formal event or heading out for a casual outing, a bamboo handle bag will effortlessly elevate your outfit.
Furthermore, bamboo handle bags are both lightweight and durable. The natural strength of bamboo ensures that your bag will withstand daily use and remain in pristine condition for years to come.
Lastly, a handbag with bamboo handles is a conversation starter. People will admire your sense of style and appreciate your conscious choice of an eco-friendly accessory. It's a great way to spark conversations about the importance of sustainable fashion and inspire others to make similar choices.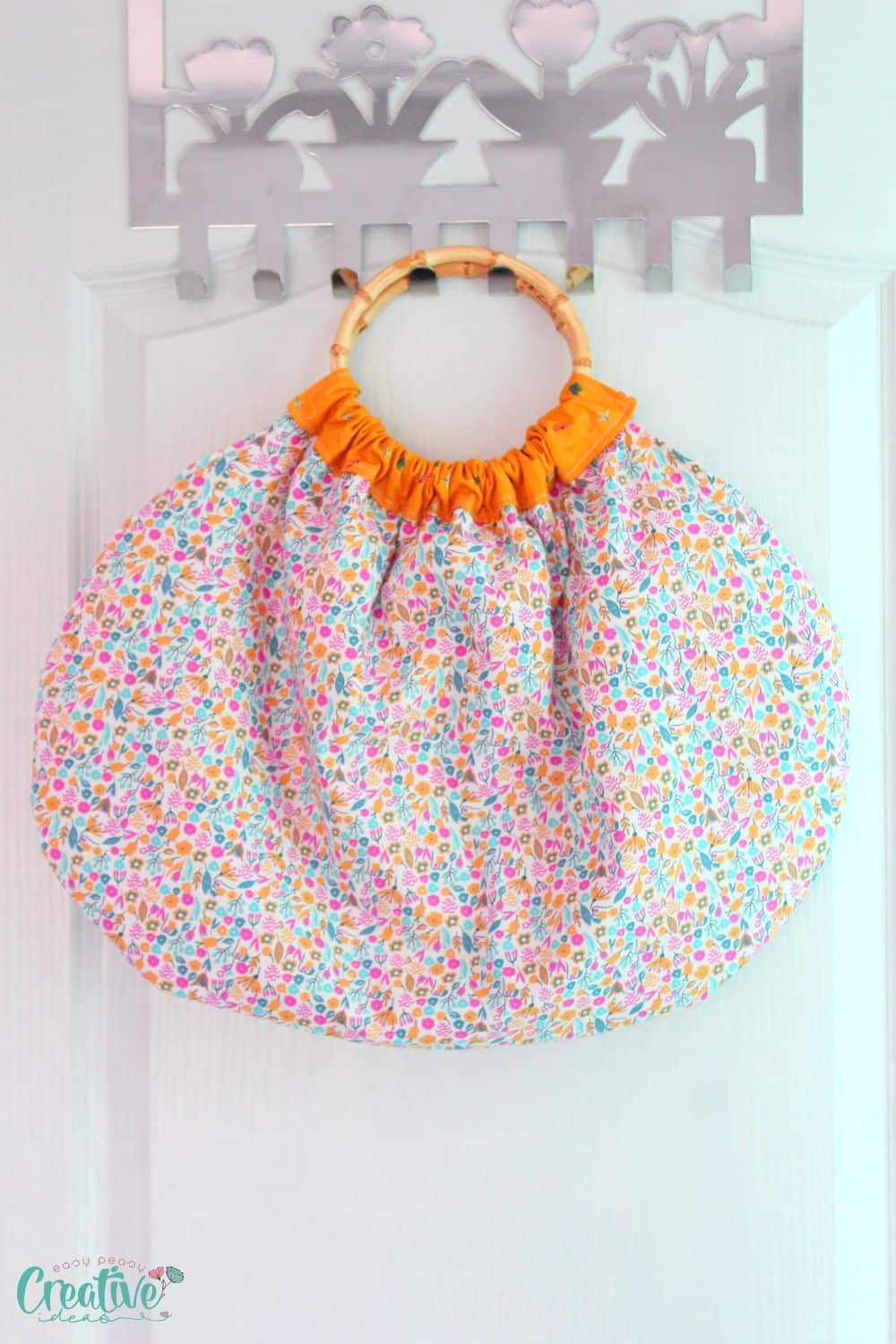 Exploring Design Options
When it comes to this type of handbags, the design possibilities are endless. From sleek and minimalist to bold and bohemian, there is a style to suit every taste and occasion. One of the benefits is their versatility in design, allowing you to express your unique sense of style while incorporating the natural and sustainable element of bamboo. For the purpose of this tutorial I made a pattern for a round-ish bamboo handle bag that you can get here if you wish. Or you can easily draw one yourself using the shape of your bamboo handles as a starting point. You can use these tote bags as inspiration.
For those who prefer a more classic and timeless look, a bamboo handle bag with a clean and structured silhouette is the way to go. This design exudes sophistication and elegance, making it perfect for formal events or professional settings.
If you're in the mood for something more eclectic and eye-catching, consider opting for a bag with intricate patterns or vibrant colors. Whether it's a floral print, geometric shapes, or a bold animal print, these designs add a touch of playfulness and personality to your outfit. They are ideal for casual outings, summer parties, or when you simply want to make a statement.
For those who love a touch of bohemian charm, a bag with woven details and tassels is the perfect choice. These bags exude a relaxed and carefree vibe, making them ideal for festivals, beach trips, or a laid-back weekend brunch.
Another popular design option is the incorporation of other sustainable materials alongside the bamboo handles. Bags made from a combination of bamboo and recycled fabric or cork accents are not only visually appealing but also promote multiple eco-friendly practices.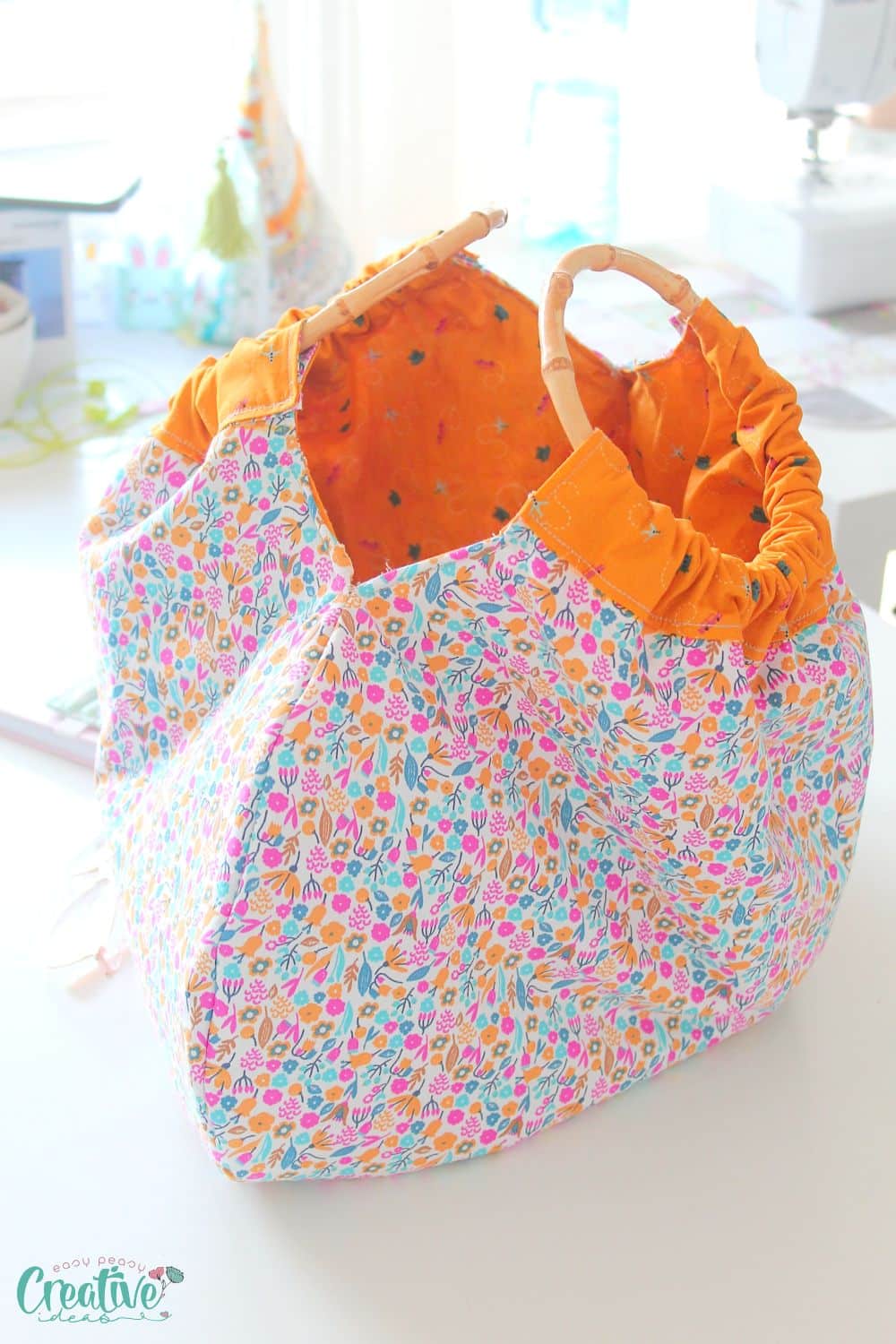 Tips for Creating Stylish Bamboo Handle Bags
When it comes to creating stylish bamboo handle bags, there are a few key considerations to keep in mind. First and foremost, think about the overall shape and size of your bag. Bamboo handles can complement a variety of bag styles, whether you prefer a tote, a crossbody, or a clutch. However their size will dictate the size and shape of the bag.
Once you have decided on a bag style, you can start thinking about materials and colors. Consider using sustainable fabrics like organic cottons for the body of your bag. These materials not only add to the eco-friendly nature of your creation but also provide a soft and durable base for your bamboo handles to attach to.
In terms of color, you can either match the color of the body of your bag with the natural hue of the bamboo handles for a cohesive look, or you can experiment with contrasting colors for a bold and eye-catching statement.
Additionally, consider adding extra details and embellishments to enhance the overall design of your bamboo handle bag. Whether it's a playful tassel, a decorative charm, or a unique fabric pattern, these small touches can make your bag truly one-of-a-kind. Just remember to keep in mind the balance between functionality and aesthetics, ensuring that your bag remains practical and easy to use.
Where to buy bamboo handle bags?
Thankfully, there are plenty of options available to suit your style and preferences. One of the easiest places to find bamboo handle bags is online. Online marketplaces like Etsy or sustainable fashion retailers often offer a wide variety of bamboo handle bags, ranging from sleek and minimalist designs to bold and colorful patterns. Plus, shopping online allows you to easily compare prices, read customer reviews, and discover new and emerging designers.
If you prefer a more hands-on experience, you can explore local boutiques and specialty stores. These smaller, independent shops often curate a selection of artisanal and eco-friendly products, including bamboo handle bags. Visiting these stores not only supports local businesses but also allows you to see and feel the bags in person before making a purchase.
Another option is to attend local craft fairs or markets. These events bring together a community of artists, designers, and craftspeople, providing an opportunity to discover unique and handmade bamboo handle bags. You can meet the creators, learn about their inspiration and techniques, and even request customized designs that truly reflect your personal style.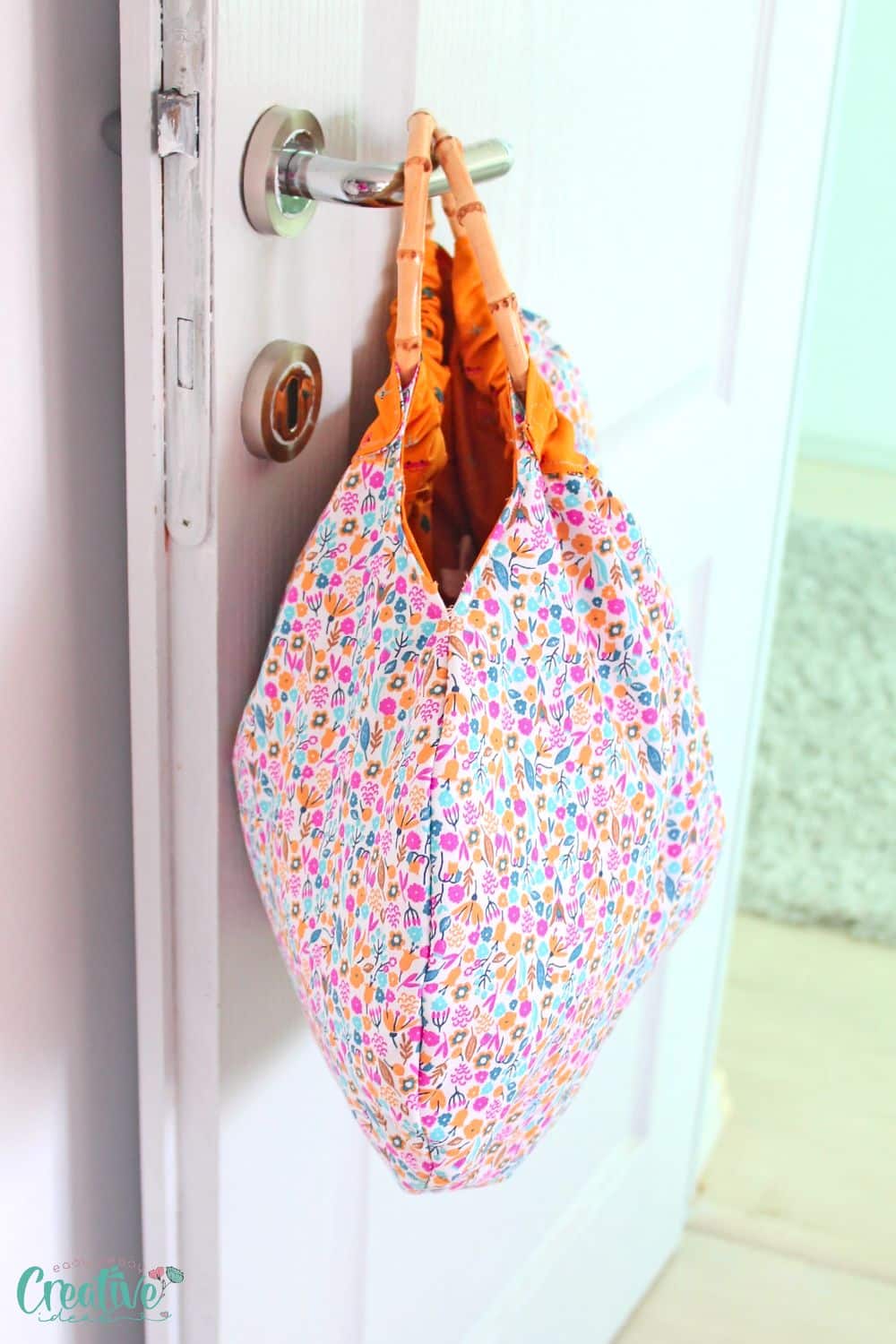 What do I need to make a bamboo handle bag?
wooden handle bag pattern (my pattern is available here in 3 sizes – the handbag pictured here was made using the mid size pattern)
cotton fabric for the bag and lining (check out each size, indicated on the pattern, to get an idea of how much fabric you need).
bamboo handles (you'll need round or curved bamboo handle). To make this a shoulder bag you need large handles.
optional – interfacing (I used lightweight fusible interfacing for the handle fabric and medium weight fusible fleece for the the body of the bag)
scissors
pins
sewing gauge
pressing iron
How to make a bamboo handle bag?
Here's an easy step-by-step guide on how you can bring a bamboo handle bag to life:
Gather the materials
Start by finding a sturdy fabric that aligns with your style and sustainability preferences. Organic cotton, linen, or even upcycled fabric can be great choices. You'll also need 2 bamboo handles. Finally, gather your sewing essentials such as a sewing machine, thread, scissors, and pins.
Print out the pattern if you decided to use mine and cut out the desired size. The simple pocket and the welt zipper pocket are optional, you can skip them if you want to make a very simple bag.
Cut the fabrics
Using the instructions on the chosen pattern, carefully cut out the fabric pieces for the bag. My pattern already includes a 1/4″ seam allowance but if you're not comfortable with such a small allowance feel free to add a bit more when cutting the fabric.
If you decided to use interfacing, cut those pieces out too. Make sure the interfacing is about 1/4″ smaller than the fabric. For the top part of the fabric (the one that goes around the bamboo handle), make sure to use lightweight interfacing. Or skip altogether if your fabric is sturdy. This helps with the process of sewing the fabric around the bamboo handle.
Sew the pockets
If you decided to add any or both pockets here's what you need to do:
For the simple pocket
Cut the fabrics and place them right sides together.
Pin and sew with 1/4″ allowance, leaving a gap of 2″ in one of the long seams.
Turn the fabrics right side out through the gap. Push the gap inside and press.
Top stitch the entire rectangle.
Grab one of the lining fabrics and place the pocket fabric onto the right side of the lining piece. Center the pocket as you wish.
Pin the pocket to the lining and sew the middle of the pocket.
Continue sewing 2 additional lines as marked on the pattern or according to your needs.
Top stitch the sides and the bottom of the pocket.
For the welt zipper pocket
Use the pattern to cut the fabric.
Use this tutorial to attach the pocket to the second lining piece.
Sew the fabrics
Start by fusing the interfacing to the bag pieces
Place the bag pieces right sides together. Pin the sides and the bottom. Sew the sides and the bottom with 1/4″ allowance. Stop 4″ below the "neck" of the bag (on the bag pattern you will see a horizontal dotted line; stop 4″ below that line). Backstitch at start and end.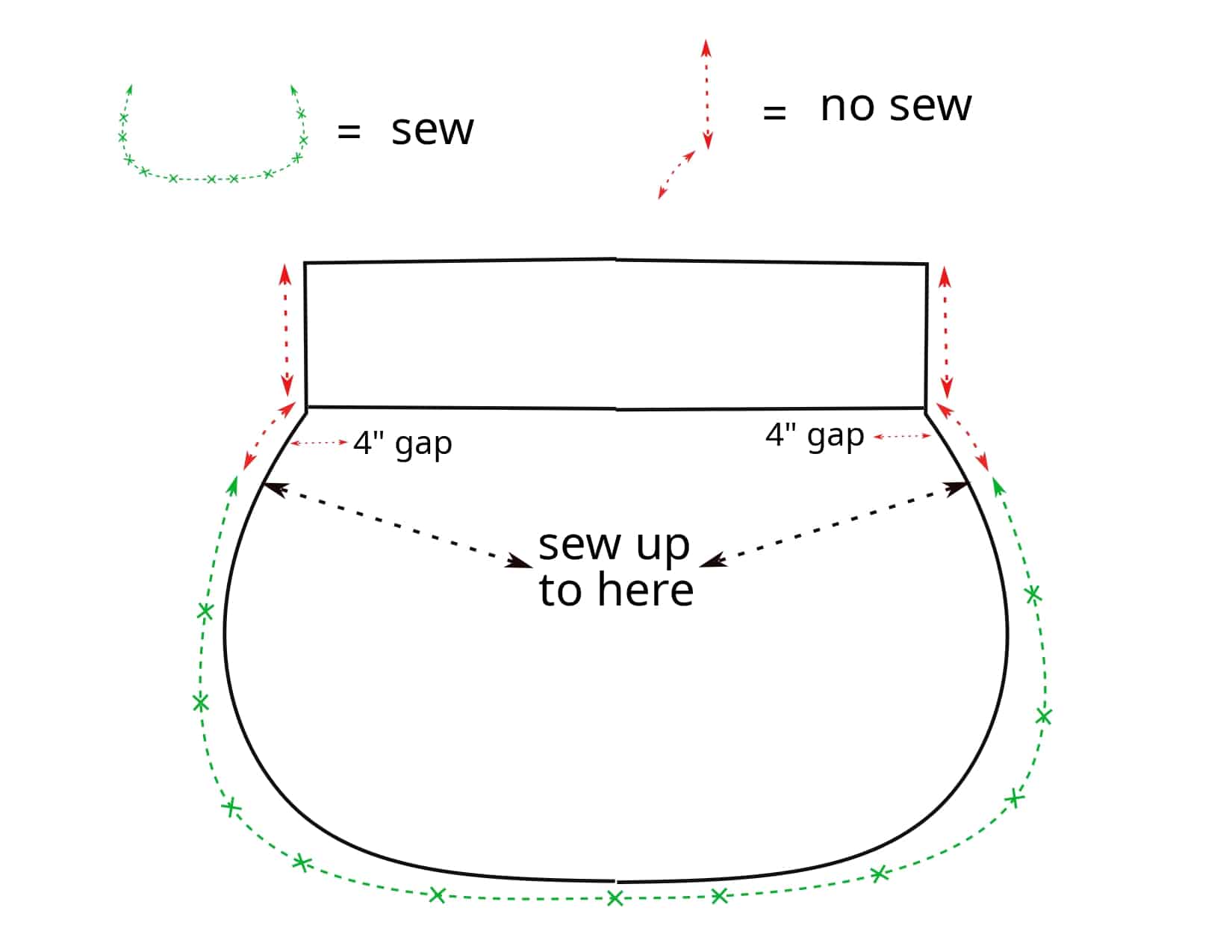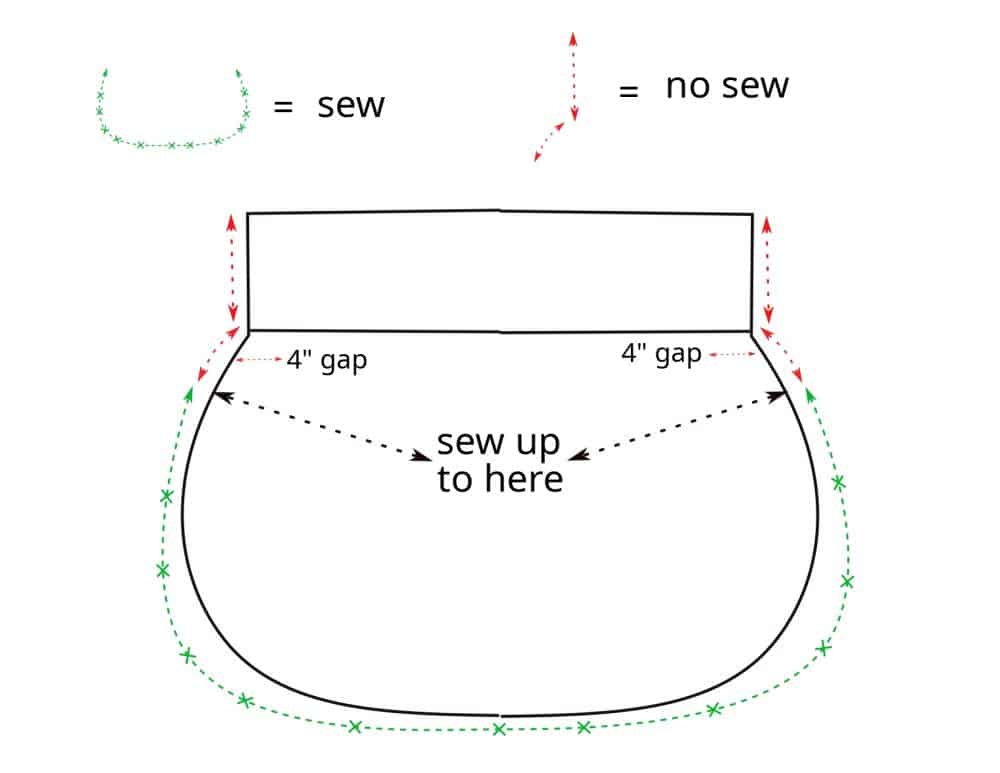 With the iron on steam, press the seams to a side and continue folding and pressing the seams upwards, on the "neck" of the bag, on both sides of the bag.
Fold the top of the bag inside about 1/2″ (towards the wrong side of the fabric) and press well.
Repeat the same steps for the lining fabrics.
With the bag right side out and the lining wrong side out, slide the lining inside the main bag until the bottoms and sides match. Make sure the opening at the sides and the top match perfectly.
Pin the openings and the tops. Sew with 1/4″ allowance.
Fold the top outside, on both sides of the bag and mark right below the line where the top meets the bag.
Insert the bamboo handle in this fold, add a couple of pins and sew 1/4″ away from the line traced above. Use this line as a guide until you finish sewing the entire top of the bag.
Sew slow and in small batches, adding a couple of pins at a time and gently moving the bamboo handle and the gathered fabric as needed, to create space for sewing.
Repeat the above steps for the second handle.
By following these steps, you'll have your very own bamboo handle bag, crafted with your unique touch and a commitment to sustainability. With these trendy and eco-friendly bags, you'll make a fashion statement! So get creative, enjoy the process, and revolutionize your bag collection with a one-of-a-kind bag.
Pin to save for later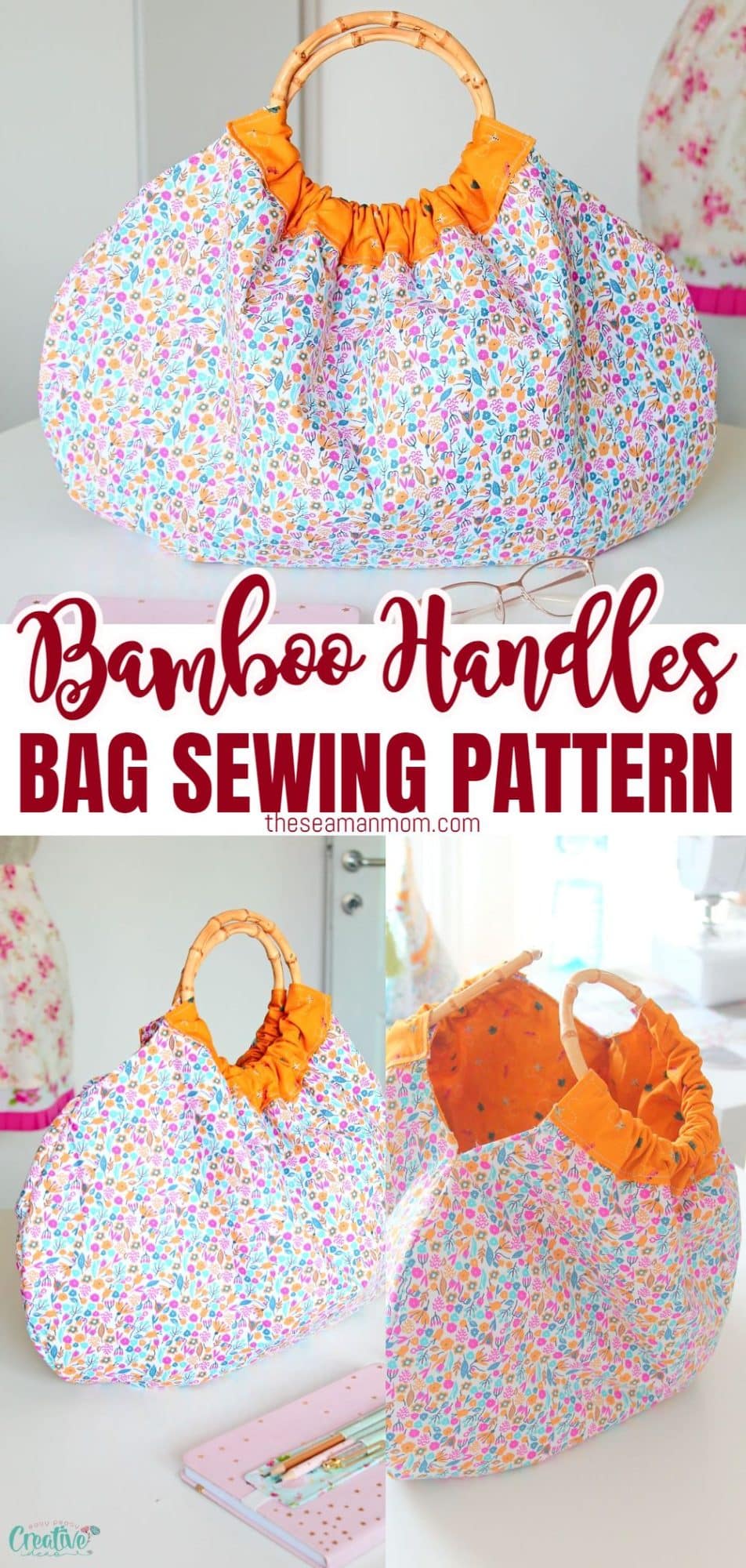 Most popular sewing projects: