Hearty yummy beef and potato stew you'll want to make today
Article may contain Amazon & affiliate links. As an Amazon Associate I earn from qualifying purchases at no additional cost to you.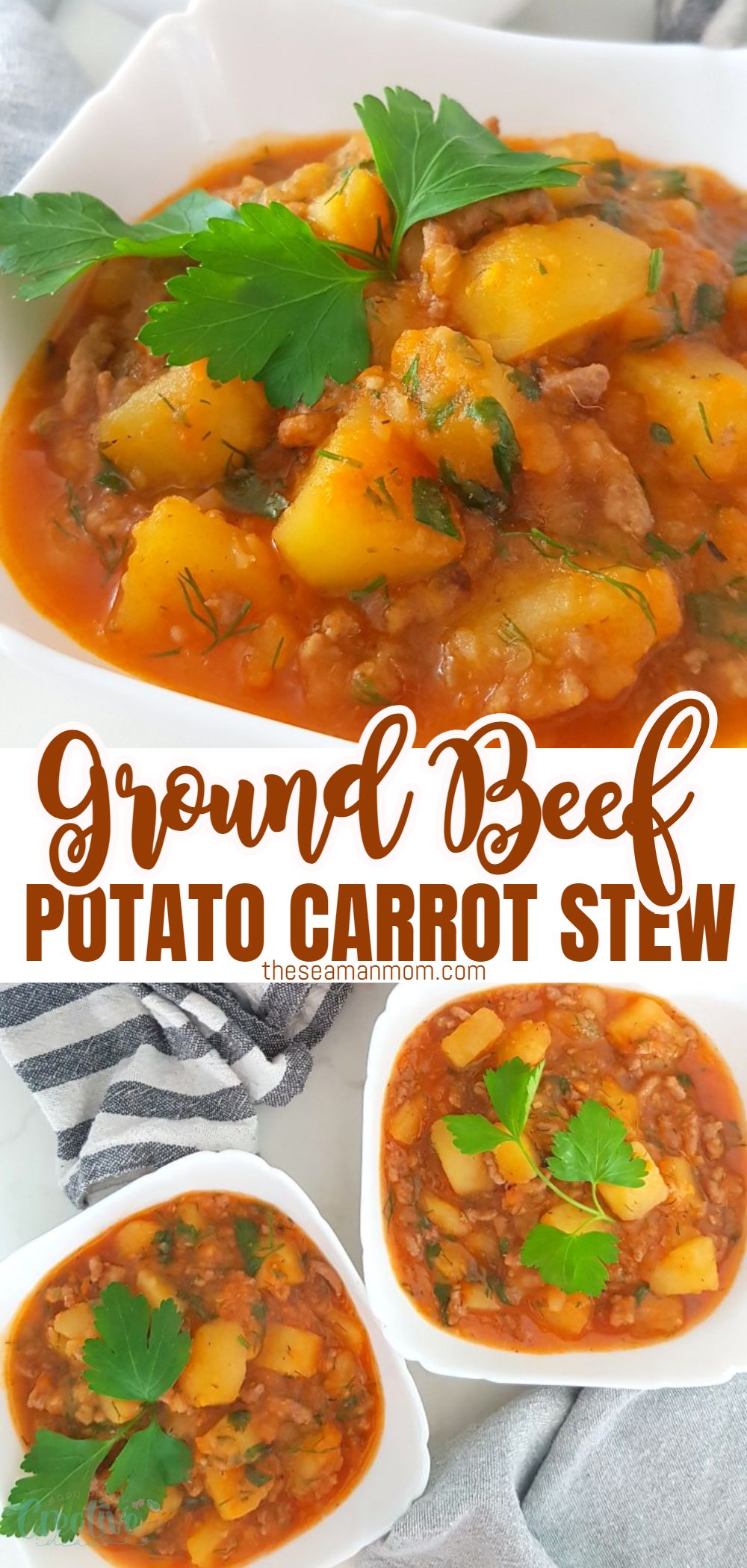 Need an amazing one-pot recipe to feed a crowd? This beef and potato stew is a delicious meal that is so easy to make! Everyone will love your beef stew with potatoes, carrots and onions and chances are, they'll be asking for seconds!
Beef and potato stew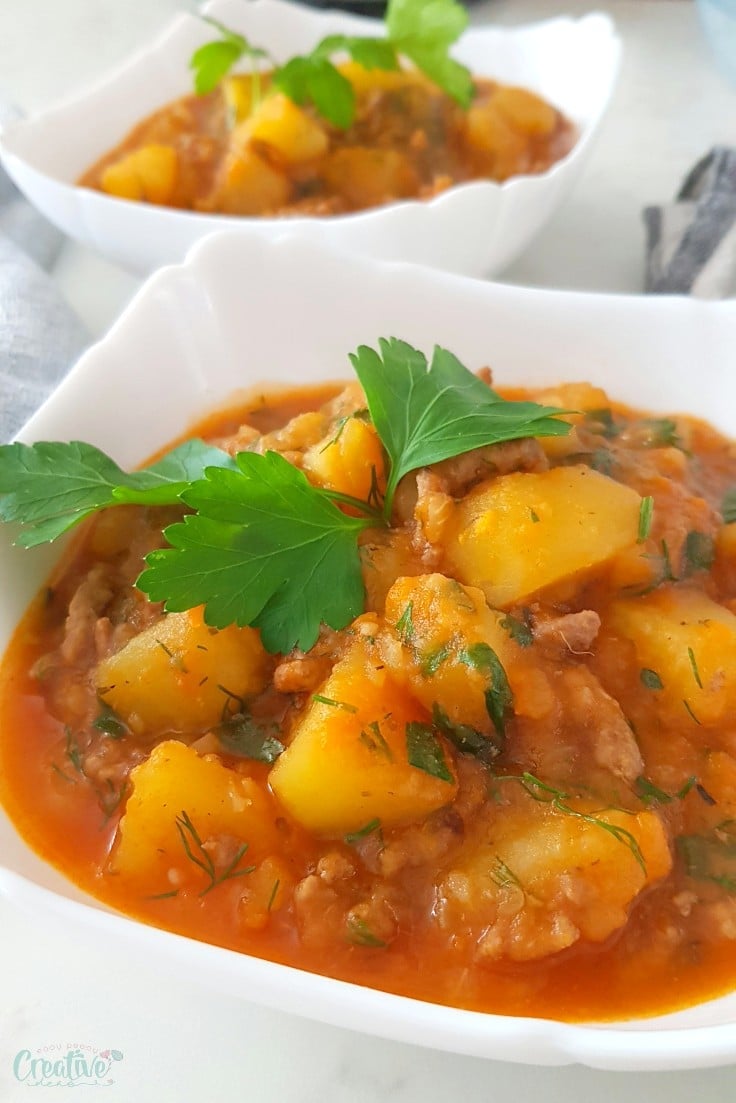 Beef and potato stew is cooked all around the world, especially Europe and US, as it's very easy to find potatoes there. Hungarians call it gulyas (and add a lot of paprika, peppers and caraway) while the French call it Beef Bourguignon. It is also pretty popular among the Irish and Italians, as well as Romanians and Ukrainians.
This beef and potato stew improves its flavors the longer it sits, so you can safely cook it one day ahead of serving and refrigerate. It is a delicious recipe that is ready in no time thanks to my easy trick (hint: it's not beef chuck!)
More ground beef recipes you will love:
How do you cook beef and potato stew?
This easy, simple recipe can be cooked on the stove, in the oven, the slow cooker or the Instant pot or Crock pot Express. For this recipe, I'll be listing the ingredients and instructions for the stove version. If you choose any other method, choose the ingredients listed here and refer to your cooker's instruction manual for the cooking time and temperatures.
Do you cook stew covered or uncovered?
You will start with the lid on and then when the ingredients in the stew are almost cooked through, you will need to remove the lid. The reason is, keeping the lid on allows for more moisture inside the pot which helps the meat and vegetables cook (similar to the process in the slow cooker).
But this moisture usually creates more liquid then a stew needs so you need to allow that liquid to evaporate until your recipe reaches a stew texture. You can achieve that result with both the lid off and the lid on, but it will take longer for the liquid to evaporate when you keep the lid on.
As a note, your stew doesn't need to have the same quantity of liquid as my stew. If you like it, you can make your beef potato stew more or less liquid. Some people like their stews more watery while others enjoy theirs with less liquid.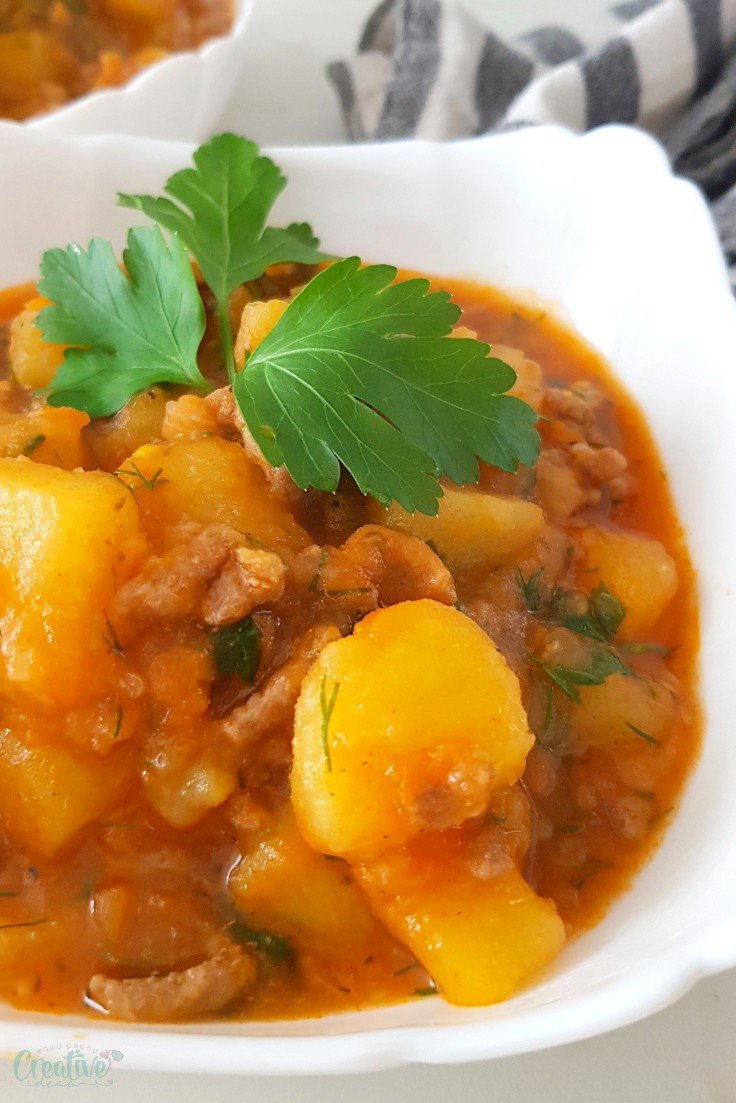 How to make stew meat tender?
Most people use beef chuck roast to make this beef and potato stew but my secret is…ground beef! It cooks a lot faster and it's so much easier to make it tender!
What I do is sprinkle some baking soda over the ground meat, mix and let it rest for 15 minutes. Then I brown the meat and that's when the magic happens: most of the juices from the meat will stay inside, sealed by the baking soda. This way the meat will tenderize when cooking as it has a lot more juice inside and browning it takes shorter as there's not too much liquid in the skillet/pan to evaporate.
Wine will also help tender the beef a bit more. The best wine for the beef potato stew is any dry red wine that is not expensive, still good enough to drink. Add only a little wine if cooking for children. Most of the it will evaporate, but you should still be careful while using alcohol in food served to children.
Can I use other kinds of meat?
By all means! If you are not a fan of ground beef, use your favorite kind. Bare in mind that the cooking time will extend a lot more and you'll probably need to adjust the amount of water needed to cook the stew.
It is very important to choose the right kind of meat: well-marbled chuck roast is the best choice for this recipe. It should have several visible white veins of fat running through it. Generically packaged "stew meat" is not the best, especially those chunks looking lean. Those will never get tender, as they don't have enough fat, it doesn't matter how long you cook them.
Still, large chunks of fat in the meat should be removed. You don't want this stew to be too heavy and greasy!
Do you leave skin on potatoes for beef stew?
I see people leaving the skin on, especially when using beef chuck to make this recipe. However my family (especially my daughter) is very picky when it comes to skinned potatoes so I always remove the skin when using potatoes in stews.
Particularly for this recipe, peeling the skin off is recommended as the cooking time is probably not enough to cook potatoes in skin as they take longer to cook. Plus, leaving the skin off will help the potatoes cook better, they become softer and will simply melt in your mouth.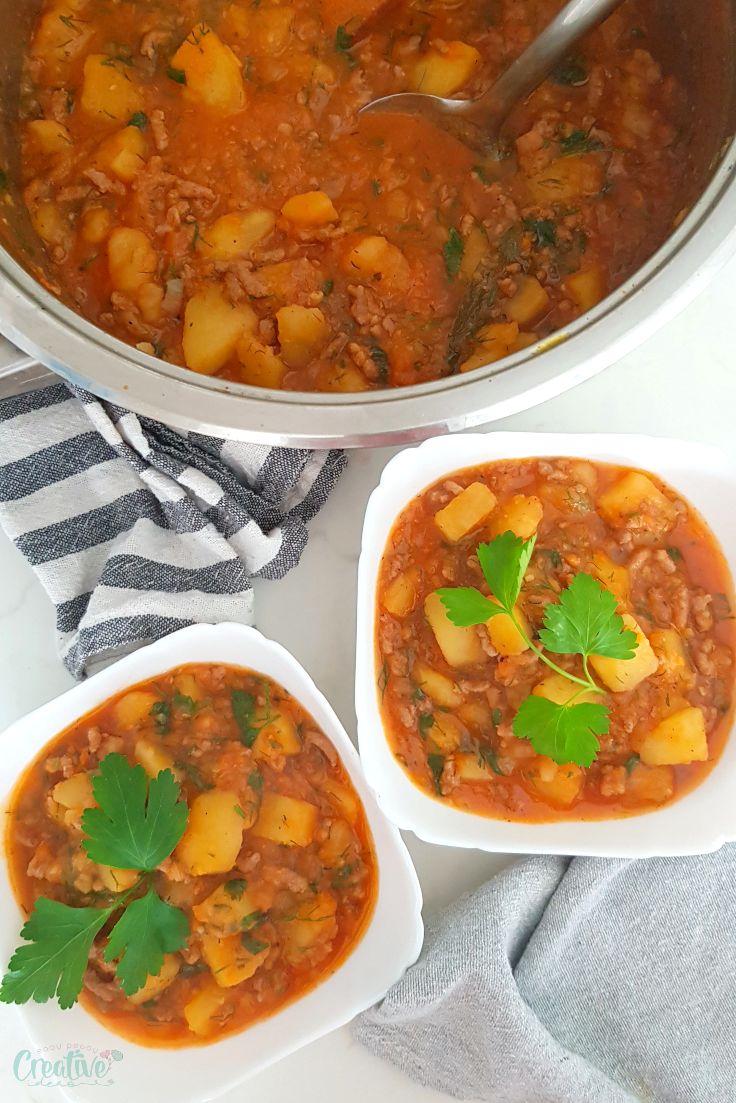 What are other ingredients you can use for this beef stew with potatoes?
Don't limit yourself to the name "beef potato" stew. Call me crazy but you could totally reinvent the beef stew when swapping the veggies!
Peppers and even mushrooms make a great addition to this recipe and enrich its texture and flavor.
Sweet potatoes make a great substitute to regular potatoes, adding a discreet sweet taste to the stew.
You can also leave the potatoes out and add some frozen peas, noodles, chickpeas or small dumplings.
Add some freshly chopped parsley when you are about to serve, for a fresh touch.
Keep experimenting with ingredients until you find the recipe you and your family love most. They will keep asking for this recipe, that's a fact!
What goes well with beef and potato stew?
This beef potato stew goes great with any pickles you love. We usually serve these pickled cucumbers or these pickled green tomatoes.
Some people also like to add a bit of sour cream, but you can leave it out if you think it's already too heavy.
Homemade bread works wonderfully with this recipe, especially if the bread is freshly made.
If you're not serving pickles with your beef potato stew, this peach and blue cheese salad, this roasted long pepper salad or these fried zucchini in vinegar garlic sauce are a great pairing!
How do you store beef and potato stew?
This stew will keep well in the fridge for 3-4 days, and will also keep well in the freezer in airtight bags or containers for up to 3 months. To reheat, thaw in the fridge overnight, and heat over low heat on the stove, stirring occasionally.
If you feel like trying this ground beef and potato stew, please let me know how it turned out, or what was your personal touch that made it absolutely delicious!
Beef stew with potatoes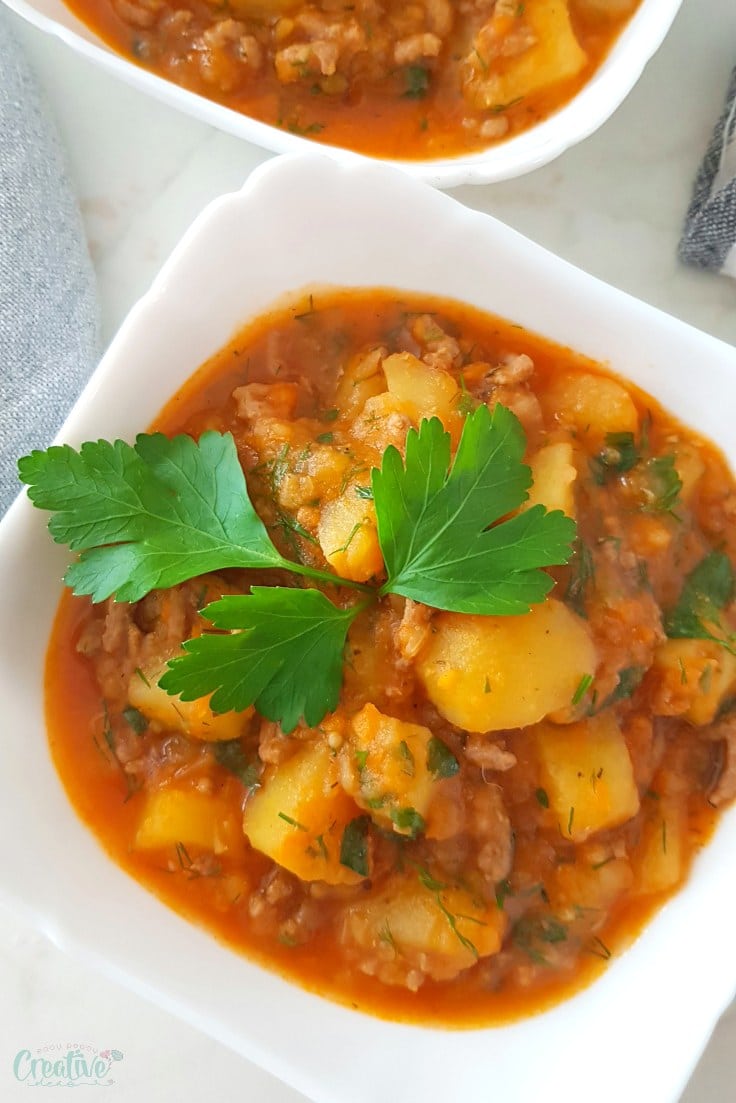 What do you need to make beef potato stew?
Ground beef – before using in your stew, do the little baking soda trick mentioned in the article above to tenderize your meat. You can replace beef with mutton, lamb or pork if you like them best. Lamb and pork will require a shorter cooking time, as they are more tender. Mutton, on the other hand, is more firm and will cook more or less in the same time as beef. If none of these are your cup of tea, there's always chicken!
Vegetables (potatoes, carrots and onions).
Herbs – Dry bay leaves add such special flavor when cooked in this recipe. We also love chopped fresh dill, added just at the end of this recipe but parsley works great too.
Salt and pepper to taste
Garlic – everything tastes better with garlic, right?
Tomato paste – this give a bit of color to this recipe which will not look as appetizing without. But it adds flavor and texture too, helping the recipe reach that specific stew thickness better and faster.
How to make beef stew with carrots and potatoes?
I'll be detailing the instructions in the recipe card below but in a gist, here's what you need to do:
Grate carrots, chop onions, mince garlic and dice potatoes. Sauté carrots and onions for about 5 minutes or until onions are glassy. Add garlic and sauté for one more minute.
Brown the meat until no juice left.
Add everything to a stew pot, cover in water, add salt, pepper and bay leaves.
Bring to a boil, turn the heat to low and cooked covered with a lid for about 20-25 minutes or until vegetables are tender.
Add chopped dill and mix. If there's any liquids left in the pot, remove the lid and cook a little more until happy with the thickness.
Pin to save for later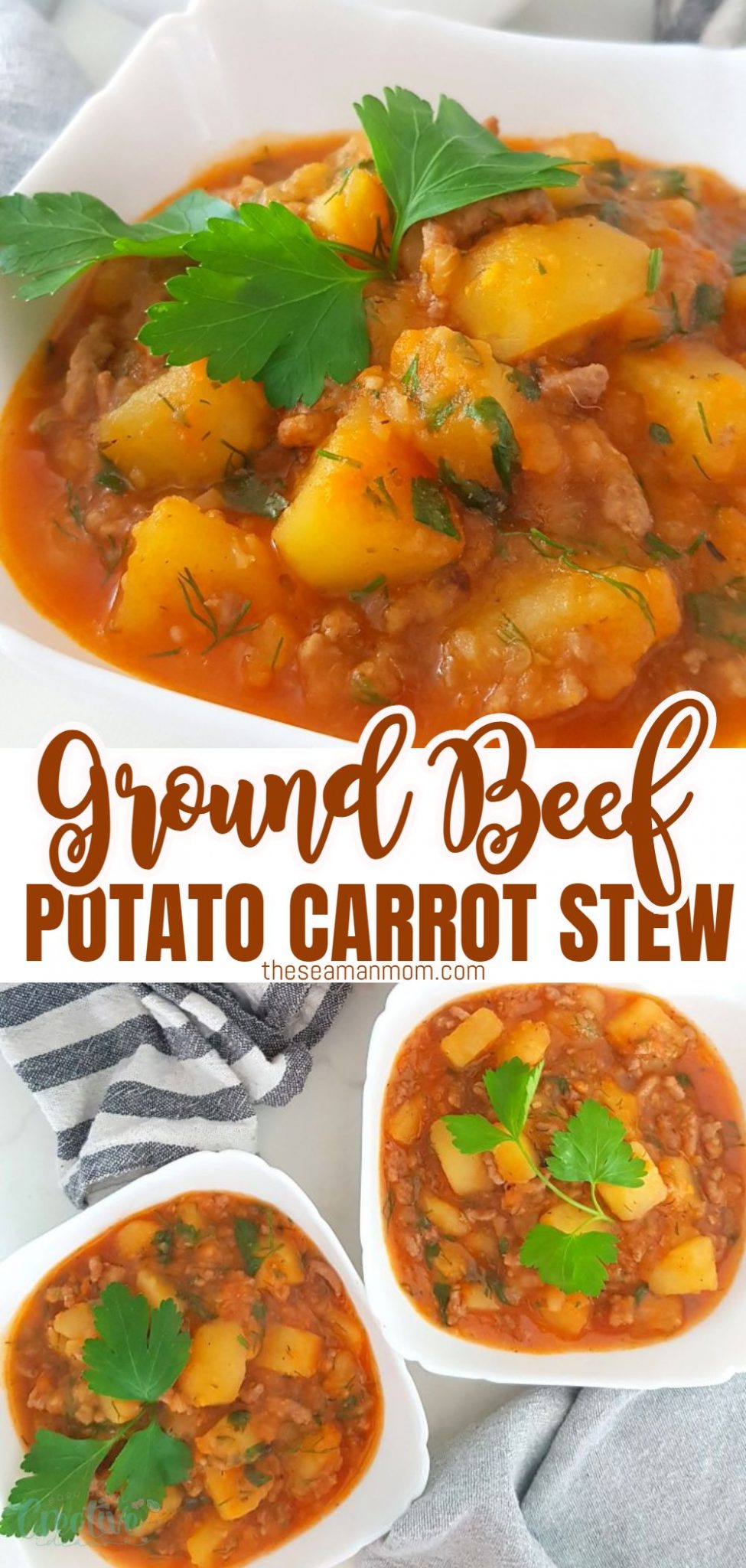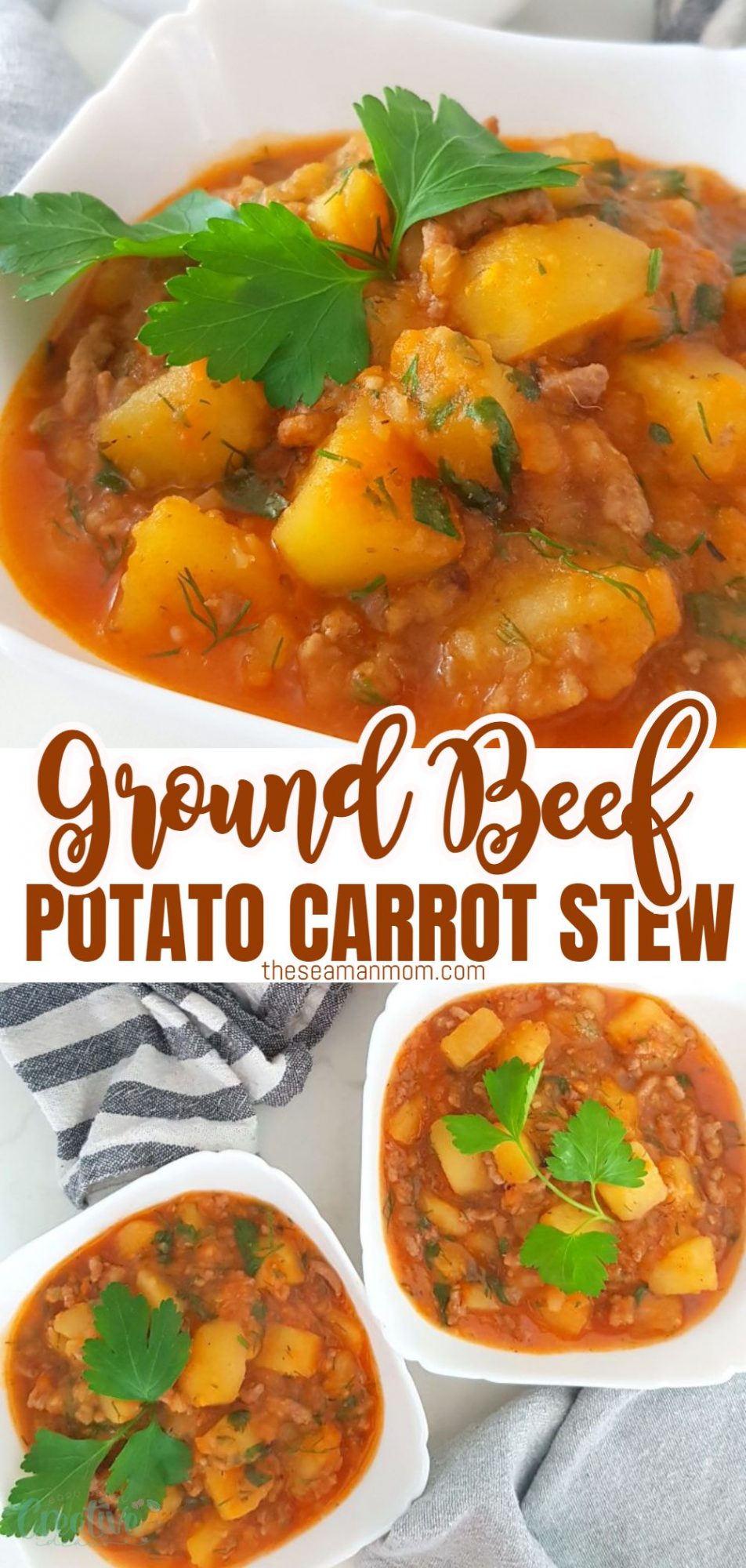 Print the recipe card
Beef and potato stew
Need an amazing one-pot recipe to feed a crowd? This beef and potato stew is a delicious meal that everyone will love!
Ingredients
1

lbs

ground beef

2

yellow onions

large and chopped

2

carrots

medium and grated

3

tbsp

vegetable oil

6

medium large potatoes

like white potatoes or Yukon gold

4

garlic cloves

minced

salt to taste

pepper to taste

2

bay leaves

dry

3

tbsp

tomato paste

1

bunch dill

fresh and chopped
Instructions
Add the meat to a mixing bowl. Sprinkle a little baking soda, mix and let rest for 15 minutes. In the meantime, chop onions, grate carrots, mince garlic and dice potatoes into 1" pieces. Keep potatoes in cold water, strain and rinse through a colander, just before using in recipe.

Heat the oil on a non stick skillet. Add the onions and carrots and sauté for about 5 minutes or until the onions are a little glassy. Add garlic and sauté for 1 more minute. Transfer vegetables to a medium stew/soup pot.

In the same skillet, brown the meat until no more juices left in the skillet.

Add meat and vegetables to a stew/soup pot

Cover everything in water.

Add salt, pepper and bay leaves.

Bring to a rolling boil then turn the heat to low and cover the pot with a lid. Cook for 20 minutes then add the tomato paste. Mix well and cover the pot again. Cook for additional 5 minutes.

Remove the lid and check if there's too much liquid in the pot. Add chopped dill and mix.

Cook with the lid off for a few more minutes if needed, until you reach the desired thickness.
Most popular recipes: