Turn an old towel into a cute and roomy tote bag with this super easy towel bag tutorial. Perfect not only for the beach season, this roomy beach towel bag is a great help for when you need to carry lots of items because it's so comfortable to wear on your shoulder!
Beach Towel Bag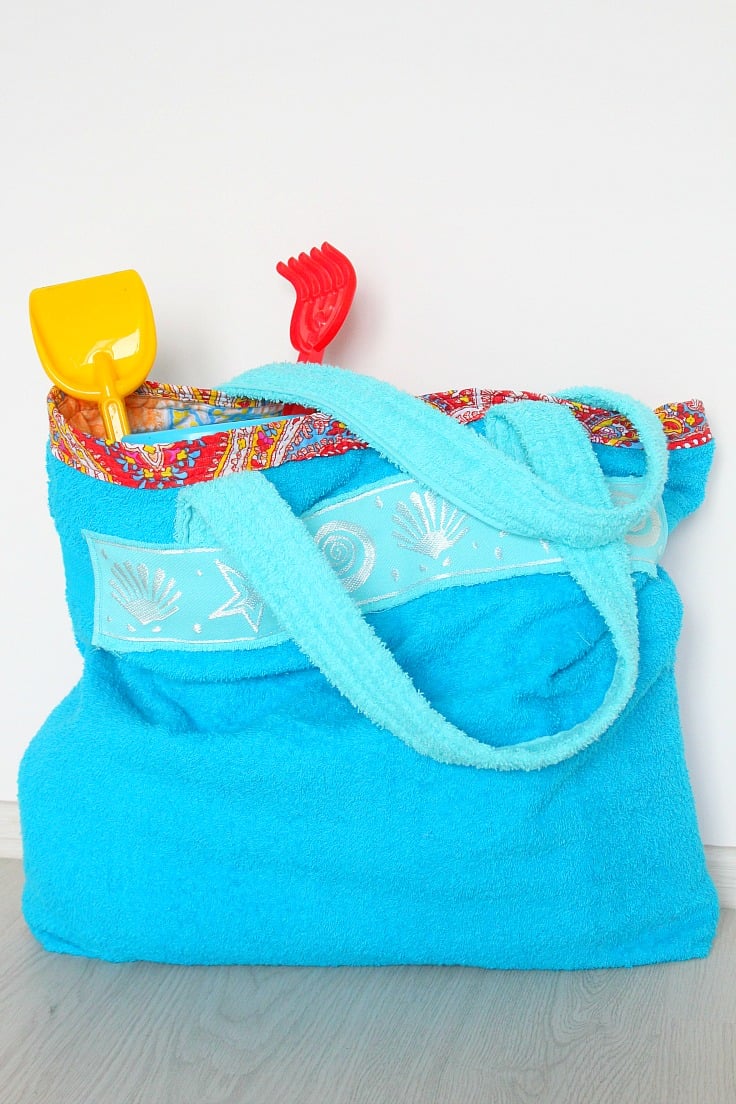 Ever wondered how to make a beach bag out of a towel? It's insanely easy to sew and loads and loads of fun to wear! This towel bag is a super easy summer project, perfect for the beginner sewist and a great opportunity to recycle an old towel! Read along as I show you how a beach towel turns into bag in just a matter of minutes! You'll want to make a ton of these babies!
The end result is a beach bag that is cute, functional, easy to carry and very comfortable to wear on your shoulder. I couldn't wait to wear mine at the beach and I did it for the entire period spent with my husband on his cruise ship, even when I wasn't killing time by the pool. This is great to wear at the pool too by the way!
Similar posts you might like:
My towel bag tutorial is for a large beach bag that is super, super simple to make if you don't want to make your tote lined as I did; totally optional. I wanted to add lining to mine only because I really really liked the fabric I used for the lining and just wanted to add a pop of color to my tote bag. The fabric is from a pillowcase and I've sewn the lining to peak out a little all the way along the opening of the bag. Isn't it cute like that?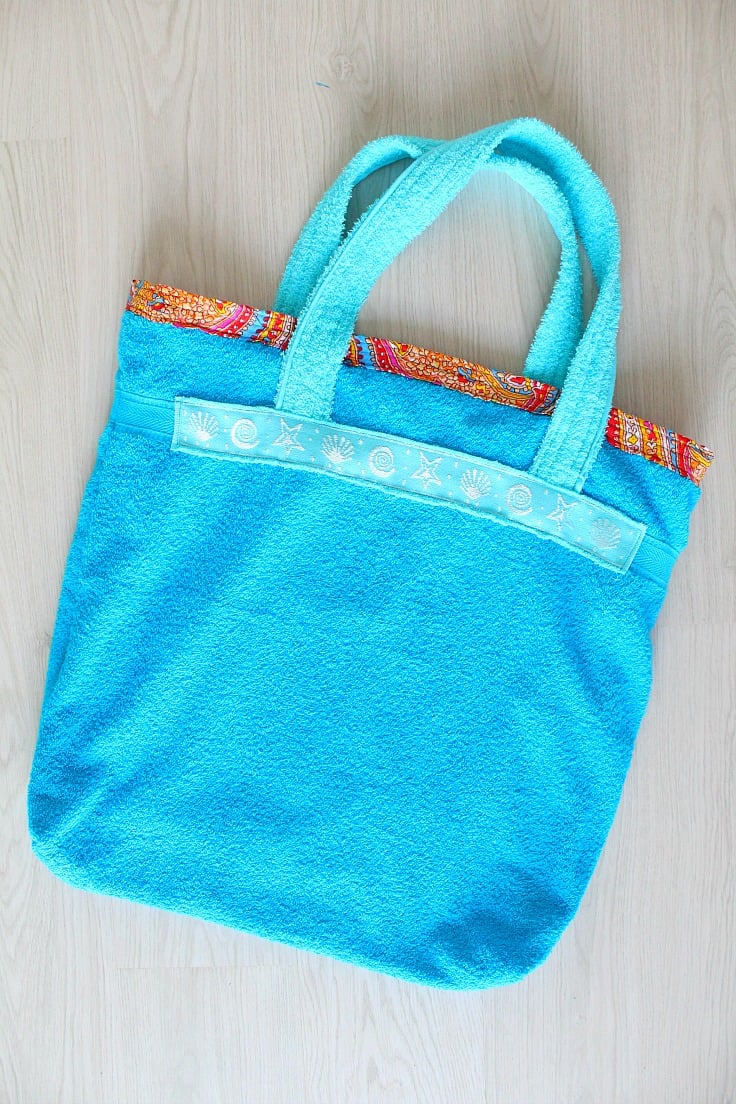 I picked a very large towel for my towel bag, in a slightly darker blue and 2 little towels in a lighter shade of blue for the handles and the front design. The reason I made this rather large beach bag so ginormous is because I always have to carry about a zillion beach toys, 5 different types of sunscreen, 2 short and long sleeve t-shirts or cover-ups, 4 different sets of swimsuits, water and snacks. Just to mention the "bare necessities" lol
There's never enough room in my old beach bags so I needed a gigantic one! I call it the Monster Beach Bag! But it's still darn adorable, in spite of the size, don't you think? But the most surprising part is, though it's so big and obviously carries lots of stuff, this towel bag is so comfortable to wear, it will not hurt your shoulder a bit, because it's got so much soft padding on the handles.
Towel Bag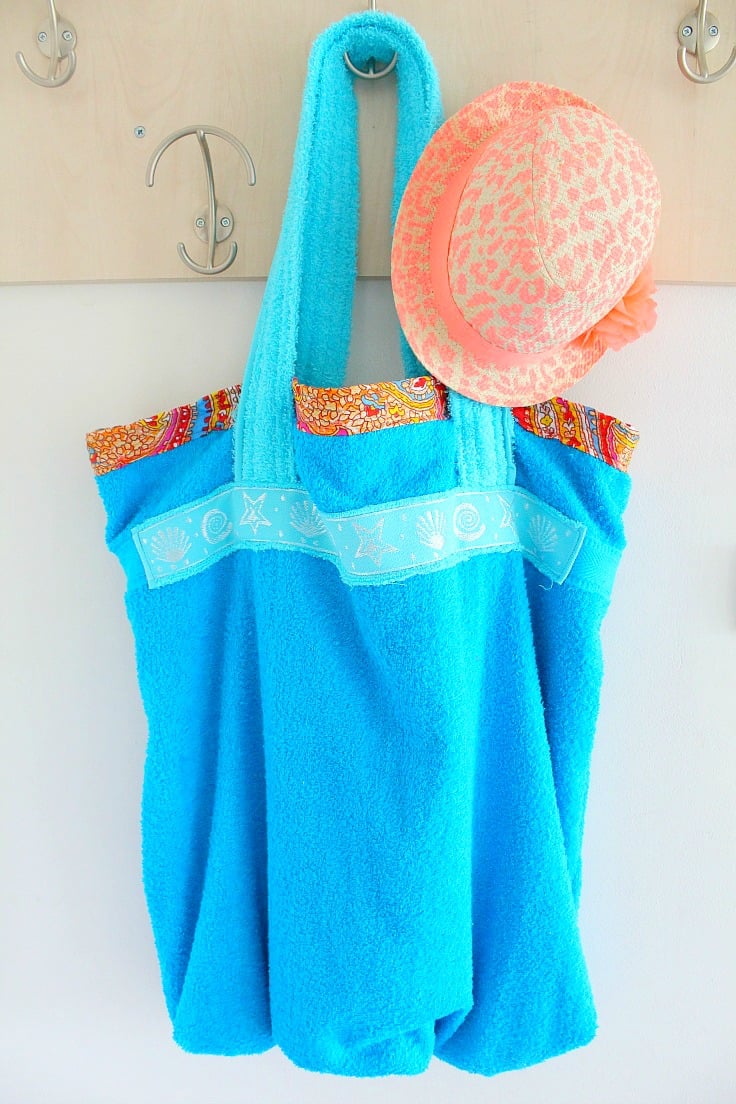 Materials:
Directions:
First of all, expect lots of lint so make sure your clean your machine often. Go slow over bulky areas.
Make the handles: grab one of the light blue towels and cut the fabric the length and width you want your handles to be (I cut mine 26″ x 6″ = 67 cm x 13 cm). I kept the seam from my towel and cut around it to get the length and width I needed. Split the width in 3 and make marks.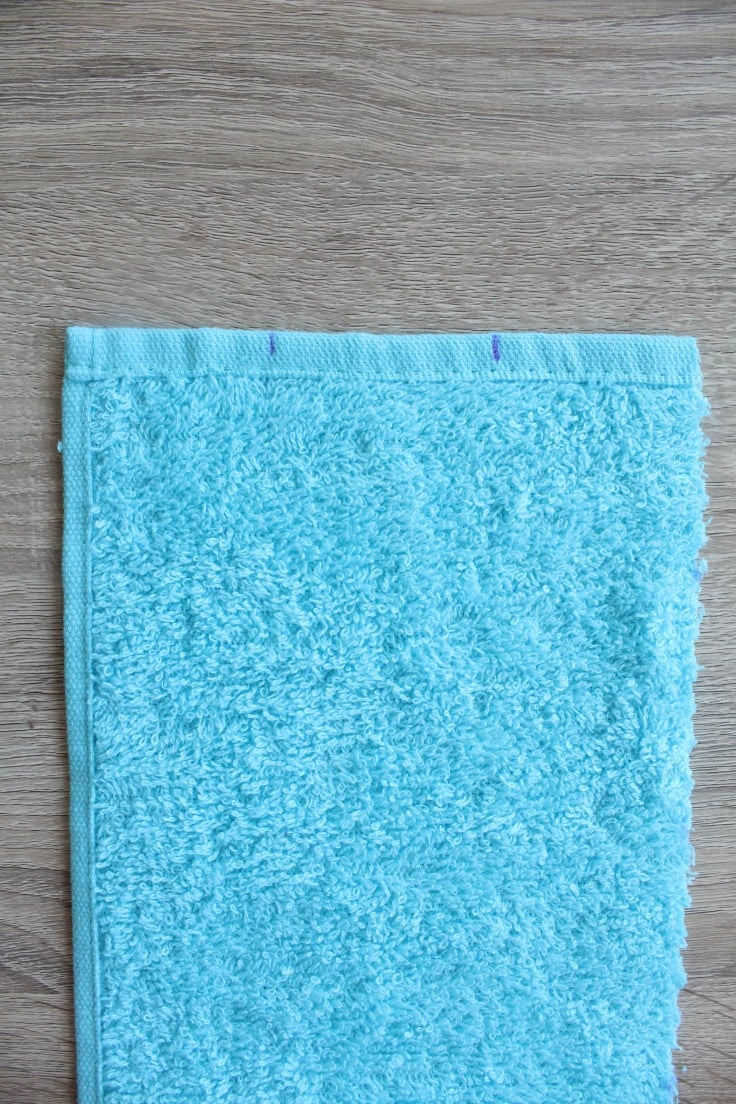 Using the marks, fold the side with the raw edge in, then fold the side with the finished edge.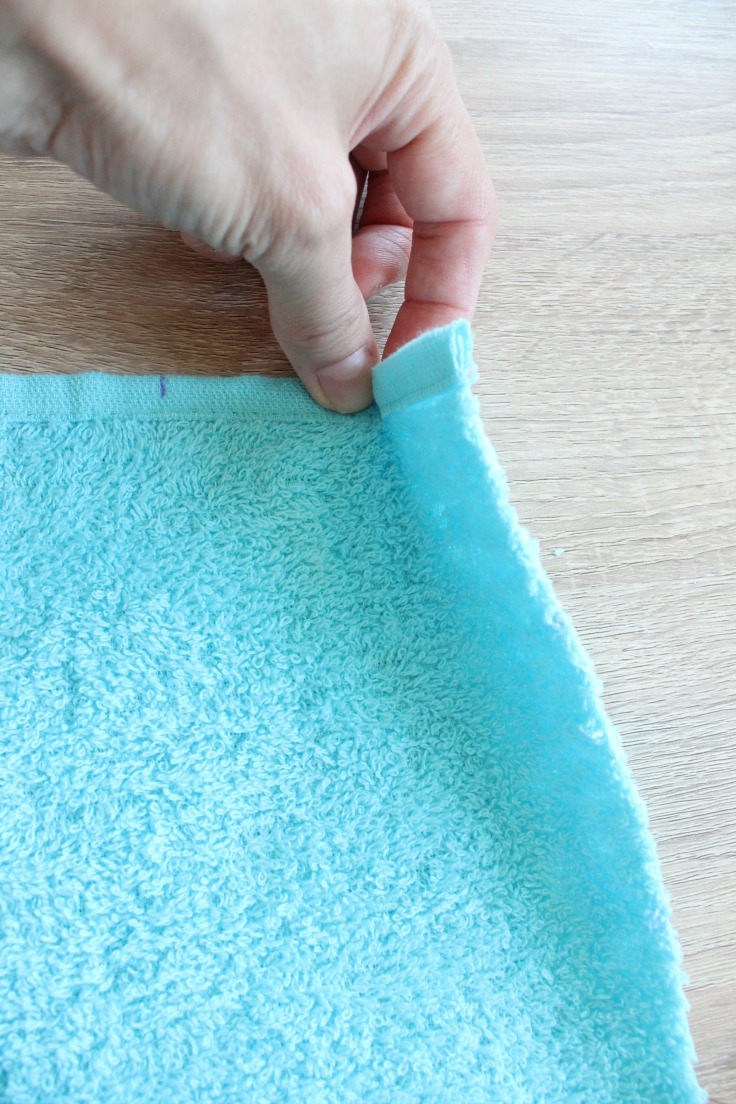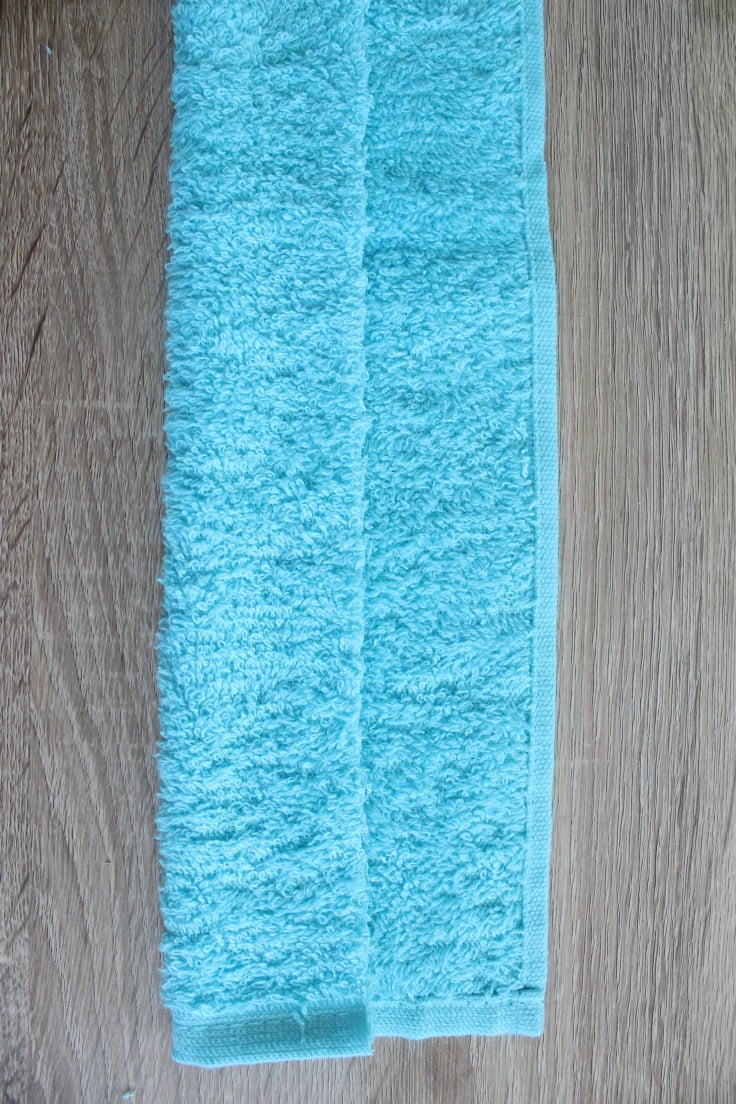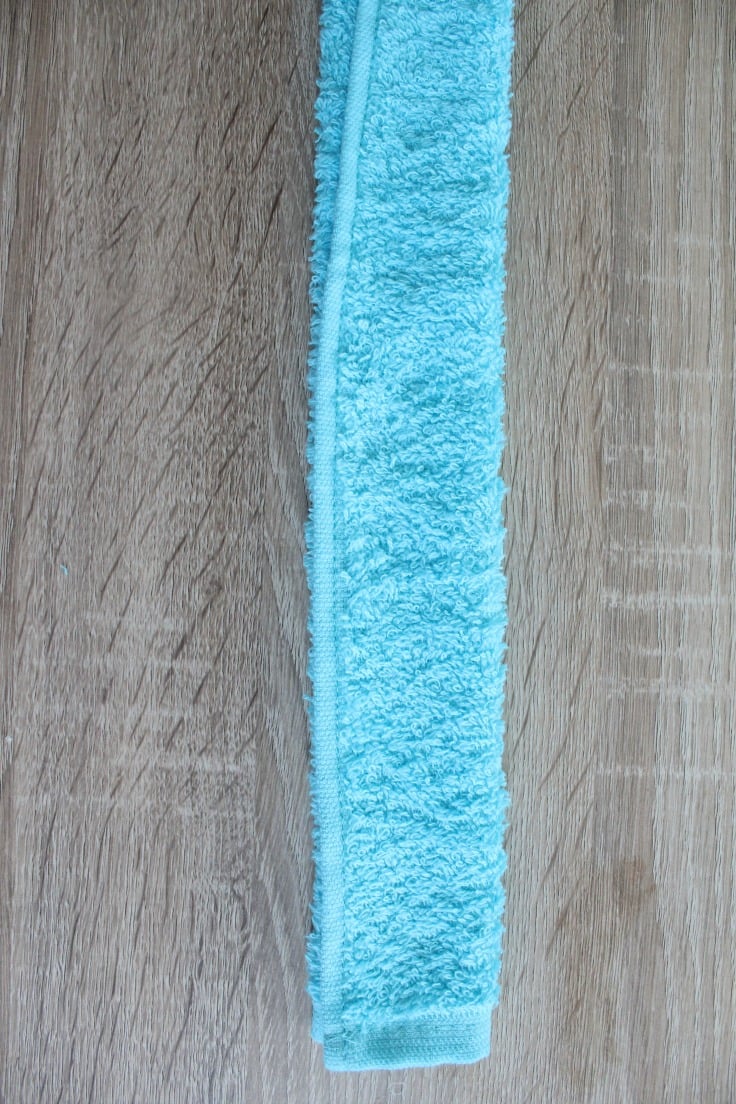 Sew along the finished edge, on the inside (I had to sew with a 1/8″ allowance). Then sew along the other side, using the same allowance. Then sew 2 more stitches inside the handle.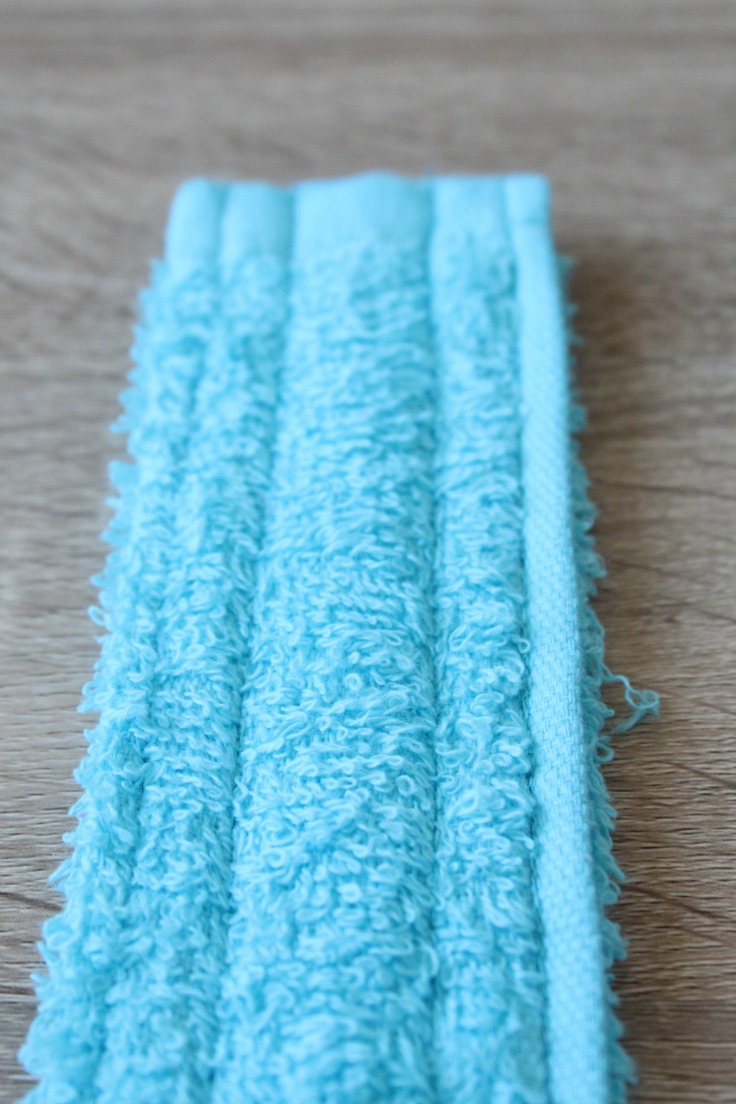 Take your large towel and place it on the table right side out.
Divide into 3 and make marks. Attach the handles where you made the marks and sew the handles down, about 2″ from their end up.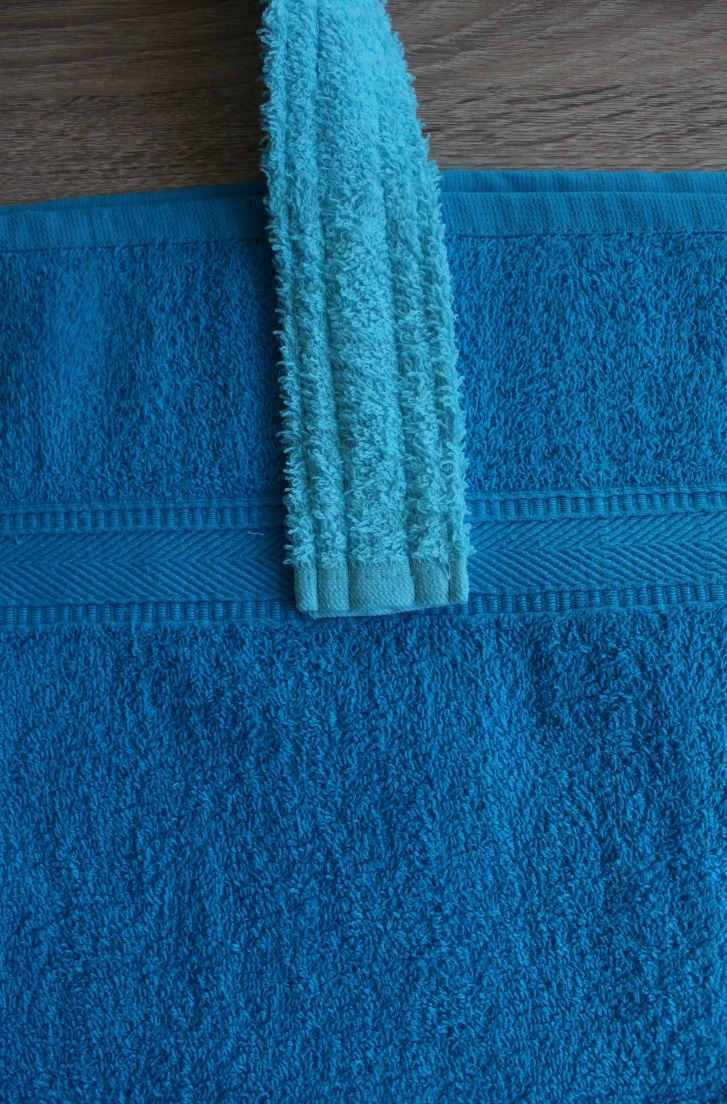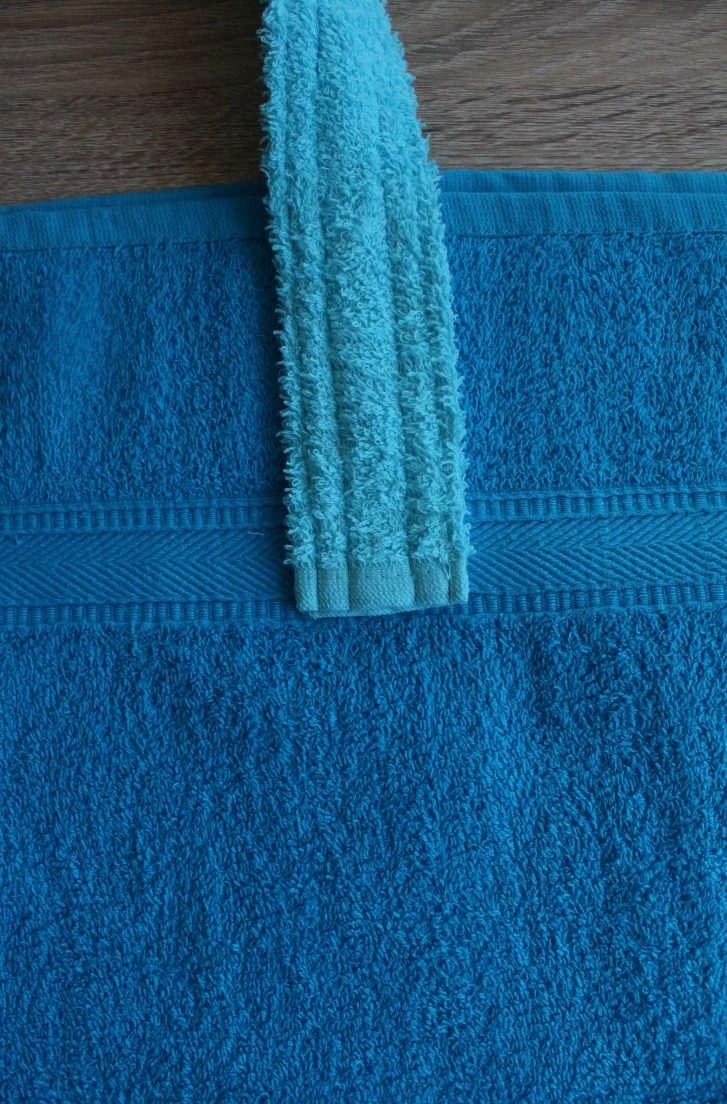 Cut out the design on the other light blue towel and place it over the handles, horizontally, right side out, then sew along all sides.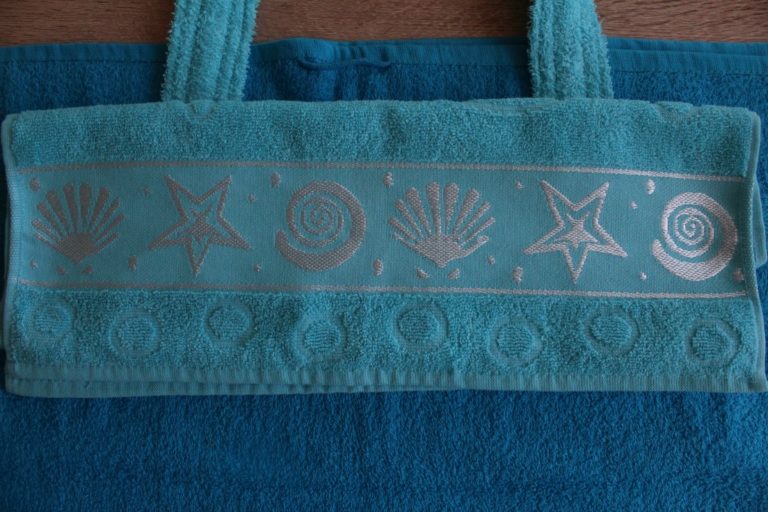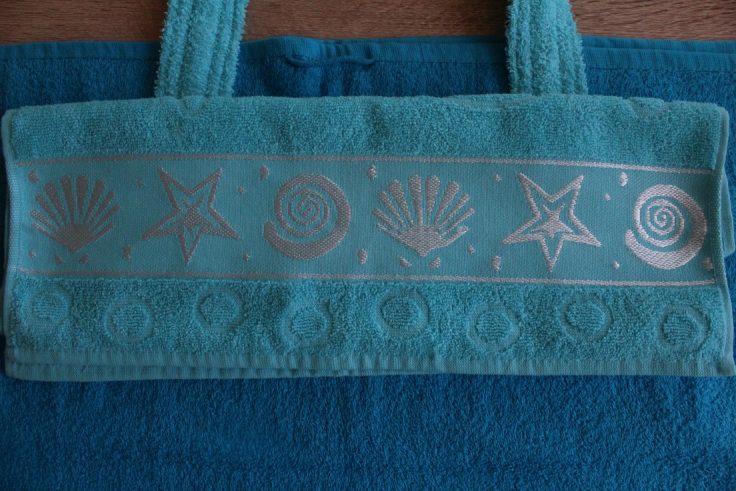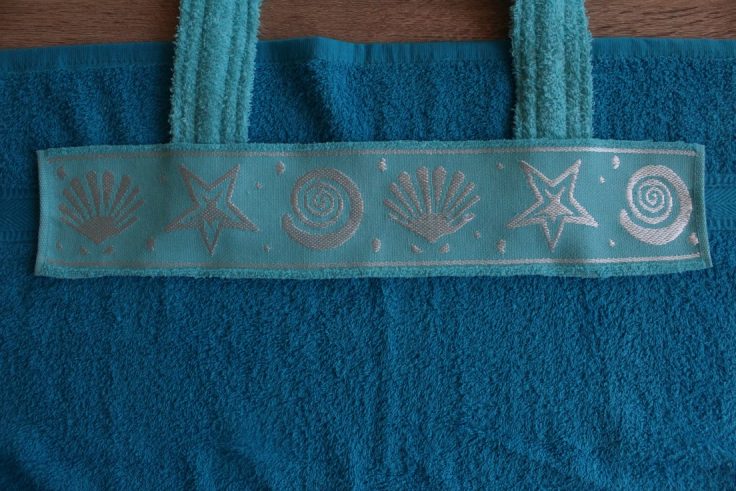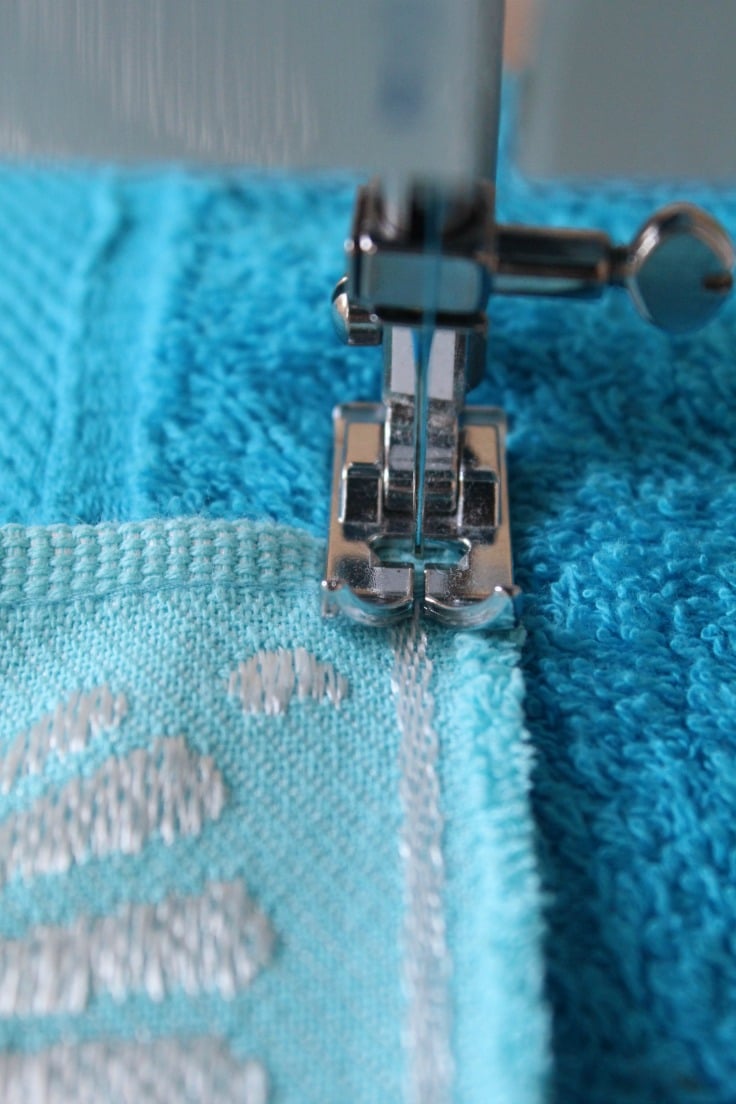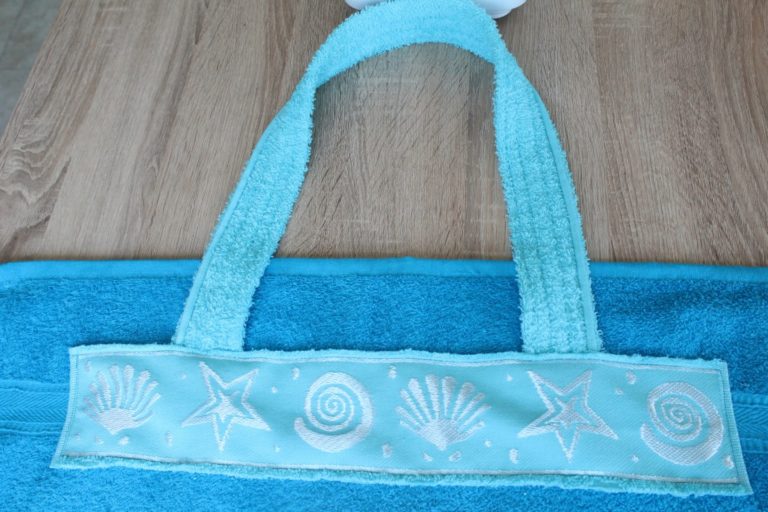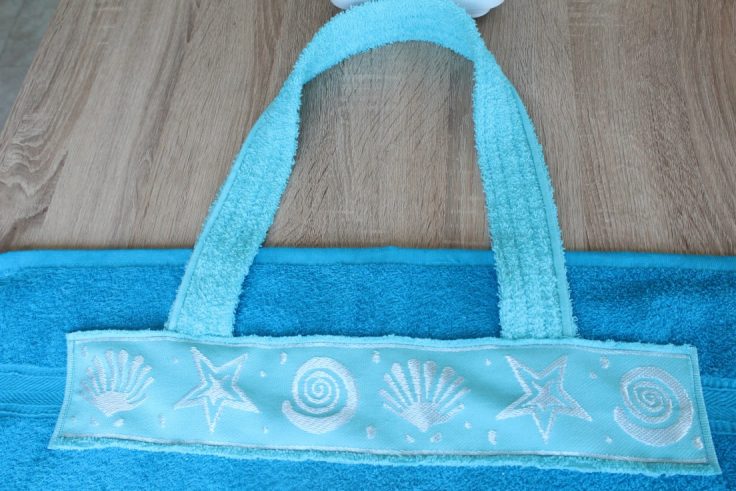 Now fold your towel in half, wrong side out and sew along the sides only, using a 1/2″ allowance.
Box the bag using any of these methods. I used the first one.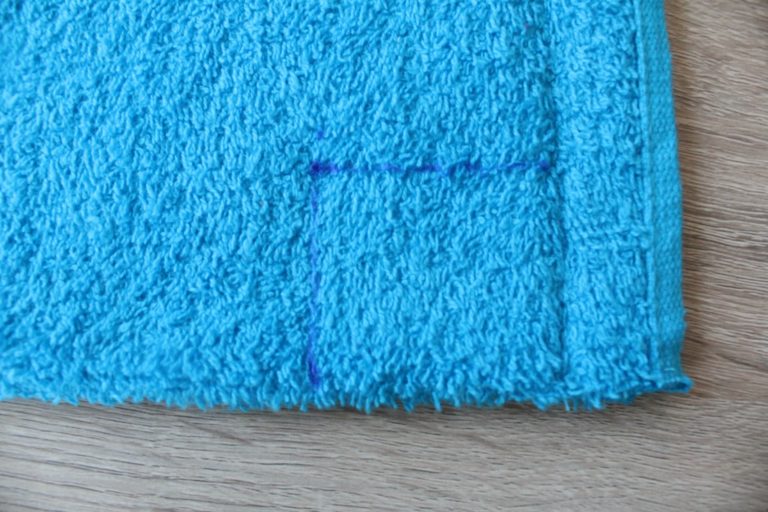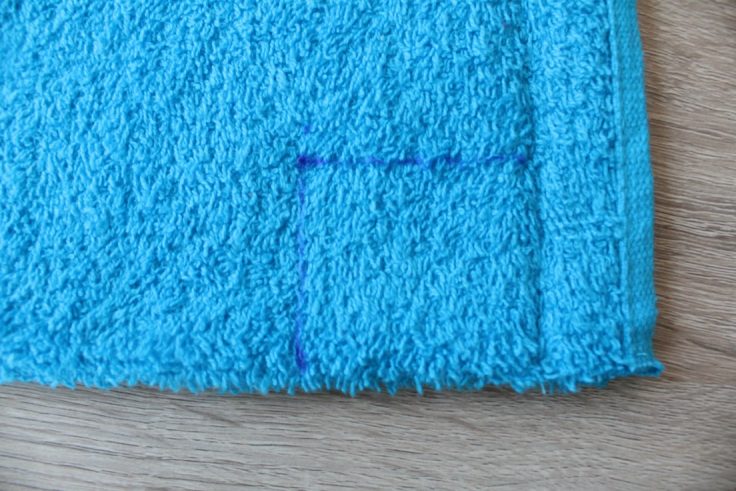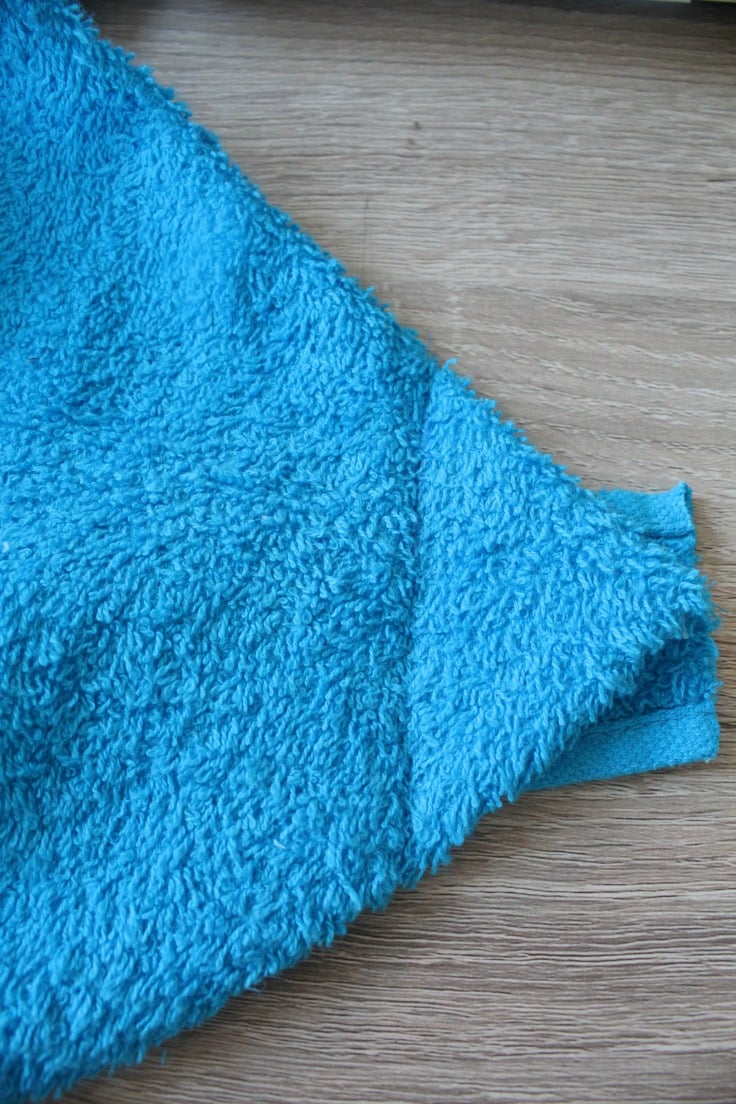 Unless you want to line the bag as I did, you're done!
If you add the lining, follow these steps. Cut the fabric as instructed in the materials section. Finish the edge of the opening by folding 1/2″ of the fabric.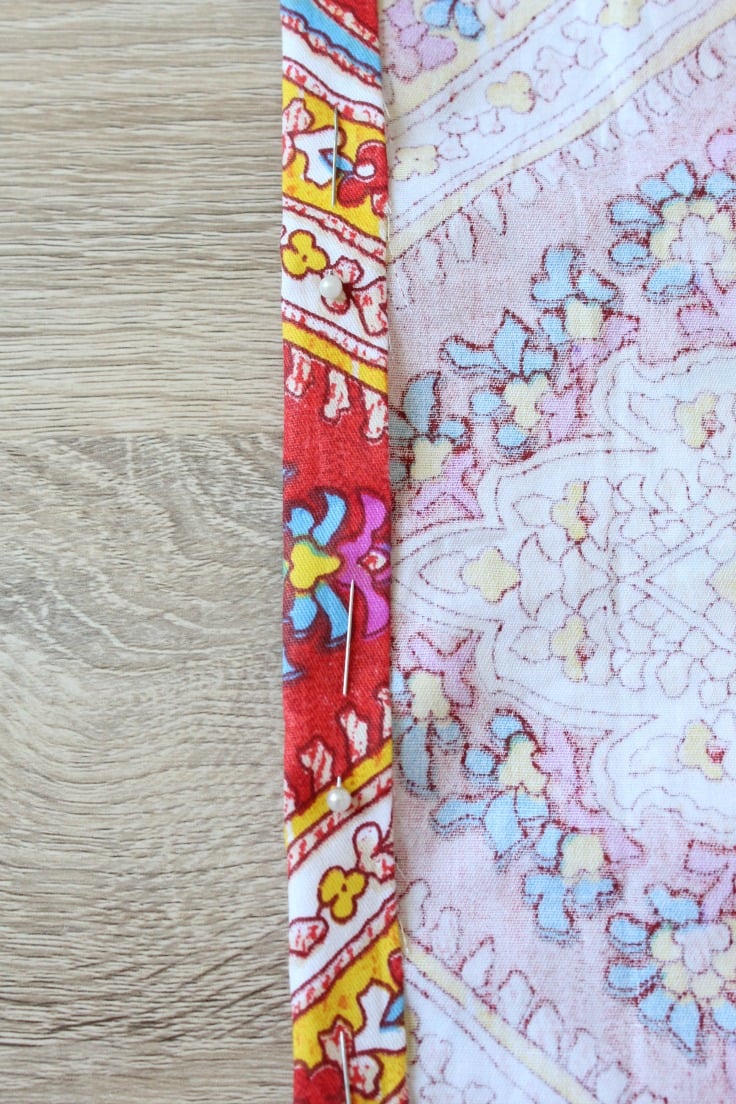 Fold the fabric, wrong side out and sew along the sides.
Insert the lining into main bag, keeping it wrong side out while the bag is right side out. The lining should be 2″ taller than the main bag.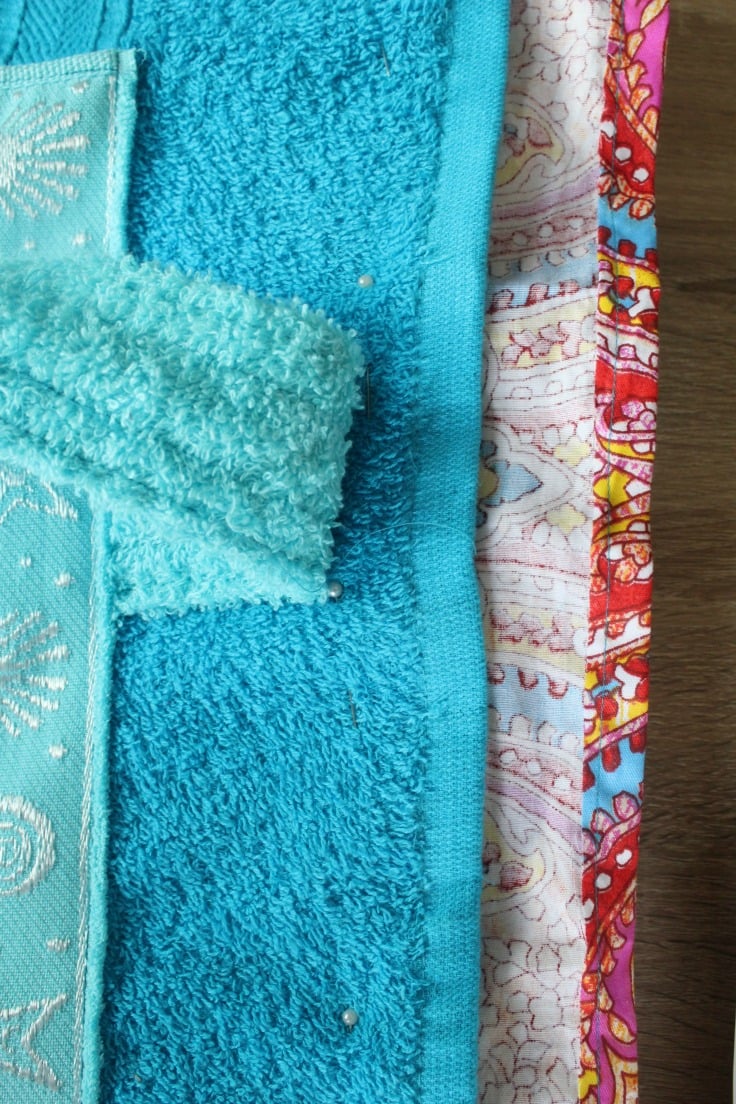 Fold the excess lining fabric over the bag opening and pin in place.
Sew 1/8″ away from the edge of the folded lining then sew 3 more stitches along the opening.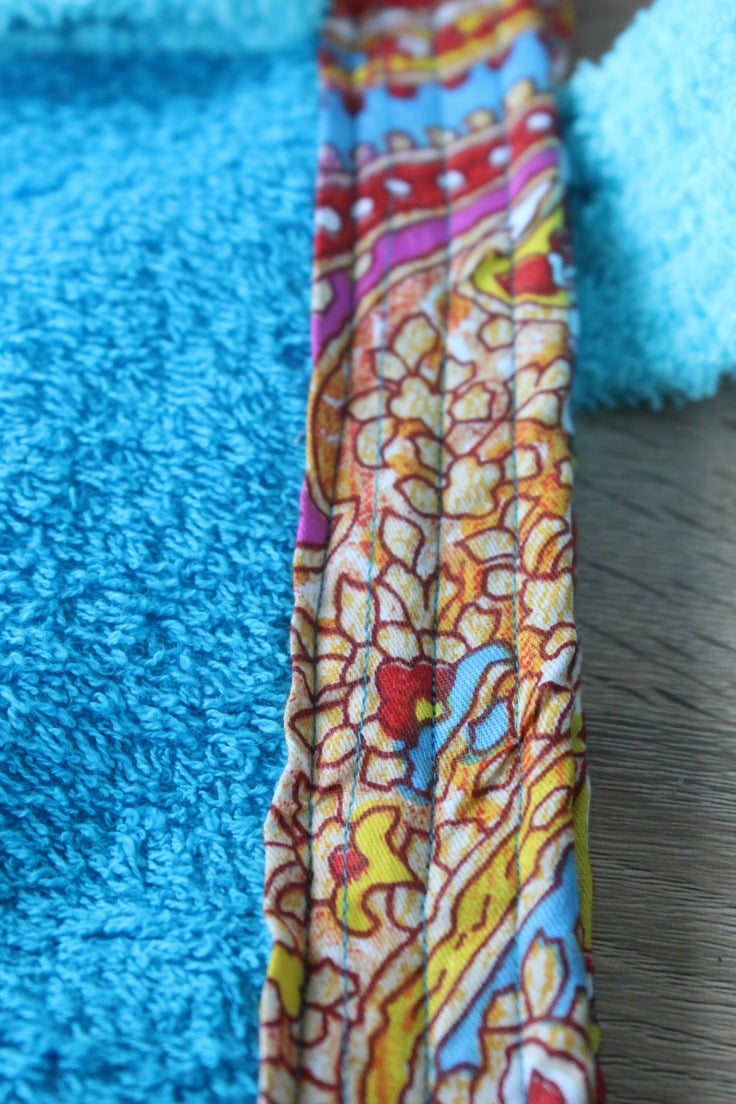 Your bag is done! Enjoy your beach time!
Pin to save for later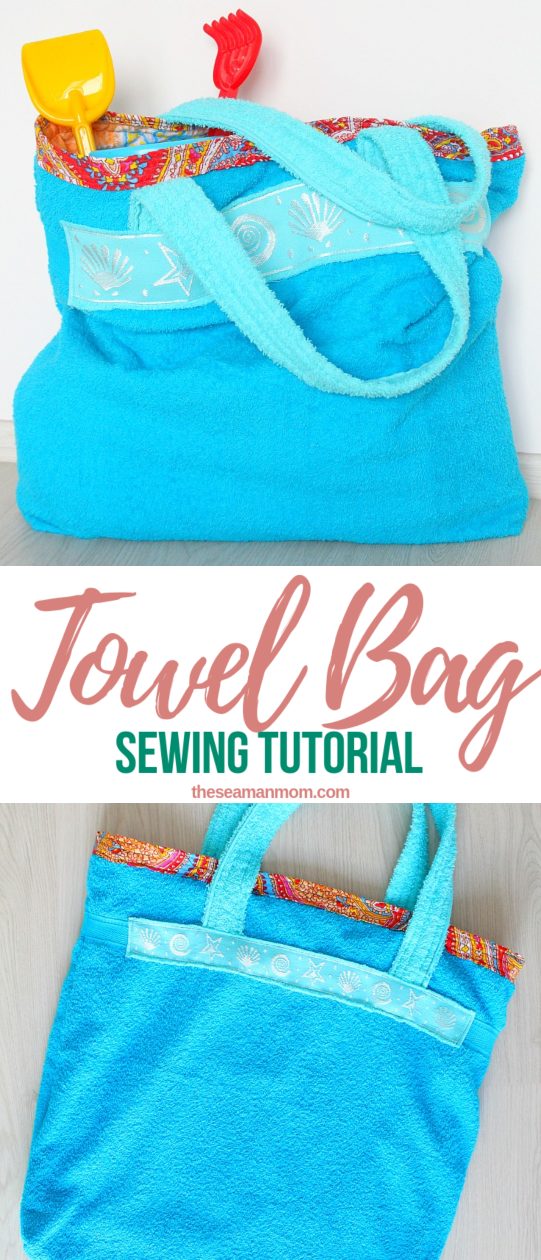 Most popular sewing projects: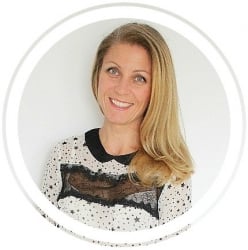 Hi, I'm Petro, author and founder of Easy Peasy Creative Ideas. Sewist, crafter, avid DIY-er, foodie, photographer, homemaker and mommy to one. I'm an expert at coming up with quick, clever sewing tips, recycling crafts and simple, easy recipes! You can find my ideas featured in reputable publications such as Country Living, Good House Keeping, Yahoo News, WikiHow, Shutterfly, Parade, Brit & Co and more. Thanks for stopping by and hope you'll stay for a while, get to know me better and come back another time. Stick around for real fun projects!