Learn how to make a rope bag and build a fabulous rope tote, using your basic sewing skills and some humble rope. This cool rope bag is perfect for the beach, the market or for picnics!
DIY Rope Bag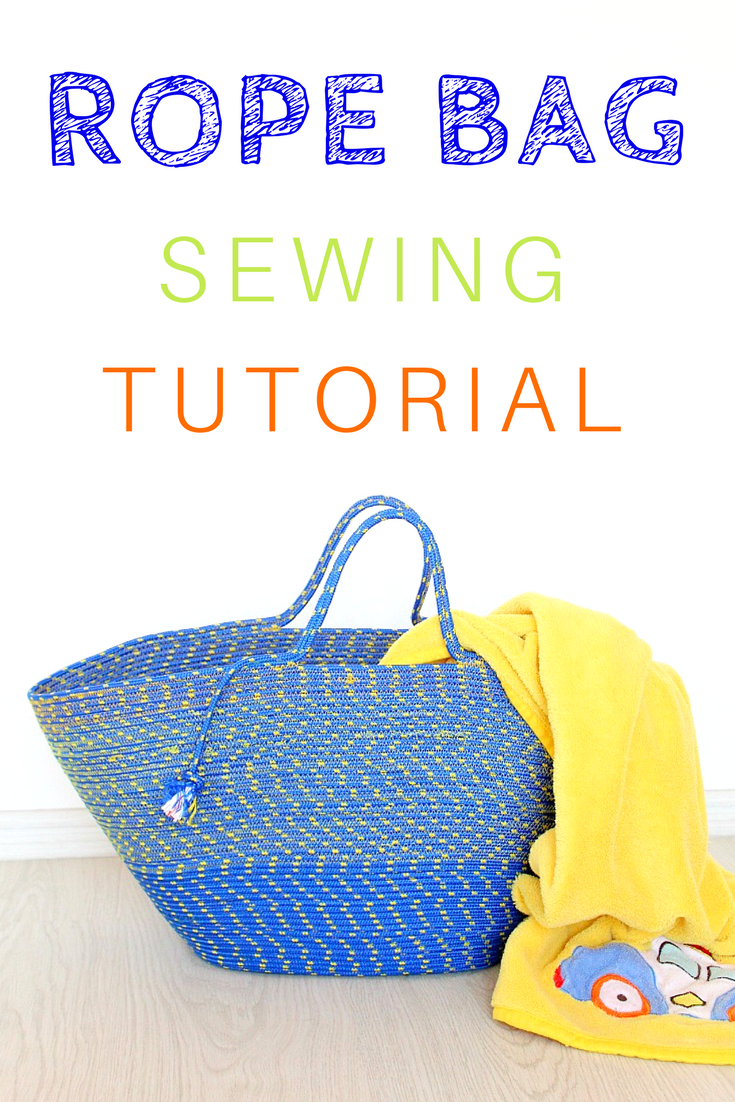 Have you ever wanted to learn how to make a rope bag but the thought of sewing over thick rope got you scared? This super cool rope bag is truly one of the easiest sewing tutorials for beginners! All you need are some basic skills and patience.
Need more rope sewing projects?
I've used rope before to make these cute and practical rope bowls but I never tried the technique on larger projects like this rope bag. I was a bit scared myself because I thought it's going to take a log time to finish such a project and it will be hard to handle once the bag starts getting bigger. Plus sewing thick fabrics has never been one of my  strongest skills.
Turns out, I was wrong, I think I've just made the best rope bag ever! While it's not a 15 minutes project, this rope bag pattern took about a couple of hours to complete which I think is not all that bad, considering the stunning result! I love how sturdy and practical this rope bag is, I can see myself toting it to all kinds of summer events, at the beach, for picnics and barbecues and even at the market, perfect to carry my bread and produce. It would make a great handmade gift too! You gotta love easy sewing tutorials for beginners like this one!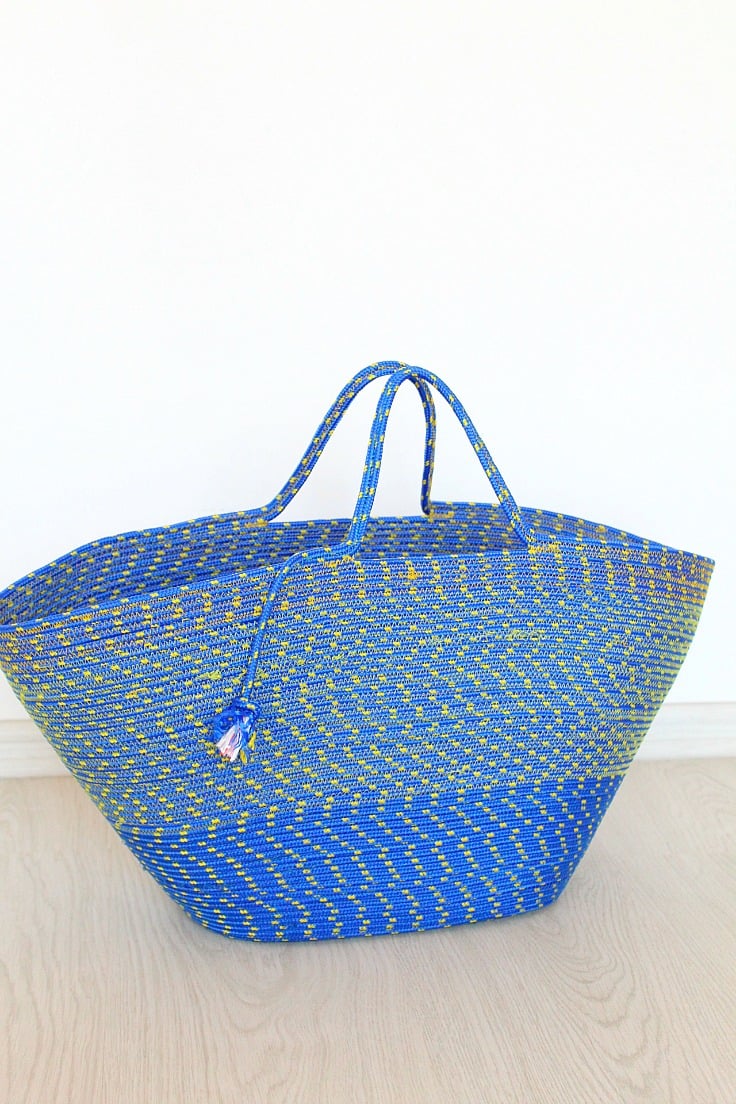 I've chosen a blue and yellow rope because I wanted my rope bag to look bright and cheerful but any color would do. I used matching thread on the bottom part and 2 shades of yellow thread for the middle and top. Also I used a tighter zig zag stitch than in my rope bowls I mentioned above as I wanted the bag to be real sturdy and durable. I made short handles so the bag is practically a handbag but if you want to make a shoulder bag, make the handles longer.
Doesn't this awesome rope bag totally inspire you to make one right now? So wonderful and doable, perfect project to bookmark to your sewing tutorials for beginners. Here's how to make a rope bag. Have fun!
Rope Bag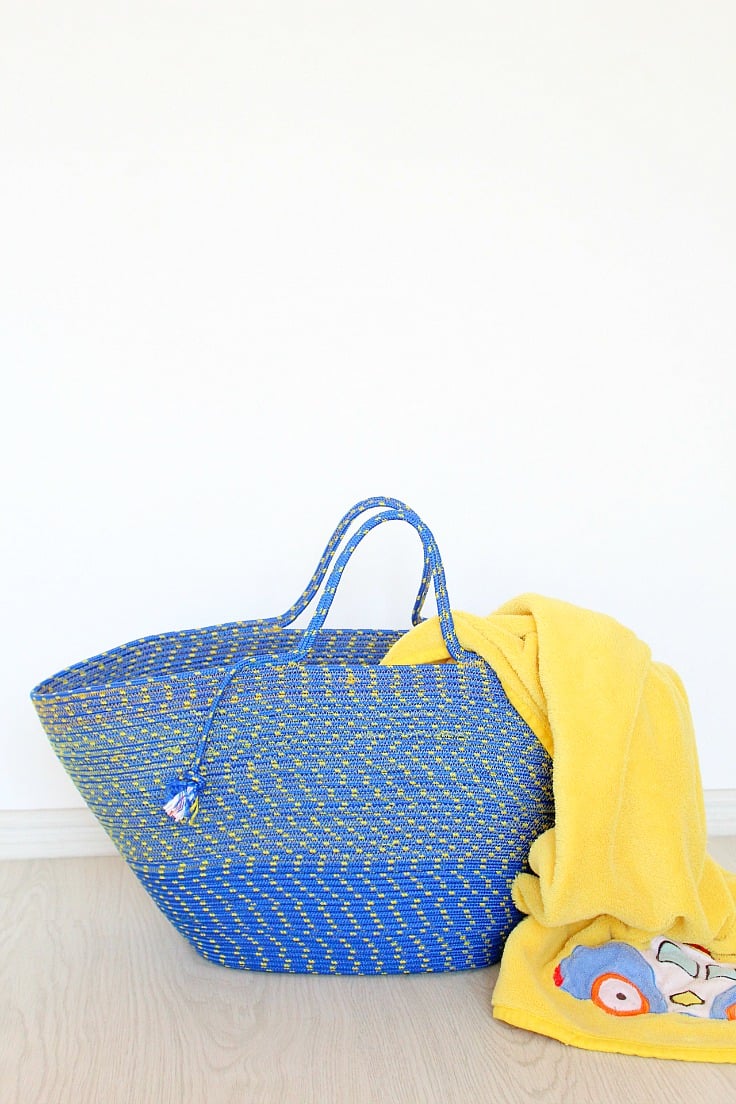 Materials:
200 feet (you can go up to 300 if you want a larger bag and longer handles) 1/4″ rope in color of choice
matching or contrast denim thread (or both)
measuring tape
pins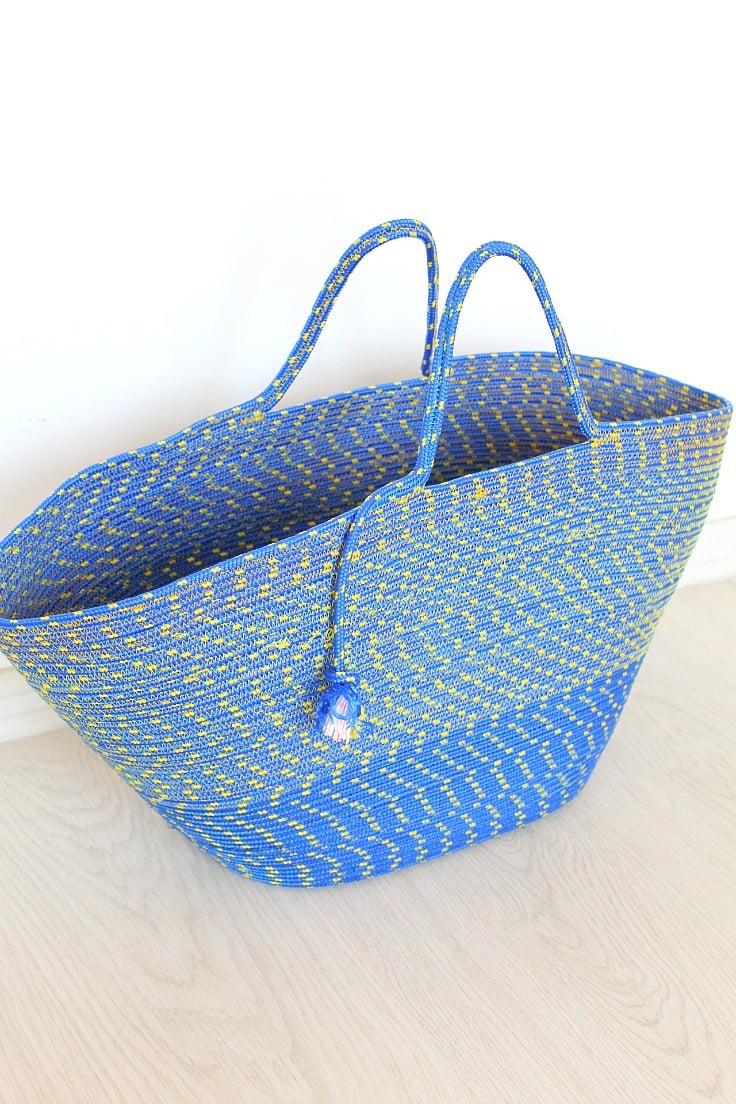 Directions:
Make the base
Measure 12″ out of your rope and fold it in half into a 6″ piece.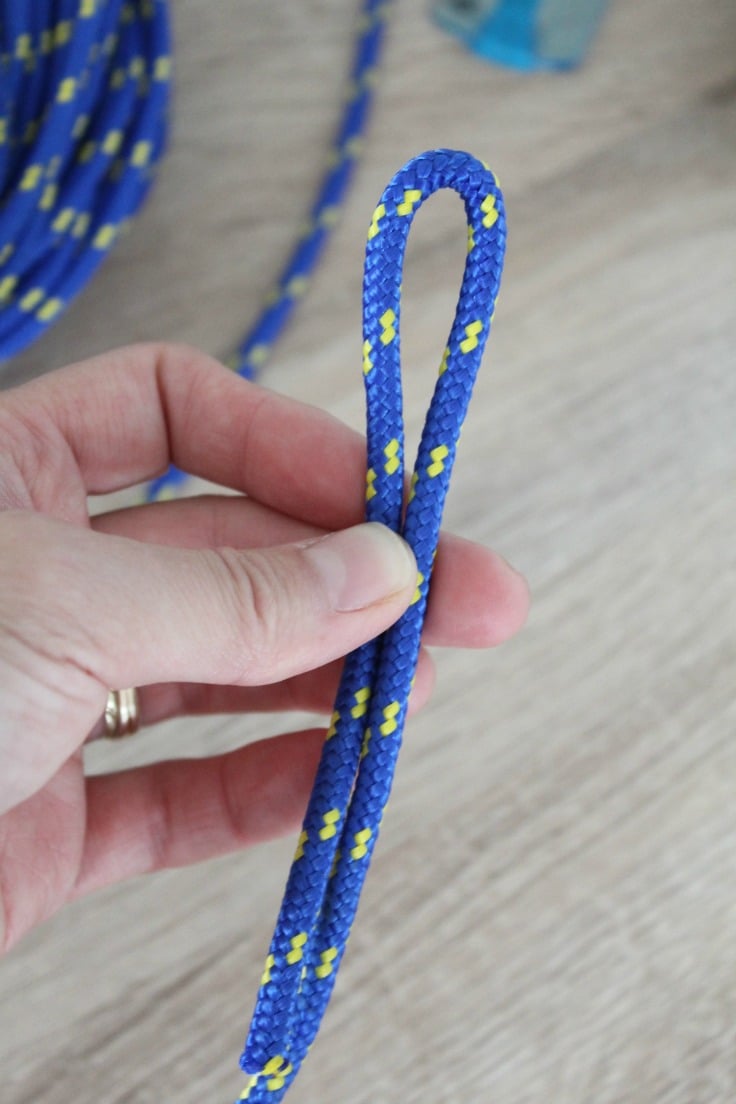 Place the fold under the presser foot of your machine, with the rope sitting on your lap (bag will start building on the left, rope is on the right – unlike the photo below lol).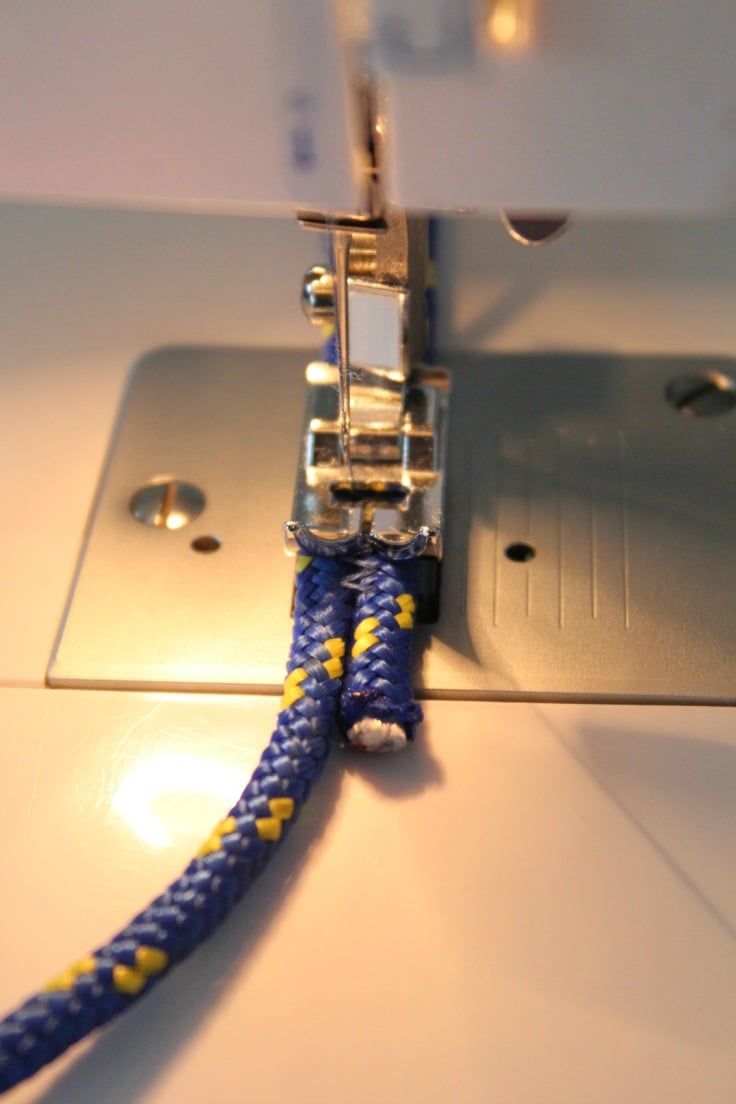 Set the machine to a zig zag stitch that is wide enough to reach both ropes. I used the highest zig zag setting on my machine, a stitch length 2 and thread tension 2. Keep both pieces of rope as close together as possible and keep them centered under the needle. You may need to manually stitch the first inch to keep the pieces together.
Sew down towards the cut end and stop. With the needle in the down position, slowly rotate the sewed strip counter clockwise while using the zig zag stitch to stitch together the curve.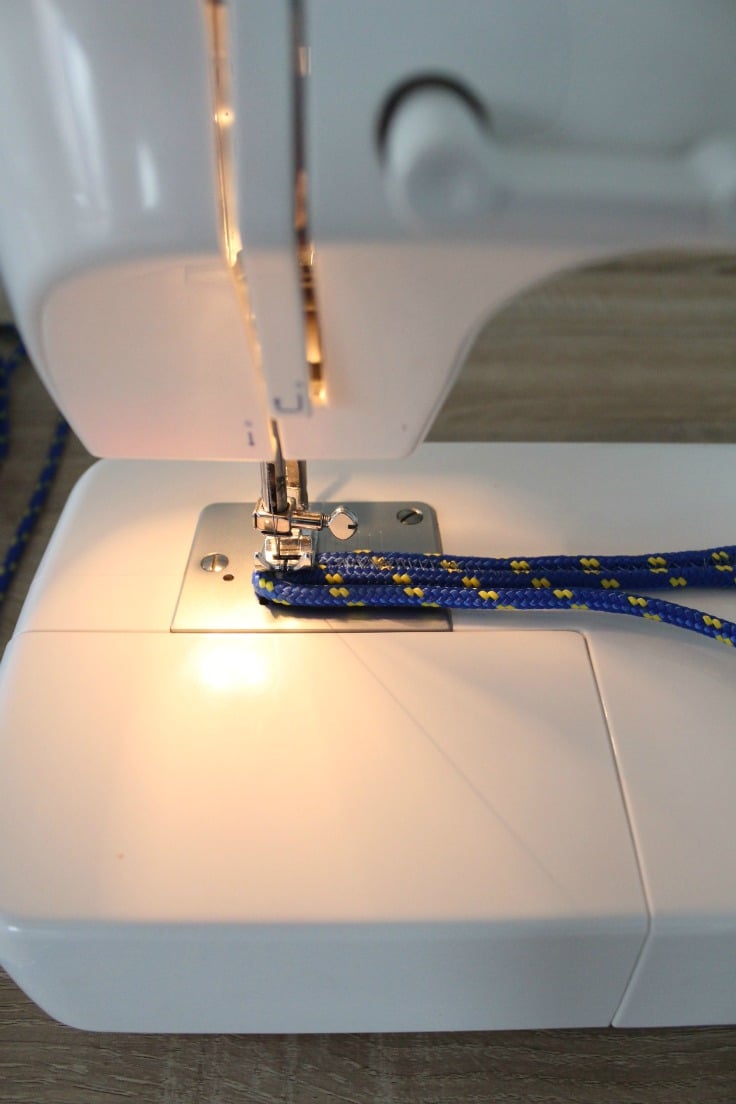 Keep going and you'll notice you're slowly creating an oval! This is the base of your bag.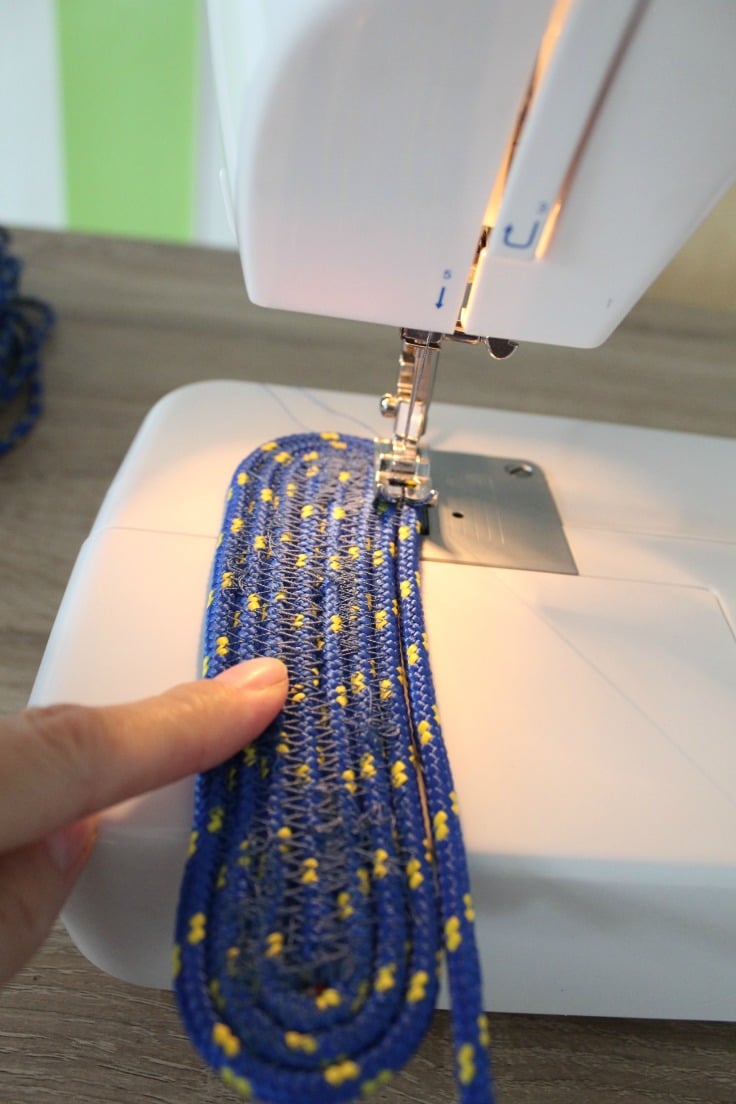 You may end up with gaps, just patch up your sections.
When you feel like your base is big enough, stop but leave the rope in tact. I did 24 rounds.
Sew the body
Now you're ready to start building up the body of the bag. Bring the bottom section upwards, hugging the side of the sewing machine. The rope will start attaching at a deep angle. The more perpendicular you hold the bottom of the bag to the sewing machine, the deeper the angle will be.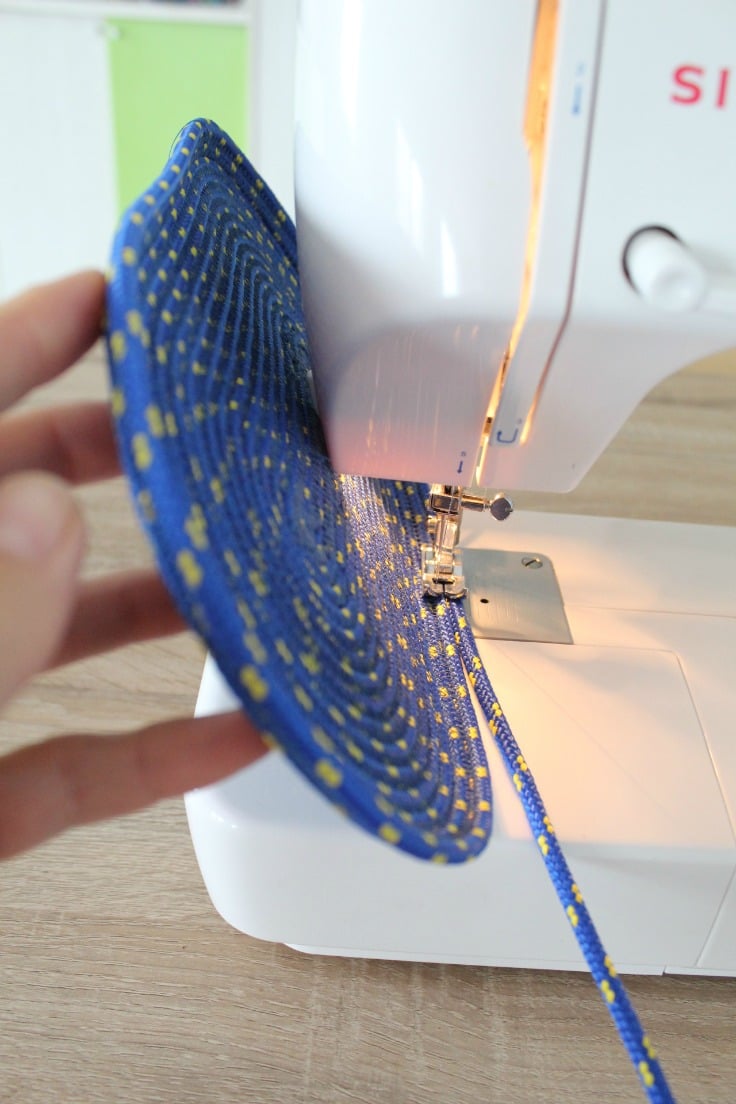 Keep the bottom of the bag at a 90-ish degree angle while rotating and sewing if you want straighter sides. If you want the bag to get wider as mine, start holding it at a slighter angle.
Continue sewing until you've reached your desired height. When you're ready to stop, stop sewing at the curved section while keeping the rope attached!
Making the handles
Pinch the bag in half and measure where you want your handles to fall. Mark with pins.
Put the bag back into the sewing machine and continue the zig zag stitch until you've reached the pin. Give it a few backwards and forward stitches to reinforce the handles.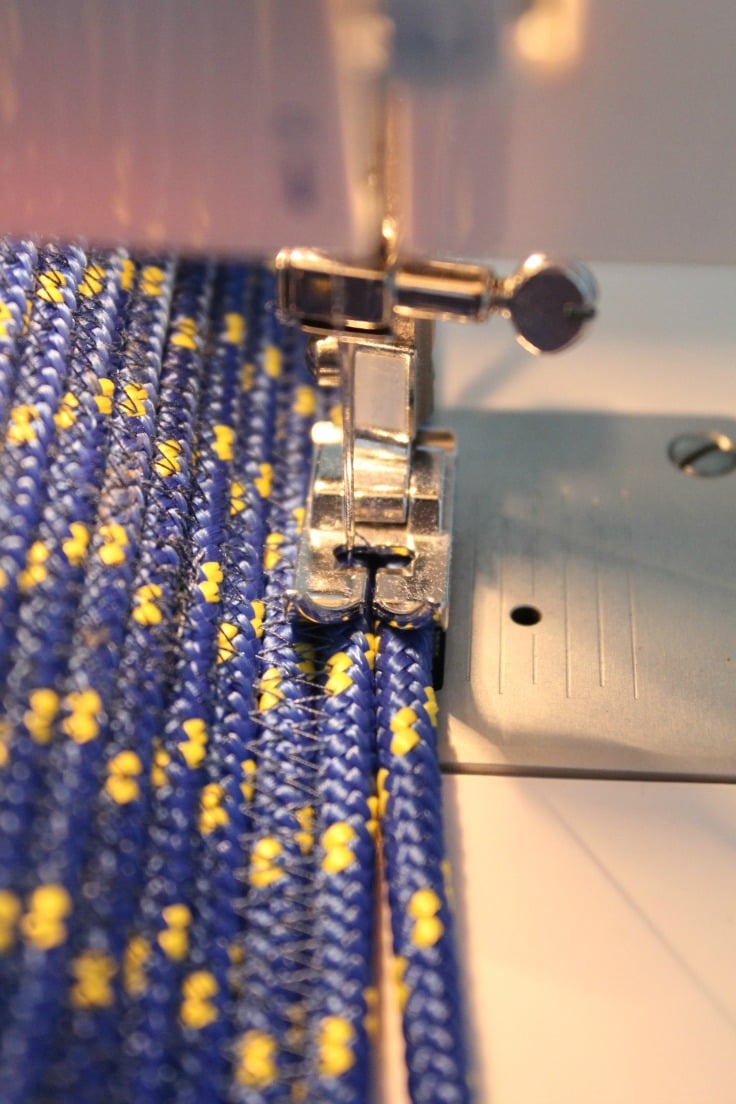 Cut the thread, remove the bag and measure the handles for the desired length. Attach the end of the handle to the existing pin and start sewing again with a few backwards and forwards stitches, until you reach the other side.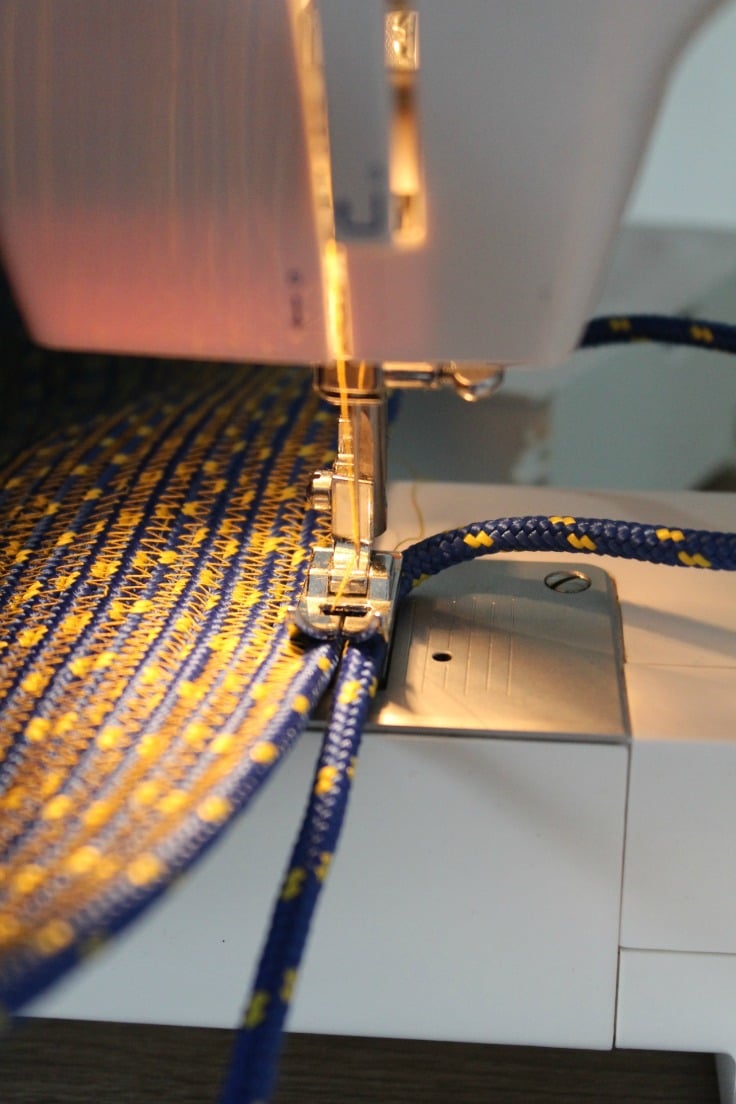 Repeat the steps measuring the same amount of inches on the opposing handle.
Once you've made a full rotation and back at the first handle, keep sewing along the handle for as many times as you like, depending on how thick you want our handle.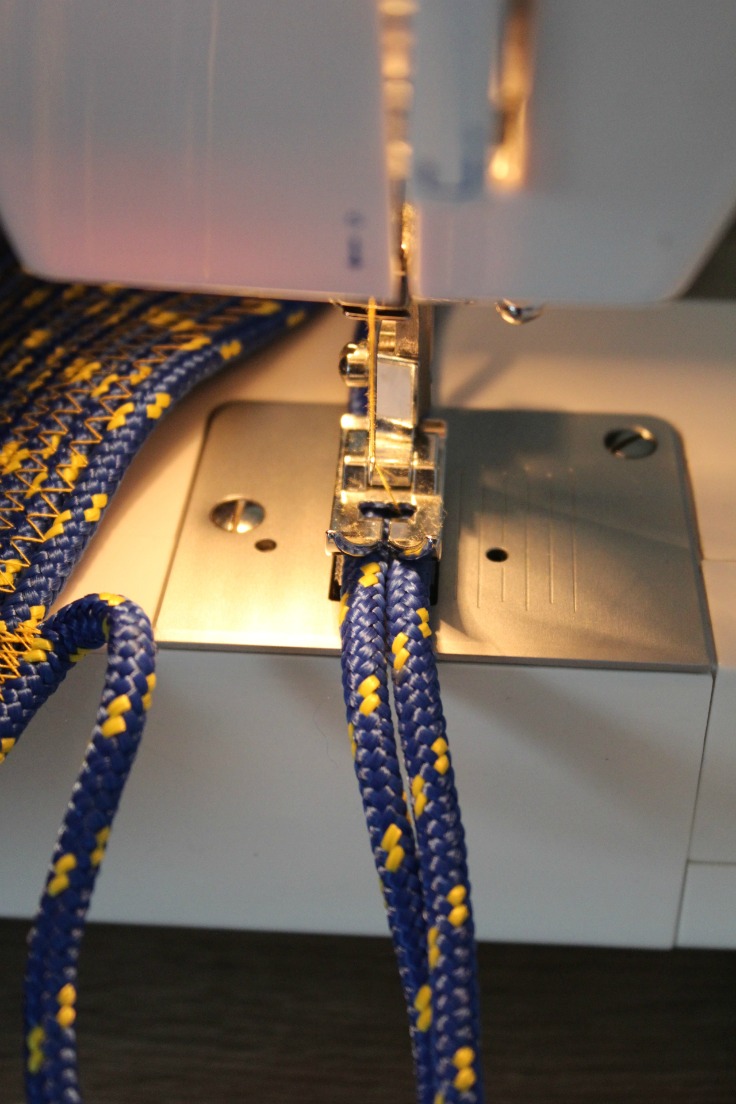 Once you passed the handles for the last time, stitch an inch or so more. Then cut the rope about 4″ away from the bag, make a double knot and unravel the rope end.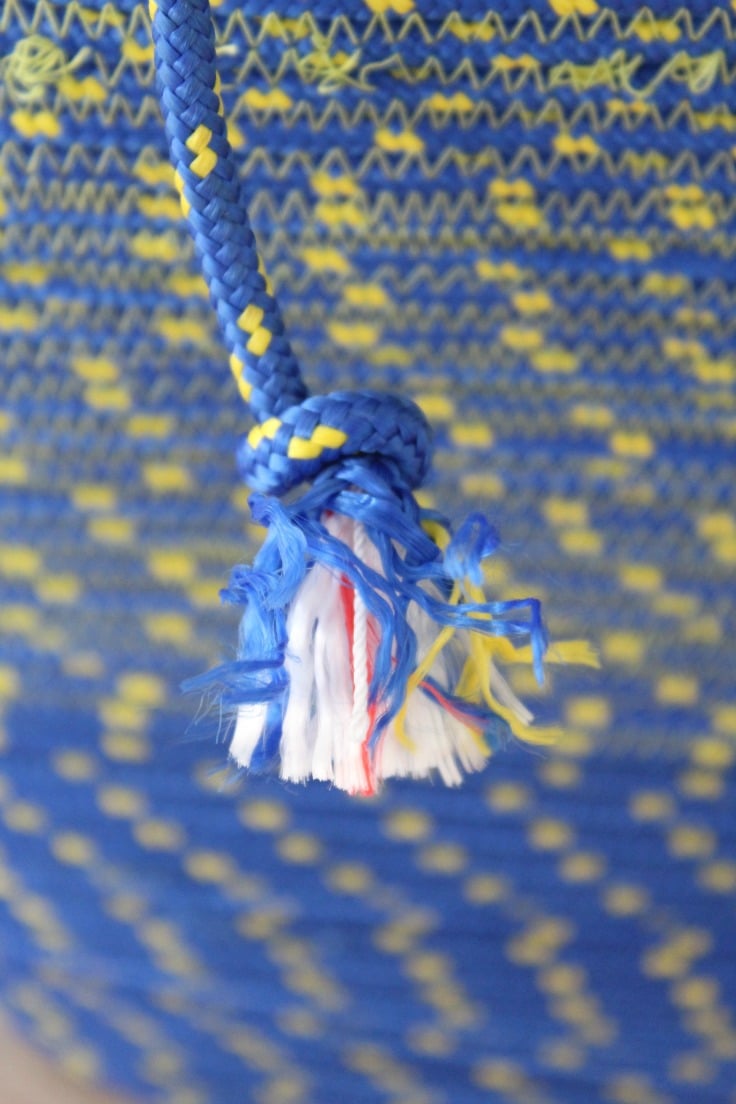 And you've reached the end of this tutorial! Enjoy your new rope bag! Now that you know how to make a rope bag, go make a bunch for your friends and family too! They're great gift ideas!
Pin to save for later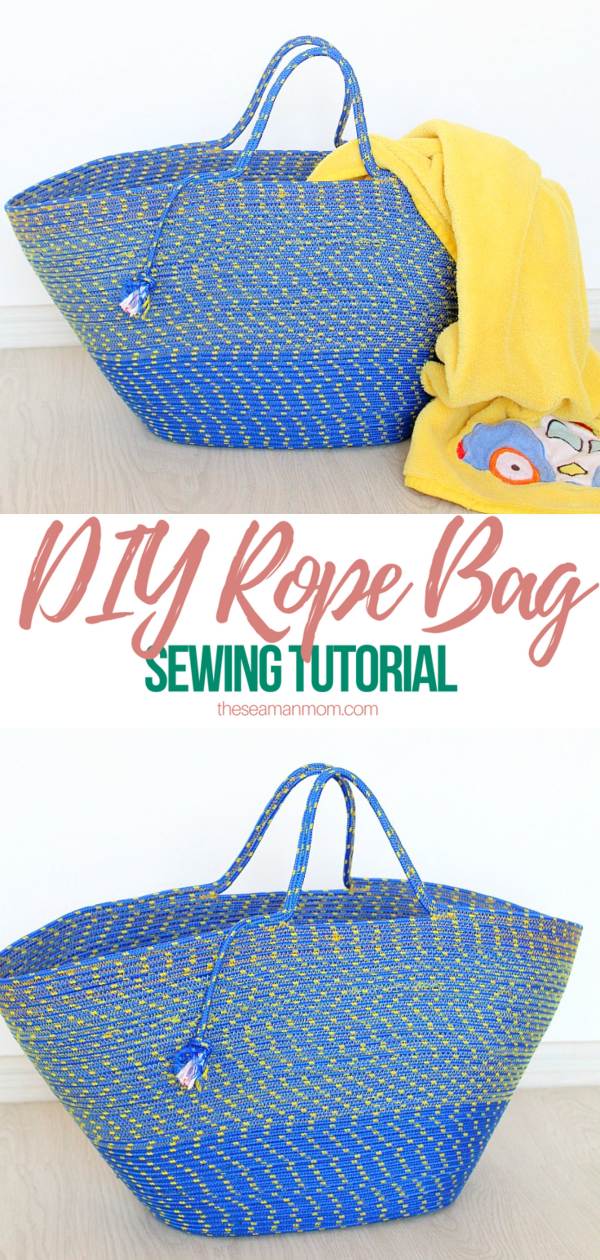 More bag projects you might like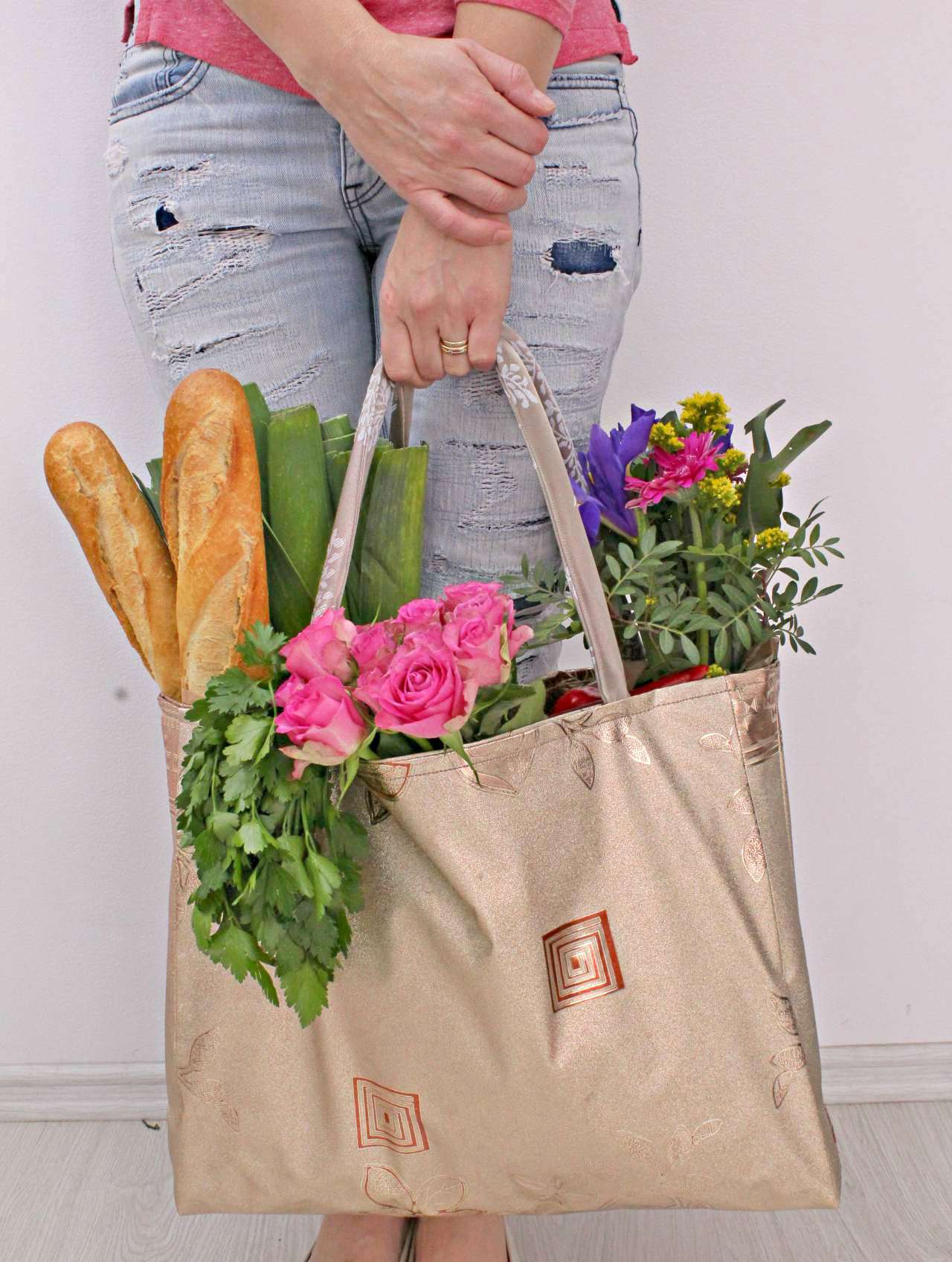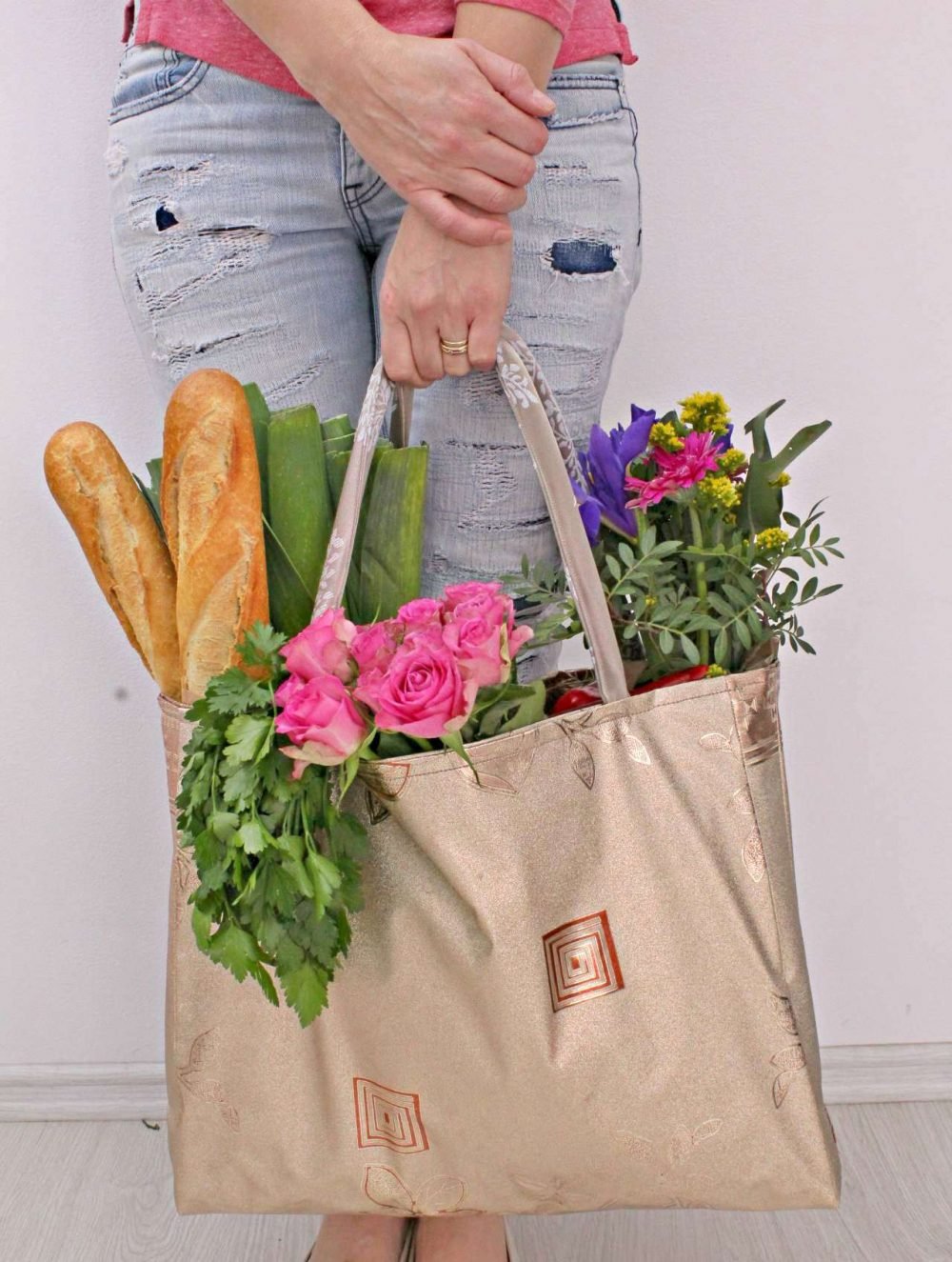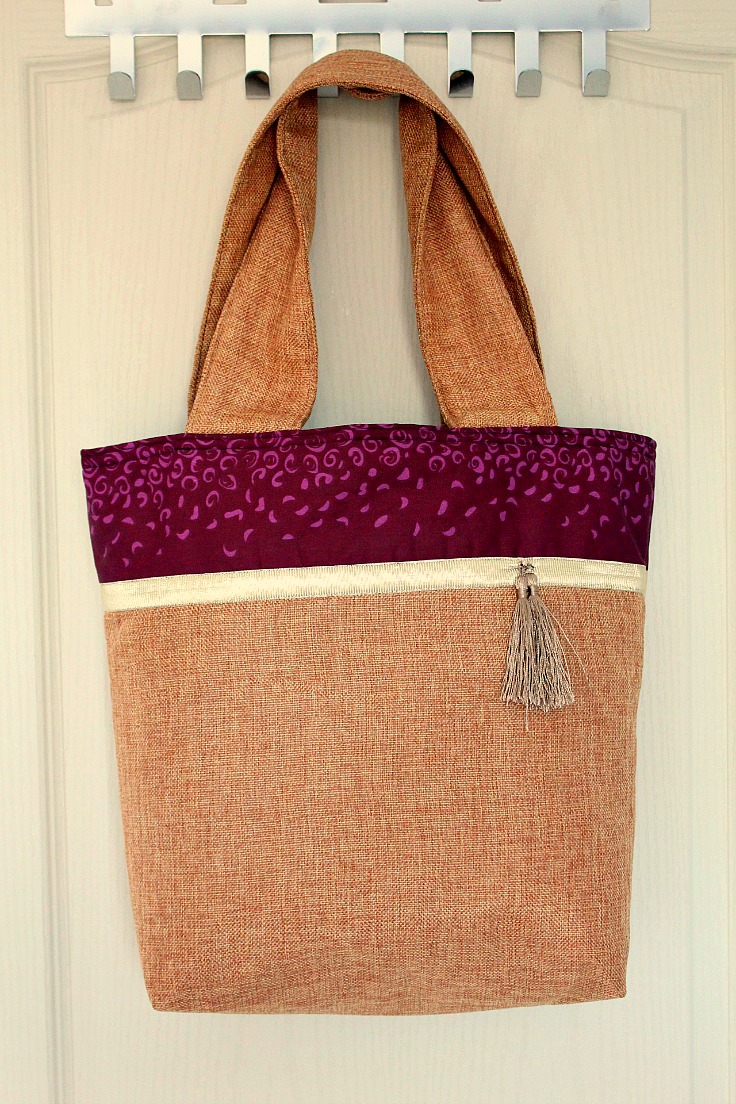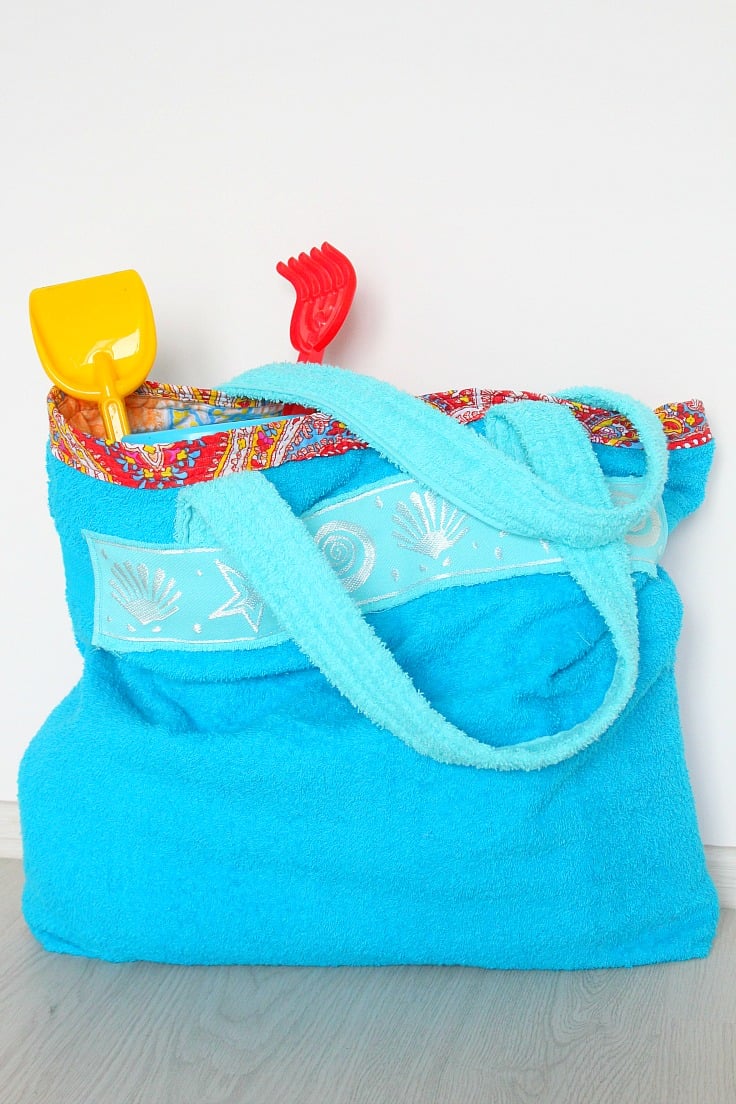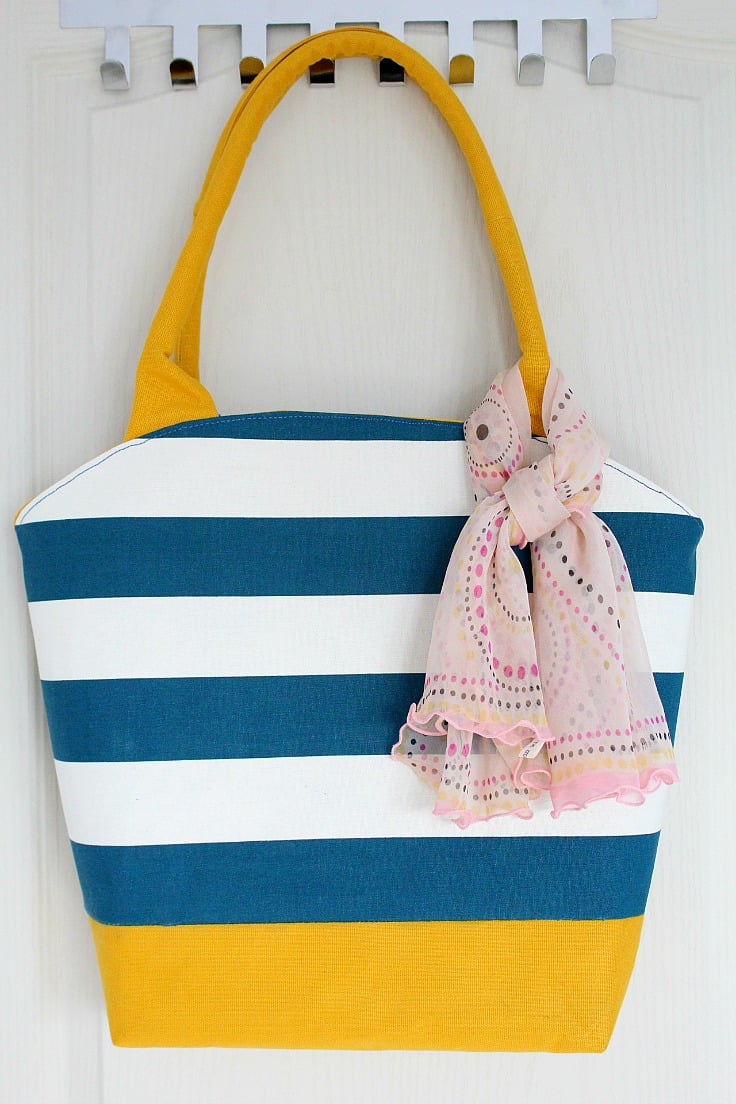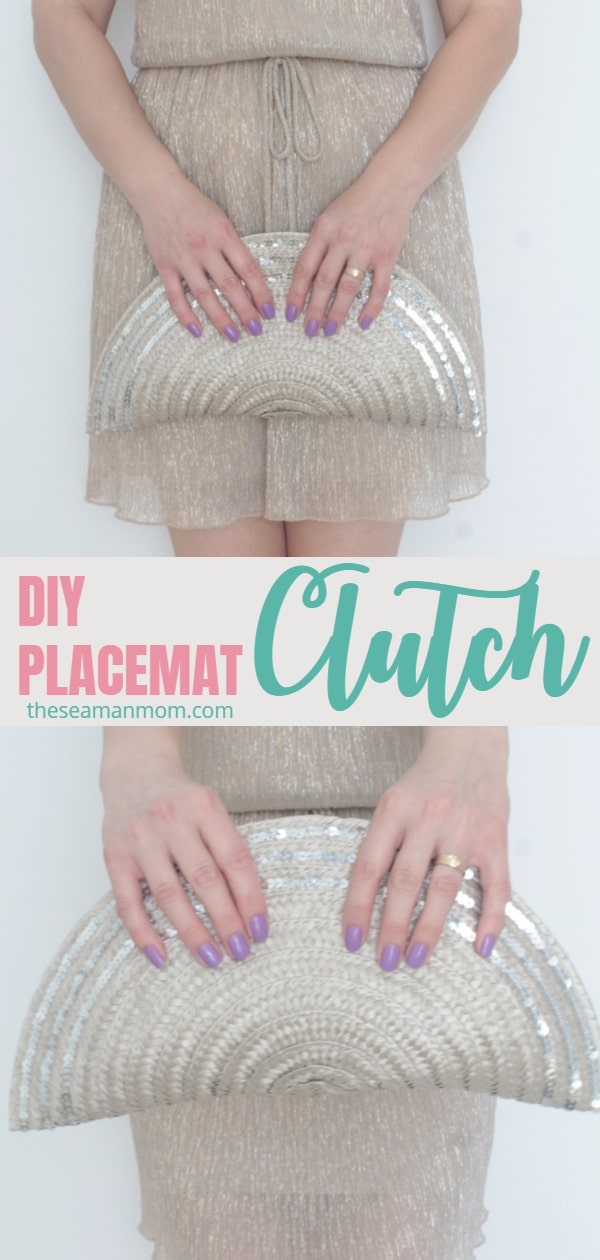 Most Popular Sewing projects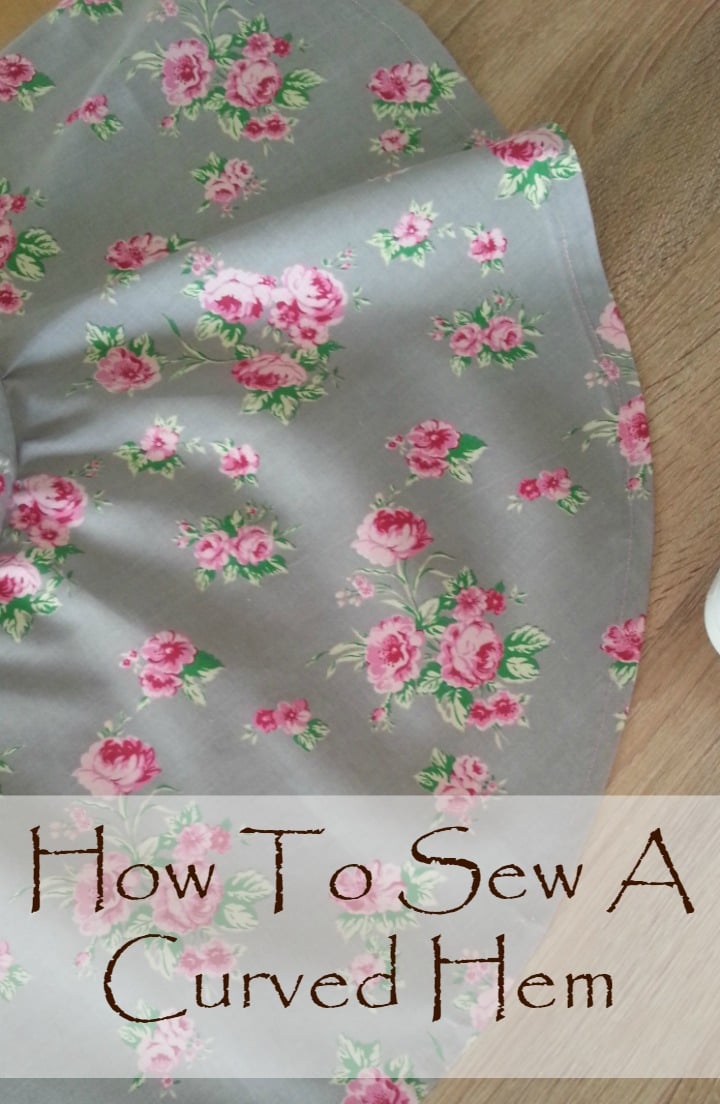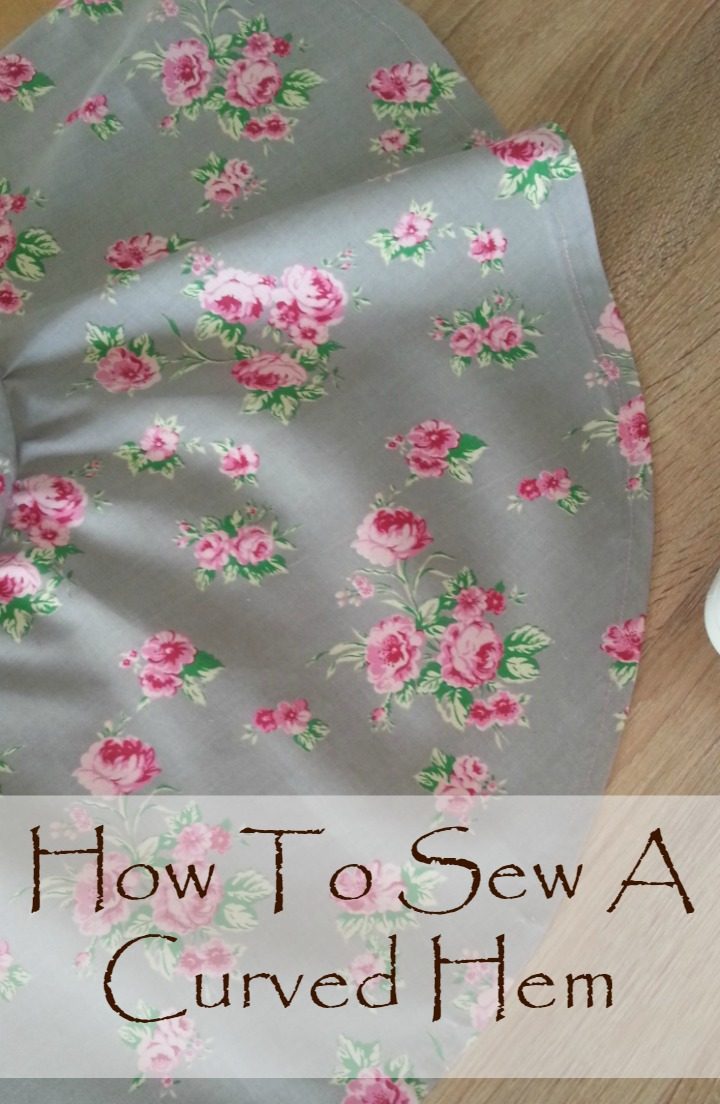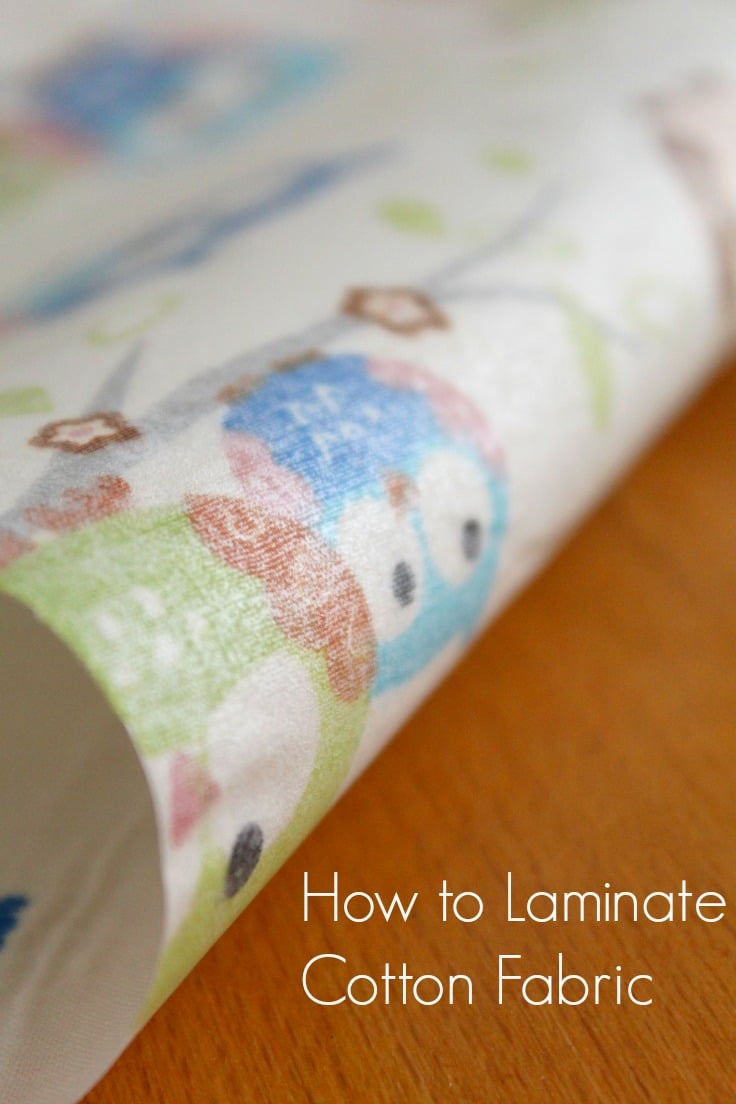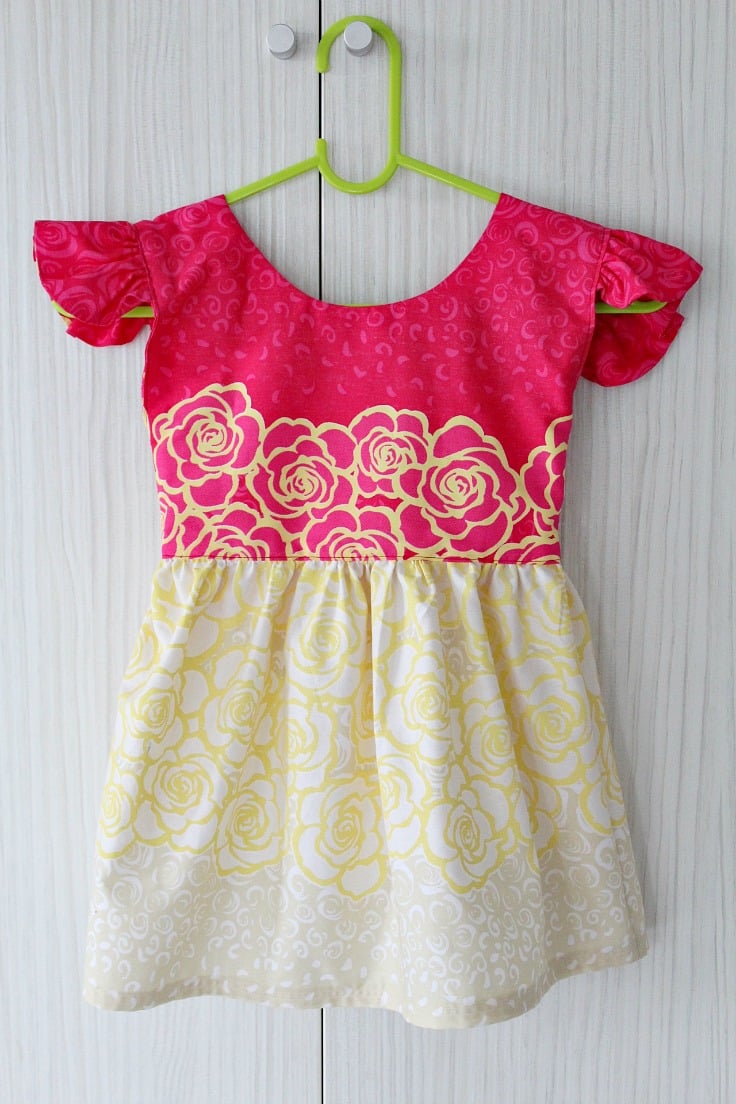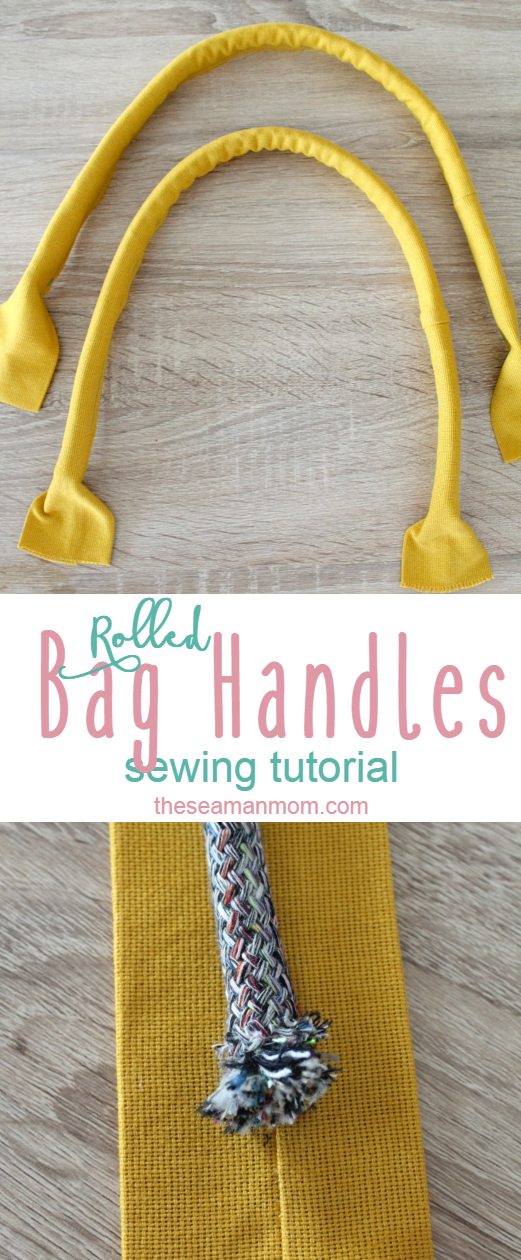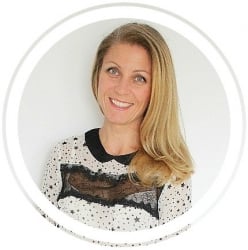 Hi, I'm Petro, author and founder of Easy Peasy Creative Ideas. Sewist, crafter, avid DIY-er, foodie, photographer, homemaker and mommy to one. I'm an expert at coming up with quick, clever sewing tips, recycling crafts and simple, easy recipes! You can find my ideas featured in reputable publications such as Country Living, Good House Keeping, Yahoo News, WikiHow, Shutterfly, Parade, Brit & Co and more. Thanks for stopping by and hope you'll stay for a while, get to know me better and come back another time. Stick around for real fun projects!