Easy Christmas Gnome Ornament sewing pattern
Article may contain Amazon & affiliate links. As an Amazon Associate I earn from qualifying purchases at no additional cost to you.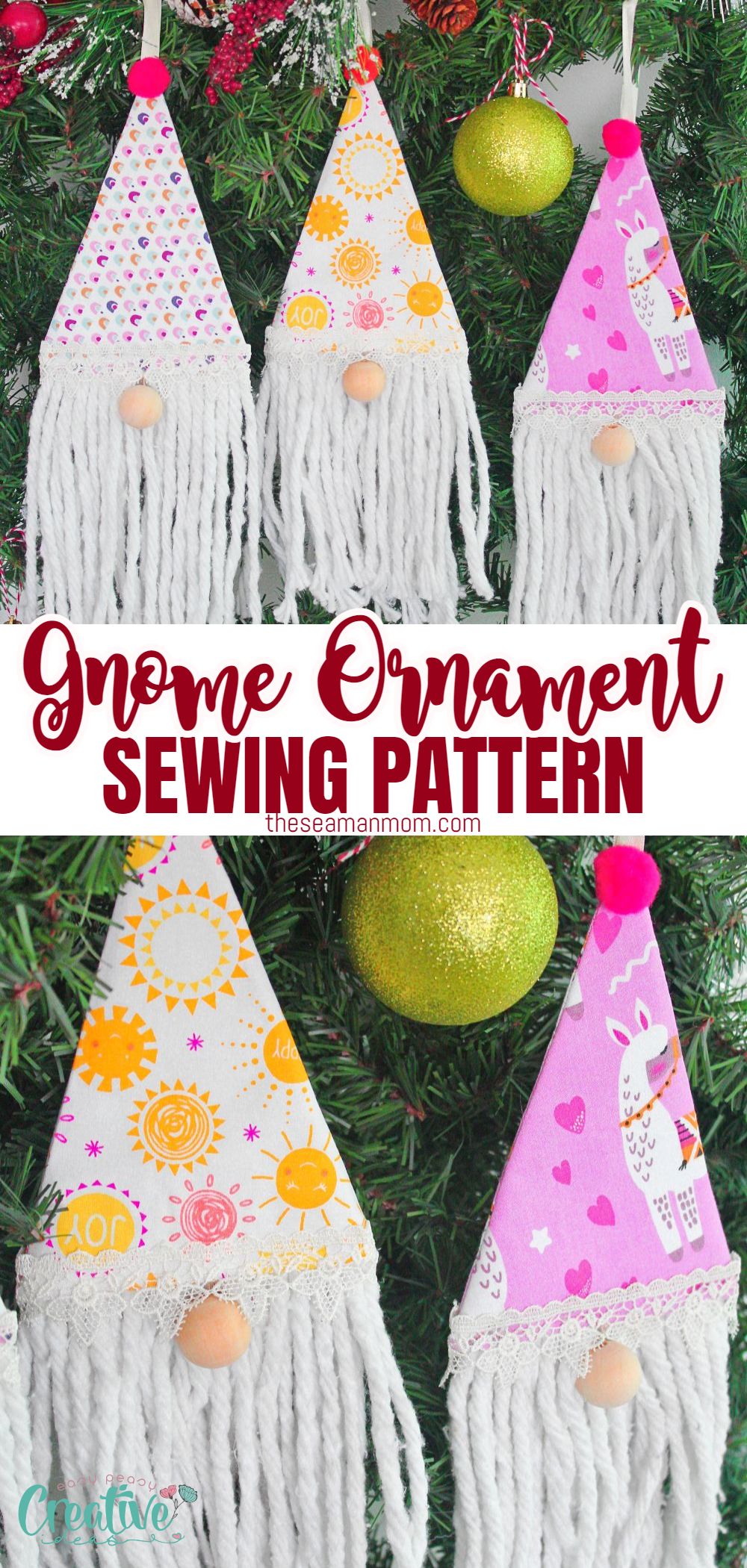 Get ready to deck the halls with adorable little gnomes! These simple yet stylish ornaments are easy to make, using just a few basic sewing supplies. With a simple Christmas gnome ornament pattern and easy-to-follow instructions, you will be creating your own festive gnome ornaments in no time!
Christmas gnome ornament sewing pattern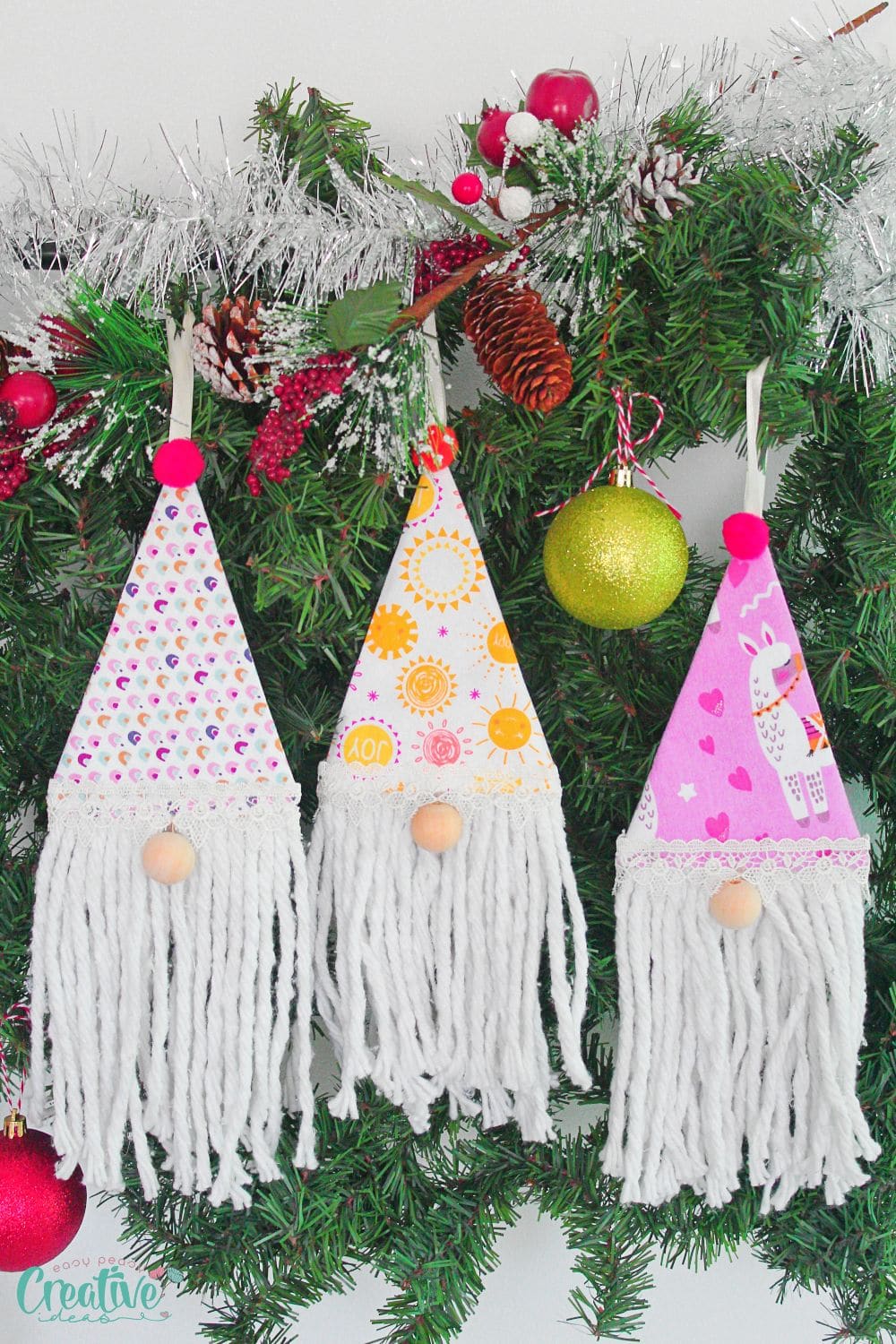 Christmas gnomes are a fun and festive addition to any holiday décor, and they have become increasingly popular in recent years. Many people are looking for easy Christmas gnome ornament ideas. They are a unique, festive way to decorate your Christmas tree this year. My Christmas gnome ornament sewing pattern includes everything you need to create your own adorable gnome ornaments, from basic materials and simple sewing techniques.
With my easy-to-follow tutorial, a simple gnome pattern, and helpful tips and tricks, creating these adorable gnome ornaments will be quick and simple. Whether you're an experienced sewist or just starting out, this fun project is the perfect way to get in the Christmas spirit.
Other Christmas ornaments you will love: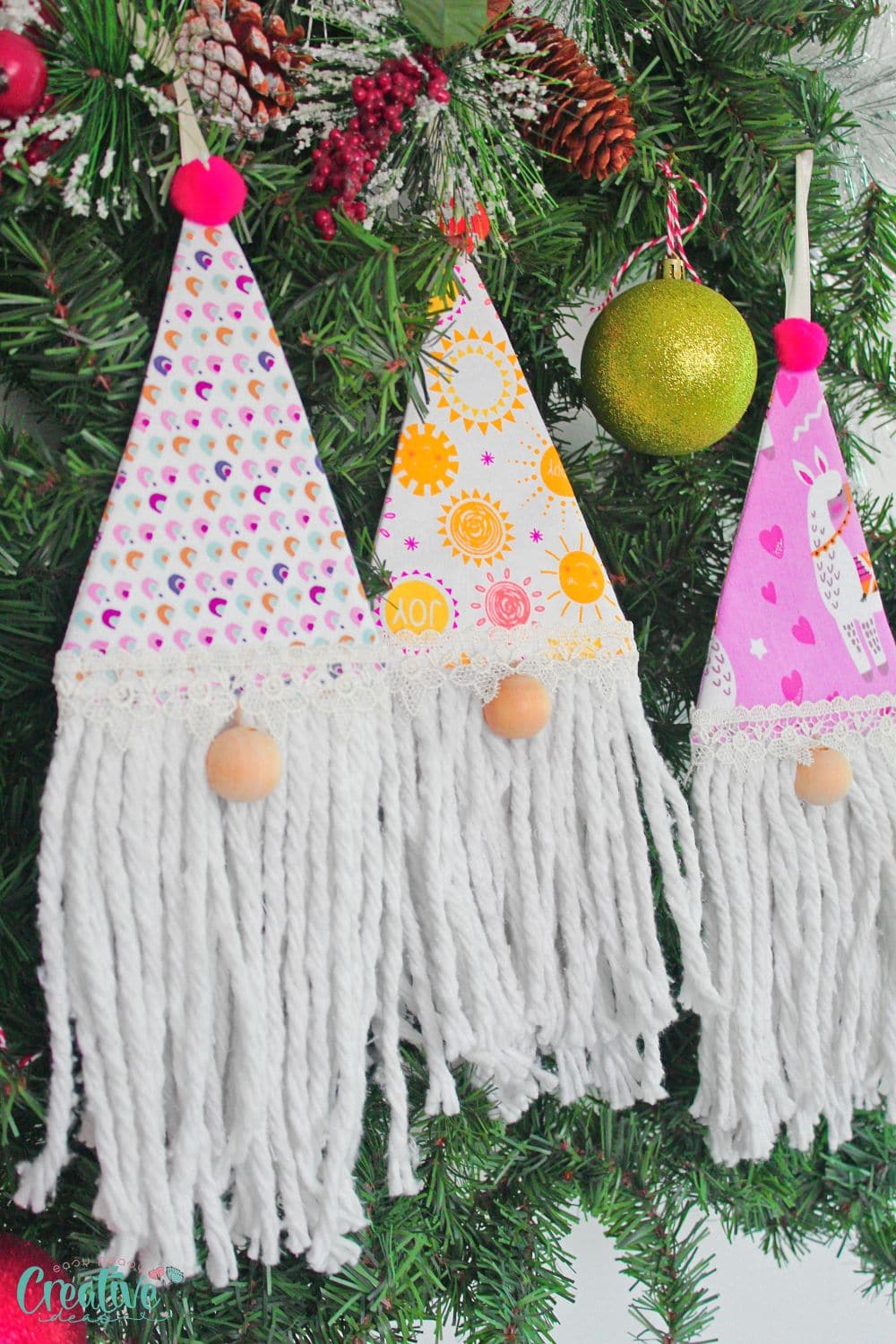 Are Christmas gnomes popular?
Yes, Christmas gnomes are very popular, and they have become a staple of Christmas decor in recent years. They are often seen on Christmas trees, wreaths, mantels, and other festive displays, and they are always a favorite among both kids and adults. Whether you're looking for Christmas ornament ideas or just want to add some extra holiday charm to your home, Christmas gnomes are the perfect choice!
Why Christmas gnomes?
These festive little characters are a perfect way to add some cheery Christmas charm to your home, and they make great gifts for friends and family. They make your Christmas tree more festive and fun, and they can easily be displayed as Christmas ornaments on other areas of your home, like the front door or mantel. Not to mention they're super easy to sew! So if you're looking for Christmas ornament ideas, look no further than this simple and fun guide.
Tips for making Christmas gnome ornaments
Gnome Christmas ornaments are fun to make for your Christmas tree. Here are some tips and tricks to help you get started on your Christmas gnome ornament sewing project.
Be sure to use fabric scraps that are easy to work with such as cotton.
When constructing the gnomes you can choose from a variety of options that include different color combinations of fabrics for the hat, different beards, using pompoms instead of beads as a nose, changing the ribbon for the hanging loop, adding buttons or other embellishments, or even adding a scarf.
Use different fabrics for the front and the back of the hat.
If your want a well padded gnome add an additional layer of batting or fleece or even fill your gnomes with polyfill or other type of stuffing.
If you want a fuller beard, add more layers.
Use faux fur fabric to create the beards instead of using mop yarn.
You can secure the bottom of the hat by sewing a line of straight stitches, if you feel the beard is not secure enough as is. For those seams you'll need a walking foot, a needle in a bigger size than you use for the rest of the gnome and matching thread.
Decorate the top of the gnome with buttons, a snowflake or other festive embellishments.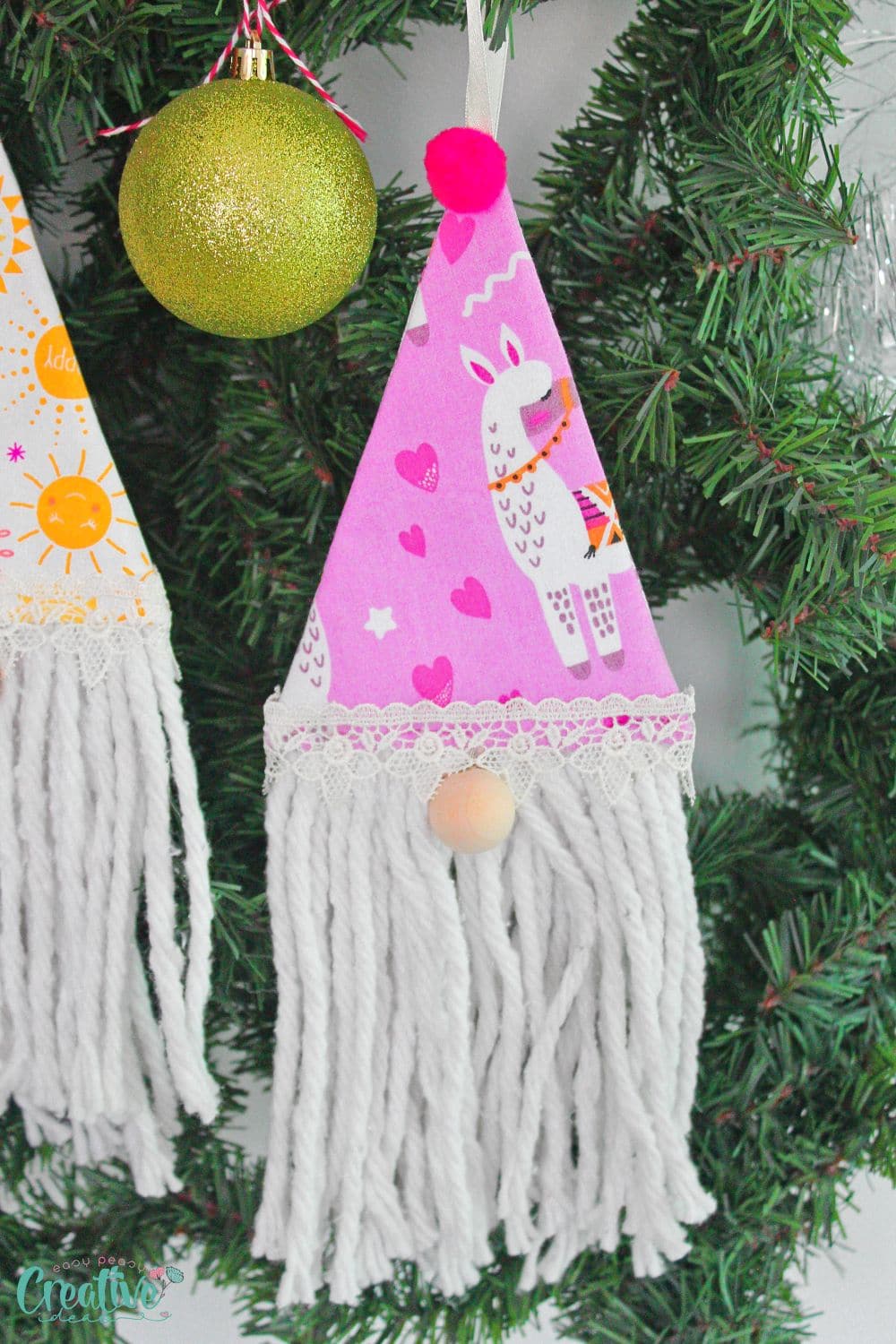 Ideas for displaying Christmas gnome ornaments around the home
There are many creative ways to display Christmas gnome ornaments around the home, from using them as Christmas tree decorations to adding them to Christmas wreaths or mantles. Here are just a few ideas for incorporating Christmas gnome ornaments into your holiday décor:
Add these gnome ornaments to your Christmas tree, either hanging from the branches or nestled among the other decorations.
Hang Christmas gnomes on the front door, either as individual ornaments or in clusters. This is a great way to welcome guests into your home during the holidays.
Incorporate gnomes into your Christmas wreaths, by attaching them at the top of each bow.
Spread Christmas gnomes around the perimeter of your mantel to create an interesting and festive display.
Use these cute DIY gnomes in other areas of your home, such as on staircases and banisters, on Christmas tablescapes, and anywhere else you can think of!
With just these simple tips and tricks, you'll be well on your way to creating the perfect Christmas gnome ornaments for your holiday décor. Christmas gnomes are delightfully easy to craft. So why not give them a try this holiday season? Gather your materials and get ready to create some one-of-a-kind Christmas gnomes!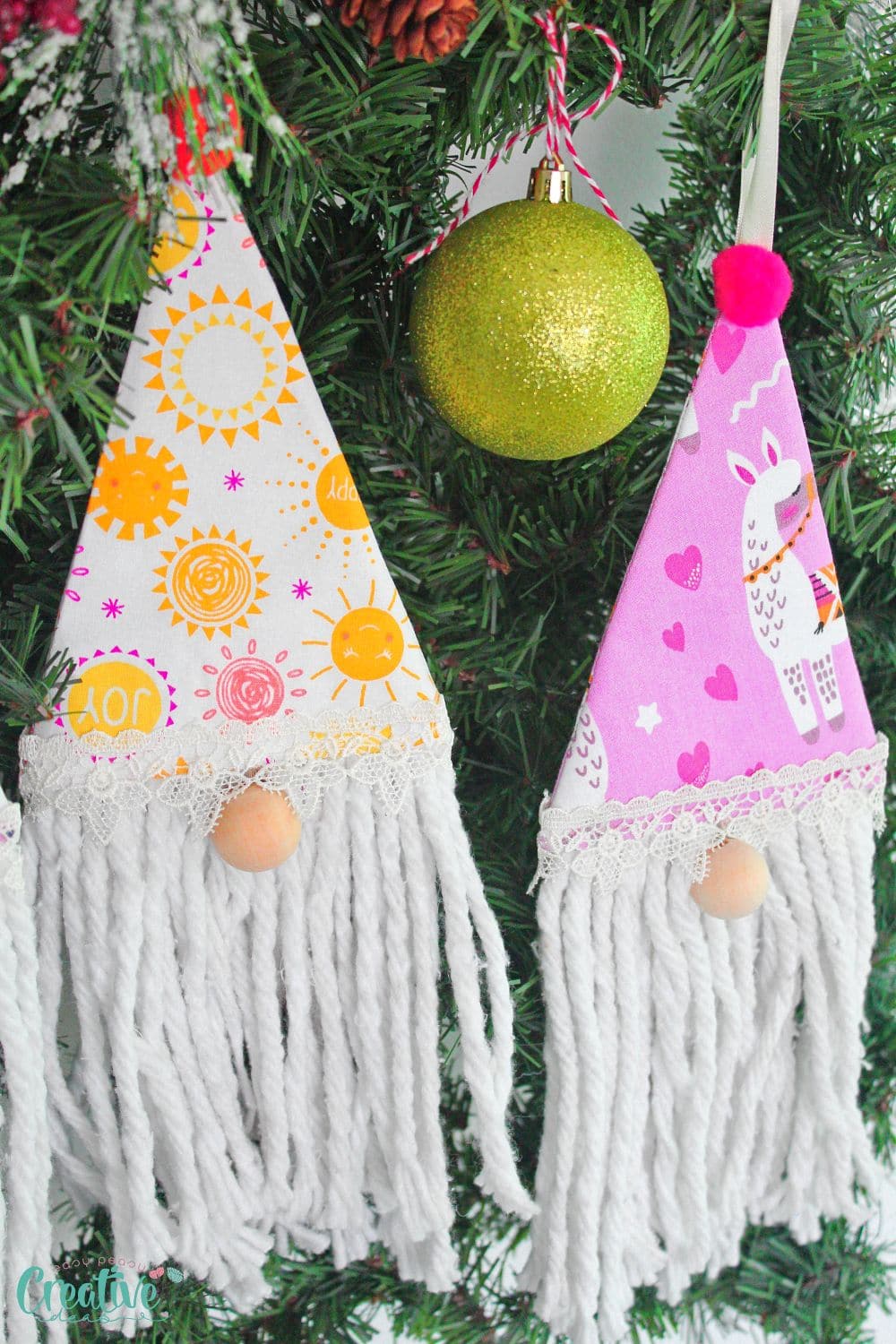 What materials do I need to make gnomes?
Gnome ornament pattern (for hat and interfacing)
fabric scraps
medium weight interfacing
batting or fleece
mop yarns
sewing shears
craft scissors
seam gauge
wooden beads for the beards
pompoms
lace trimming (or ribbon or other type of embellishments)
sewing machine
hand needle
matching thread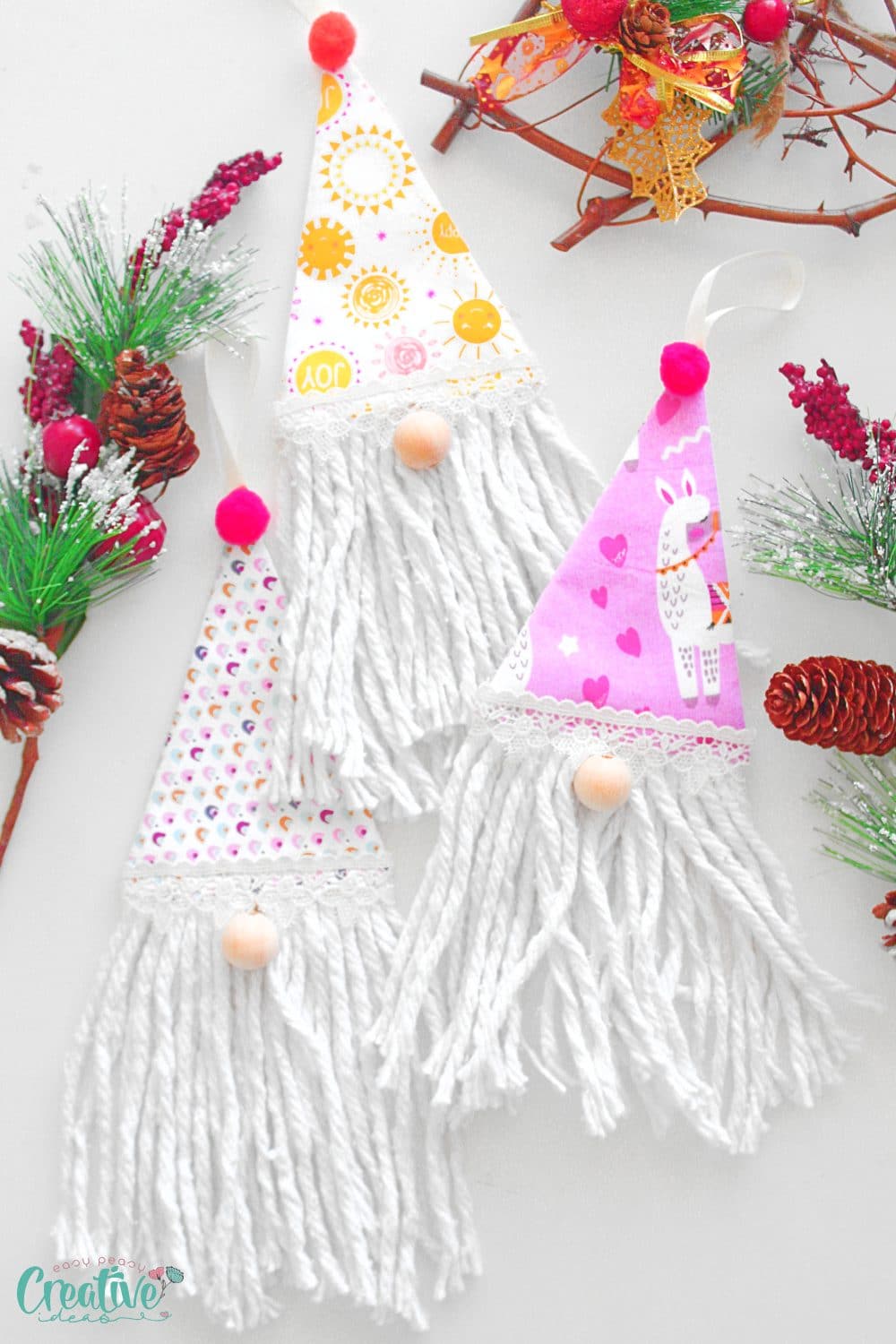 How to sew a gnome ornament?
Prepare the fabrics
Cut out the pattern templates.
Cut 2 strips of fabric in the same pattern or different for the back and front of the gnome hat.
Place the interfacing pattern onto the interfacing and cut out 2 pieces for each gnome hat.
Place the hat fabrics right sides together.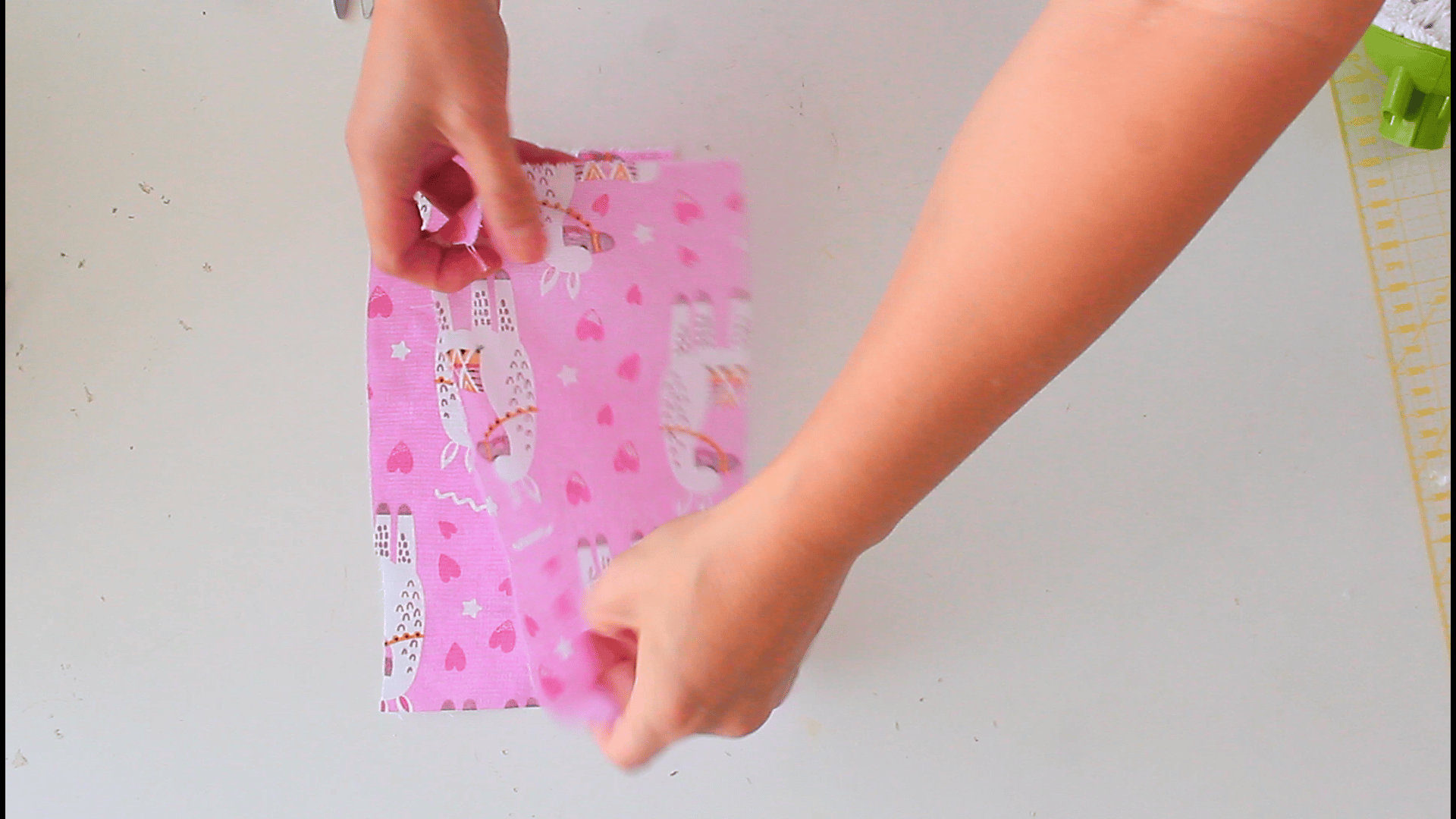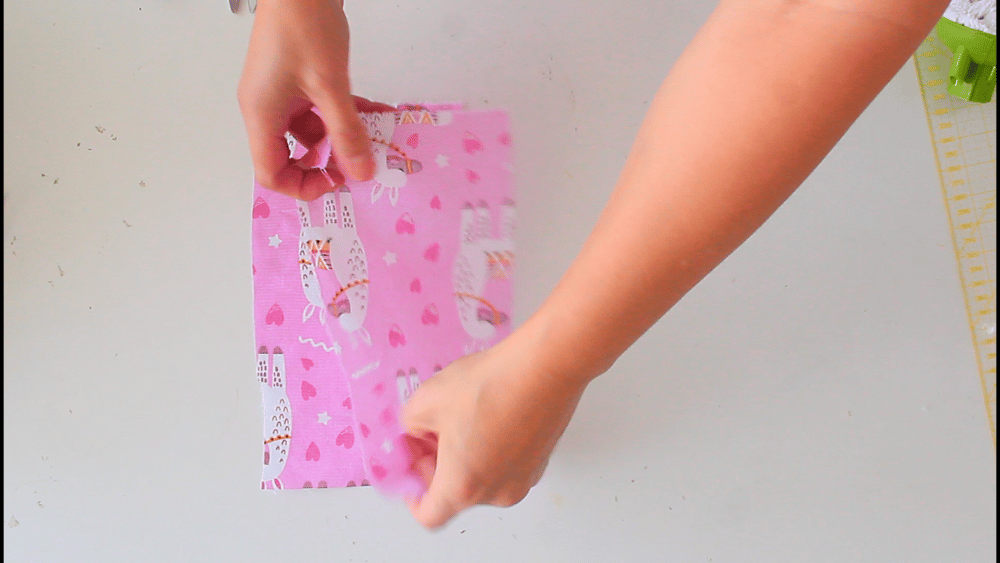 Trace the pattern pieces onto fabrics, pin the fabrics and cut out.
Remove the pins and turn each fabric piece wrong side up. Apply the interfacing and iron.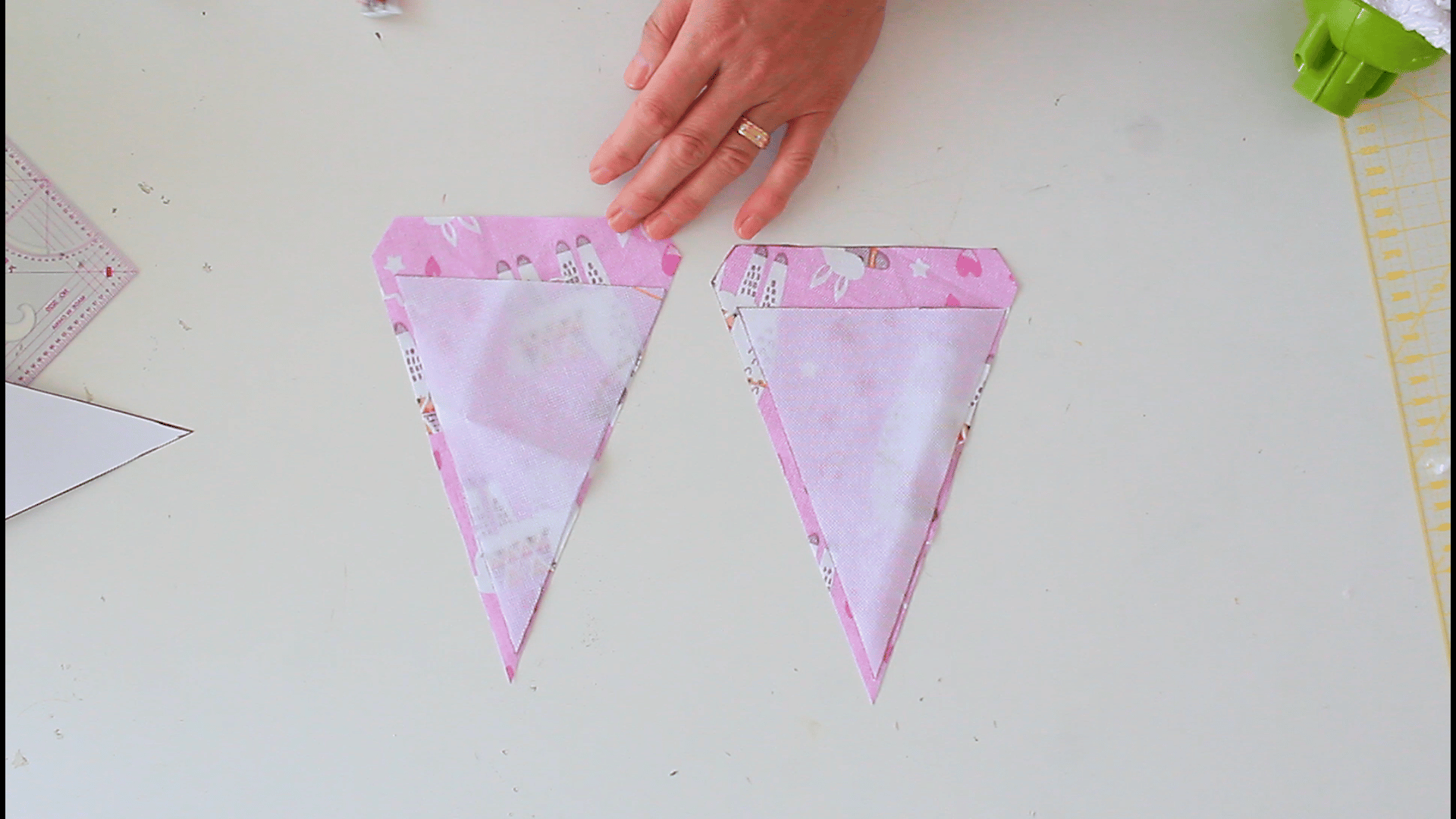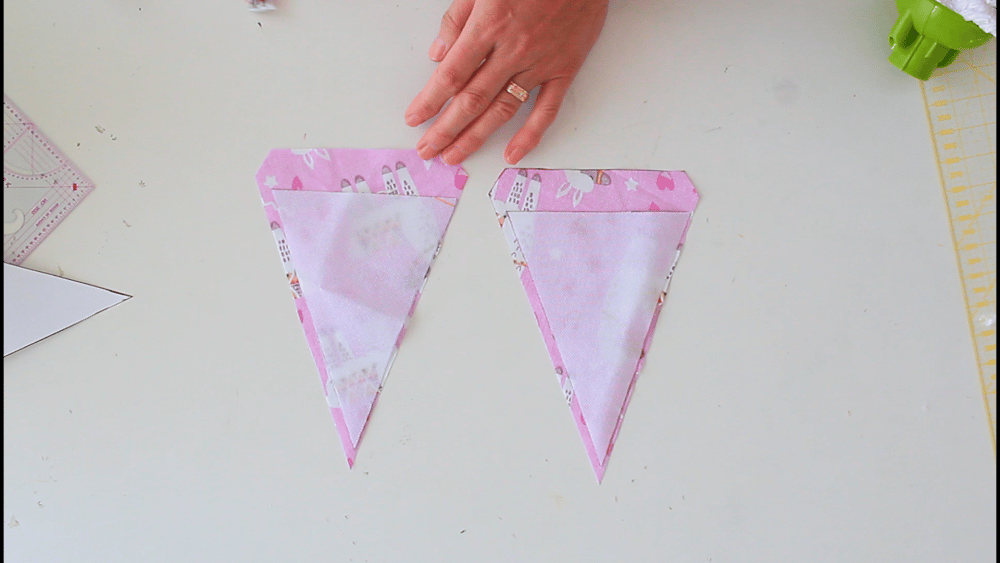 Sew the hat
Place one piece of batting or fleece over one piece of fabric wrong side up.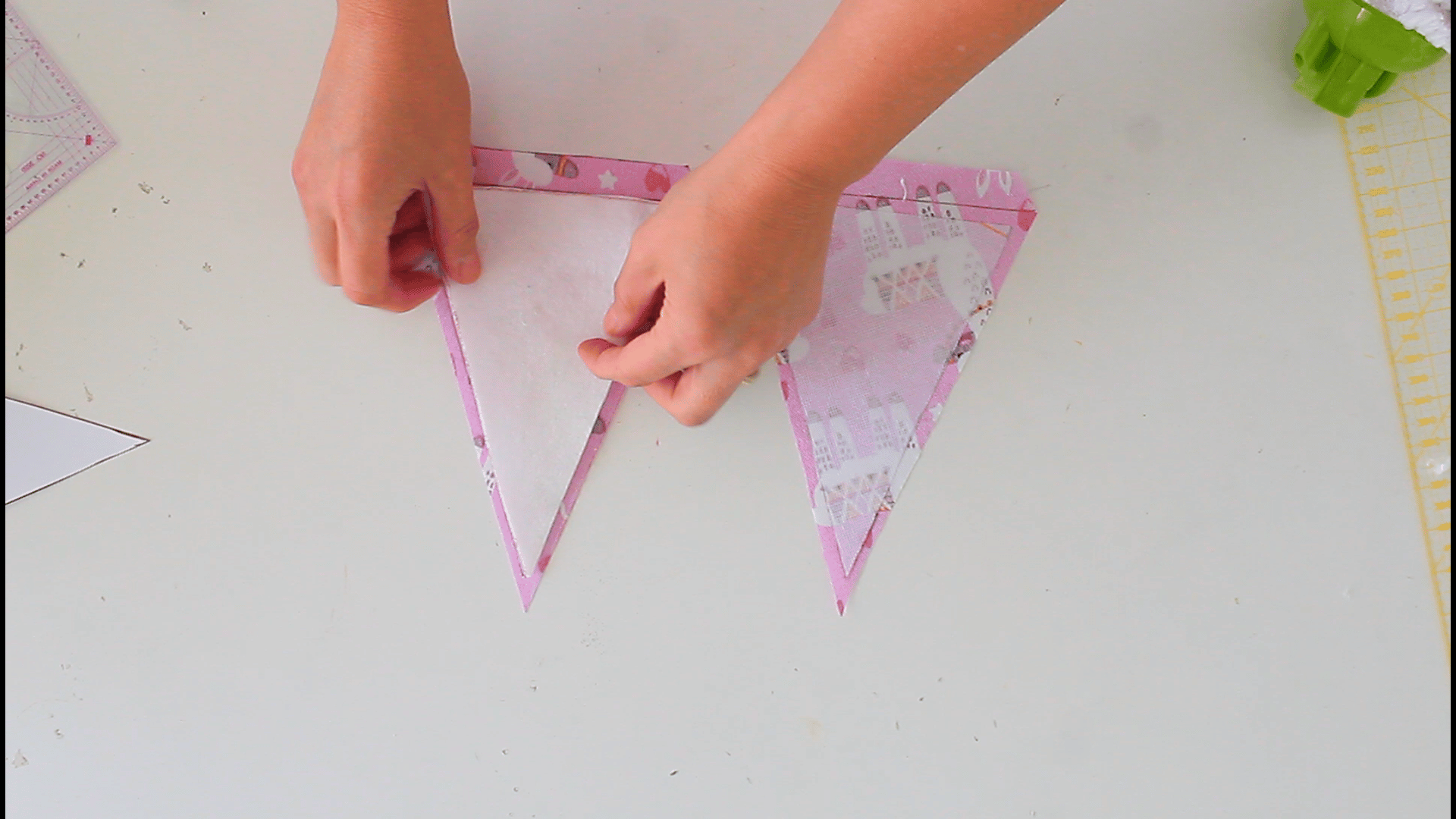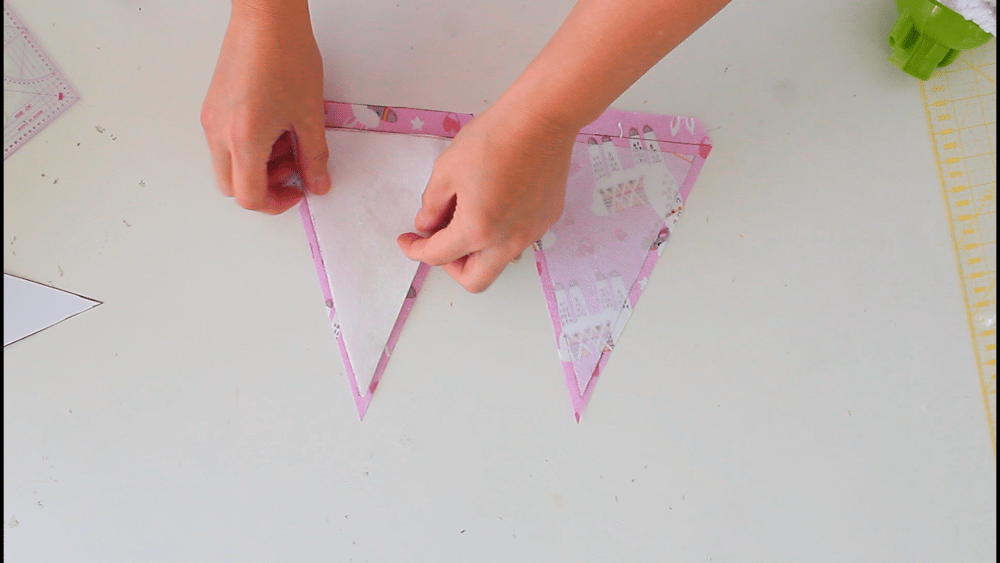 Turn the other fabric right side up. Top with the other piece of fabric (the one with the fleece).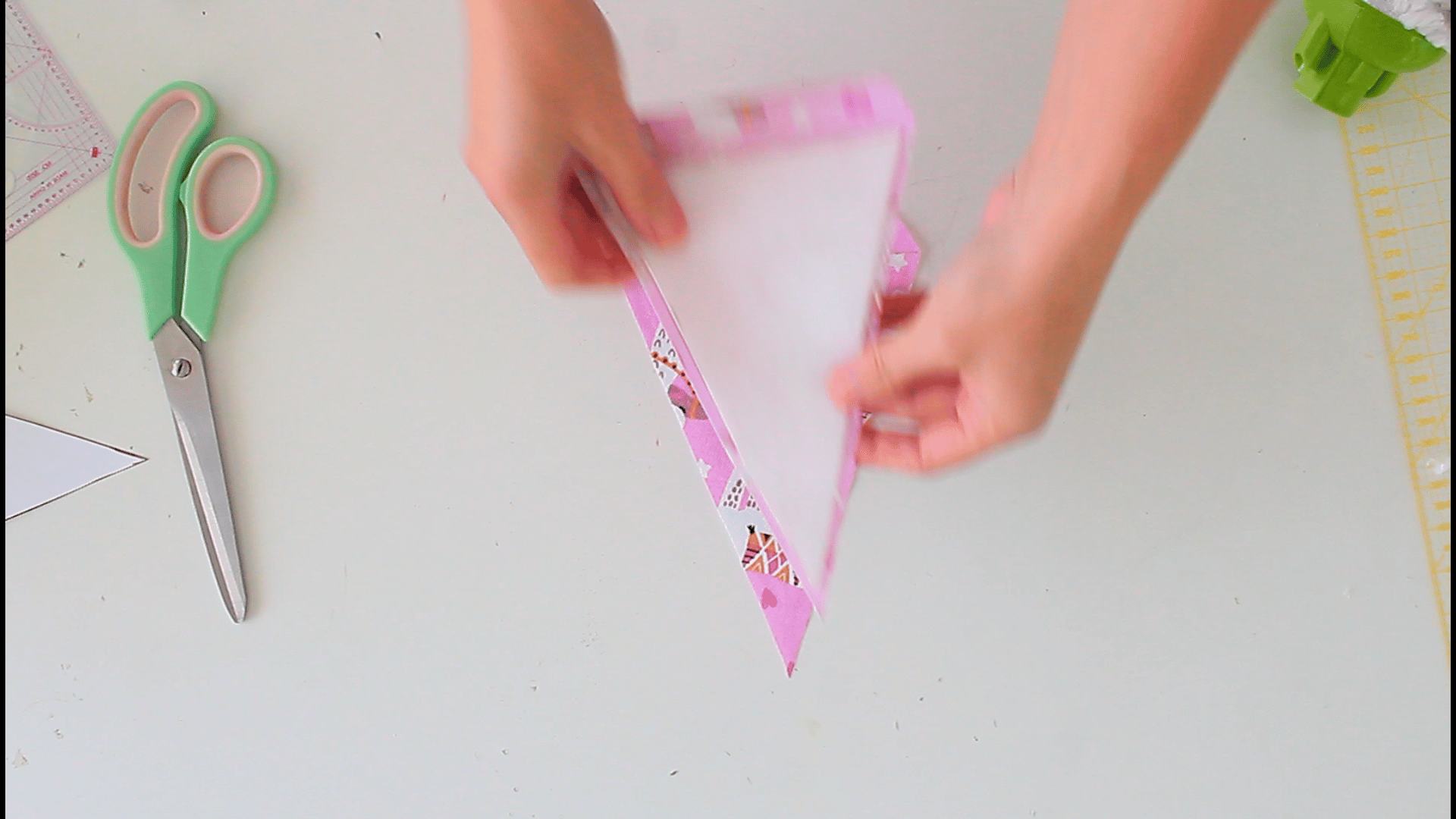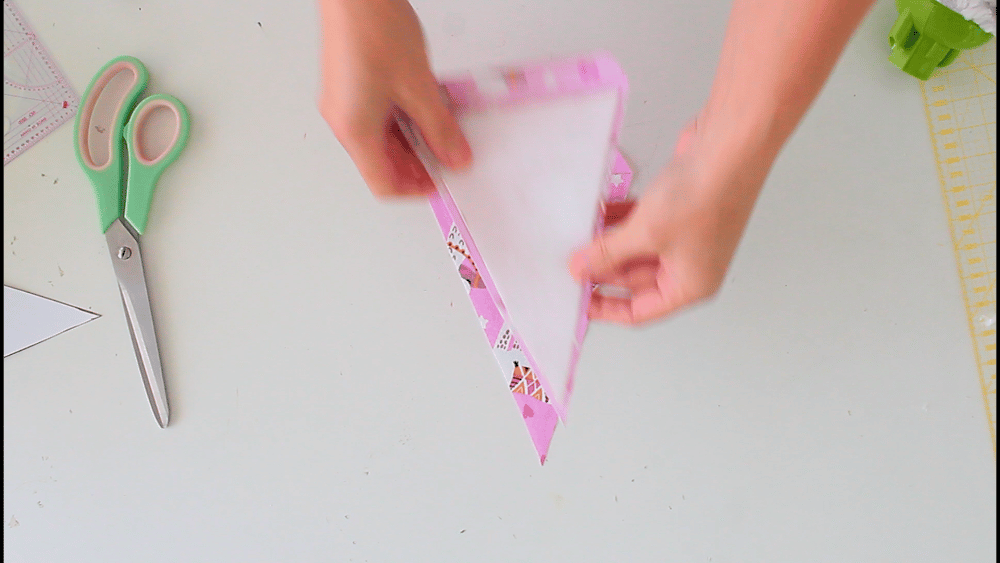 Pin the sides of the hat. Sew the sides with a 1/4″ seam allowance.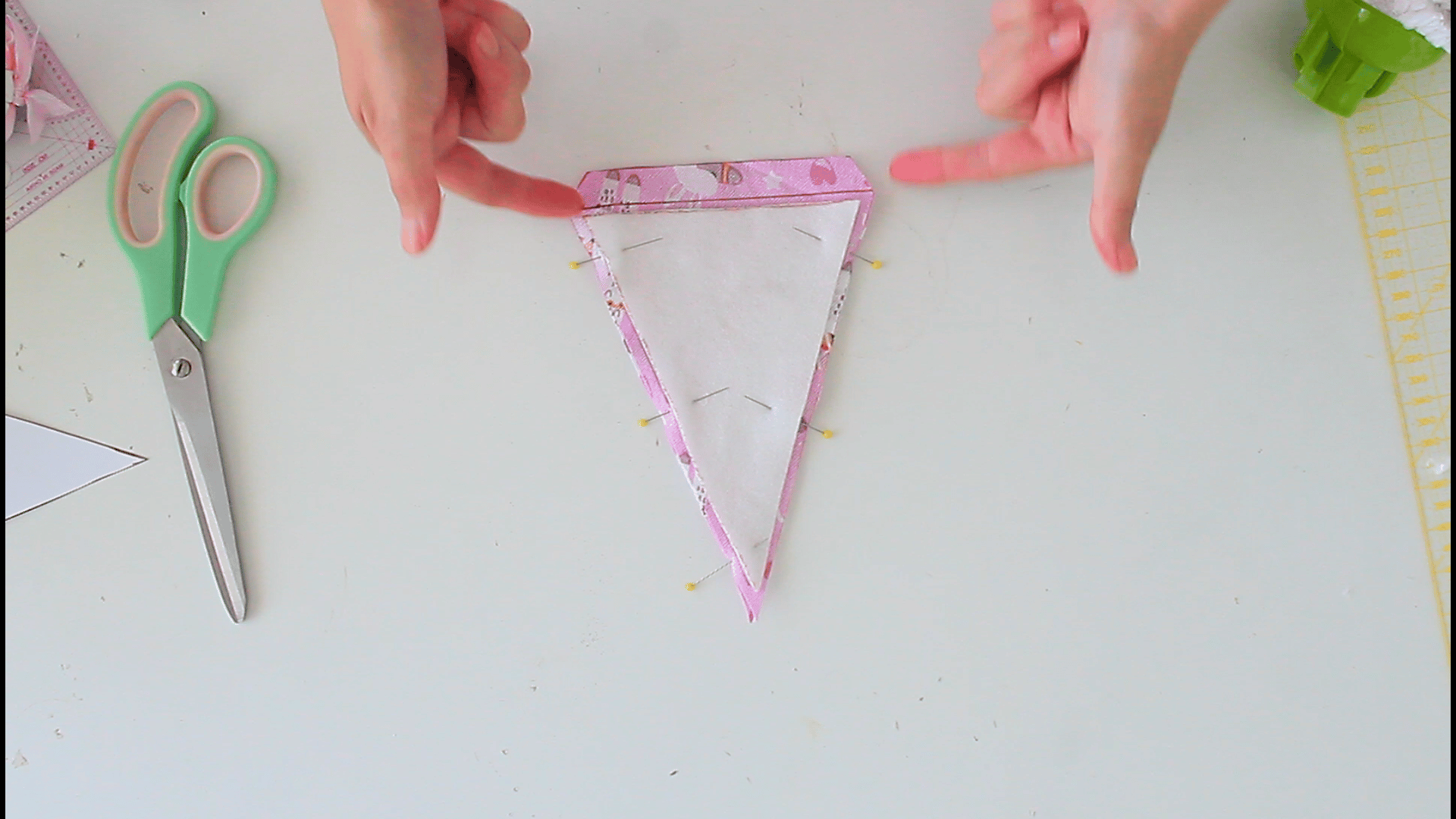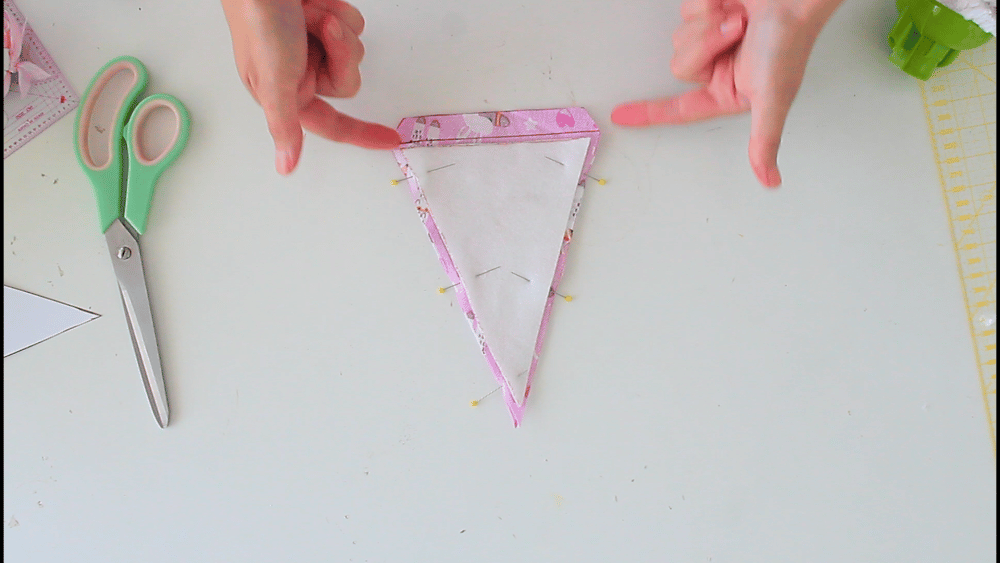 Trim the point to remove bulk.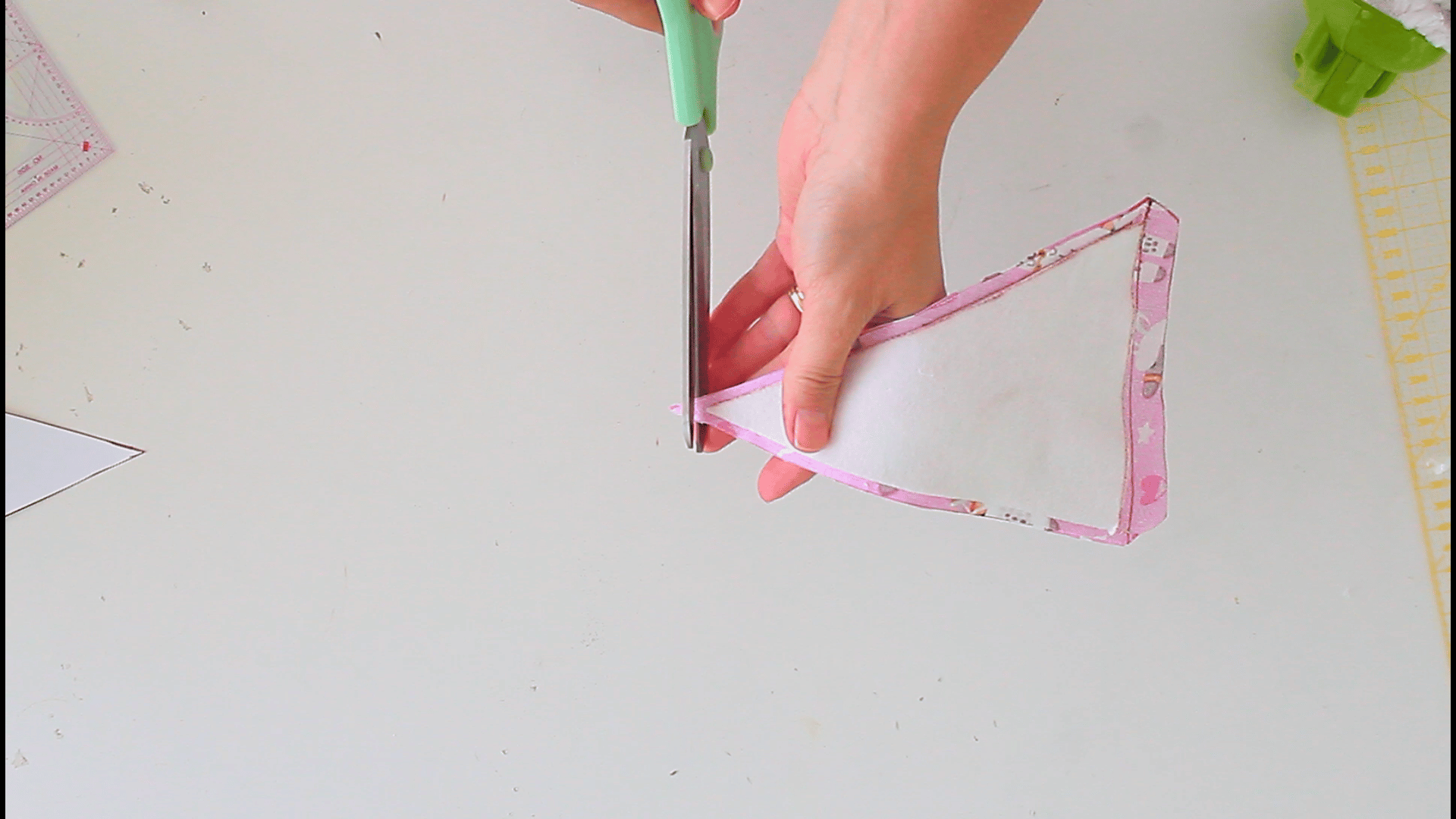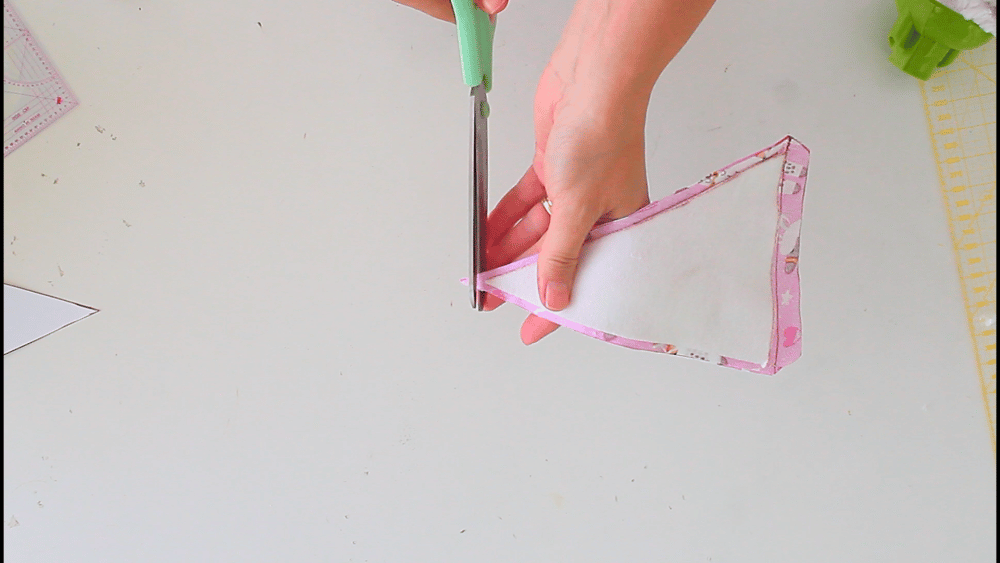 Turn the hat right side out. Push the corner out with a blunt tool, point turner, or a pencil. Smooth out the seams.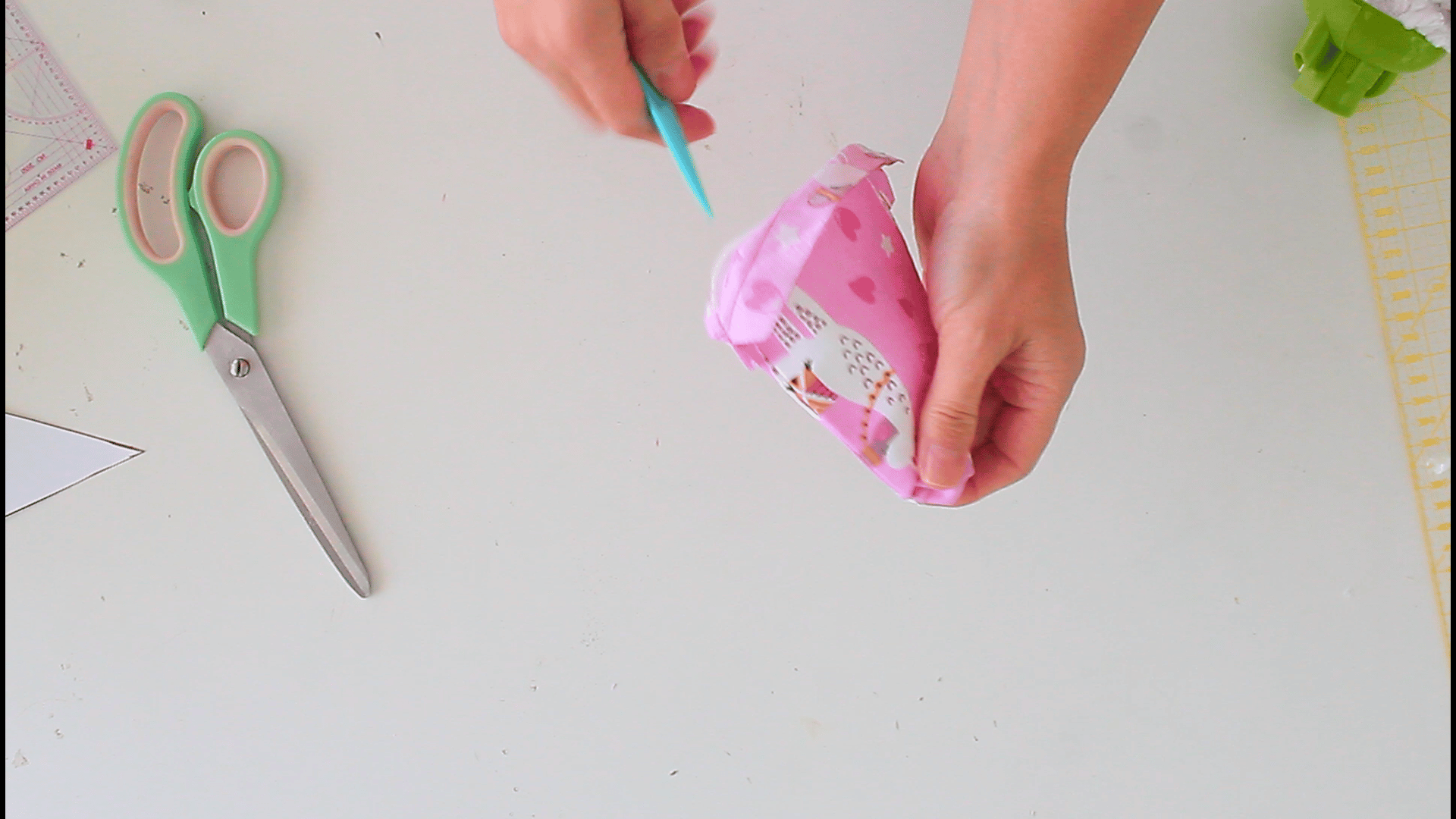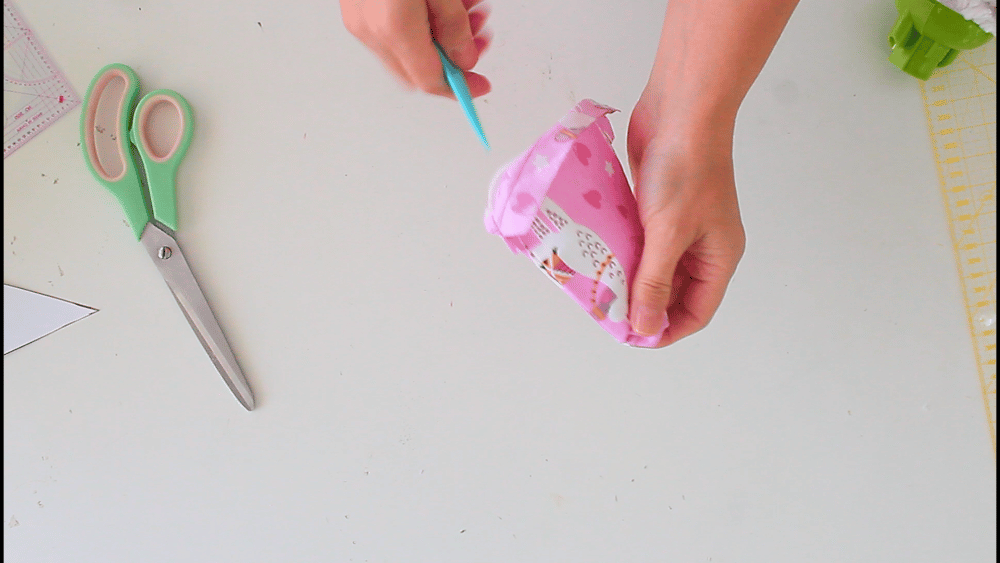 Turn the base inside and press.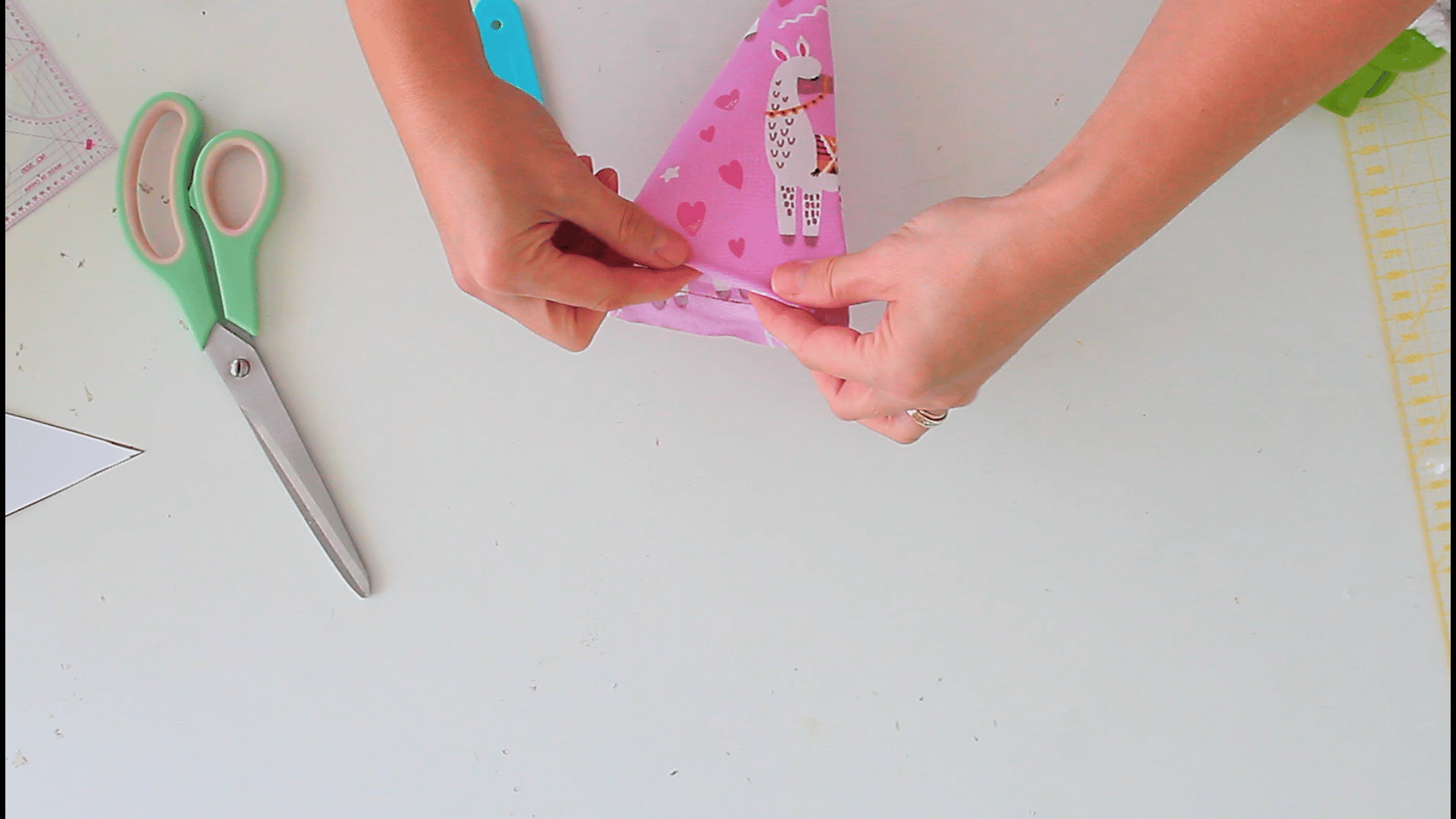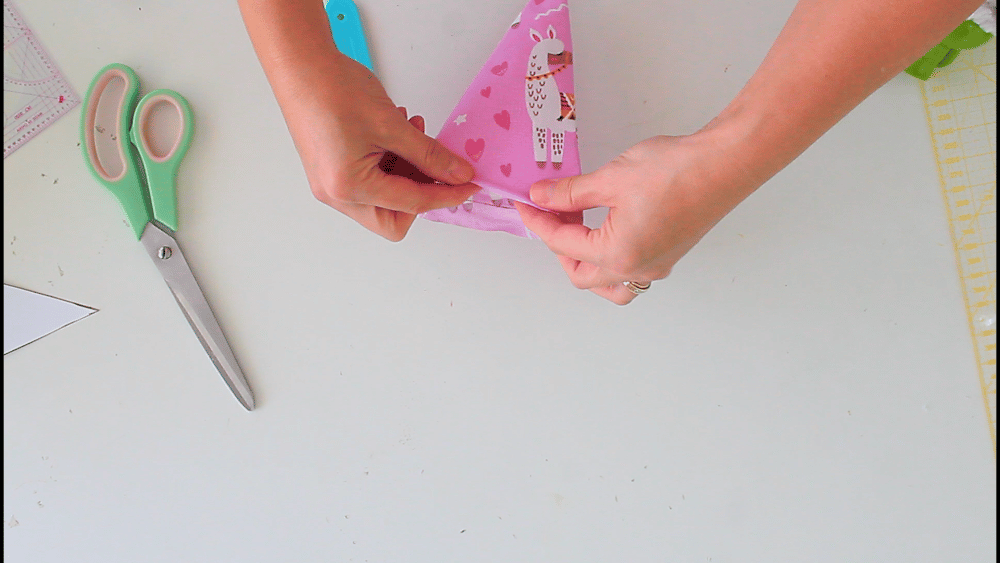 Attach the yarn beard
Arrange some mop yarn over the gnome.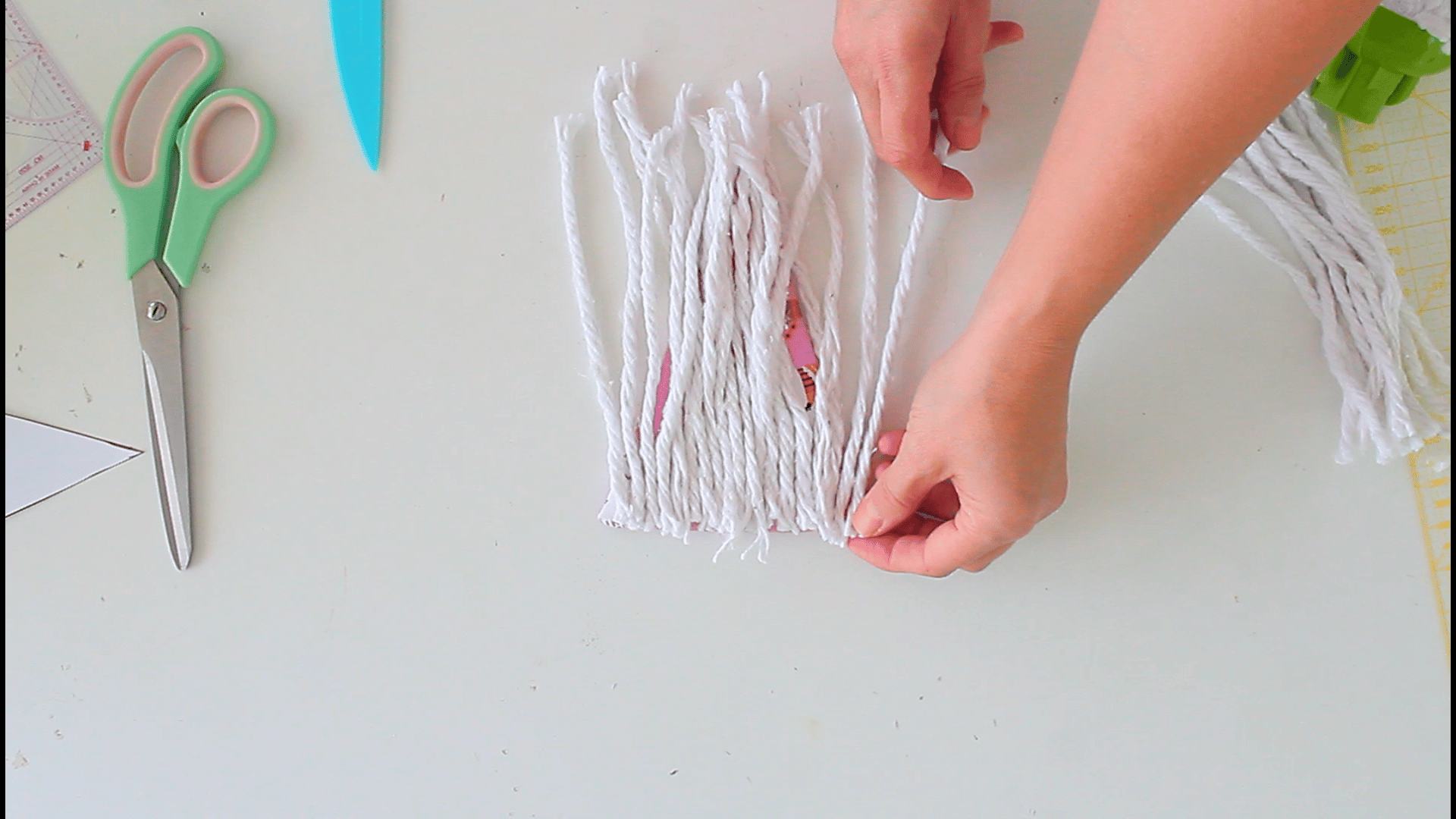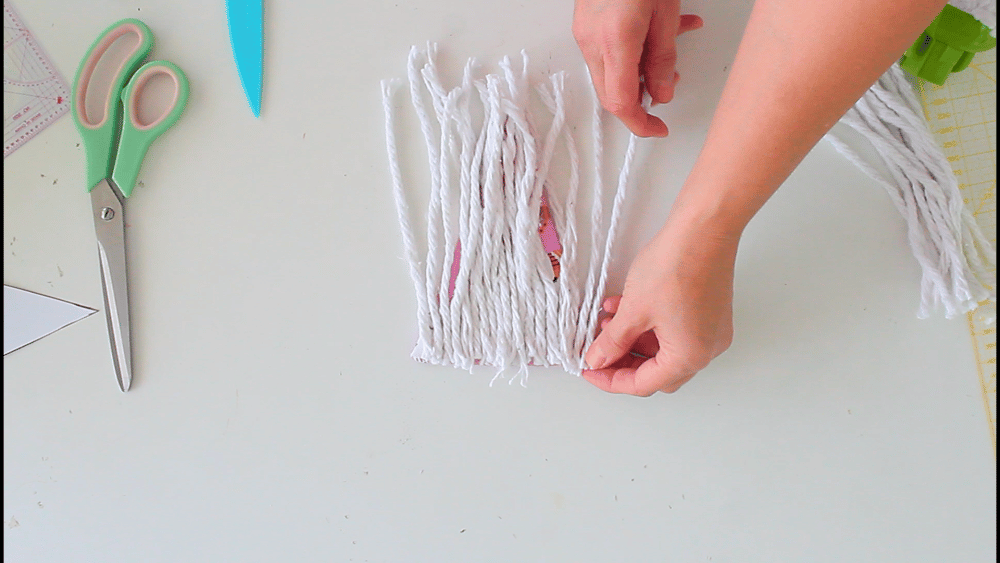 Apply double-sided tape over the edge, making sure all yarns stick to the tape.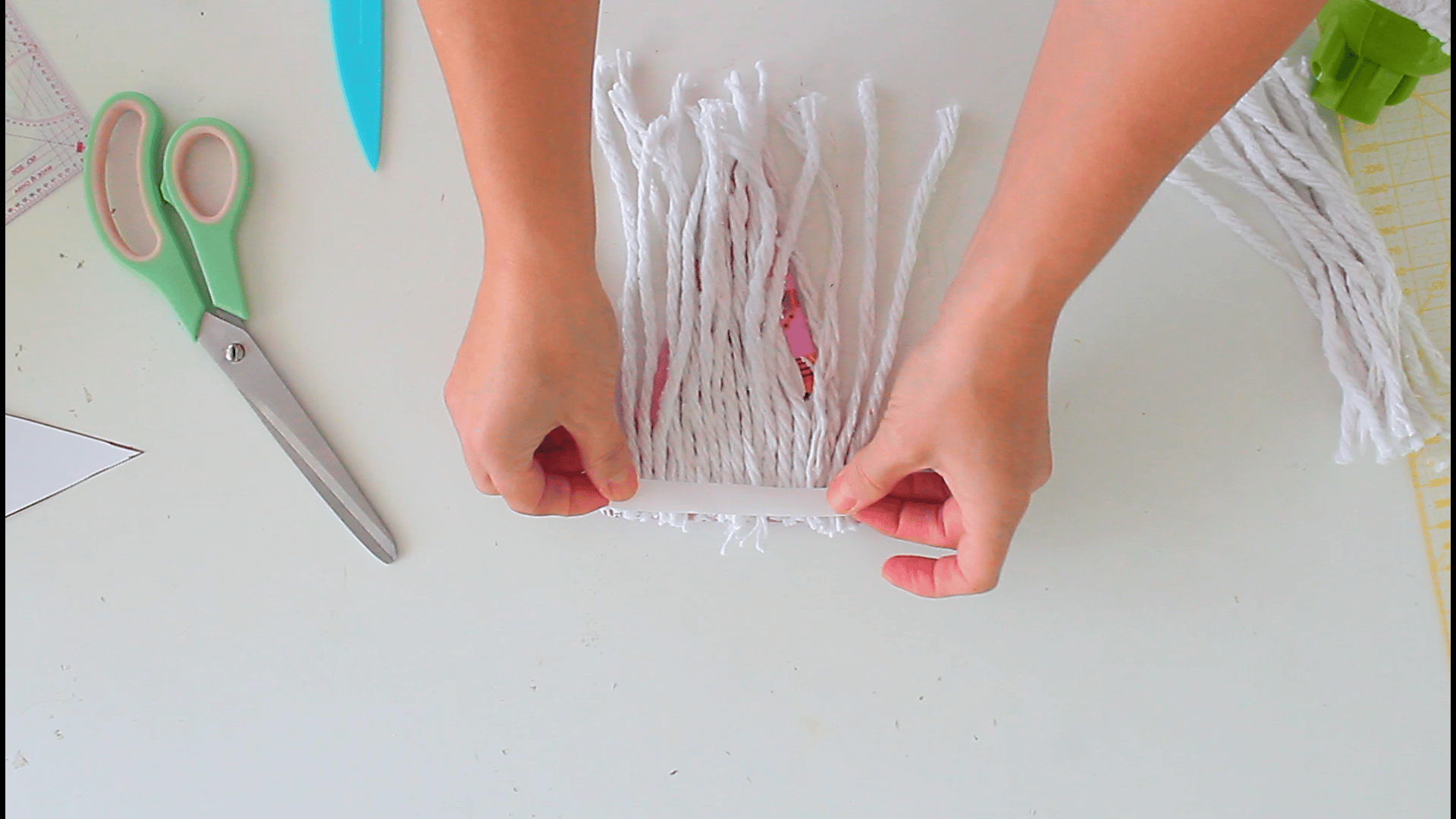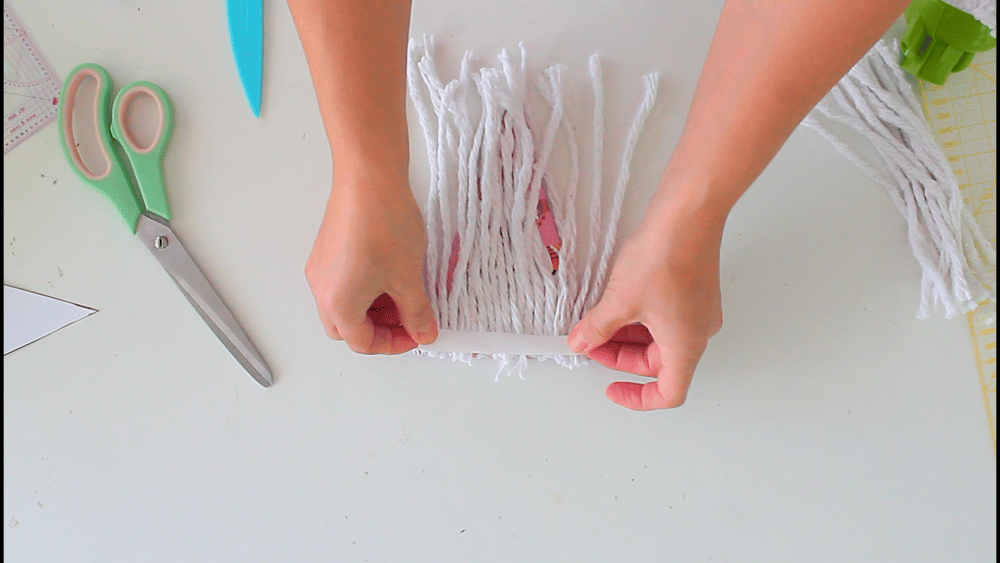 Remove the paper from the tape and set the beard aside. Repeat for another set (or two if you want an extra thick beard).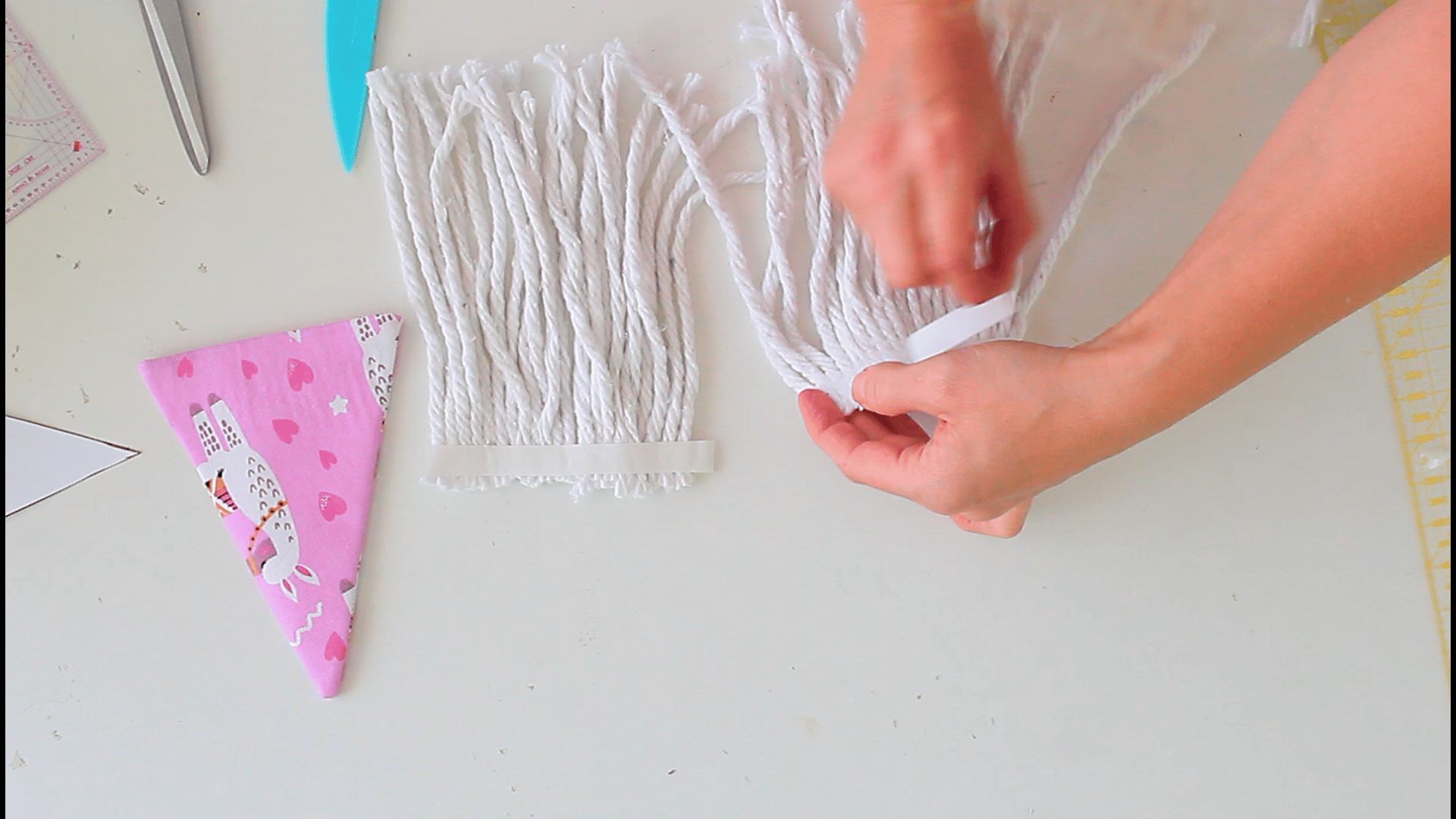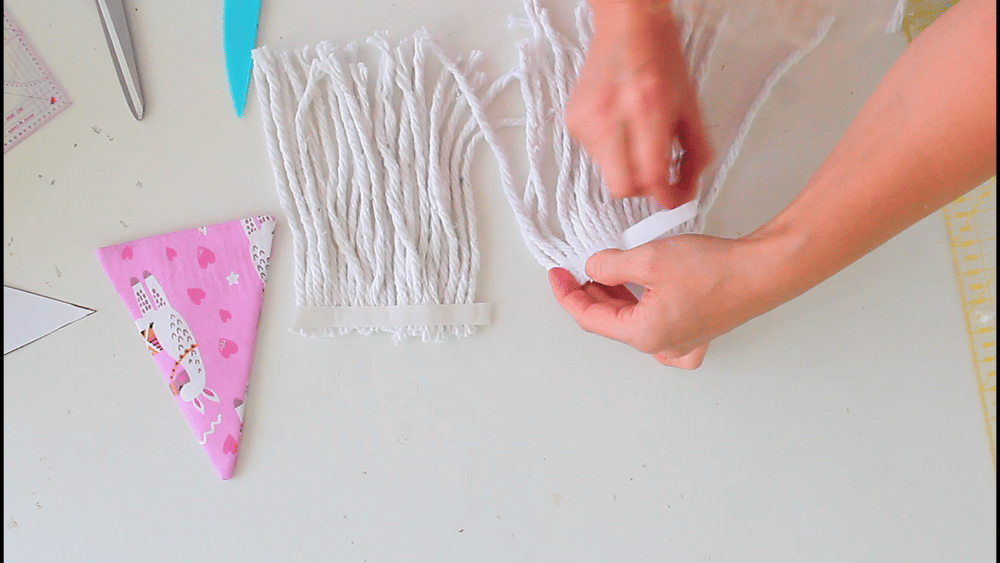 Open the base of the hat and insert one beard strip inside, arrange it in place, and iron. Flip the hat to the other side and repeat the process for the second set of yarns. At this point, if you see the yarns are sticking properly to the hat, leave it as is. If you feel the base needs some reinforcing, sew the base close, using a walking foot, a larger needle, and matching thread.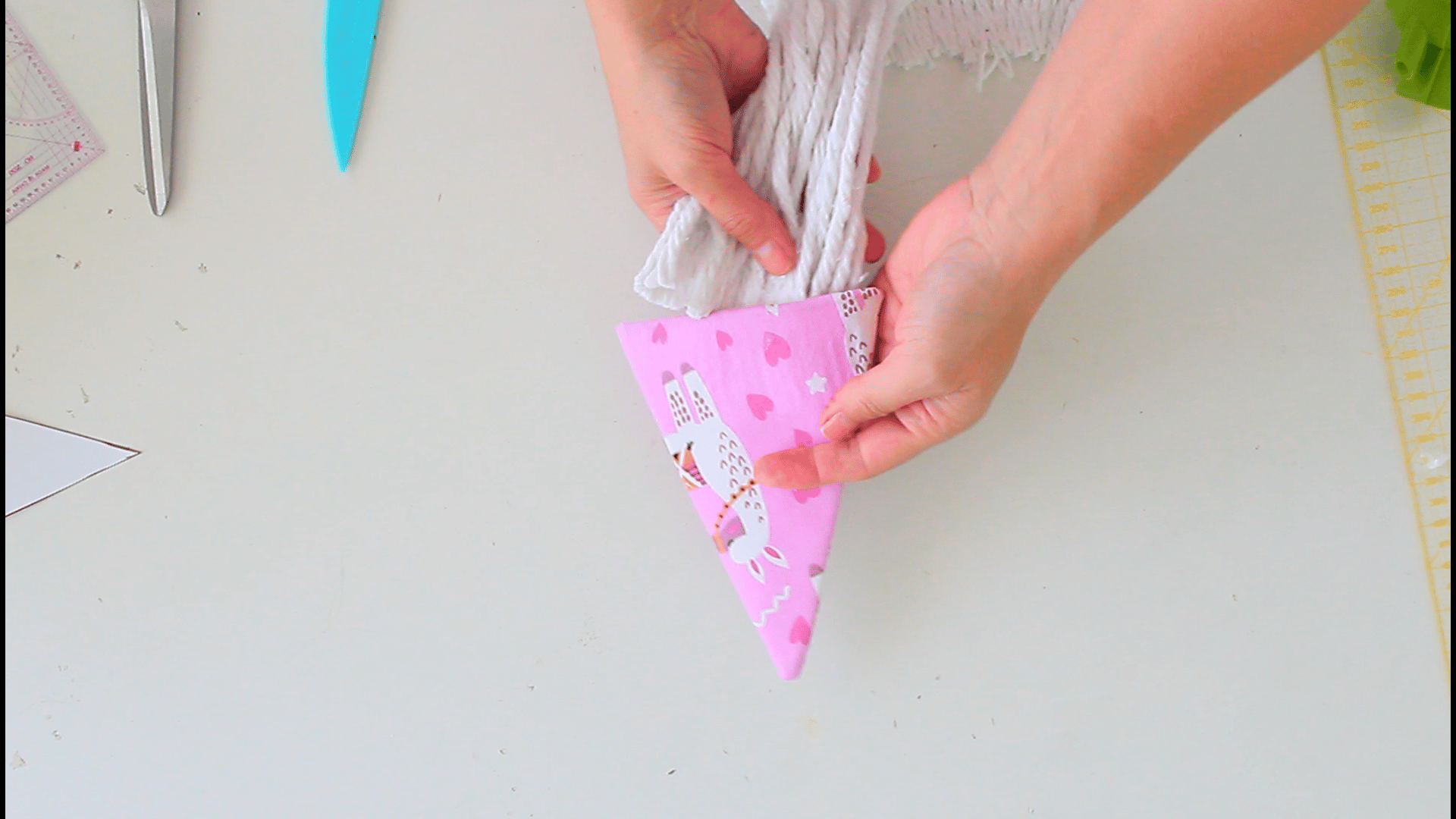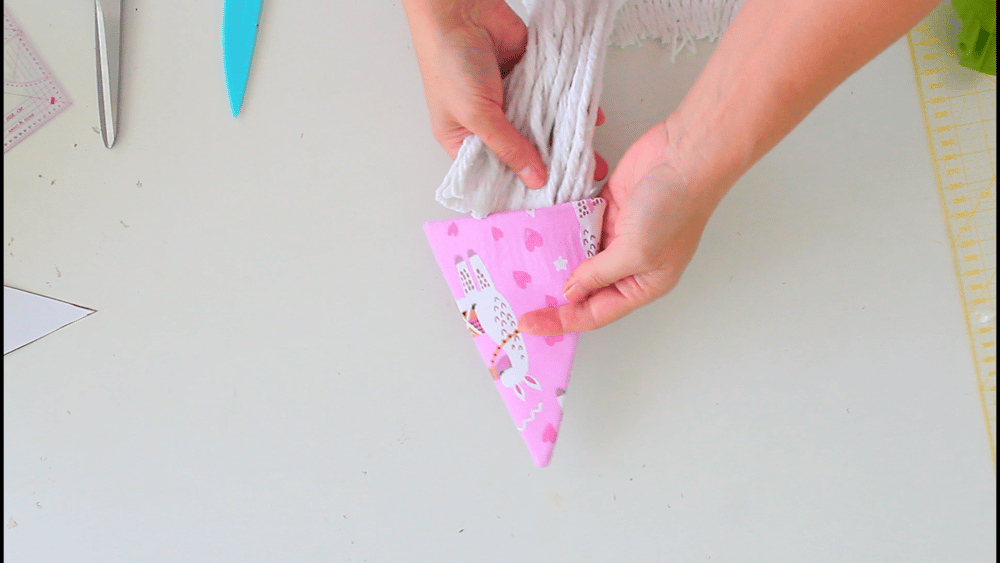 Finishing touches
Apply lace or ribbon to the base of the hat (or other embellishments you might like or have on hand).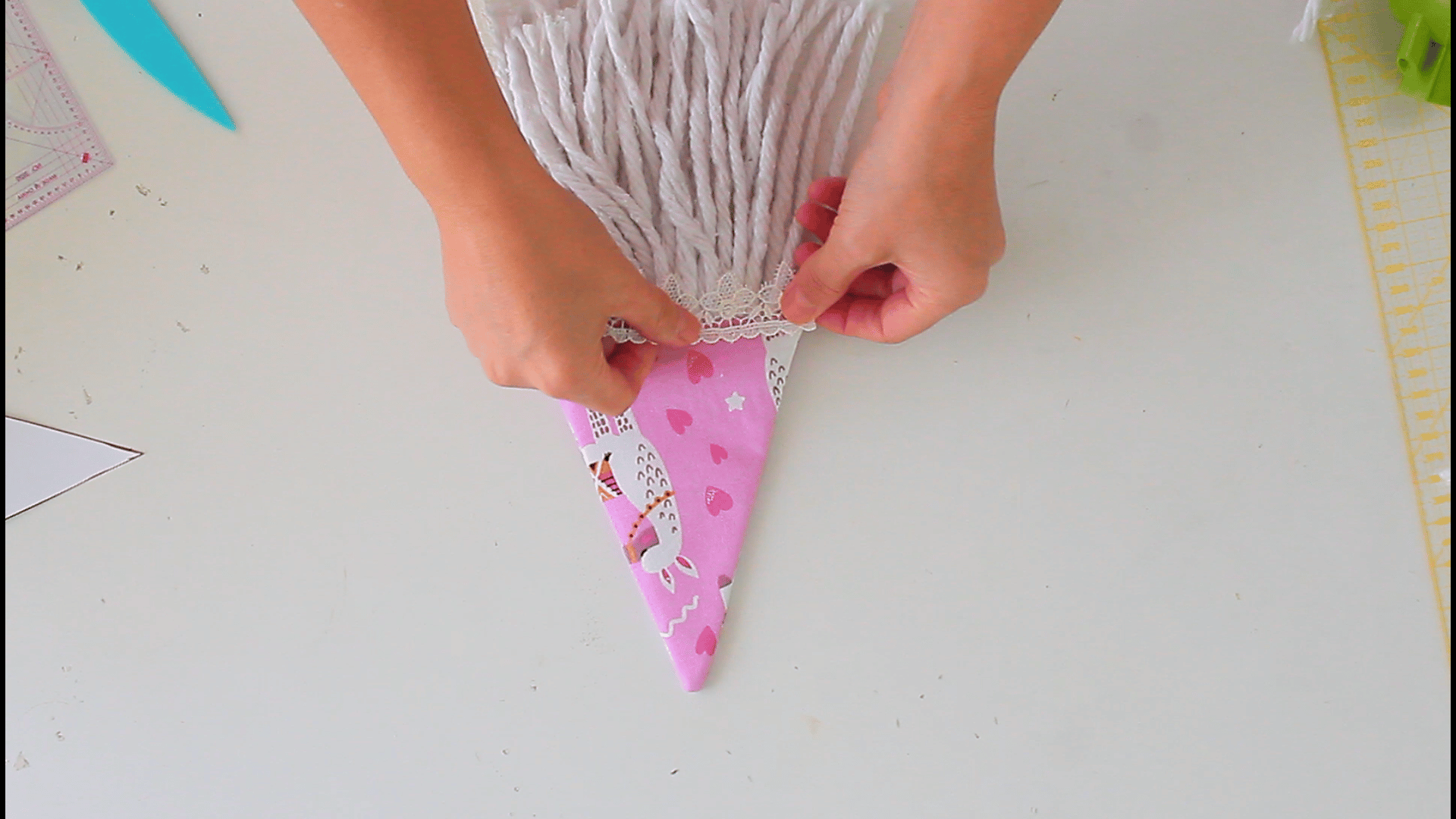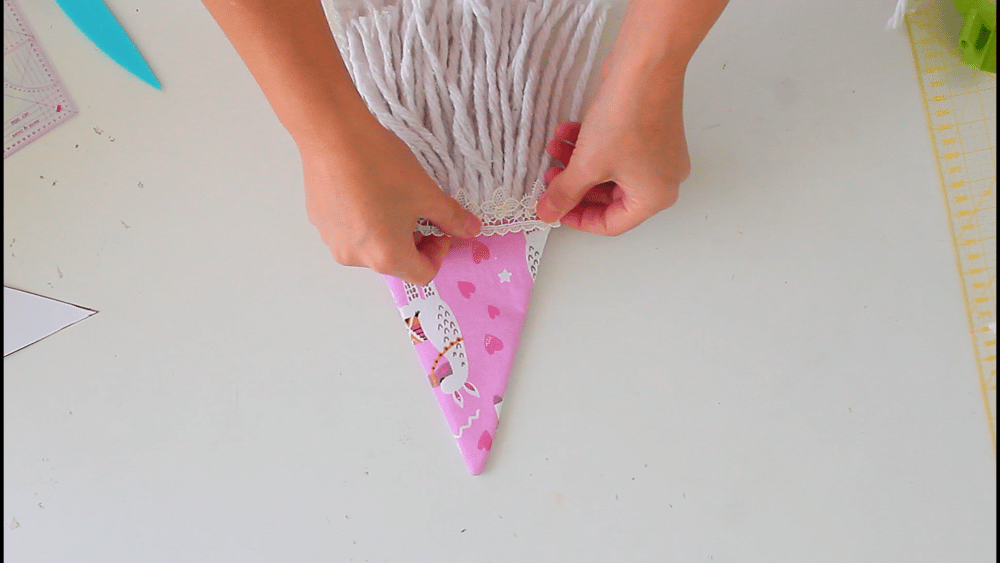 Hand stitch a ribbon and a pompom to the top of the hat. Hide the knot between the ribbon and the fabric.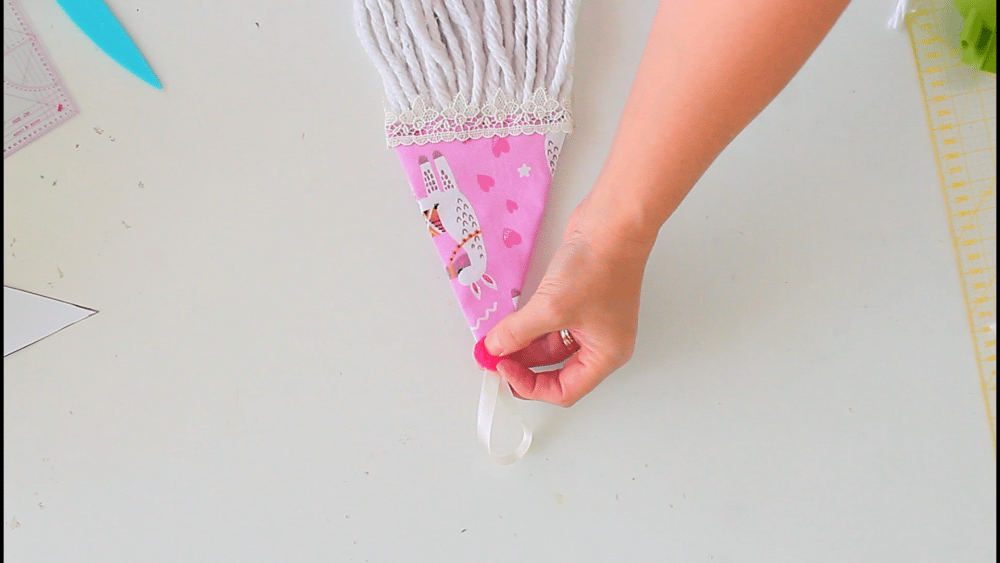 Add the nose at the top of the beard. You can hand sew it as well if your beads have holes or use a hot glue gun to glue it to the beard.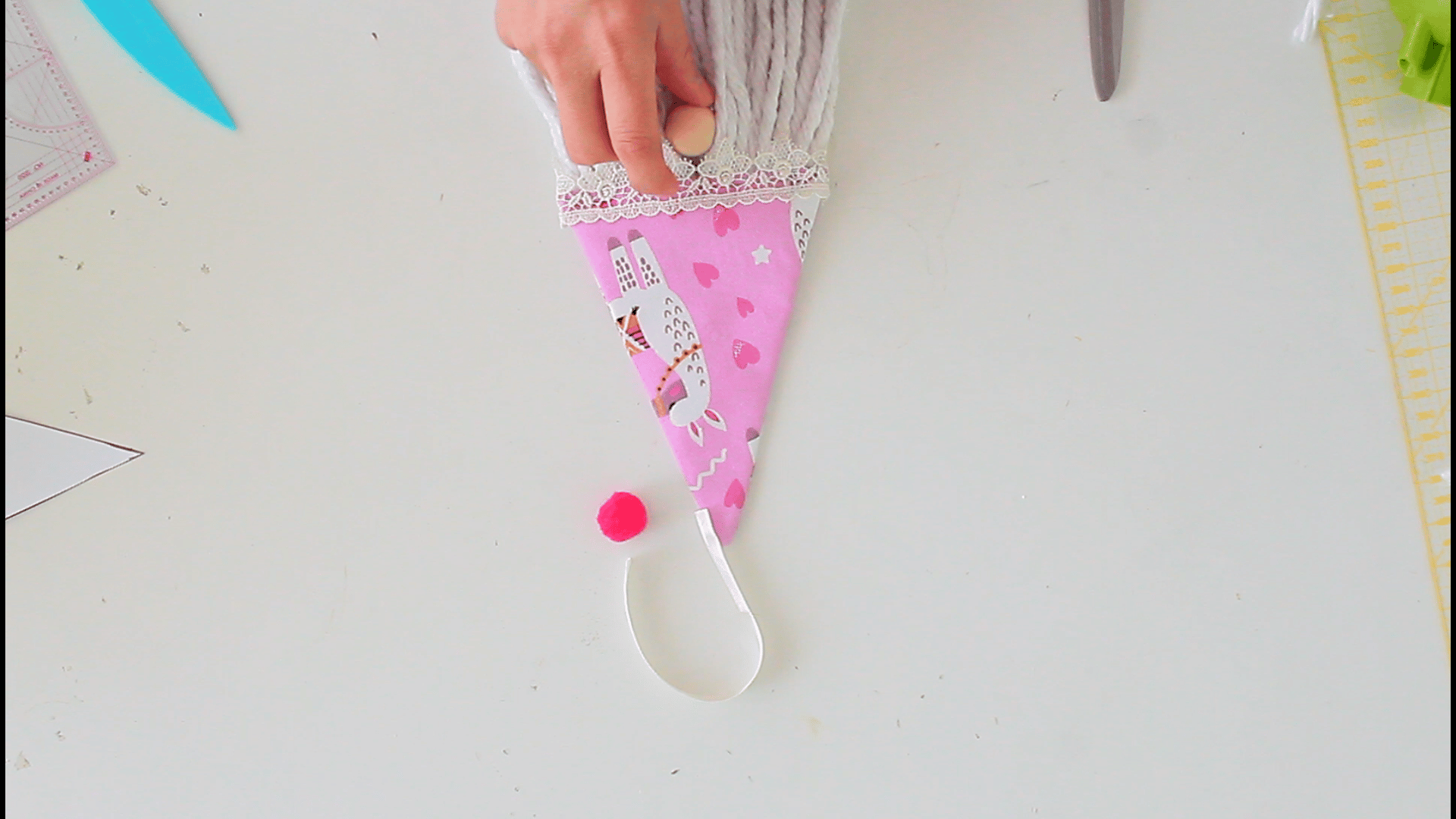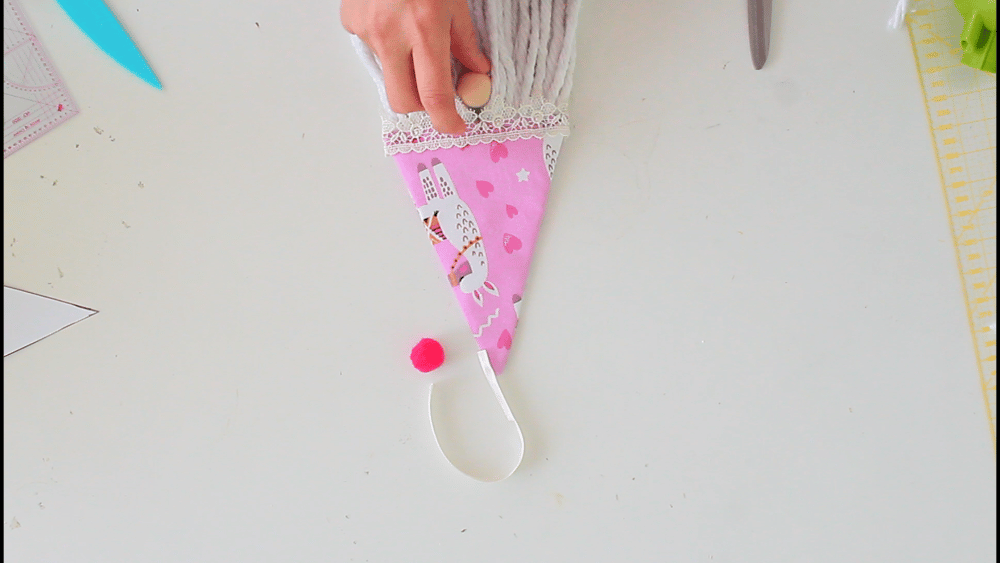 And you're done! Your Christmas gnome ornament is ready to be displayed and enjoyed this holiday season.
Whether you're looking for a simple Christmas tree ornament to do with the kids or need some handmade Christmas décor for your own tree, gnome ornaments are an easy and fun option. Get started on your Christmas gnome ornaments today and let me know how they turn out in the comments below.
Don't forget to subscribe to my newsletter for more sewing inspiration!
Pin to save for later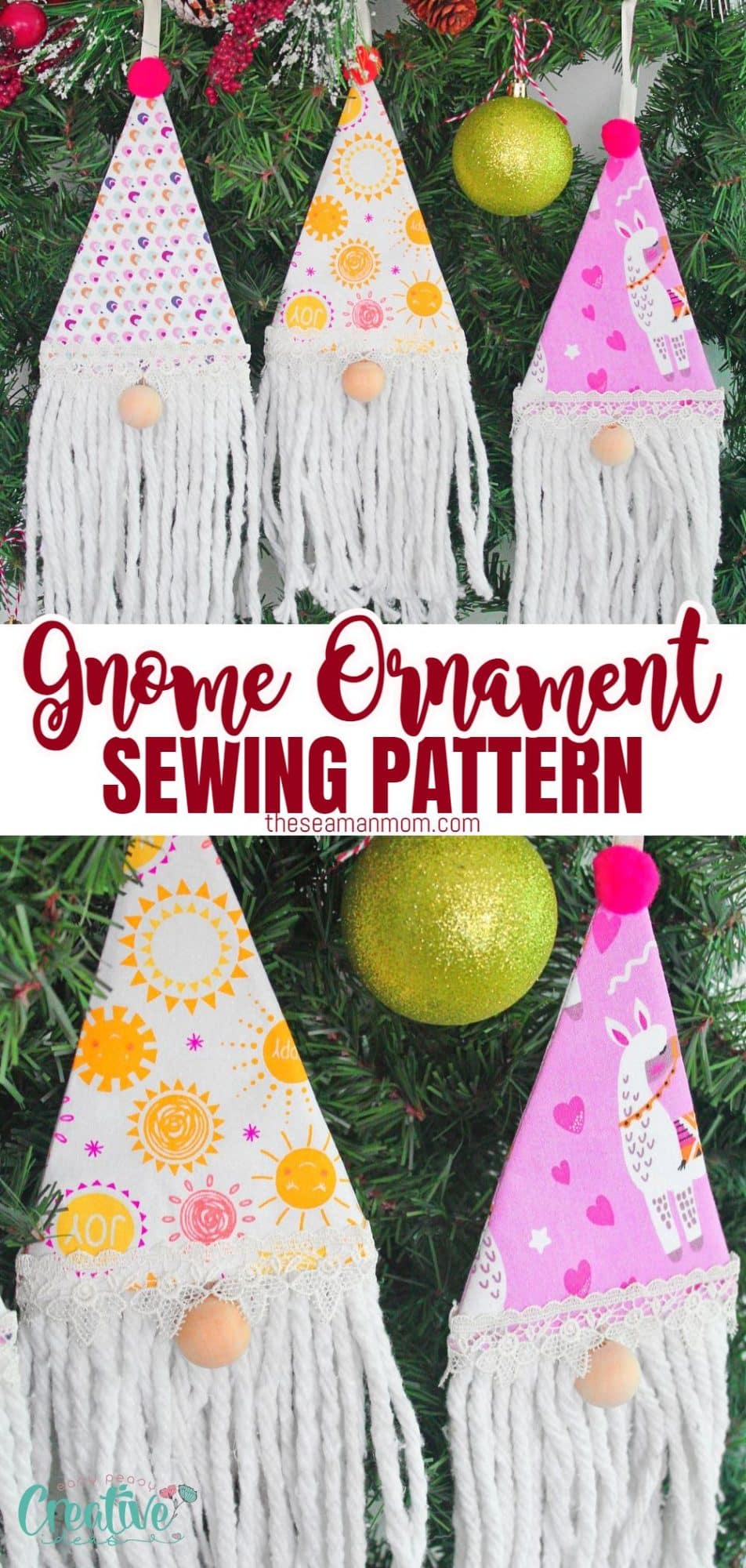 Most popular sewing projects: