Fabric Christmas tree ornaments
Article may contain Amazon & affiliate links. As an Amazon Associate I earn from qualifying purchases at no additional cost to you.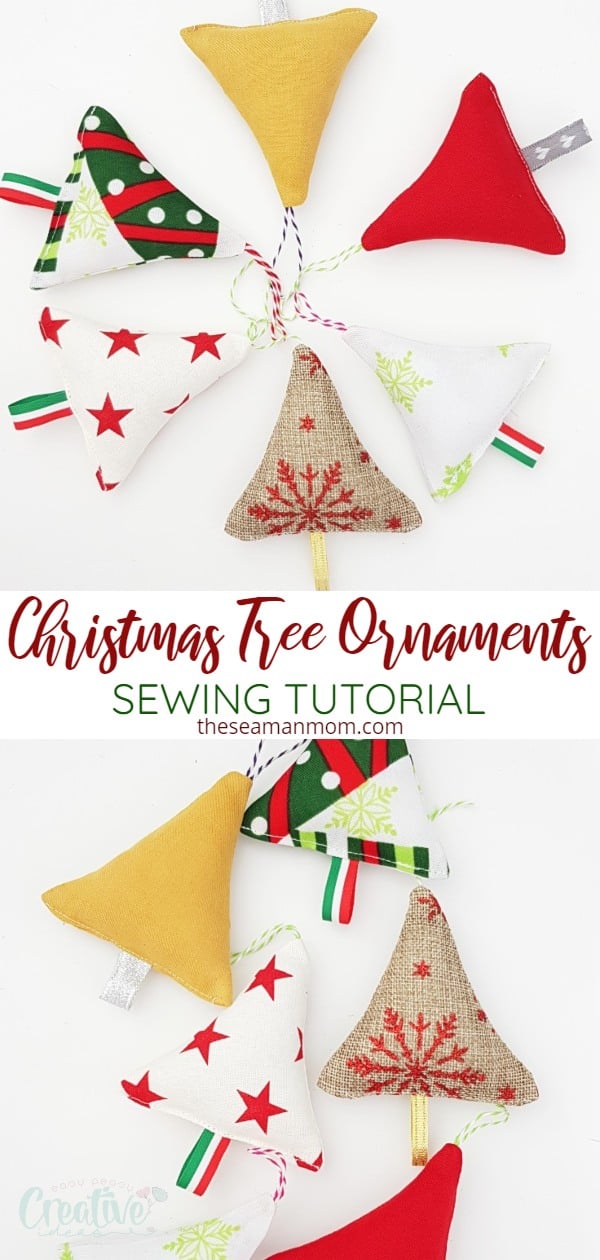 This year add a dose of cuteness to your Christmas tree when you make your own fabric Christmas ornaments! These fabric Christmas tree ornaments are super easy and quick to sew and a great scrap project!
DIY Christmas tree ornaments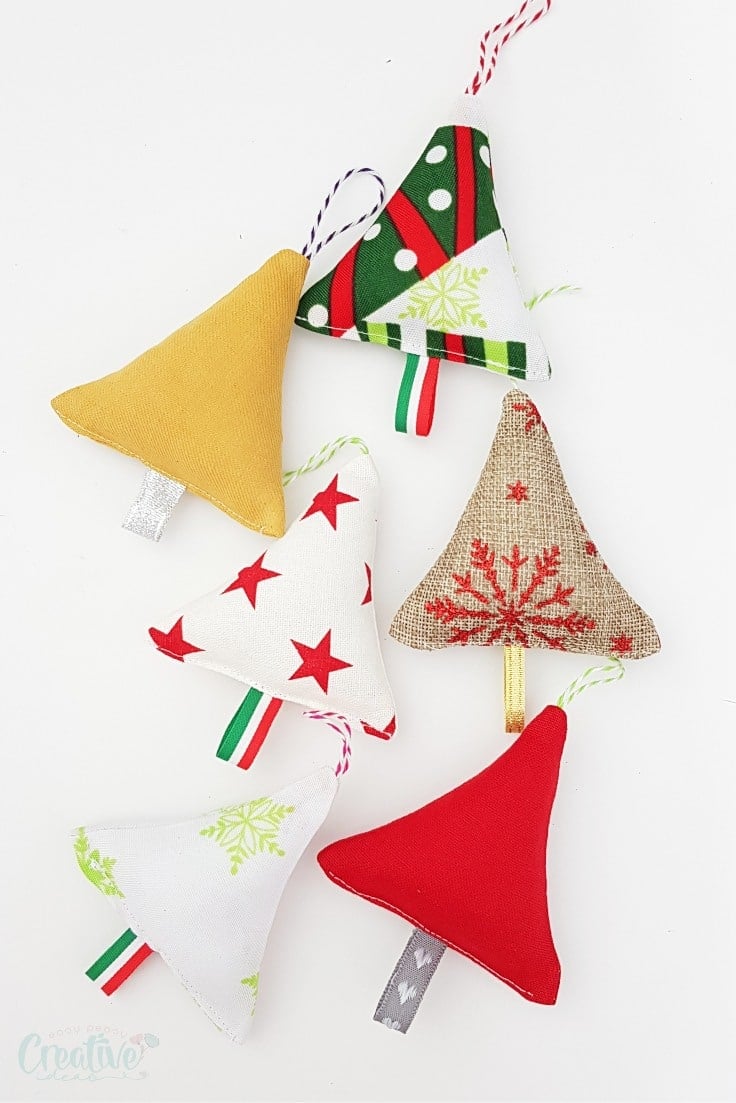 Sewing Christmas ornaments is such a fun and rewarding activity! I've never done my own ornaments before but the moment I started working on these adorable fabric Christmas tree ornaments I knew I'll have a hard time stopping! And I was right! All sorts of new ideas came to mind instantly and a few other ornaments are now in the making, so check back later for some more Christmas fun!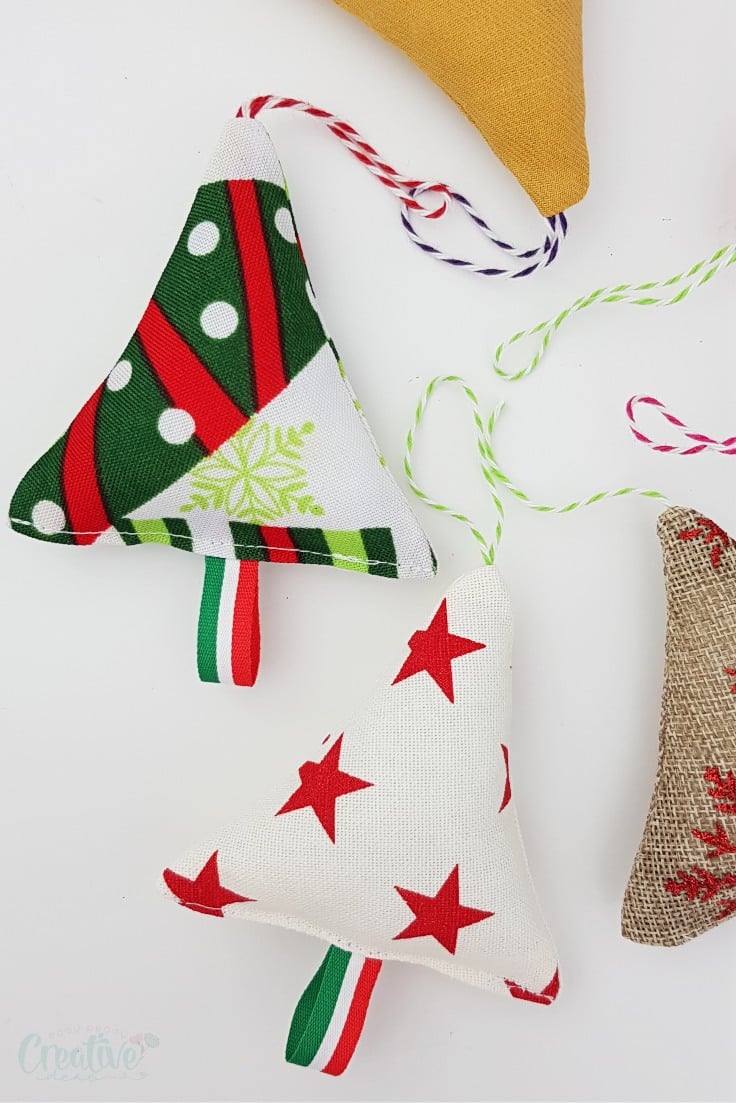 Want more Christmas projects?
These lovely fabric Christmas tree ornaments are a great way to add a personal touch to your Christmas decor but are also cute gift ideas for friends and family. Particularly great for those who appreciate handmade items. Being so quick to make, these ornaments are a wonderful last minute project if you decide your Christmas tree could use some more pizzazz! I know I like mine really "stuffed" so I add tons of ornaments and this year, it's handmade mania!!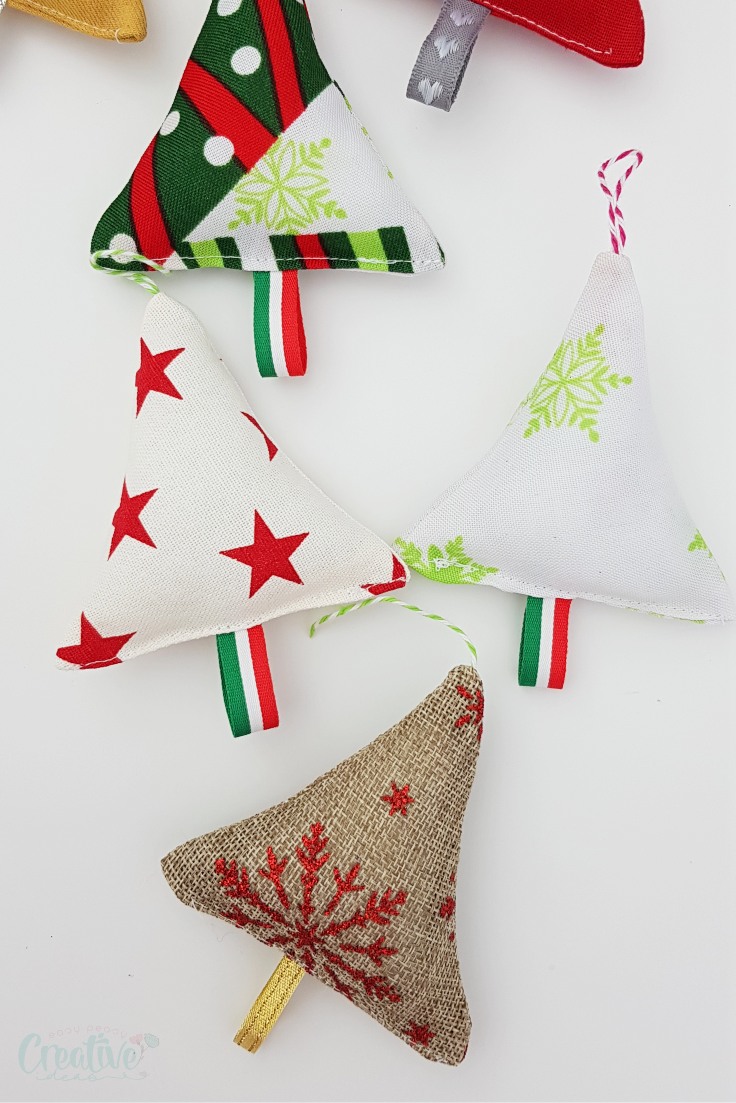 Oh, and have I mentioned how great these cuties are for those fabric scraps you've been wanting to get rid of for a long time now? Just make sure you don't use heavy weight fabrics. These fabric Christmas trees work best with medium and lightweight fabrics because of those tiny corners and small seams to sew.
What can I do with extra Christmas ornaments?
If your Christmas tree doesn't need any ornaments but you still want to make some of these fabric ornaments (because they're so darn cute!), here are some other ways you can use them to decorate for holidays:
Hang them on a string, ribbon or twine to make a garland and use it to decorate an empty wall or your mantel.
Glue, pin or hang them on a willow wreath and use it to decorate your front door.
Add them to a clear bowl and use it as centerpiece for your Christmas table.
Hand sew your family members' initials on each fabric Christmas tree and hang them on the door of their bedrooms.
Get selfish and keep them for yourself, on your sewing table, as pincushions.
The Christmas ornaments pattern is super easy to figure out on your own but if you like my version, I made a template for my fabric Christmas tree ornaments you can purchase here!
Fabric Christmas tree ornaments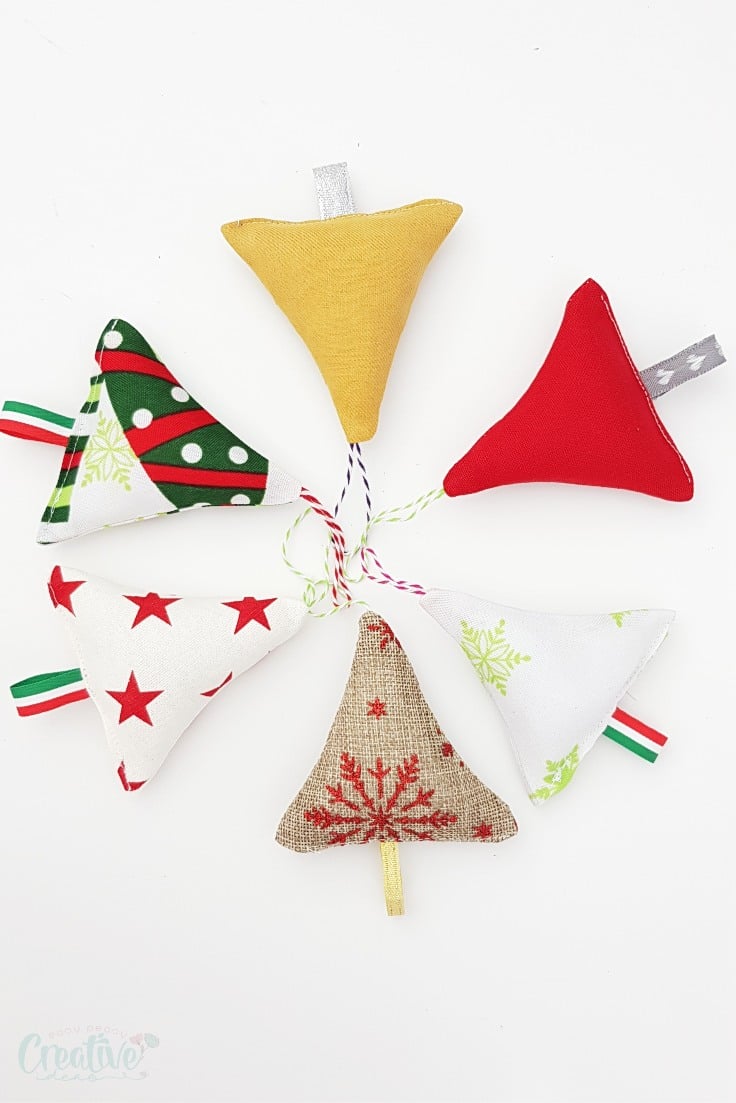 Materials:
Directions:
Preparing the triangles
Place the fabric right side up then fold the fabric in half, lengthwise.
Place the pattern on top and trace around using a fabric pen.
Pin through both layers and cut out.
Take the pattern piece and fold it at the fold line.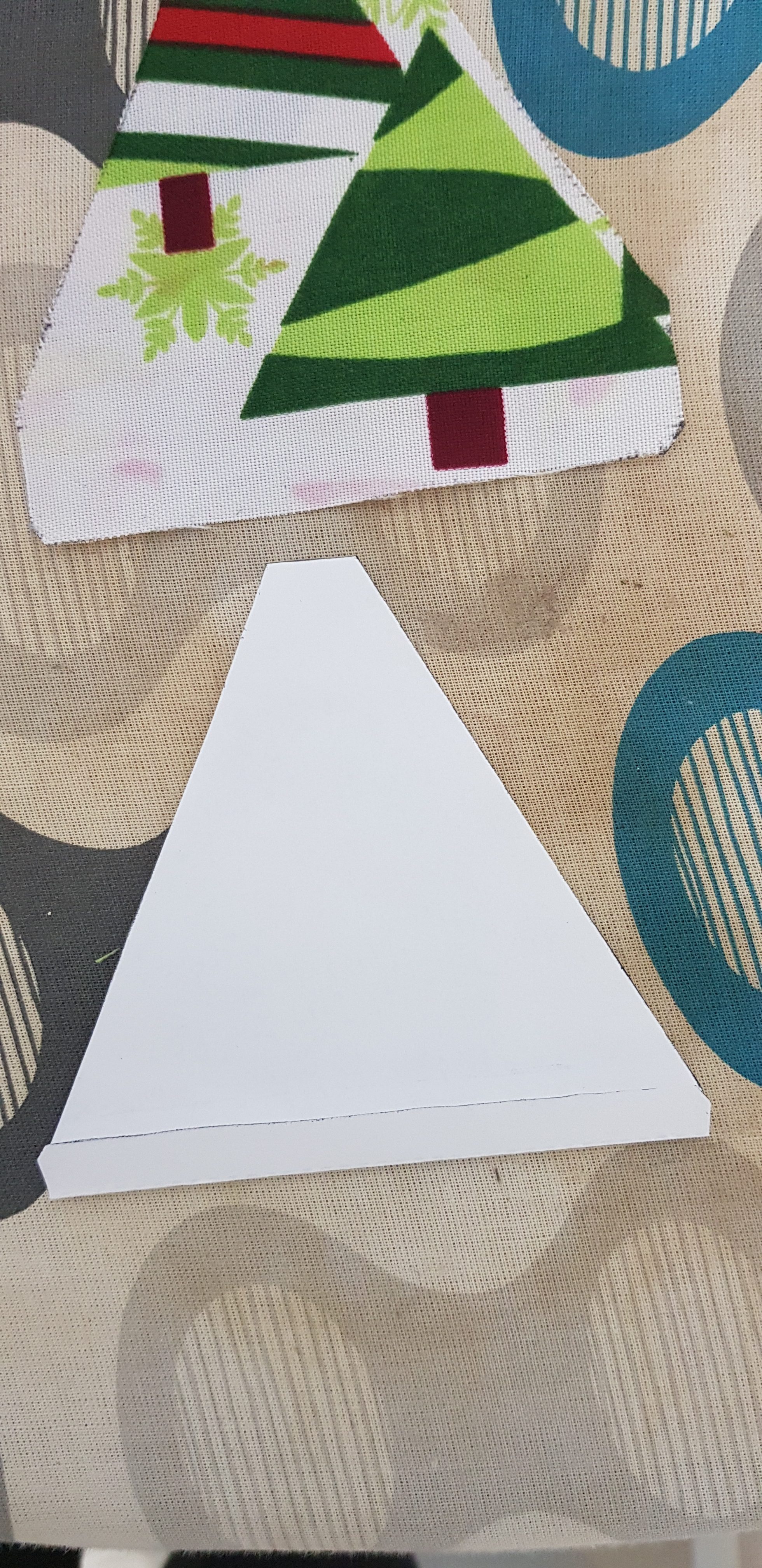 Place the folded pattern over one of the triangles and press the bottom of the fabric up with your fingers, following the pattern.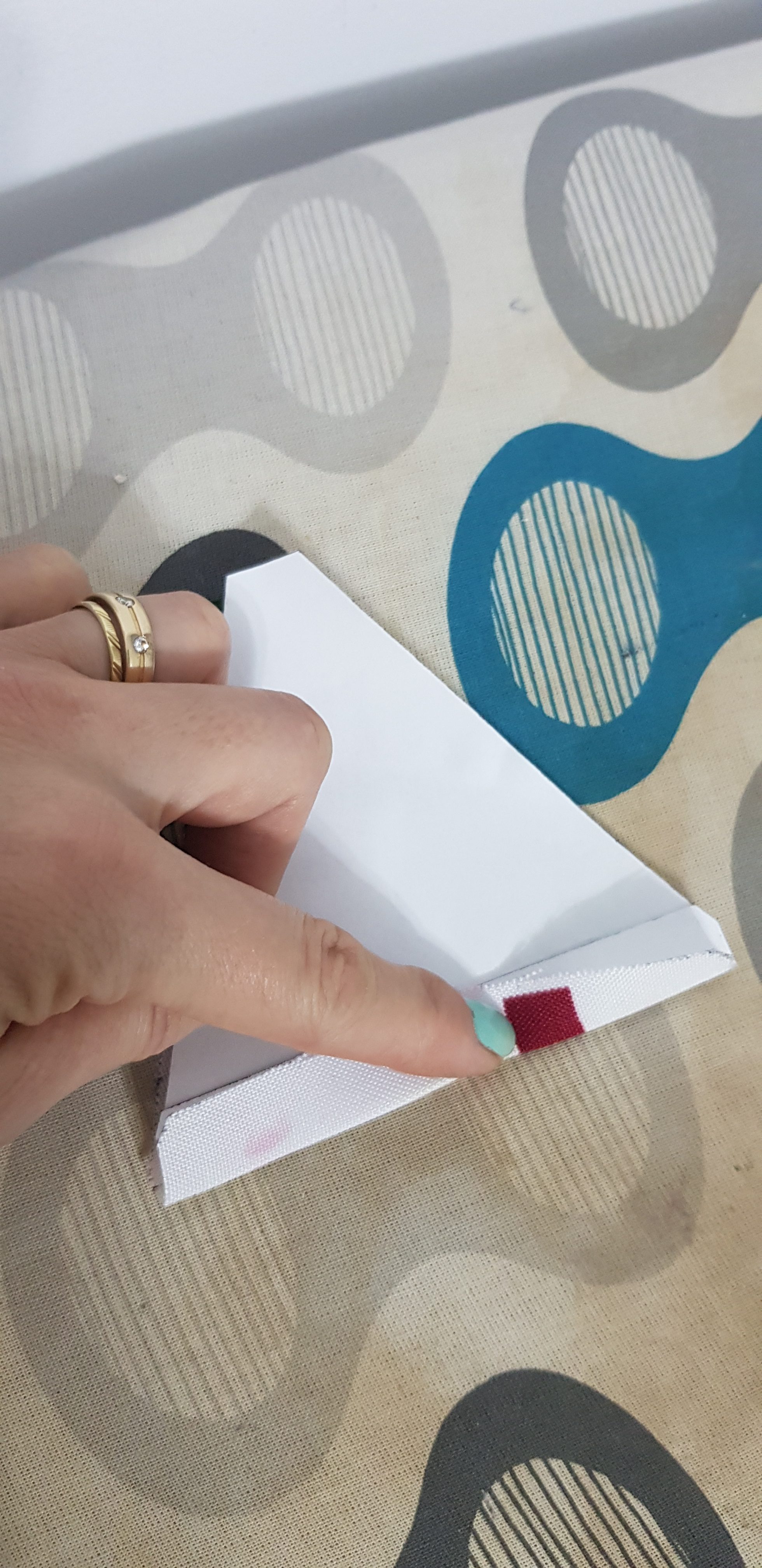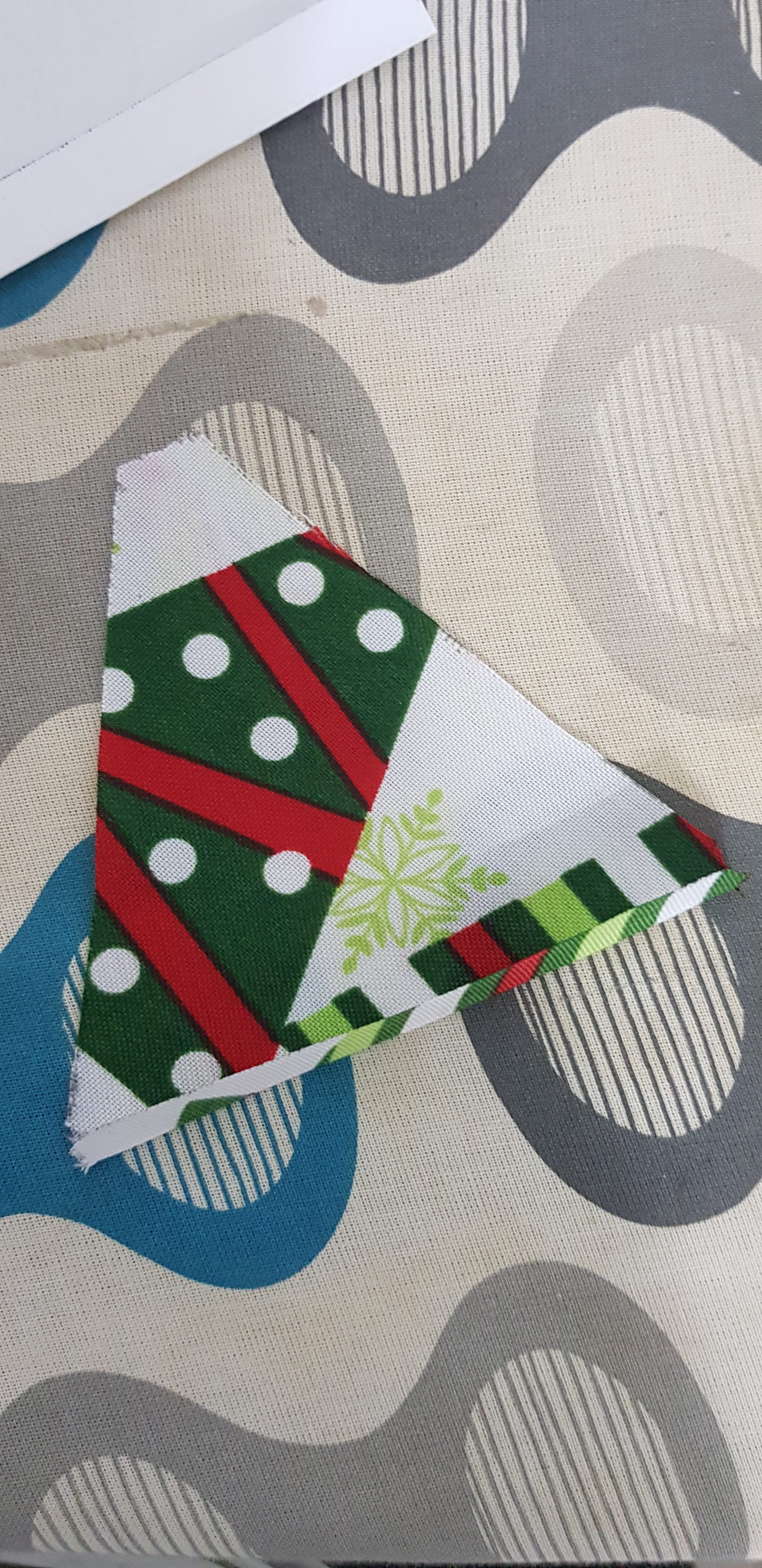 Repeat for the second triangle.
Sew the triangles
Place one of the triangles right side up.
Cut a piece of bakers twine, fold it in half and place it at the top of the triangle, with the raw edges out and the folded part down.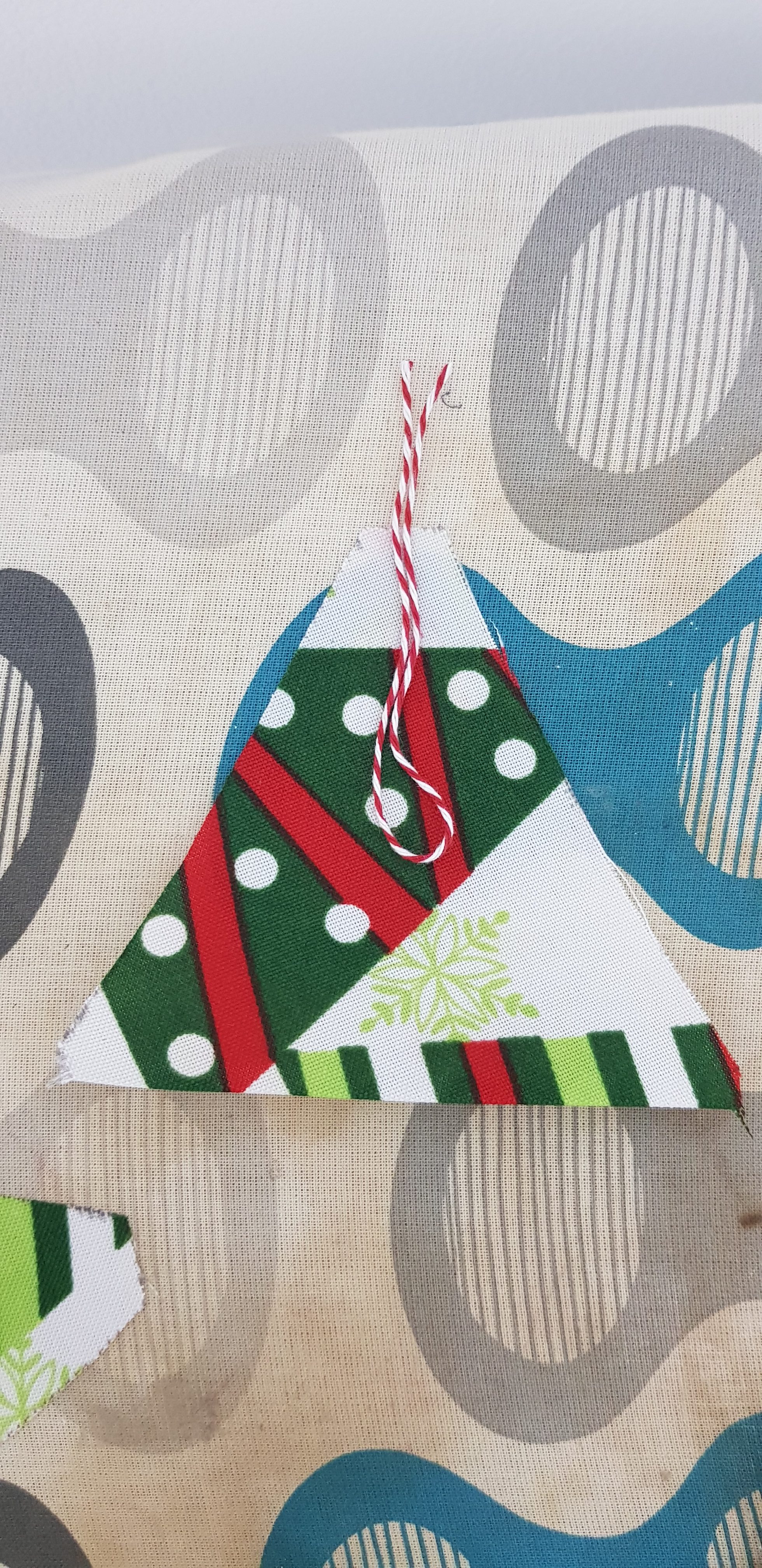 Top with the second triangle, wrong side up.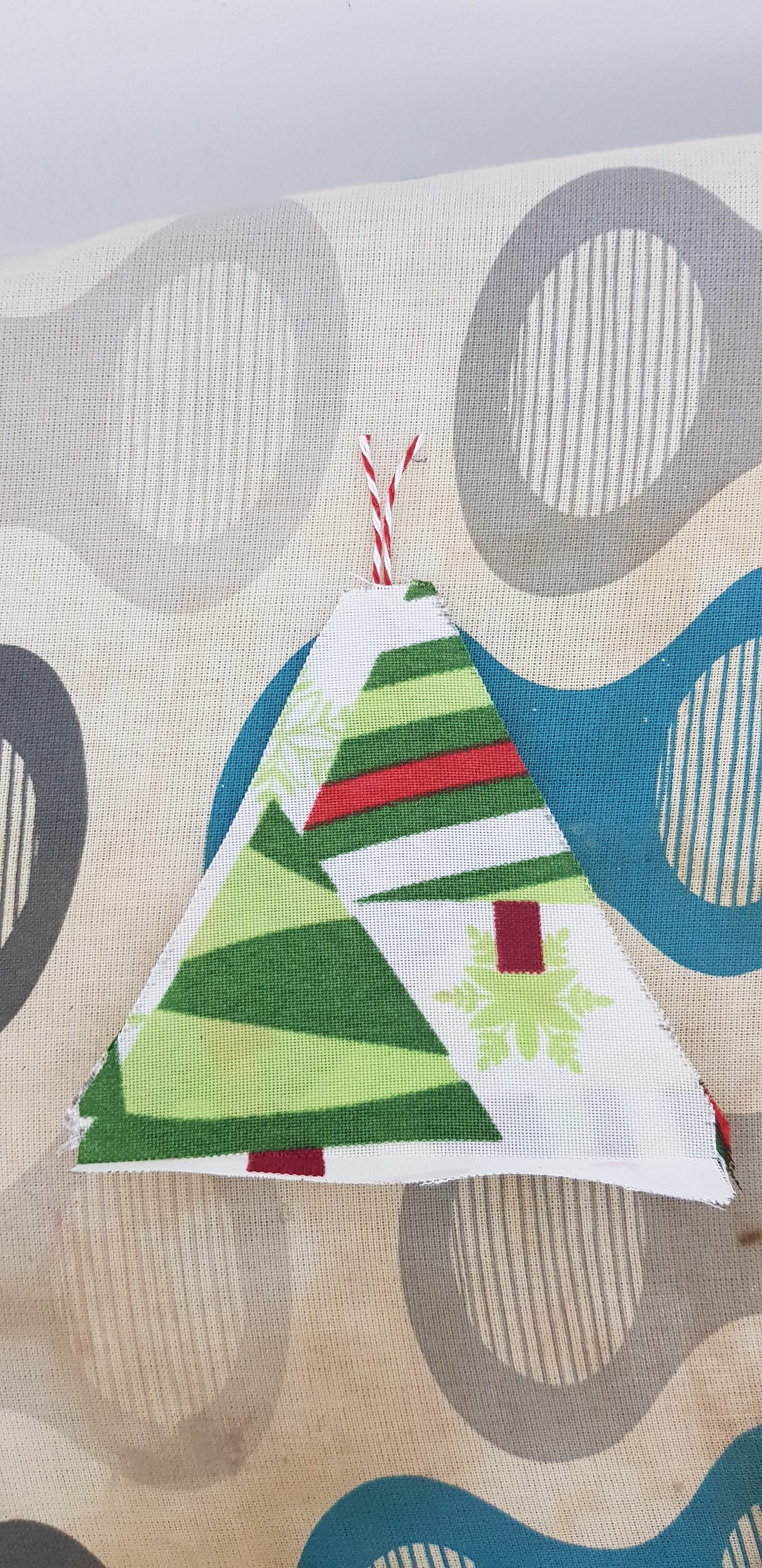 Pin the top to keep the twine in place then pin the sides.
Sew the sides with 1/4″ allowance, being very careful at those small lines in the bottom of the triangles.
Pres the seams open.
Trim the top corners.
Turn triangles out
Turn the triangle right side out, gently pushing the top out with a blunt tool. If you're sure the twine is secured in place, you can use it to pull the corner out.
Push the bottom inside, following the mark you traced before when you finger pressed the bottom then press well with iron on steam.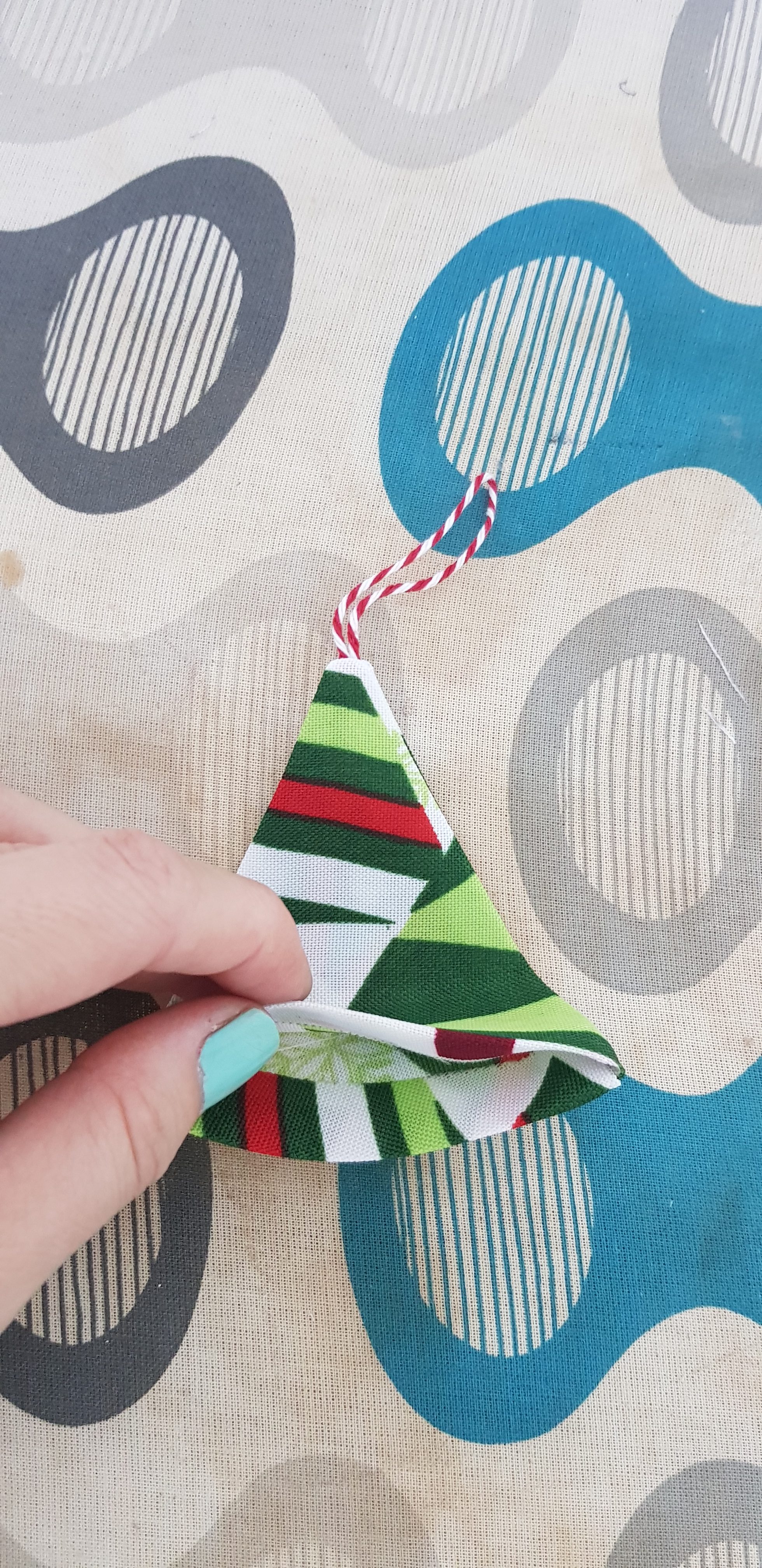 Smooth out the side seams.
Fill the tree
Fill the triangle with poly-fill.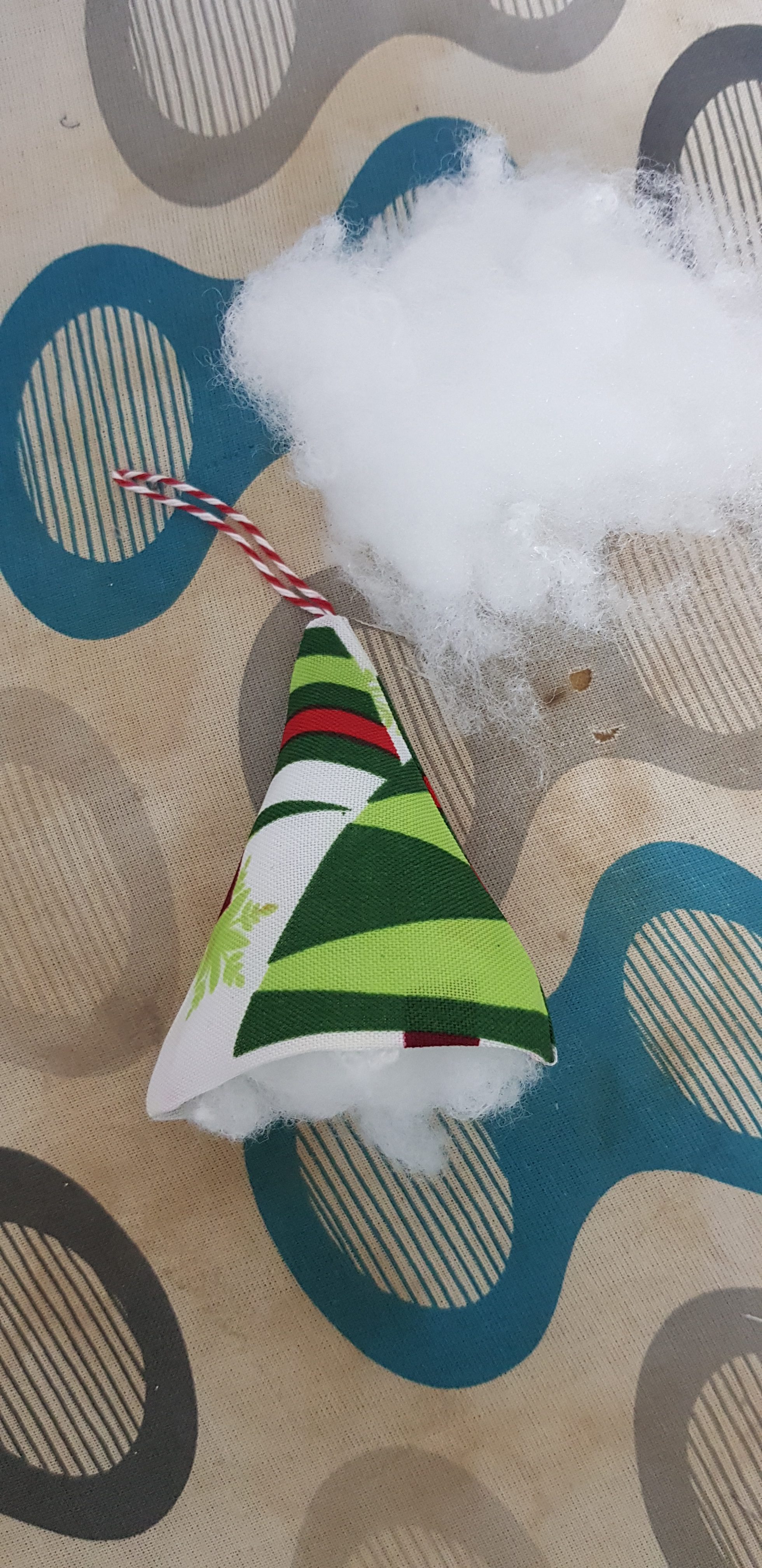 Push the poly-fill up to the top as much as possible and pin the bottom.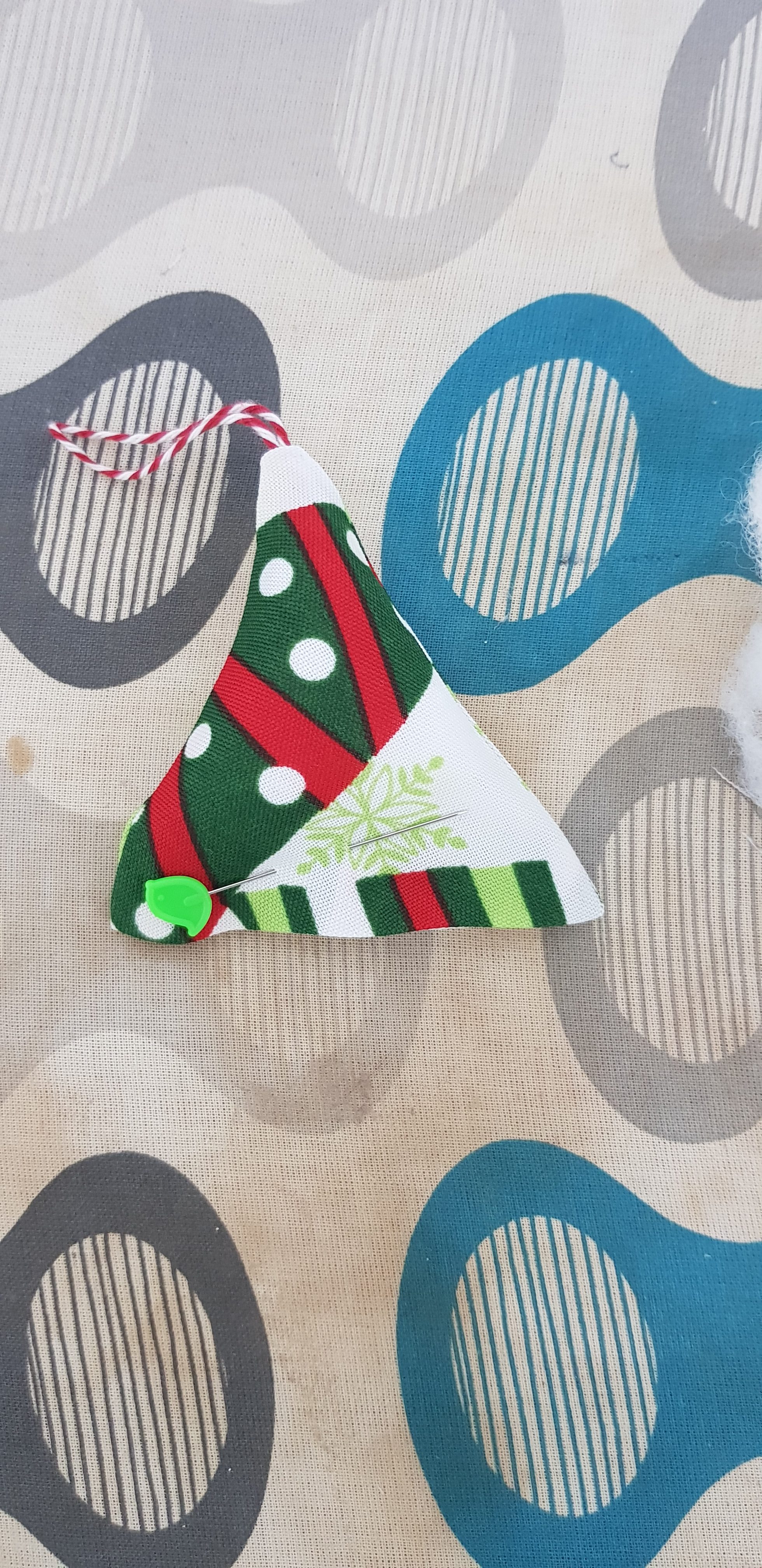 Finish the bottom
Cut a small piece of ribbon and fold it in half.
Sandwich the folded ribbon between the bottoms, with raw edges up (inside the triangle).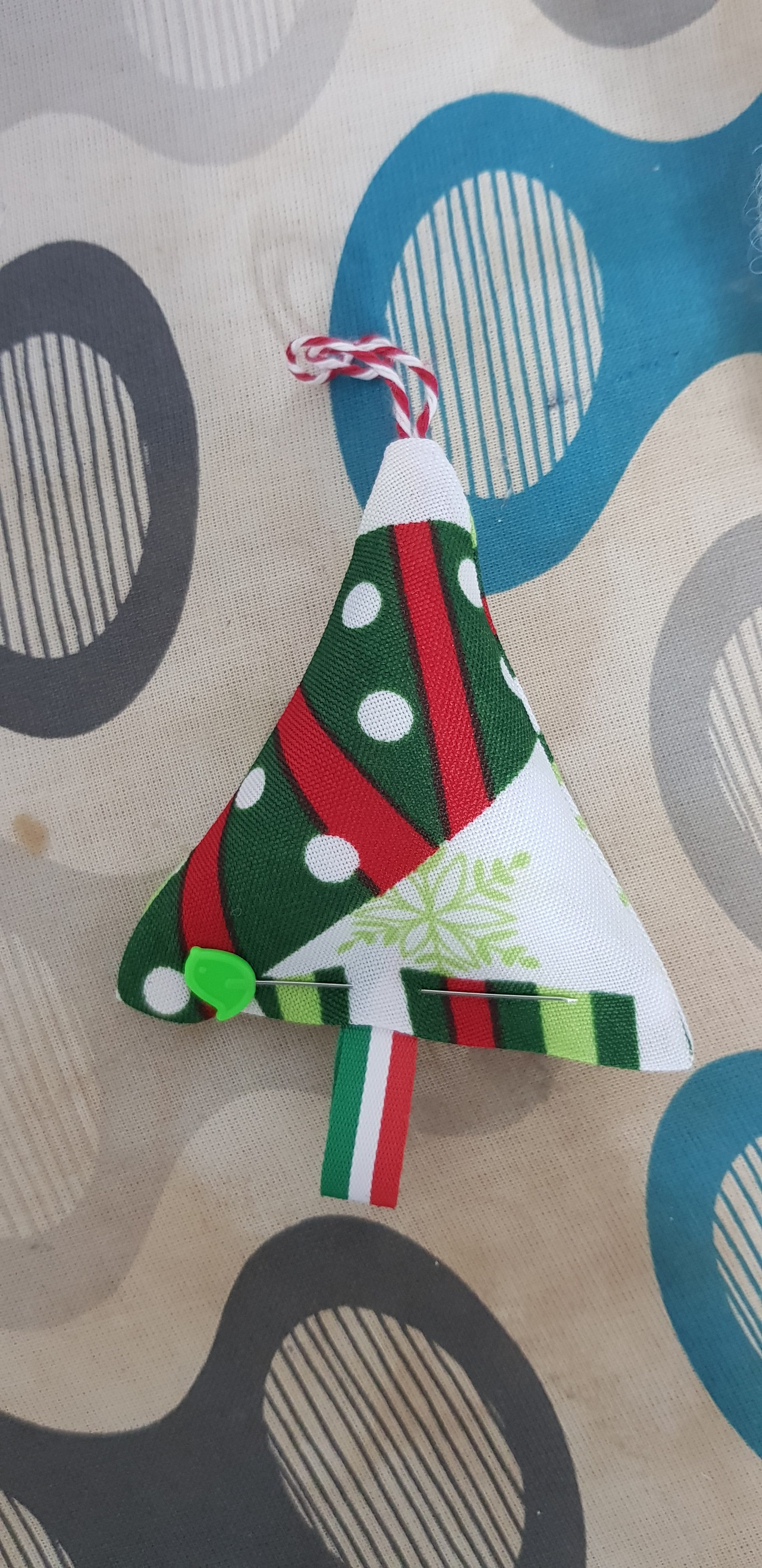 Sew the bottom with 1/8″ allowance.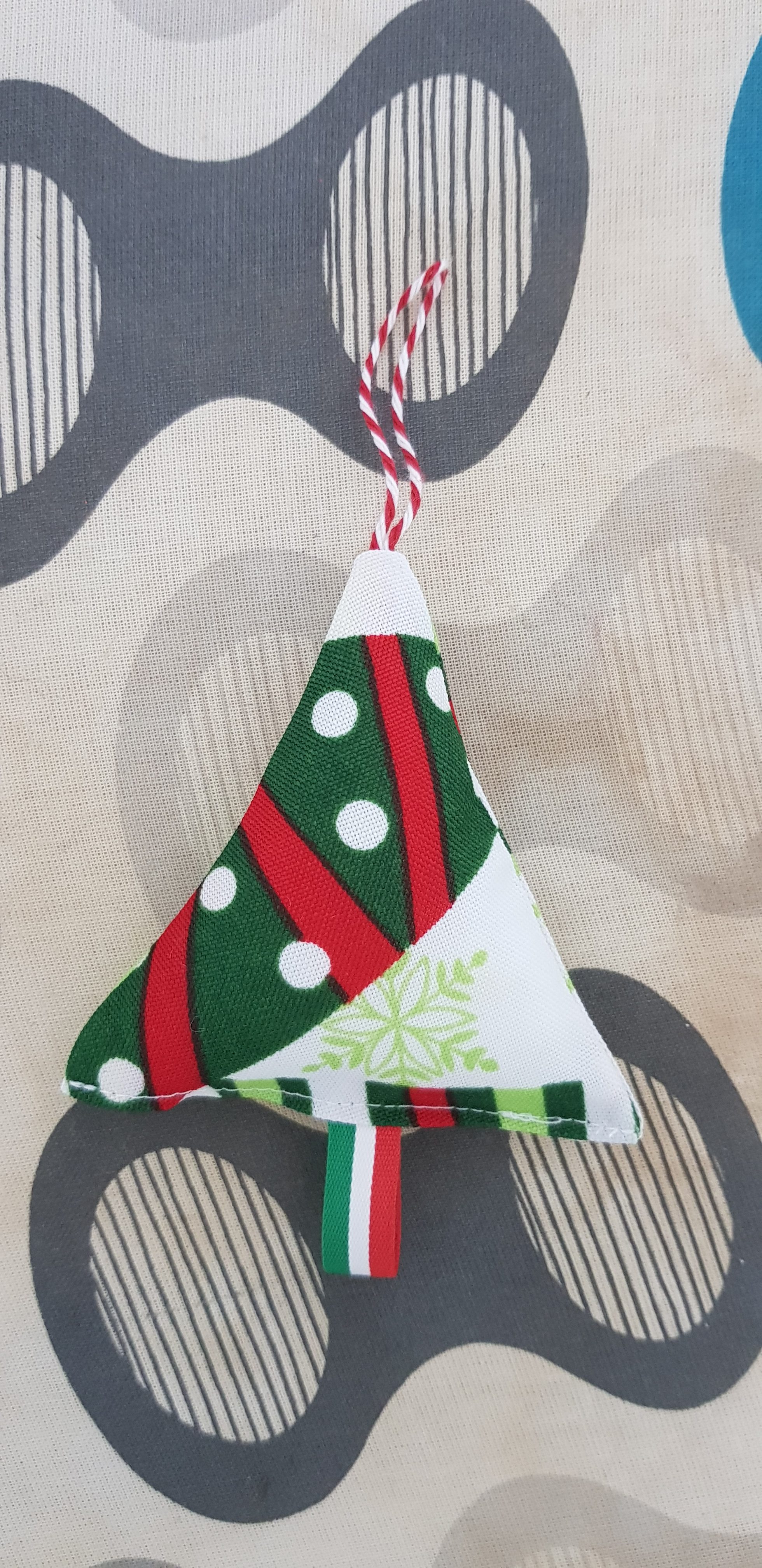 Puff up the poly-fill a bit so that it distributes evenly inside the triangle.
And that's pretty much it! Take a step back and admire your cute fabric Christmas ornaments then go get your Christmas tree ready and hang these beauties up!
Pin to save for later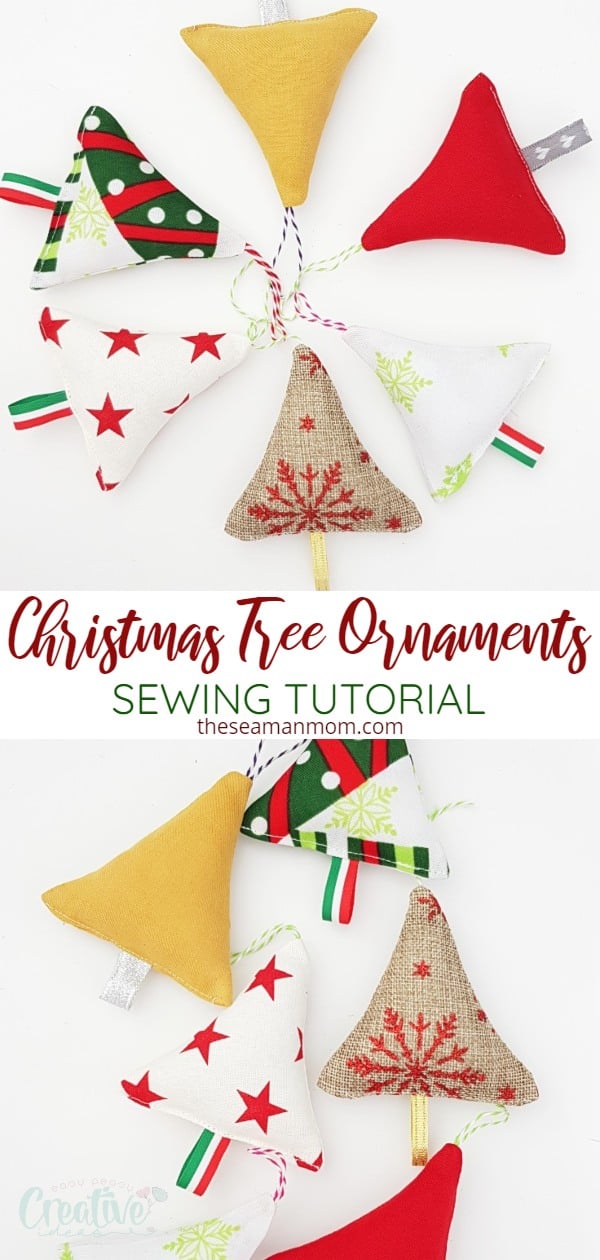 Most popular sewing projects: