Do you have a cute flock of birds in your back yard? Give them something more to chirp about with this Easy DIY Birdhouse that you can make out of an used milk carton!
Easy DIY birdhouse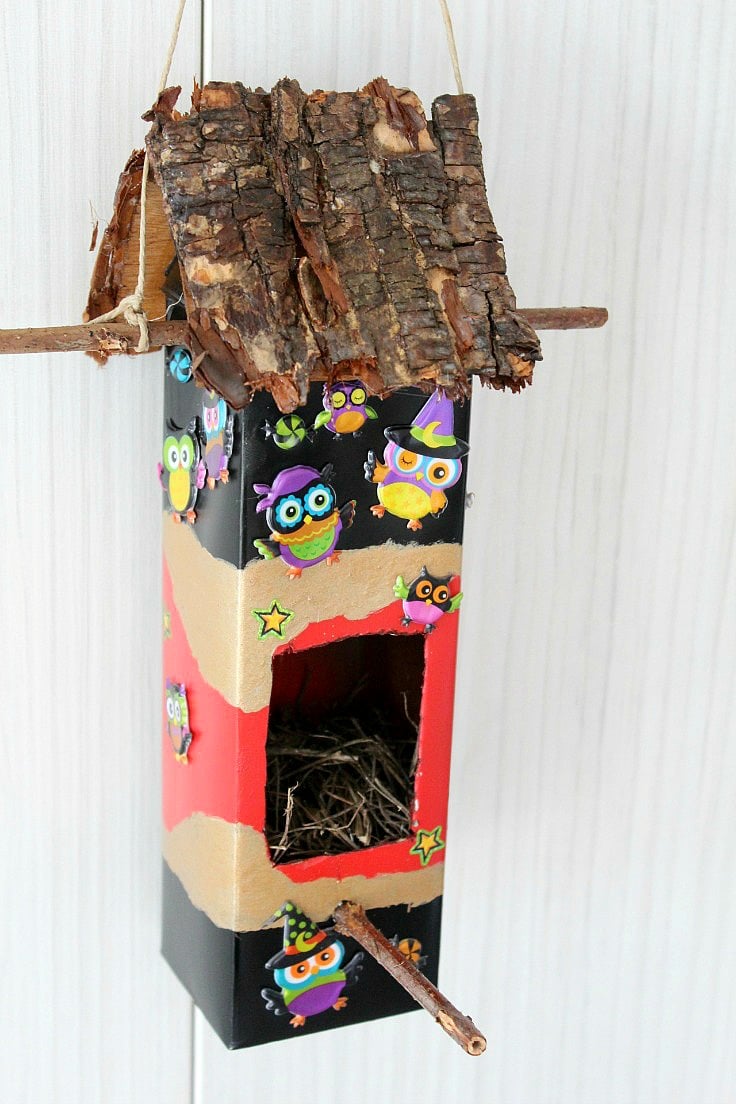 There are so many birds around our neighborhood and I'm trying my best to attract more in our back yard too; I just love birds! They're so cute and cheerful and their chirping is so refreshing every morning, it's like a big dose of energy! And I like to keep them happy like I did with these peanut wreath feeder and this orange peel feeder and now it's time for an insanely easy diy birdhouse I put together in a snap.
This birdhouse is not only useful for our little buddies but it's a nice pop of color in the back yard. And it doesn't get any easier than this! Just use an old milk carton instead of throwing it away (great recycling idea by the way!), cut a hole for the door, paint it in colors of choice, decorate if you will, add some straws or hay if you have any and hang in a tree.
These little birdhouses make great gift ideas too, for friends and family members who are big fans of nature and recycling. You can even use them as home decor to brighten up your house of give a rustic touch to a room. It's also a wonderful project to make with little ones, especially if they're into painting and crafting as my little girl is. Just use acrylic paint that is kid friendly and make sure you help them with cutting the holes or supervise the older kids when doing so.
You can make this a two in one also, if you attach a mini peanut wreath bird feeder or an orange peel bird feeder to it.
Easy DIY Birdhouse Tutorial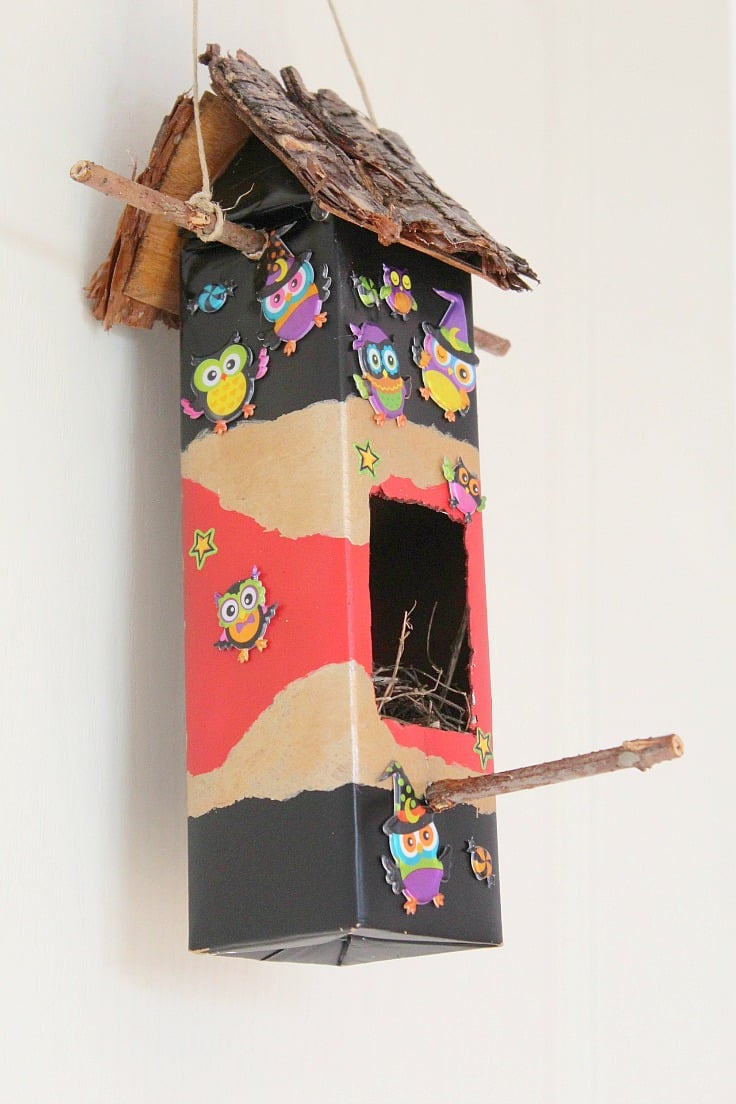 Materials:
used milk carton
fine sand paper (I used a 220 and just lightly polished the surface)
sharp cutting tool
enamel spray paint (or acrylic paint) suitable for carton, in color/colors of choice. I used gold, black and red. Enamel paint holds better outdoors.
enamel colorless spray paint
2 pieces tree bark for the roof
punching tool
a couple of twigs
twine to hang the birdhouse
owl stickers (optional)
a few pebbles to put on the bottom of the house for more stability
a few straws or hay to make a nest for birds inside the birdhouse
Directions:
Start by washing your milk carton very well as milk left inside can get moldy. Allow to completely dry, overnight.
Remove the screw cap.
Cut a hole for the door with a cutter, in the front of your milk carton's face. Cut a smaller hole to attract small birds or vice versa for bigger birds. I think the bigger birds this box would accommodate are the robins.
Polish the surface of the carton with the sand paper to prepare for primer and help the paint stick better.
Apply a coat of primer.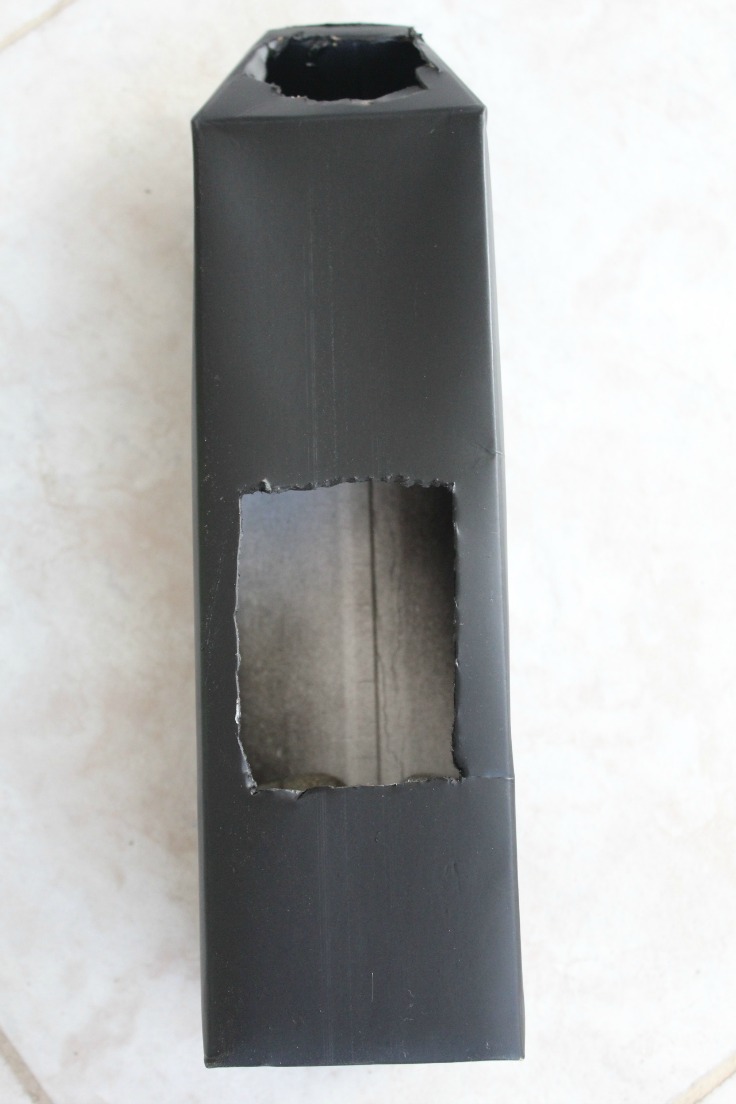 Decide on the design and spray paint accordingly. Choose bright colors and add shiny stickers to attract birds. My design was the result of an accident. I meant to paint 3 parallel stripes, 2 black and one red, so I wrapped paper around the middle of the carton to paint in steps. When I removed the paper, a lot of the red paint has been removed too so I had to fill the gaps with a brush or redo the red stripe. I decided to use gold paint for those gaps and I actually liked this design better than what I had in mind originally.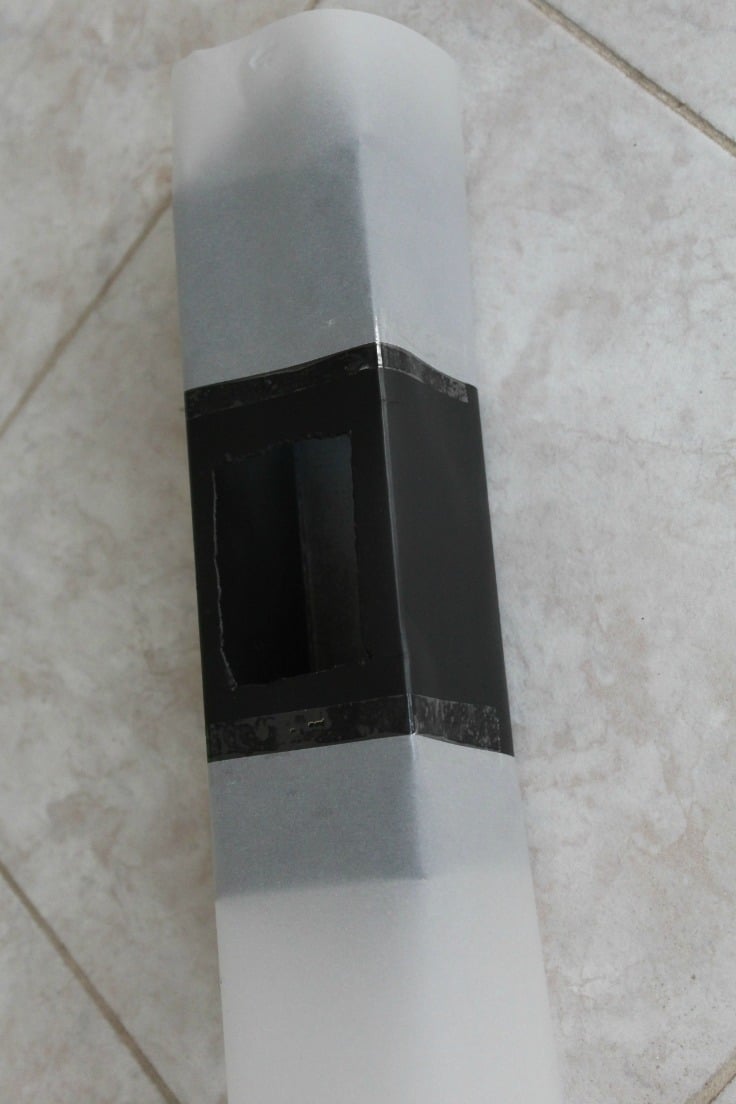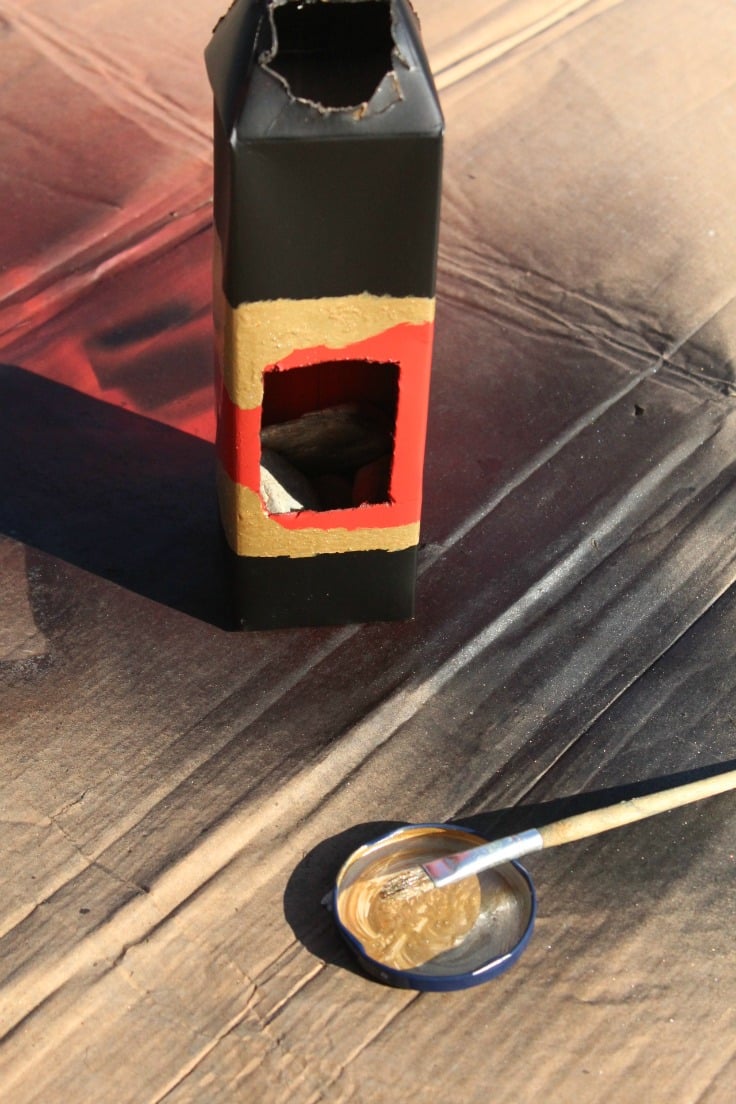 Use your hot glue gun and hot glue to glue the tree bark to the "roof" area. Fill the gaps in between with more hot glue, to prevent the house from getting wet through those gaps during rainy days.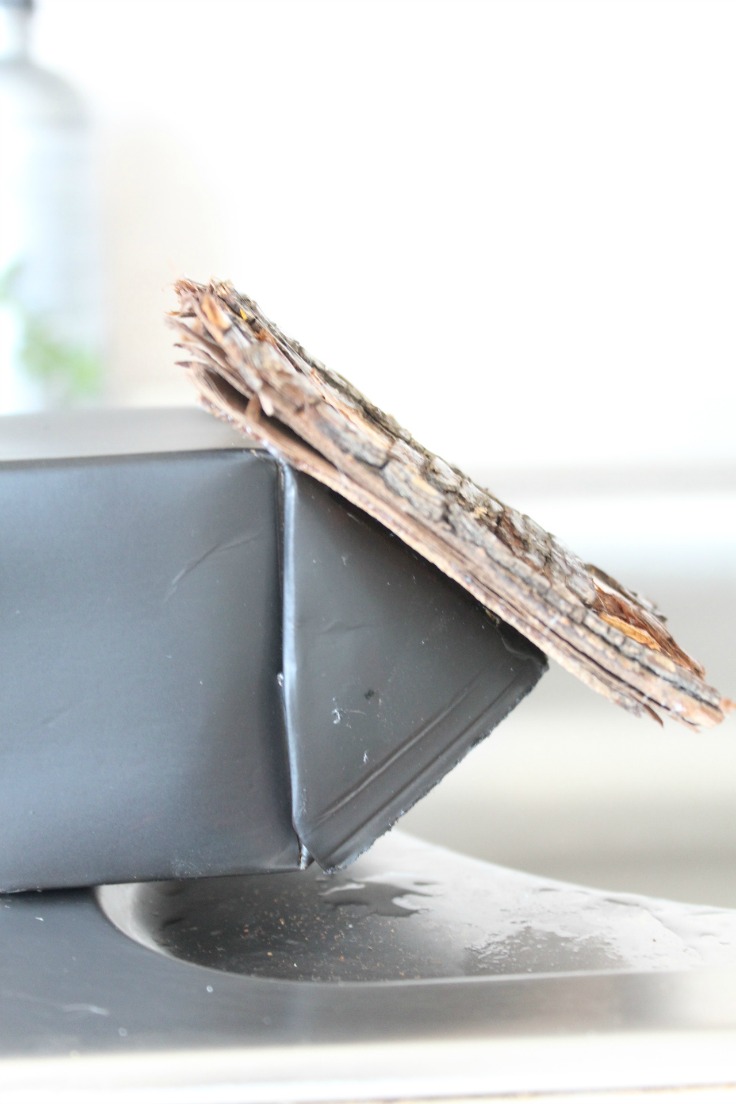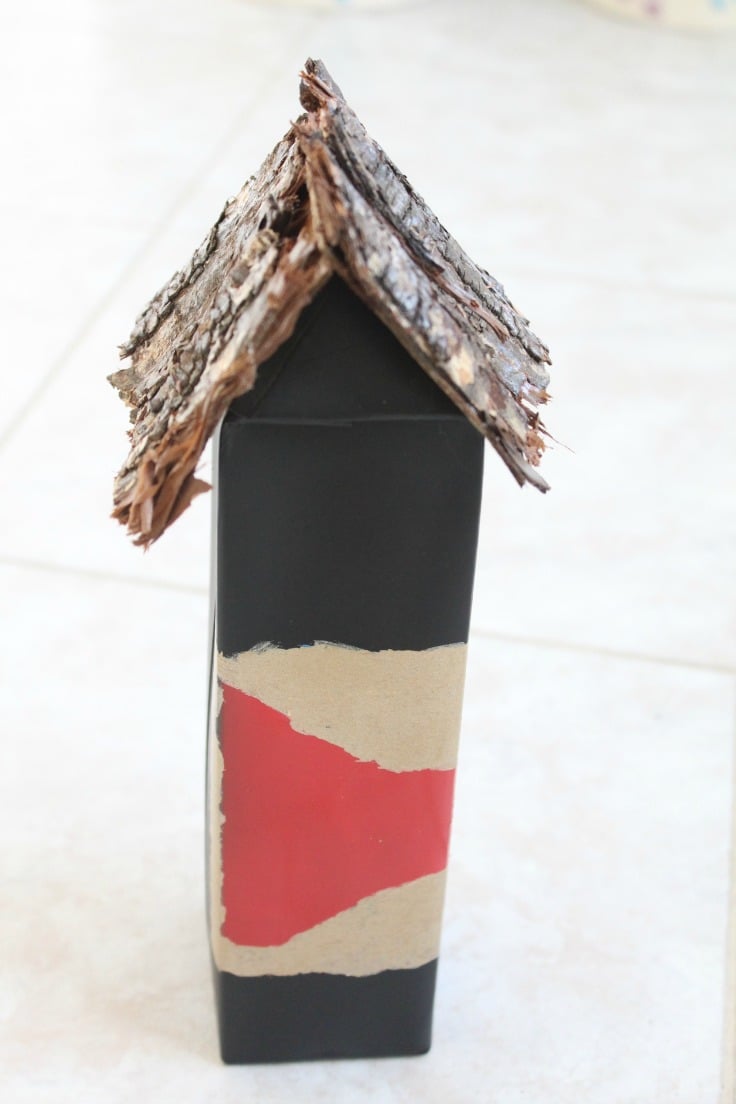 Once the paint has completely dried, add some fun stickers, buttons, pebbles or anything shiny (birds love shiny!)
Get a couple of twigs and stick one to the bottom of the house, just underneath the door, all the way through the back. This will serve as support for birds when trying to enter the house. Use a punching tool to create the holes. Stick the other twig to the top of the house, from one side to the other; it will serve as support for the house when you'll hang in in a tree.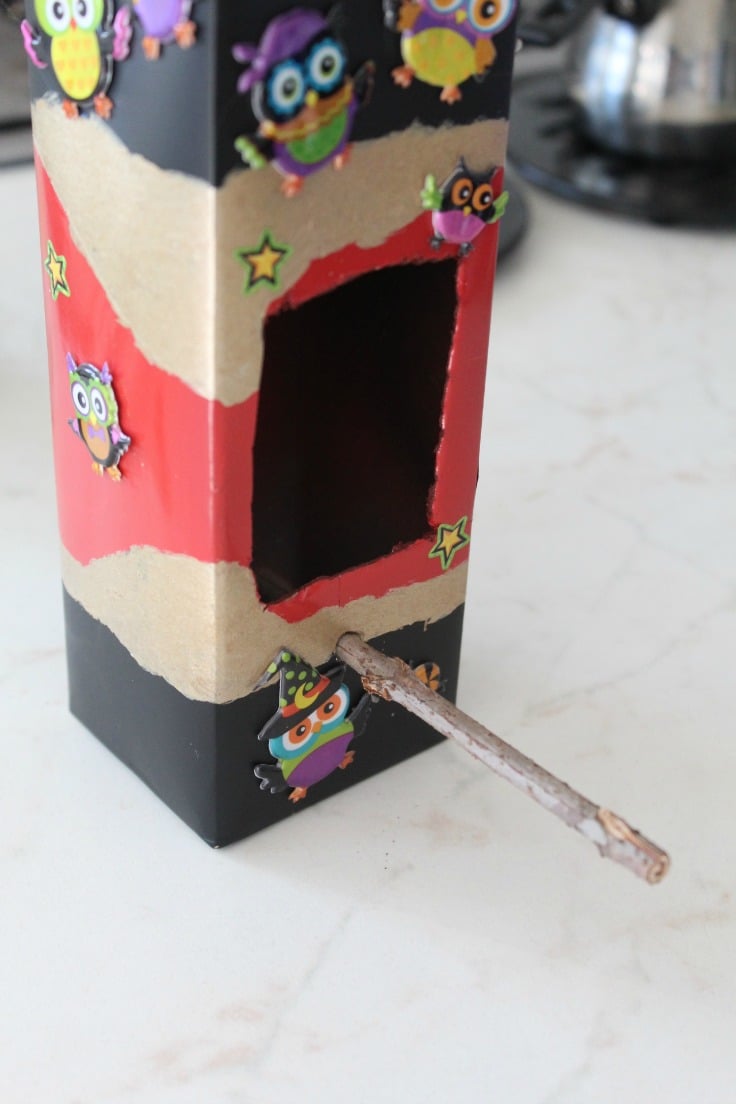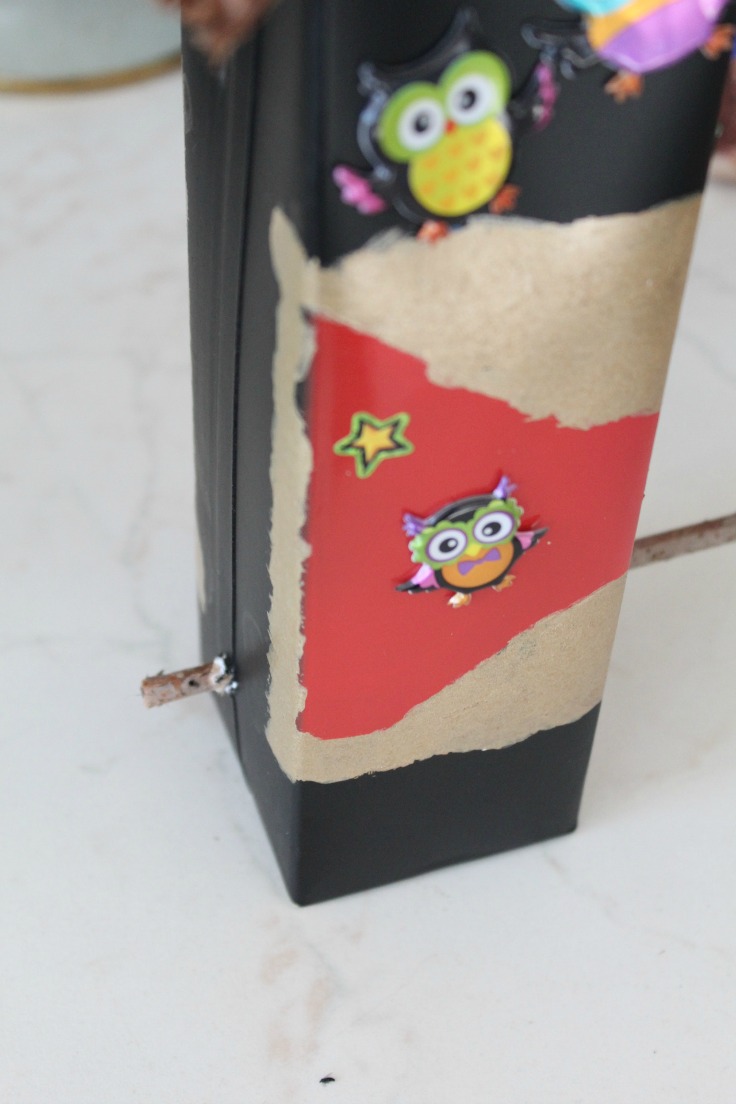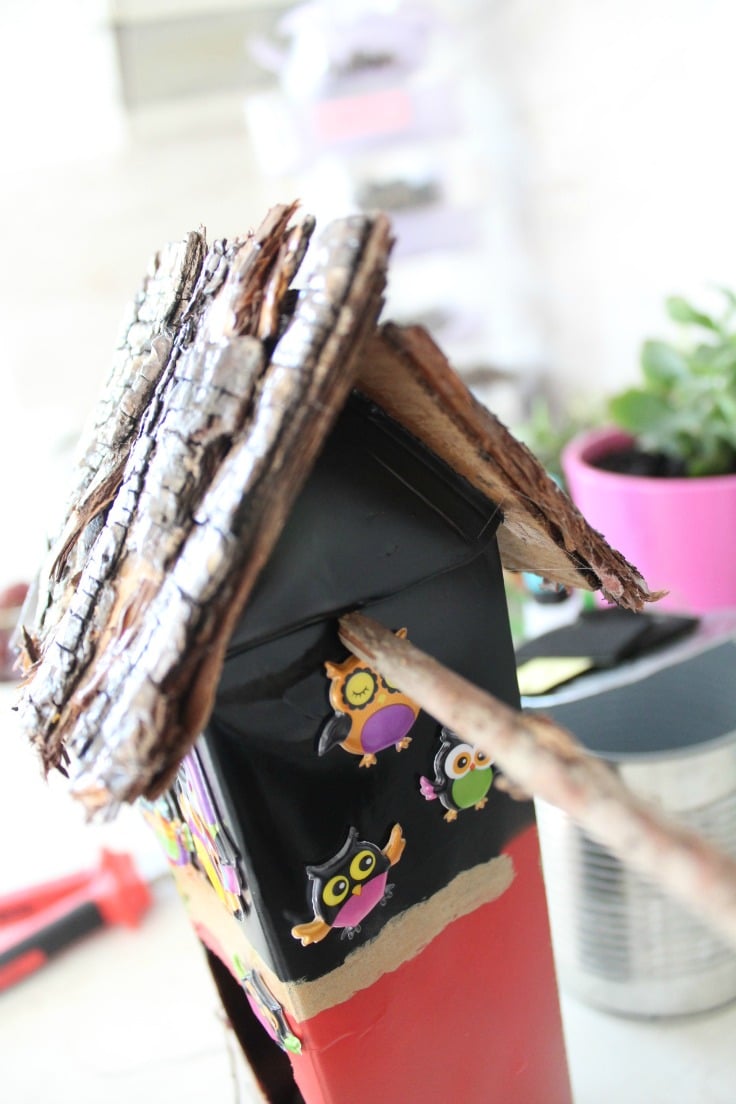 Spray 2 coats of colorless paint to seal the birdhouse and make it waterproof.
Place a few pebbles inside the house, on the bottom, to give it more stability for windy days then add a bed of straws or hay.
Cut a piece of twine, tightly tie a couple of knots at each end of the top twig and hang your pretty birdhouse in a tree in your back yard. Or just use as home decor.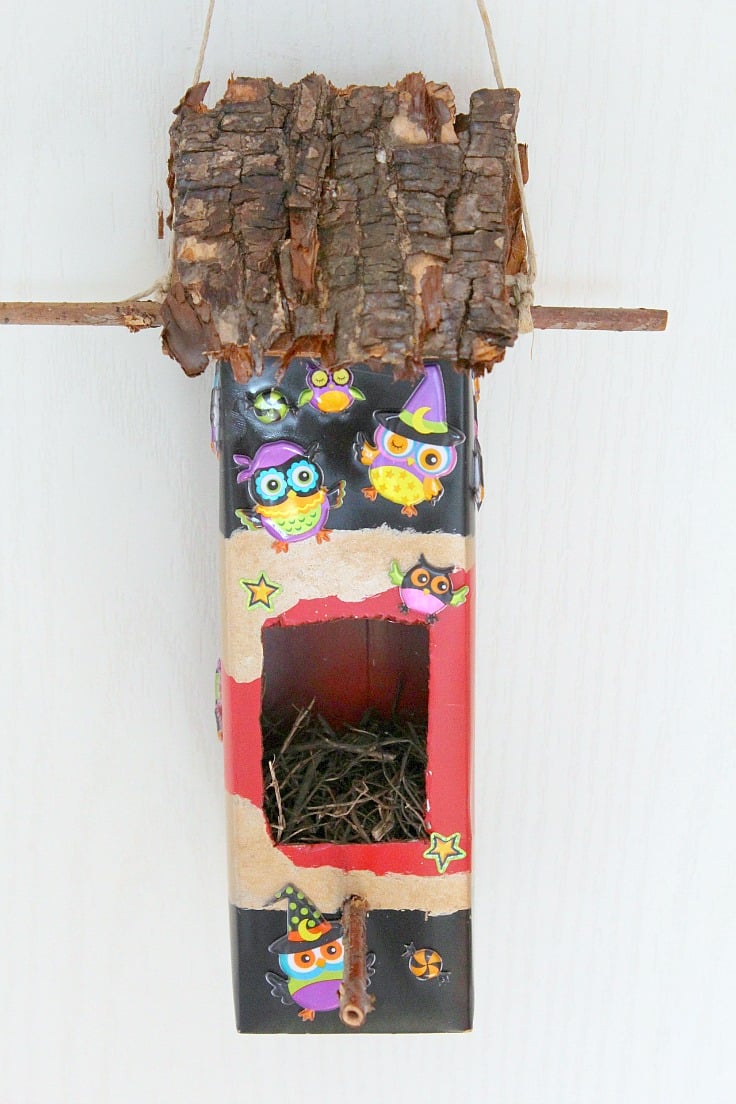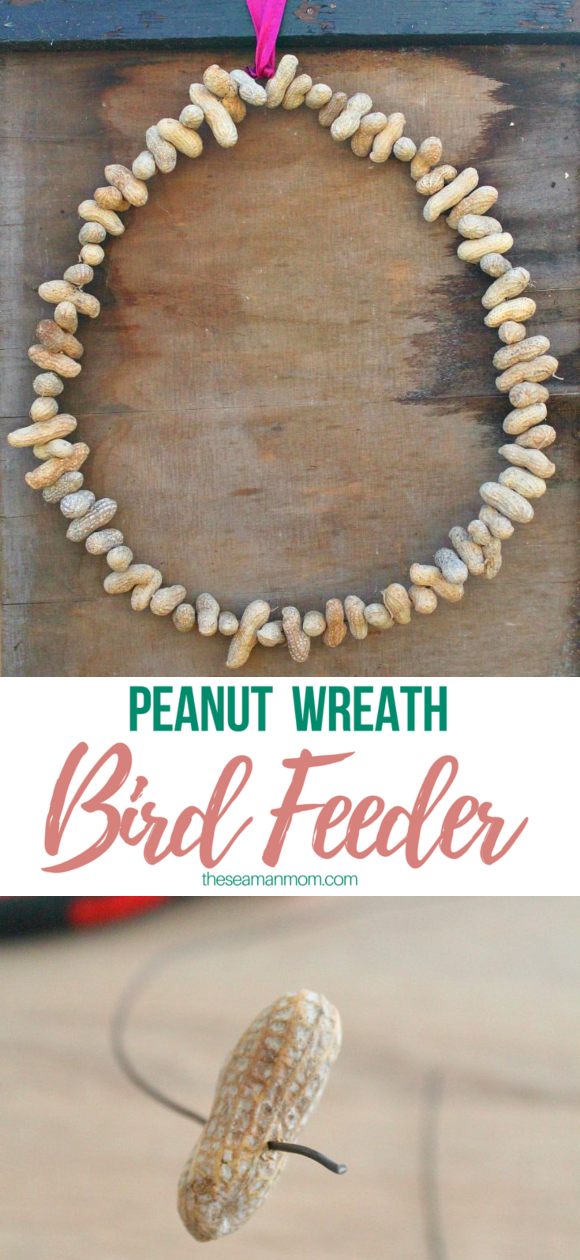 Recycled Tin Can Flower Pots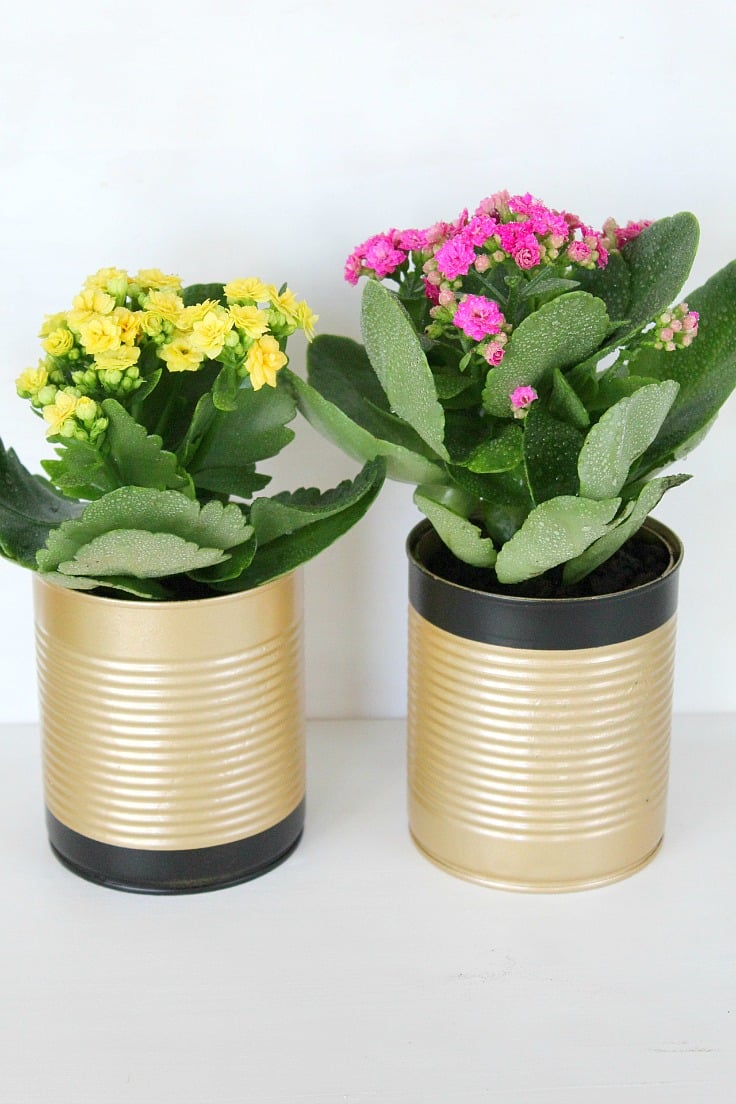 Wire Jewelry Holder Tree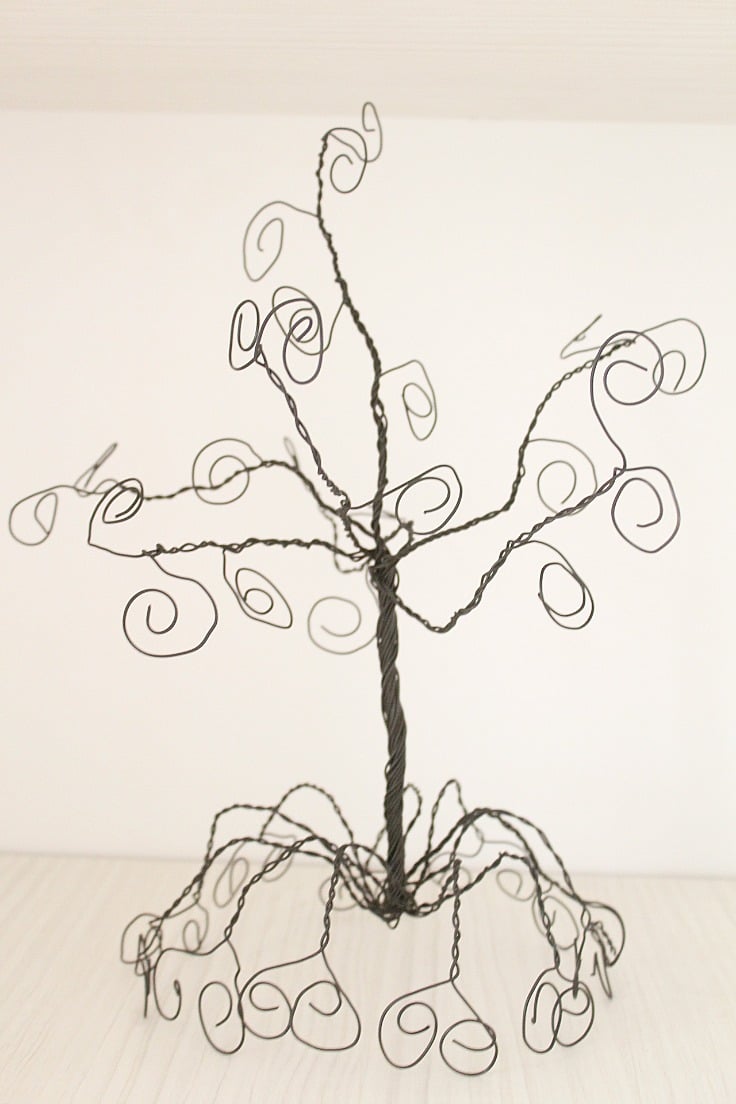 DIY Hot Glue Bowl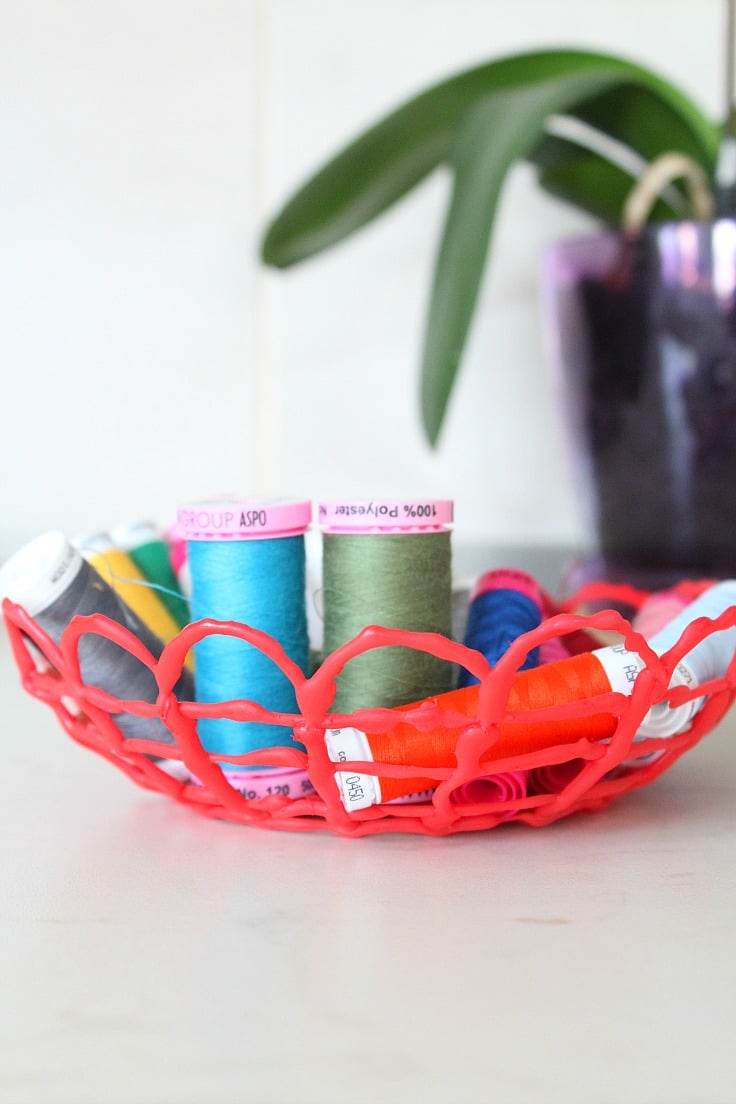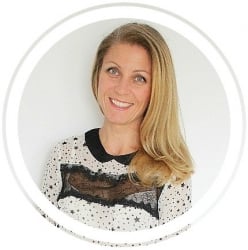 Hi, I'm Petro, author and founder of Easy Peasy Creative Ideas. Sewist, crafter, avid DIY-er, foodie, photographer, homemaker and mommy to one. I'm an expert at coming up with quick, clever sewing tips, recycling crafts and simple, easy recipes! You can find my ideas featured in reputable publications such as Country Living, Good House Keeping, Yahoo News, WikiHow, Shutterfly, Parade, Brit & Co and more. Thanks for stopping by and hope you'll stay for a while, get to know me better and come back another time. Stick around for real fun projects!