Article may contain Amazon & affiliate links. As an Amazon Associate I earn from qualifying purchases at no additional cost to you.
Make yourself an easy knit dress pattern with pockets that is so simple and easy to sew, comfortable to wear, easily customizable and so versatile! Not to mention cute as a button!
Knit Dress With Pockets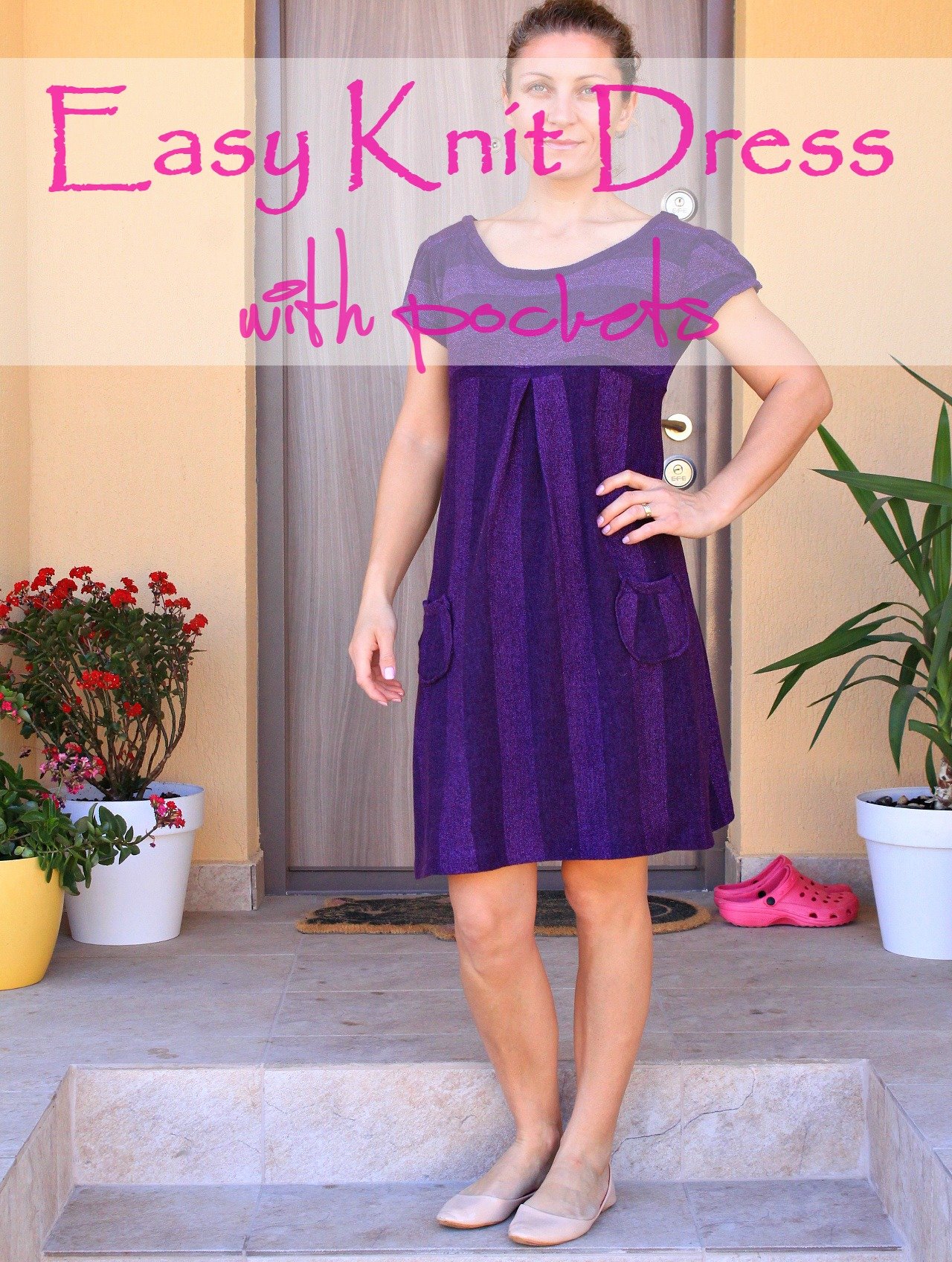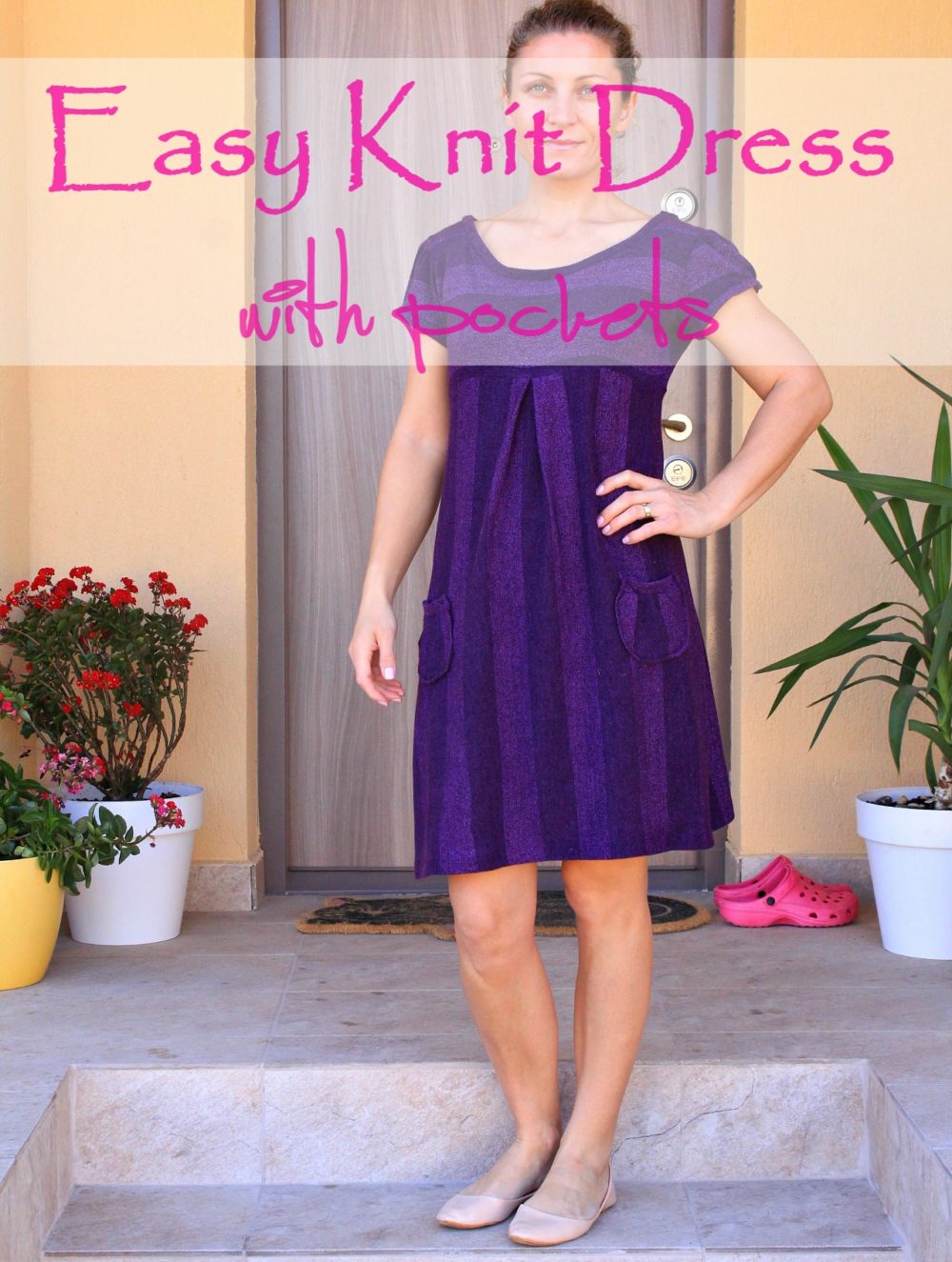 As a pretty active person, I love wearing casual dresses that are comfortable but cute. This easy knit dress pattern with pockets is not only super easy to make but also fits great on any body type and looks so adorable with those little decorative pockets, the loose fit due to the front pleat and a slightly gathered sleeve. Sweet and perfect for all you girly girls out there!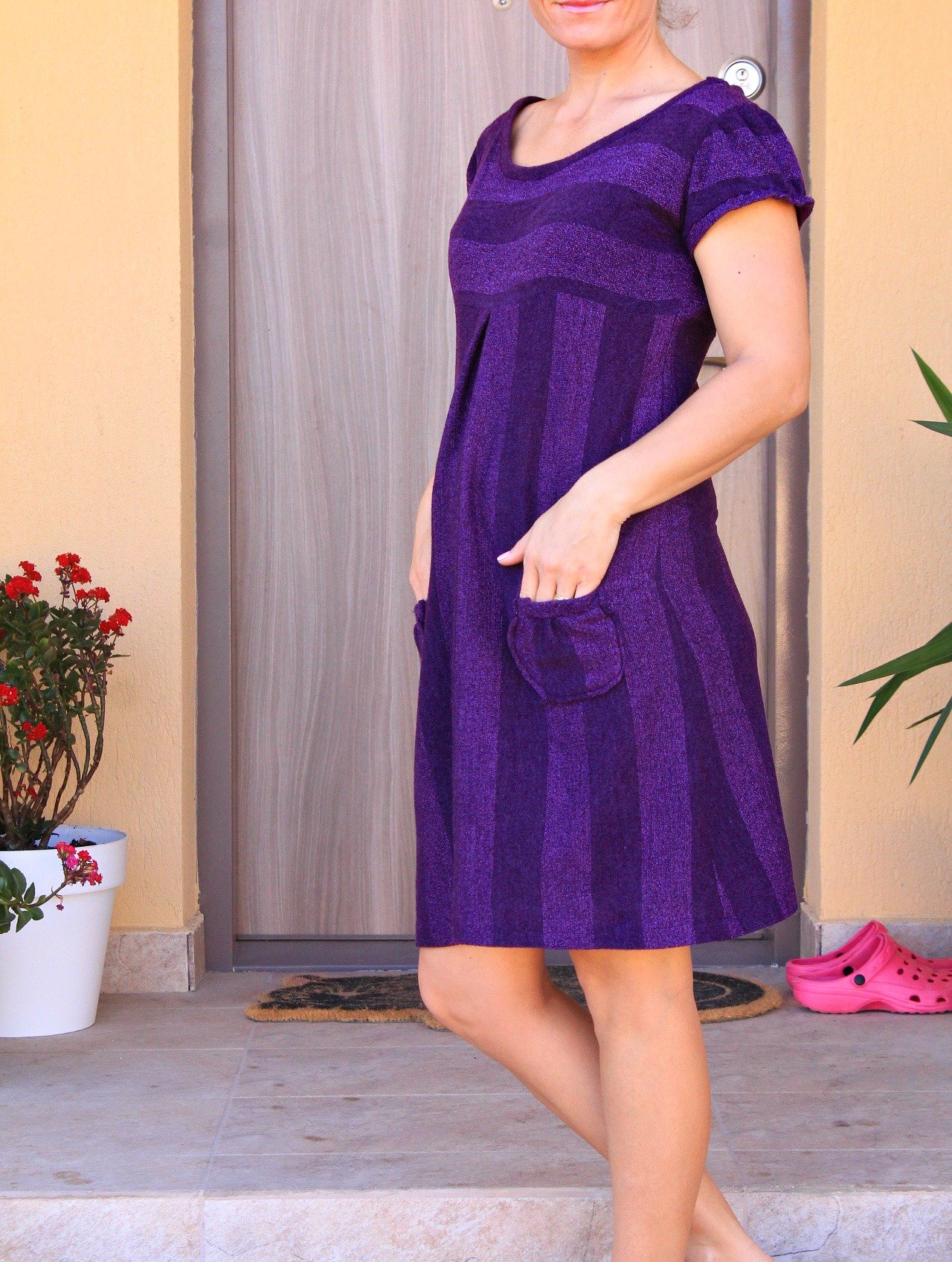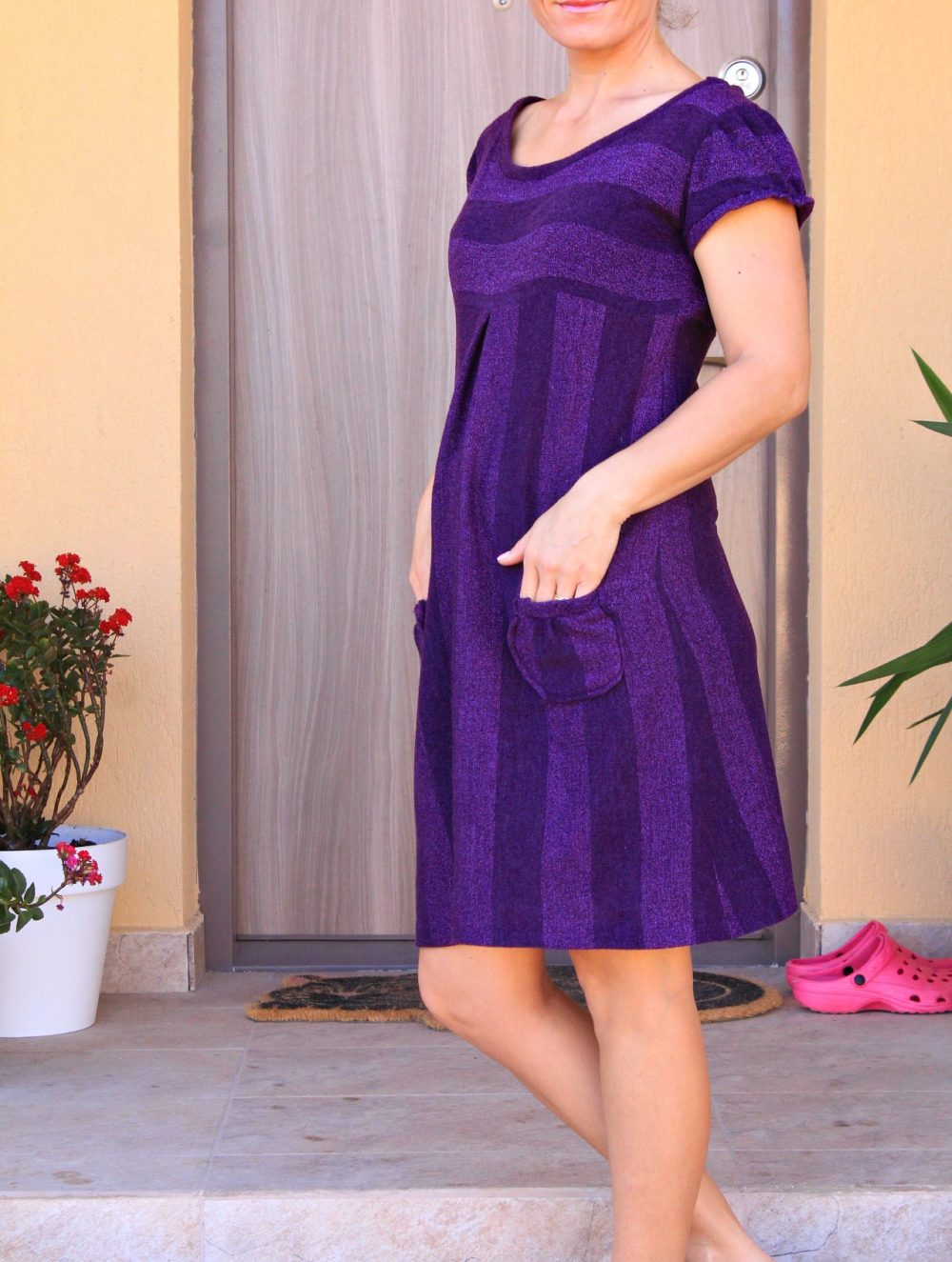 Similar posts you might like: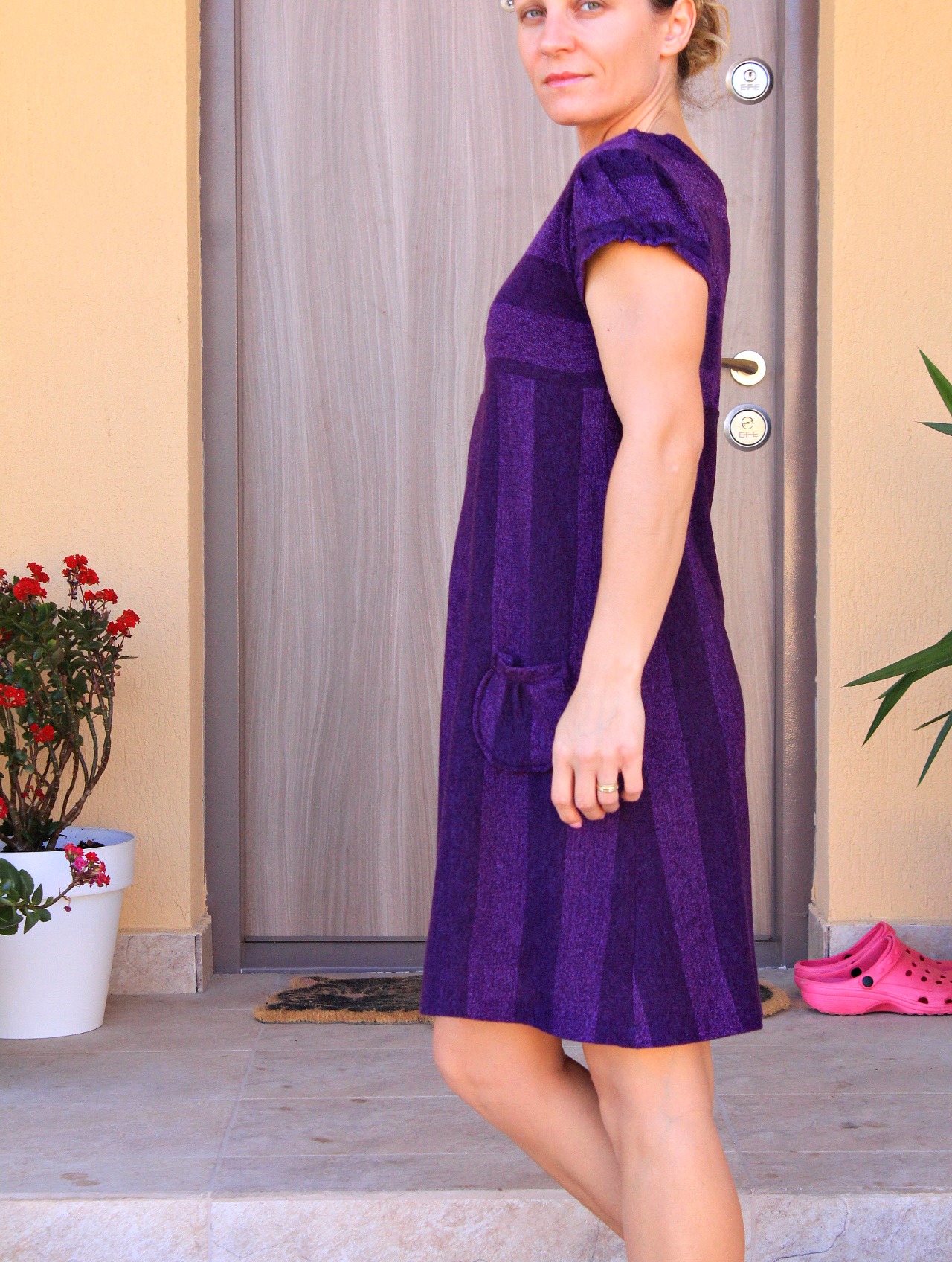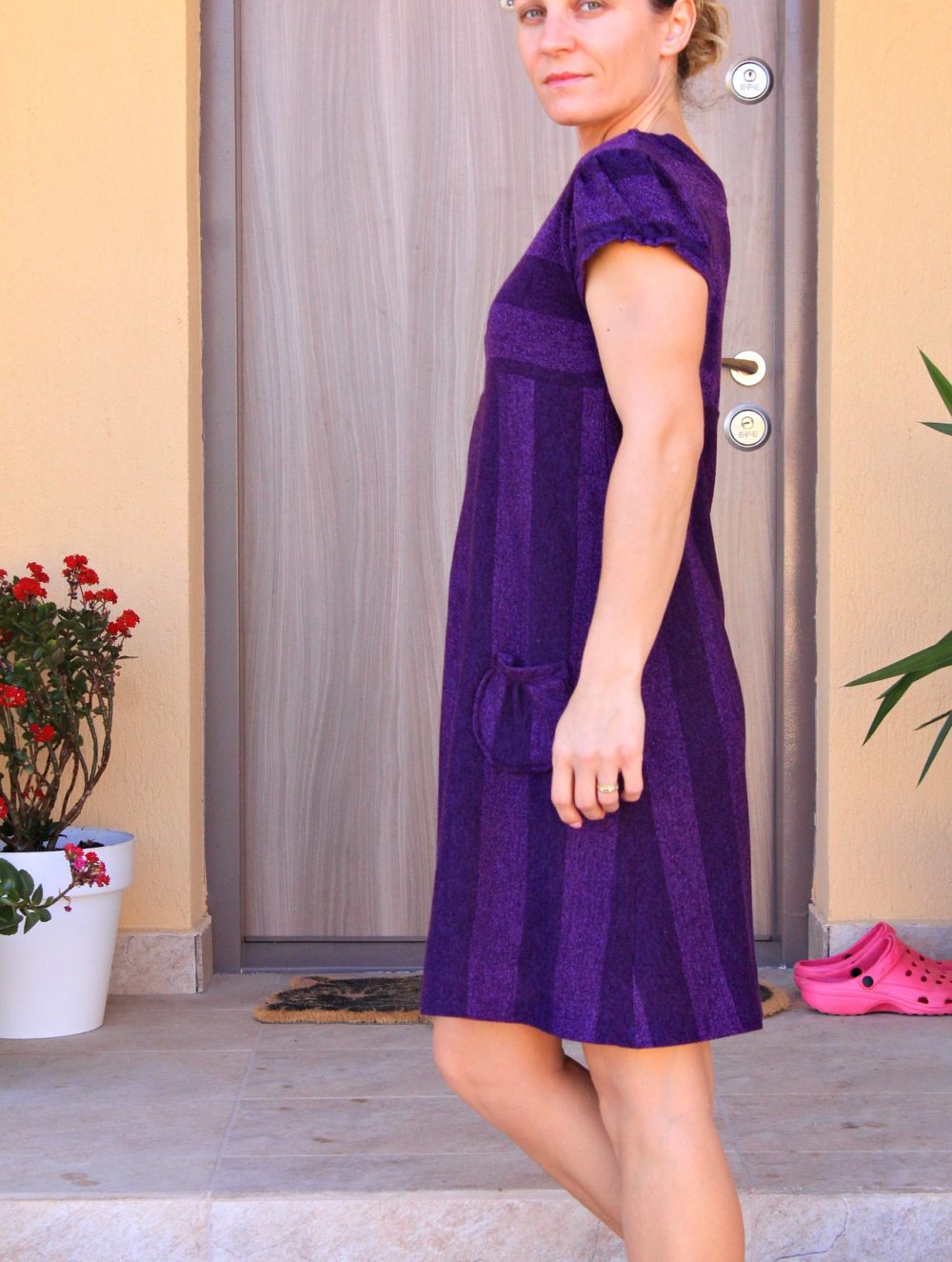 Since it's made out of knit, this lovely easy knit dress pattern has enough stretch, making it perfect to wear when taking the kids out for play or when you run errands. The fold in the front panel nicely covers curves also making this knit dress with pockets look super cute while offering plenty of room for moving. The cute sleeves of this knit dress pattern feature small gathers in the middle, both at shoulder and binding area, giving this striped knit dress an extra dose of sweetness.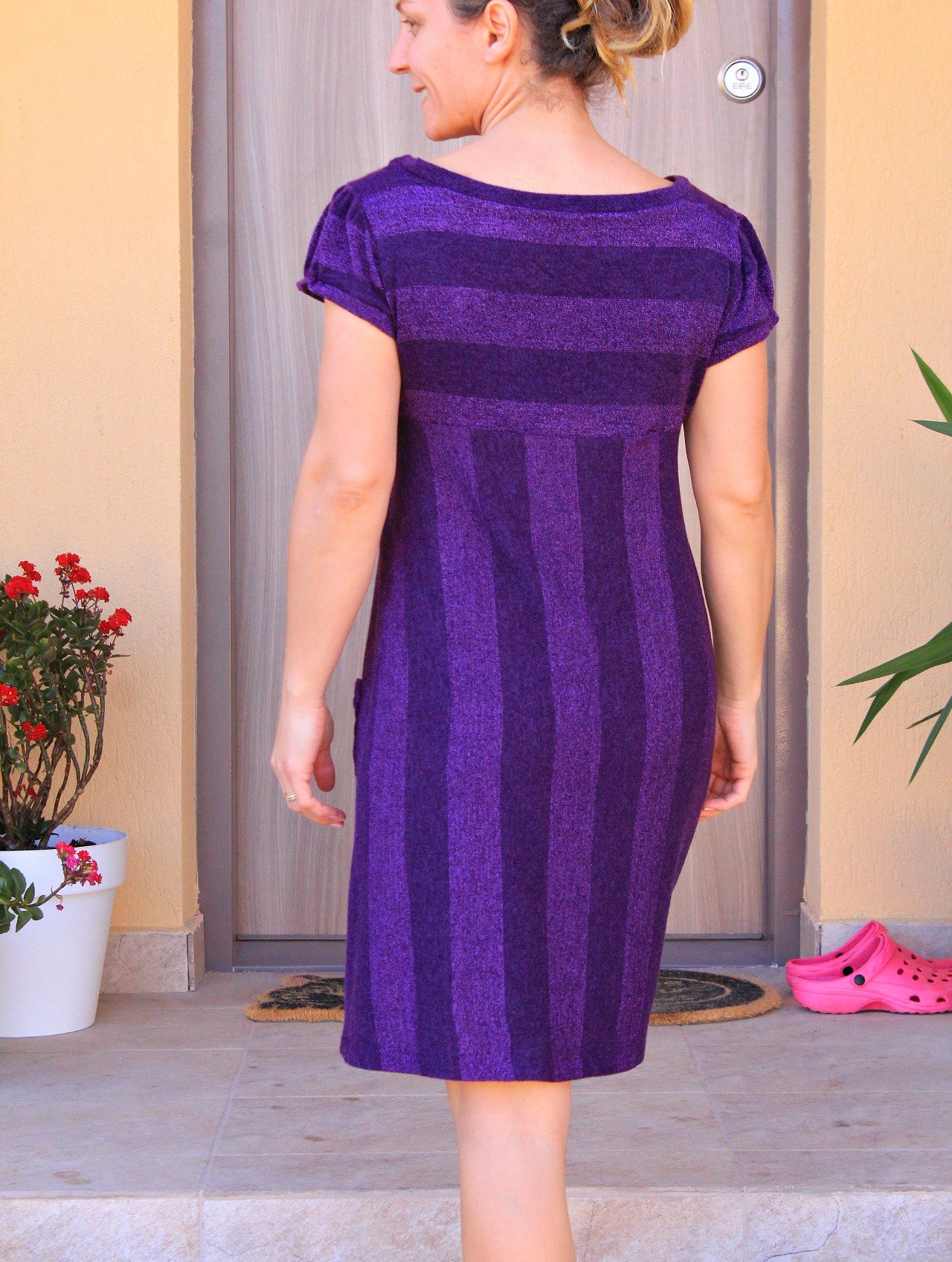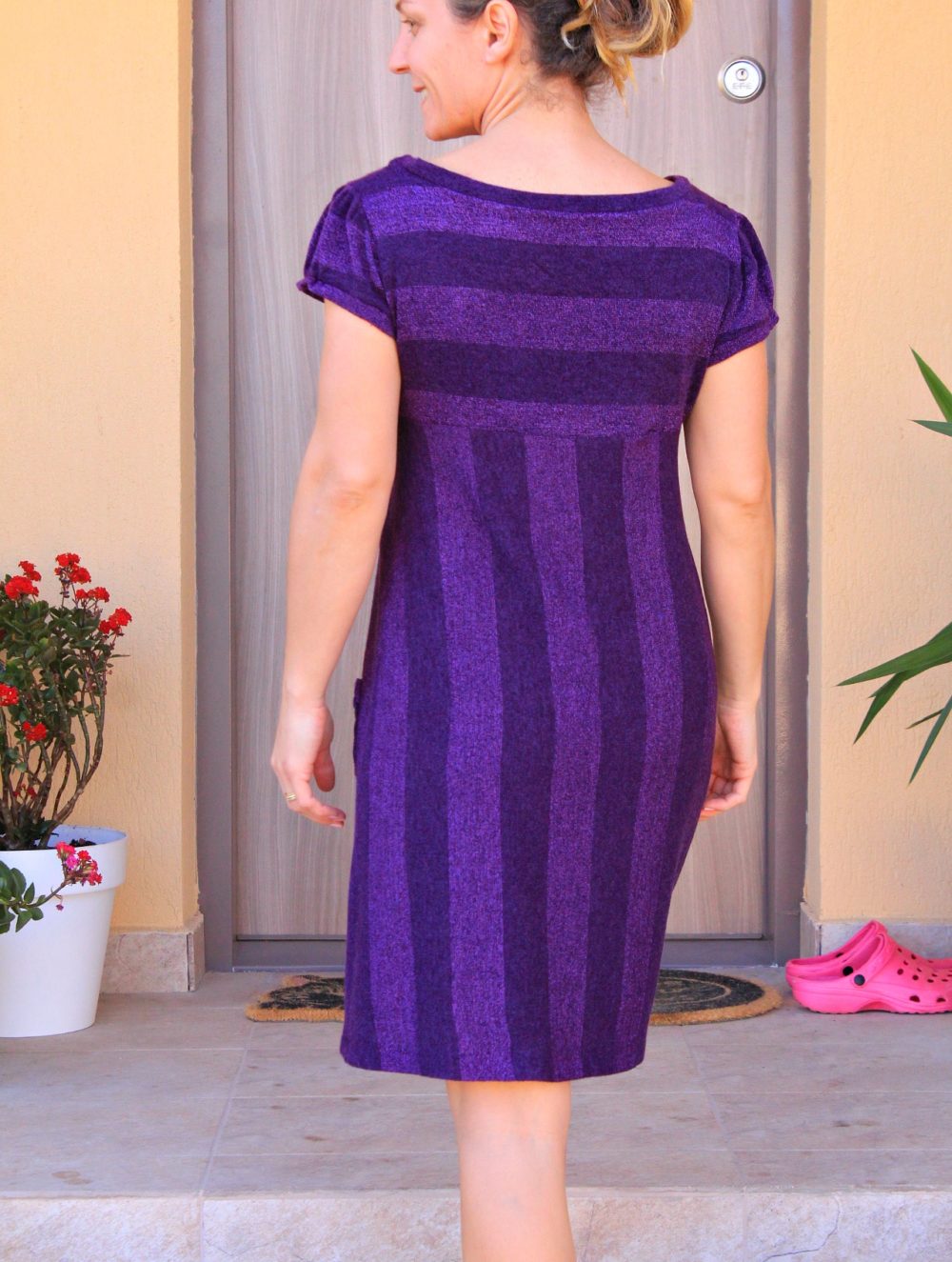 This knit dress pattern combines comfort and fashion perfectly and it's a great dress up or down item. The pattern is in size 10/Medium and available to purchase here!
Knit dress pattern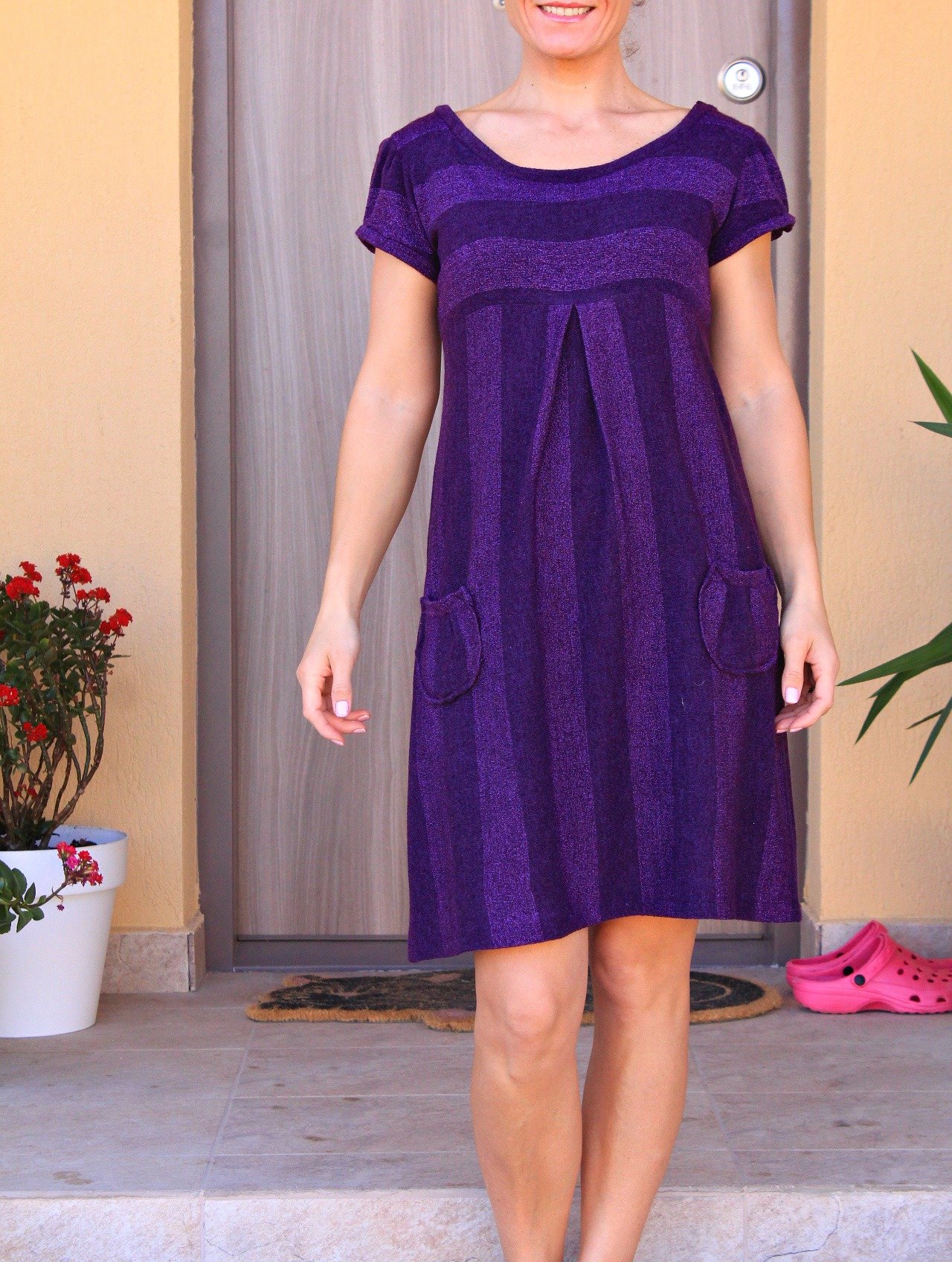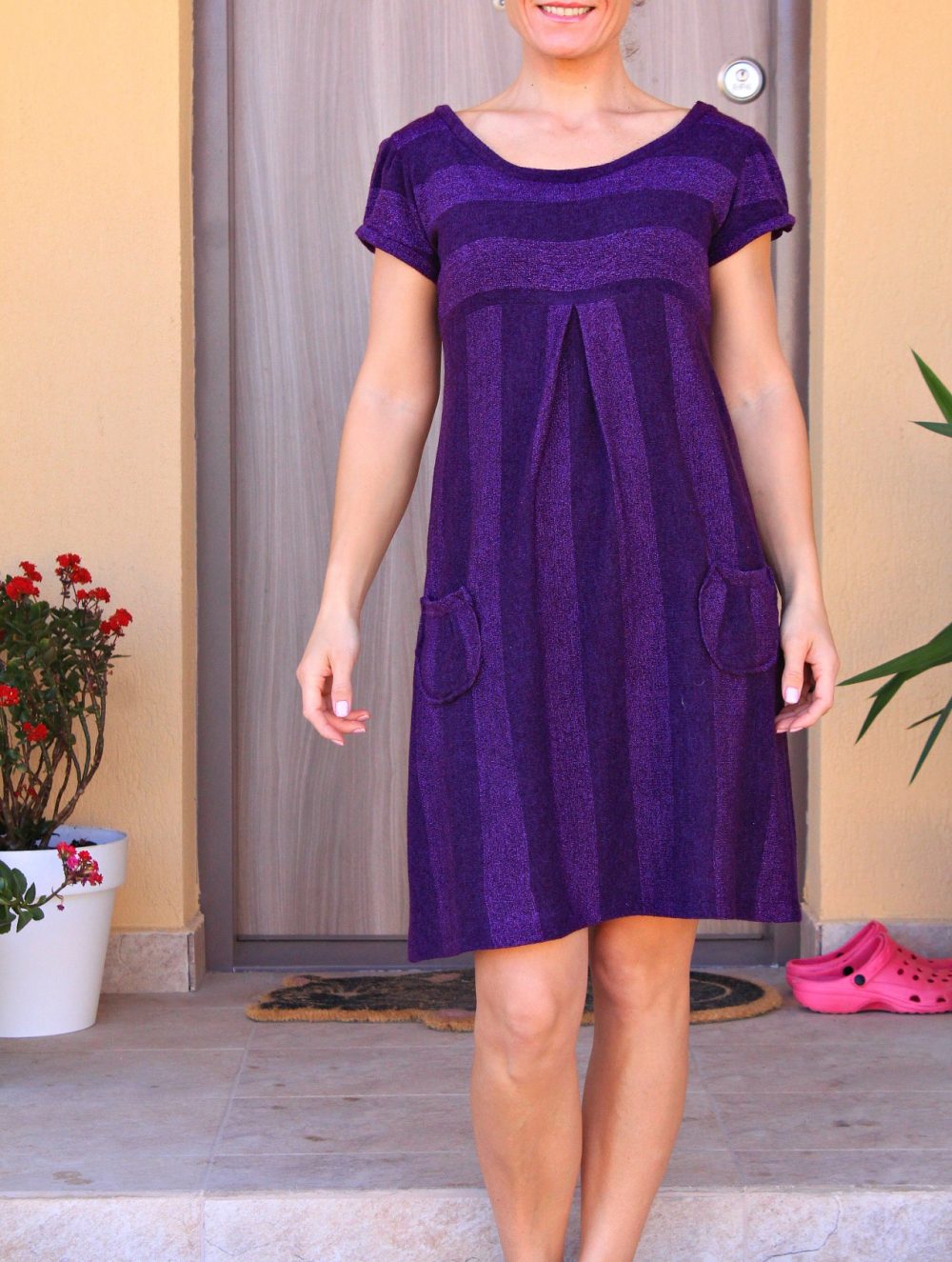 Materials:
Directions:
Preparing fabrics
Print your pattern.
Cut fabric: 2 on fold for front bodice, 2 on fold for back bodice, 2 on fold for sleeve. Make sure the most stretch goes sideways for bodice.
On a large piece of fabric draw a trapezoid for the front skirt and one for back skirt as indicated below.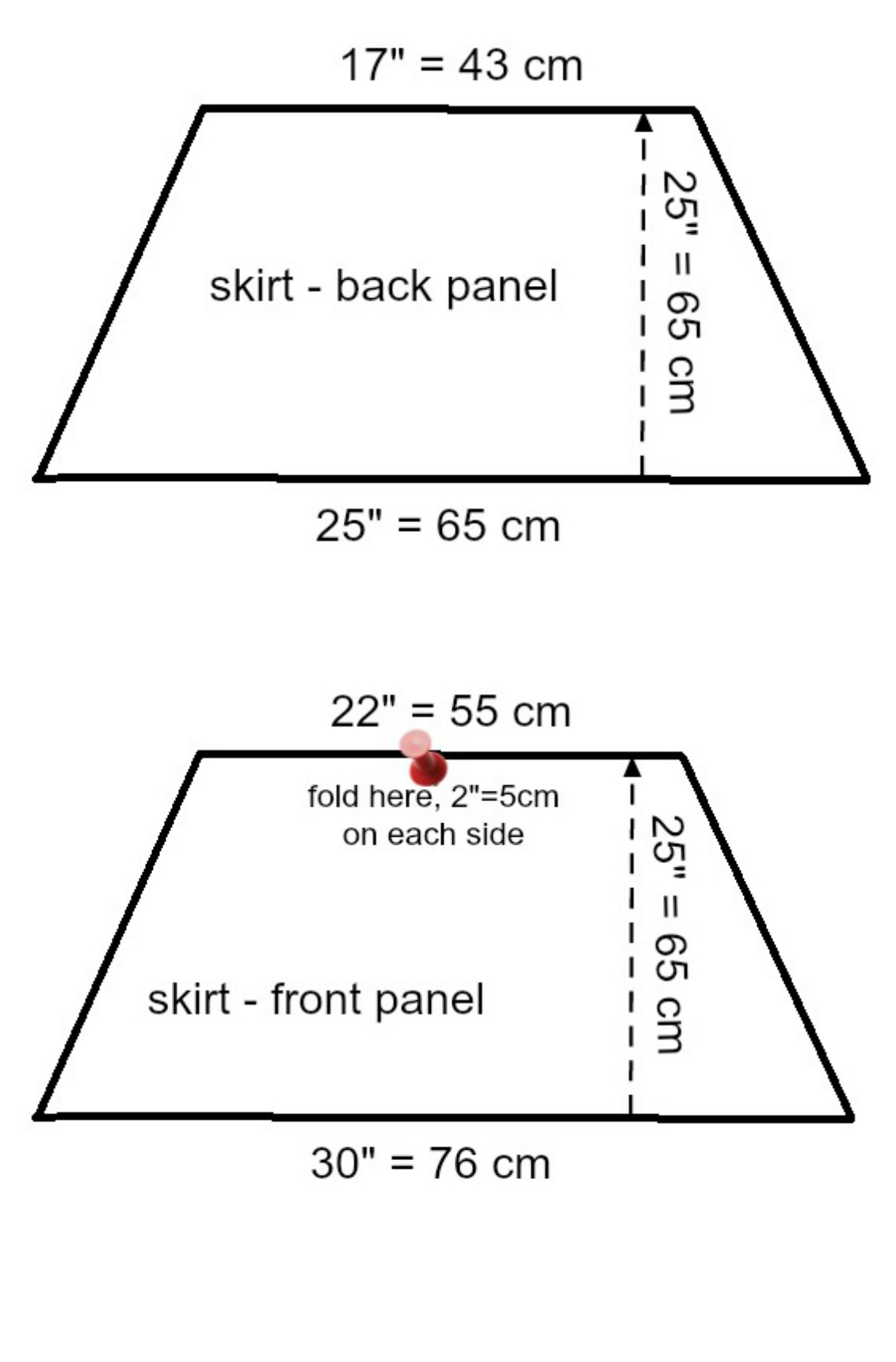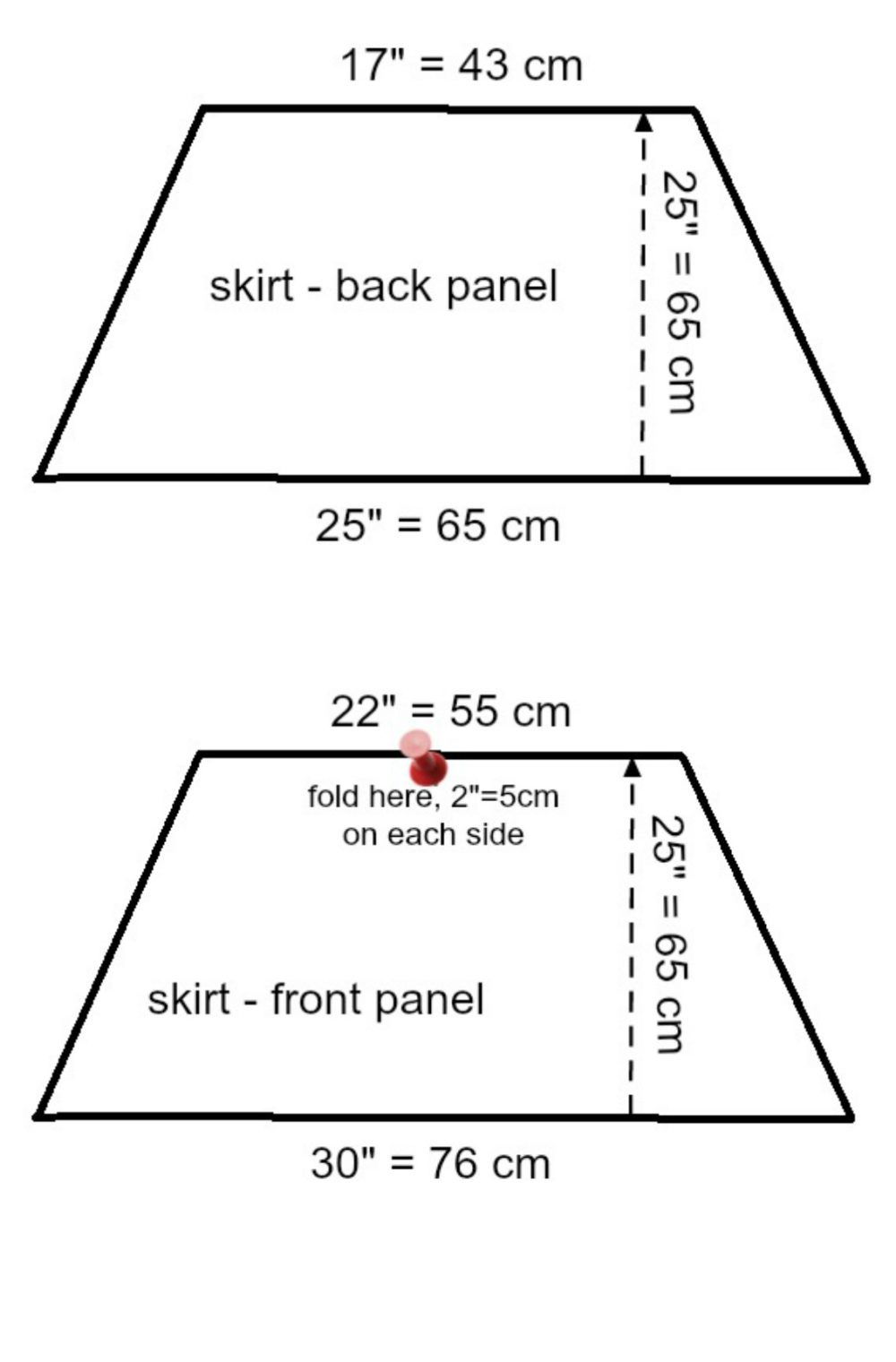 When making the pattern for the skirt you should normally draw the sides a little smaller, about 1/2″ shorter than the middle. Unless your knit if quite heavy as mine the weight causing the dress to "drop" in the middle and this way the hem comes up aligned when wearing the dress. If you use regular knit that doesn't lose shape when wearing the dress, make the sides 1/2″ smaller than the middle of the skirt.
You should end up with 2 sleeves, 1 front bodice, 1 back bodice, 1 front panel and 1 back panel for skirt, 2 pockets.
Take a long strip of fabric of 5″ wide, fold in half lengthwise and press (you'll be using this for binding your sleeves, pockets and neckline so make sure the strip is super long)
Making the bodice & sleeves
Place bodice pieces wrong side out and pin together at shoulders.
Pin sleeves to dress at sides and middle only, for this step. This is to establish the middle.
Make small gathers in the middle, at shoulder, pin and sew down. (alternately, use your sewing machine settings to create the gathers but don't over do it; you only need soft gathers).
Repeat for the bottom part of the sleeve, also soft gathers (this step doesn't show in the video; I realized sleeve is too wide and doesn't look fit and sweet without some small gathers so I took the binding down and added some later, complete nightmare so save yourself the trouble and do these gathers now)
Completely pin sleeves to dress and sew down.
Finish your sleeves with binding, making sure to the binding is about 1/2″ longer than sleeve, on both sides. With sleeve right side up, place binding with raw edged matching sleeve's raw edges, pin and sew down. Press binding up.
Making the pleat
Join front bodice and skirt front panel at sides and middle, fabrics wrong side out. This is to establish the middle and create the pleats. Using the middle pin as mark, make a fold in the skirt panel, to the left and then to the right, about 2″ on each side of the pin. Make sure the folds meet completely at the pin mark. Pin in place and sew down.
Attaching pockets
Place the pockets wrong side out, fold the sides and bottom in, pin and sew down.
Take a piece of binding and attach it to the top of the pockets, raw edges together, leaving 1/2″ binding allowance on each side. Press binding up.
Attach pockets to skirt, with the binding allowance folded under the pocket. Sew down an X where the binding folds. Make sure you don't sew through both skirt panels.
Finishing the knit dress pattern
Place front dress over back dress, wrong sides out, pin along sides and sew down. Trim excess sleeve binding, as needed.
Pin binding to the neckline, raw edges together. Make sure binding is about 1″ longer than neckline. When done pinning, open one end of the binding and fold in. Insert the other end into this fold and pin in place. Sew all around neckline.
Add knit tape or soft interfacing to the hem (as indicated here) and finish the hem.
Give it a last press and enjoy your easy knit dress with pockets!
Pin to save for later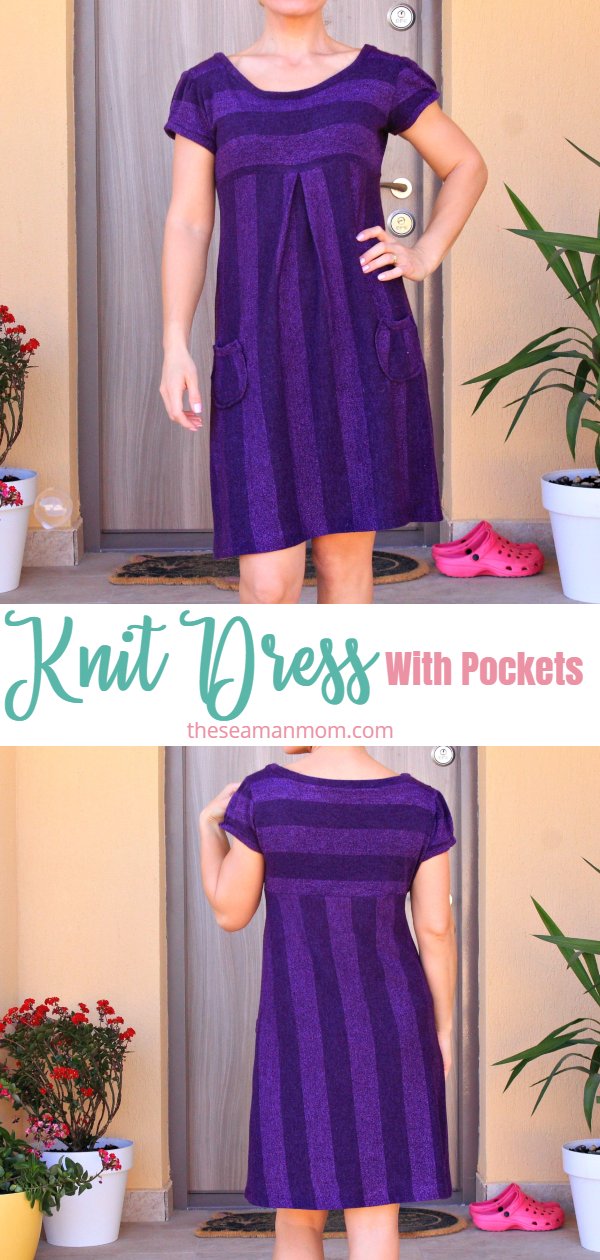 Most popular sewing projects: