Zippered Face mask pouch sewing pattern
Article may contain Amazon & affiliate links. As an Amazon Associate I earn from qualifying purchases at no additional cost to you.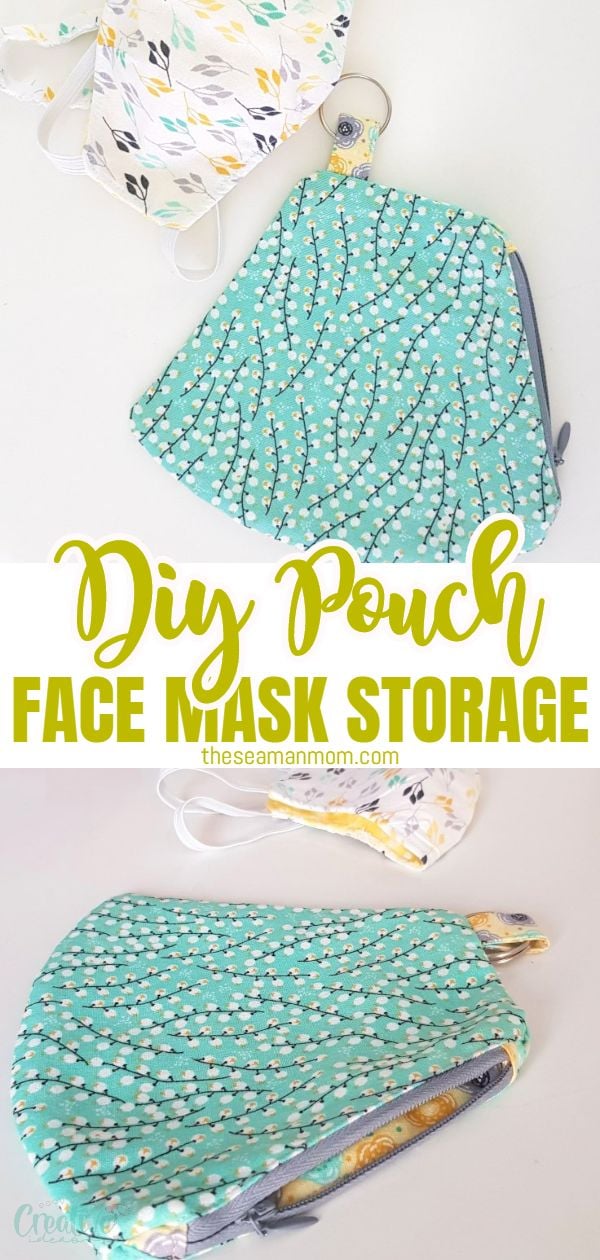 Wearing a face mask almost everywhere has been one of the biggest changes we had to adjust to this year! Carry your favorite face mask in a stylish and practical face mask pouch that you can easily make yourself in just half an hour!
Face mask pouch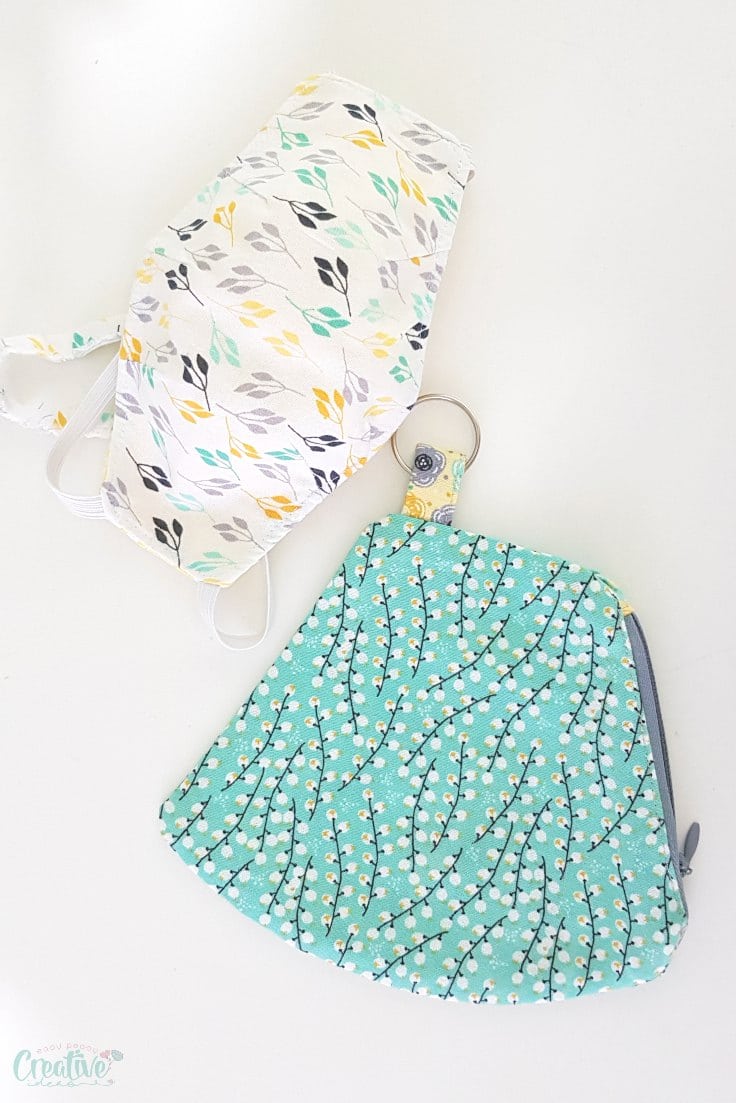 These days we need to wear a mask everywhere we go, or at least in crowded spaces. Tired of forgetting it and having to get back to your car or house for a mask? Here is a simple pattern for a face mask pouch so that you can make quick pouches for everyone in your family!
Similar projects you will love:
I've been sewing tons of masks these past months but only realized we really need a face mask carrying pouch too when my daughter was getting ready to go back to school. I suddenly faced an ugly truth: there's no safe, clean place for her to keep a second mask as a back up. Because wearing the same face mask for a few hours is not the best and healthiest alternative! She needs to replace her dirty and most likely wet/damp mask with a fresh, clean one about 2-3 hours.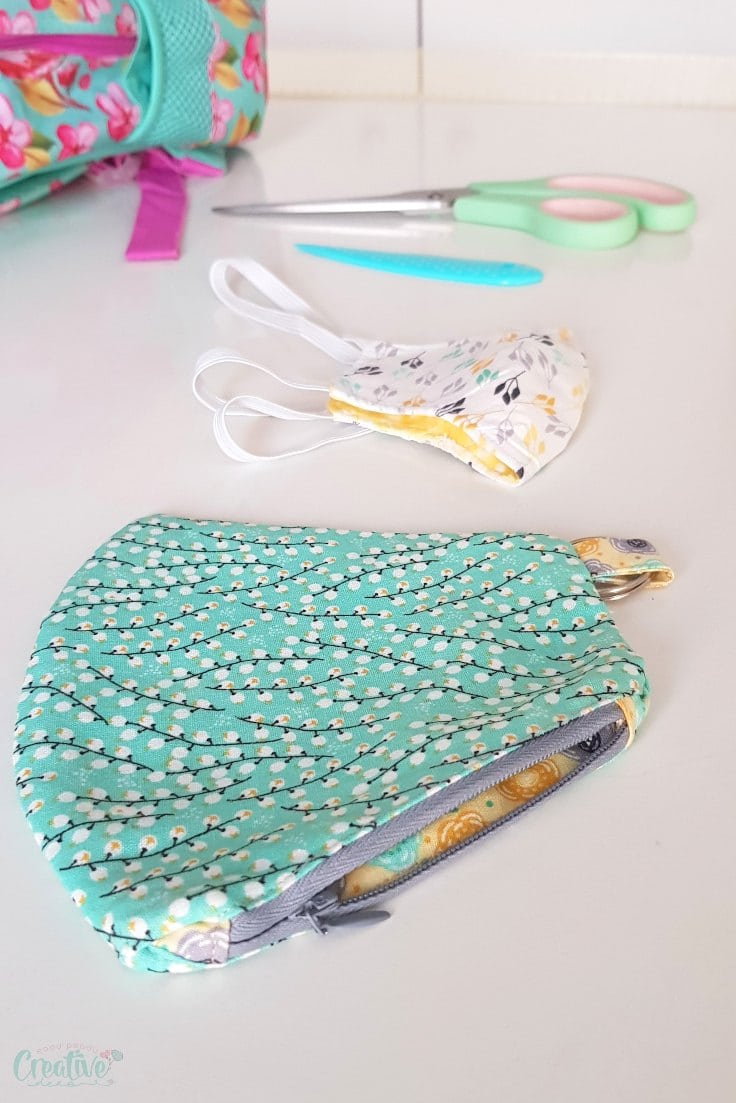 A great thing about this project is that this face mask storage pouch is very easy to sew out of leftover fabric (I just love digging through my stash and clearing up my scraps bag) and also very quick.
How to use this face mask pouch?
Many people say: "I never got back home for forgotten things all my life the times I got this year for that mask". This easy pouch can be attached to your keys so that you can always carry it with you. The mask will stay clean on the inside and you won't need to carry bags or plastic pouches to keep your masks.
You can also keep this face mask pouch in your pocket or bag or put them in your kids' school bag to keep their masks safe. Mark one of them as a "clean mask" pouch and the other as a "worn mask" one in case they need to change several masks during their day.
Using the same mask pouch pattern, you can also sew larger bags for delicate laundry (made out of mesh).
Also, this pattern is great to use for keeping sanitary pads, small makeup or change, so don't only think of it as a face mask pouch.
This DIY face mask pouch is great to make as a gift too, showing your loved ones you care about their health and safety. Make one pouch and several matching masks to get a lovely mask + pouch set. Above all, it can be a great back to school gift.
You could even make several pouches and donate them to your local healthcare workers to store their spare medical masks.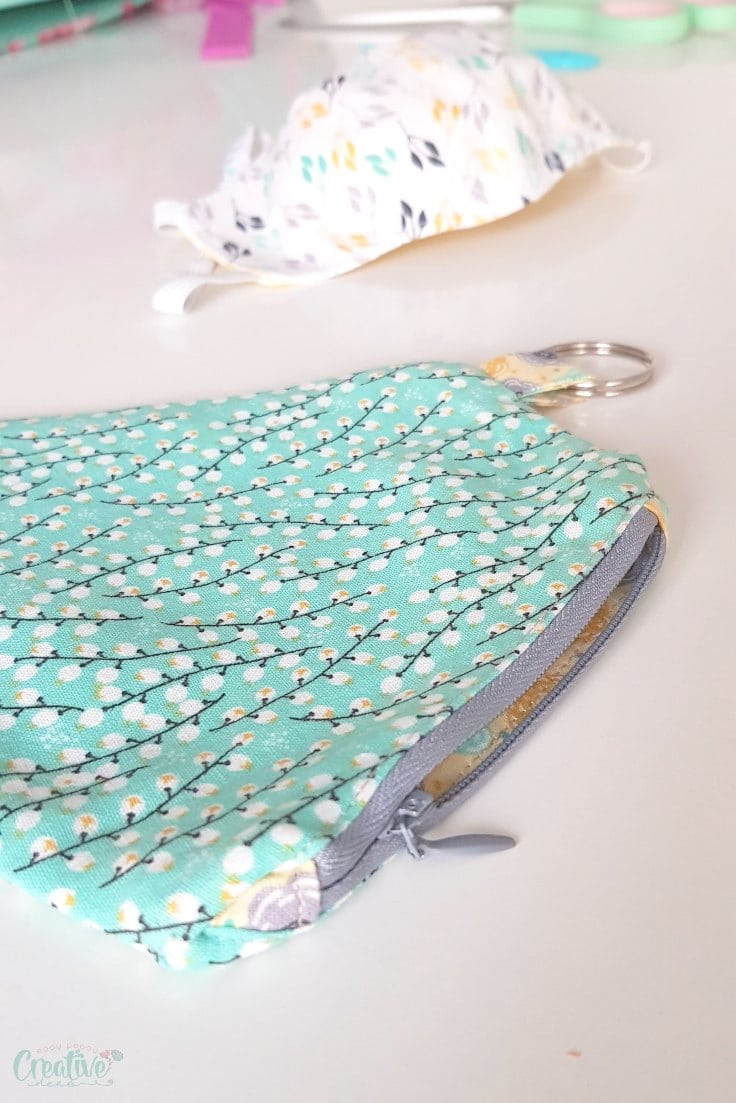 Most popular sewing projects:
If you're feeling crafty, consider adding an extra pocket for your hand sanitizer, too. Just to be safe, don't make an extra pocket in the same pouch for used masks, as it could pass on the infection. It is better to make a separate pouch for the used masks and keep it in an isolated area in your bag or car, far from the clean masks. It may be a good idea to line it with a plastic shower curtain piece.
Just keep in mind: only having the pouch won't be the solution. Put it in an obvious place so that you can easily find it and see it all the time so that it is effective.
Always remember to thoroughly wash and disinfect your masks between uses. Make them out of good quality 100% cotton and at least iron at the highest setting of your iron. High heat is known to kill the germs and viruses and will keep you safe.
Remember cotton masks are not medical devices. You can use them to cover your medical mask, though, if you get bored with the look of plain medical masks.
How do you keep your masks safe during the pandemic? Please share your ideas in the comments.
This pattern comes in 7 sizes from toddler to adult XL.
Face mask pouch sewing pattern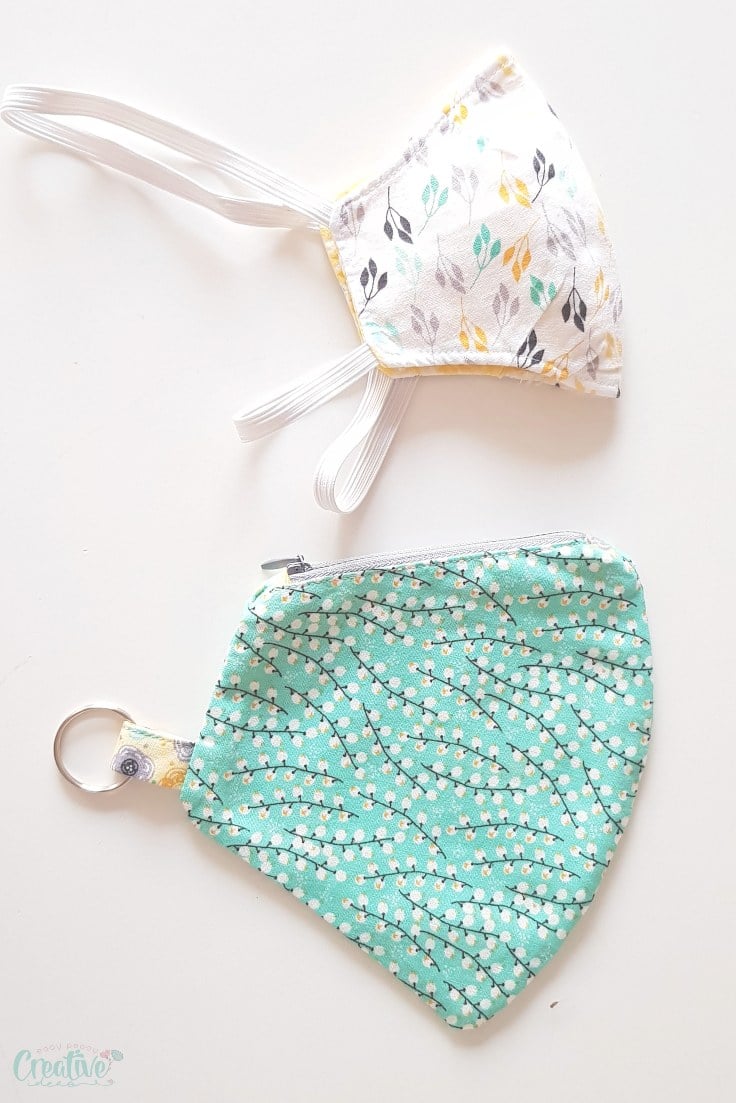 Materials:
fabric scraps for the pouch and the lining
Scrap fabric for the tab
zipper (I would not use a metal zipper unless your machine is able to sew over those)
matching thread
scissors
pins
pressing iron
Directions:
Cut the fabrics
Fold both the main fabric and the lining fabric, with wrong sides out.
Place on top of each other.
Place the pattern on the fabric and trace around with erasable fabric marker.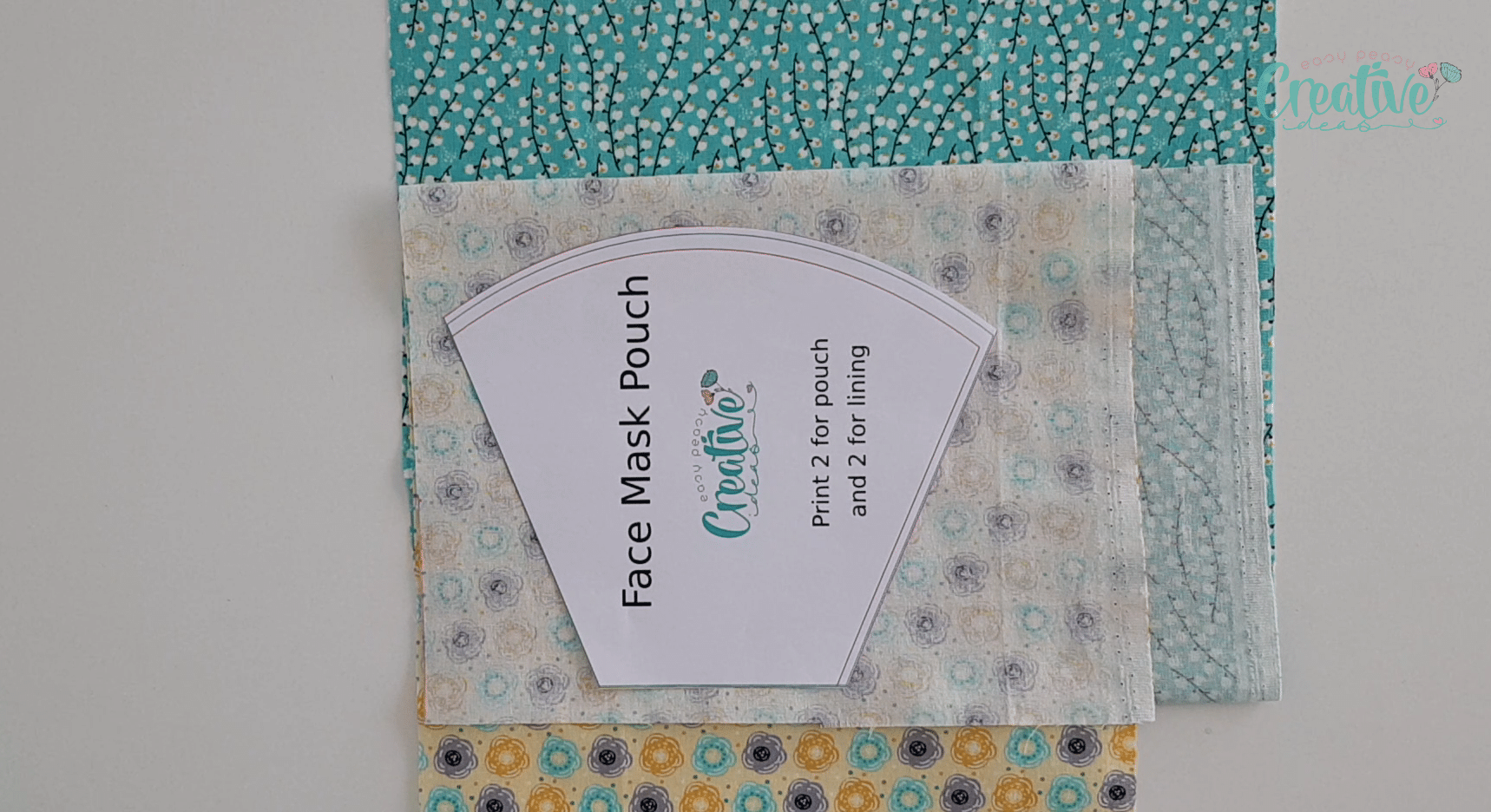 Pin through all layers and cut out.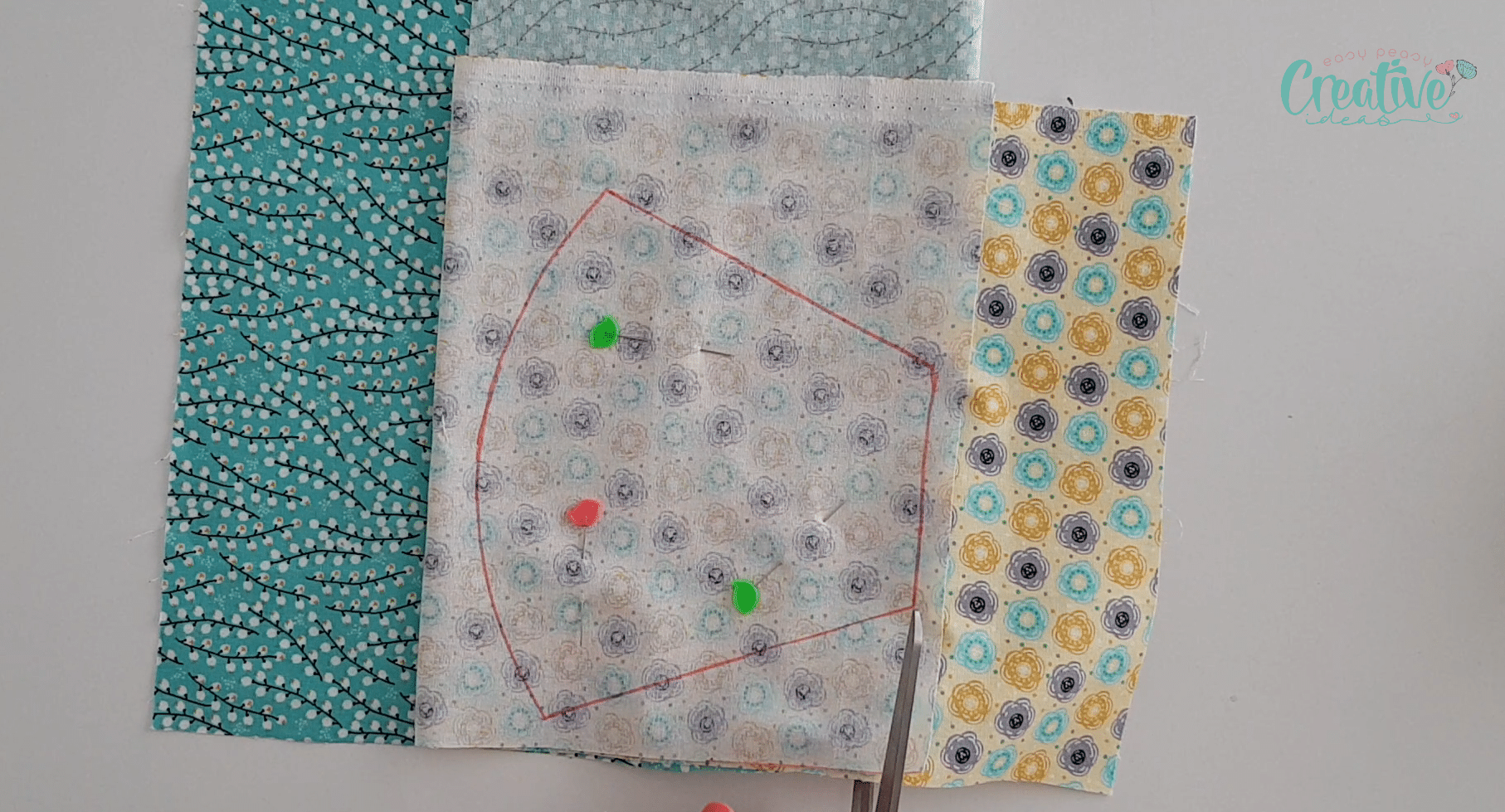 Attach the zipper to fabrics
Note on zipper: I didn't have a regular zipper available and I used an invisible zipper but I've sewed it just as a regular zipper since this method is easier.
Place one of the main fabrics right side up and top with one of the lining fabrics wrong side up.
Sandwich the zipper between the fabrics, on one of the sides, with the edge of the zipper matching the edge of the fabrics. The right side of the zipper should face the main fabric.
Clip all layers, attach a zipper foot to your machine and sew with 1/4″ allowance.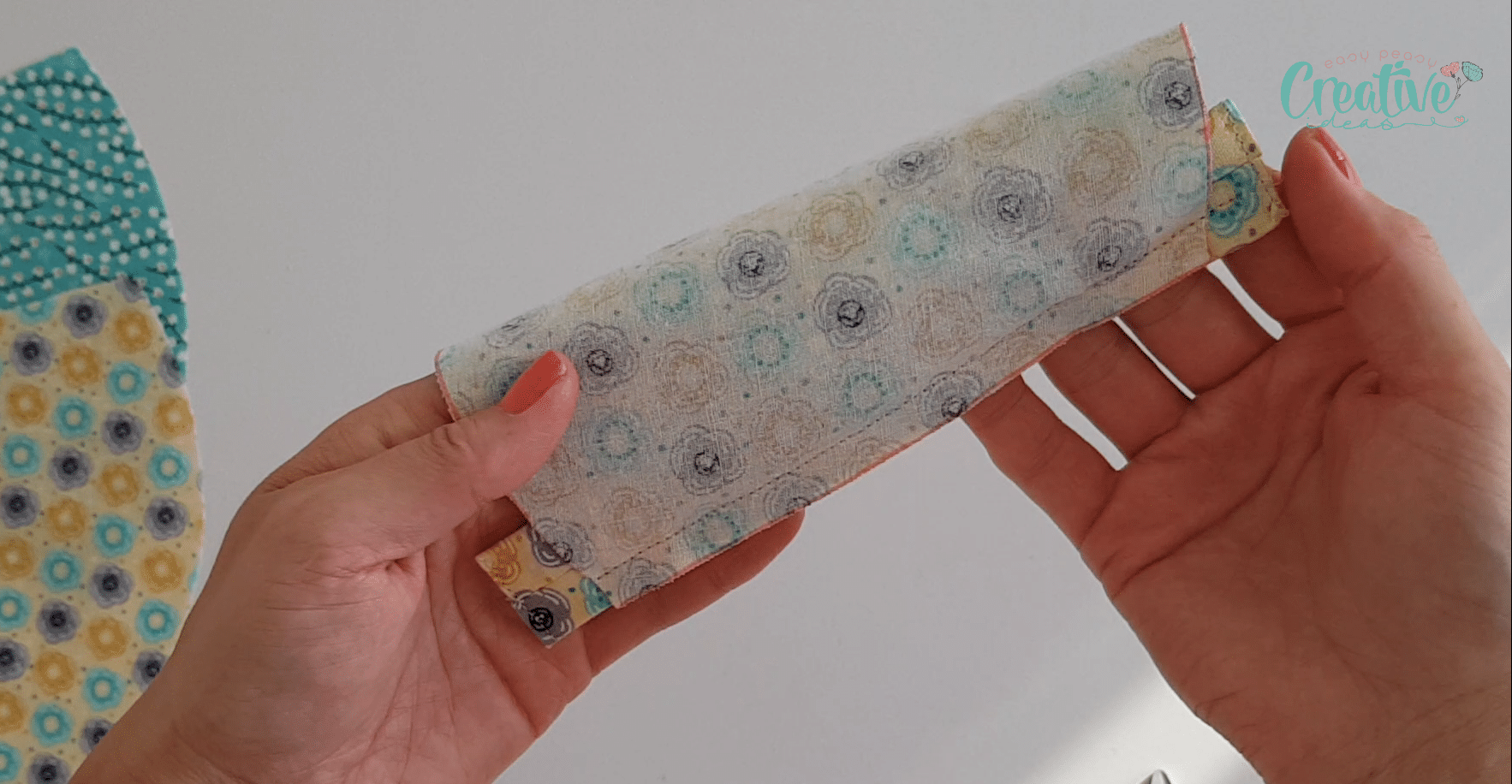 Open the fabrics, place them wrong sides together then top stitch along the zipper line. When the presser foot meets the zipper pull, lift the presser foot and push the zipper pull out of your way then continue sewing to the end of the zipper line.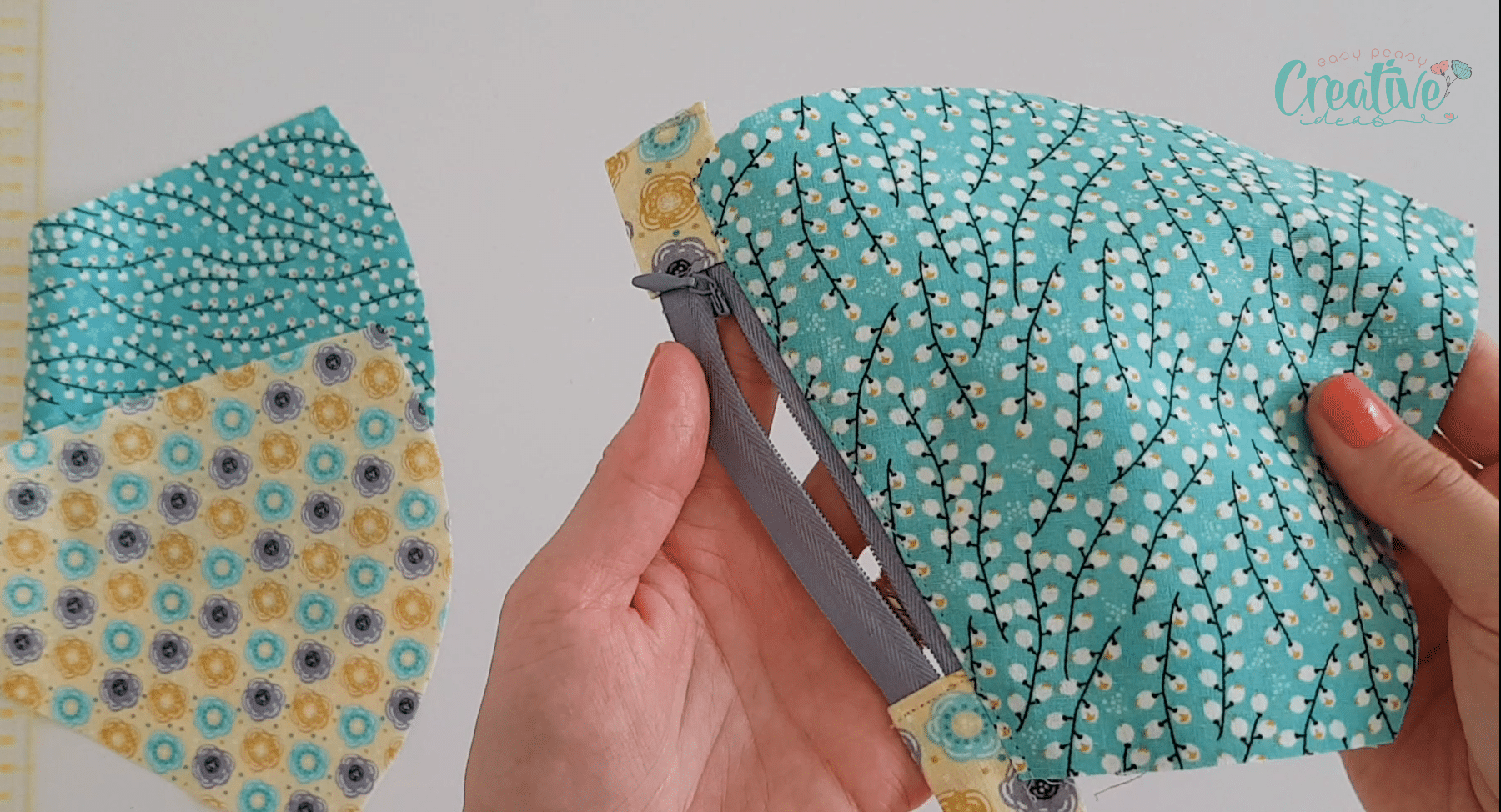 Get the second main fabric and place it right side up.
Grab the panel you've just sewed above and place it over the second main fabric, with the main fabrics right sides together.
Top the panel with the second lining fabric, wrong side up.
Clip along the zipper line then sew with 1/4″ allowance.
Flip the second lining fabric so that is right side up.
Top stitch along the zipper line.
Turn the panel with the main fabrics right side up and open the zipper half way through.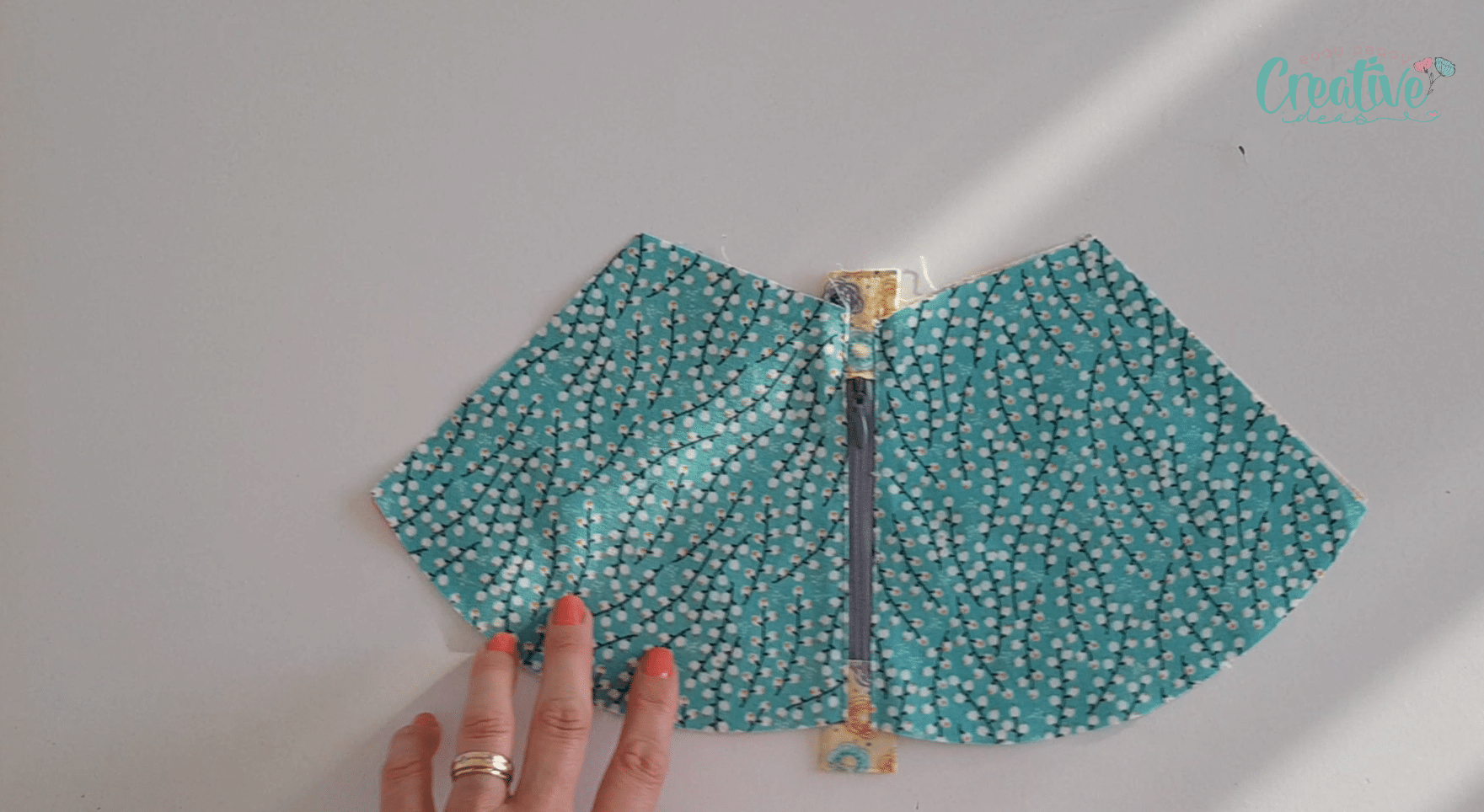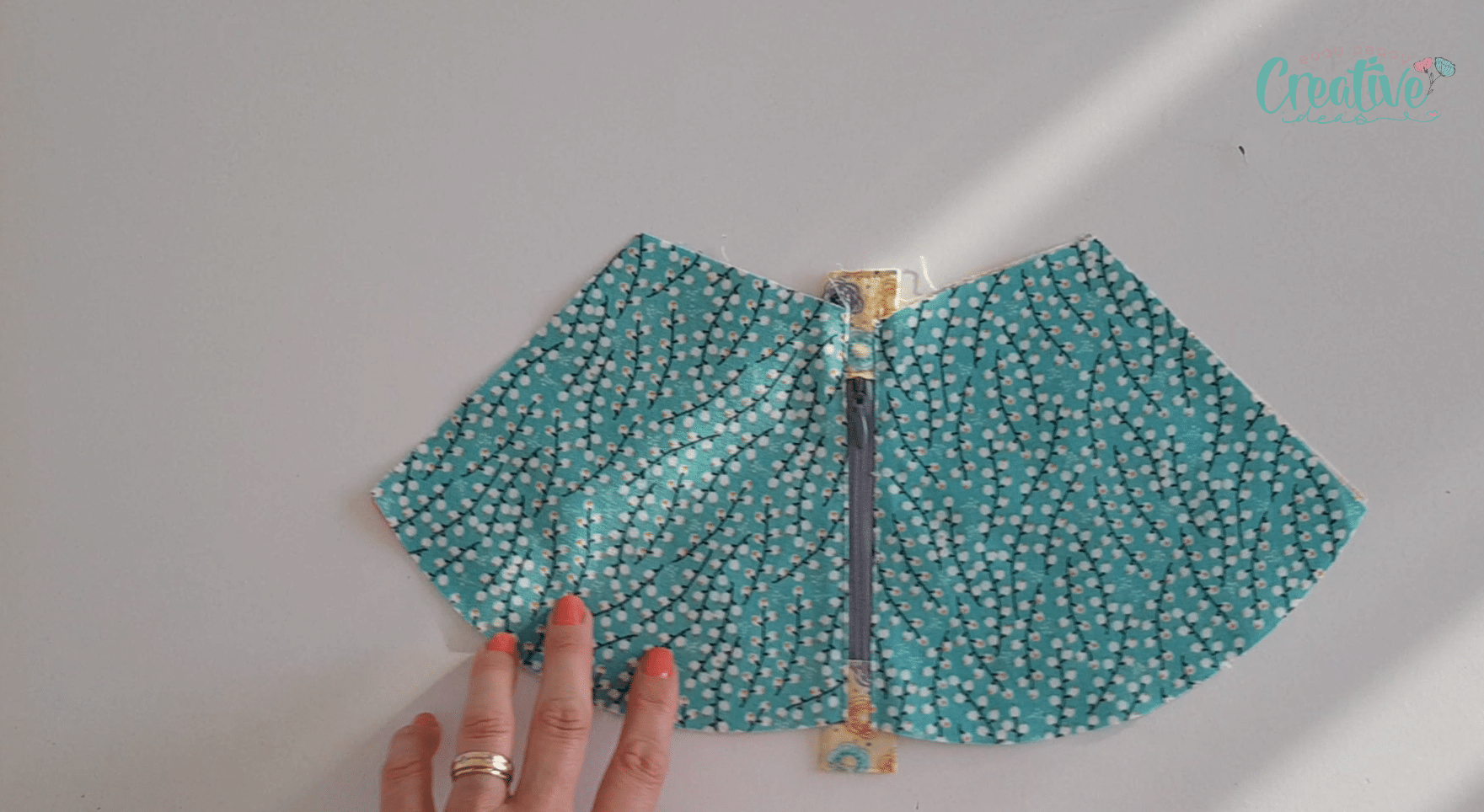 Finish sewing the pouch
Match the main fabrics, right sides together then lining fabrics right sides together and pin all around the raw edges.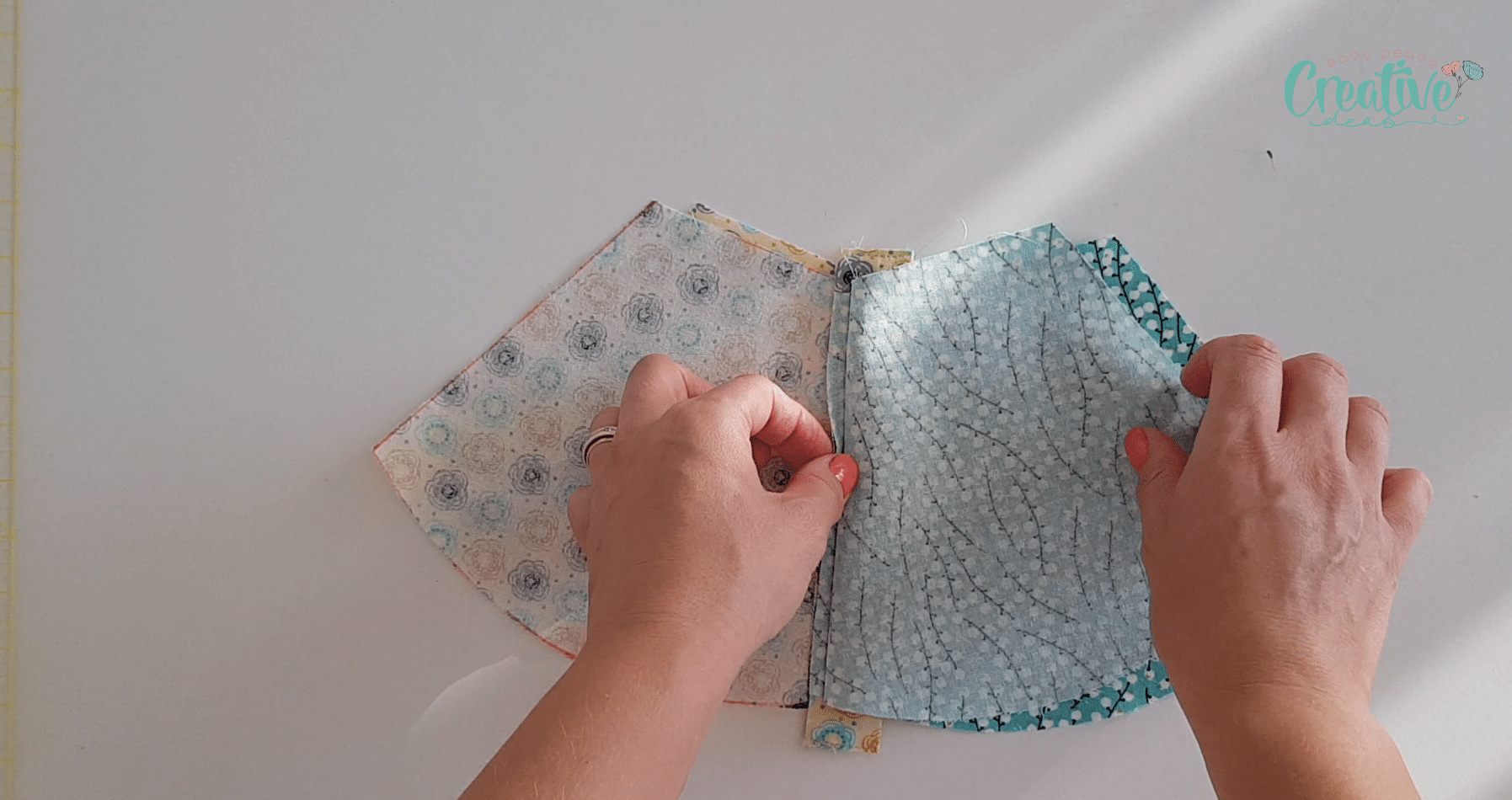 Take the fabric for the tab (mine was about 3″ long by 2″ wide), fold the raw sides in and press.
Then fold both halves together and press.
Edge stitch the open side.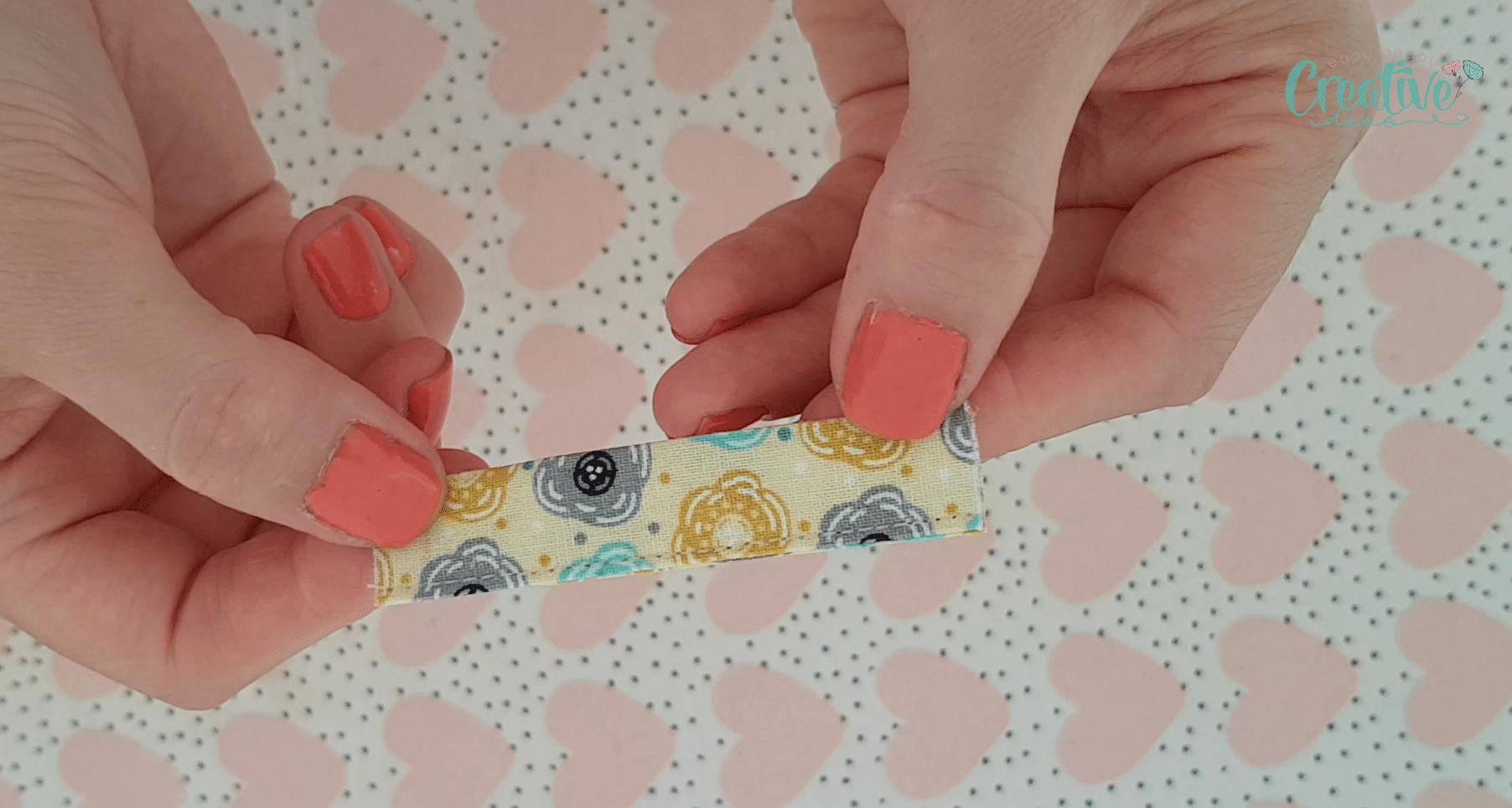 Fold the tab in half, lengthwise and press.
Insert the tab between the main fabrics, on the bottom straight edge, 1/4″ away from the side edge, with the folded in inside the pouch and the raw ends peaking out a little. Pin or clip in place.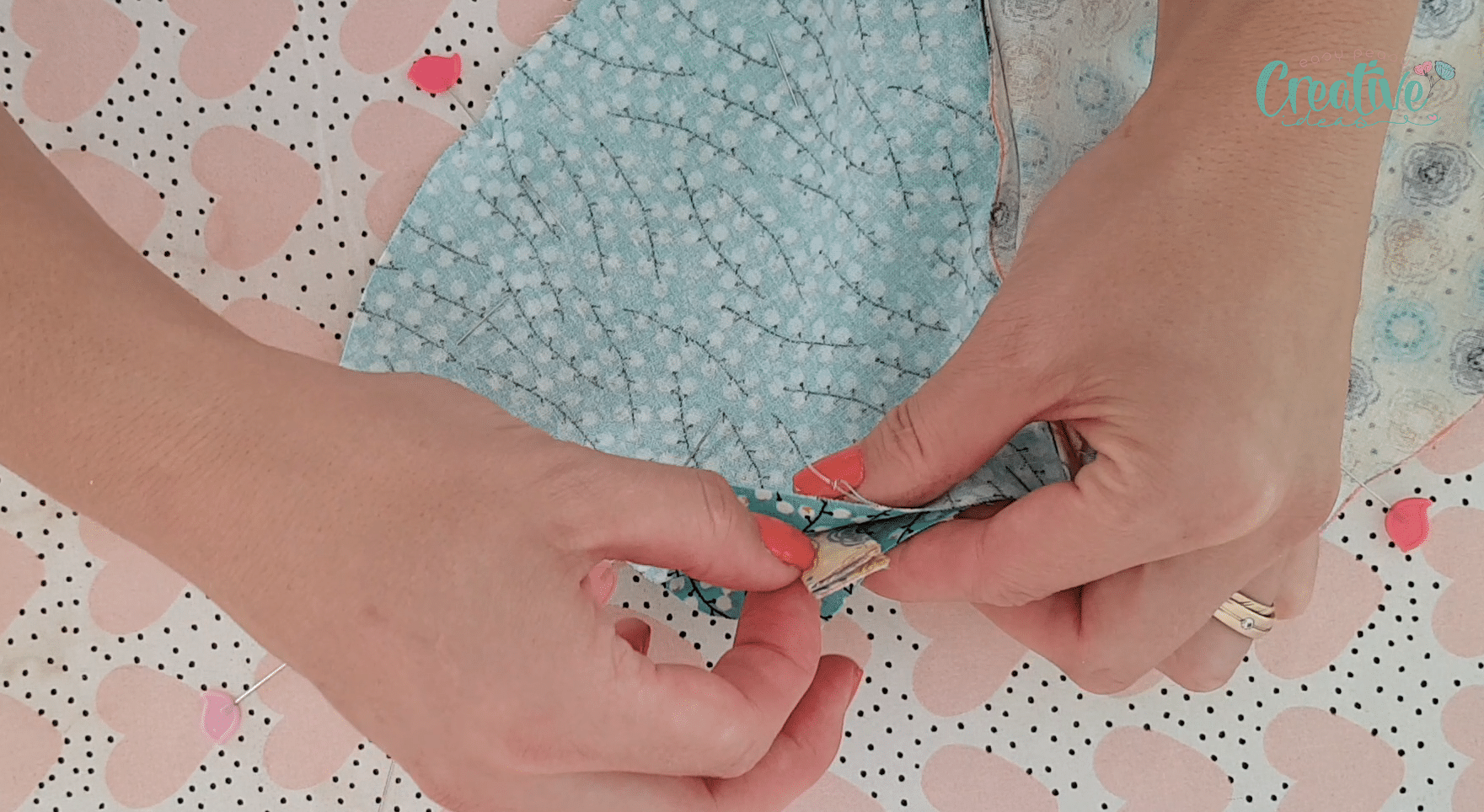 Mark a 2″ opening in the side of the linings then start sewing from one of the marks to the other, all around the pouch, using 1/4″ allowance, backstitching at start and end. You will probably need to squeeze and fold the zipper a little when you get to the zipper area. Also sew slow when you get to the zipper area.
Turn the pouch right side out
Turn the pouch right side out through the gap, lining first.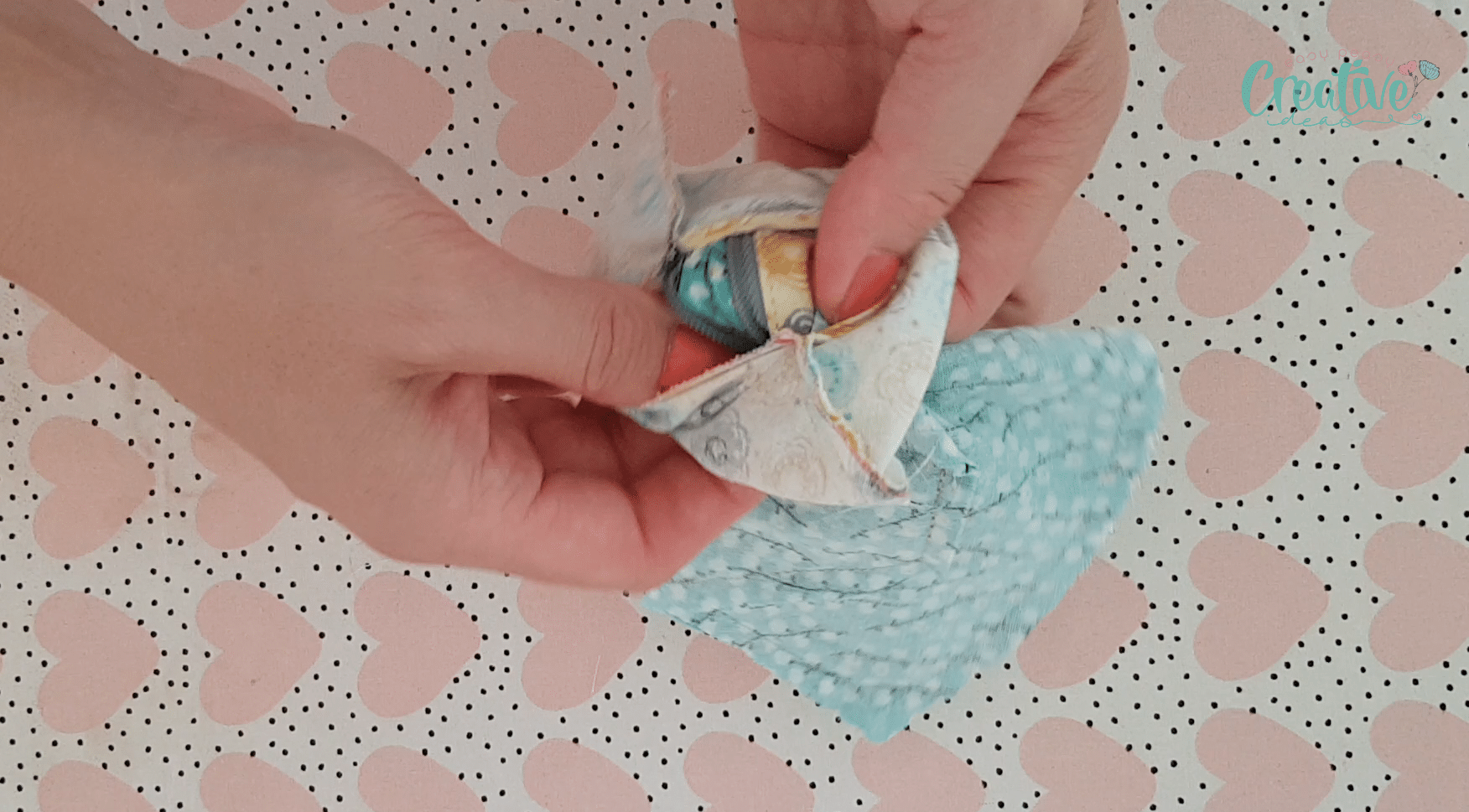 Edge stitch the gap in the lining or hand sew it using a ladder stitch.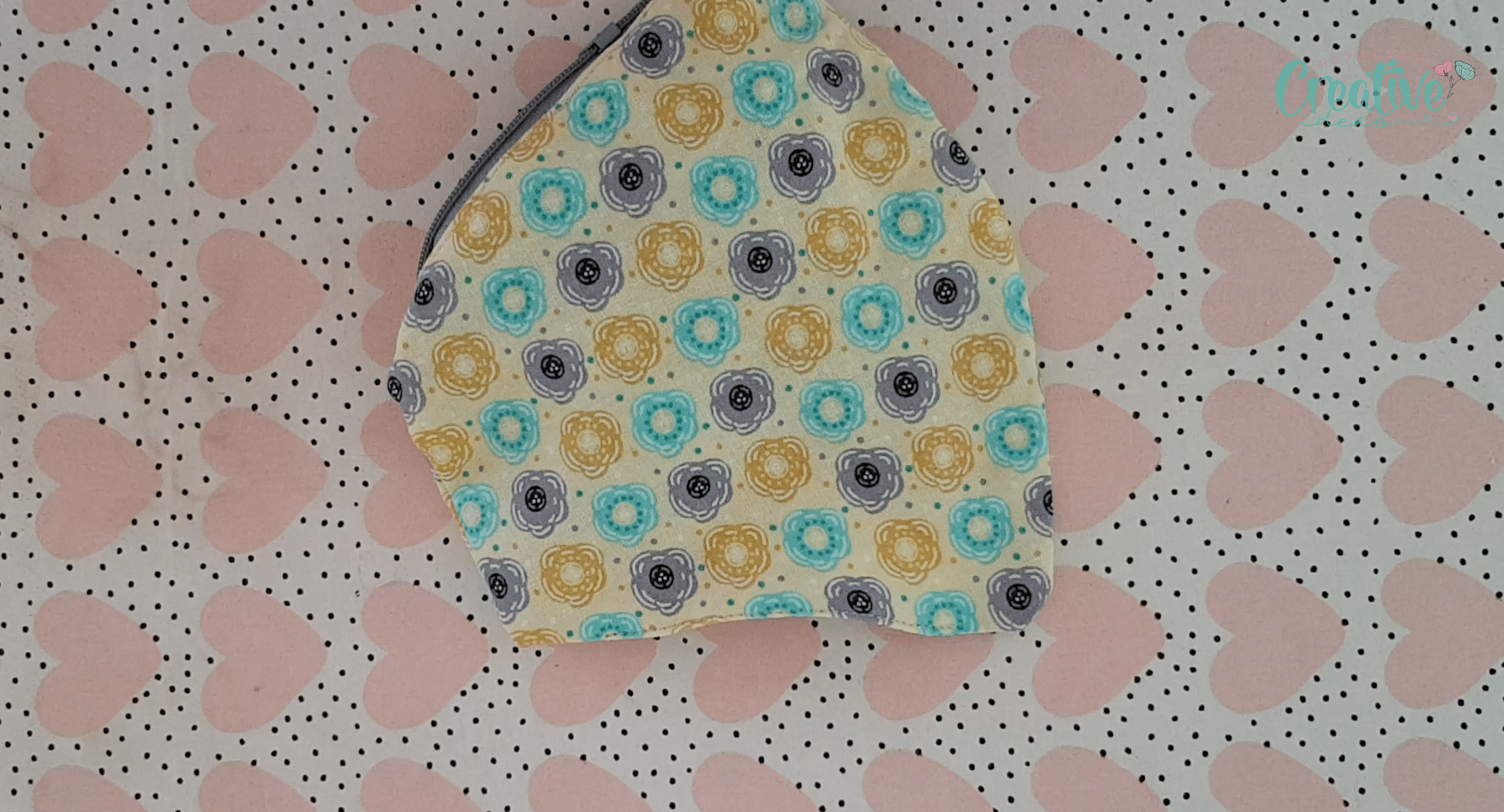 Continue pulling the pouch right side out through the opened zipper.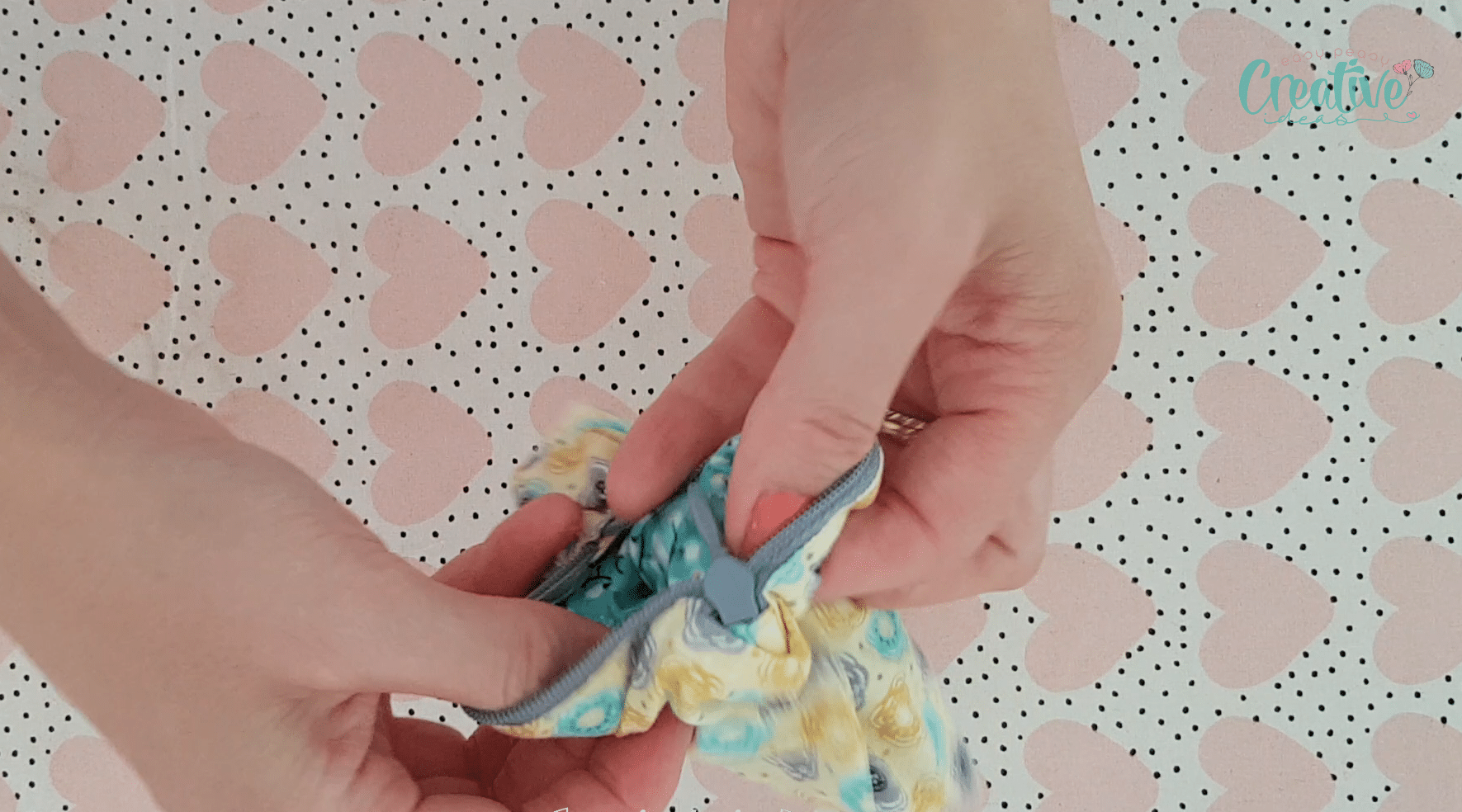 Push the corners out then give the pouch a good press and you're done!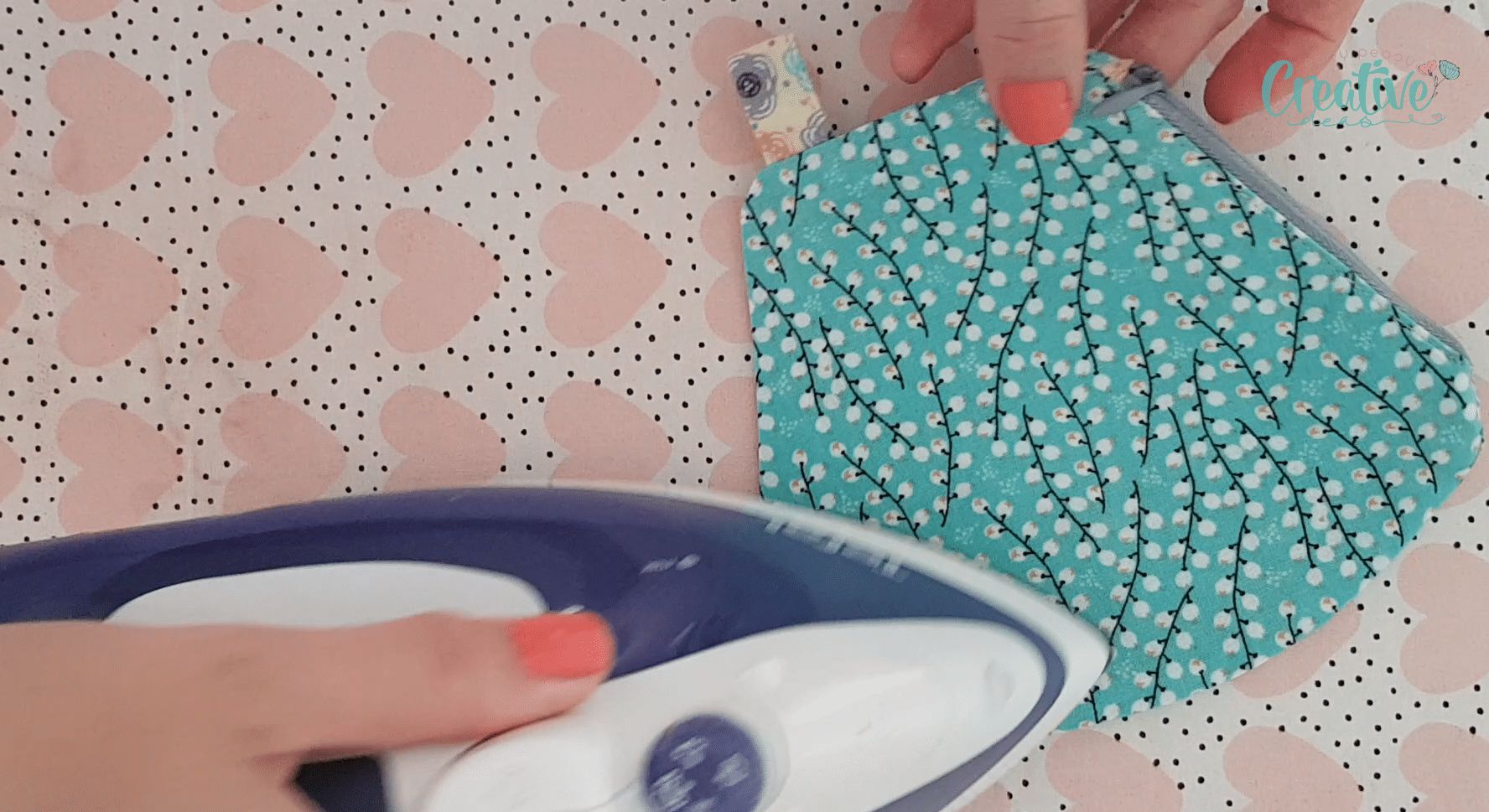 If you wish to attach your pouch to a bag or backpack, hang the tab of the pouch to a ring.
Pin to save for later