This tasty, flavorful French style chicken breast recipe is a real show stopper. Very easy to make, perfect for barbecues at Spring and Summer time.
French Style Chicken Breast with Florentine Potatoes

This French style chicken breast is a great way to celebrate warmer weather if you choose to barbecue it. Which is probably a better option as it makes you get out the house, have some fresh air and enjoy the nice weather with family and friends.
The French style chicken breast is very flavorful, thanks to the abundance of herbs and spices added, such as rosemary, bay leaves, garlic and onions. The white wine vinegar adds extra taste and makes this recipe a really special meal that will feed and delight the whole family.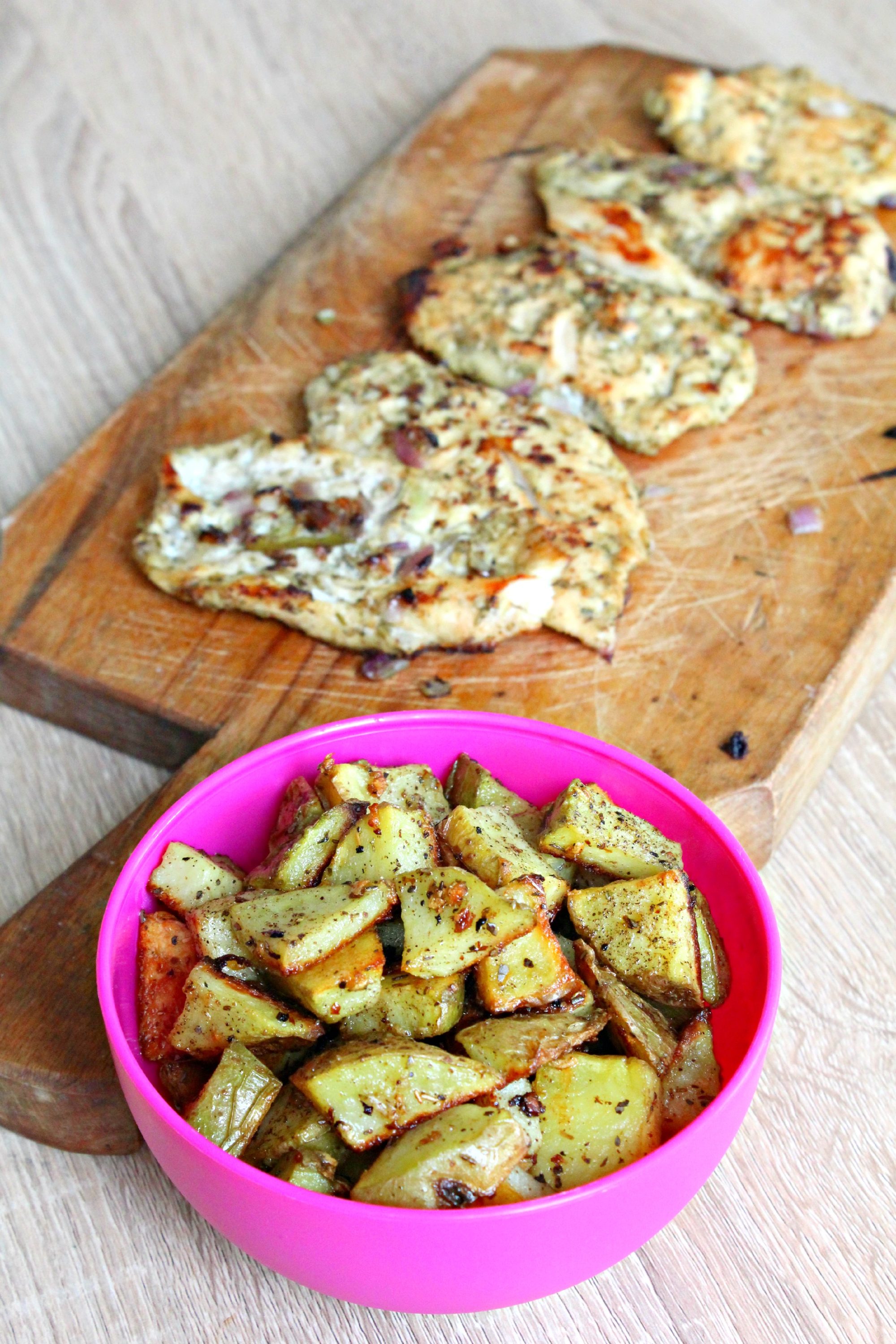 I love how well it pairs with the Florentine potatoes, roasted with garlic and oregano, a combination I never thought I'd enjoy so much. You live and learn I guess. They look lovely and have a smooth yet crispy texture.
You can use a whole chicken when making this recipe, and fresh chicken, whole or breast, is always a better option, the flavors will be enhanced and the meat more tender. I chose frozen chicken breast as I had some stored in the freezer, not the greatest option but I like to make a good use out of everything, food included.
What I loved the most about these two recipes was the lovely smell all around the house while roasting. It really made me feel like I live in the country side and gave me a nice sense of peacefulness.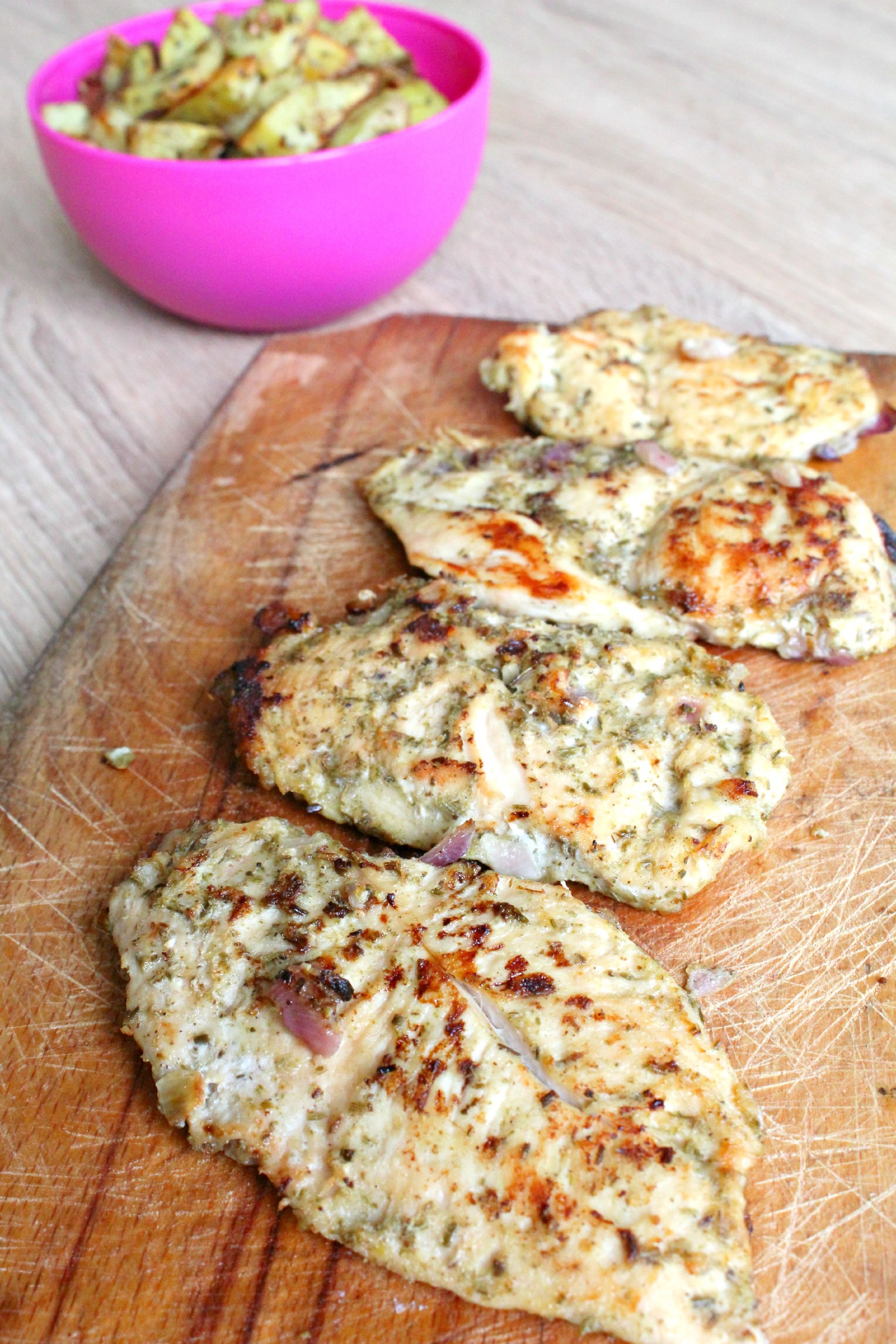 Both the French style chicken breast and Florentine potatoes are very easy to make, perfect for a non skilled cook such as myself. Their special flavors make them taste divine and they're also really satisfying, thanks to all those herbs you'll feel full in just a few bites.
French Style chicken breast recipe
Ingredients:
1.8 kg = 4 lbs chicken or chicken breast
Juice from 1/2 lemon
1/2 glass water
For the marinade:
1 red onion, finely chopped
½ bulb of garlic, smashed
1 small bunch of fresh rosemary, leaves picked and finely chopped
4 fresh bay leaves
4 tbsp white wine vinegar
8 tbs olive oil
Directions:
Preheat oven at 190 C = 375 F
Mix all the marinade ingredients in a large bowl
Place the chicken in the marinade and rub well
Cover and leave in the fridge for minimum of 12 hrs
Remove the chicken from the marinade (chances are the whole marinade is absorbed into the meat if you use chicken breast)
Place chicken in a roasting tray
Drizzle lemon juice all over the meat
Pour water
Cover with tin foil and roast for 20 to 30 minutes if you use chicken breast (depending on your oven) or 1 hr for whole chicken
If you use chicken breast you won't need to barbecue it after roasting. If you choose whole chicken you may need to barbecue until golden and crisp, turning occasionally or you may opt for roasting it for additional 10 to 15 minutes.
Serve while warm, with Florentine potatoes, recipe below and garden salad
Florentine Potatoes Recipe
Ingredients:
1 kg = 2 lbs potatoes
6 tbsp olive oil
4 cloves garlic
1 tsp dried oregano
Directions:
Clean potatoes well
Cut into small to medium cubes
Toss in a roasting tray with all ingredients
Mix well
Roast in the oven alongside the chicken for about 30-40 minutes, or until lovely and crispy and golden
French-style chicken breast with Florentine potatoes
Ingredients
1.8 kg = 4 lbs chicken or chicken breast
Juice from 1/2 lemon
1/2 glass water

For the marinade:

1 red onion, finely chopped
½ bulb of garlic, smashed
1 small bunch of fresh rosemary, leaves picked and finely chopped
4 fresh bay leaves
4 tbsp white wine vinegar
8 tbs olive oil

For the Florentine potatoes:

1 kg = 2 lbs potatoes
6 tbsp olive oil
4 cloves garlic
1 tsp dried oregano
Instructions
Directions for French chicken:

Preheat oven at 190 C = 375 F
Mix all the marinade ingredients in a large bowl
Place the chicken in the marinade and rub well
Cover and leave in the fridge for minimum of 12 hrs
Remove the chicken from the marinade (chances are the whole marinade is absorbed into the meat if you use chicken breast)
Place chicken in a roasting tray
Drizzle lemon juice all over the meat
Pour water
Cover with tin foil and roast for 20 to 30 minutes if you use chicken breast (depending on your oven) or 1 hr for whole chicken
If you use chicken breast you won't need to barbecue it after roasting. If you choose whole chicken you may need to barbecue until golden and crisp, turning occasionally or you may opt for roasting it for additional 10 to 15 minutes.
Serve while warm, with Florentine potatoes, recipe below and garden salad

Directions for Florentine potatoes:

Clean potatoes well
Cut into small to medium cubes
Toss in a roasting tray with all ingredients
Mix well
Roast in the oven alongside the chicken for about 30-40 minutes, or until lovely and crispy and golden
https://theseamanmom.com/french-style-chicken-breast-with-florentine-potatoes/