Article may contain Amazon & affiliate links. As an Amazon Associate I earn from qualifying purchases at no additional cost to you.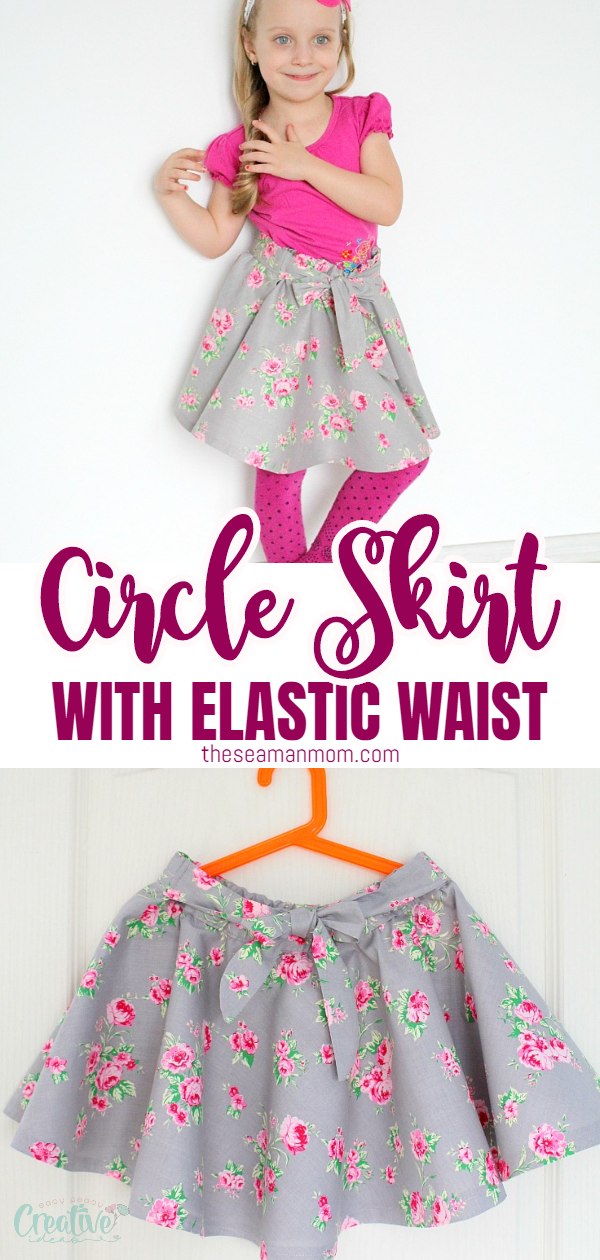 Do you love the look of those twirly full circle skirts? Make a circle skirt for yourself or your little girl, without having to insert a zipper! Here you'll learn how to make a circle skirt pattern and how to sew a circle skirt with elastic waist, so this is perfect for beginners!
Circle skirt pattern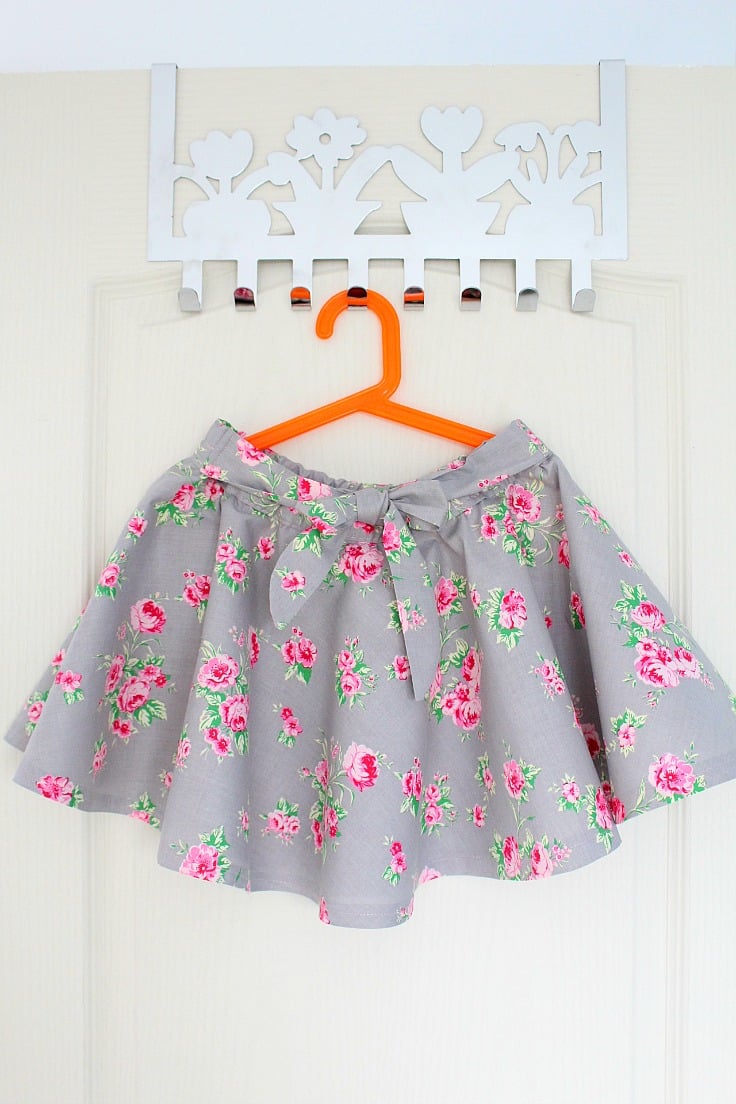 I absolutely love circle skirts! They don't only look super cute but they're also very comfy to wear too! I think a circle skirt makes any girl look simply stunning! And if you are a beginner, this circle skirt pattern is an excellent project to practice your skills on.
This particular circle skirt with elastic waist is made for a little girl but the exact same instructions apply to a miss or lady skirt too, in any size and length you need it. I actually wanted to make a full circle skirt for myself too but as always I didn't buy enough fabric for both of us so of course my little angel had to be the winner on this one!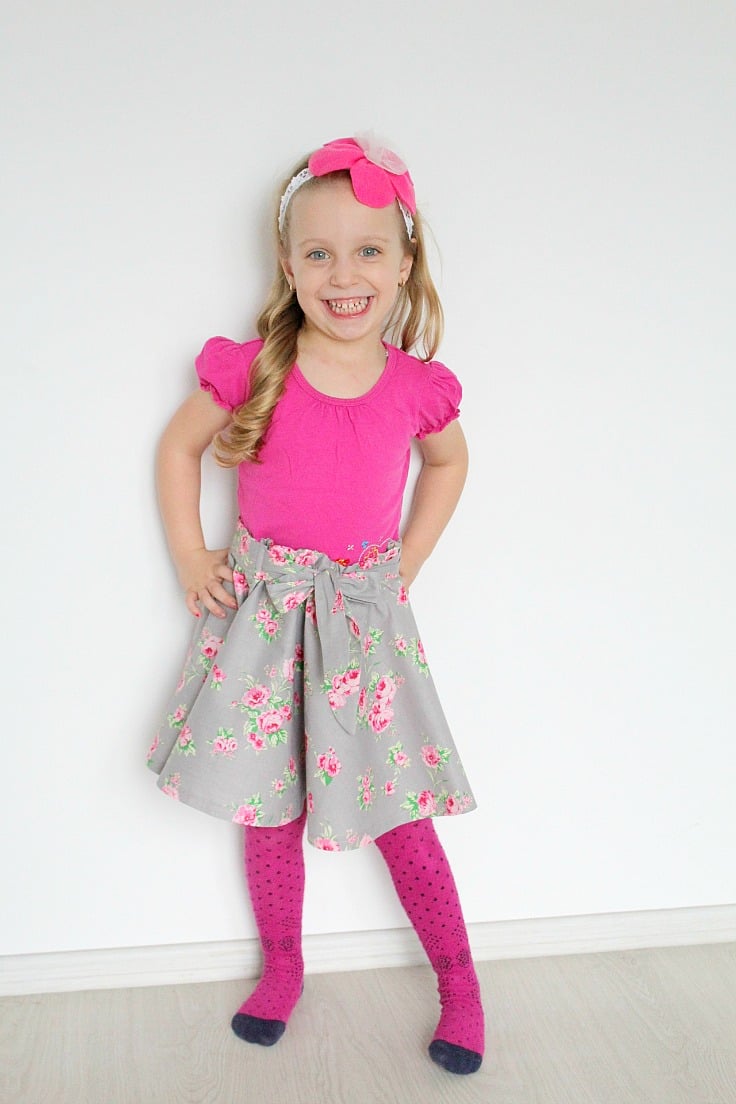 Similar posts you might like: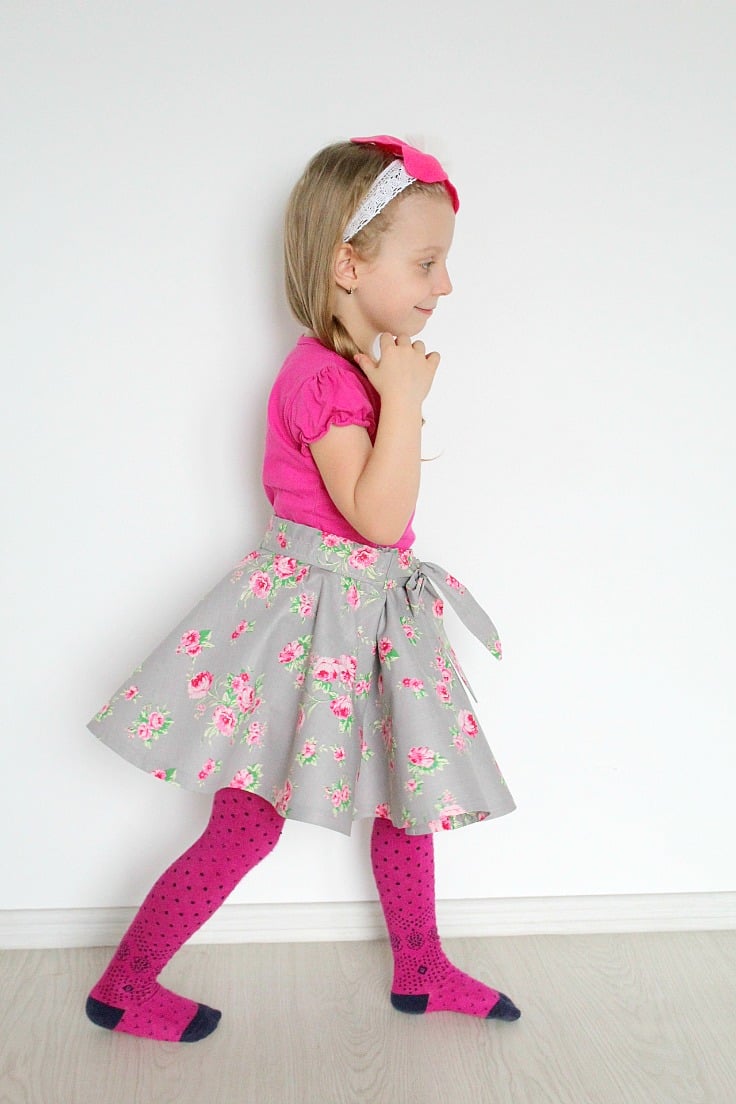 This circle skirt pattern is a great project if you don't have a lot of time on your hands and just need to whip up a skirt in a hurry. I made this full circle skirt pattern from a single piece of fabric, a continuous circle so there aren't many seams to sew up in this project.
This circle skirt pattern can be made in a mini or midi length version. I personally prefer the midi version for ladies and mini for little girls, I'm just old fashion like that! You'll learn how to make a circle skirt without a pattern but a little math will be involved in this circle skirt tutorial but don't worry, it's really no rocket science, anyone can do it.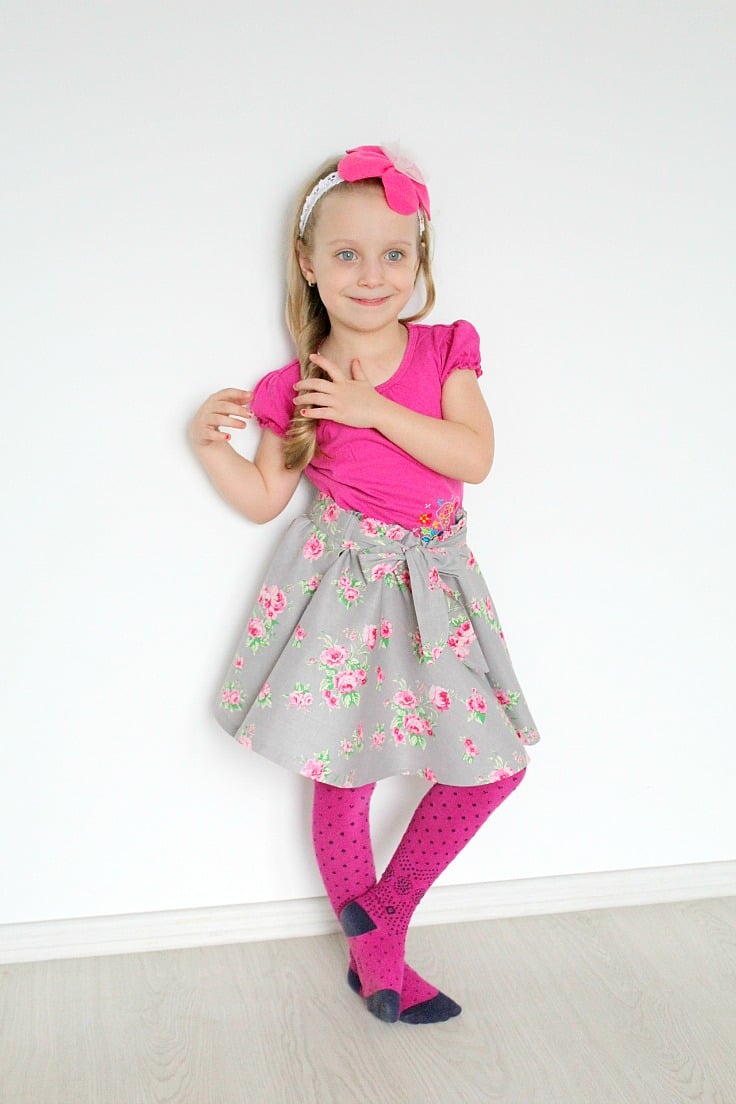 Depending on your fabric choice when making a circle skirt, your skirt can be more twirly or more stiff, it can look casual or formal and it can have more volume or lay flatter. No matter your choice, this circle skirt pattern is sure to make you or your little one feel girly and simply stunning!
Most Popular Sewing Projects:
How much fabric do I need for a full circle skirt?
Depending on the size of your skirt, you need between 1 and 2 yards. For a child skirt you most likely need 1 yard while adults would probably be fine with 1 1/2 yards. Purchase a little more to be on the safe side.
What is the best fabric for a circle skirt?
Cottons are great for a lot of projects and the circle skirt is one of them. You could also use fabrics with more drape like silk or satin or fabrics with more body like tulle (check out this great tulle skirt tutorial!); but all these are hard to work with so you need to have a little more experience in sewing garments. You could do a great job at making a circle skirt from knit fabric or jersey too but cotton is by far the easiest and foolproof fabric to work with on this kind of garment.
What do you wear with a full circle skirt?
This skirt is such a versatile item and can be worn with a large variety of tops, coats and shoes. But because it has so much body, you need to keep everything else low key. Wear this skirt with a fitted turtle neck blouse (long, short or no sleeve all work great!), a simple t-shirt, tank top, a silky blouse with small sweet details. If you add a cardigan or a jacket, choose a snug one instead of a slouchy item. This kind of skirt looks best when worn with high heels but shorter circle skirts work great with flats too or even sneakers.
How do I calculate fabric for a circle skirt?
I've made a circle skirt calculator spreadsheet to help you find the final measurements for your circle skirt a lot easier. This calculator applies great to a regular circle skirt with zipper in the back but for this particular tutorial you'll need to make a slight adjustment. Instead of using the waist measurements, you'll use hip measurements. I'll get into more details below, in the step by step tutorial.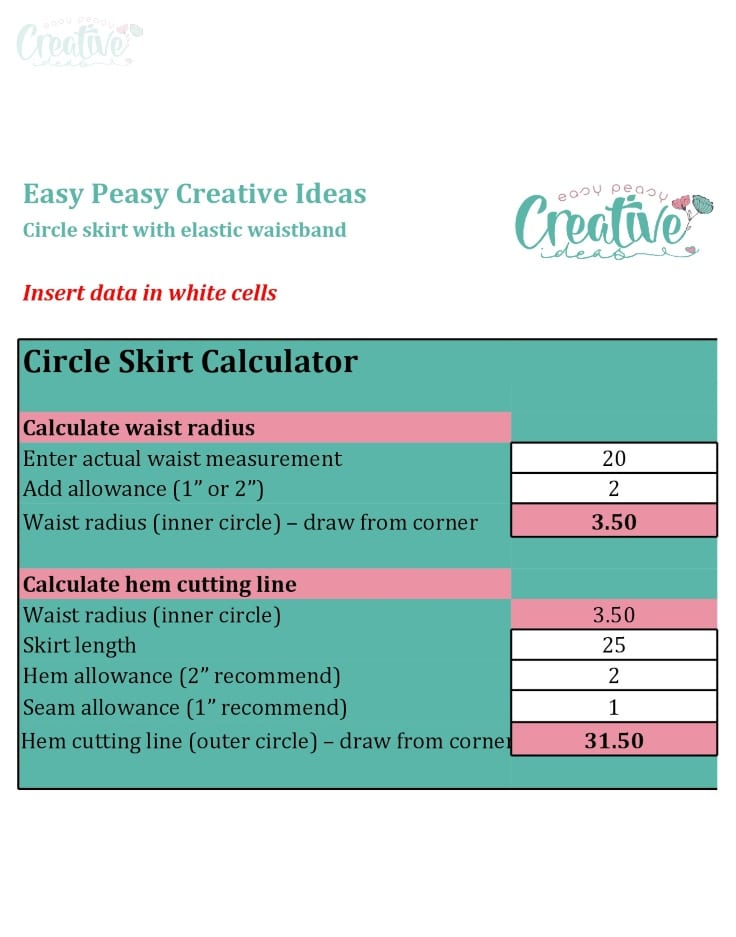 ---
The calculator is available for purchasing here.
---
Circle skirt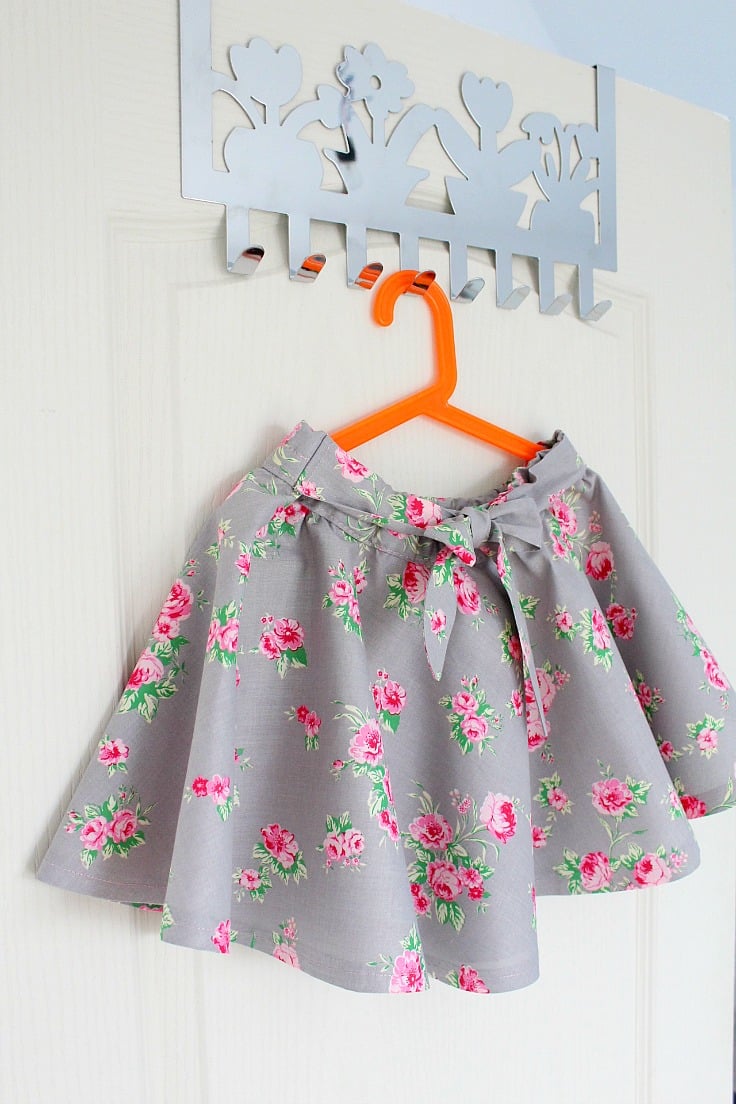 Materials:
1 yard of fabric of choice (I used cotton with a roses print because I really, really love the flower print on this one!) – for adult size you may need about 2 yards.
measuring tape
pins
matching thread (or contrast if you're feeling adventurous)
scissors
How to make a circle skirt with elastic waist:
---