Do you love the look of those twirly full circle skirts? Here's how to make a circle skirt pattern for yourself or your little girl, without having to insert a zipper. 
Circle skirt
I absolutely love circle skirts! They don't only look super cute but they"re also very comfy to wear too! I think a circle skirt makes any girl look simply stunning! And if you are a beginner, this circle skirt pattern is an excellent project to practice your skills on. This circle skirt with elastic waist is made for a little girl but the exact same instructions apply to a miss or lady skirt too, in any size and length you need it. I actually wanted to make a circle skirt for myself too but as always I didn't buy enough fabric for both of us so of course my little angel has to be the winner on this one!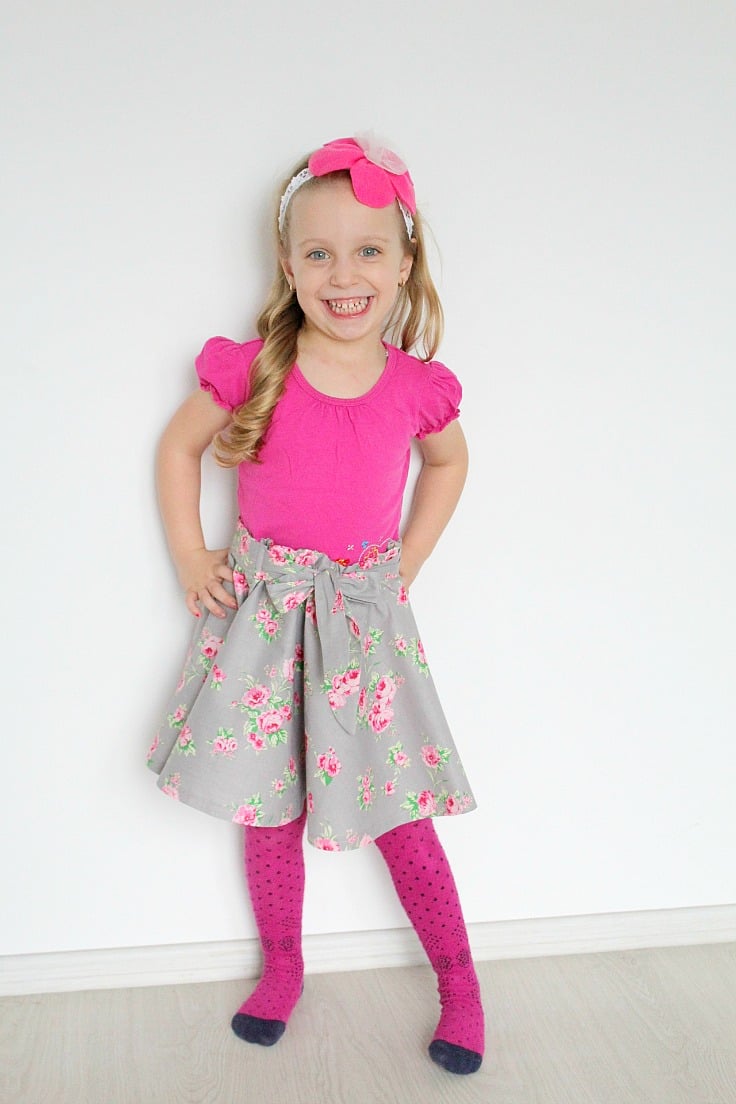 Similar posts you might like: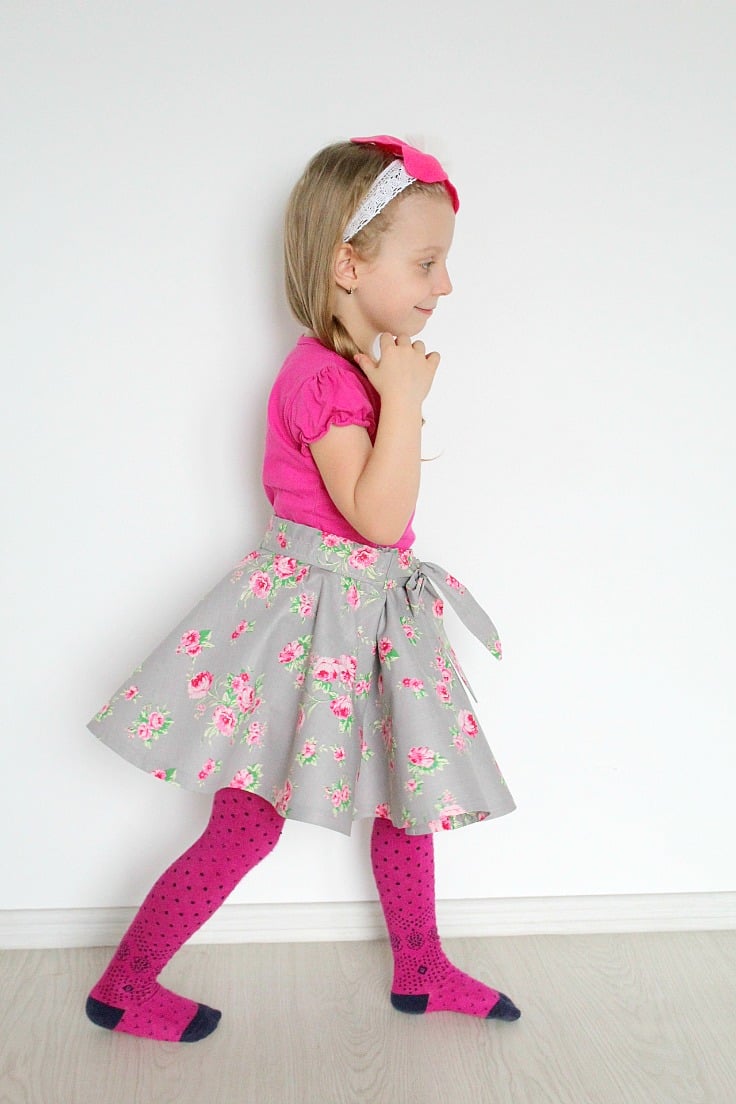 This circle skirt pattern is a great project if you don't have a lot of time on your hands and just need to whip up a skirt in a hurry. I made this full circle skirt pattern from a single piece of fabric, a continuous circle so there aren't many seams to sew up. This circle skirt pattern can be made in a mini or midi length version. I personally prefer the midi version for ladies and mini for little girls, I'm just old fashion like that! A little math will be involved in this circle skirt tutorial but don't worry, it's really no rocket science, anyone can do it.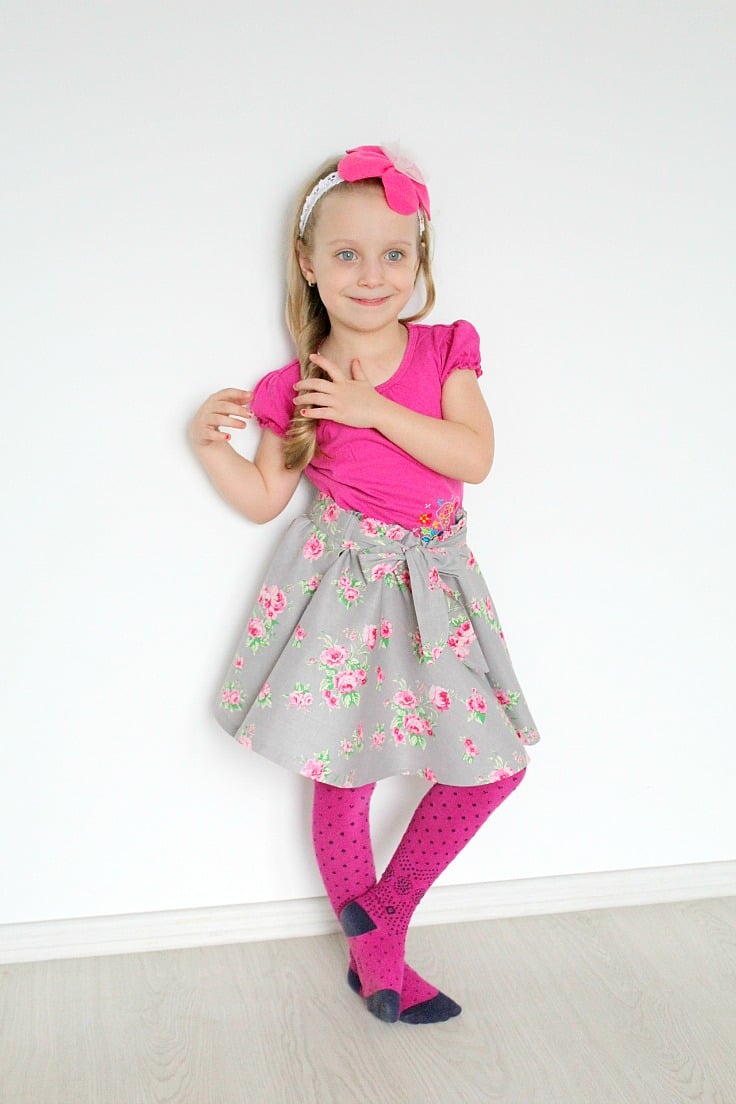 Depending on your fabric choice when making a circle skirt, your skirt can be more twirly or more stiff, it can look casual or formal and it can have more volume or lay flatter. No matter your choice, this circle skirt pattern is sure to make you or your little one feel girly and simply stunning!
Circle skirt pattern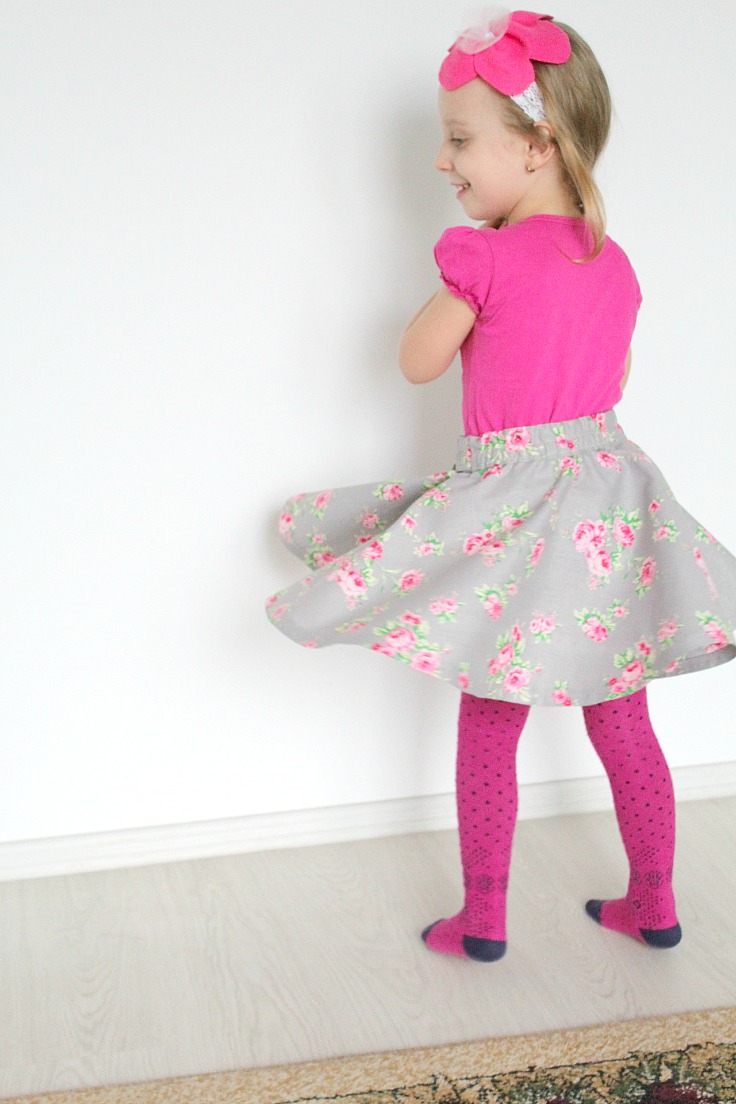 Materials:
1 yard of fabric of choice (I used cotton with a roses print because I really, really love the flower print on this one!) – for adult size you may need about 2 yards.
measuring tape
pins
matching thread (or contrast if you're feeling adventurous)
scissors
Directions:
Making the pattern
Take your waist measurement.
Take your hips measurement, around the widest area, add 1″-2″ and divide the amount by 6.28 to calculate your circle's radius (inner circle).
Measure the length of the skirt (from waist down to where you want the skirt to fall) and add 2″ seam allowance.
Grab a big piece of paper (I used wrapping paper), and  draw your inner circle as a quarter circle, away from the corner of your paper.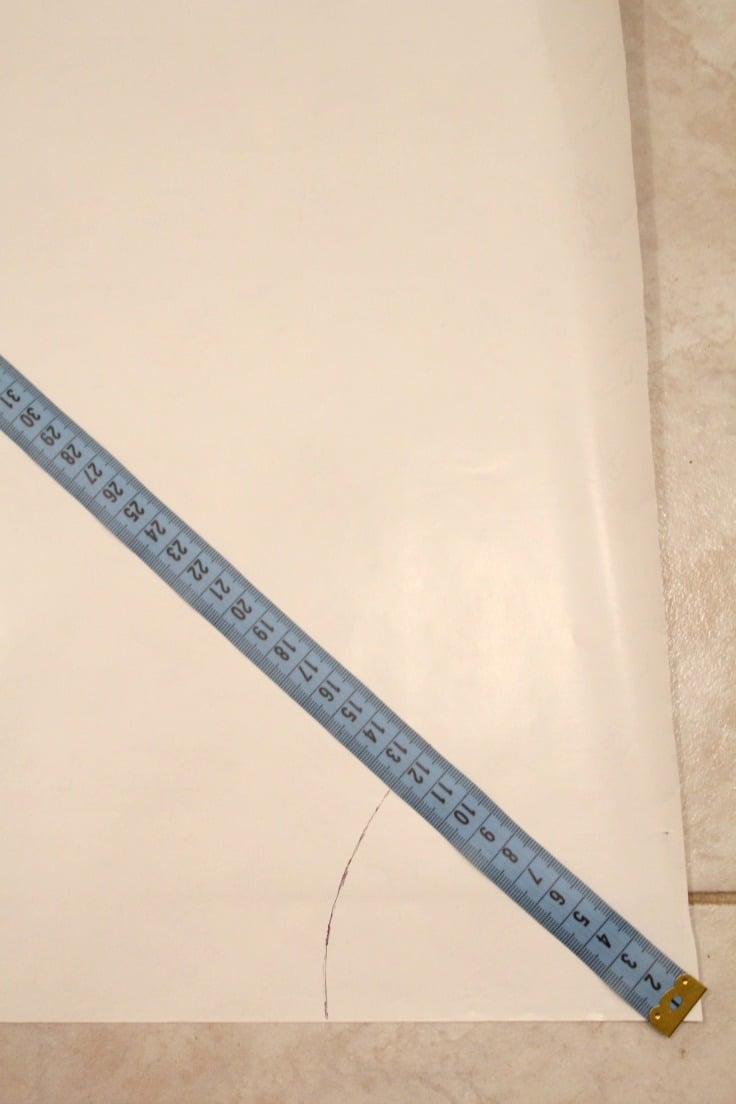 Now do the same for the length. This will be your outer circle. Measure your desired length from the inner circle, not from the corner. Don't forget to add seam allowance all around your inner circle.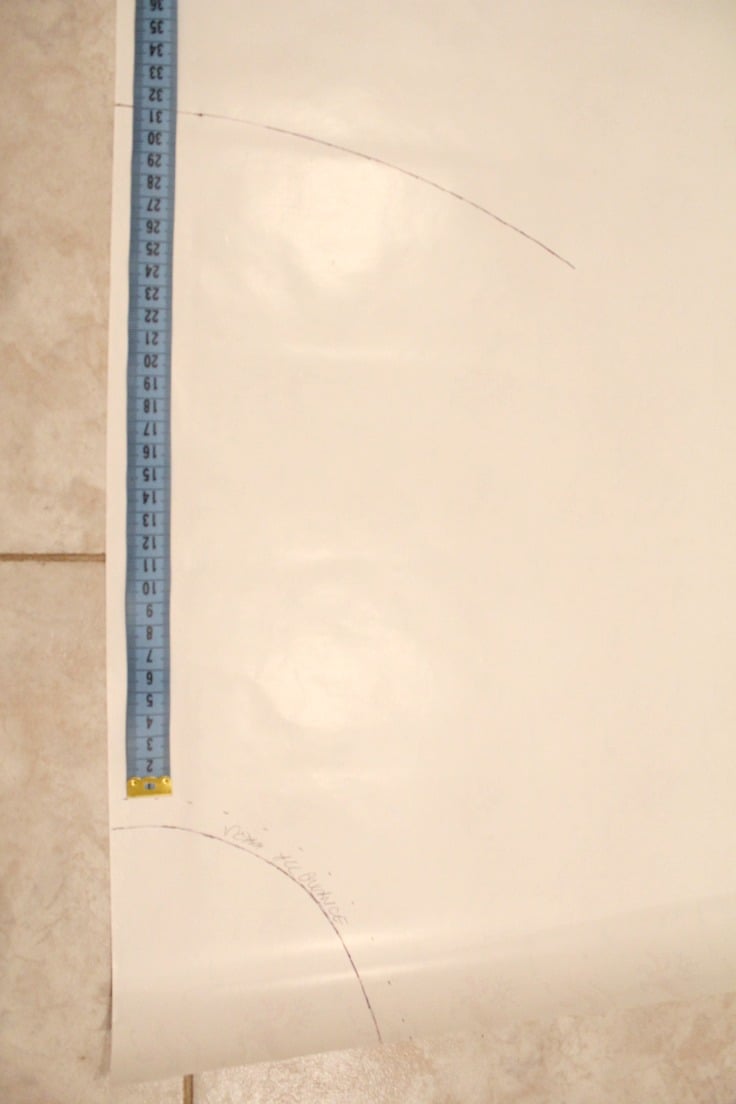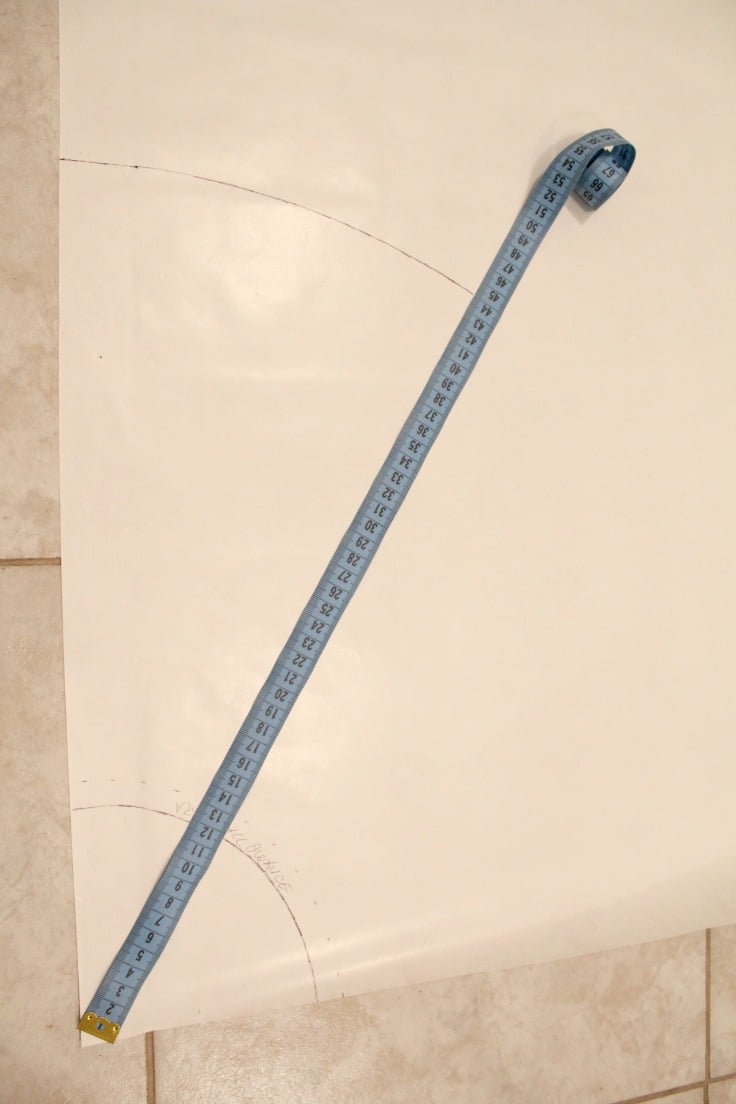 Cut your pattern around the inner circle than around the outer circle. This will be 1/4 of a pattern.
Preparing the fabric
Fold your fabric in half, right sides together, then fold again in half so the fabric is in quarters now.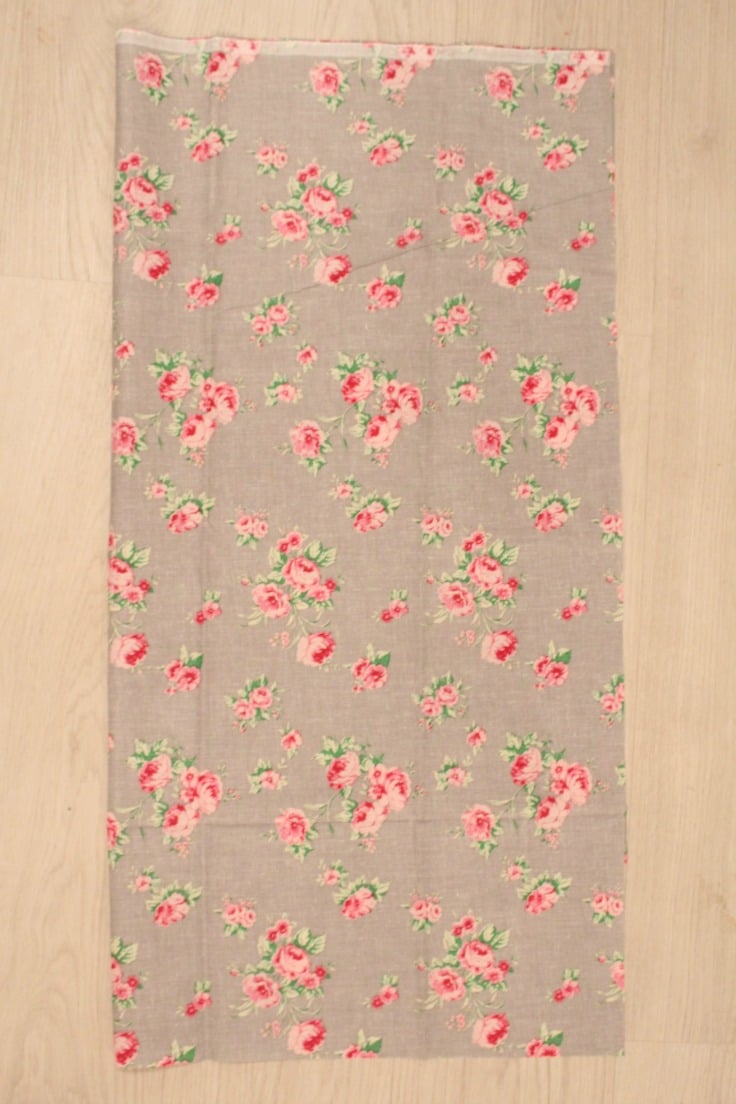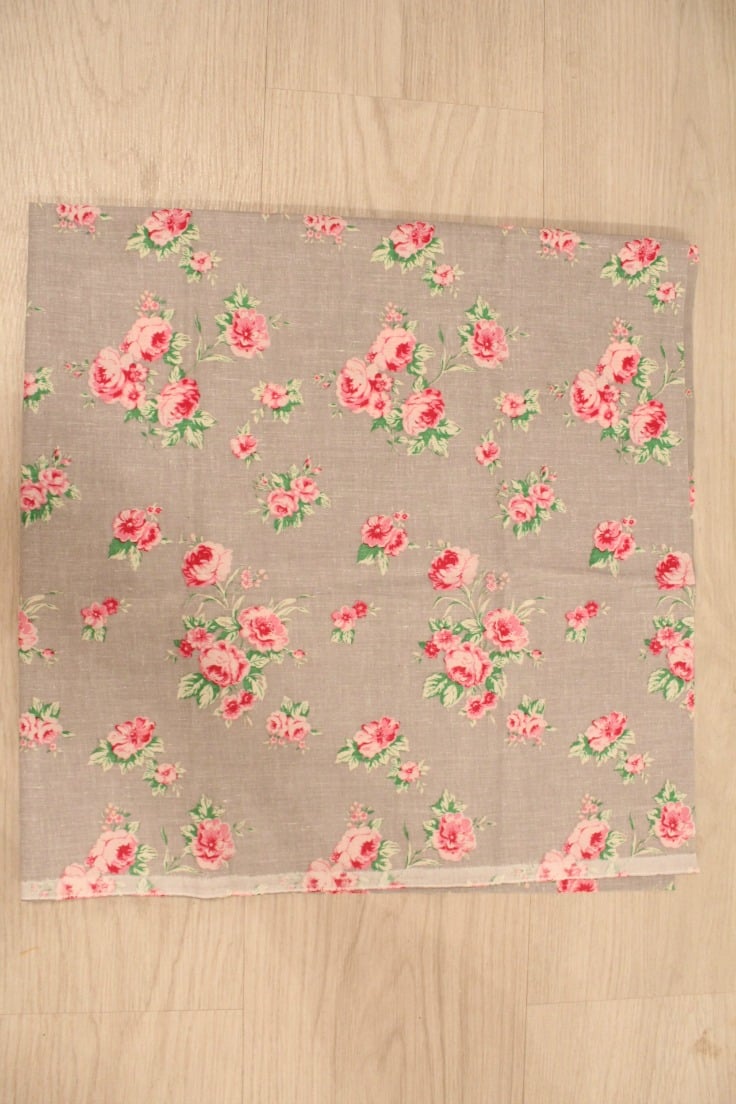 Place the inner circle of your pattern to match up the folder corner of the fabric (the one with no raw edges) – Very Important!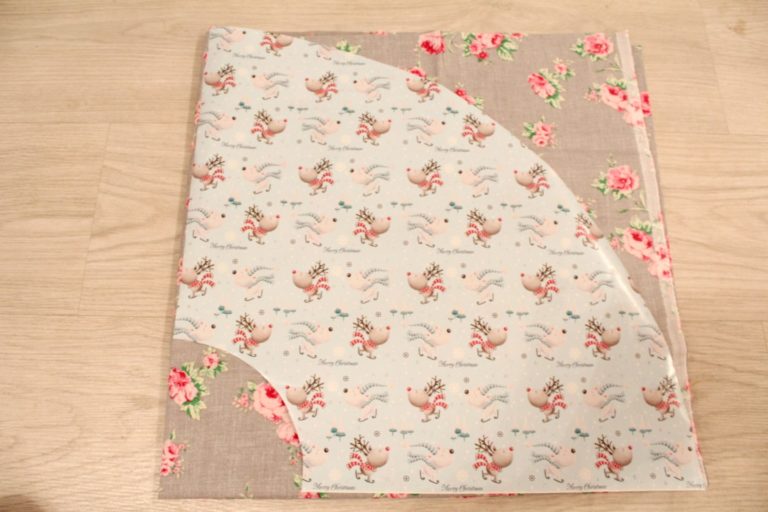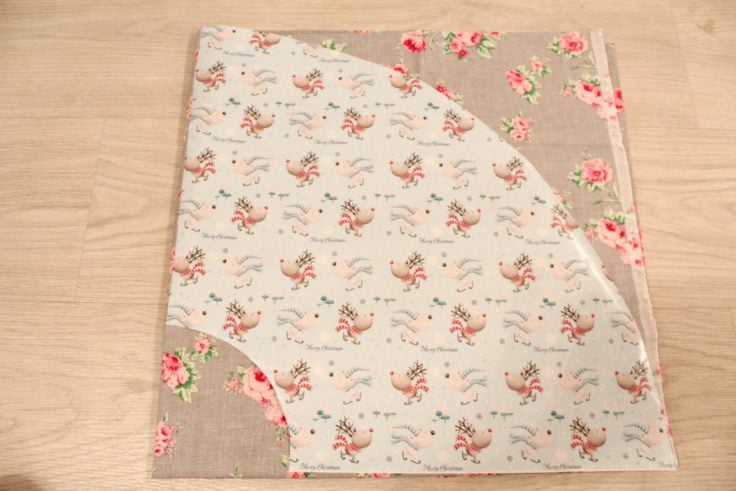 Pin your pattern in place, through all the layers and cut around the inner and outer circle, again through all the layers. You will get a continuous circle.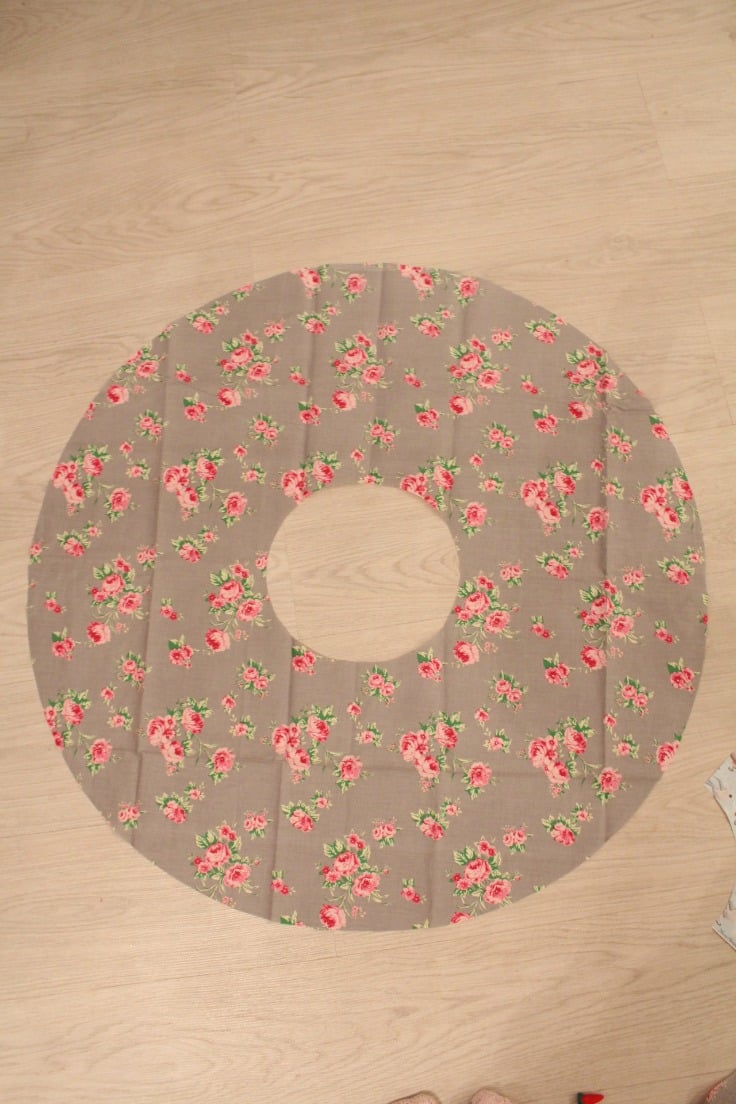 Making the waistband
Make your waistband. Cut a strip of fabric with the length of your hips measurement plus 2″ for seam allowance and with the desired width. I cut mine to be 6″ wide. Fold the fabric in half, lengthwise, iron then open the strip and fold each half again and iron.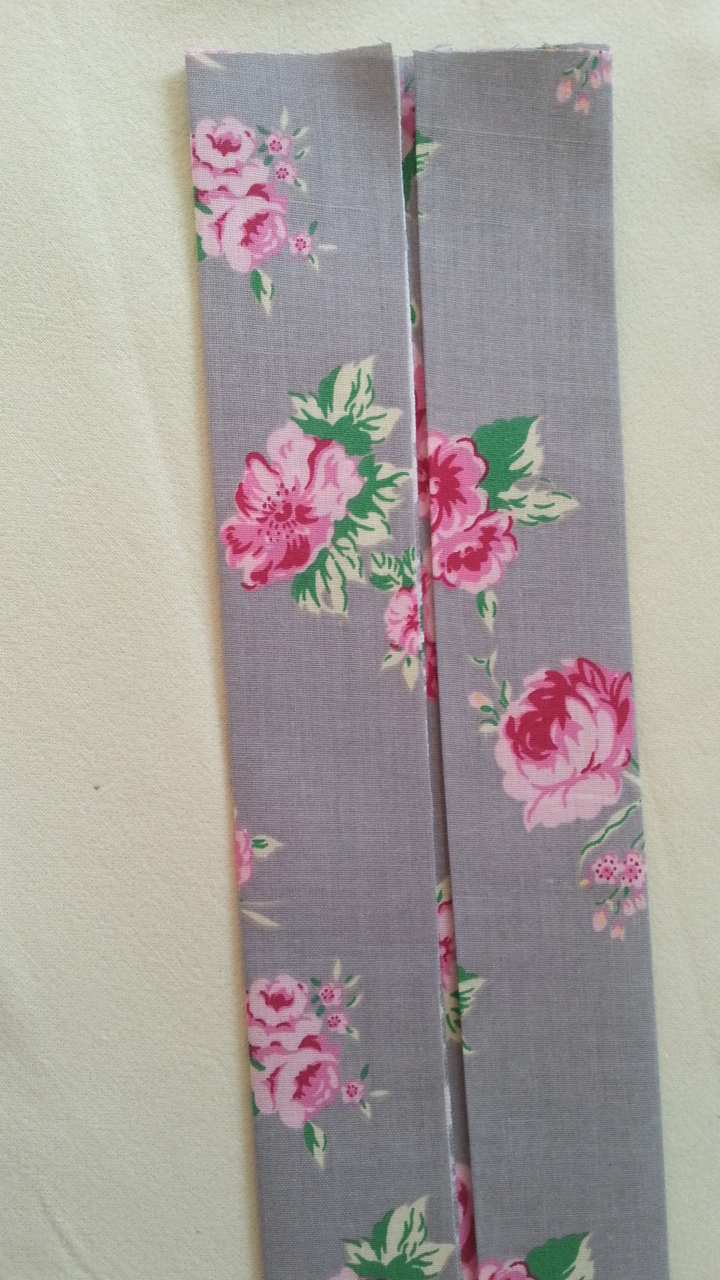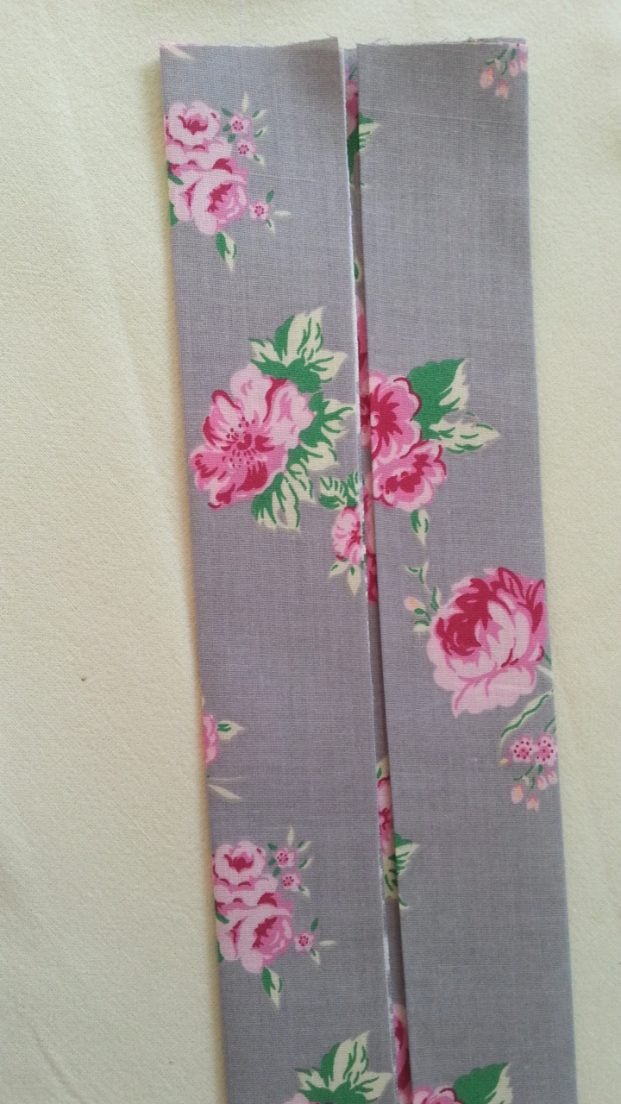 Fold on the initial fold again and iron. Open the whole strip wrong side out, pin the ends together and sew up with 1/4″ allowance.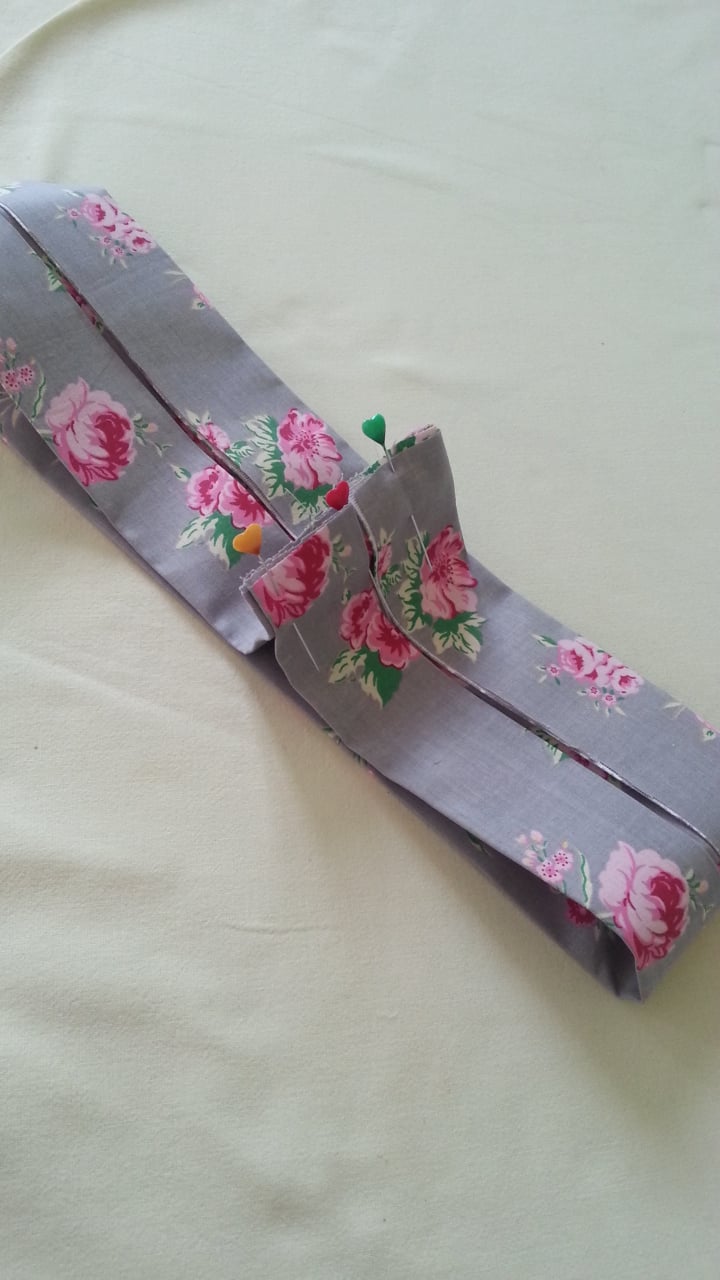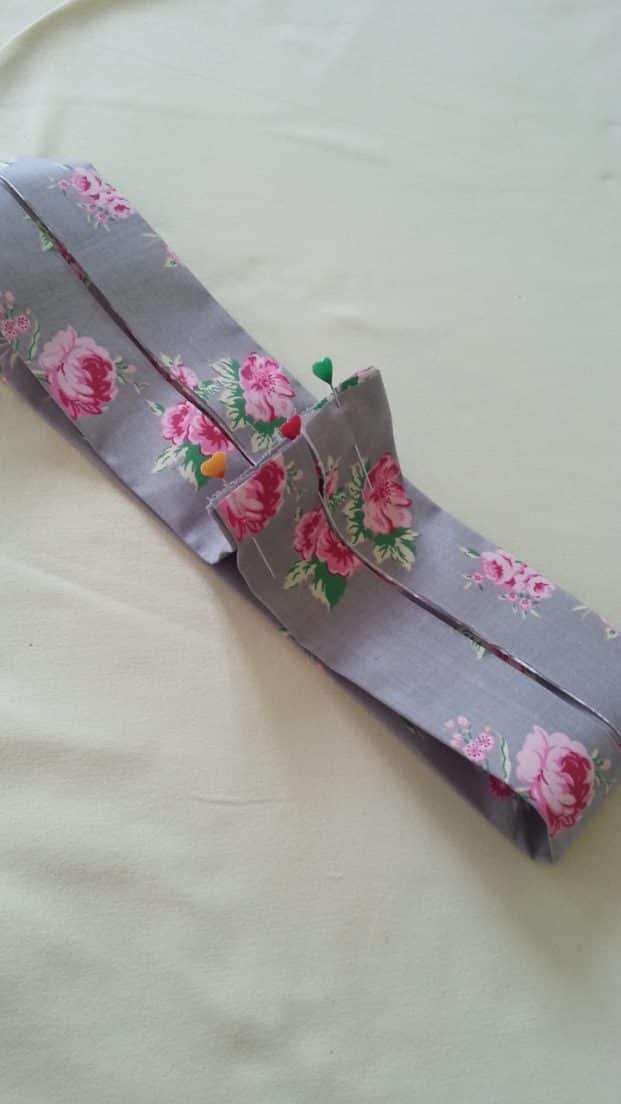 Open the seam and iron press. Turn the waistband right side out and iron.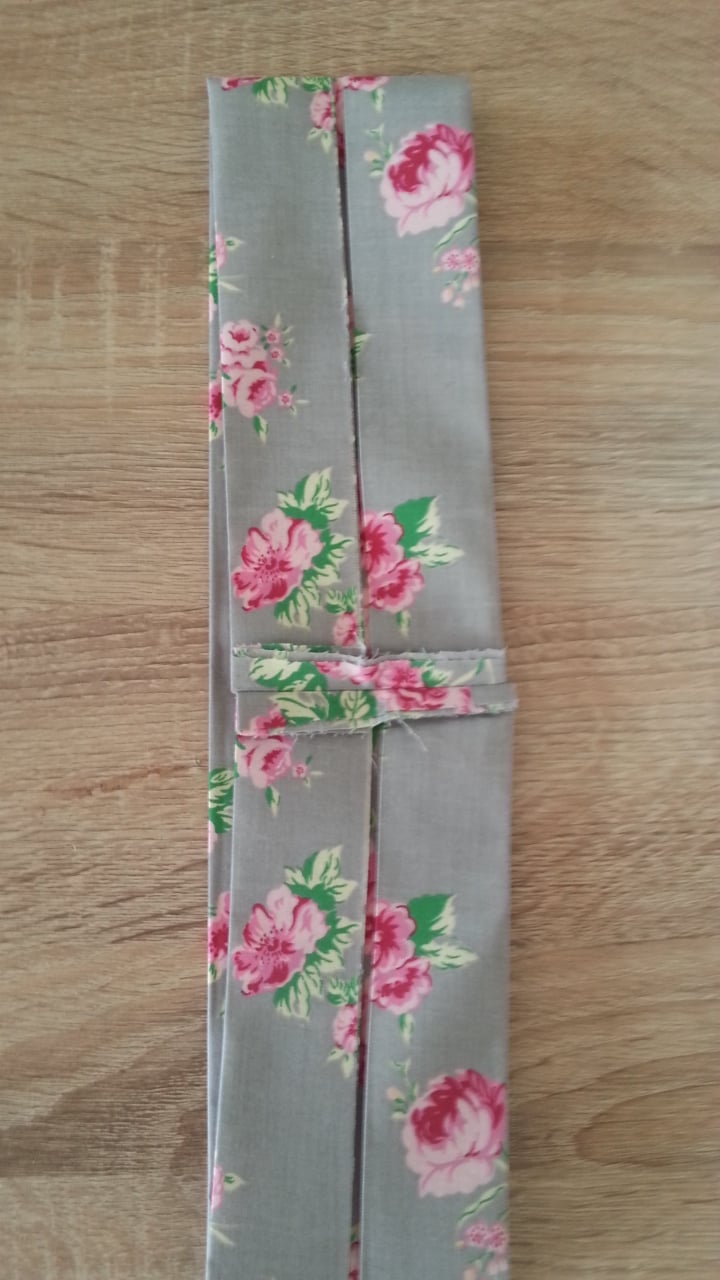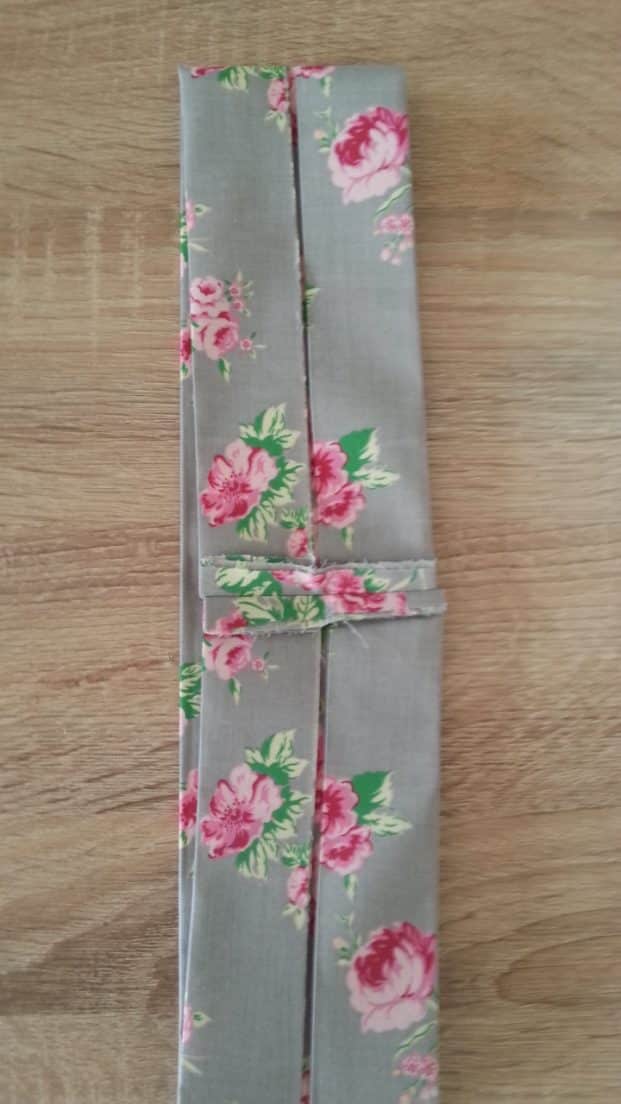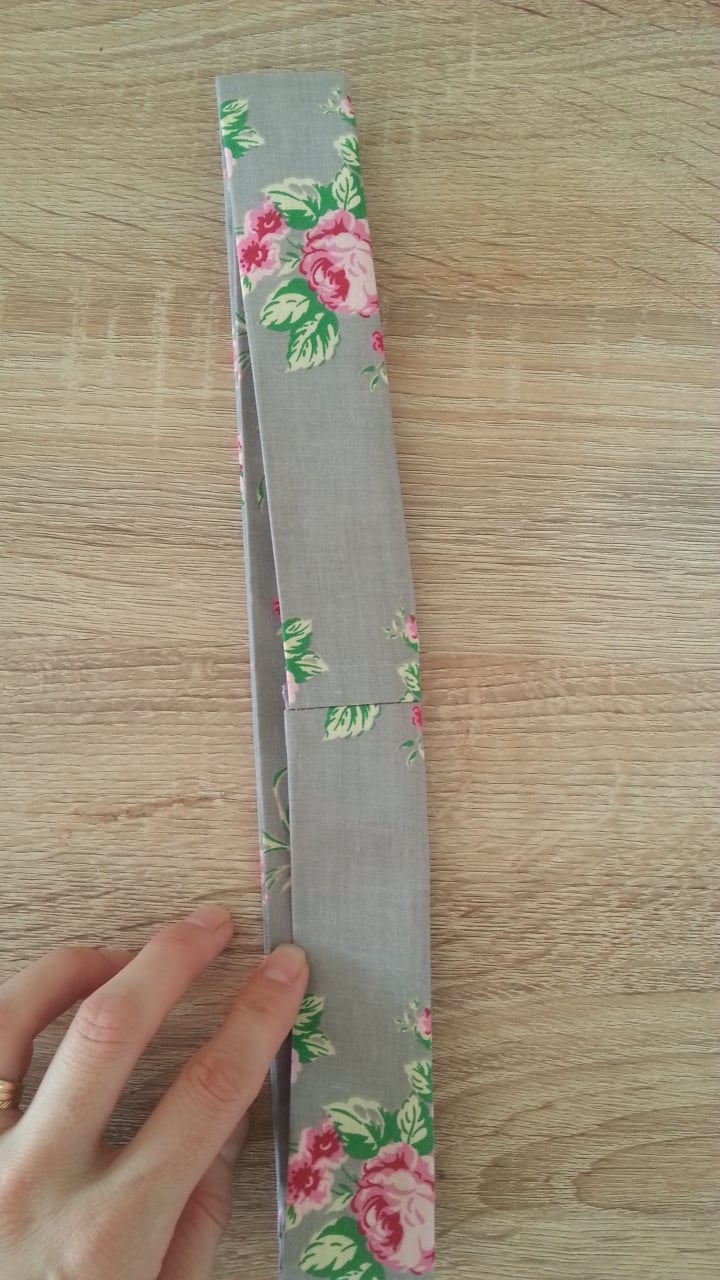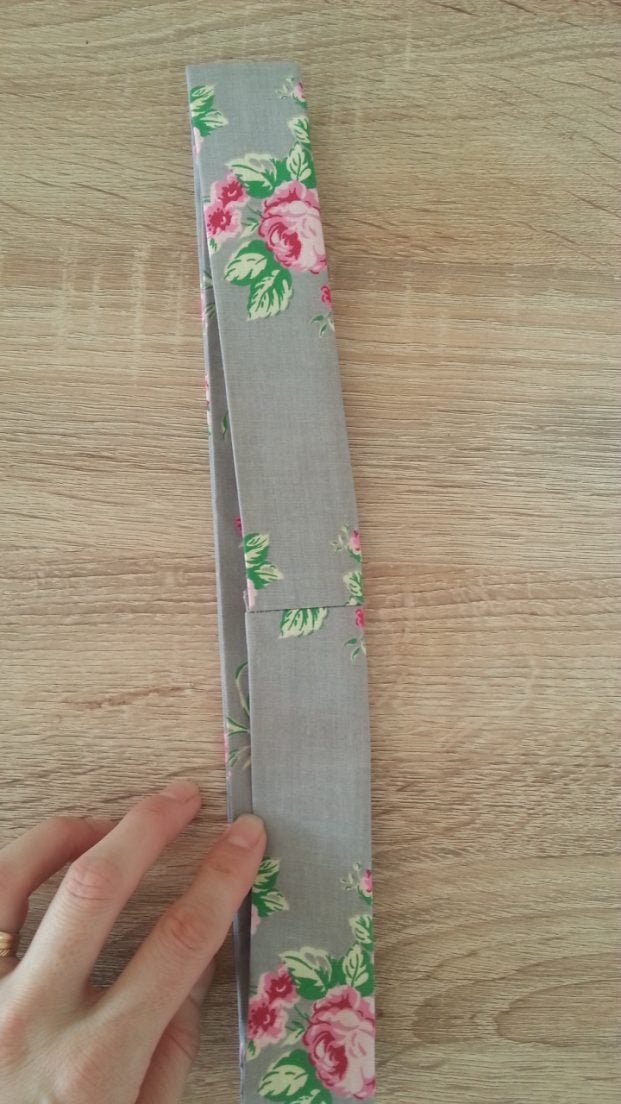 Grab the elastic, cut it to match your waist measurement and join at the ends with a zig-zag stitch. Pin to one side of the strip, on the inside, close the strip and run a slight zig-zag stitch through the middle of the strip to sew the elastic in place. Slightly pull the elastic and the fabric in front and the back of the needle. Once you finish sewing, your waistband will look gathered.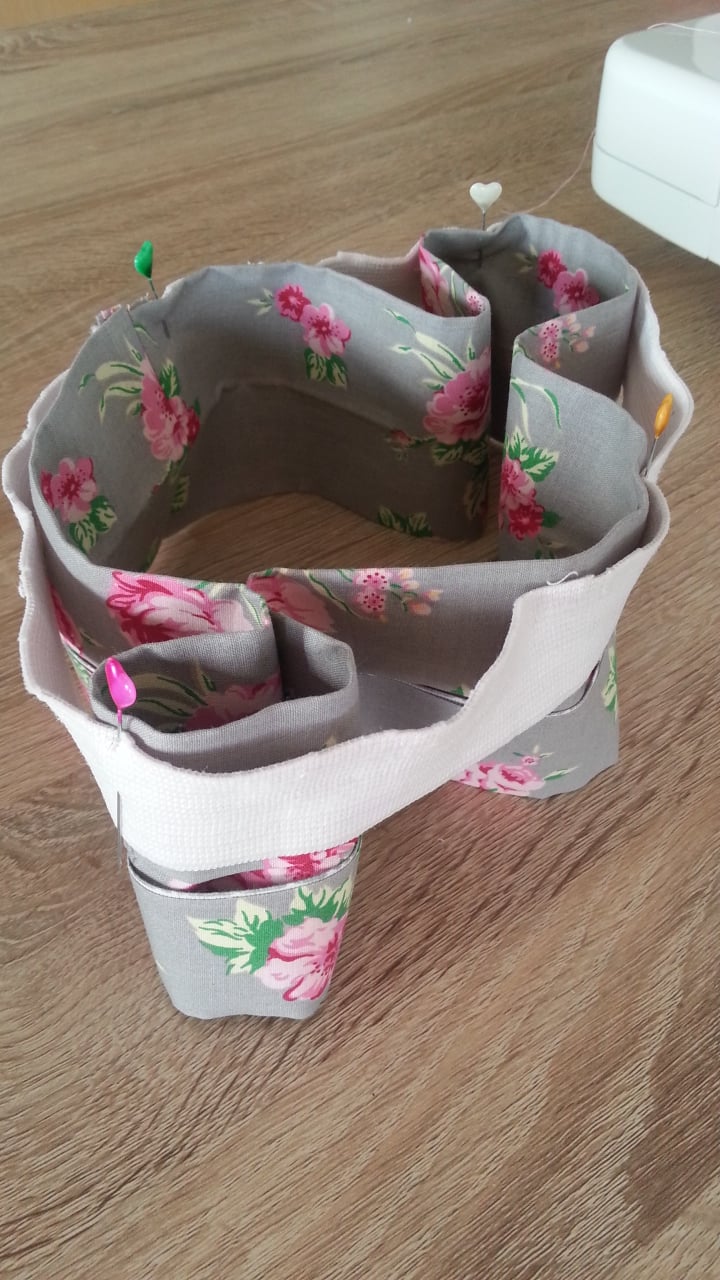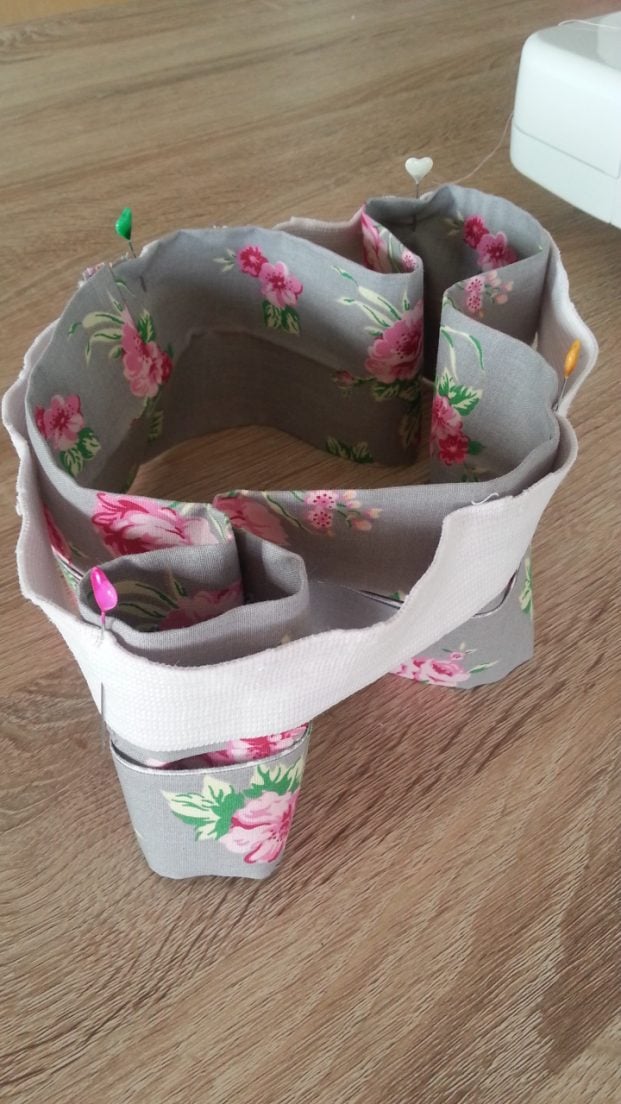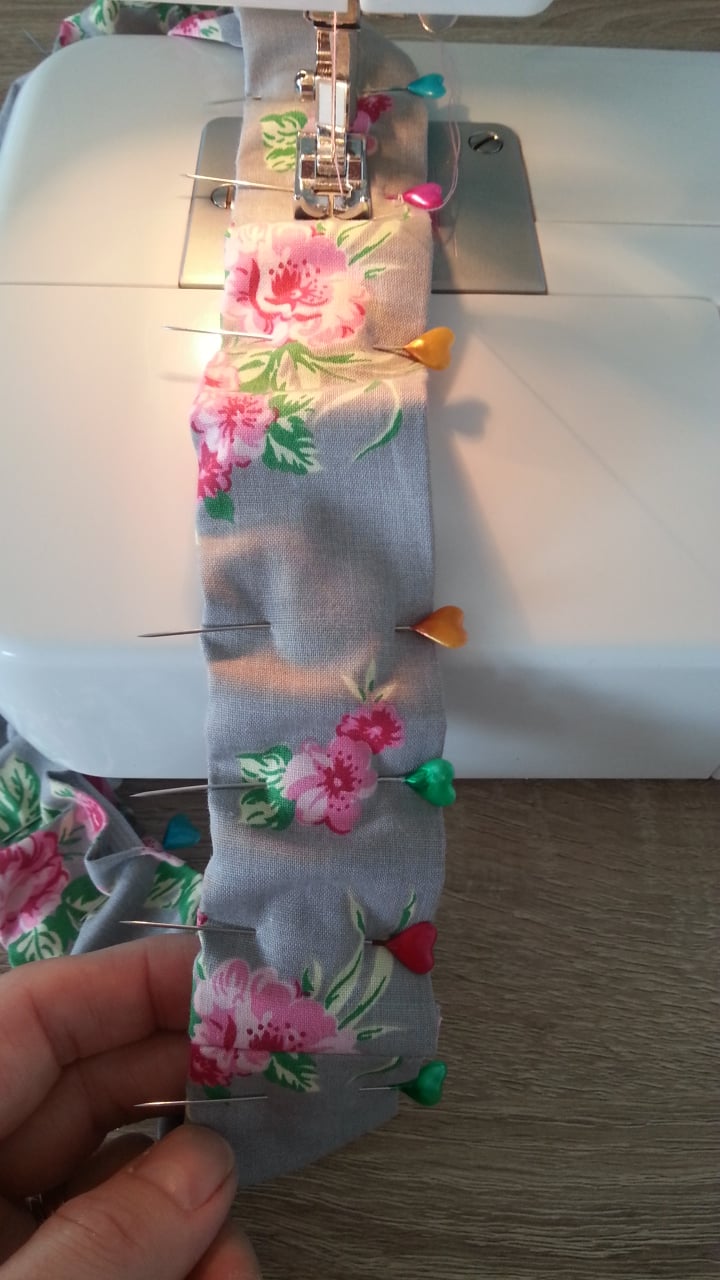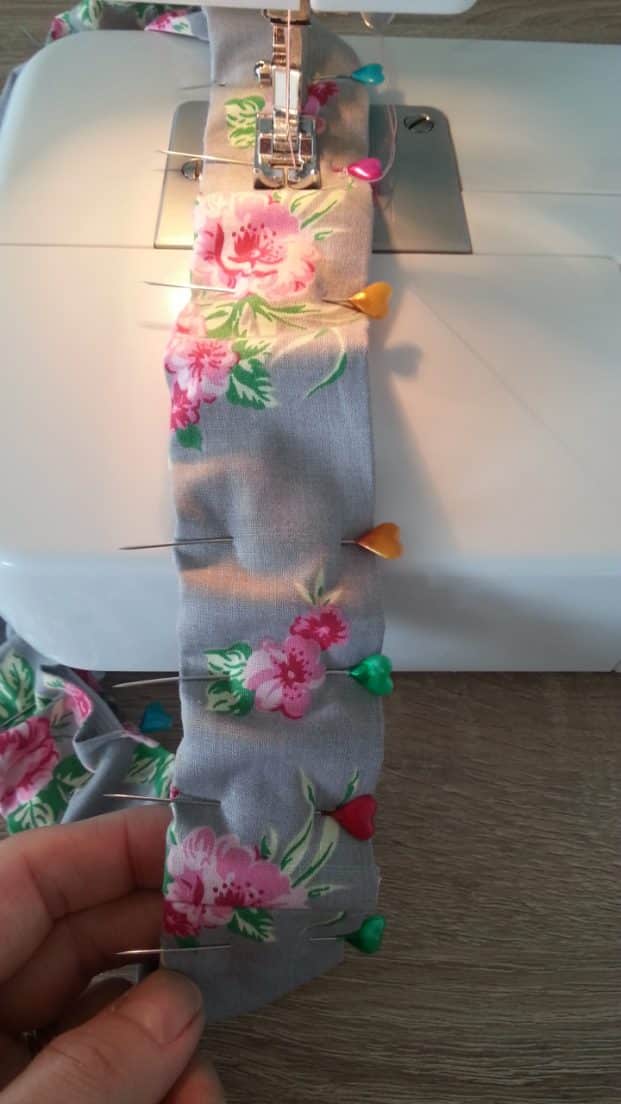 Attaching the waistband to the skirt
Sandwich the top of the skirt in between the 2 halves of the waistband, pin in place and sew with a zig-zag stitch, 1/2″ from the bottom of the waistband.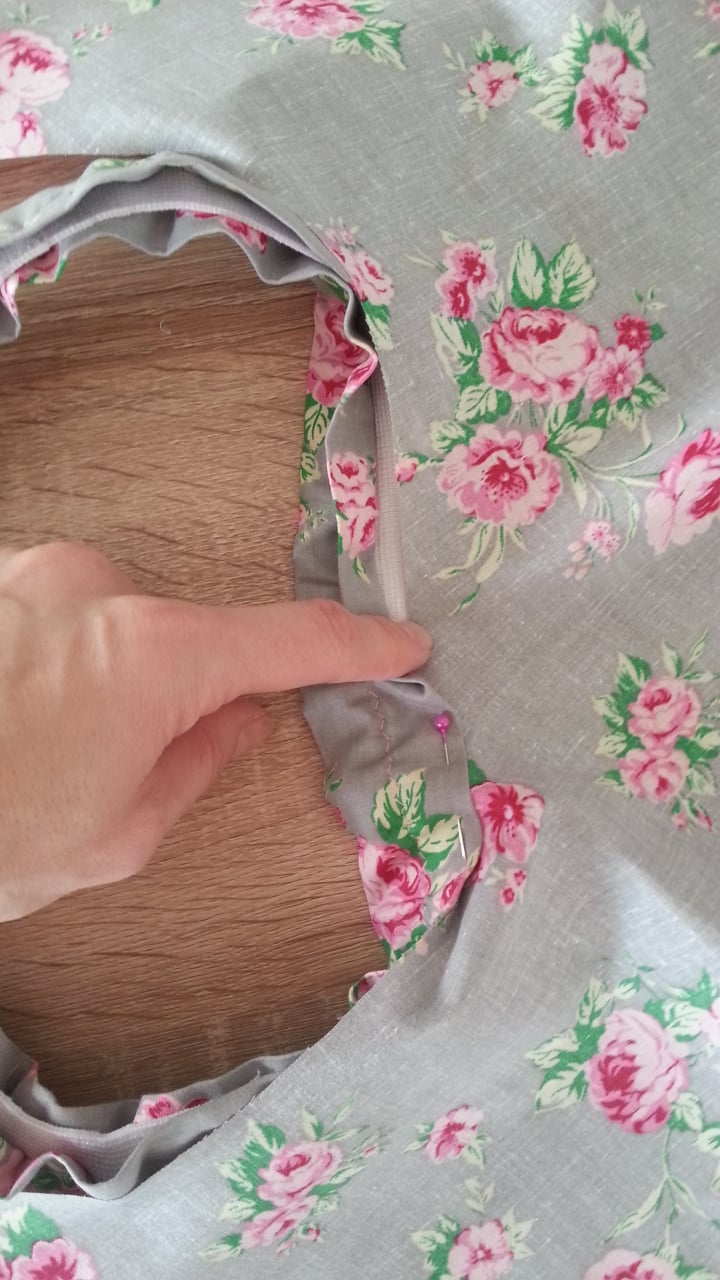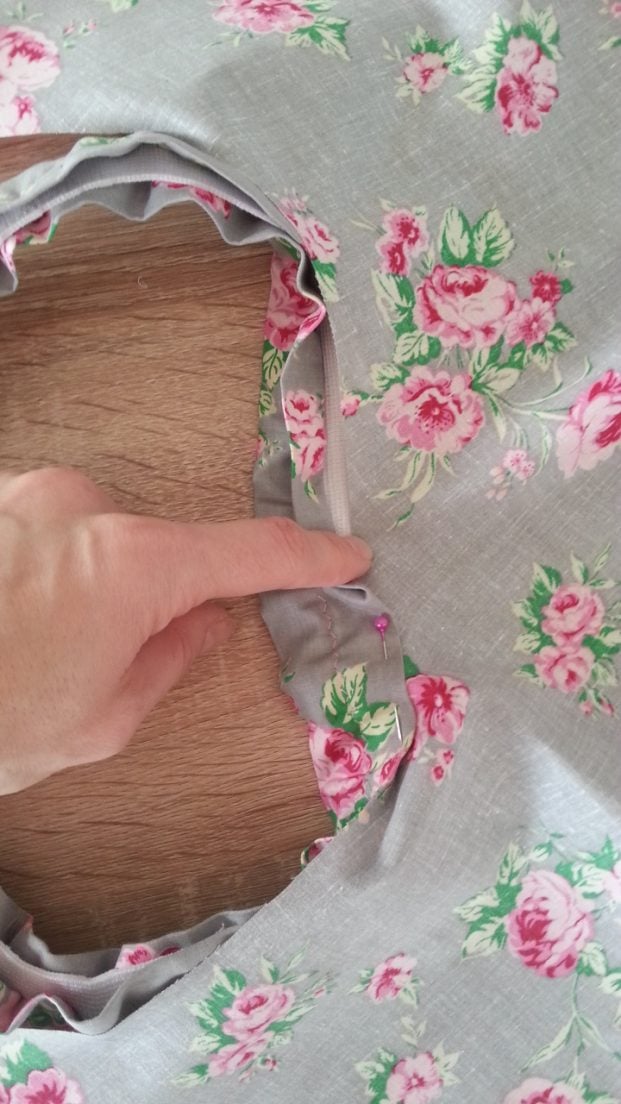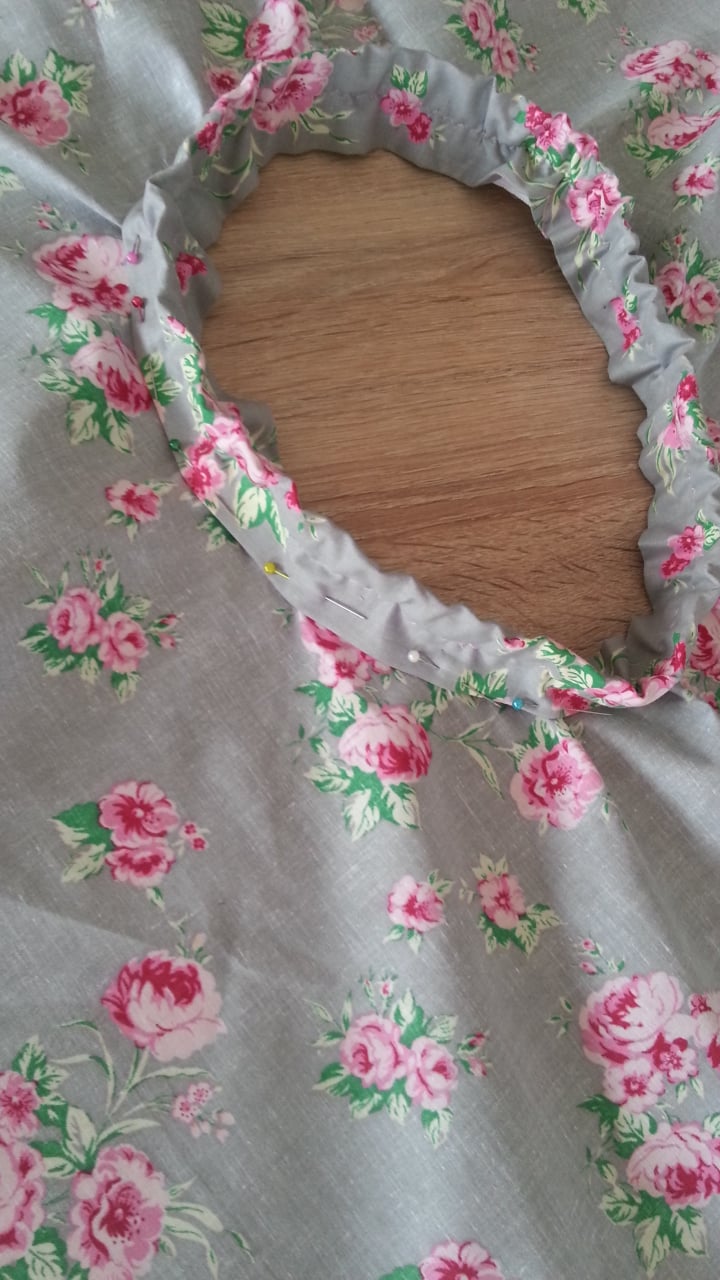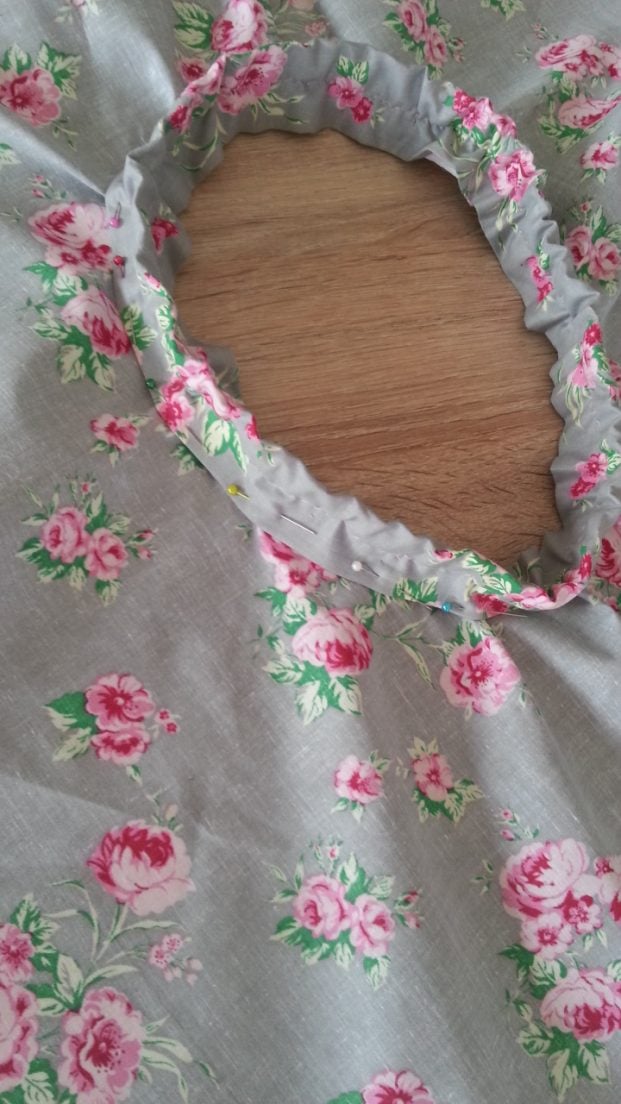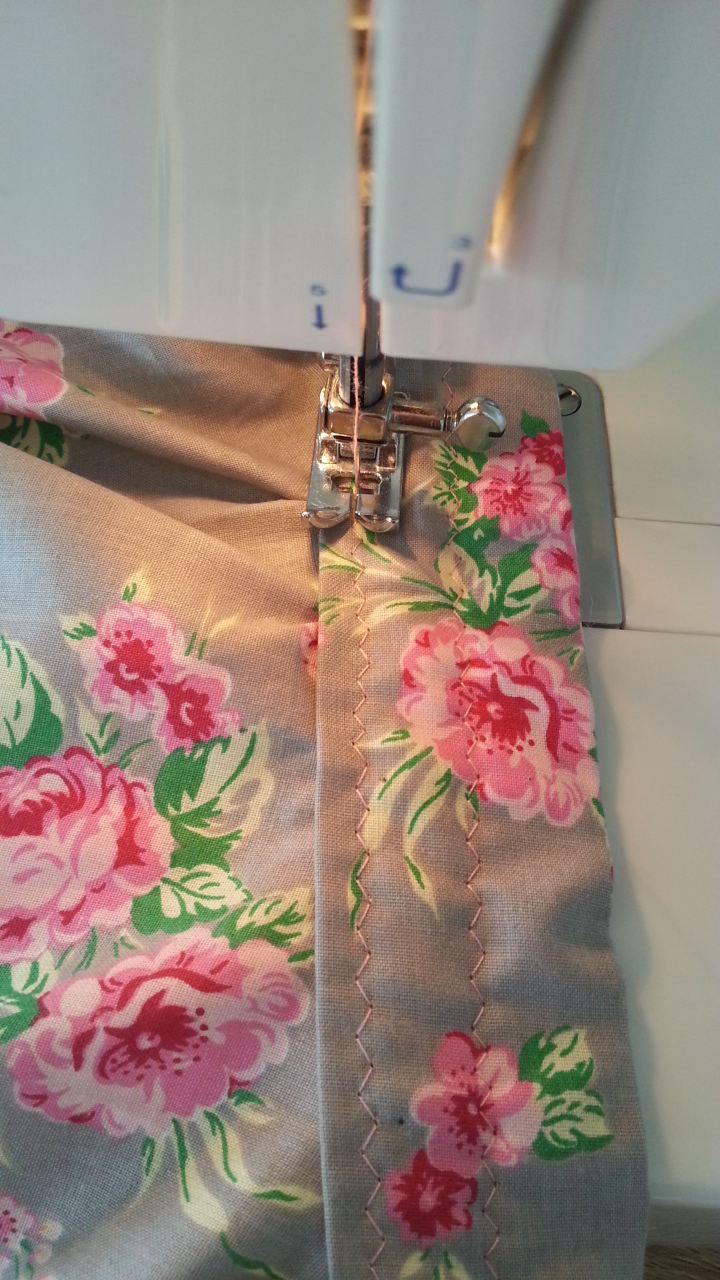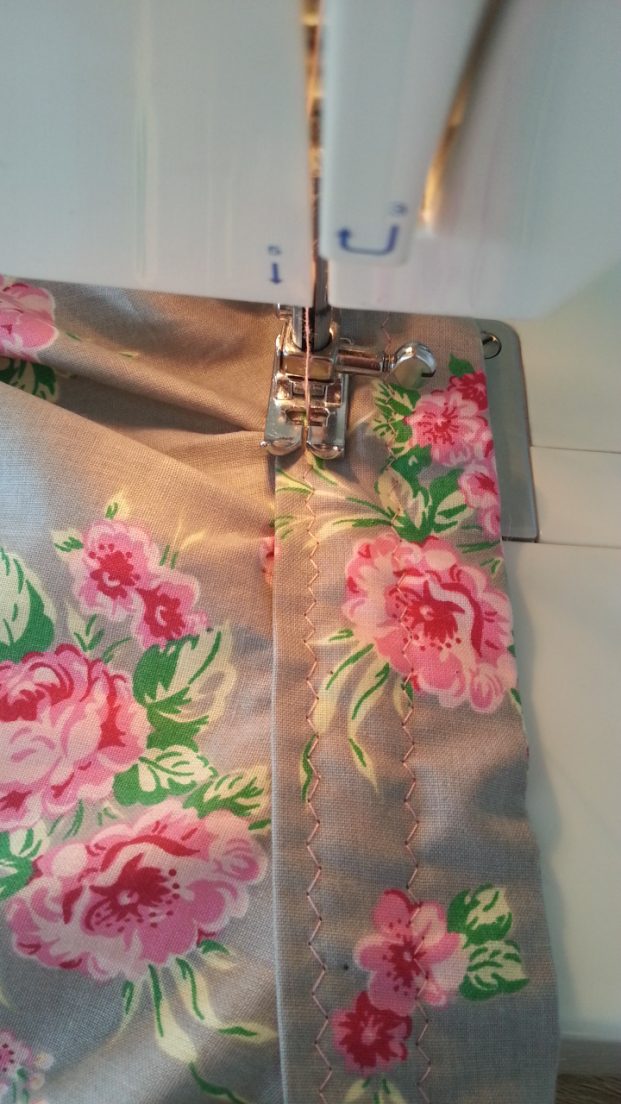 Making the hem
Time to make the hem. To get a nice hem on a circle skirt you need to follow these steps: stitch 1/4″ from the edge, all around the hem.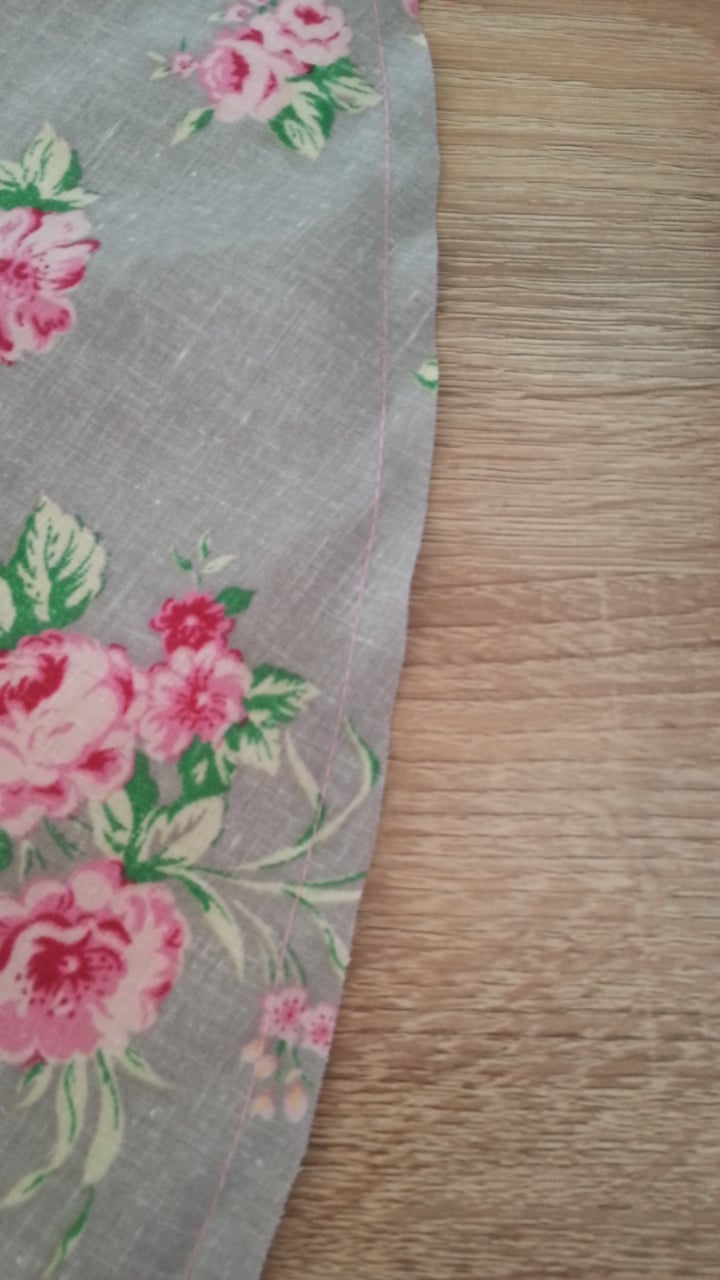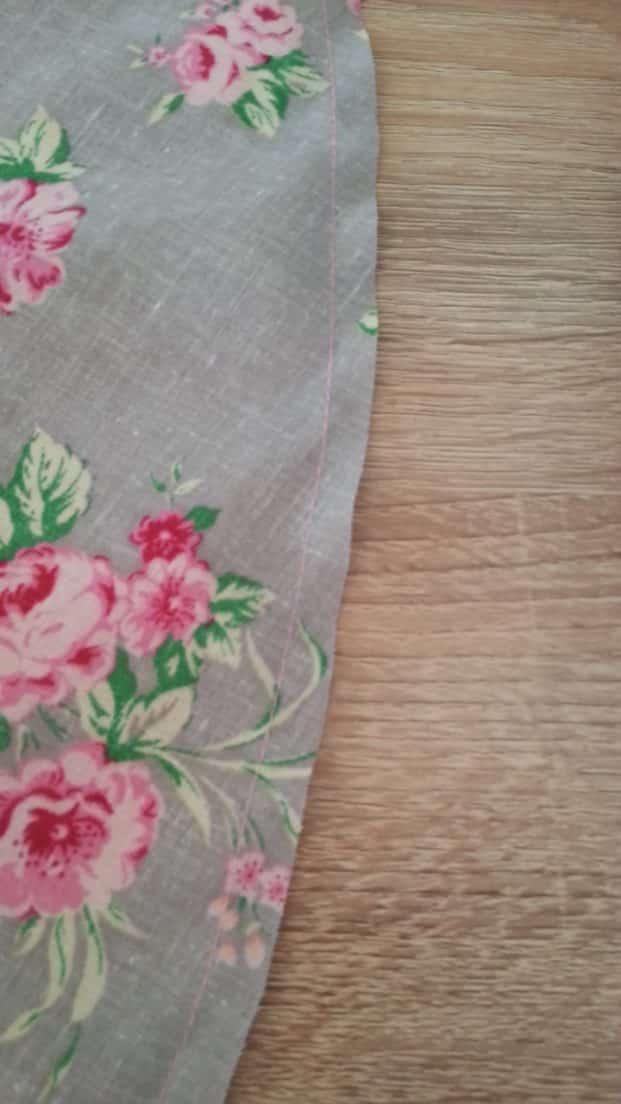 Then fold using this stitch as a guide and stitch 1/8″ around the hem (ignore my pins, they're pinned the wrong way)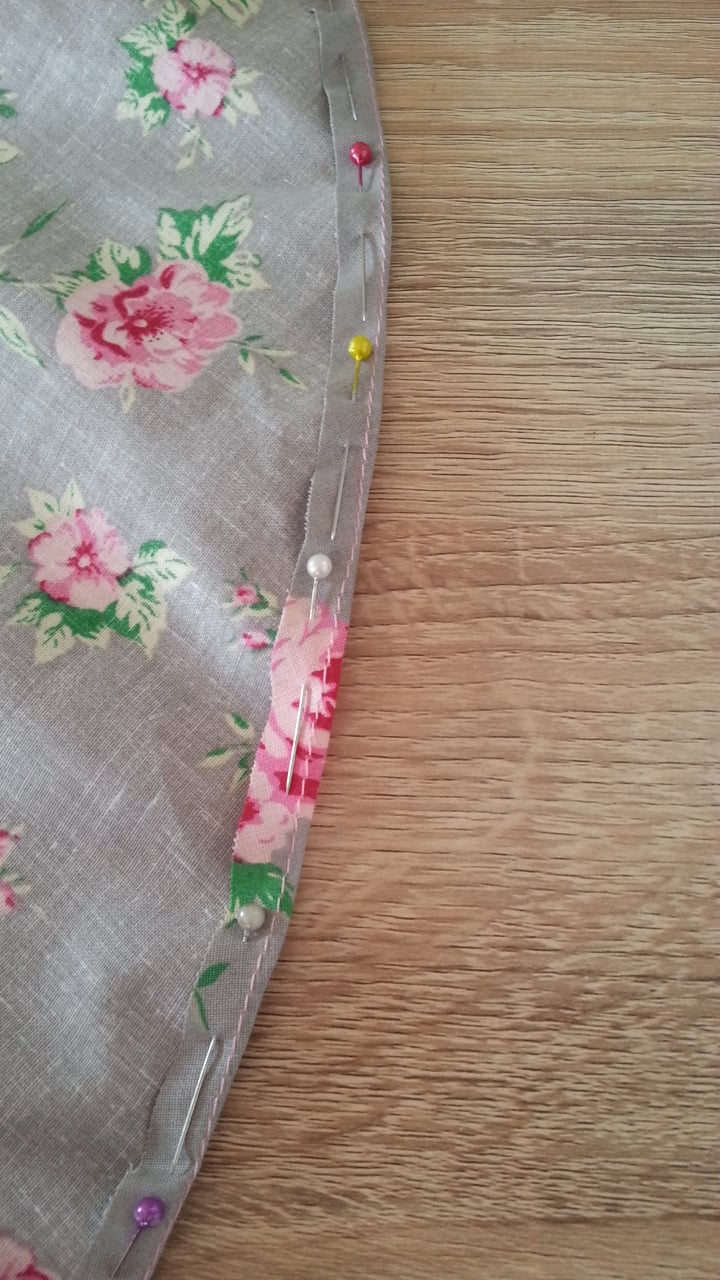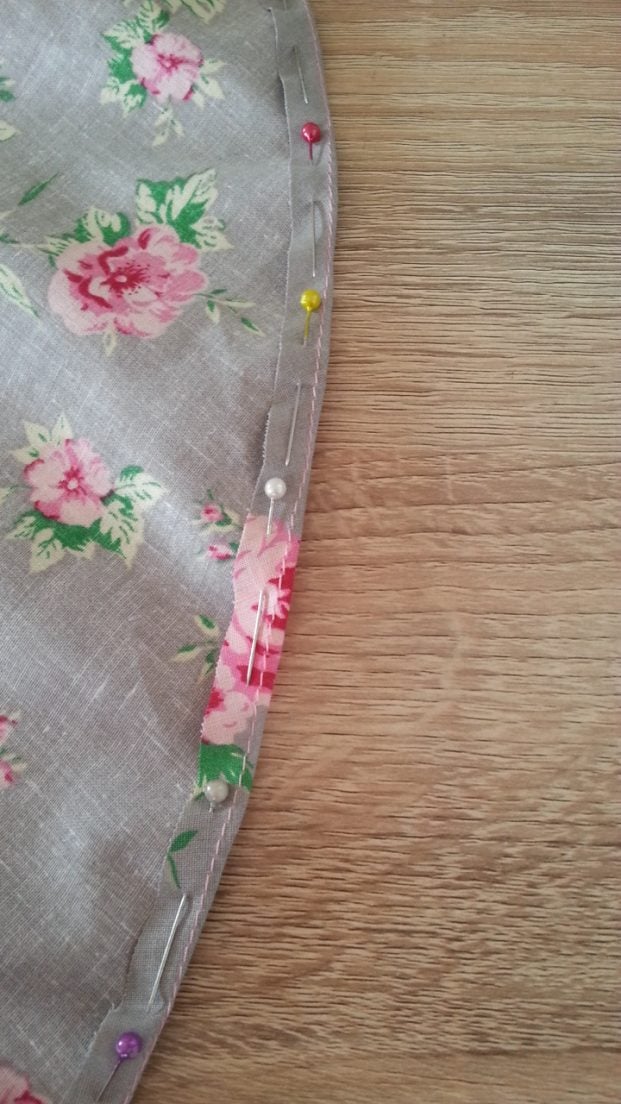 Measure 1″ away from the hem on the interior of the skirt and mark. That is your guide for the double hem.
Fold the edge up so it touches the line you just created.
Place pins a few inches apart and add a couple more in between those.
Sew as close to the edge as you can. You may experience some puckering but that's ok; just guide the fabric under the needle using a pin, so sew down the hem as slow as you can.
Then press the hem and afterwards it should look free of puckering even with those tiny ones hidden in the back of your hem. If you use a fine fabric you won't notice the puckering at all.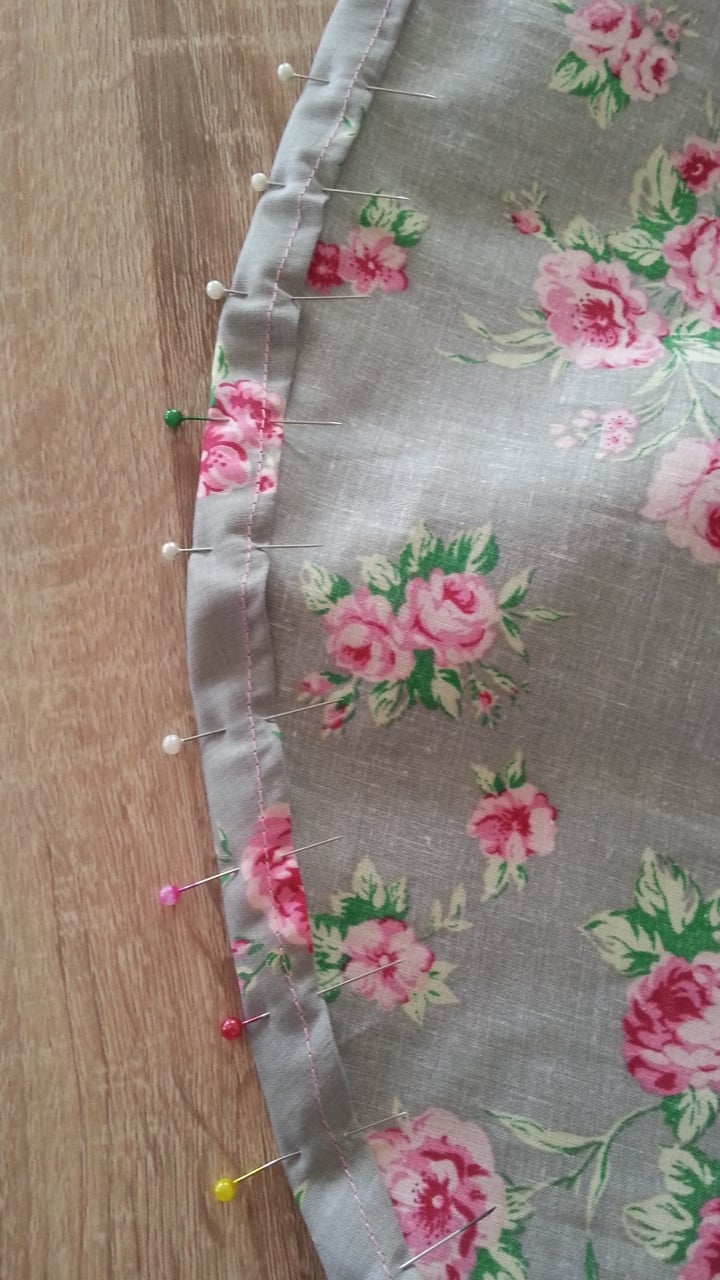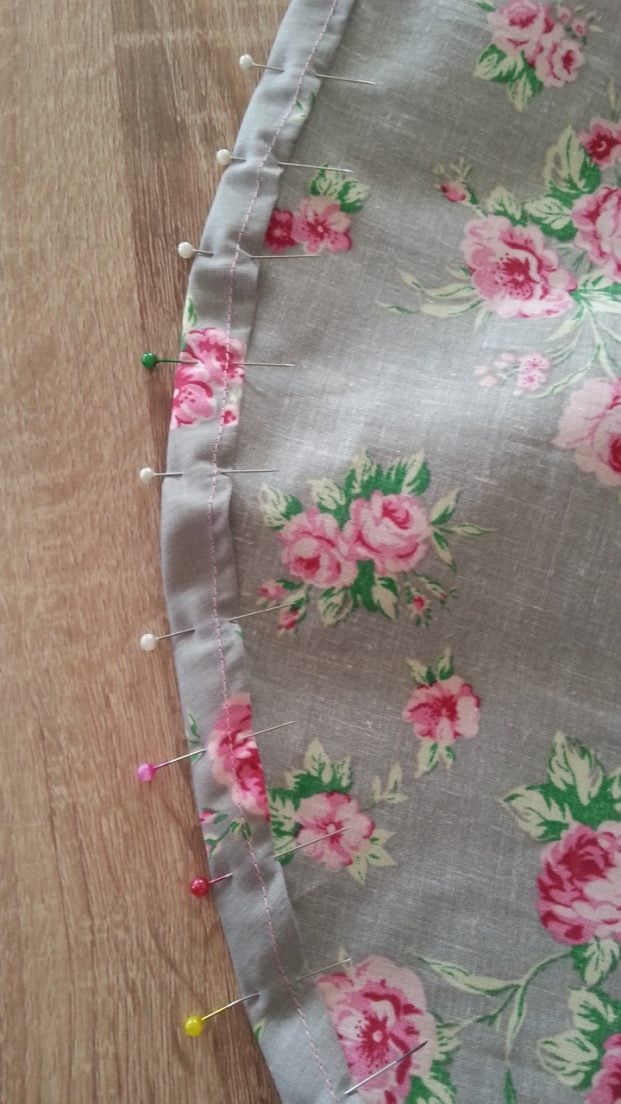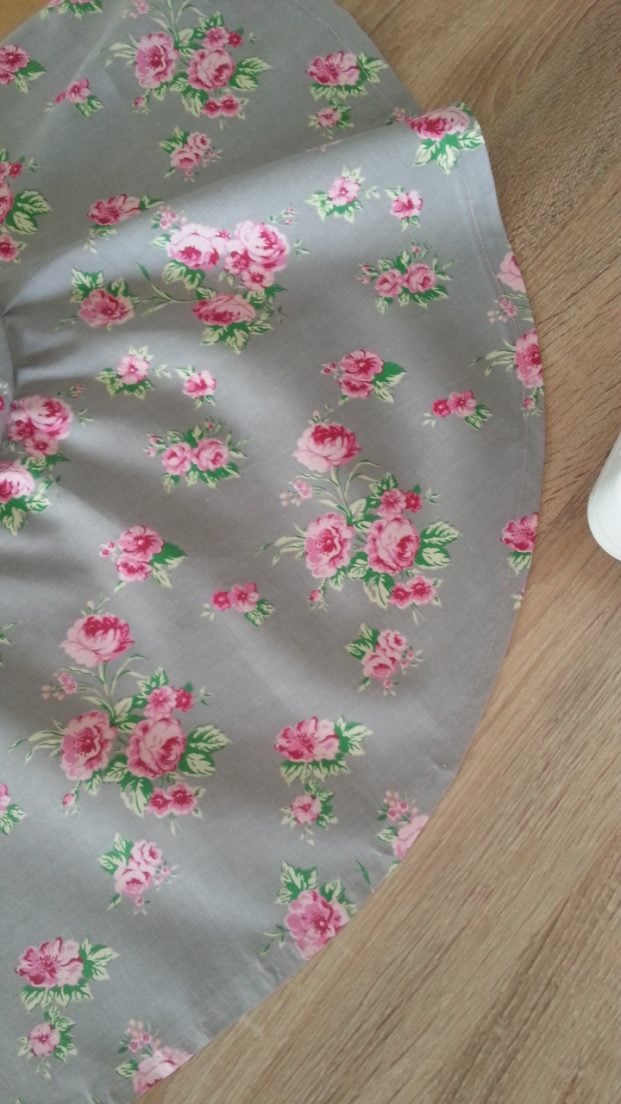 Making the waist tie
At this point the skirt is ready to wear, unless you want to add a little tie, same as I did for my daughter' skirt. I did that as I made the skirt while she wasn't around to try it on and I wasn't sure it will fit well at the waist. So I wanted to make sure that if it's a bit large, the tie will keep it in place. And I took the right choice as the waistband was a bit too large. Plus the bow adds a dose of cuteness.
Decide on how long you want each tie to be (I made mine 20″ long each and as wide as the finished waistband which was 1 1/2″ so the fabric for my tie was 21″ x 4″, seam allowance included). Fold in half, wrong side out, and place a round object on one end. Then cut the fabric around that object.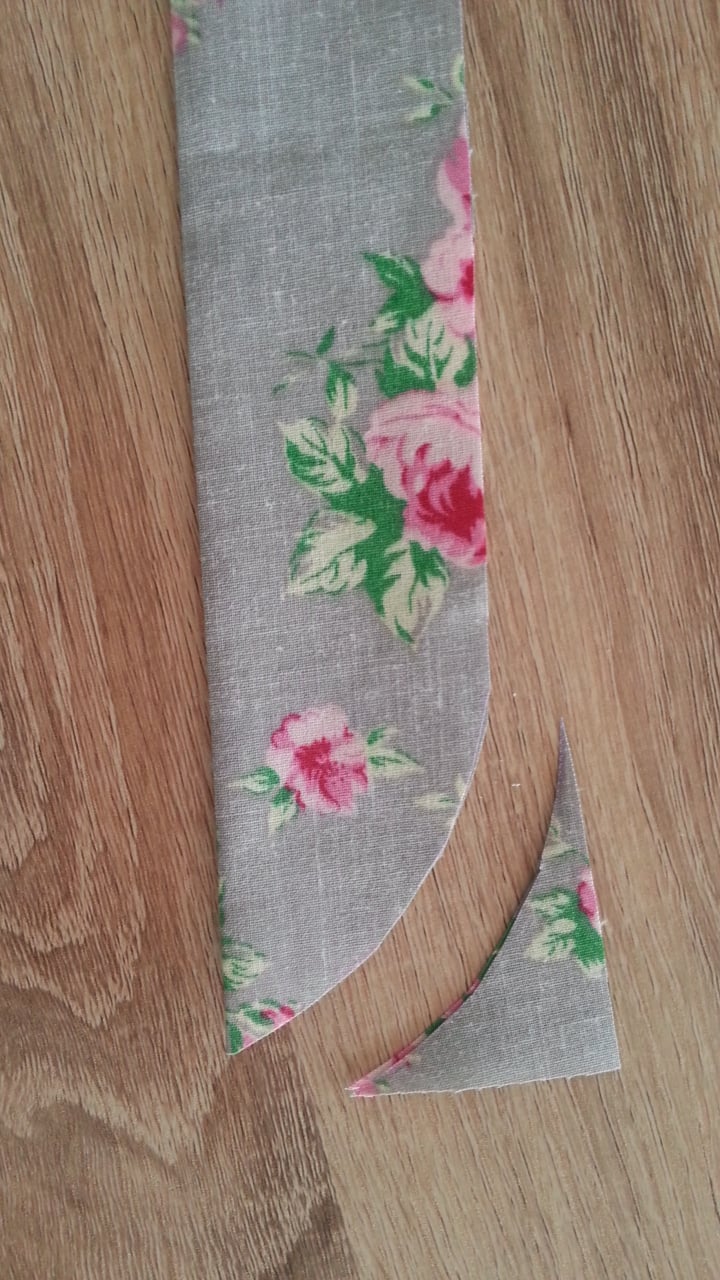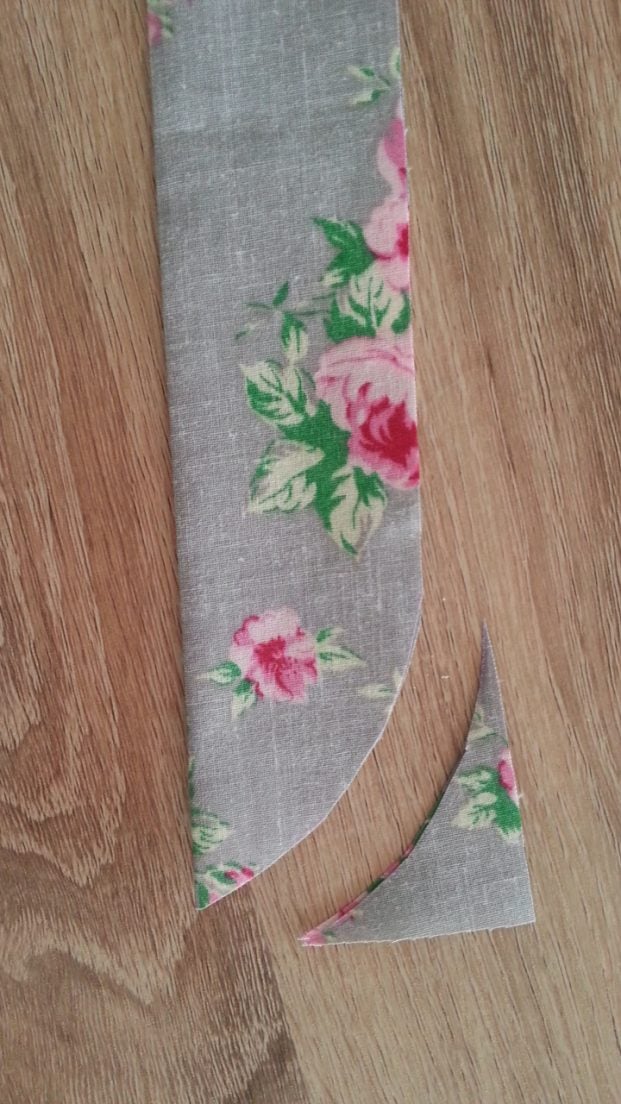 Then sew around side. Turn the fabric right side out and use a skewer stick or a pencil to push the pointy corner. Iron press and fold the raw edges in; press again and sew down as close to the edge as possible.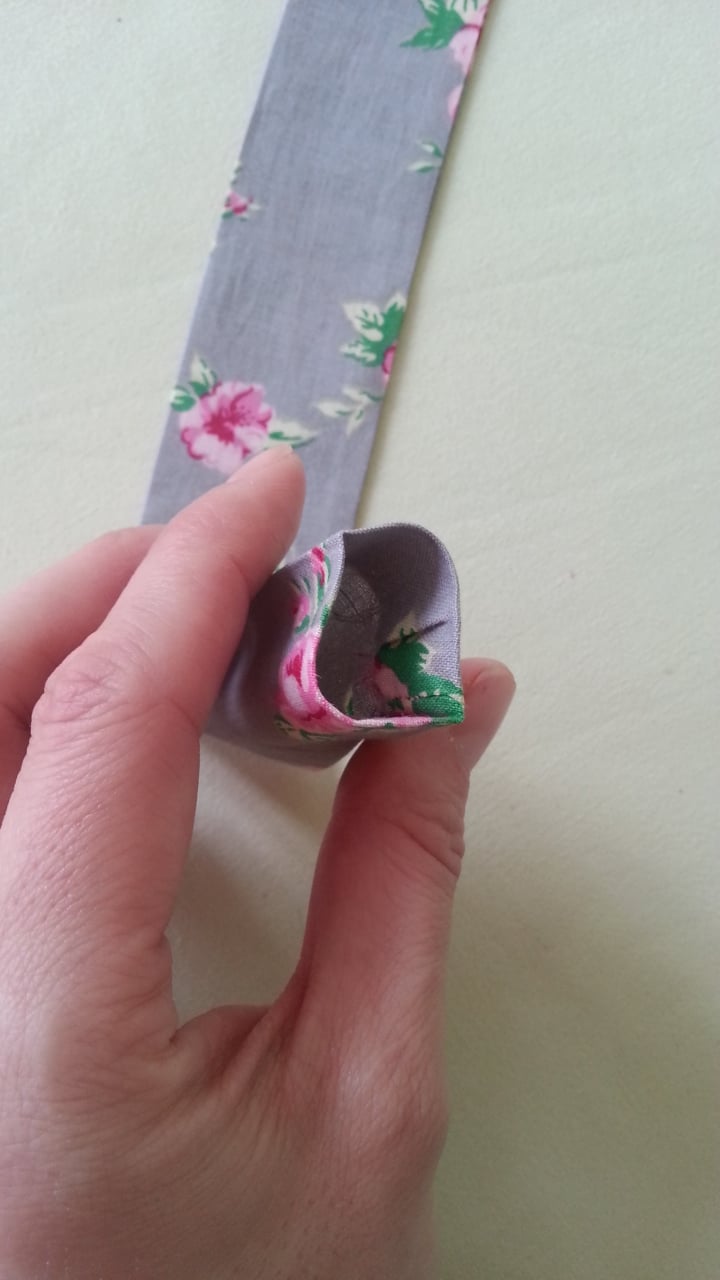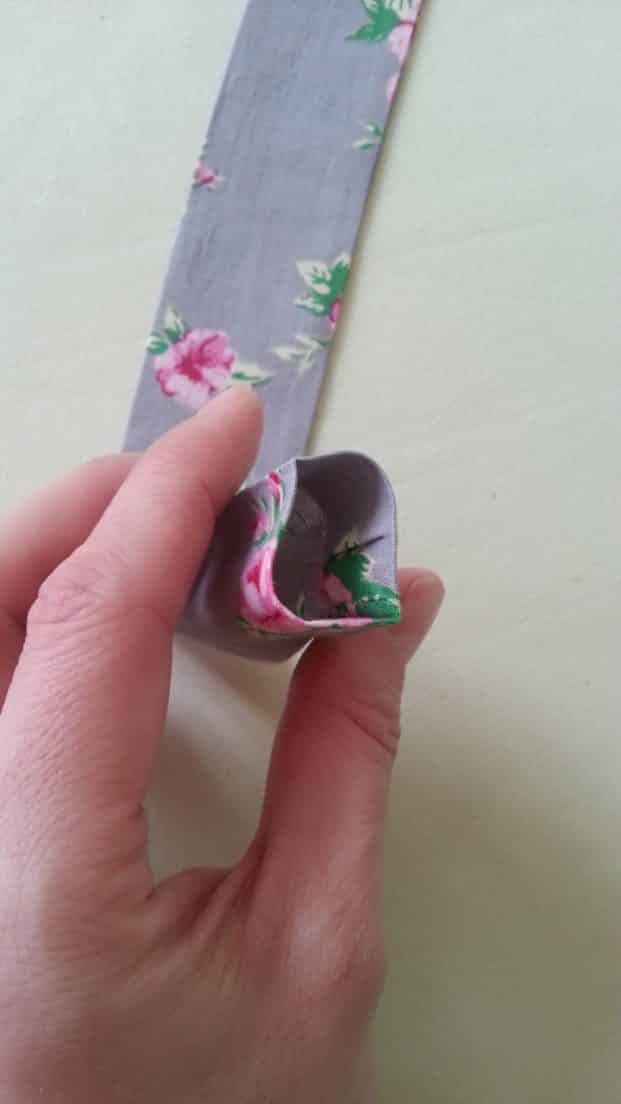 Place the tie on the waistband, pointy end toward the back of the skirt and sew with 1/4″ allowance. Flip the tie towards the front of the skirt and sew again.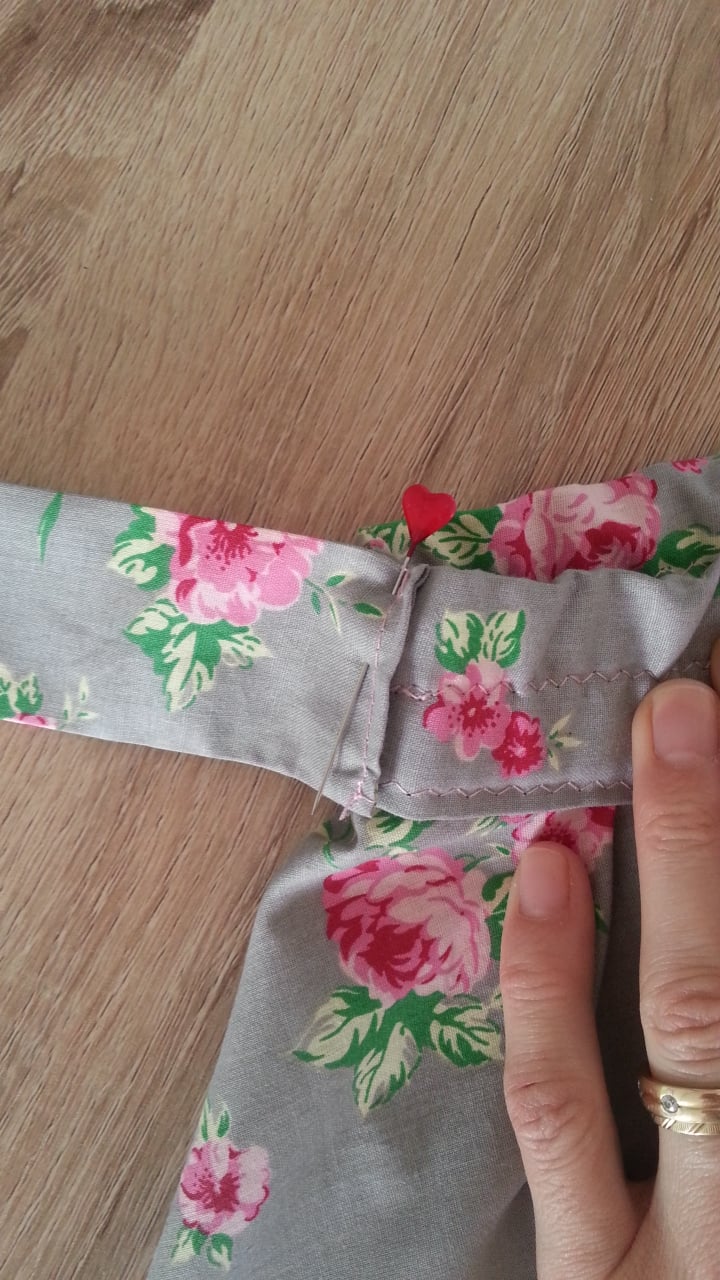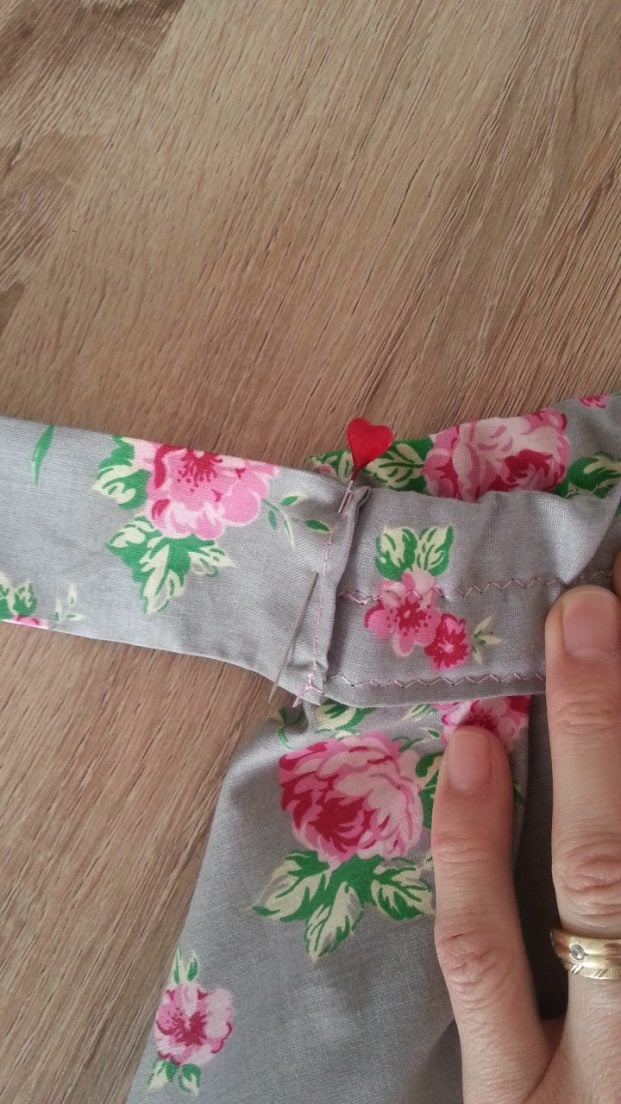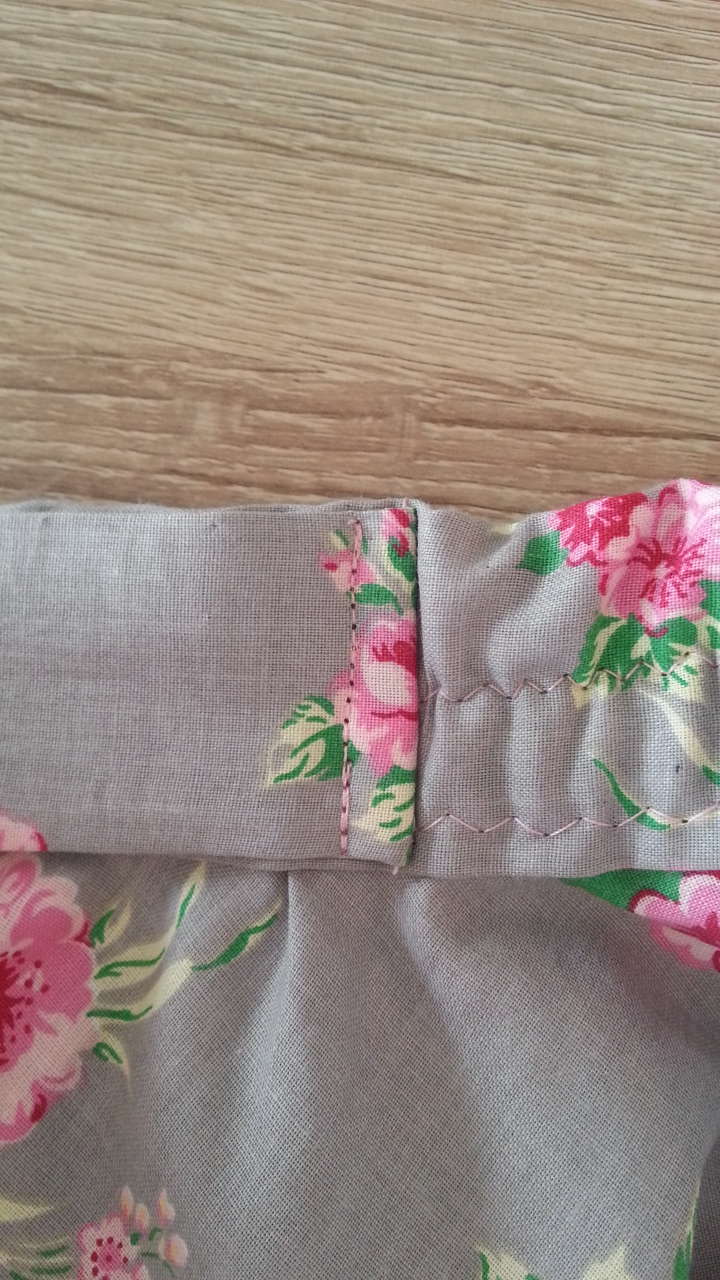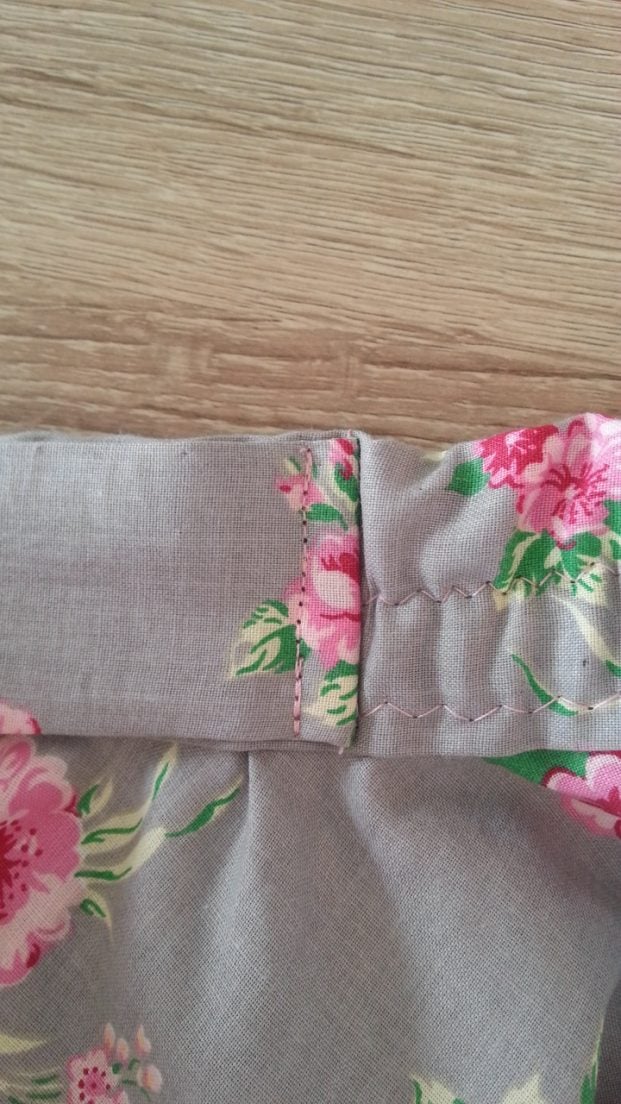 Tie the ties together and make a nice bow and you're done!

Pin to save for later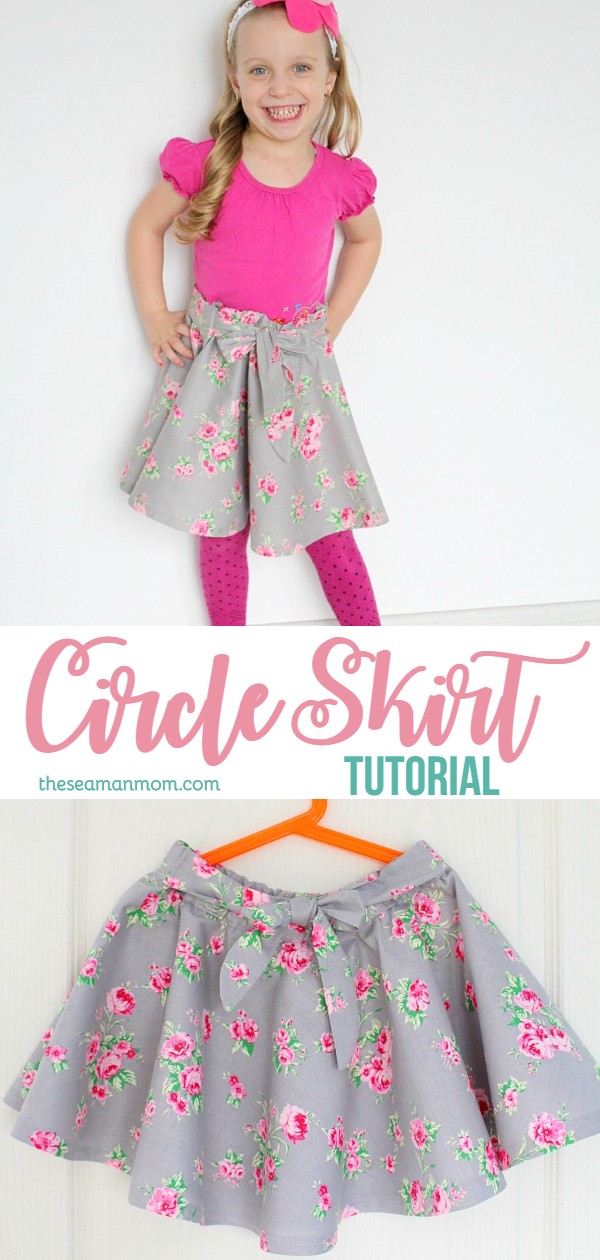 More Easy Skirts You Might Like:
Most Popular Sewing Projects: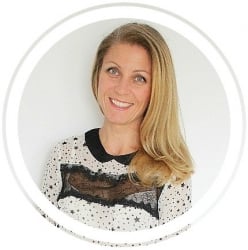 Hi, I'm Petro, author and founder of Easy Peasy Creative Ideas. Sewist, crafter, avid DIY-er, foodie, photographer, homemaker and mommy to one. I'm an expert at coming up with quick, clever sewing tips, recycling crafts and simple, easy recipes! You can find my ideas featured in reputable publications such as Country Living, Good House Keeping, Yahoo News, WikiHow, Shutterfly, Parade, Brit & Co and more. Thanks for stopping by and hope you'll stay for a while, get to know me better and come back another time. Stick around for real fun projects!