This easy and quick pencil skirt pattern is the perfect fit
Article may contain Amazon & affiliate links. As an Amazon Associate I earn from qualifying purchases at no additional cost to you.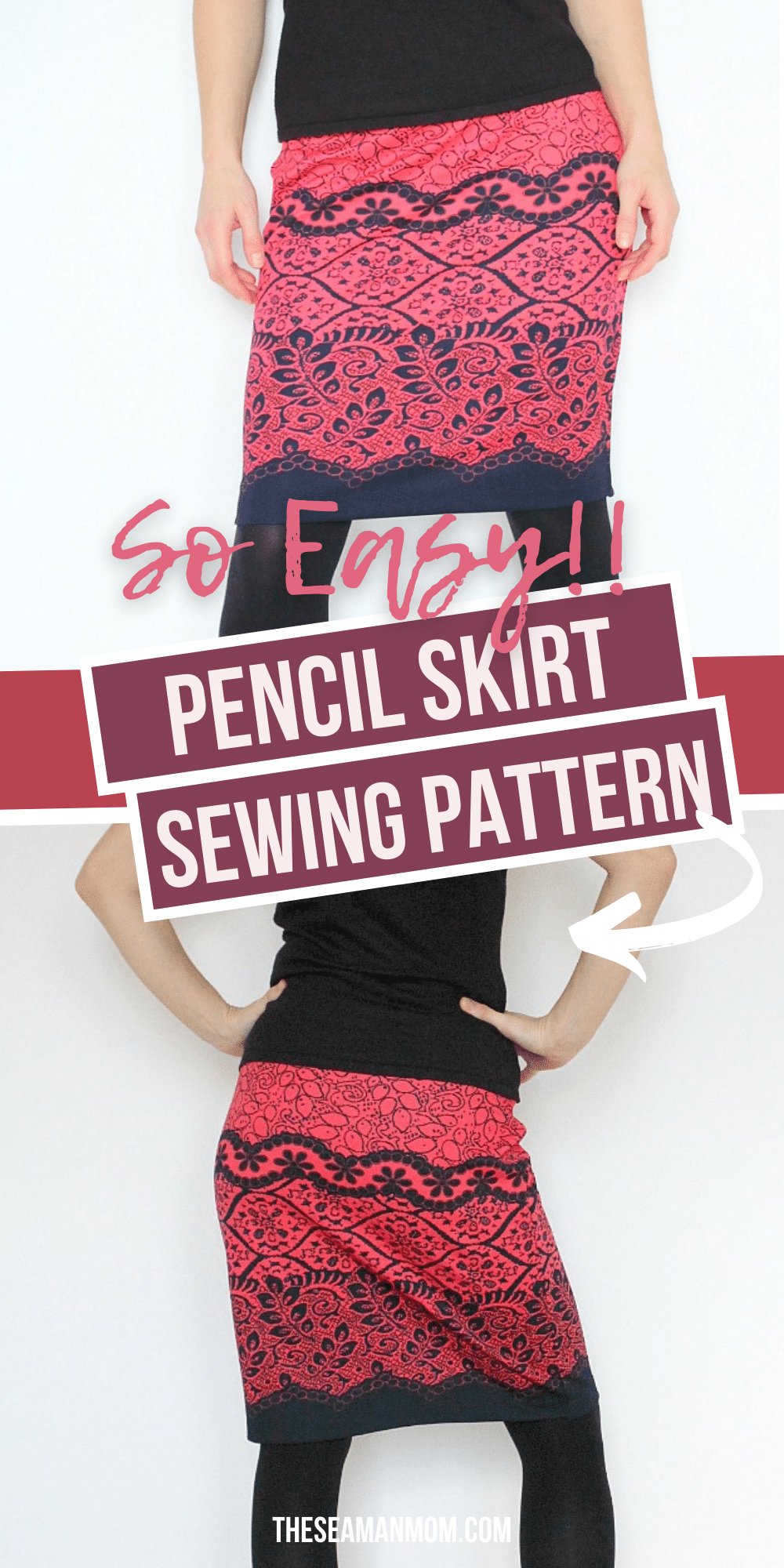 If you're looking for a simple but comfortable and flattering skirt, this knit pencil skirt is it! This skirt tutorial will teach you how to make your own simple pencil skirt pattern with elastic waist, made for your own body shape and measurements and that will fit you perfectly!
Pencil skirt pattern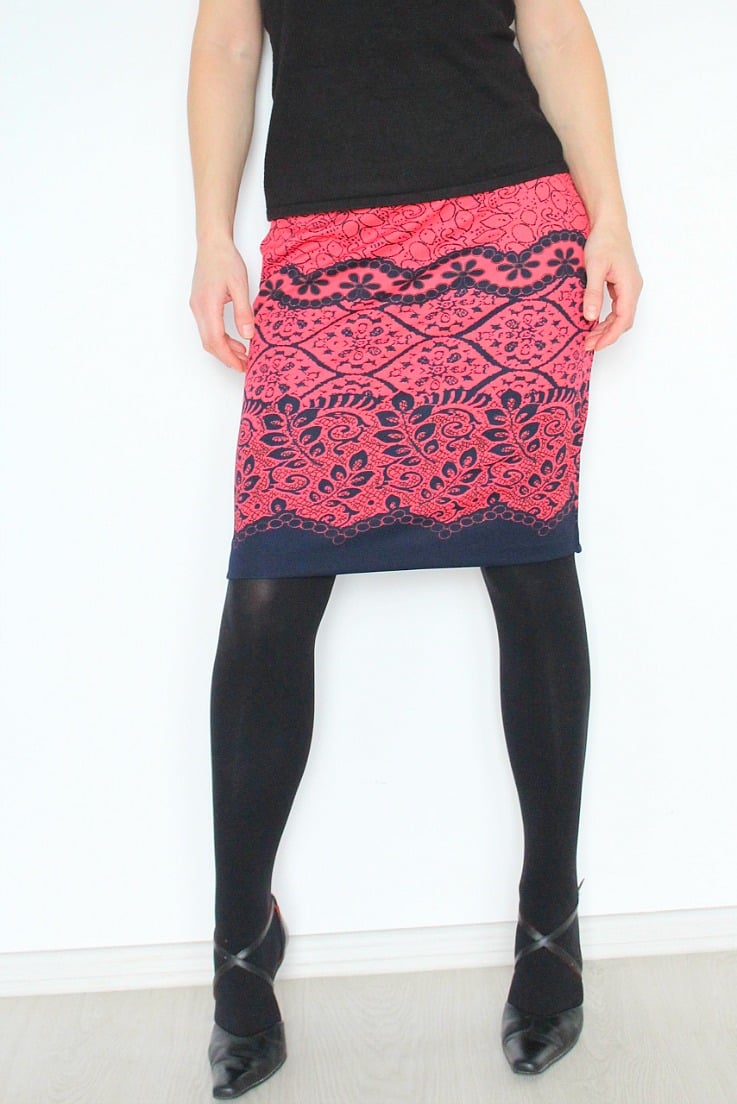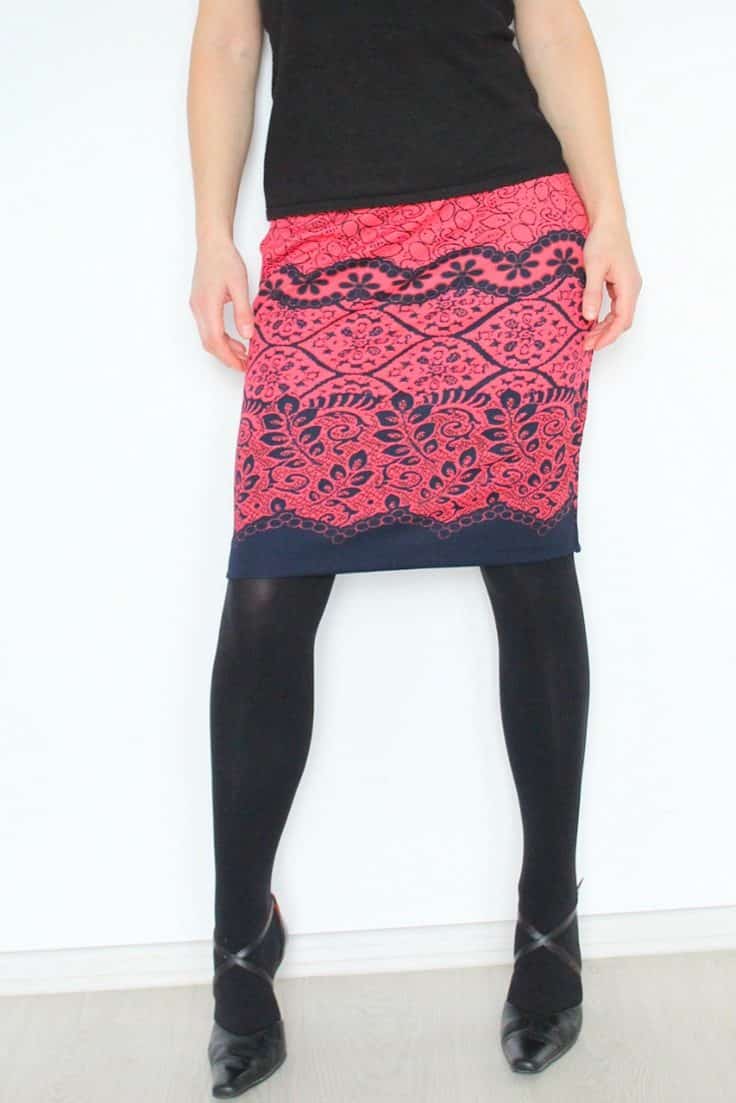 I have to admit I was scared to death to try and sew with this particular stretch fabric when I first thought about making this easy pencil skirt pattern. My knit pencil skirt is made with a stretch fabric I haven't used before and to be honest I'm not sure what kind of knit this is as I got I found it in my mom's stash and she has no idea where this came from or who gave it to her. It's pretty thick, not super stretchy and the stretch only goes one way. Plus it has that beautiful pattern so I had to be very careful when cutting my fabric; and I still wasn't able to perfectly match the patterns at the sides!
Want more skirt ideas?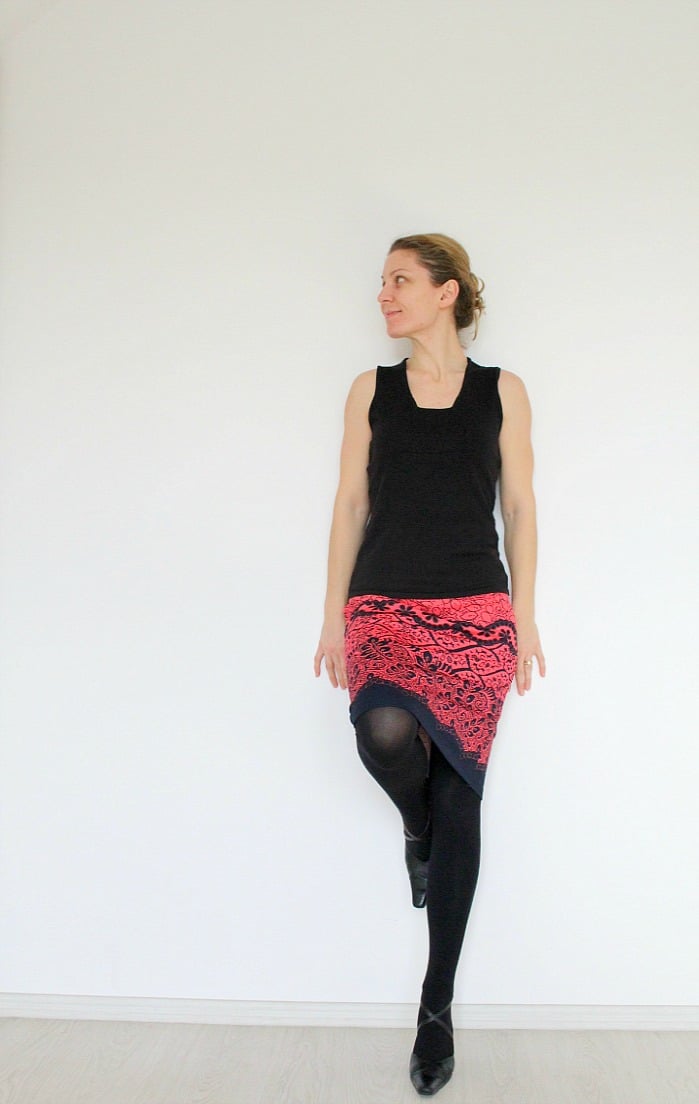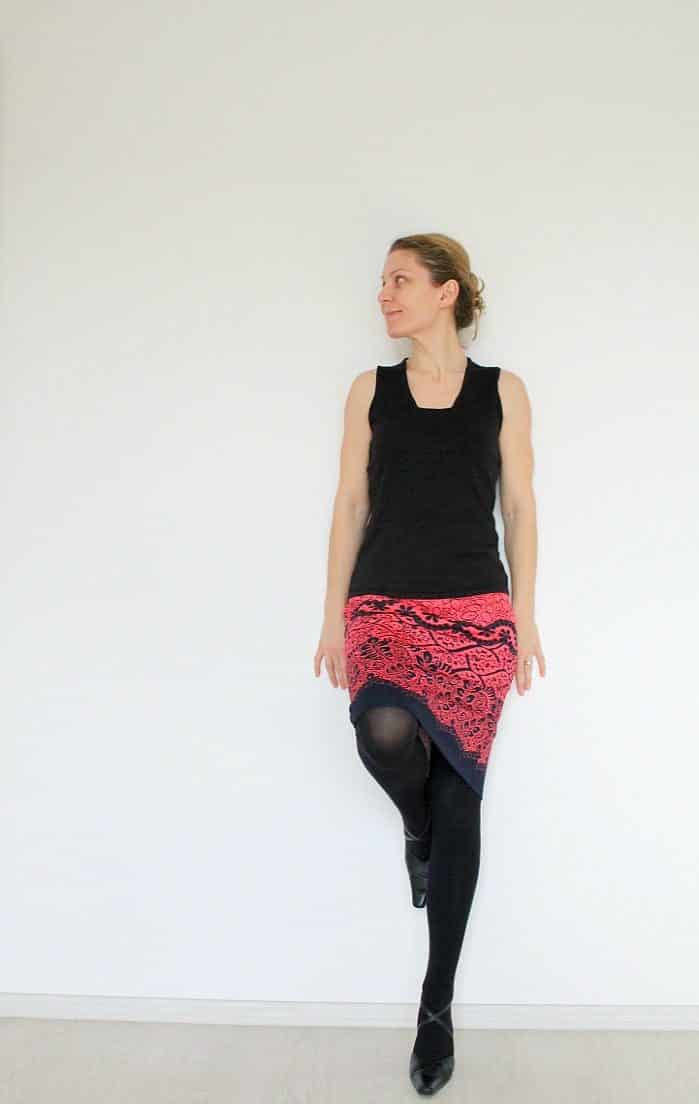 I've wanted to work with knit and stretch fabric more and explore more types of knit fabrics so I don't chicken out every time I find new fabrics. And in the end I got over my fears and started working on this lovely knit pencil skirt thinking "whatever will be, will be!"
I thought I'd be missing out on a lot of fun and comfortable clothing items if I keep avoiding sewing with fabrics I'm not always very familiar with. To me sewing a skirt is very easy and I imagined once I leave my fears behind this will turn out to be a wonderful project. Which it totally was!
This pencil skirt pattern would be the perfect project for a beginner that has sewn at least one skirt before and wants to explore sewing with knits. If you've never sewn knit or stretch fabrics before, I totally recommend starting with this project because it's so simple.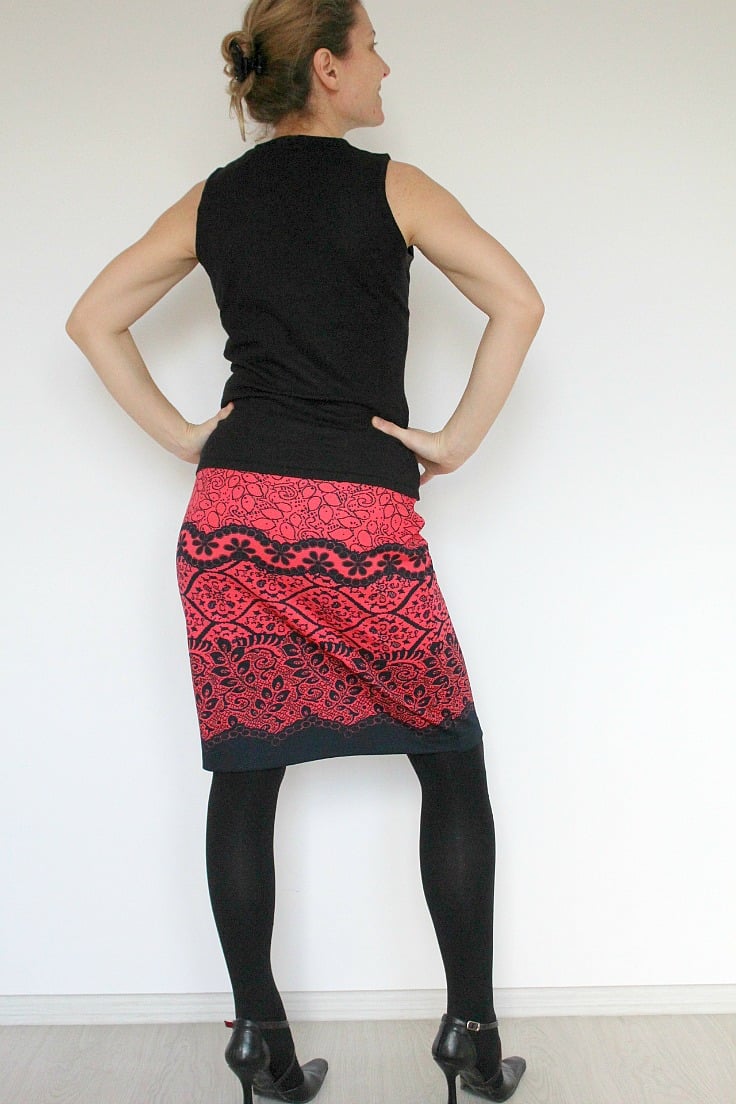 I made a pattern in my size for this knit pencil skirt but I think it's way easier to make your own pattern, based on your own body shape and measurements so the skirt would fit YOU perfectly with no additional adjustments to the pattern. Apologies for the photos, most of them have been taken by my kiddo with her tiny, shaky hands, as I got no one else available to help out!
Knit pencil skirt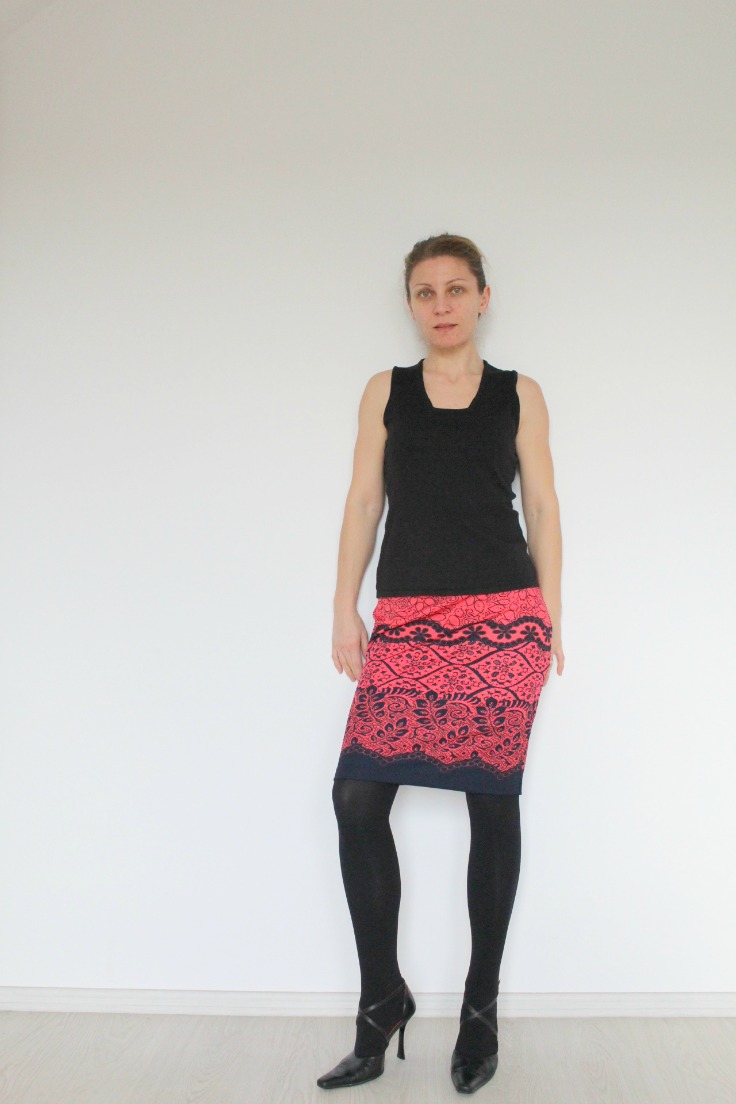 Materials:
stretchy fabric wide enough to fit around your hips and long enough from waist to knee plus seam allowance (I found similar fabric here)
matching thread
1″ non roll elastic, enough to go around your waist
Directions
Making the pattern:
Measurements
Get a tape measure and take your measurements as follows, leaving the tape a little loose (don't pull too tight or your skirt will end up too tight too):
your natural waist at the narrowest part;
the widest part of your body, around your greater area;
the length you want your skirt from the waist down.
Drawing and cutting
Lay out your fabric. Fold it with the right side facing in.
Take the measurement for the length of your skirt and add 2″. Measure down from the top of your fabric this amount, and draw a straight line all the way across. Use a fabric pen. This is the bottom of your skirt. Cut along this line from one side to the other and discard the bottom.
Take your hip measurement and add 3″. Open out your fabric. Measure along the top and bottom of the fabric, draw a line top to bottom, making sure it's square, and then cut off the extra.
Fold the remaining fabric back in half and cut down the fold so you now have two pieces, front and back.
Fold one piece of the fabric in half. Measure down 9″ from the top edge and make a line across. This is the hip level. The widest part of the skirt comes here.
From the fold at the top, measure 1/4 of your waist, plus 1/2″. Mark a 1″ line down from the top.
Now you need to draw the curve of your body, from your hip to your waist. Join up the point for your hip with the end of that 1″ line. Make sure its a nice smooth curve; use a curved ruler if it helps.
Cut along that curve and the line at the waist, through both layers of fabric. Transfer the shape to your other piece and your skirt, front and back, is ready to sew.
Sewing the knit pencil skirt:
Place your two pieces of fabric with the right sides facing and pin down both sides. Stitch down the side from top to bottom. Make a nice smooth curve at the hip.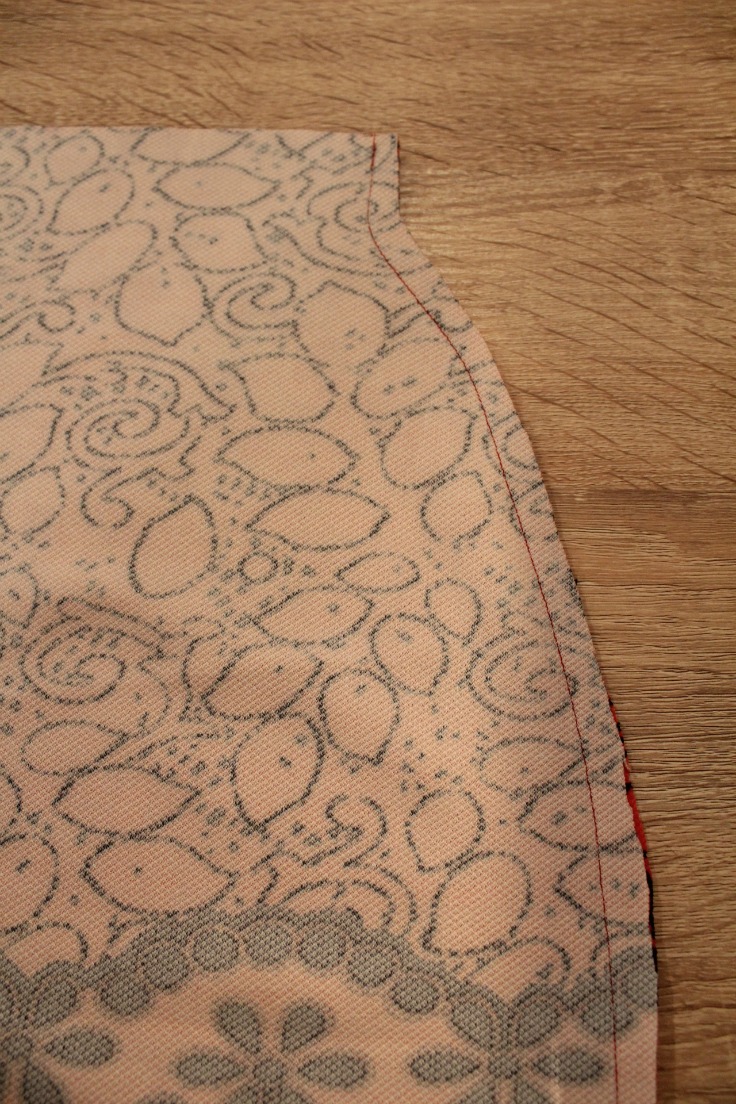 Press the side seams open.
Turn up 1/2″ at the bottom hemline and press. Turn it up again to enclose the raw edge and press. Sew a zig zag stitch all the way around.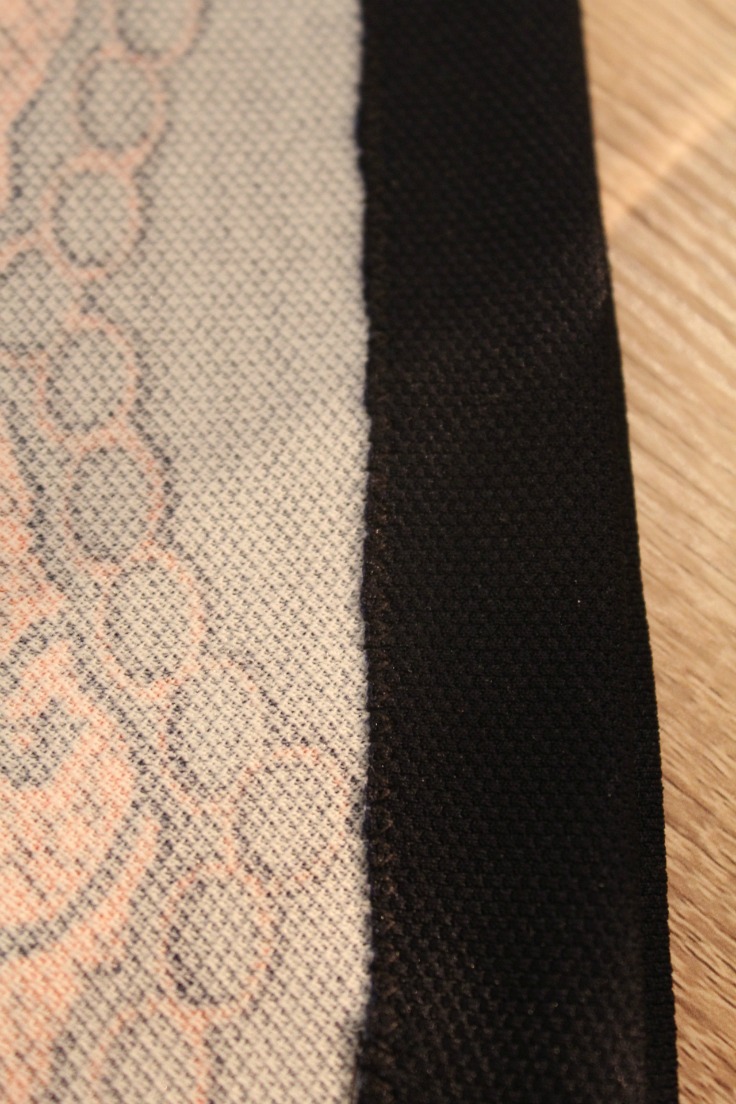 Take the elastic and pass it around your waist. Adjust it to feel comfortable and cut it to the right length.
Mark the center, then mark a 1/4″ away from each end to make 4 even sections. Attach the two ends side by side using a zig-zag stitch on your machine.
Fold your skirt with the side seams together to find the center at the front and back.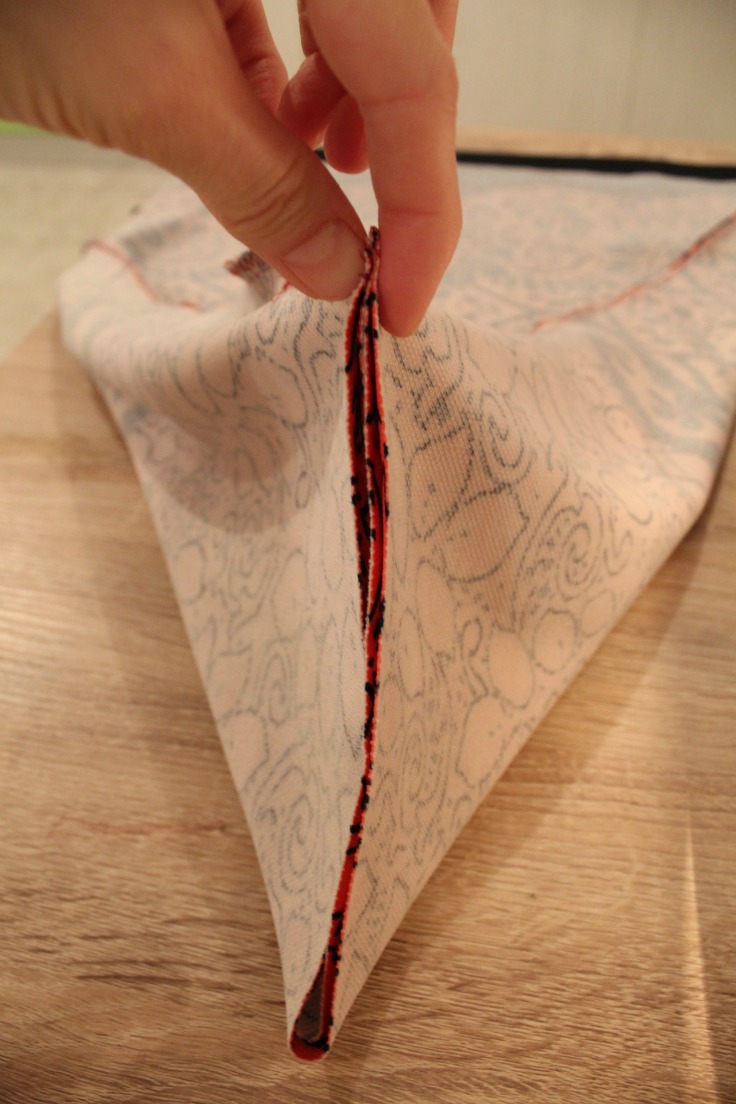 On the inside of your skirt, match the join in the elastic with one side seam, match the center of the elastic with the other side seam and match the quarter marks with the skirt center front and back. The elastic may be a little shorter than the skirt fabric which is what you aim for.
Stitch the elastic to the skirt waist, close to the edge. You'll need to use a stitch that stretches (I used a zig zag stitch).
Turn the elastic over, making a neat crisp edge at the top. Stitch again through the elastic to hold it in place inside the skirt.
I wanted the elastic totally enclosed so I turned it in again but at this point you can just leave it as is, especially if your skirt is at the desired length and you don't want it any shorter.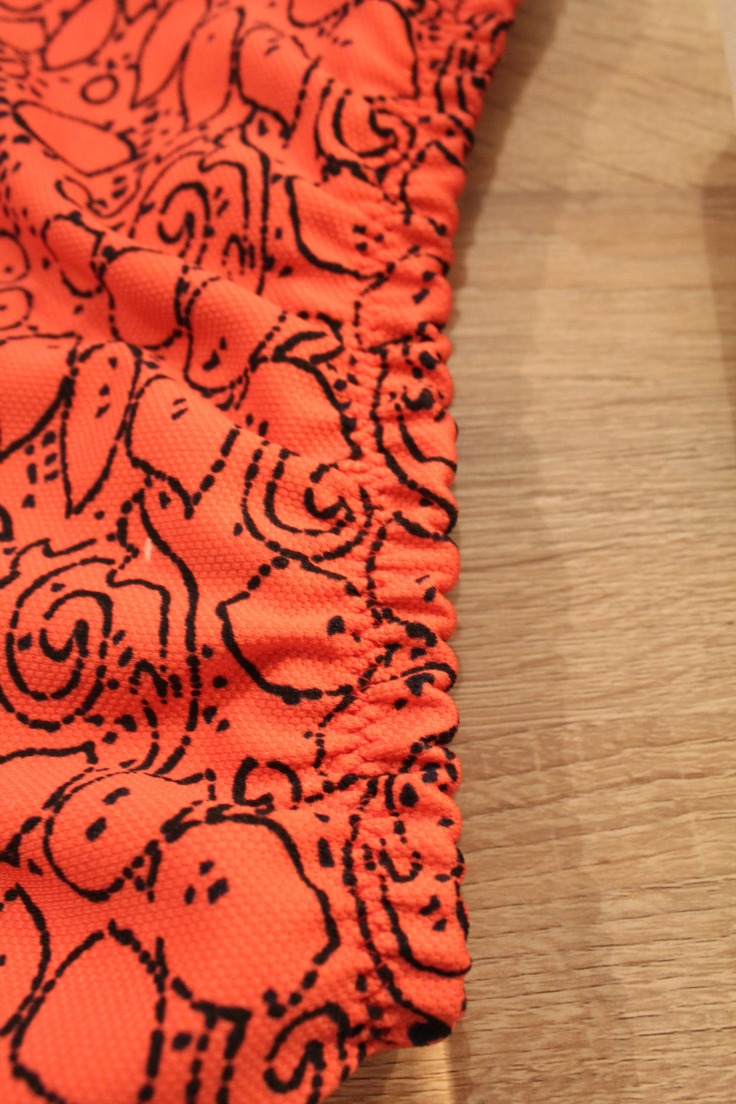 Pin to save for later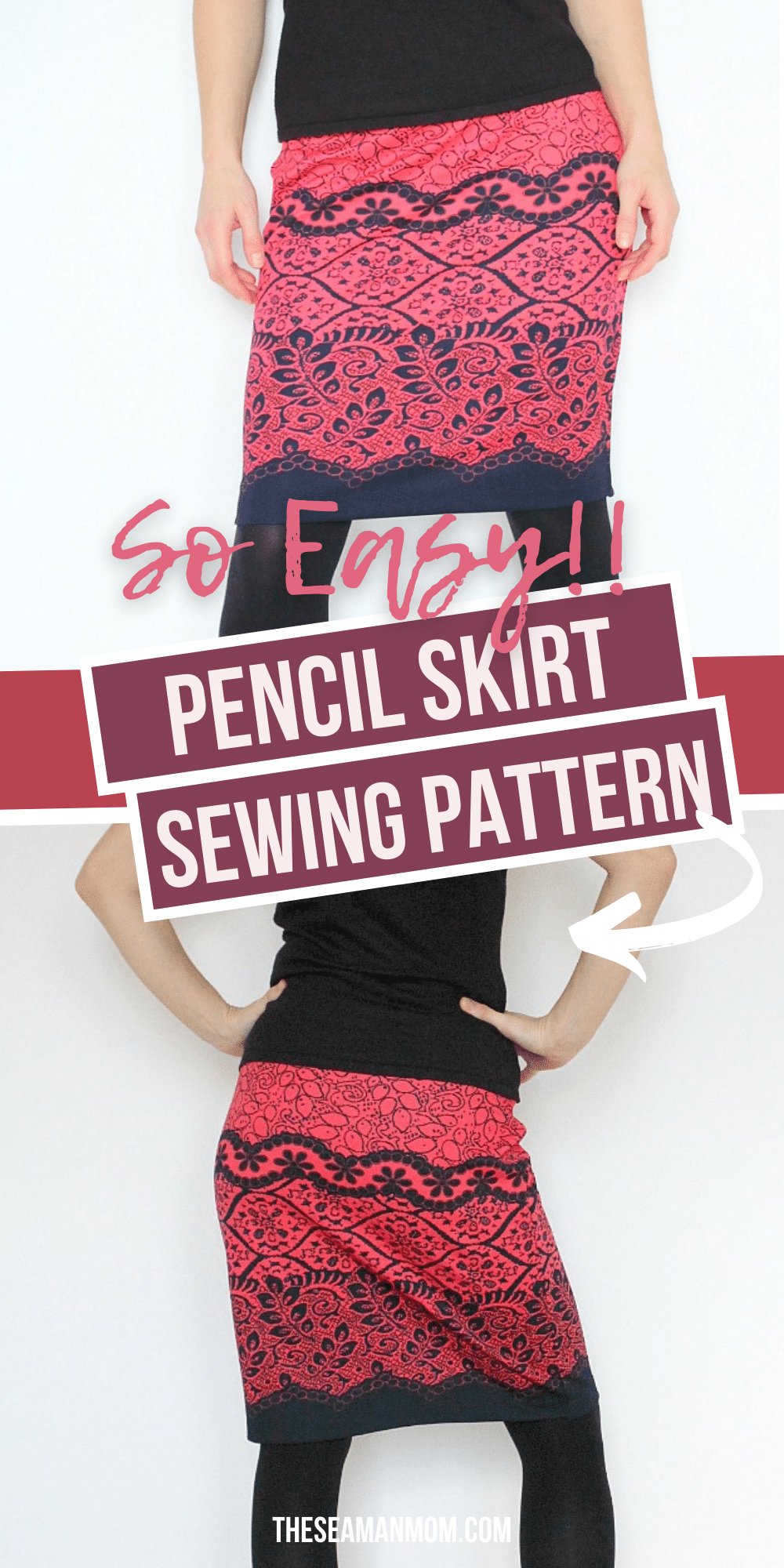 Most popular sewing projects: