Making a pleated skirt cannot be easier with this box pleated skirt! No box pleated skirt pattern needed and this skirt project is suitable for sewists of all levels!
Box pleated skirt tutorial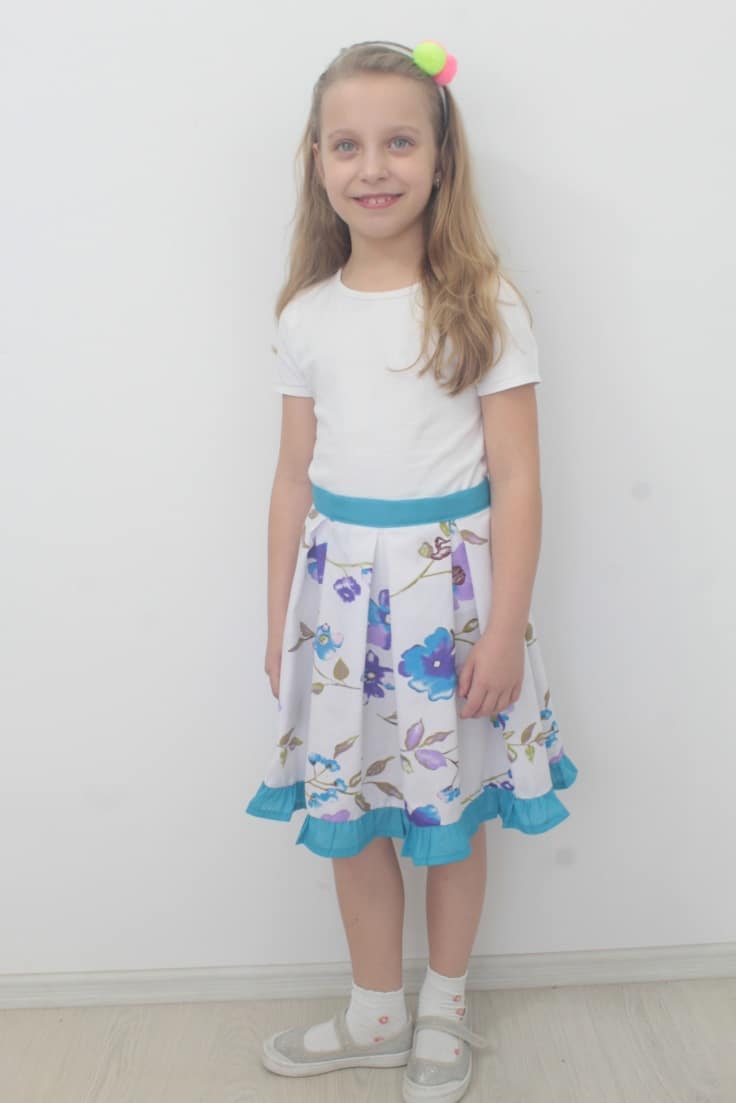 You probably know I love sewing for my little one a lot more than I love sewing for myself! And I felt guilty that lately I've focused a little too much on myself. I wanted to make a skirt for her to match my wrapped skirt. But since a wrapped skirt is not quite the proper project for a kid, I thought I should try a box pleated skirt instead and add a little ruffle as a hem to mirror my wrapped skirt.
Other kids projects you might like: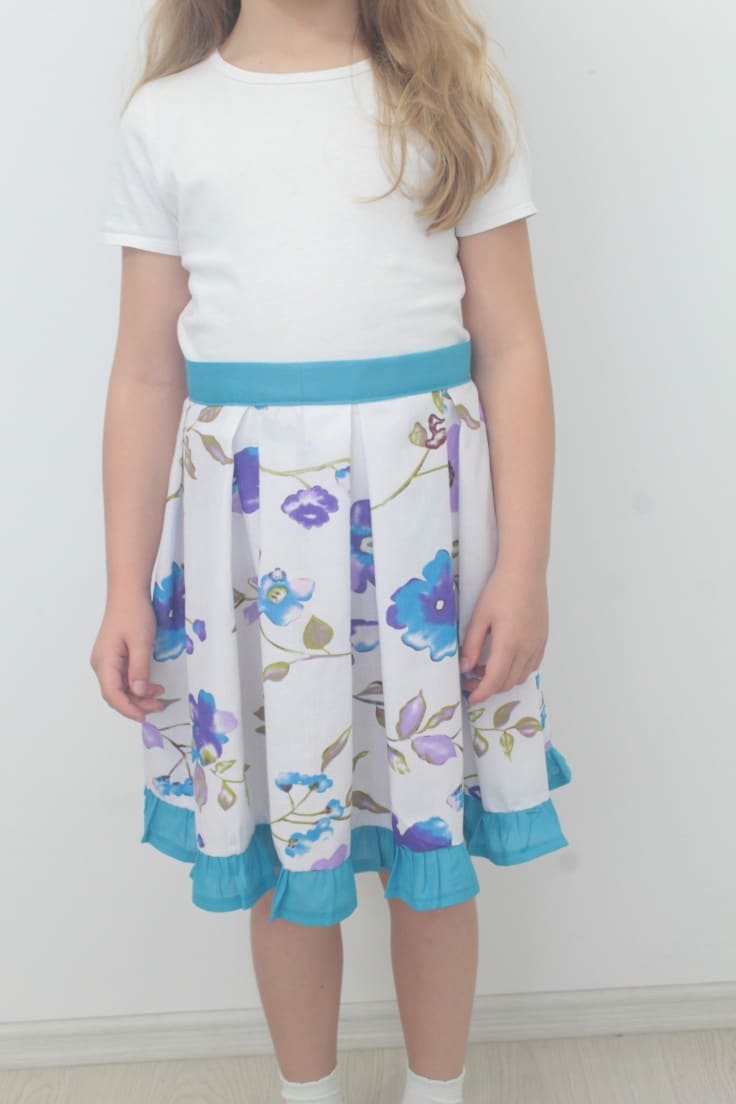 I think this DIY box pleat skirt was a true success! I love how it turned out, I love how lovely looks on Ellie and most importantly, Ellie loves it too! She feels so comfortable in her box pleated skirt and says she absolutely adores the ruffle addition!
This adorable box pleated skirt is super easy to make! You may be tempted to suspect box pleats are hard to create and sew but trust me, not much gets easier than these pleats! They are probably the simplest and fastest of the pleats family and because they are so wide, take less time to make.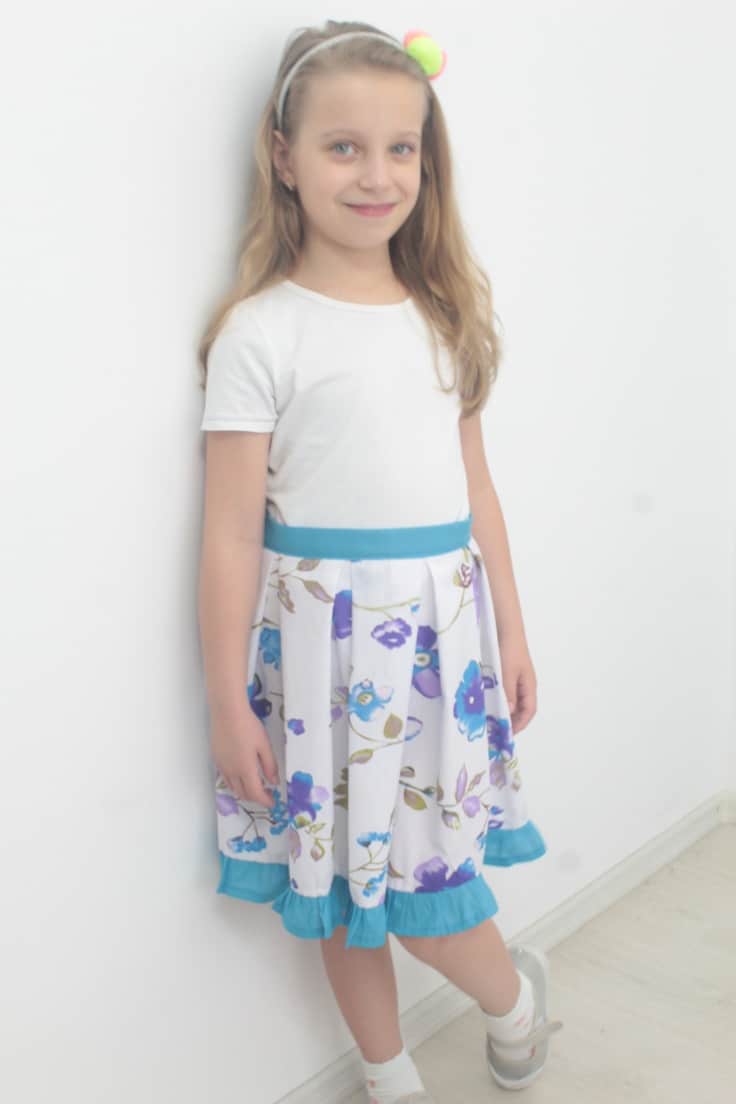 The only part that you might find a bit tricky about this box pleated skirt is the zipper, you do need a little practice and sewing a couple of zipper projects before is a plus. If you don't know a thing about zippers, check out these tutorials before working on this project: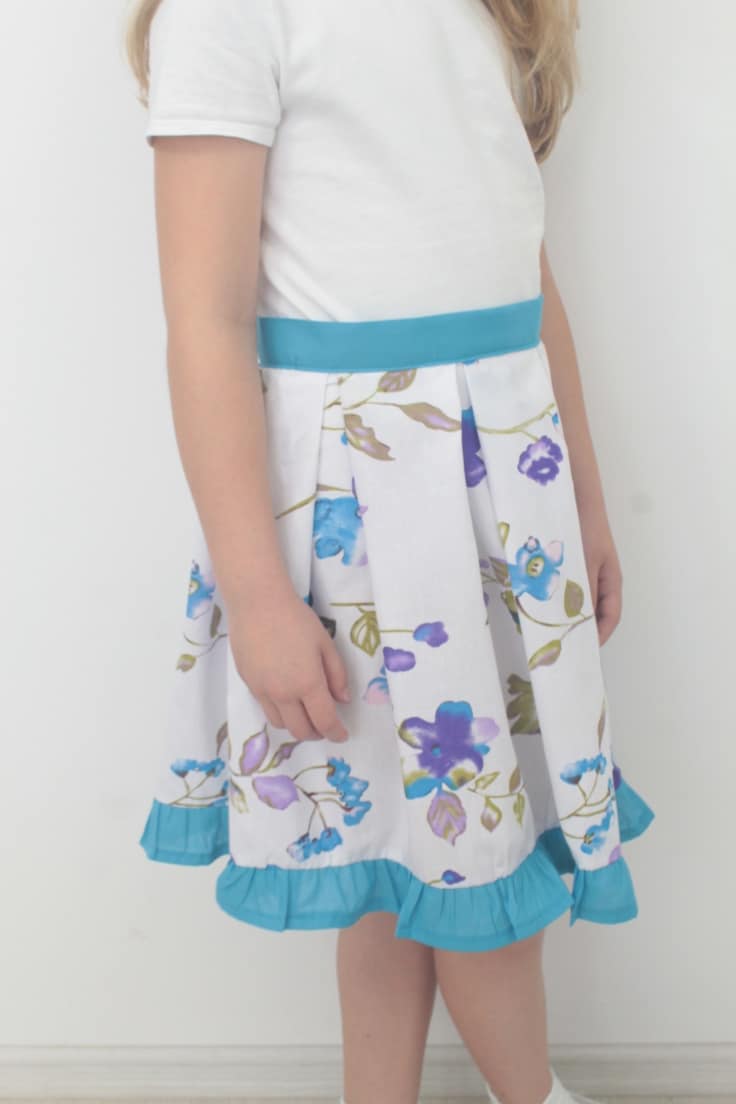 Other than that, this project is so easy peasy! You'll have fun making it and your little one will LOVE wearing this cute skirt! You can even make one for yourself, using the exact same steps but a little more fabric. The easiest fabric to work with is obviously cotton which we used here but knit would look great too.
Box pleated skirt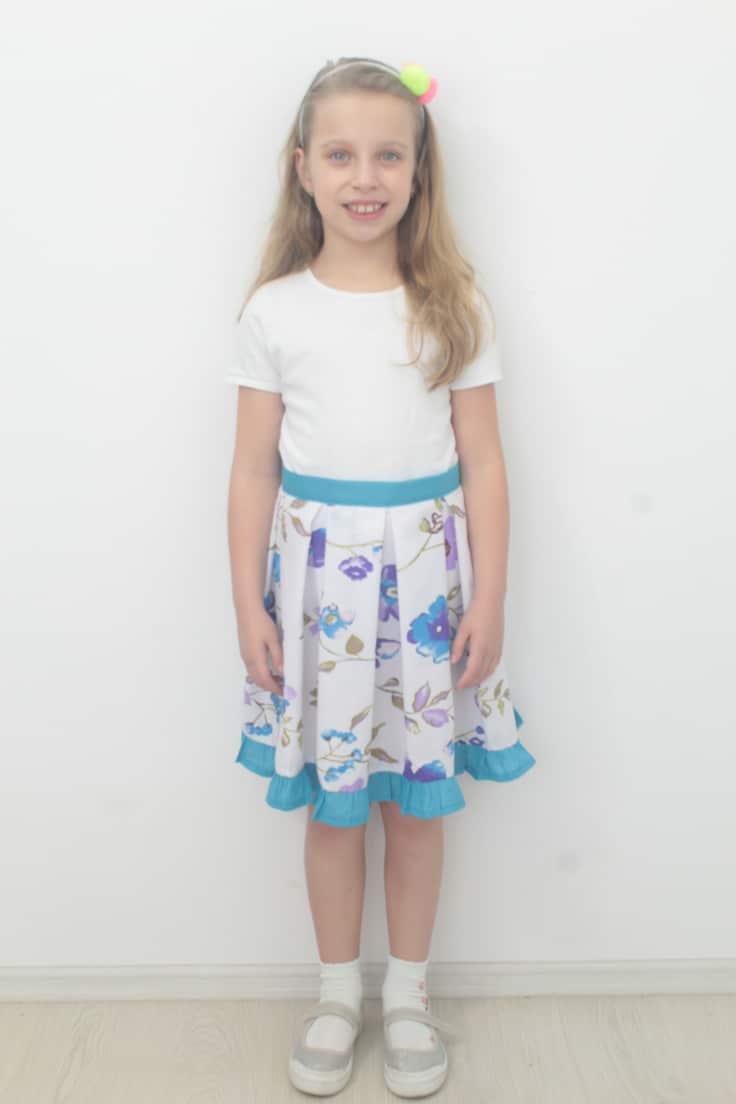 Materials:
Cotton fabric for skirt
Contrast cotton fabric for waistband and ruffled hem
seam gauge
fabric pen
scissors
zipper or invisible zipper
zipper foot
matching thread
sewing machine
pressing iron
serger
Directions:
Preparing the fabric
I didn't manage to make up a formula to calculate how much fabric is needed but noticed that for Ellie's skirt I used double her waist measurement plus 1″ allowance for the zipper. Each pleat took 6″ (3″ on the inside and 3″ on the outside of the skirt). Her waist is about 24″ and I added 1″ allowance so 25″. I made 8 pleats (8×3″=24″) plus 1″ seam allowance gives us another 25″. Total was 50″. What I did was cut a long strip of fabric with the width matching the desired length. Then I added half the zipper allowance at one end, started to do the box pleats, stopped when I met Ellie's waist measurement and added the other half of the zipper allowance.
As for the length, that is up to you. I went with a knee length and subtracted the ruffle hem which is 3″ including allowance.
Making the box pleats
Grab your seam gauge and starting marking every 1 1/2″, leaving 1/2″ allowance at start and finish to accommodate the zipper.
Grab the first and third mark and meet them, pushing the second mark inside until it meets the third mark on the back of the fabric. Pin.
Meet the fourth and sixth mark, pushing the fifth mark inside until it meets the third mark on the back of the fabric. Pin.
Repeat in the same manner for all pleats.
Sew the top of the pleats with 1/4″ seam allowance.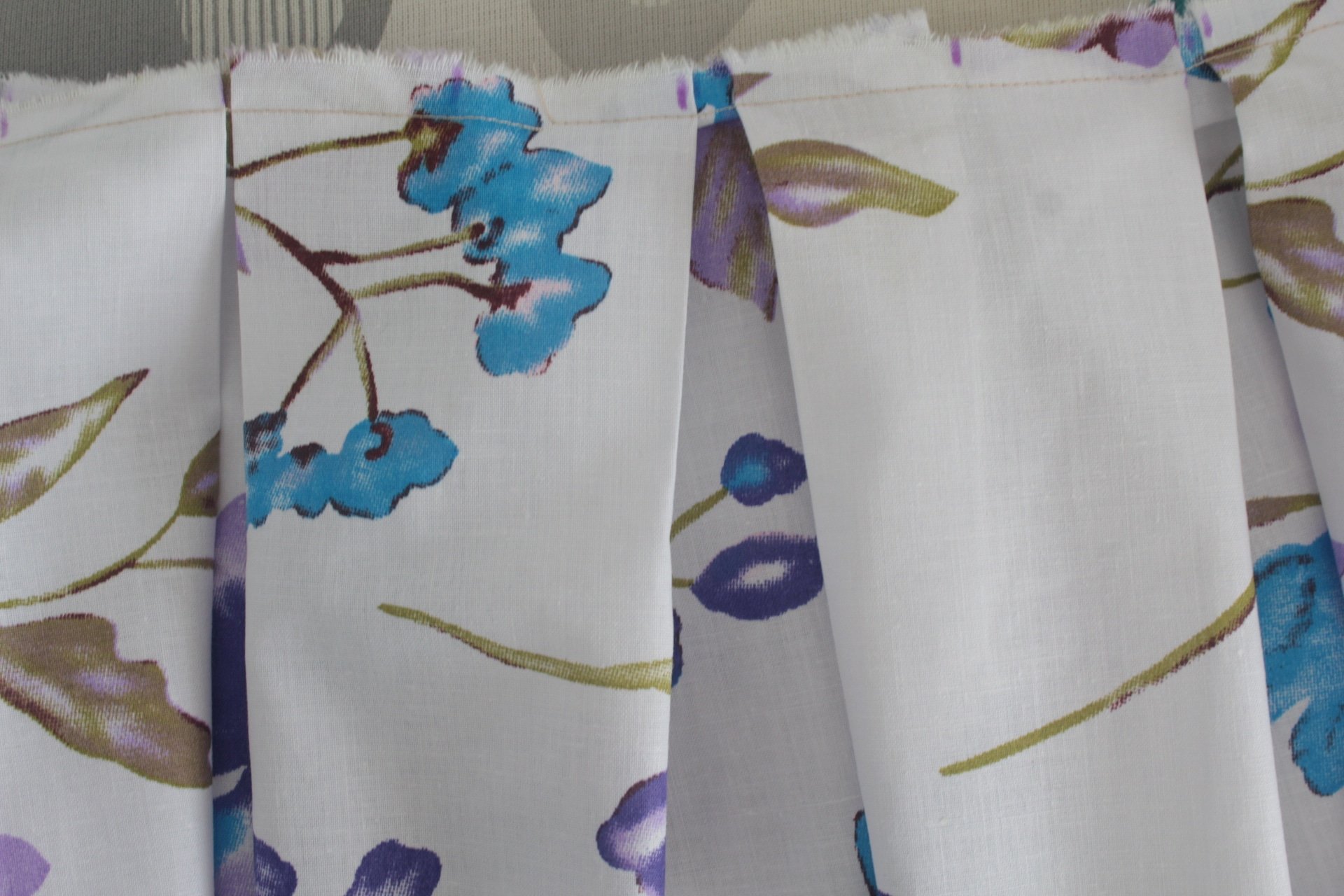 Press just the first couple of inches of the pleats with a pressing iron on steam.
Making the ruffle
Cut a long strip of contrast fabric, double in length than the hem of the skirt and as wide as you like (I used a 3″ wide strip).
Make a simple hem of about 1″.
Ruffle the strip along the opposite side.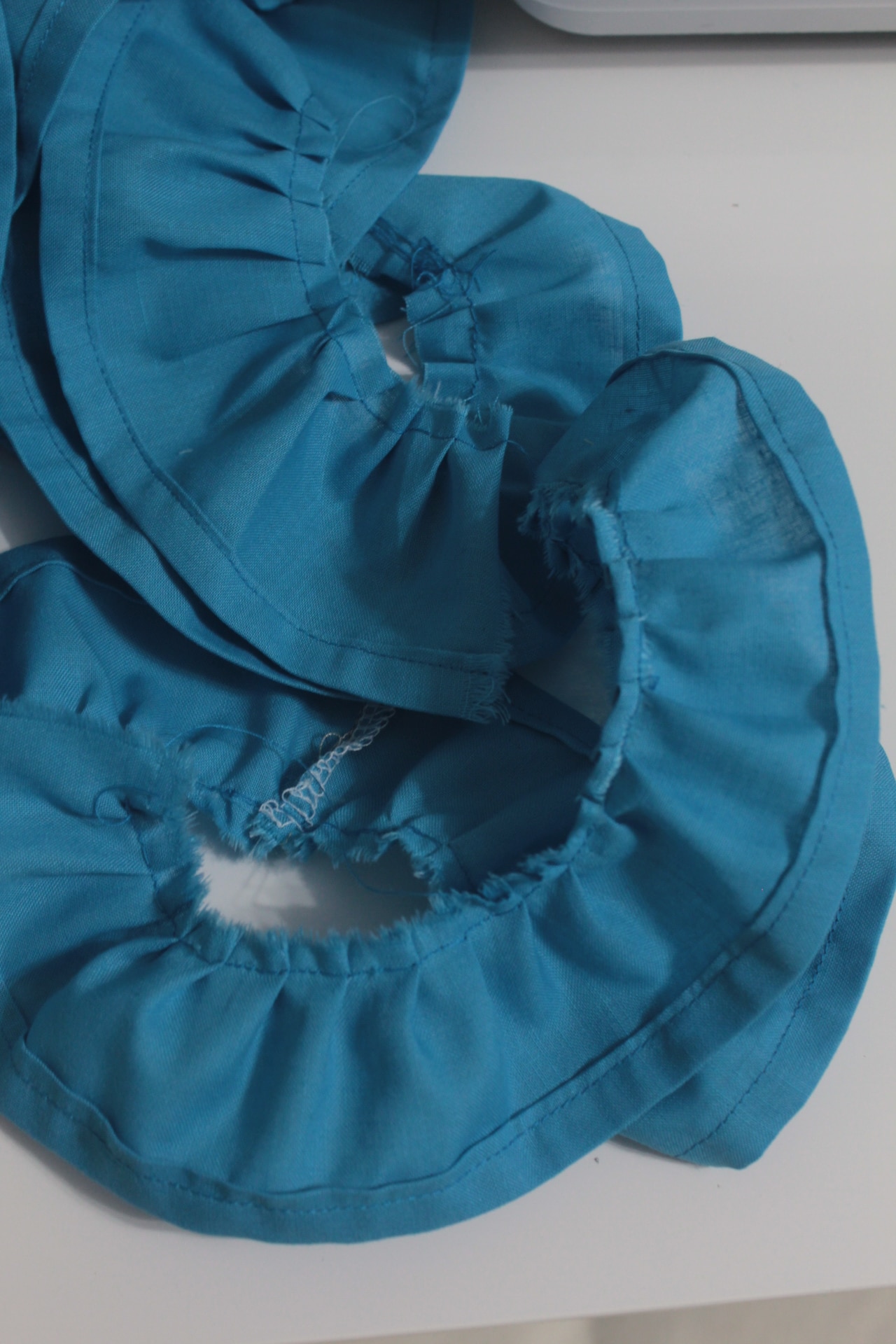 Attach the ruffled strip to the hem of the skirt. Place the skirt right side out and the ruffle wrong side out, raw edges together and sew along the raw edges with 1/4″ allowance.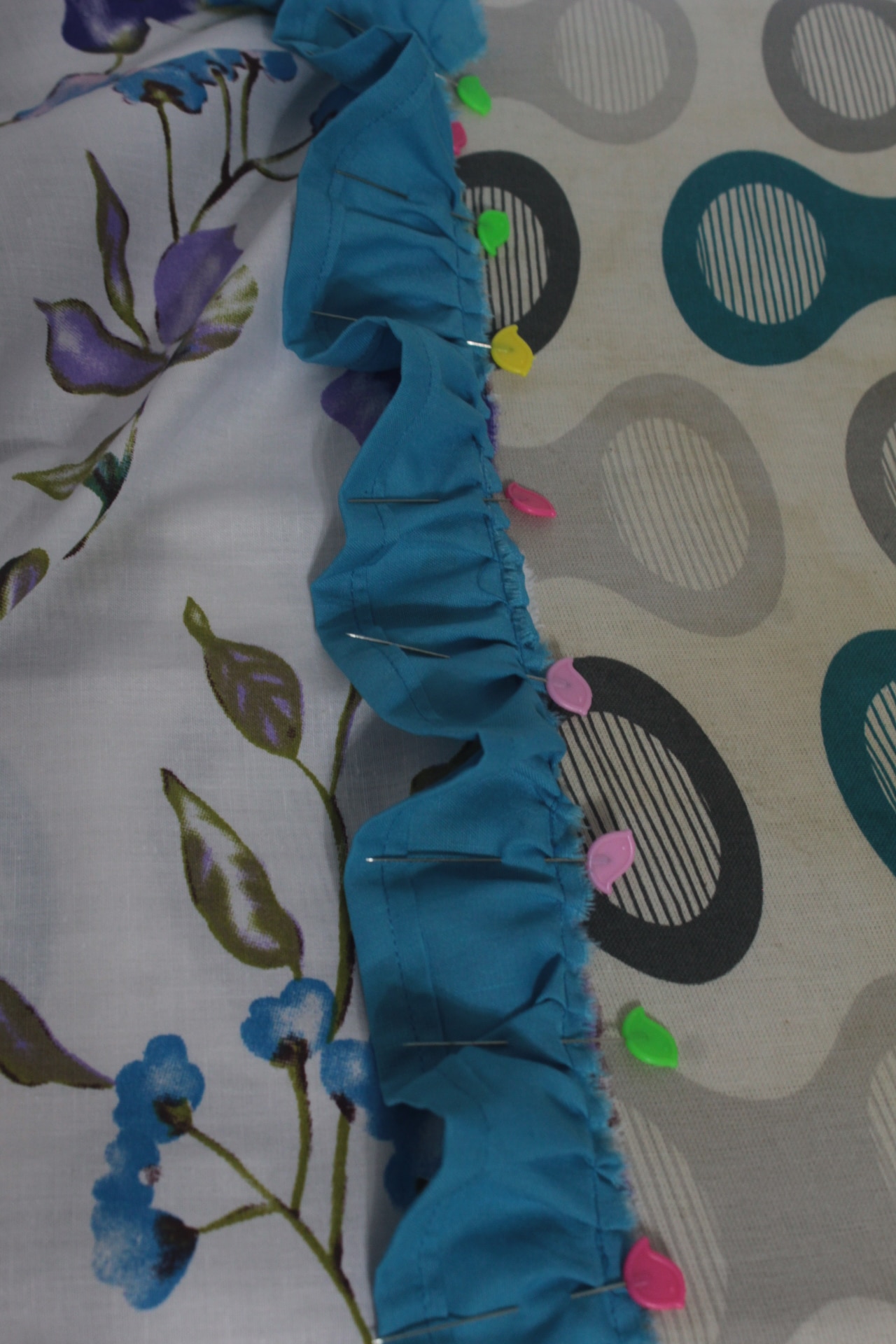 Finish the seam with a serger or a zig zag stitch.
Fold the hem down and press with iron on steam.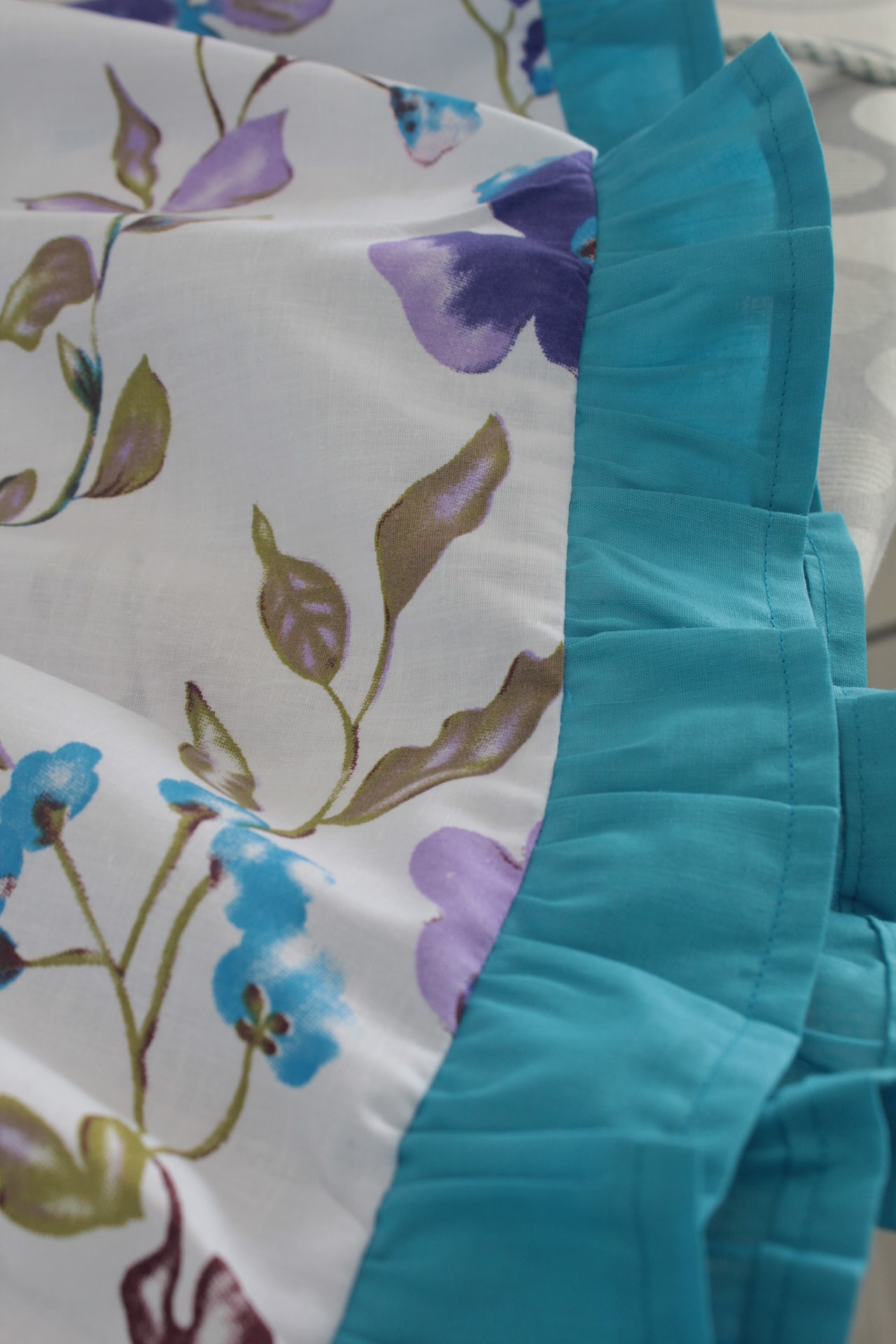 Attaching the zipper
If using a regular zipper, fold the skirt in half width-wise, wrong side out and sew the ends with 1/2″ allowance. This will be the back seam of your skirt.
Attach the zipper to the back seam. My zipper happened to fall right in the middle of a pleat which I think was wonderful.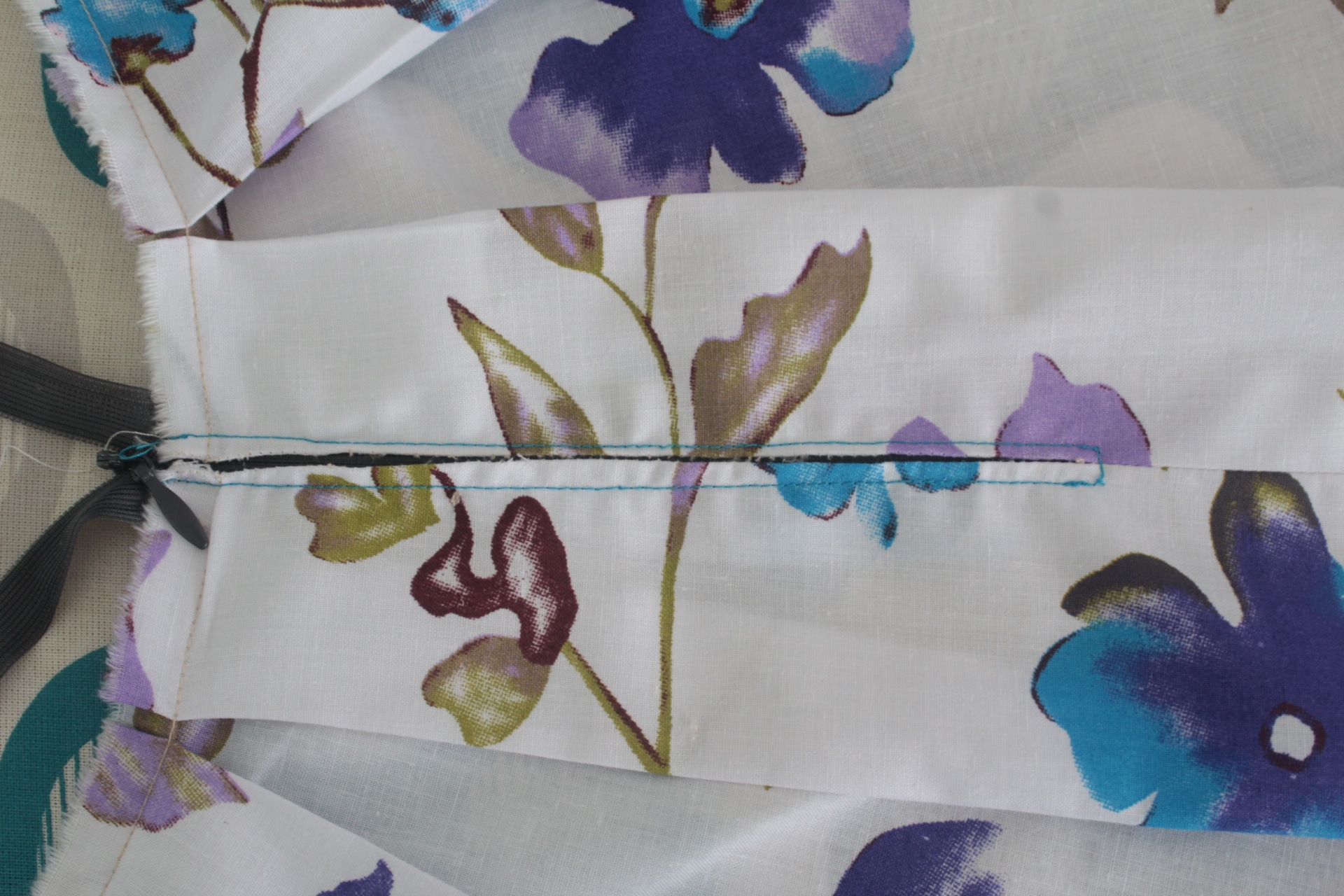 Making the waistband
To make the waistband, cut a strip of fabric with the waist measurement plus 1/2″ allowance for folding the ends in. The strip should be about 4 1/2″ wide.
Fold the strip in half and press.
Push the ends in 1/4″ and press.
Fold each half of the strip in and press.
Attach the waistband to the skirt by simply sandwiching the top between the waistband and sewing 1/8″ away from the open edge of the waistband.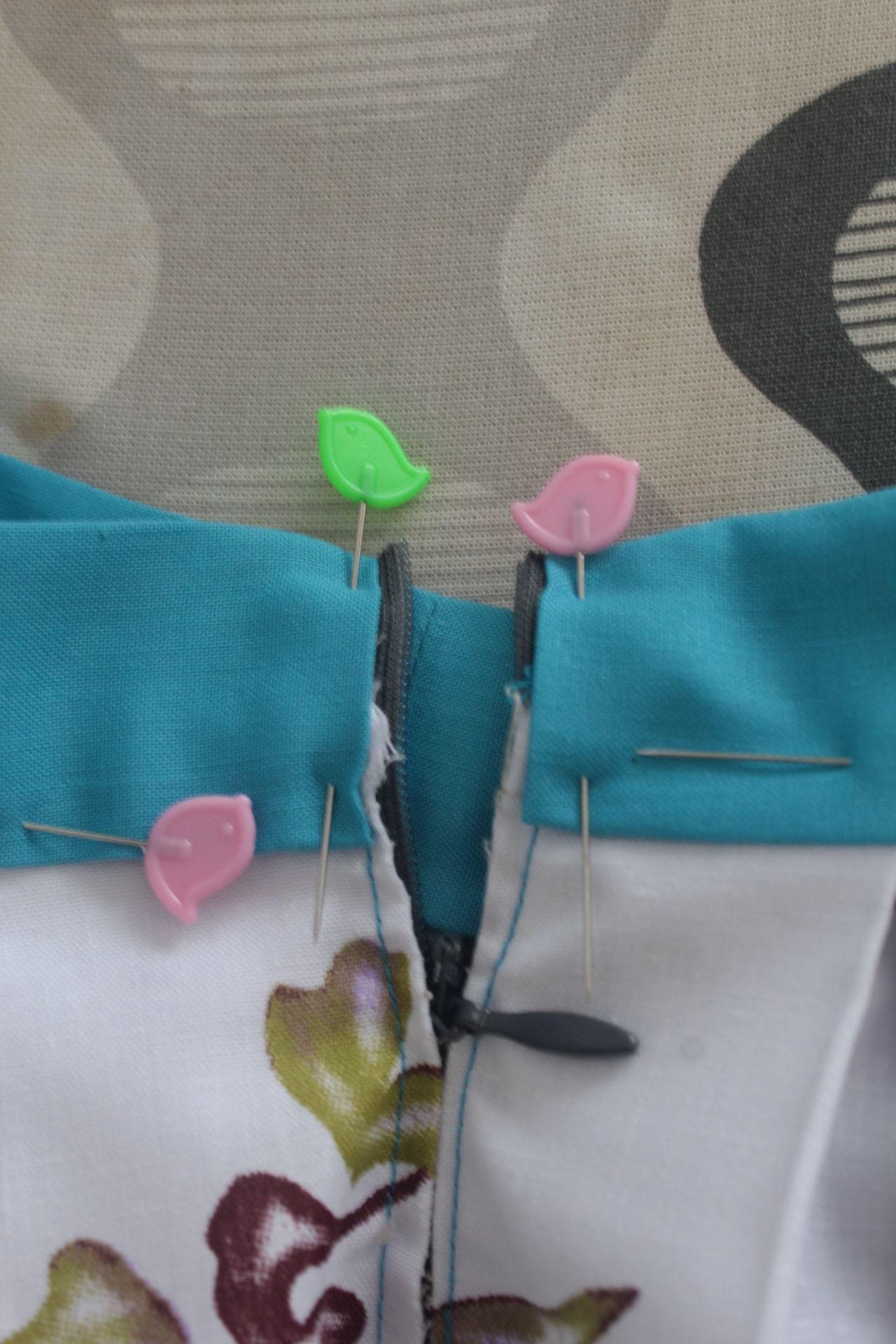 Give the skirt a last press and you're done! Enjoy your box pleated skirt!
Pin to save for later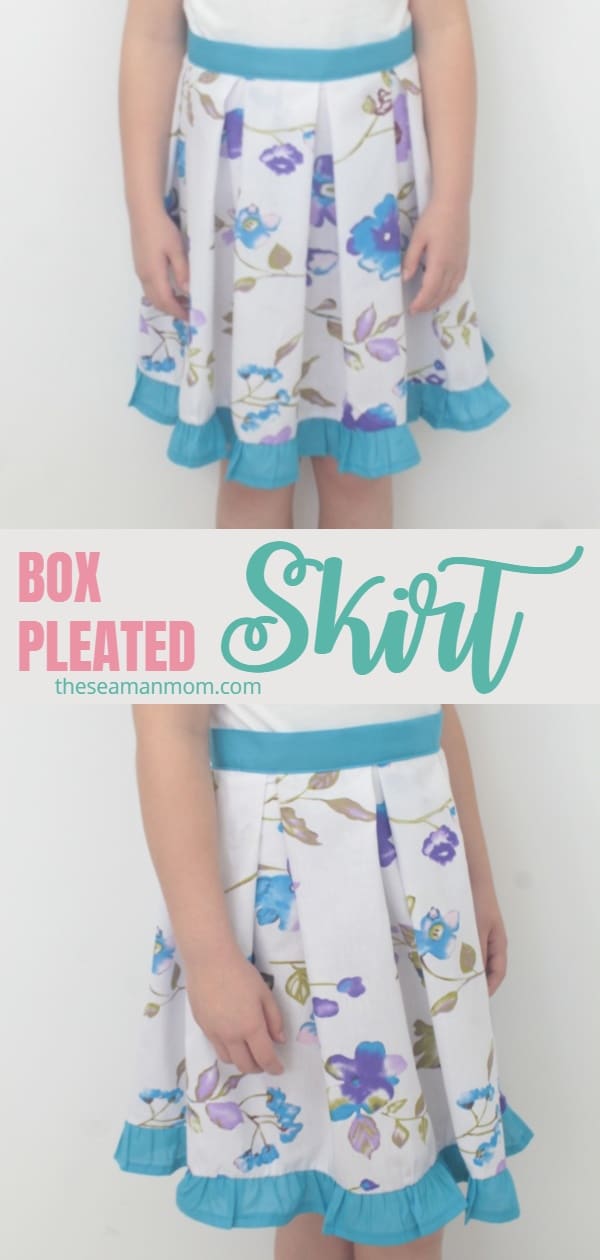 Most popular sewing projects: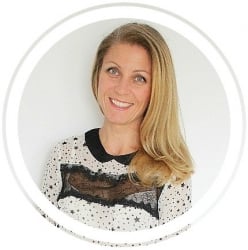 Hi, I'm Petro, author and founder of Easy Peasy Creative Ideas. Sewist, crafter, avid DIY-er, foodie, photographer, homemaker and mommy to one. I'm an expert at coming up with quick, clever sewing tips, recycling crafts and simple, easy recipes! You can find my ideas featured in reputable publications such as Country Living, Good House Keeping, Yahoo News, WikiHow, Shutterfly, Parade, Brit & Co and more. Thanks for stopping by and hope you'll stay for a while, get to know me better and come back another time. Stick around for real fun projects!