Article may contain Amazon & affiliate links. As an Amazon Associate I earn from qualifying purchases at no additional cost to you.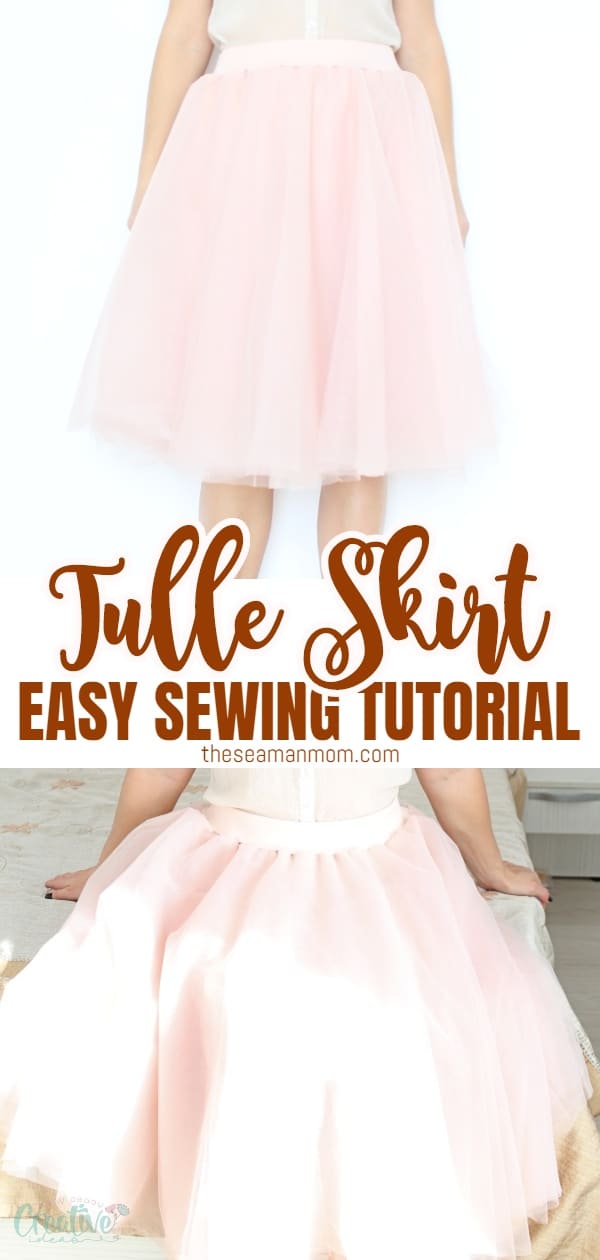 Ever wondered how to make a DIY tulle skirt for ladies? Making a tulle skirt is pretty much the same for little girls and women and this women tulle skirt tutorial makes the whole process so easy peasy!
Women tulle skirt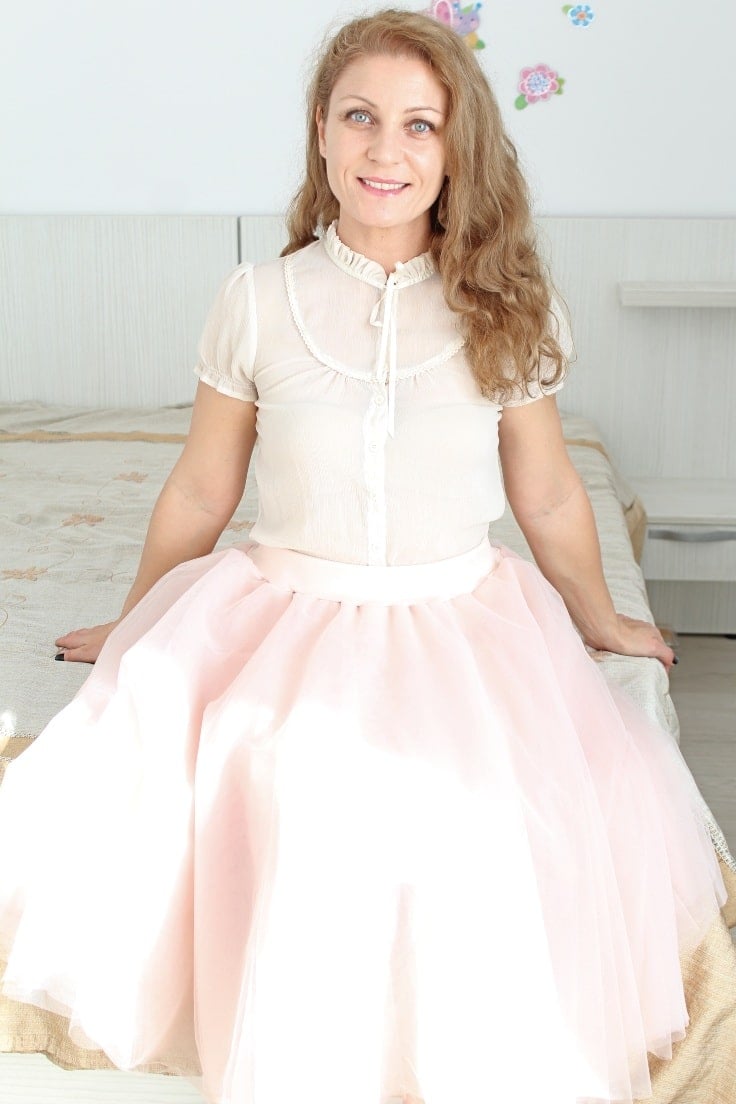 I'm super excited about this women tulle skirt I just made! I've been meaning to make it for ages and never got the courage to start working on it. I'm such a chicken, I know!
I bought this gorgeous tulle fabric and the matching lining over six months ago but I kept postponing making this ladies tulle skirt. I was under the impression that sewing lots of tulle like this skirt requires is super hard and since my lining is a knit, that would mean double trouble! Plus I really, really wanted to make my DIY tulle skirt as a layered, circle tulle skirt which in my mind would add up to the difficulty.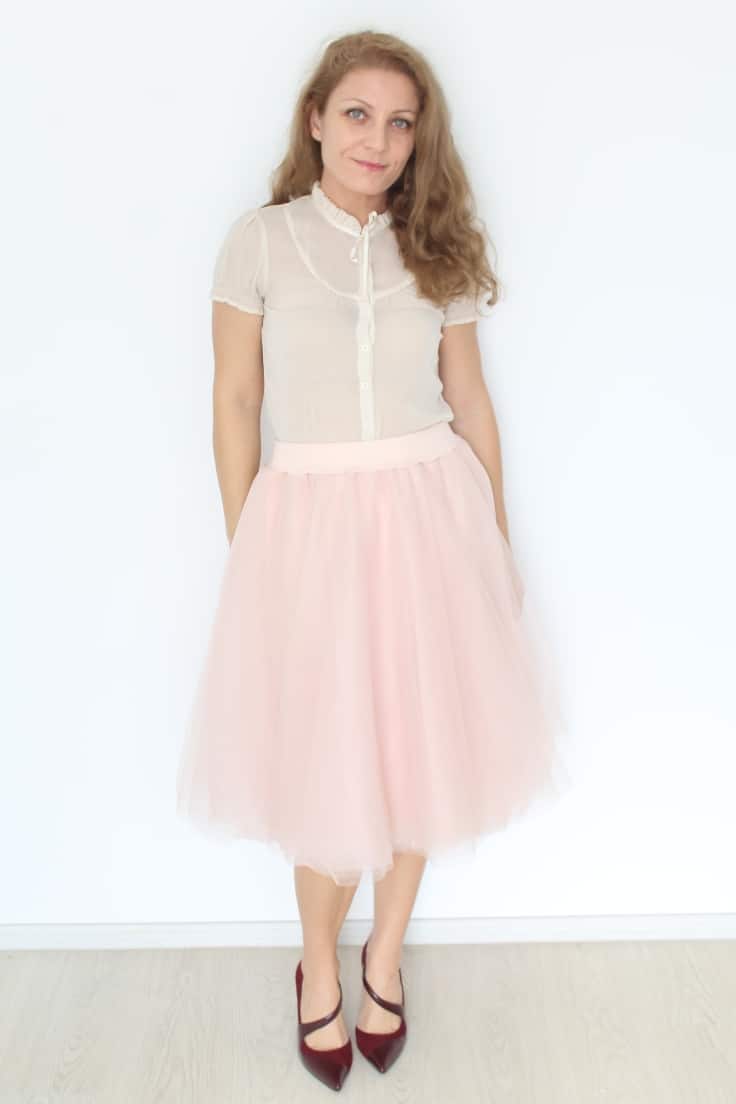 Need more skirt ideas?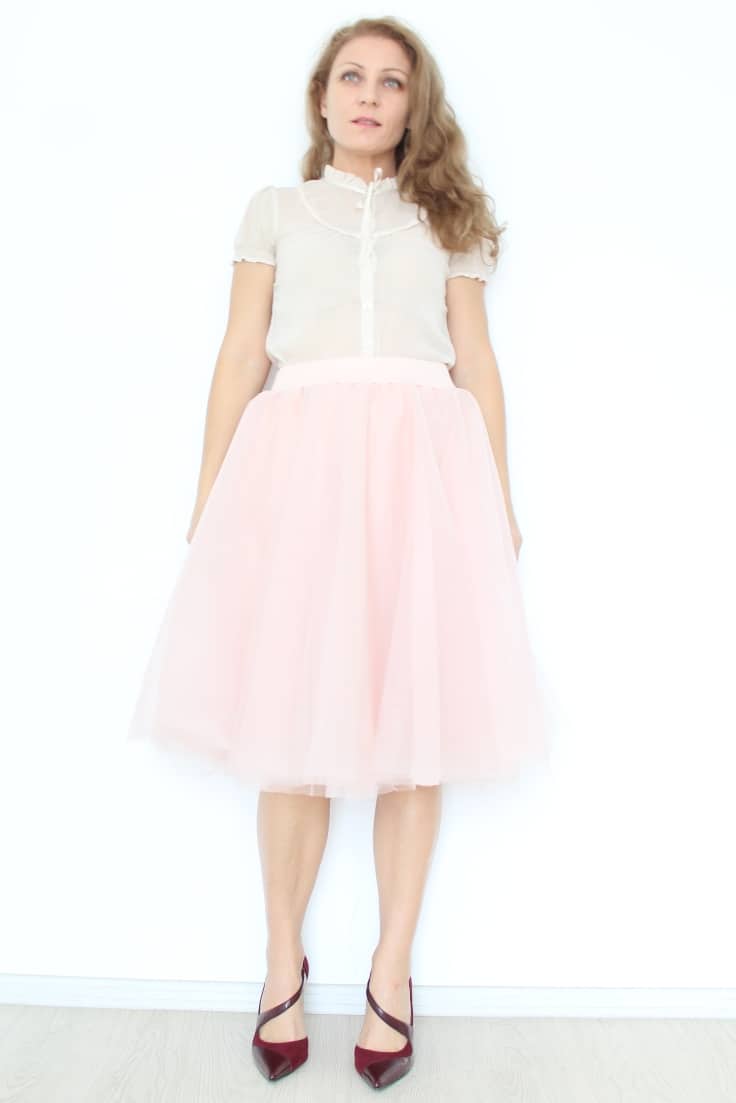 Fair enough, sewing tulle is not as easy as sewing cotton or even knits! But since I've already sewn with tulle before when I made this super cute bubble skirt, even though not at such a large scale, I decided it's time to put my big girl pants on and start sewing my dream skirt! As a side note, you may also find this pinning trick really helpful when making a garment with tulle.
And I am sooo thrilled I finally did it! My women tulle skirt turned out insanely adorable, so comfortable to wear and pretty practical since I can dress it up or down for any kind of events, formal or casual. I may be biased but I think it's the perfect party outfit so I'm seriously considering wearing my layered tulle skirt for the New Years Eve party! These wide leg pants I made with this purpose in mind can wait for another special occasion! I even tried this ladies tulle skirt on with snickers and a plain t-shirt and it looks absolutely fabulous!
How to make a tulle overlay skirt
If you are short on time or simple don't want to deal with the hassle of working with many layers of slippery tulle, you can opt for the simple version of a tulle overlay skirt. You can totally do that by using a single layer of tulle skirt instead of multiple layers, following the instructions below.
When making your skirt, you might find this tutorial for pinning tulle helpful.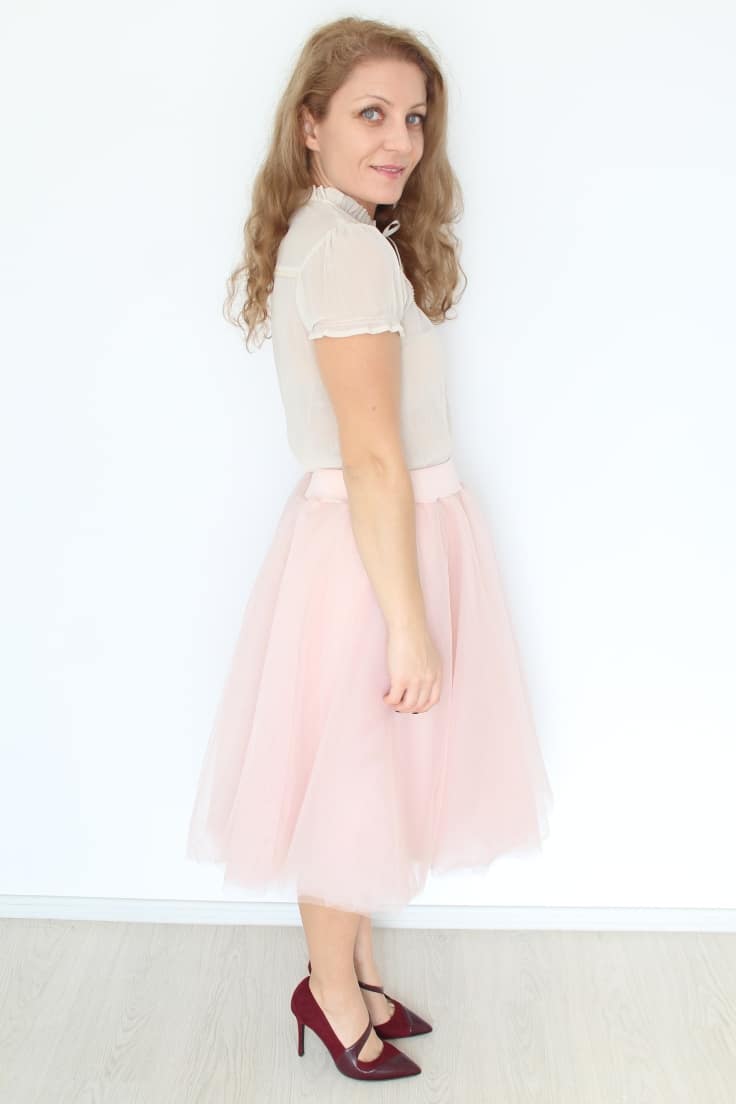 To make your own you won't need a tulle skirt pattern, you get to make your own pattern in just a few easy and quick steps that I already highlighted in this tutorial! So before anything, make sure you read the instructions there to make your circle skirt pattern and then come back and see how to use that pattern to make your tulle skirt.
This full tulle skirt tutorial is basically for a knee length, multi layered circle skirt with knit lining and without a zipper but you can use the exact steps to make a DIY long tulle skirt or a mini skirt. I'm writing this tutorial for beginners so there will be a lot of extra steps to make the process easier. If you are more experienced you can skip some of these as I did in the video tutorial.
DIY tulle skirt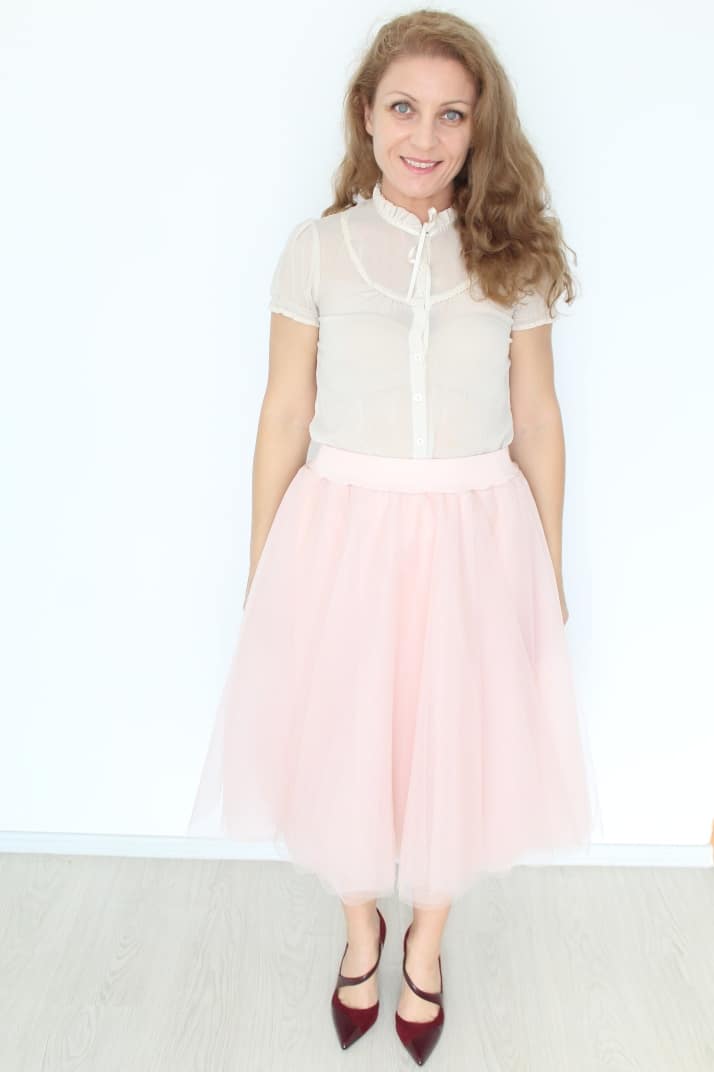 Materials:
two large pieces of paper to make your patterns for the skirt and lining
tulle fabric in color of choice (size depends on the size of your skirt; I used about 8 yards of fabric)
matching knit fabric for lining (I used about 1 yard)
wide elastic for waistband
matching thread
pins
pen
serger (optional but particularly useful for this project)
How to make a tulle skirt
To make the tulle skirts
Make the circle skirt pattern as instructed in the article linked above. When making the pattern you might find yourself wondering why you have to create the inner circle using hips measurements instead of your waist. The explanation is simple: tulle is not stretchy (unless you use stretch tulle which I don't recommend as it's already tricky to sew regular tulle); so if you make the inner circle of your tulle skirt to match your waist you won't be able to slip your DIY tulle skirt over your head or hips as it'll be too small. So you need to use the widest area in your body which is your hips. The inner circle will slightly gather when you'll attach the tulle skirts to the waistband which will be the size of your waist. So problem solved!
Place the pattern on the fabric as indicated in the mentioned tutorial and you will get one continuous circle skirt with no seams to sew. Repeat for as many layers of tulle you want to use for your DIY tulle skirt. I cut six layers for my layered tulle skirt.
Place tulle skirts on top of each other and match at the waist. Pin together and run a basting stitch (or do a temporary hand stitch; I found this option easier with tulle). All tulle layers are now secured together.
Making the lining
Make an A line skirt pattern in just a few easy steps. Take a few measurements first: measure your hips at the widest area; measure the length of your skirt using the length measurements from the tulle skirt, minus 1″ (add 1″ for hem if you don't have a serger to finish the hem) ; add 4″ to the hip measurements to get the bottom of the skirt. Use the hip measurement to draw a line at the top of your paper. Find the middle of this line and draw a vertical line that is as long as the length of your skirt. From this point, draw the bottom line of your A line skirt, half to the right and half to the left. Connect the top of the skirt with the bottom, at the sides so you get a trapezoid.
Place this pattern on your lining fabric and cut two pieces. Place these pieces right sides together, pin the sides and sew down preferably with a serger but if you don't own one, sew a regular stitch and finish the seam with a zig zag stitch.
Fold the lining in half, lengthwise. Measure 1″ up at the seam. Using your fabric marker draw a line from this point to the middle of the folded lining smoothing it out towards the middle, then cut.
Finish the hem with a serger or do a regular hem if you don't have a serger. I finished my hem with a serger and left it like that since it's not visible from under the layers of tulle.
Getting the skirt and lining together
Keep lining right side out.
Slide the lining through the tulle layers until all waists are aligned.
Attach the lining to the tulle layers, at the waist, using pins to keep together.
Sew down using a regular stitch or a serger (preferably).
You now have the skirt all done.
Make the waistband
Measure your waist, add 1″ and cut an elastic using this measurements.
Sew the ends of the elastic together with a zig zag stitch, overlapping each end by 1/2″ .
Cut a piece of fabric from the lining fabric to make the casing for the elastic. This piece should be as long as the elastic and the width should be double the width of the elastic plus 1 1/2″.
Sew the ends of the fabric strip into a circle, using a 1/2″ allowance.
Fold this circle in half and press with an iron on steam.
Insert the elastic circle into the fabric circle all the way through the fold and pin these two together all around the fold.
Sew down the raw edges of the waistband using a serger. If you don't have a serger use a regular stitch but pull the fabric and elastic while sewing. Finish the seam with a zig zag stitch.
Don't remove the pins just yet.
Attaching the waistband to the skirt
Place the waistband serged edge up, with the fold pointing down.
With the skirt right side out, slide the waist up through the waistband.
Match the serged edge of the waistband to the serged edge of the skirt.
Pin the waistband to the skirt at the back, front and sides first. Then add additional pins in between these four points, pulling the waistband to align with the skirt.
Sew down together using a regular stitch while pulling the waistband, using a 1/2″ allowance. Sew slow and in small sections and remember to not over pull the waistband.
This is an optional step but I found my skirt looks a lot more professional if I serge these two together. If you don't have a serger use a zig zag stitch.
Remove the pins in the waistband and the basting stitch or hand stitch in your tulle layers.
And your adorable DIY tulle skirt is done! If you liked this tutorial please let me know in the comments below and don't forget to rate it!
Pin to save for later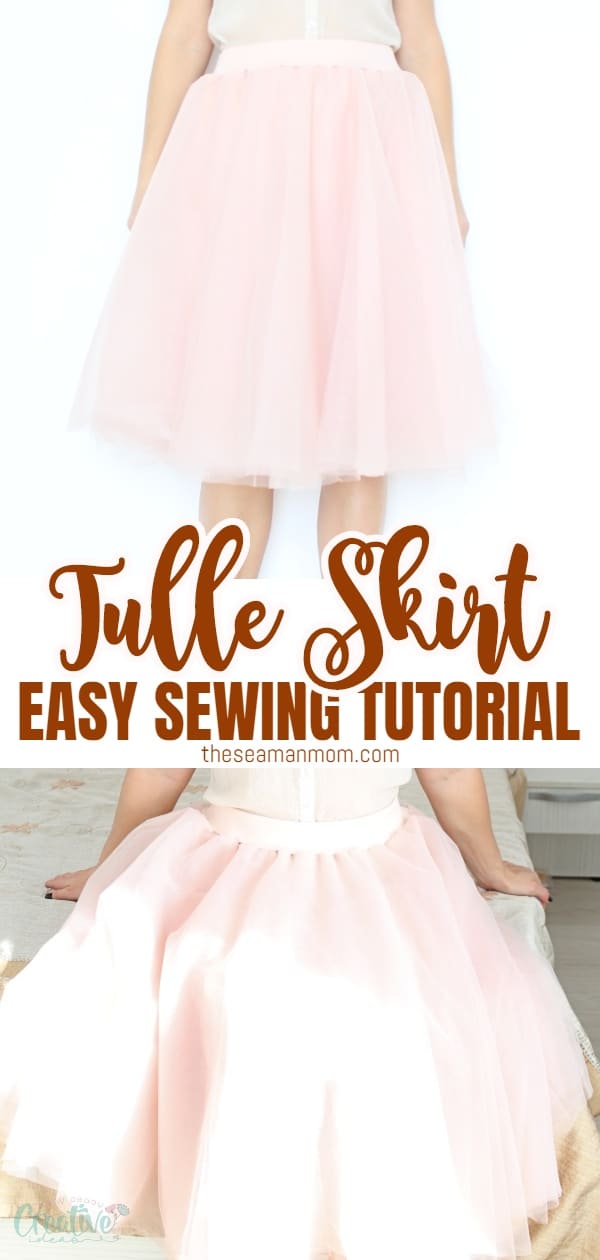 Most popular sewing projects: