The best ever CHICKEN BREAST MARINADE
Article may contain Amazon & affiliate links. As an Amazon Associate I earn from qualifying purchases at no additional cost to you.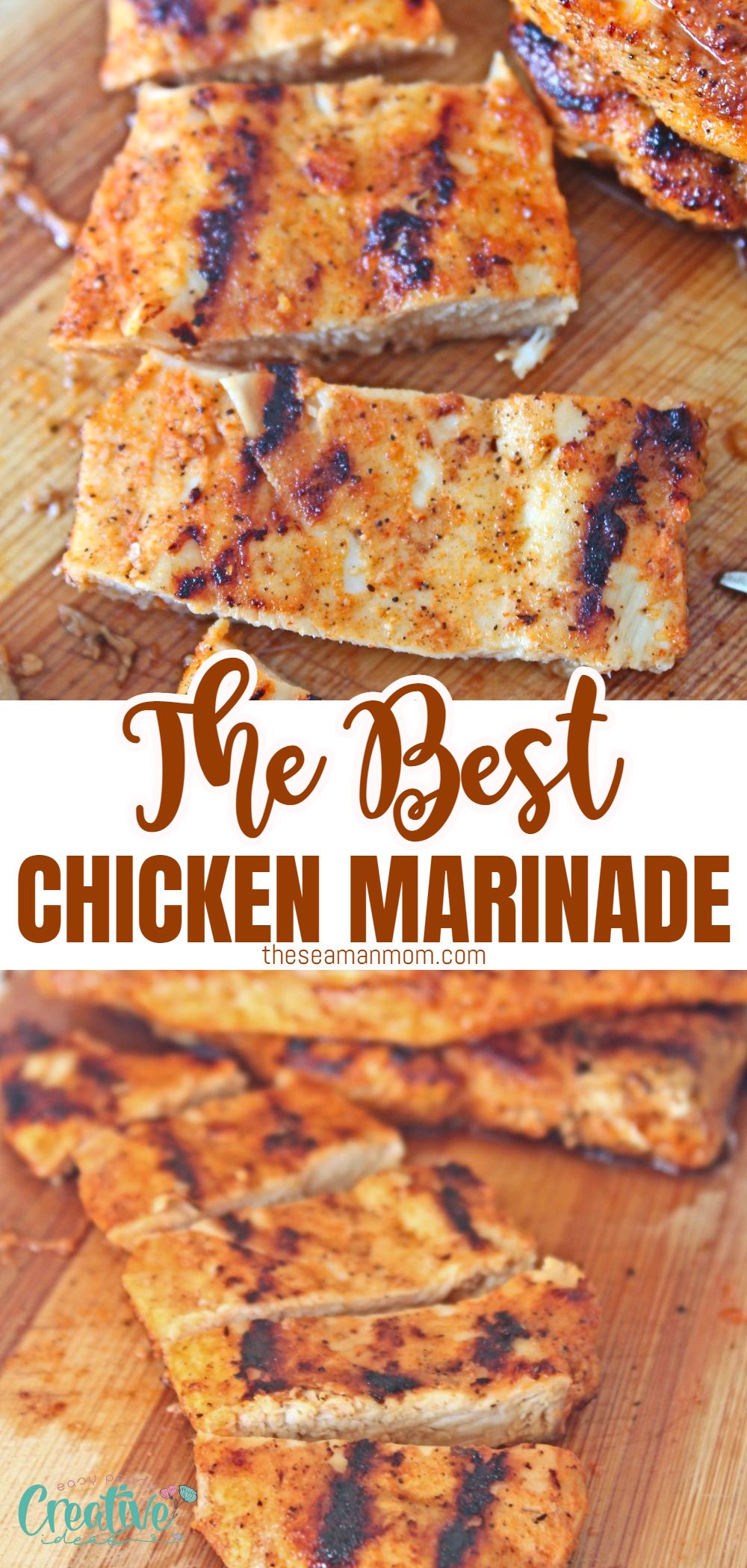 Are you looking for a new chicken marinade? You're in luck! My chicken breast marinade is made with the best ingredients to give your chicken that delicious, savory flavor and it's perfect for grilling and baking in the oven!
Chicken Breast Marinade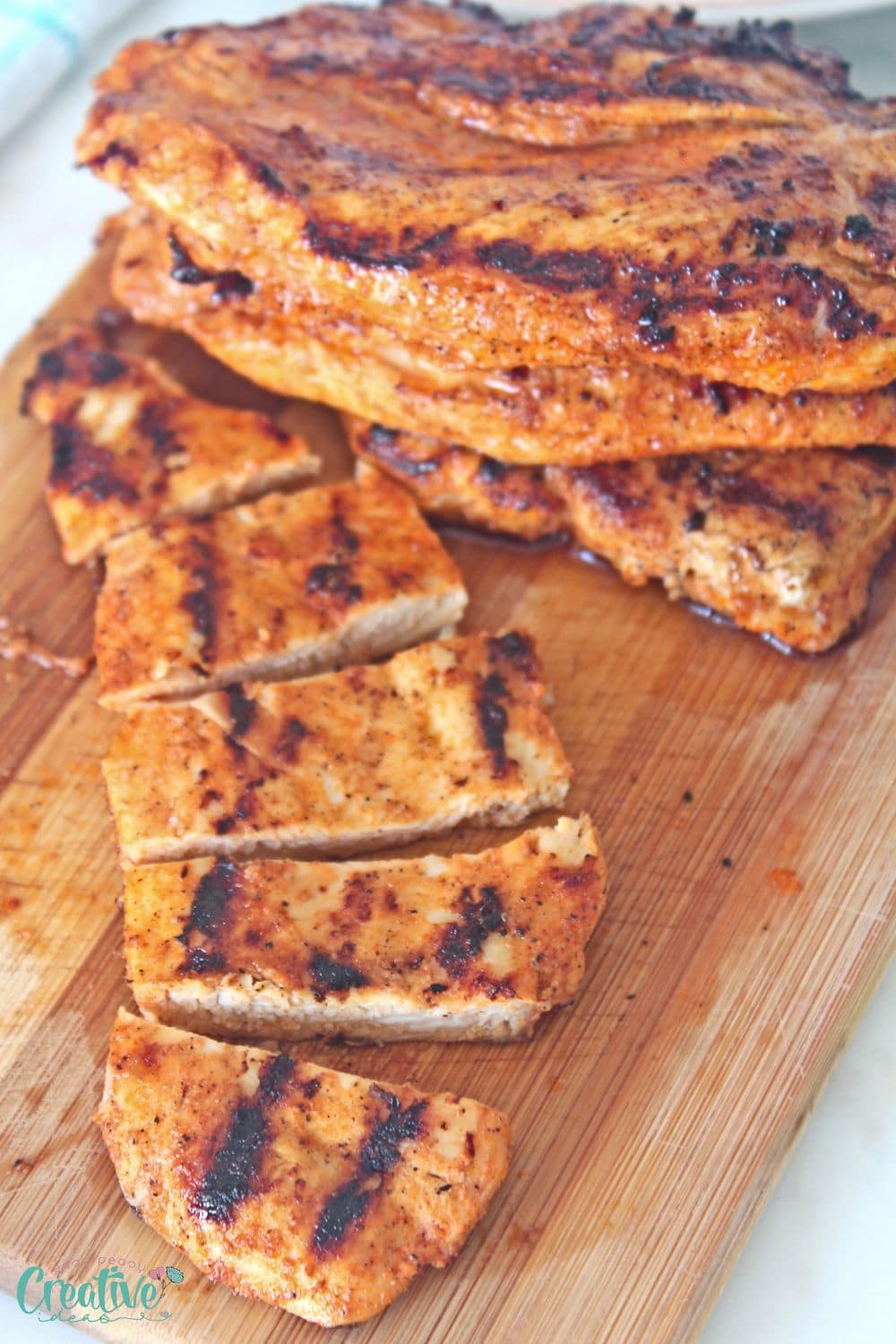 Try my chicken breast marinade today! I guarantee you will love it! This recipe will change how you cook chicken forever. It's easy, quick and delicious and so good that people will think you spent hours in the kitchen cooking up a storm for them when really all it took was 10 minutes and some ingredients from your pantry.
Whether you're planning on firing up the grill or just want a flavorful baked dinner, taking the time to marinate your meat is one of the best ways to infuse flavor into a piece of chicken. And with the help of a simple chicken breast marinade, you can enjoy a flavorful main dish for dinner tonight. Simply combine your marinade ingredients and give your meat time to soak to make delicious chicken every time you grill.
Chicken marinade for grilling Ingredients
You only need six simple ingredients to make this quick chicken marinade! That means you can easily whip up a simple sauce that's perfect for baking or grilling in a matter of minutes. To prepare your own chicken breast marinade, you'll need:
Vegetable oil. Make sure your chicken stays moist and tender as it cooks with the help of oil. A neutral oil, like vegetable oil, is a great choice because it won't take away from the flavor of your marinade's seasoning.
Lemon juice. In addition to oil, you'll also need some acid to add flavor to your meat. Lemon juice pairs perfectly with chicken, making it a must when creating a grilling sauce for poultry.
Garlic powder. Give your chicken some garlic flavor without the need for fresh cloves with the help of garlic powder. Using garlic powder in your marinade instead of fresh garlic will ensure the garlic doesn't burn while the chicken cooks.
Sweet paprika. Add a hint of spice to your chicken marinade with the help of sweet paprika. This flavorful seasoning is perfect for grilled chicken.
Salt and black pepper. Seasoning your chicken with a small amount of salt and pepper can help balance the flavors of the other marinade ingredients.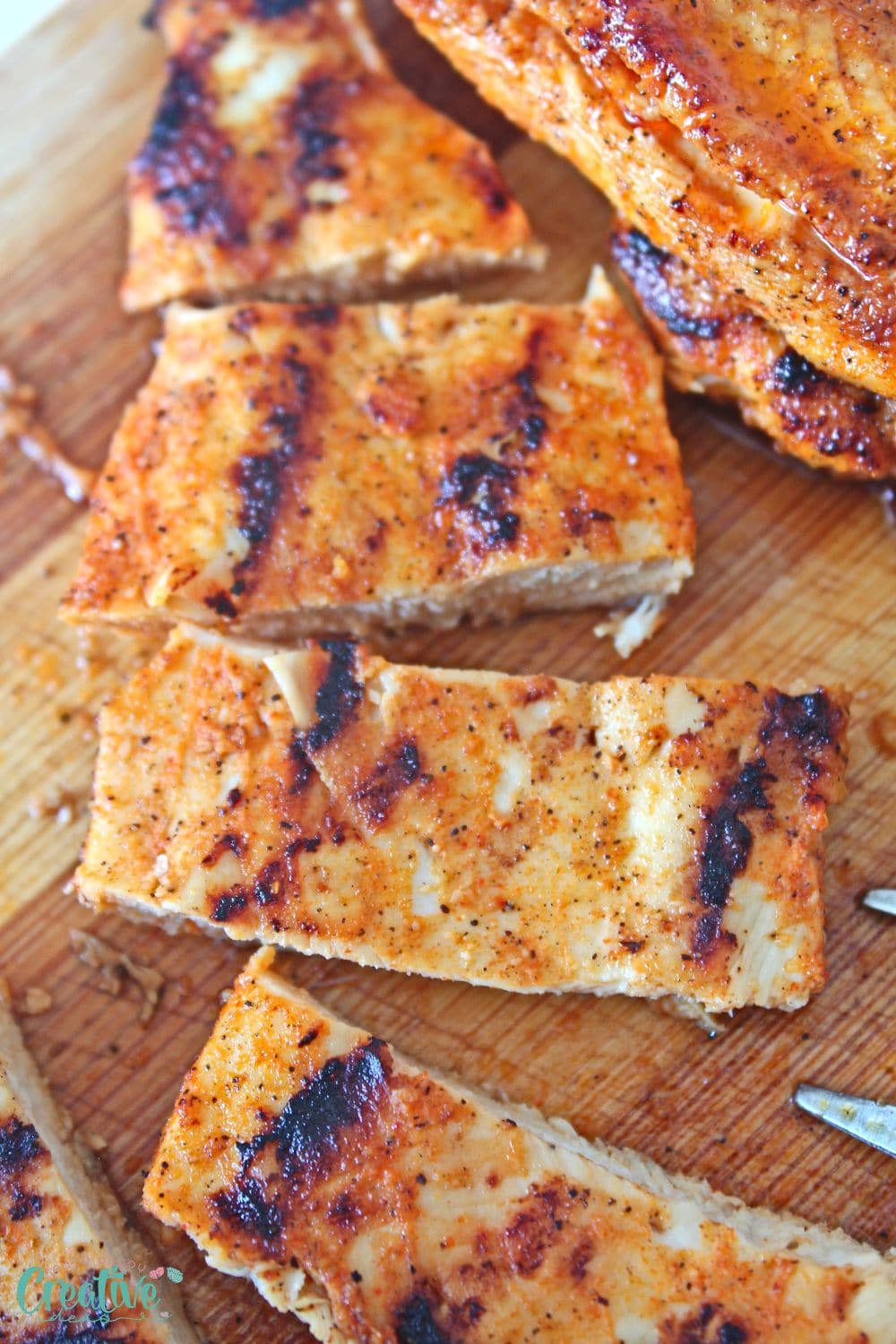 Chicken breast marinade Q&A
What is a marinade?
A marinade is a sauce that is used to season the food before cooking. Marinades are used to add flavor to meat and more importantly, they allow the meat to absorb the flavors of the marinade.
Why do you have to marinate meat?
Marinades help tenderize meat, add flavor, and make meat juicier.
Are there any alternatives for a quick grilled chicken breast marinade if I don't have all the ingredients?
A marinade can be made with oil or butter, acidic juice like lemon juice or vinegar, salt and pepper, fresh herbs, Dijon mustard and a liquid base.
What are some good marinades for chicken?
Some other good marinades for chicken include: beer, Teriyaki sauce, Greek yogurt, lemon juice, soy sauce, salt and pepper, Italian dressing or salsa. Some great marinades include: garlic, ginger, and soy sauce; salt and pepper, basil and oregano, lemon juice, olive oil, and Italian seasoning. You can also add some brown sugar or honey for a bit of sweetness if that's your thing.
How long should a chicken breast marinate for?
It depends on the marinade, but most meats should be marinated for at least 30 minutes up to overnight in the fridge.
The length of time you choose to marinate your chicken usually depends on the ingredients you use in your marinade. Acidic ingredients, like citrus juice, can begin to break down the meat after soaking for a long period of time. While leaving your chicken in the marinade for up to 24 hours is safe, marinating your chicken breast in an acidic marinade for longer than that could cause your chicken to become stringy as it cooks.
You can leave your chicken to marinade for anywhere from five to 24 hours. The longer the chicken soaks in the marinade, the more flavorful the chicken will become.
Can you over marinate chicken breast?
No, it is safe to leave your chicken in the marinade for up to 24 hours.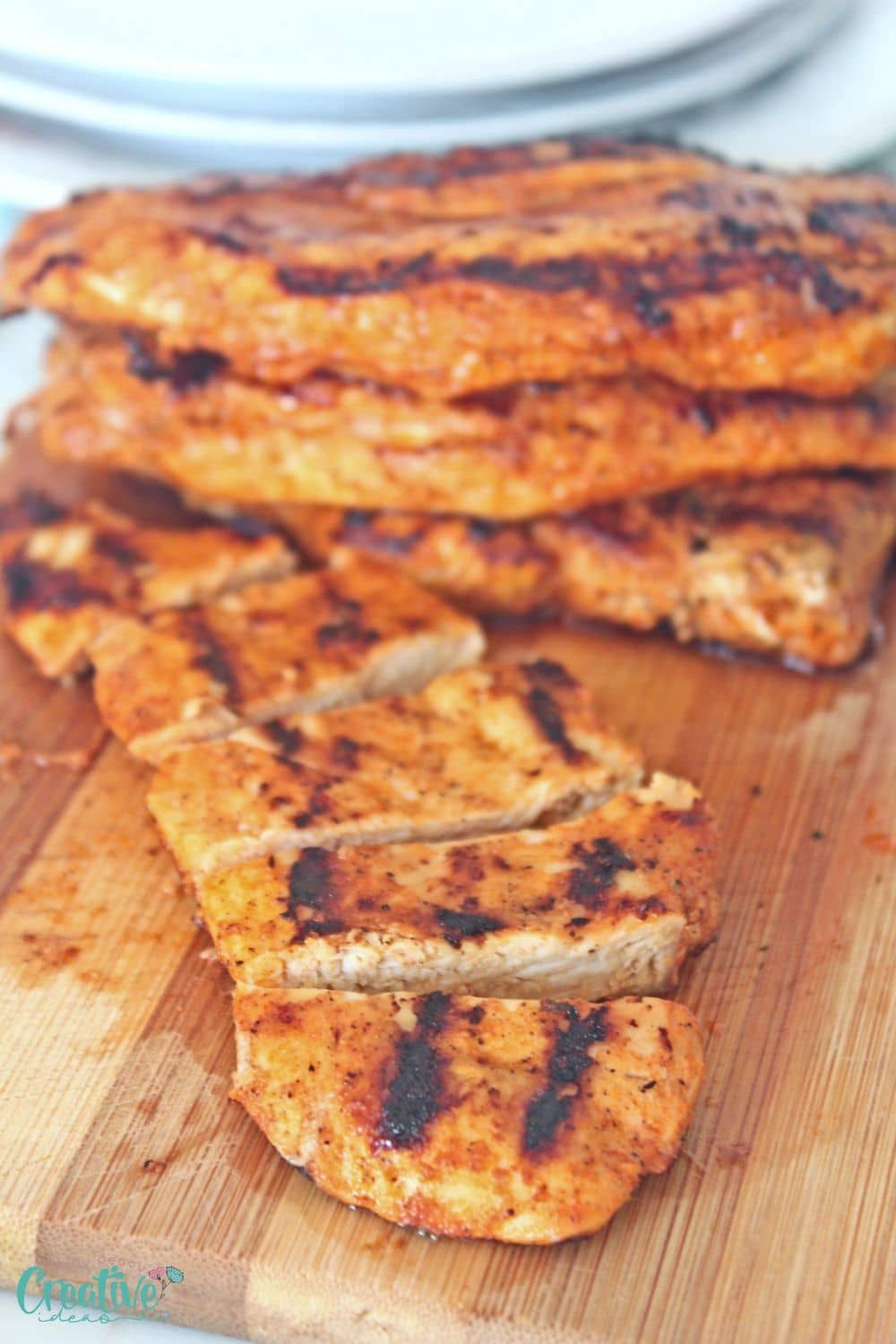 Is there a difference between overnight and quick marinades?
Yes, with an overnight marination, you are allowing the meat or poultry to soak longer than a quick one. The purpose of either is to infuse the meat or poultry with flavor and tenderize it.
Where to marinate chicken?
You can marinate your chicken in a sealable bag, a flat dish or a bowl covered with plastic wrap, or an airtight container.
Is this chicken breast marinade good for a whole chicken?
Yes! This is best grilled chicken marinade because you can use it for any chicken parts like chicken thighs or a whole chicken. If you are making a marinade for a whole chicken, use the same measurements as above and multiply by 2.
How do you thicken a chicken breast marinade?
If your marinade is too thin, you can thicken it with a slurry of equal parts oil and cornstarch, or you can reduce the amount of liquid in the marinade by cooking it down over medium heat.
What other types of meat can you marinate?
Other meats that are commonly marinated include steak, pork, lamb, shrimp, salmon.
Can I add anything to my chicken breasts while they are still in the marinade?
You can add anything you like to your chicken after it has finished marinating!
How do I store leftover marinade?
Store leftover marinade in a sealed container, and keep it in the refrigerator for up to five days.
Can I freeze marinade?
Yes, this easy chicken marinade can be frozen for up to six months.
What do I serve with my marinated grilled chicken?
You can serve your grilled chicken with a variety of sides such as: baby spinach salad, cucumber salad, corn on the cob, Instant Pot potatoes, pasta, yellow beans, roasted potatoes, French fries, steamed rice and seasonal vegetables.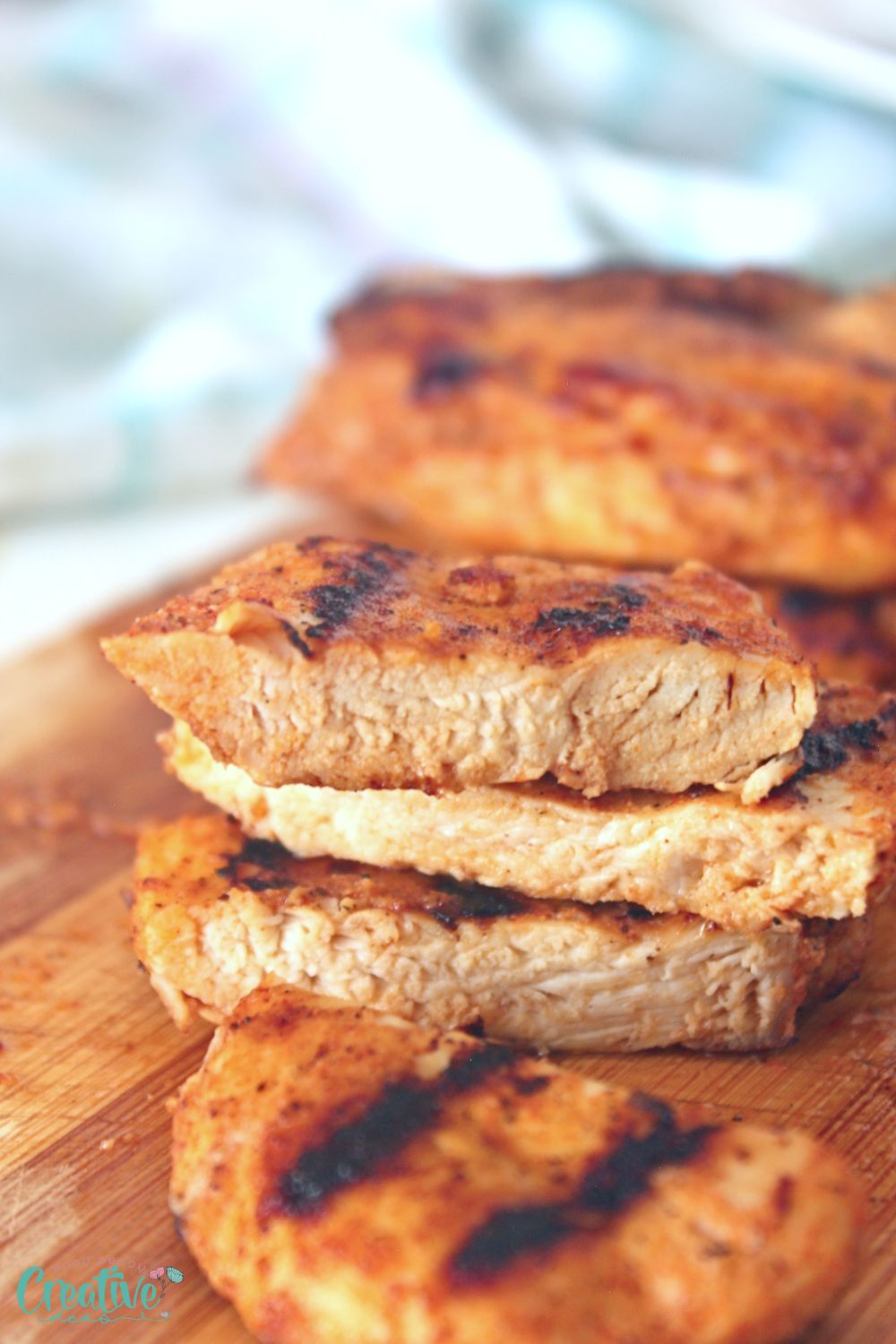 How do You Marinate Chicken?
Marinating your chicken before grilling it is one of the best ways to add flavor to your meat. But if you've never used marinade before, you may be wondering how it works. Making and using marinade is a simple process. Just follow these easy steps to marinate your chicken before you start grilling:
Prepare the marinade. Start by combining all the ingredients together in a bowl. Whisk the ingredients together until a smooth sauce forms.
Add the chicken. Once the marinade is prepared, coat your chicken in the sauce. You can place the chicken in the bowl with the marinade and toss to coat. Or add the chicken and marinade in a zip-top bag and toss the meat until it's coated in sauce.
Store until ready to use. After the chicken has been added to the marinade, it needs time to soak in the sauce. Be sure to store your chicken in the refrigerator while it marinates.
Discard leftover marinade when you're ready to cook. When it's time to start grilling, remove your chicken from the marinade and place on the hot grill. Throw away any leftover marinade because it will be contaminated with raw chicken juices.
The Best Chicken Marinade Tips
Marinating your chicken before you grill it is a pretty simple process. After combining the ingredients of your marinade, simply allow your chicken to soak in the liquid before cooking it. And while these two steps are fairly straightforward, there are a few other steps you can take to make the most of your chicken marinade. Try these simple tips to ensure your chicken tastes amazing:
Slit your chicken for more flavor. One simple way to infuse the center of your chicken breasts with marinade is to cut small slits in thicker chicken breasts to allow the marinade to soak into the center of the chicken. Use a sharp knife to cut small slits in the meat, then place your chicken in the bag to soak until you're ready to grill.
Marinate thinner pieces for more flavor. Another easy way to be sure your chicken is packed with flavor is to marinate smaller pieces. Using cutlets or tenderloins is an easy way to speed up the marinating time and cooking time for your dinner.
Flip in the middle of marinating. Make sure your meat is flavored on both sides by taking a second to flip your chicken halfway through the soaking time. If you're marinating your chicken in a bag, simply flip the bag over in your refrigerator. And if you'll be marinating your chicken in a dish, pull back the cover and flip each chicken breast over to the other side and recover before returning the dish to the refrigerator.
There are so many different ways to add flavor to grilled chicken, but using a marinade is one of the easiest and most popular methods. Try these simple steps to get started with your own chicken marinade today!
Pin to save for later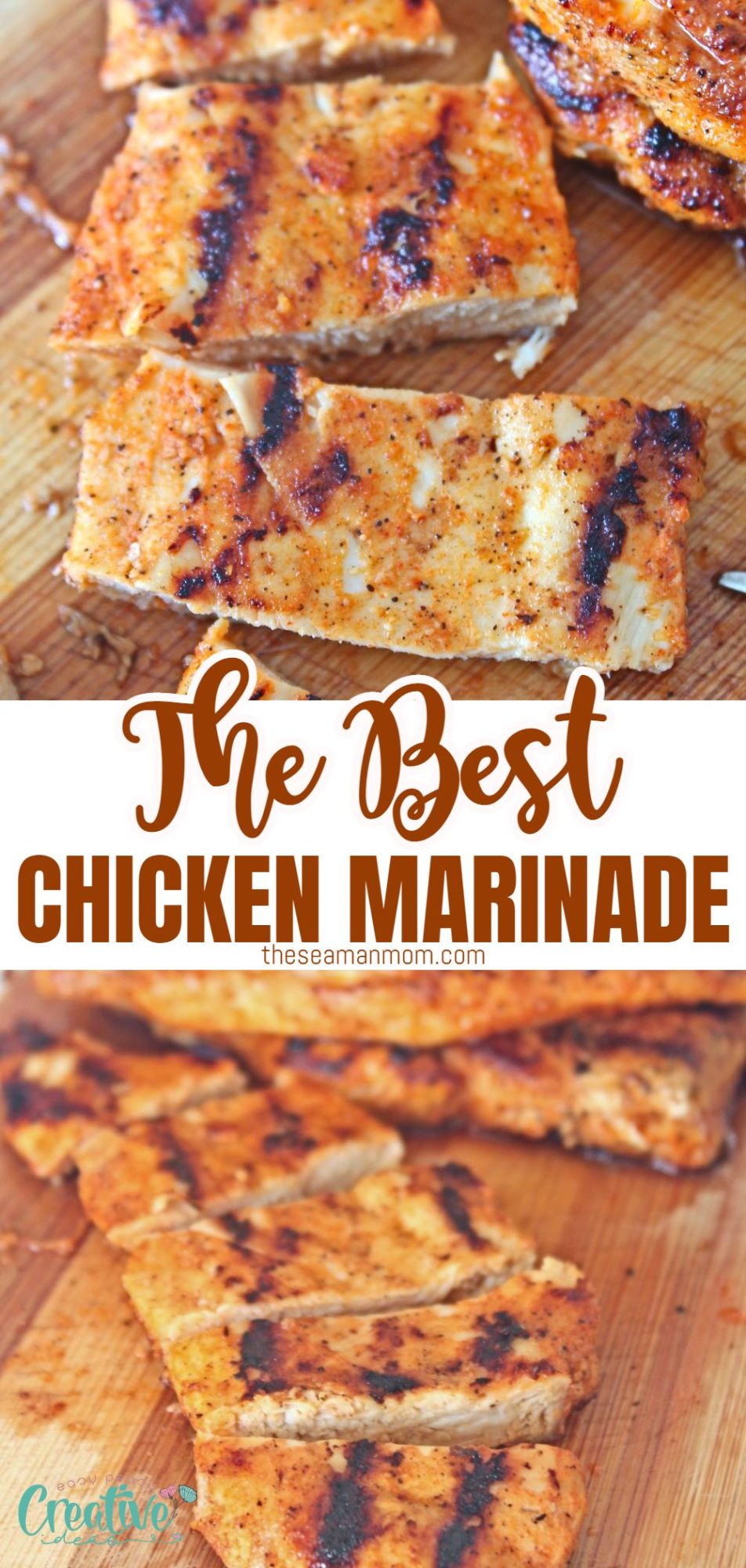 Print the recipe card
Chicken breast marinade
Are you looking for a new chicken marinade? You're in luck! My chicken breast marinade is made with the best ingredients to give your chicken that delicious, savory flavor and it's perfect for grilling and baking!
Ingredients
8

tbsp

oil

4

tbsp

lemon juice

1

tsp

salt

½

tsp

pepper

4

tsp

garlic powder

3

tsp

sweet paprika powder

1

lbs

chicken breast
Instructions
Cut the chicken breast in half, lengthwise

Add all ingredients for the marinade to a mixing bowl and whisk to combine

Add chicken breast and gently rub each side with the marinade. Then layer the breasts in an air tight container or a large bowl.

Marinate in the fridge from 30 minutes up to 24 hours.
Most Popular recipes: