SLOW COOKER BOURBON CHICKEN – An easy, alcohol free one-pot meal
Article may contain Amazon & affiliate links. As an Amazon Associate I earn from qualifying purchases at no additional cost to you.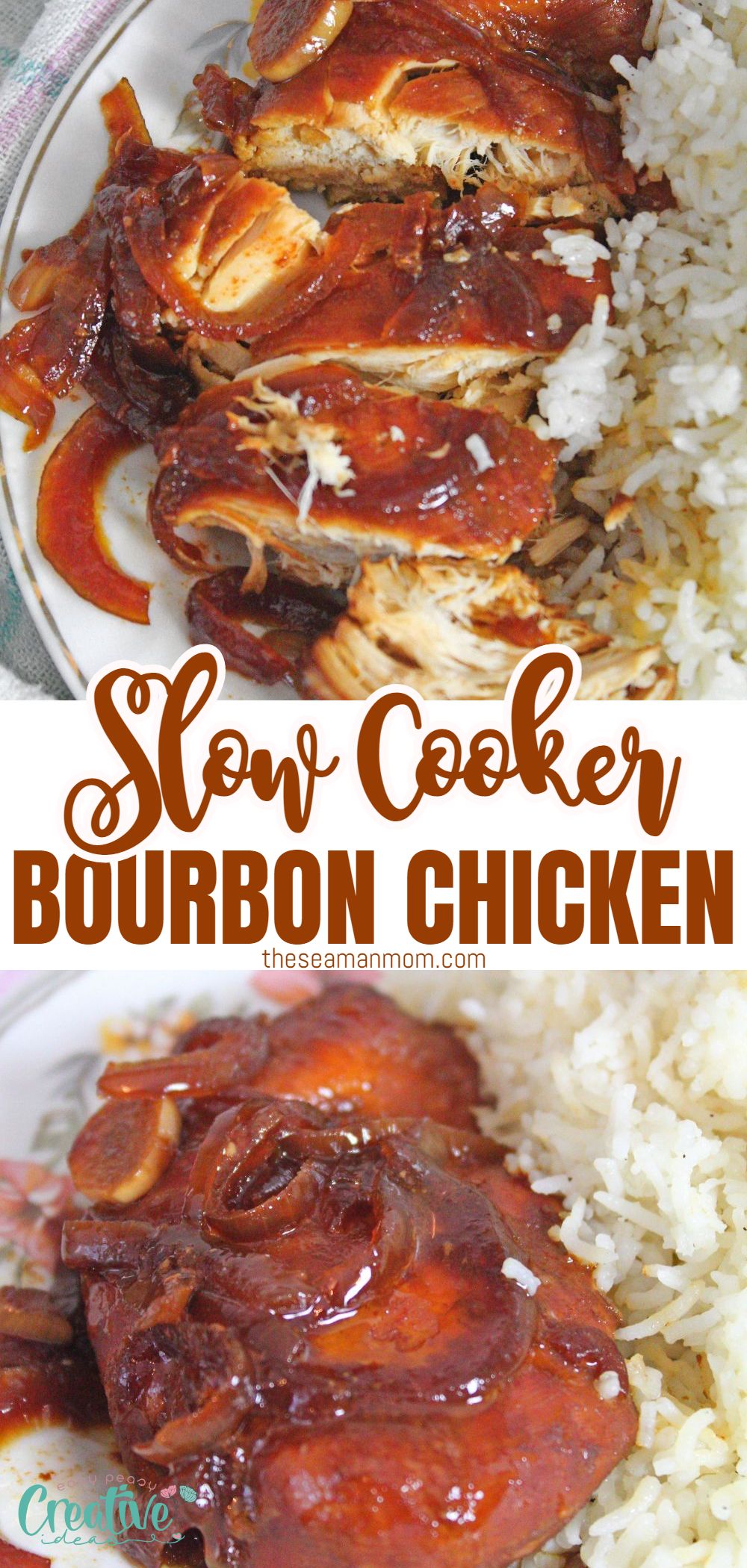 Who has time to cook a nice dinner during the week? We all know that cooking a homemade meal is healthier and cheaper than eating out, but who has the time or energy to do it on a busy weeknight? Slow cooker bourbon chicken is the perfect solution! This easy recipe only takes about 5 minutes of prep time, and then your slow cooker does all the work for you. In just 4 hours your bourbon chicken will be cooked through and tender, with a delicious honey glaze.
Slow cooker Bourbon Chicken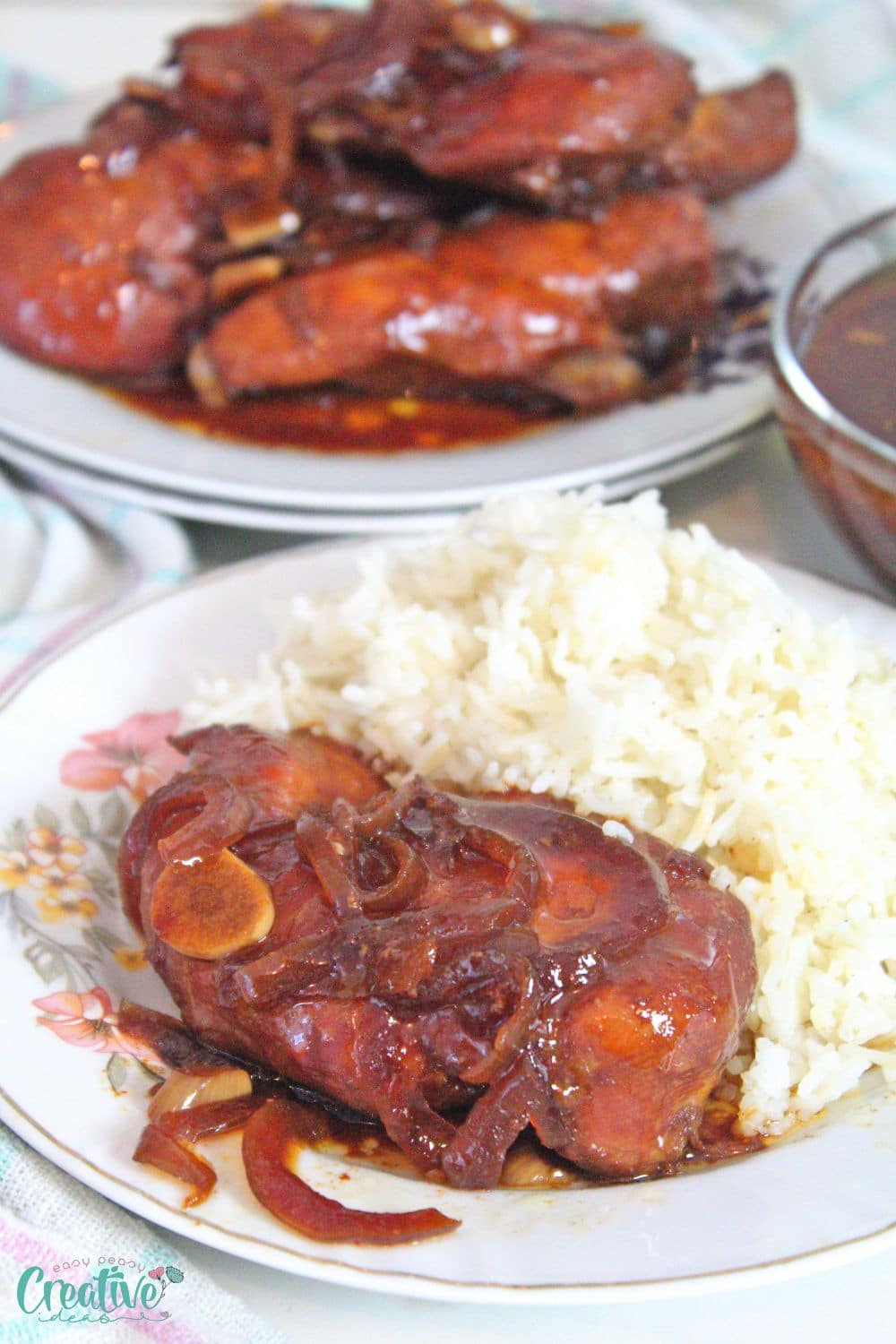 Between work, errands, and socializing, it's hard to find time to cook a healthy dinner during the week. Enter the slow cooker bourbon chicken! With just 5 minutes of work and about 4 hours of cooking, the end result is a tender, juicy chicken breast that's smothered in a delicious honey sauce very similar in taste and texture to the traditional Bourbon street style recipe.
This Bourbon street chicken is a delicious recipe for a glazed chicken that melts in your mouth. It's tender and packed full of flavor. On top of this, it's just so easy-peasy to make in the slow cooker! Try my quick recipe for a great meal!
Just search your pantry for a few handy ingredients that you likely already have, throw them in the slow cooker and have a great chicken for when you come home after a busy weekday at work. This will be a welcome twist from the classical recipes you repeat over and over again.
Want more slow cooker recipe ideas?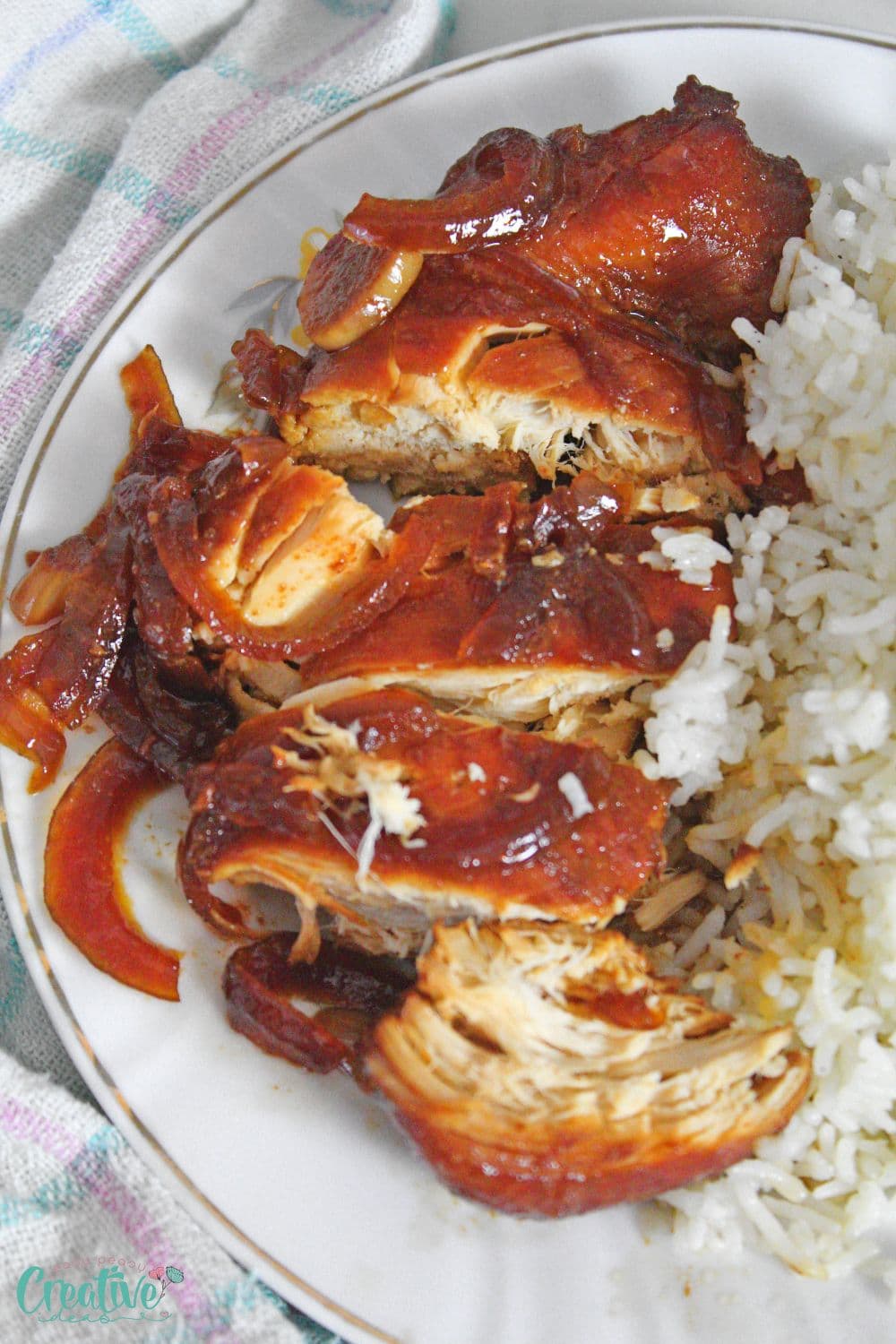 What is Bourbon chicken?
This chicken recipe was named after two things: the Bourbon street in New Orleans, Louisiana, where it is said this dish had originated. Its original cook and place of origin is still disputed, but it seems it was first made in a Chinese restaurant on Bourbon Street. Also, after the Bourbon whiskey usually added to this recipe.
This delicious chicken recipe gained great popularity and is also found in many Asian restaurant menus. In reality, it's neither an American, nor an Asian dish, but rather a fusion between many styles, developed over time and in many variations. The sweet and sticky sauce is a rule of thumb, though.
Of course, the original recipe was cooked in a skillet or wok like all classic recipes. Nowadays it has evolved and is one of the most delicious slow cooker recipes, as good as the old ones when it's cooked on low heat.
Bourbon street style chicken is also a very popular mall and takeaway dish you might have already enjoyed on a day out. I guarantee you, though, the homemade version is a lot more delicious and you won't get back to takeaway. Plus, you can tweak it to your own taste aaaand is a lot cheaper and healthier.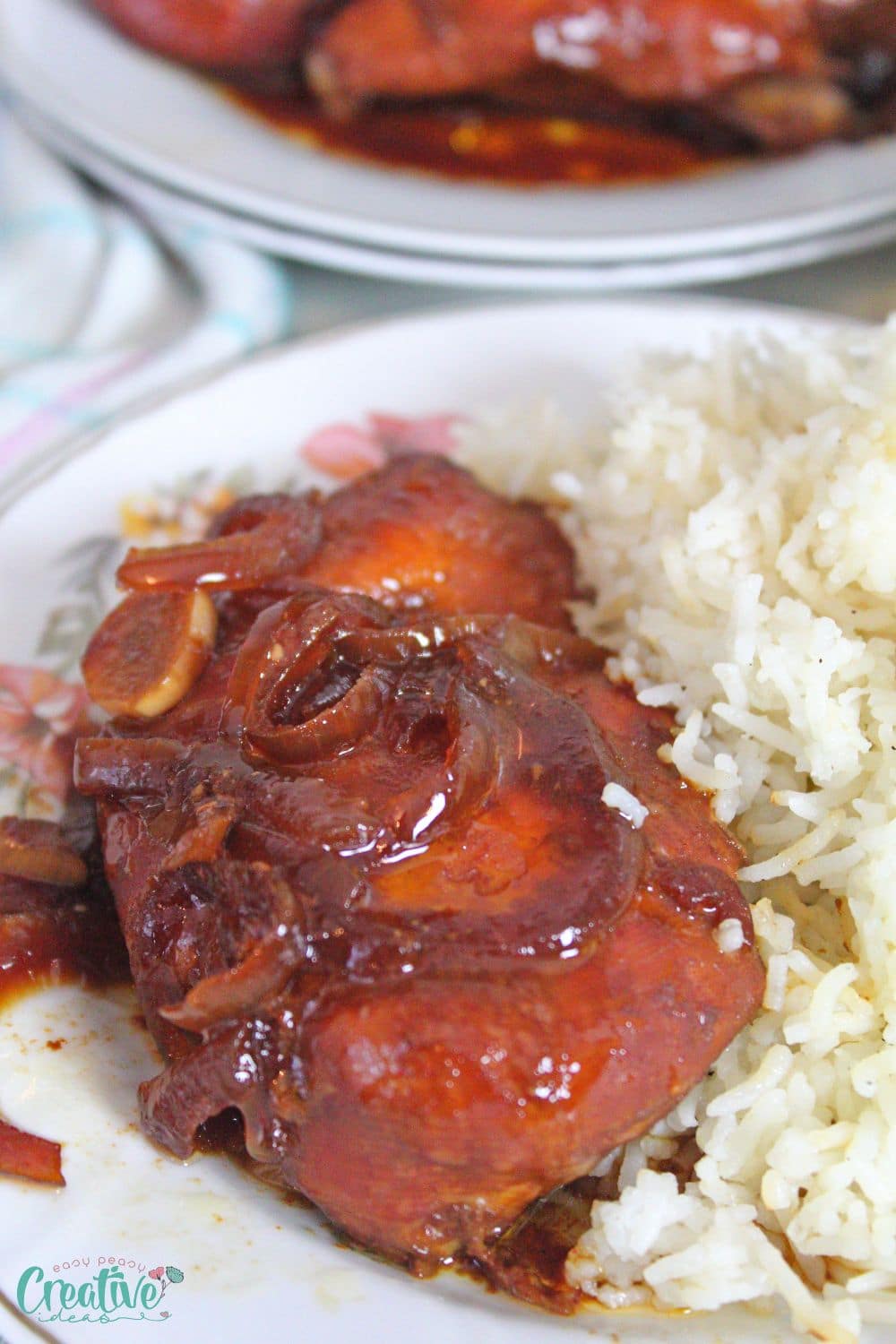 Does bourbon sauce have alcohol in it?
When making my slow cooker bourbon chicken I actually prefer not to add any kind of bourbon, at least until my daughter Ellie gets older. But you can always add a little to your crock pot bourbon chicken, if you love the flavor. Most of it will eventually evaporate anyway, so you won't get an alcoholic dish.
Does bourbon chicken get you drunk?
No. You'd have to eat a lot of it to even feel tipsy and that would take a while. If you stick with my recipe for slow cooker bourbon chicken, you're safe from the dreaded hangover!
What kind of meat cuts can I use?
Most of us usually opt for chicken breast as it is the most common and readily available, and that is what I used now, too. It's also the leanest option. However, if you want a more tender cut or don't mind a little extra fat, you can always go for boneless skinless chicken thighs.
You can also switch to pork loin if you like it, but don't use a fatter cut. Try making a vegetarian alternative using tofu.
What goes well with slow cooker bourbon chicken?
Bourbon chicken goes great with rice, noodles, vegetables, green beans, fries, mashed potatoes or a fresh salad. As it is already full of contrasting flavors, it's better to keep the side dish simple and not too seasoned.
I usually like to garnish it with freshly chopped green onions for some freshness before I serve it. For a more Asian hint, opt for sesame seeds. You can also use both if you like them.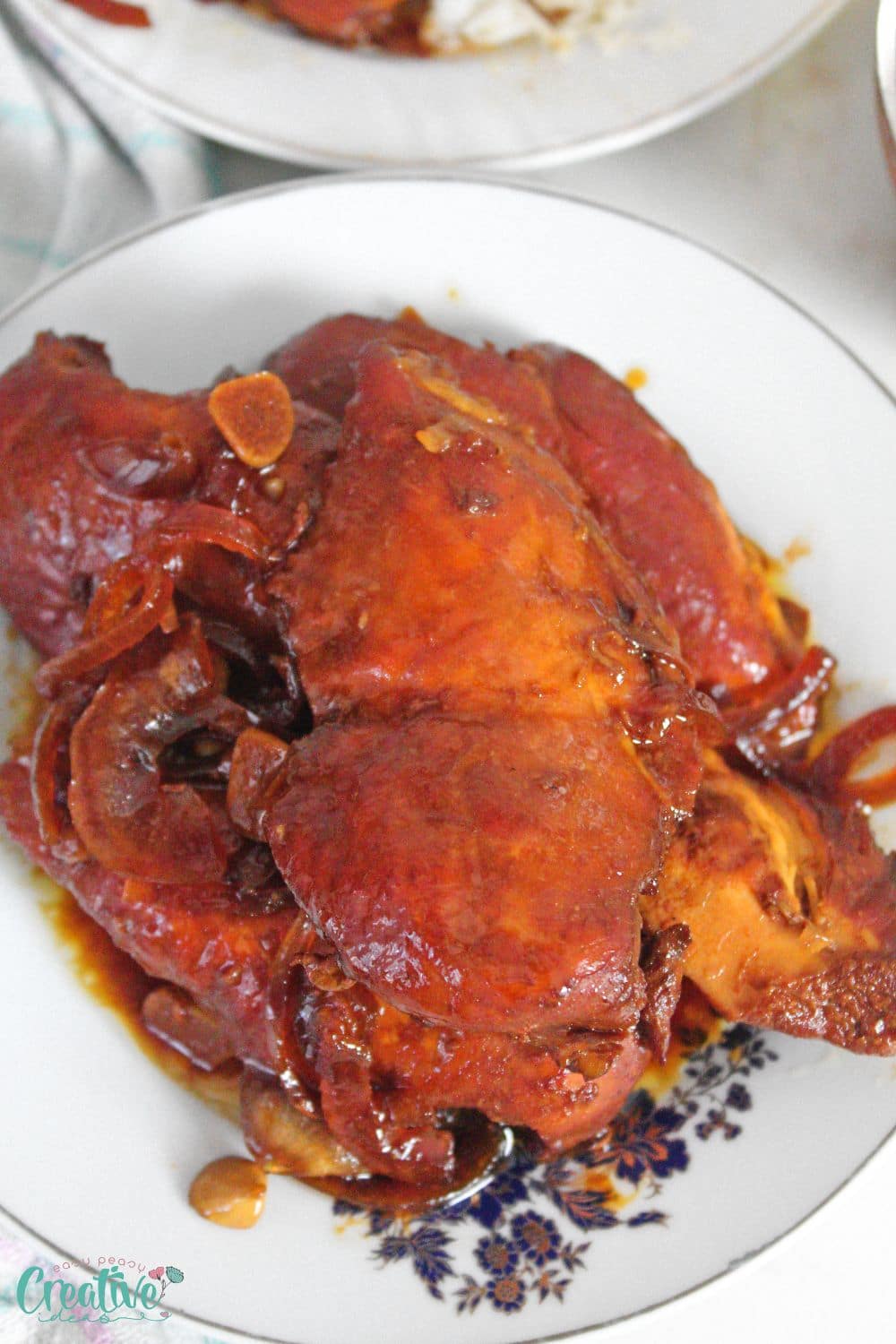 Cooking bourbon chicken in a pan
Don't worry if you don't have a slow cooker. This is a perfect one-pan dish and it will still be quick enough for weeknights. Once you have everything at hand, it'll take no more than 30 minutes to make this recipe on the stove top.
There are a few differences though:
Cut the chicken into small pieces before cooking.
Mix the sauce ingredients and marinate the chicken.
To get a nice brown crust, sear the pieces into smaller batches, so that they get half-cooked. Set aside.
You can either finish cooking the chicken in the sauce or cook the sauce separately on low heat until it thickens and becomes sticky, then mix with the chicken. In this case, cook the chicken chunks completely.
Thicken with cornstarch slurry (cornstarch dissolved in water with a 1:1 ration), until it reaches the consistency you like. The sauce should stick to the chicken pieces.
Tips and tricks for crockpot bourbon chicken
For a more sweet and spicy flavor, add a little ginger. The contrasting flavors will add a delicious Asian hint, together with the soy sauce;
You can substitute honey with brown sugar or maple syrup;
If you don't have bourbon at hand, you can always switch to brandy, whiskey or scotch;
For an alcohol-free version, try adding apple juice, a splash of apple cider vinegar or just use nothing instead like I did;
You can also make this recipe spicy. Add a little Sriracha sauce, hot chilli or red pepper flakes. If you don't want to cook it spicy (in case children will eat it, or people that don't like spicy food), serve aside a little hot paprika or hot sauce, so that everyone can adjust their dish;
Use sesame oil for extra flavor;
Stir in some chicken broth for extra flavor.
Don't marinate the chicken if you like it dry.
How long does this recipe keep?
Bourbon chicken will easily keep for up to 3 – 4 days in the fridge, or between 1 – 3 months in the freezer. Keep it in a sealed bag or an airtight container. Thaw frozen leftovers overnight in the fridge, then gently reheat in the microwave or a skillet.
What ingredients do you need for honey bourbon chicken
chicken breasts – cut in half lengthwise
raw honey
sweet ketchup
soy sauce
lemon juice
ground pepper
sweet paprika powder
garlic cloves
onion, cut Julienne
butter
salt to taste if you're using low sodium soy sauce
optional – bourbon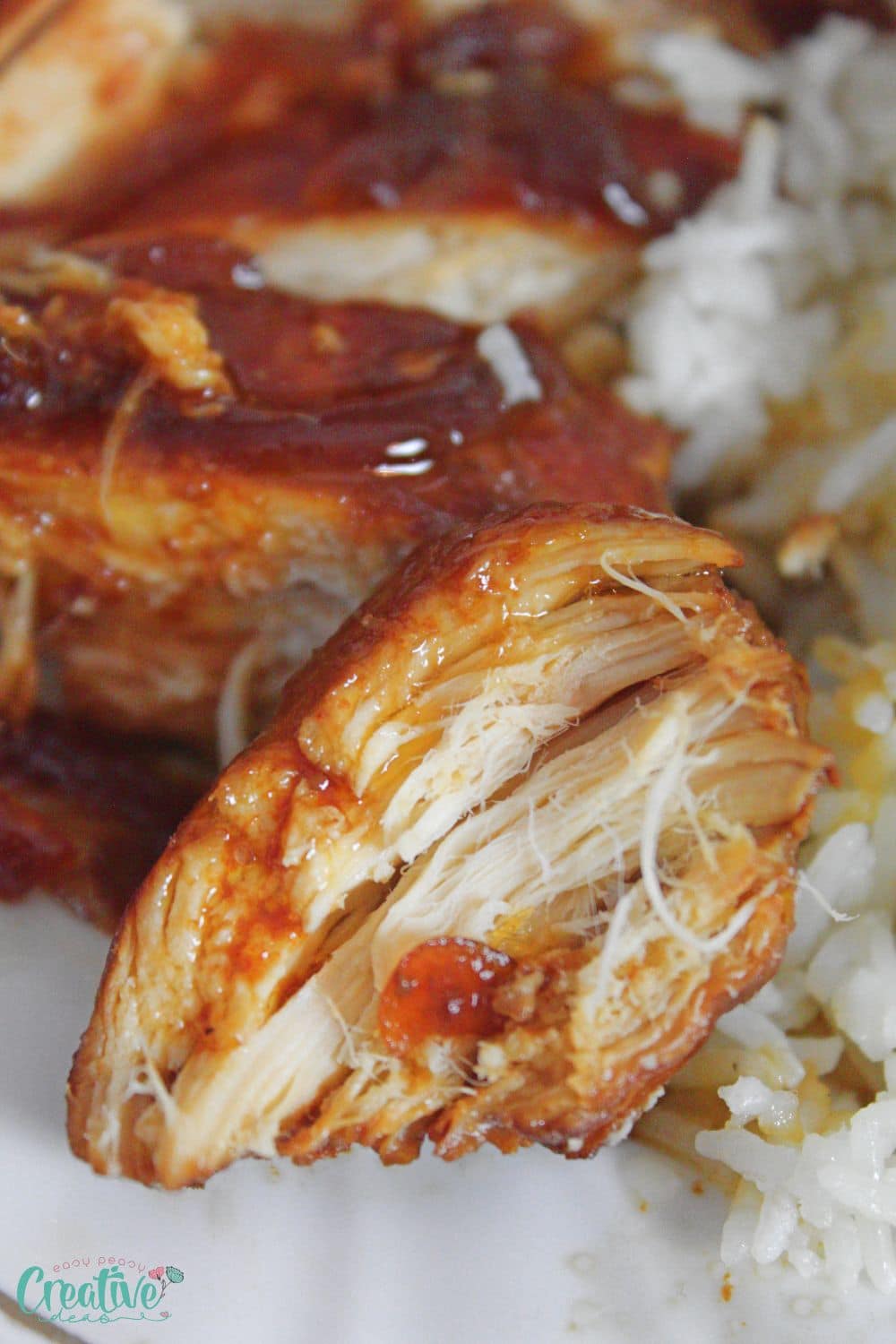 Can you just put raw chicken in a slow cooker?
Yes, raw chicken works great in slow cookers. They'll be cooked to a long period of time where the slow cooker eventually reaches the right temperature to kill the harmful bacteria.
Do you need to brown chicken before putting in slow cooker?
For this recipe you won't need to brown the chicken first. However, if slow cooking the chicken in its raw form, you want to make sure that you slow cook it long enough for it to become tender. If not cooked thoroughly, the bacteria in raw meat could still be alive and cause food poisoning.
Can I put frozen chicken in slow cooker?
Yes, if slow cooking frozen meat, there's no need to defrost or thaw it beforehand. You can place the frozen package inside the crockpot without worrying that the contents will be undercooked by the end of your recipe.
However, if you put frozen chicken in the slow cooker, make sure to increase the cooking time.
Is it better to cook chicken on high or low in crockpot?
It is best to slow cook chicken on low heat. If you slow cook the meat on high temperature, it will not only overcook but also become overly dry.
What type of slow cooker should I use?
You can use any slow cooker for this recipe. It doesn't really matter what slow-cooker you choose to make this chicken recipe. What matters is that you get a slow-cooker that cooks at low temperature and has a removable crock pot for easy cleaning.
How to make slow cooker bourbon chicken?
Place the chicken to the bottom of the slow cooker
Top with the rest of ingredients. Alternatively you can whisk all ingredients first in a small bowl.
Gently toss all ingredients to combine
Cover the slow cooker and cook on low for 4 hours or on high for 2 hours
This yummy bourbon chicken breast is covered in a sweet and sticky glaze that keeps everyone delighted, especially children. Remember their sweet tooth, right? Truth is, my whole family craves this chicken and they cannot be blamed, lol. Fear that anyone might get bored? Just switch the side dish and voila!
If you already tried this recipe, please let us know what you think of it, and what did you do to make it your own special recipe.
Pin to save for later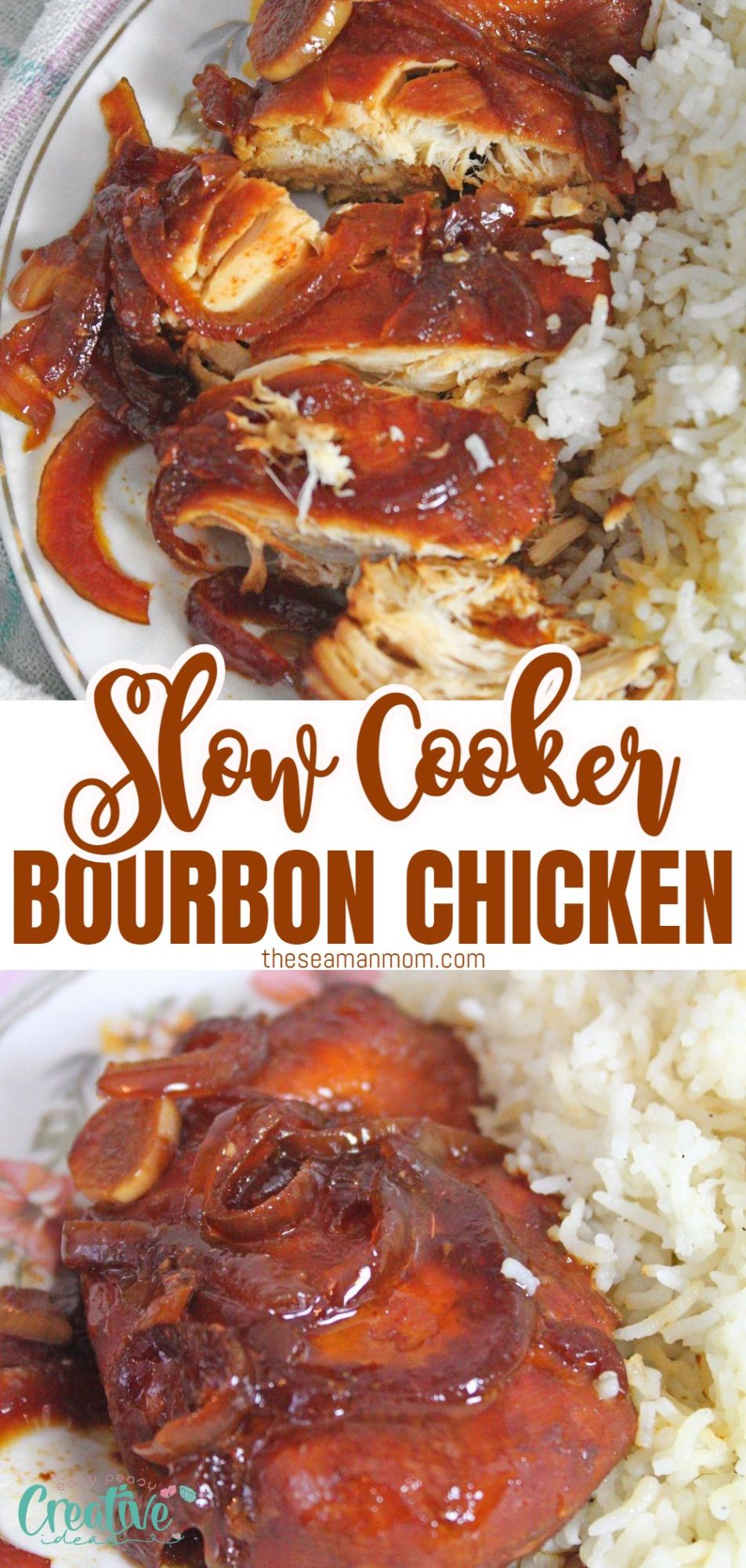 Print the recipe card
Slow cooker bourbon chicken
This slow cooker bourbon chicken is a delicious and easy one-pot meal! The chicken is moist, tender and finger-licking ooey-gooey delicious!
Ingredients
3

large chicken breasts

cut in half lengthwise

¼

cup

raw honey

½

cup

sweet ketchup

½

cup

soy sauce

4

tablespoons

lemon juice

1/2

teaspoon

pepper

1

tablespoon

sweet paprika powder

6

garlic cloves

1

large onion

cut Julienne

½

stick butter
Instructions
Place the chicken to the bottom of the slow cooker

Top with the rest of ingredients

Gently toss all ingredients to combine

Cover the slow cooker and cook on low for 4 hours or on high for 2 hours
Notes
Bourbon is optional but if you really want to add some, I'd recommend about 1/4 a cup for this recipe. 
Most Popular recipes: