Article may contain Amazon & affiliate links. As an Amazon Associate I earn from qualifying purchases at no additional cost to you.
Fabric coasters don't get any easier than this reversed applique pumpkin coasters tutorial! Great project for scraps, these cute fabric coasters would make a lovely addition to a fall party!
Pumpkin Coasters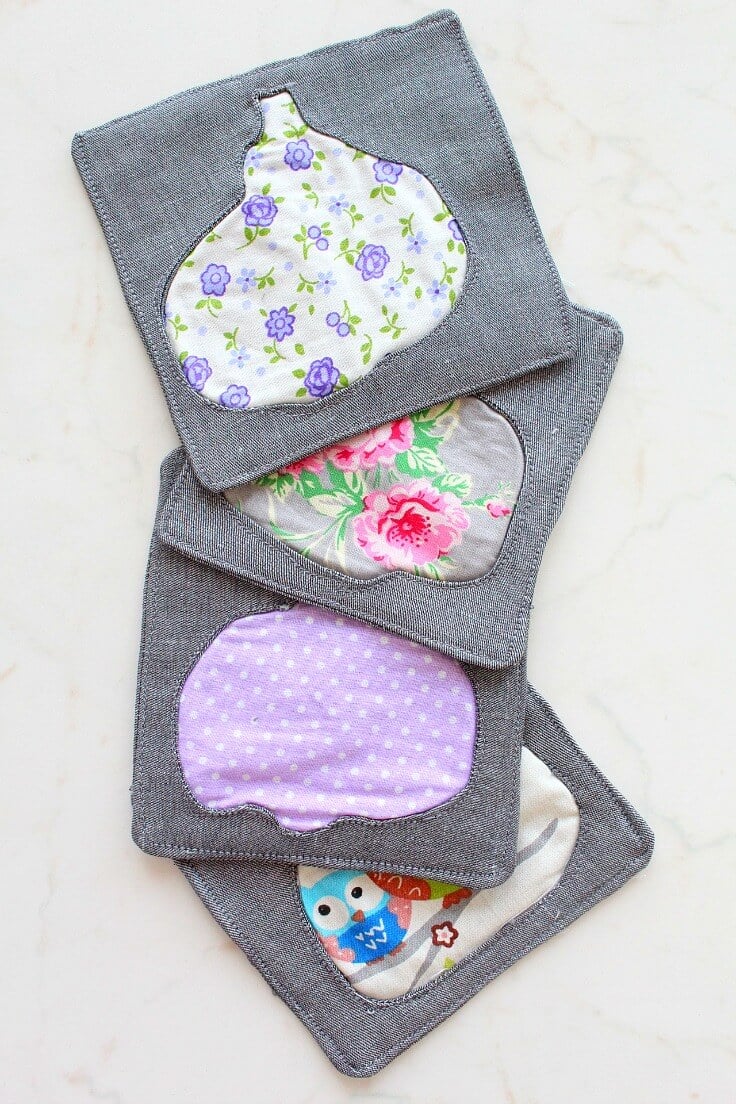 Today I'm sharing an easy sewing project, my reversed applique pumpkin coasters tutorial! These fabric coasters would make a perfect fall gift for family or a friend and they'd also be a great hostess gift this time of the year!
I totally sucked at making this pumpkin applique looking like an actual pumpkin but I really wanted to share this new technique in spite of it. So I decided to go ahead and embarrass myself by totally showing my grand failure to the whole world (lol)! While I'm more comfortable with the classic applique method, for these pumpkin coasters I decided to try something new, the inverse or reversed applique technique. Turns out, the method is easy peasy and helped get these coasters done in no time (except that they totally look like poop! but that's just a minor detail, LMAO).
This reversed applique project took a little longer to finish because I had some difficulties since pumpkins have so many curves, pretty darn hard to handle on a small applique like this one. And my fabric choice wasn't too helpful either. And I also suck at designing and sewing pumpkins! I tried different pumpkin shapes and they all turned looking like aliens but I'm pretty confident you'll do a much better job than myself at designing your own (I'd love to see your work, by the way so don't forget to come back and let me know in the comments how this tutorial worked for you). But it was all enjoyable and I'm happy I got to improve my applique skills.
These pumpkin coasters are pretty practical and an awesome way to put your fabric scraps to good use while learning a new technique like the reversed applique.
Reversed Applique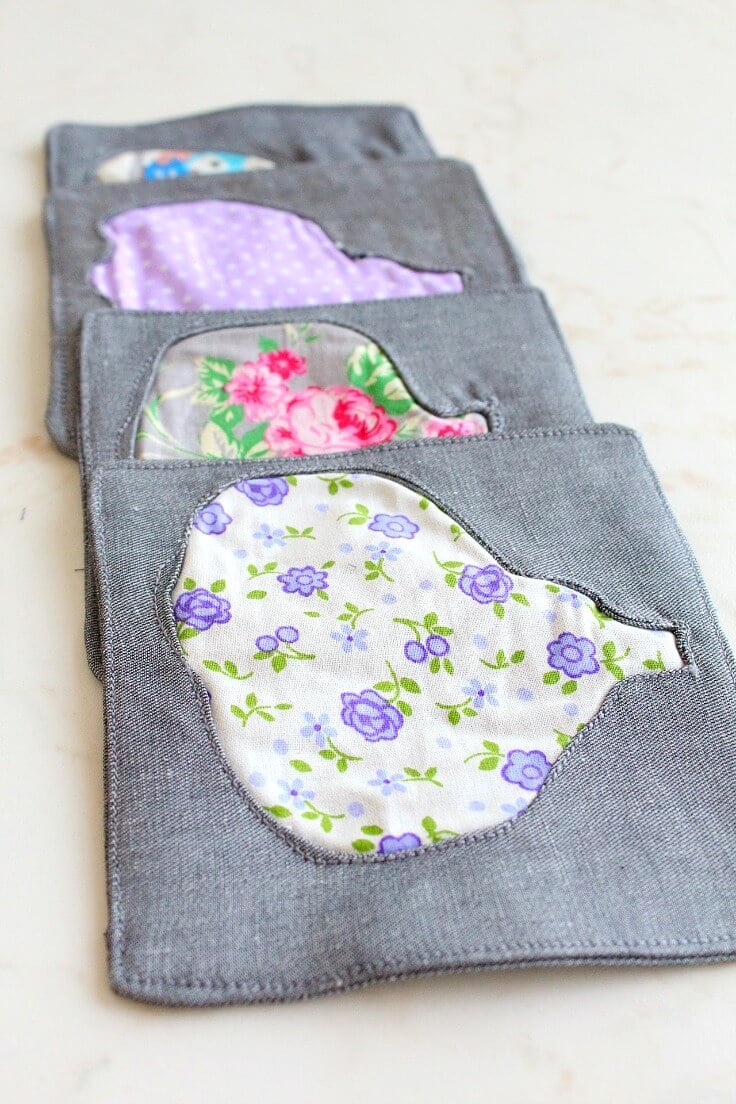 Materials:
3 squares of main fabric per coaster, cut into 5″x 5″
1 square of fabric per coaster, for the "pumpkin", cut into 5″ x 5″
matching thread
optional – batting or fusible interfacing
optional – pinking shears
optional – turning tool
[amazon-related-products keywords="product suggestions keywords"]
Directions:
Using your fabric marker, trace a pumpkin in the middle of one of the main fabric squares.
Pin another main fabric square to it, right sides together.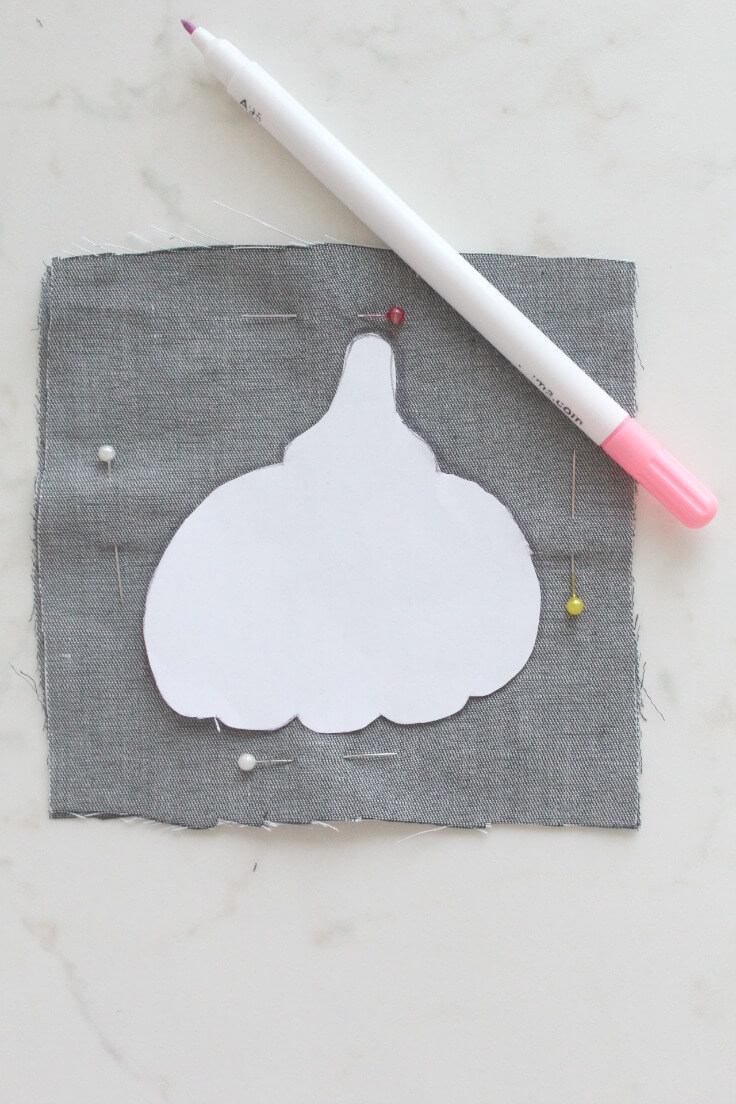 Sew on top of the pumpkin shape you traced and back stitch at the start and at the end. Set your stitch to a short length so you can better handle all those curves in your pumpkin. On the curves, sew a few stitches, leave the needle down, lift your presser foot, and turn it until it's pointing in the right direction, and repeat until you finish your pumpkin.
Cut out the middle of the pumpkin leaving a small seam allowance. Clip and notch the curves. I just cut out tiny triangles with my regular fabric scissors because they're more precise than the pinking shears.
Turn one of the layers of fabric inside out so that the seam is hidden. Use a turning tool or blunt pencil to poke out the points in your pumpkin then press.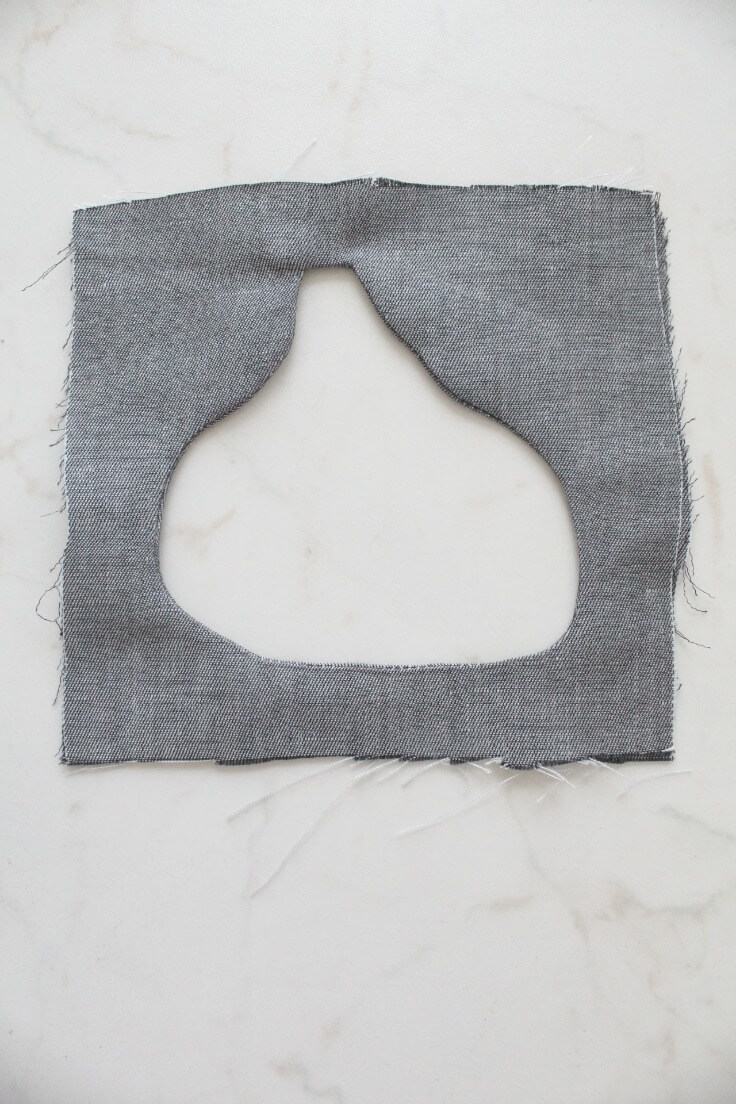 Pin a pumpkin fabric square behind the pumpkin and top stitch around the pumpkin outline. This is the top of your coaster!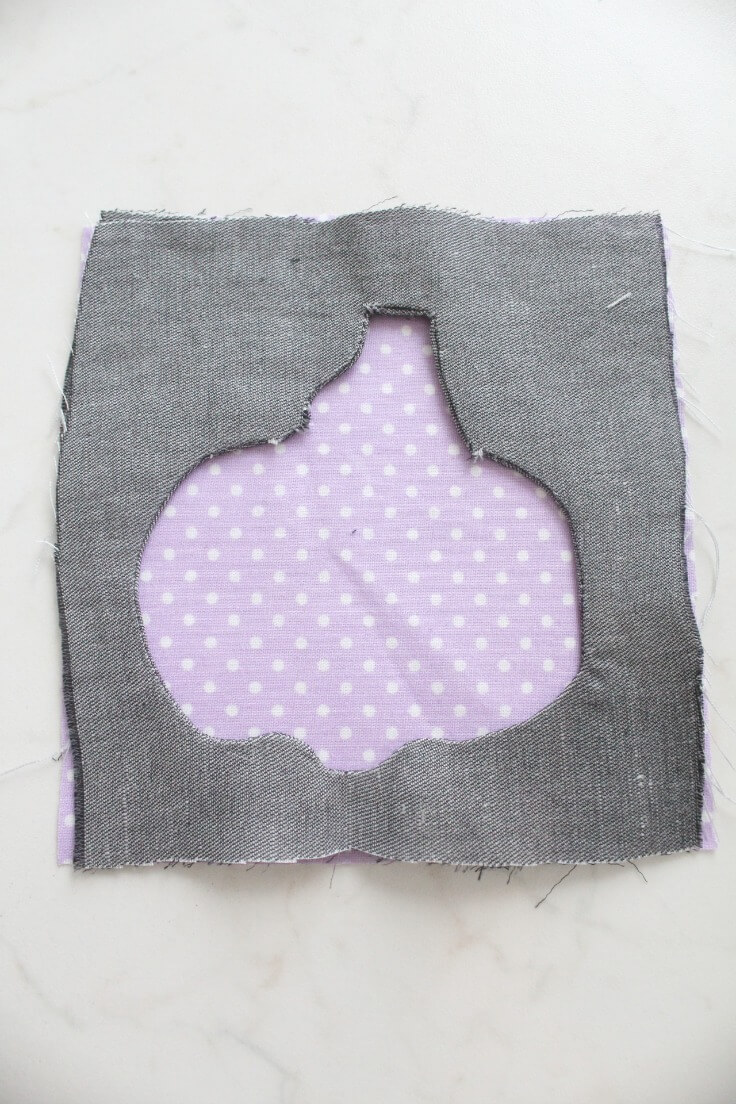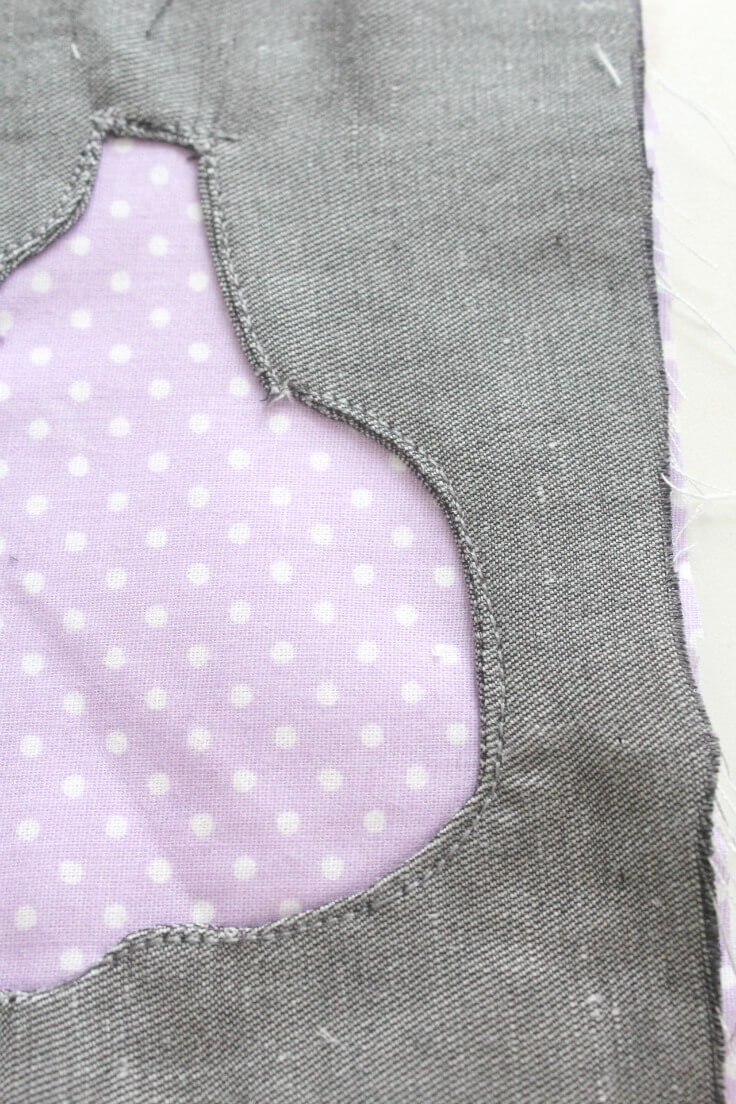 Now you have the option to use some interfacing for the third main fabric square or add some batting in between all layers. I chose none as my fabric was pretty sturdy and thick enough.
Layer the last main fabric square on top of the finished top with pumpkin facing the third main fabric square and pin all the layers together.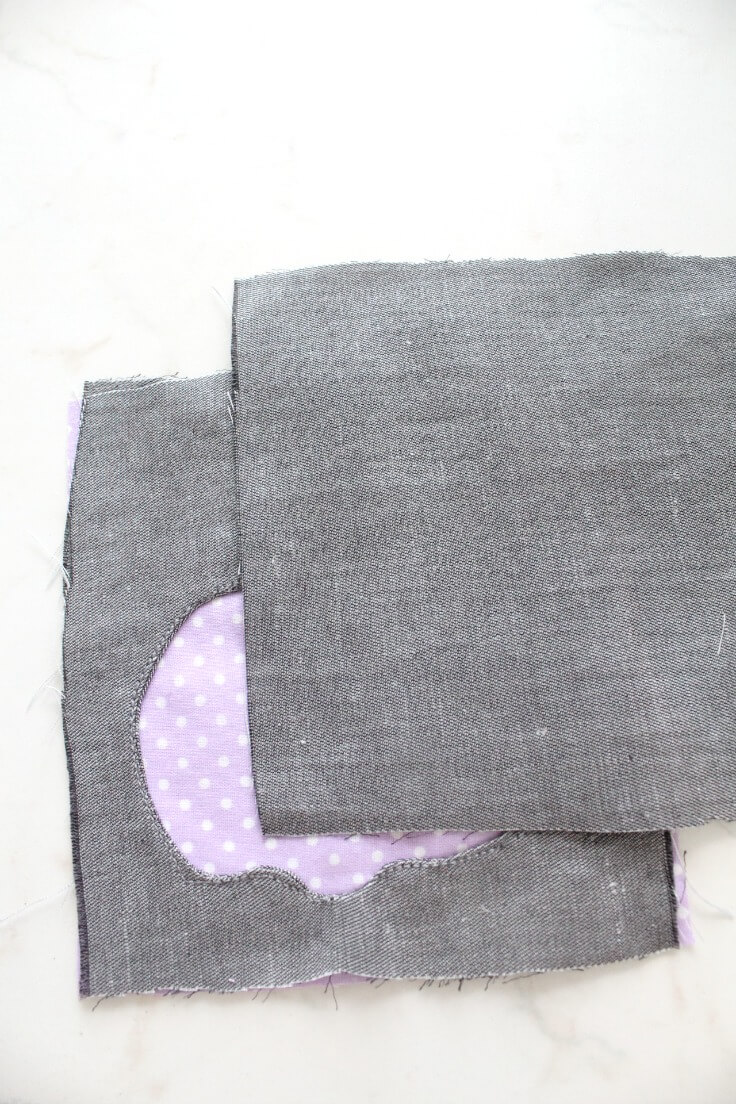 Sew around the edge with a 1/2″ seam and make sure to back stitch, leaving a 2″ opening for turning the coaster inside out.
Make some notches or use pinking sheers to trim the edges then cut the corners off to ensure there isn't too much bulk and the corners are nice and crisp.
Turn the coaster inside out and use a turning tool or blunt pencil to poke out the corners.
Turn the ends under where the opening is and press well.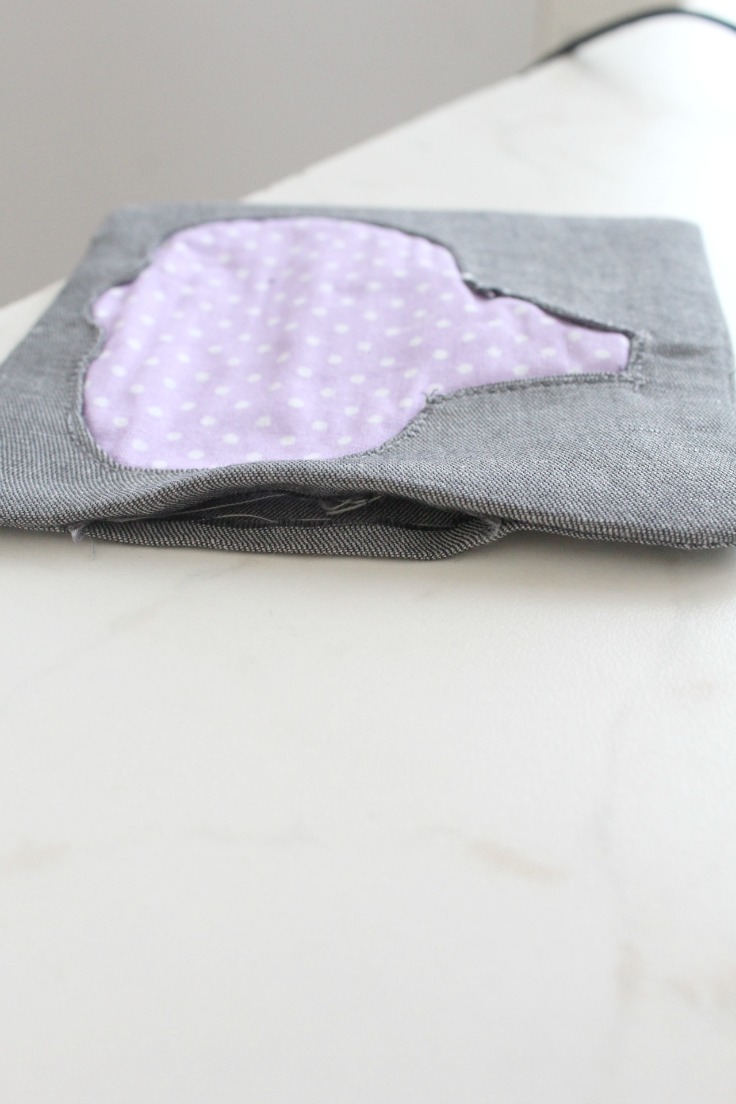 Top stitch the coaster all around the 4 edges.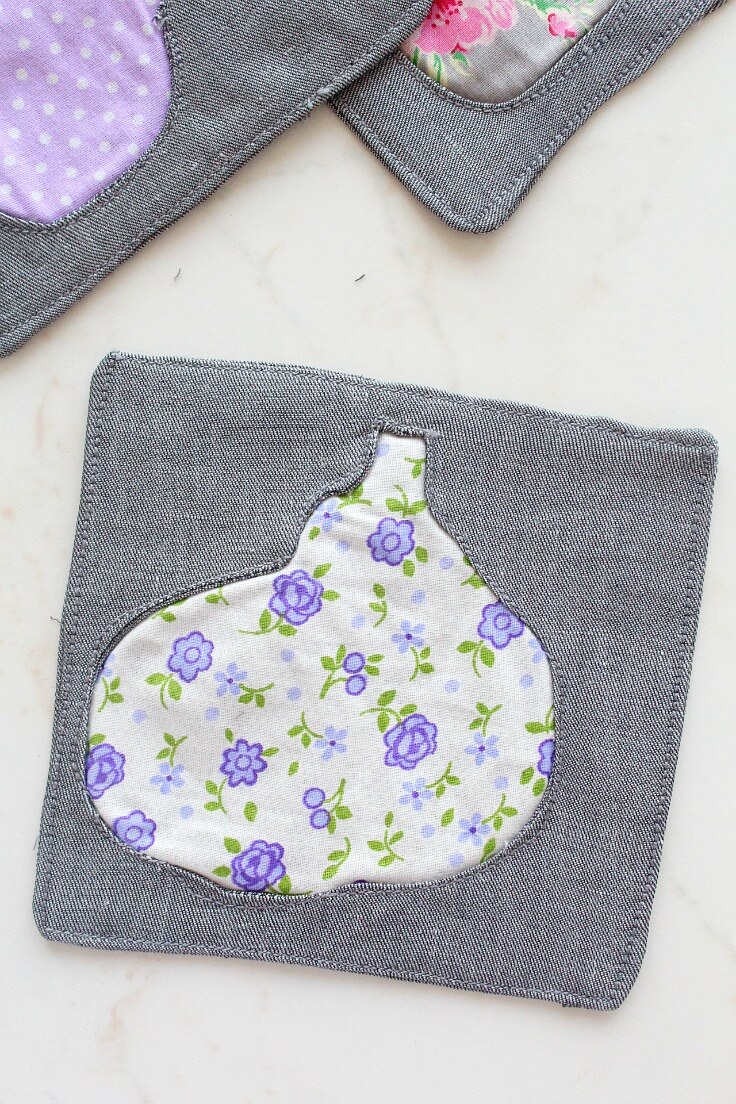 Done! Enjoy your new applique pumpkin coasters! Once you get the hang of it, you'll whip up a batch of these cuties in no time!
If you liked this tutorial, don't forget to rate it in the comments section below!
Pin to save for later

Similar posts you might like: