Chicken vegetable egg soup with whole eggs
Article may contain Amazon & affiliate links. As an Amazon Associate I earn from qualifying purchases at no additional cost to you.
If you find a bowl of soup one of the most soothing and comforting dishes ever invented, give this chicken egg soup a try! You'll be hooked!
Chicken egg soup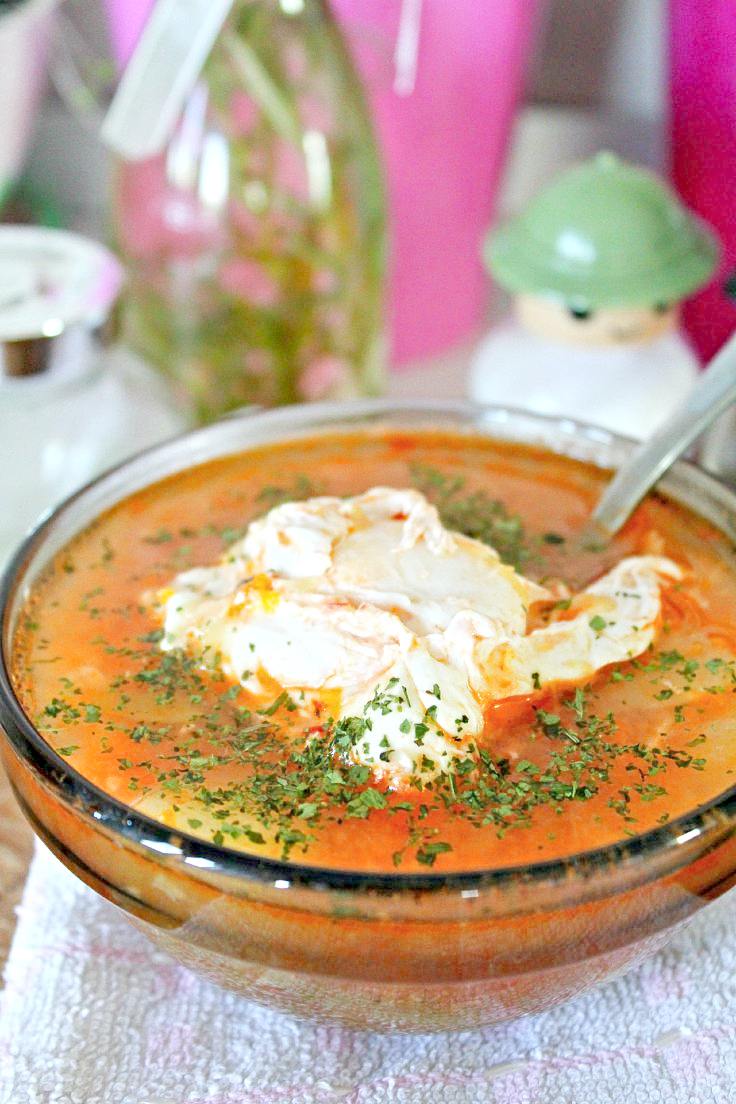 We love soup, especially chicken soup! They're not only mouth watering but healthy, easy to make and nourishing too. After years of experimenting with tons of combinations, I concluded that chicken, vegetables and egg make one of the most delicious combinations so I made an egg soup using all these yummy ingredients, but using whole eggs!
Need more soup ideas?
My daughter on the other hand is a very picky eater and even if one day she really loves a certain dish, she'll simply loathe it the next day. But luckily for us she always, unconditionally loves eggs! So if I want her to eat about any dish I make, I'll just add some eggs, make sure they're pretty visible and then she's all game. So I decided to add some whole eggs to this egg soup recipe with chicken and I decided to use whole eggs instead of egg drop. It turned out to be an excellent idea as she's asked for a second bowl! How cool is that?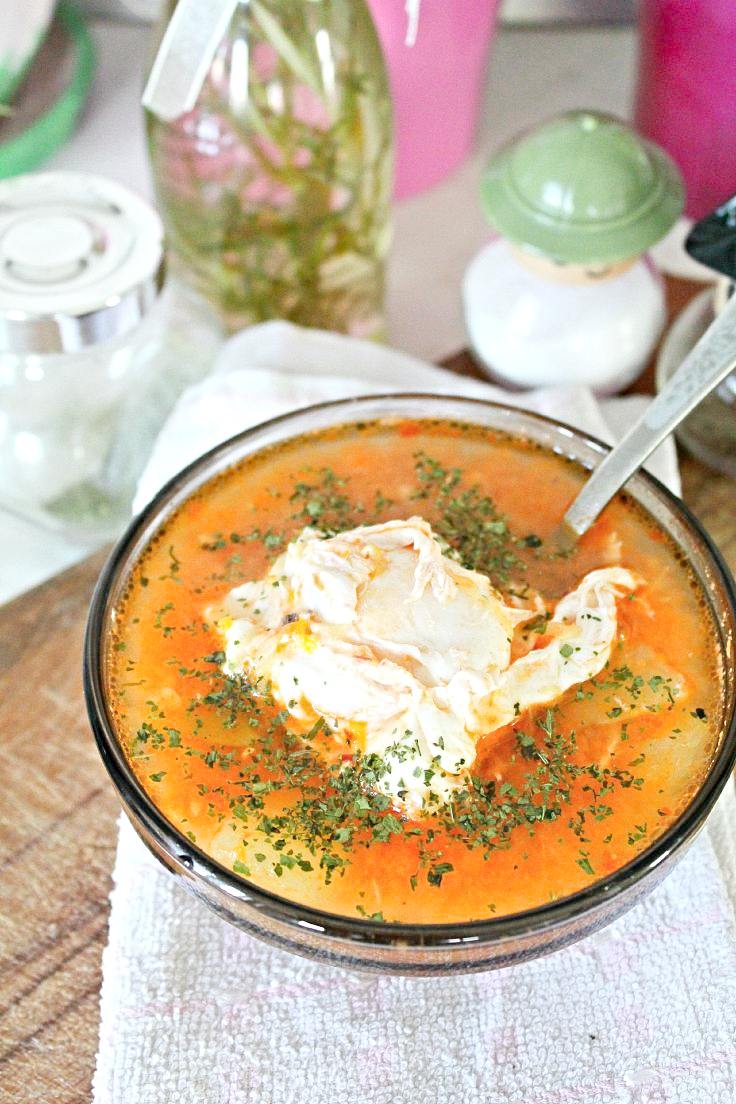 This egg soup is a great tasting, easy to make soup and while it's not a fancy dish, I just can't seem to get enough of this soup. Full of flavorful vegetables, herbs, whole eggs and chicken, this egg soup is a great way to use chicken parts you don't normally use in many recipes, like chicken backs or wings.
This delicious soup is as cozy as a pair of fuzzy slippers! And you'll want to make it in any season, as often as possible. Because it's light, flavorful, filling and healthy, so what's not to love about this chicken egg soup? What makes this particular soup so great? It's not the whole eggs as you might think, but the fresh vegetables, the herbs and the great quality, organic chicken we used. Always a winner!
If you like to add a bit of spiciness to your egg soup you can always add some fresh chopped jalapenos as I do. Wanna make it even more interesting? Serve it with a dollop of Greek yogurt or sour cream and some freshly squeezed lemon juice. Lip smacking dish! Here's how to make egg soup!
Egg Soup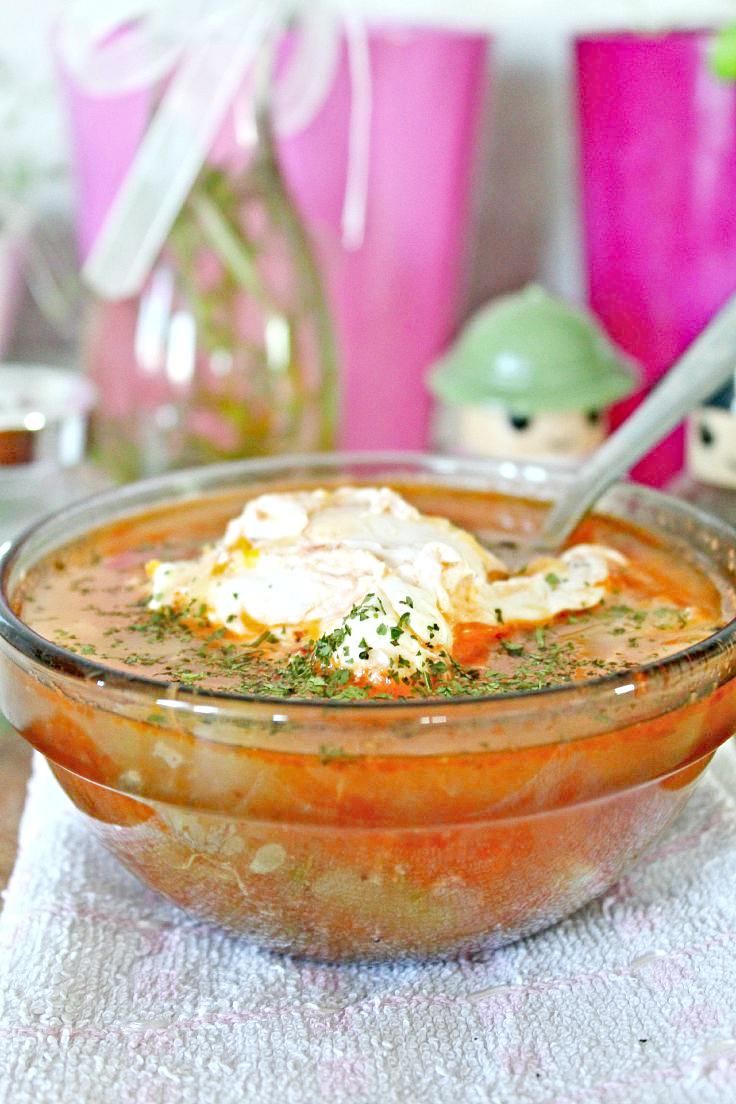 Ingredients:
2 lbs chicken parts (your choice; I used backs, wings and legs)
2 small potatoes, peeled
2 medium carrots
1 large red bell pepper, diced
2 small zucchinis, diced
2 small fresh tomatoes
1 medium yellow onion, diced
5 eggs, whole
handful of chopped lovage (fresh tastes better)
salt and pepper to taste
tomato juice (optional)
Directions:
Wash and clean chicken then place it in a large soup pot, cover with water, then add whole carrots and potatoes.
Bring to a boil, turn the heat on medium and continue boiling for a total of 25 minutes.
Make sure to regularly clean the foam that rises to the top during boiling. Add a small glass of cold water after each cleaning. I normally clean the foam twice.
When the chicken is boiled, remove from pot.
Remove any meat from chicken bones and put the meat back to the pot, discarding the bones.
Remove carrots and potatoes from the pot. Smash carrots with a fork and dice the potatoes then add them all back to the pot.
Add the rest of the vegetables, more water to cover and boil for additional 15 minutes.
After about 10 minutes, remove the tomatoes, peel and smash with a fork then put back to the pot.
Add salt and pepper to taste
Add more tomato juice (optional) to taste
Turn the heat to low and add the eggs, one by one, using a ladle so you won't break the eggs. Place the egg in the ladle and slowly submerge the ladle into the soup. Support the egg with the ladle until the egg becomes hard enough to be discarded in the pot without breaking. Repeat for all eggs
Turn off the heat and add chopped lovage.
Chicken vegetable egg soup with whole eggs
Ingredients
2

lbs

chicken parts

like backs, wings and/or legs

2

small potatoes

peeled

2

medium carrots

1

large red bell pepper

diced

2

small zucchinis

diced

2

small fresh tomatoes

1

medium yellow onion

diced

5

eggs

whole

handful of chopped lovage

fresh tastes better

salt and pepper to taste

tomato juice

optional
Instructions
Wash and clean chicken then place it in a large soup pot, cover with water, then add whole carrots and potatoes.

Bring to a boil, turn the heat on medium and continue boiling for a total of 25 minutes.

Make sure to regularly clean the foam that rises to the top during boiling. Add a small glass of cold water after each cleaning. I normally clean the foam twice.

When the chicken is boiled, remove from pot.

Remove any meat from chicken bones and put the meat back to the pot, discarding the bones.

Remove carrots and potatoes from the pot. Smash carrots with a fork and dice the potatoes then add them all back to the pot.

Add the rest of the vegetables, more water to cover and boil for additional 15 minutes.

After about 10 minutes, remove the tomatoes, peel and smash with a fork then put back to the pot.

Add salt and pepper to taste

Add more tomato juice (optional) to taste

Turn the heat to low and add the eggs, one by one, using a ladle so you won't break the eggs. Place the egg in the ladle and slowly submerge the ladle into the soup. Support the egg with the ladle until the egg becomes hard enough to be discarded in the pot without breaking. Repeat for all eggs

Turn off the heat and add chopped lovage.

Srve with croutons or toast
Pin to save for later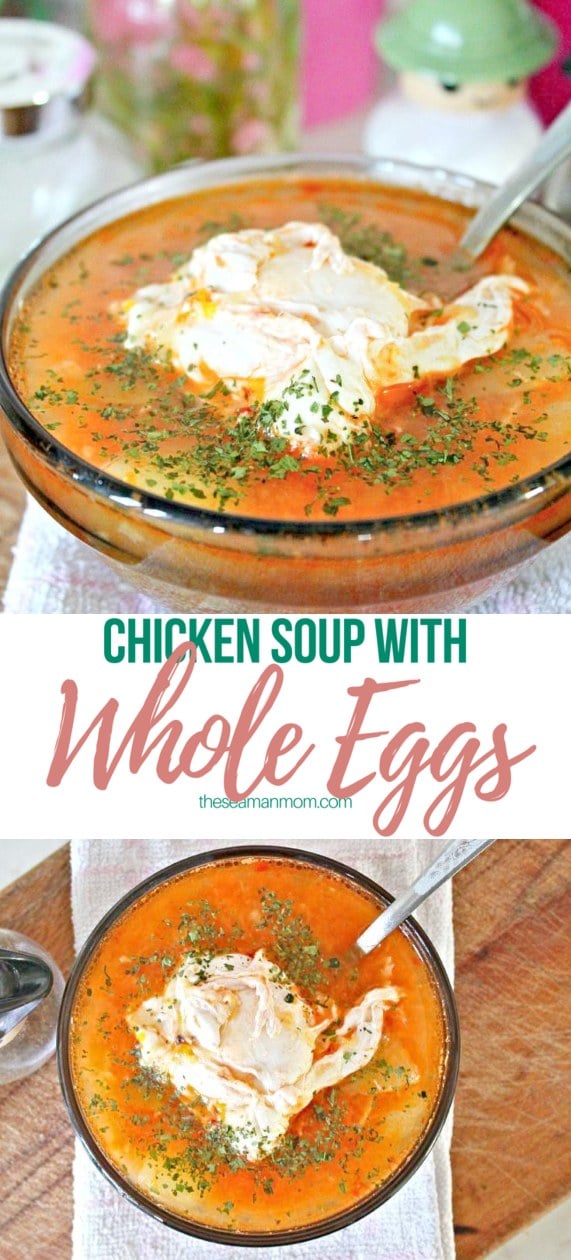 More chicken recipes you might like:
Most popular recipes: