Article may contain Amazon & affiliate links. As an Amazon Associate I earn from qualifying purchases at no additional cost to you.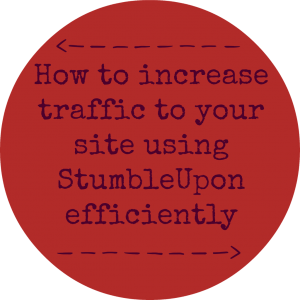 STUMBLE UPON is a fantastic social media, with over 25 million users and using StumbleUpon efficiently it can make it a huge traffic driver to you. StumbleUpon users are interested in high quality sites that entertain through great content and stunning photography.
Many bloggers and website owners don't realize how important StumbleUpon is for their marketing strategies and how big an impact SU can have on their traffic. StumbleUpon is currently the number one traffic driver within USA. It operates similar to a search engine that allows you to give thumbs up or submit the sites or posts you like so other stumblers can see that site/post too. You can give thumbs up to photos, videos, blog posts, websites, anything you see and like in your browser.
Understanding the basics of StumbleUpon and a correct usage are keys to fully benefiting from it's tremendous potential. When not used properly, one can do more harm to both oneself as well as to those they are visiting and stumble, with consequences such as inability to submit any articles, photos or sites, suspended or even banned accounts.
Steps to follow in regards to your StumbleUpon account:
Setting up your StumbleUpon profile.

Using your own name and a personal photo rather than a blog and logo helps other Stumblers find you easier and prevents your account from looking spammy while making it more personable. When SU asks your input on your preferred interests make sure you choose as many closely related to your own blog, niche and personal interests. Based on your interests, SU will show you posts when you are surfing (using the SU toolbar). Random Stumbling through these topics is extremely important to keep your account looking active, not spammy. Pick what interests you in a variety of topics as SU will only show you posts they think you like based on the interests you've chosen.

Submitting posts.

Once you're all set up you can begin submitting posts that you like. You can submit your own content but make sure that's not the only content you submit. That is spam! To be on the safe side submit 1 of your posts for every 10 others'. When submitting a post you MUST do all these: choose a proper topic that reflects exactly what's on your post; pick plenty of tags, again strictly related to your post; place a short description of your post. All these are important as A. make your post visible to other stumblers via search and B. the topics and tags must be related to your content to avoid looking spammy. You only have one chance to make it right! Any submission after the first one has no meaning whatsoever so make sure you do it perfectly otherwise you are basically killing that post.

A post can be submitted via two ways

:
Via Thumbs up if you are using a SU toolbar.
Via a SU button on your blog.
Although there are 2 routes to submit, only 1 will be able to tell you if that post has been submitted or not, with a 100% accuracy, and that's via Thumbs up. Some SU buttons show the number of clicks on them but that's not a guarantee the post has been in fact submitted. Any click on that button will be registered even if right after the click, the visitor will simply close the page without concluding the submission. The Thumbs up will always tell you if that post has or hasn't been submitted. Once the thumbs up is pressed, if a post has not been submitted yet, a second window will show up allowing you to enter topics, tags, description and submit the post. If the second window won't show up it means the post has previously been submitted to SU. VERY IMPORTANT: any thumbs up on a post that hasn't been submitted yet will have no value. A post must be submitted first via that second window and only afterwards, going back to the first window you can safely do a quality thumbs up.
Steps you must follow after your account is set up:
Next step is visiting other sites

with the help of the orange Stumble button. When you hit that button, SU will show you a page based on your interests you've chosen when setting up your profile. If you like the post SU is showing you, give a thumbs up. If you don't like it you can do nothing, or thumbs down the post. If you thumbs up a post, SU now knows that you are interested in similar posts while the post that you gave the thumbs up to will continue to be shown to other stumblers with similar interests in that topic. The more thumbs up, the more exposure for that post. If you do nothing, nothing happens and you're shown another page from your interests once you hit the SU button again. If you thumbs down a post it lets SU know that you're not interested in that type of post but it also stops showing that post to other people with your similar interests. So a thumbs down might kill a post.

Using the SU toolbar efficiently and correctly.

As mentioned above, while doing thumbs up for sites and posts you like you might find a second window will open right after you've pressed Thumbs up. That is a sign that particular post hasn't been discovered nor submitted to SU by other stumblers yet. This is your chance to make things right for that post's author. Follow all the steps above on topics, tags, description and then you're good to press submit. Once that's done you can safely go back to the original window and do your Thumbs Up on that post. The second window will not show up anymore as you've just submitted the post and the post will go up a bit on the SU ladder as it's going to be shown to other stumblers too. Kudos to you!

When you press Thumbs up

please make sure the thumbs up button turns orange or else your attempt will have absolutely no value. After your thumbs up are registered you can continue stumbling by pressing the orange Stumble button. For every post you gave thumbs up make sure you stumble too, to bring that post into SU circulation. Make sure the Stumble button is fully loading and you'll know it's done once you are shown a new page/post.

Automatically adding interests to your lis

t. At times, if you are giving Thumbs Up to a certain number of posts within the same interest/topic, SU will ask if you'd like that interest/topic to be added to your list of interests within your account. That happens via a small grey window right under the thumbs up button, popping up after you gave the thumbs up.

It's recommended to follow other stumblers

, particularly the ones that follow you. Stumblers with more followers and shares and thumbs up have a greater authority within SU.

Be very active on StumbleUpon

. It only takes a few minutes a day you need to set aside for random stumbling. The more active you are, the more your authority within SU will grow.
Guidelines on AFFILIATES / GIVEAWAYS / SALES posts
These are posts that don't provide a quality, informational, evergreen content. Most times they are stuffed with terms such as "money" or "make money", or promote sales and discounts only. SU users are not big fans of this type of content.
A good quality post with a proper content can include affiliates links but I'd recommend to have the affiliated links nicely incorporated into the content and preferably at the bottom of the post.
A good quality review and sponsored post may also be used on StumbleUpon pending all the above guidelines have been met.