Air fryer Thanksgiving leftover crescent rolls
Article may contain Amazon & affiliate links. As an Amazon Associate I earn from qualifying purchases at no additional cost to you.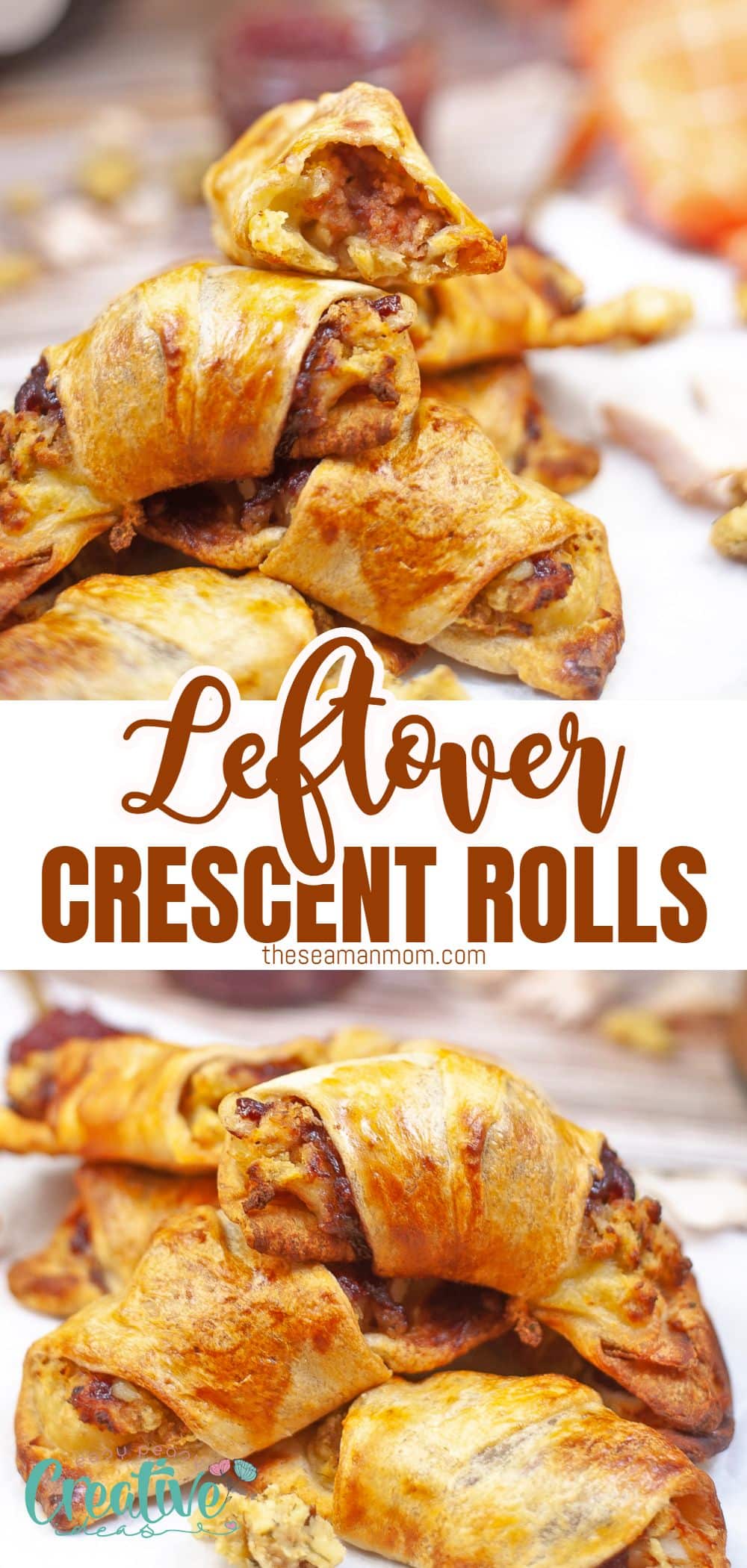 Looking for something to do with all those Thanksgiving leftovers? Why not try your hand at making some delicious Thanksgiving leftover crescent rolls! This recipe is easy to follow and only takes a few minutes to prepare. So why not give it a try and enjoy your Thanksgiving leftovers in a new way!
Thanksgiving leftover crescent rolls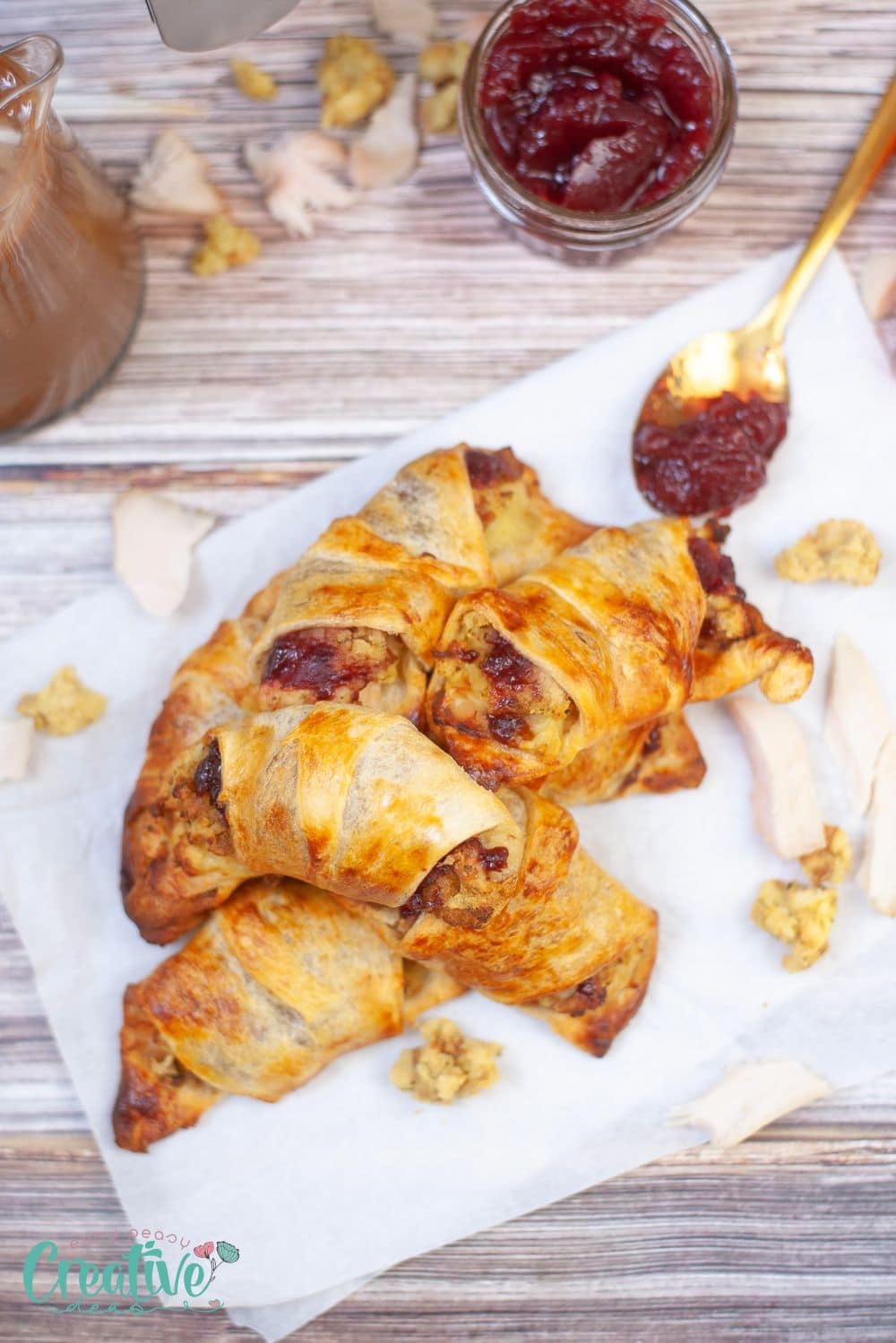 Thanksgiving is the best time to gather together with family over delicious food. But what do you do with all that extra food when dinner is over? Make these Thanksgiving leftover crescent rolls, of course! The delicious combination of turkey and sides stuffed inside a buttery crescent roll is the perfect way to enjoy your holiday meal, even after it's over.
This recipe is the perfect way to use up your Thanksgiving leftovers and have a delicious meal at the same time! The crescent rolls are buttery and flaky, and the filling is packed with all of your favorite Thanksgiving flavors. It's an easy recipe to follow, and only takes a few minutes to prepare. Thanksgiving leftover recipes don't get better than this!
How long is leftover Thanksgiving food good for?
Leftover Thanksgiving food can be stored in the fridge for 3-4 days or in the freezer for 2-3 months.
What is the most popular Thanksgiving leftover?
The most popular Thanksgiving leftover is turkey, followed by stuffing, mashed potatoes, and green beans. Cranberry sauce, pumpkin pie, and sweet potatoes are also popular choices.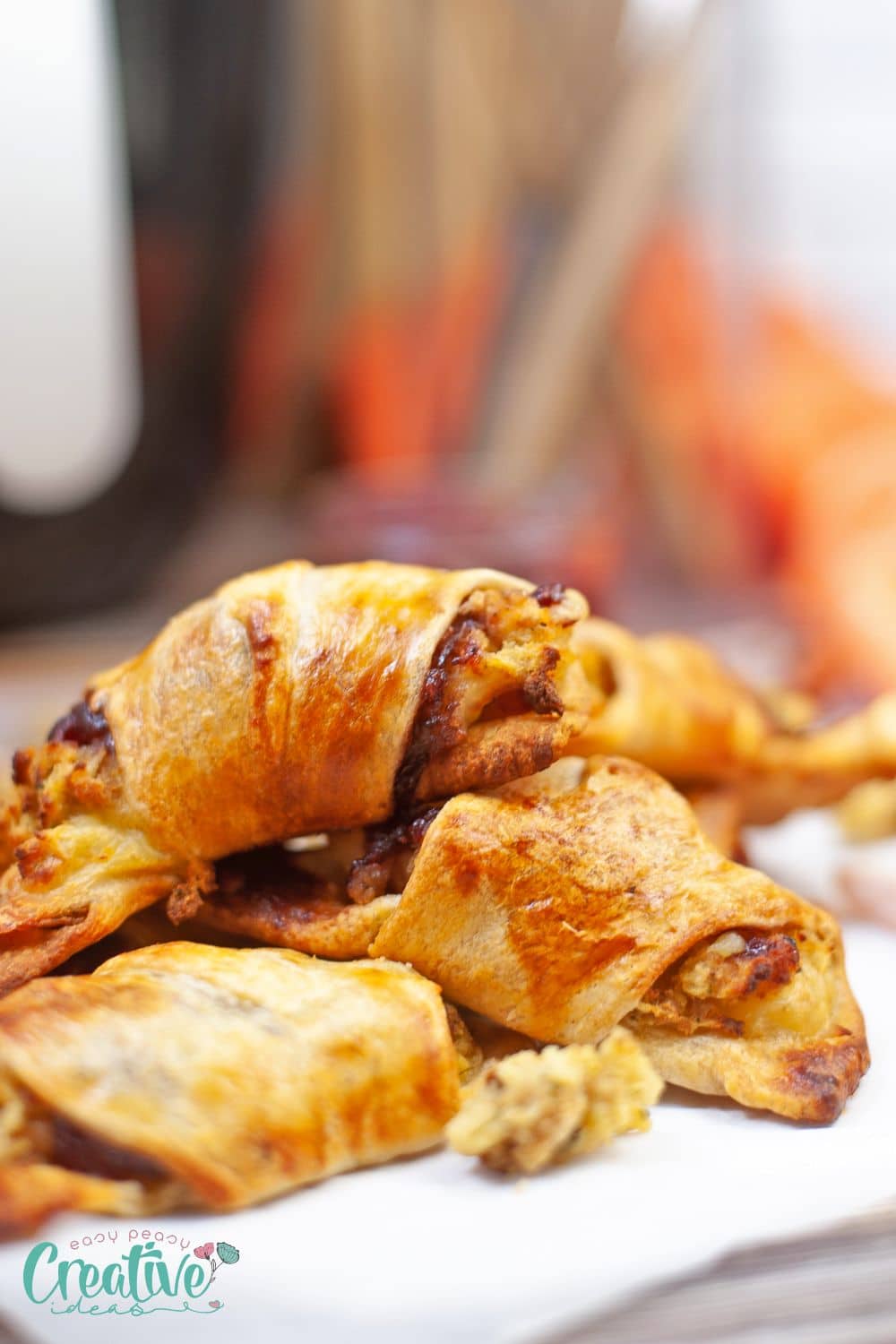 What can I make with left overs for Thanksgiving?
There are so many delicious recipes that you can make with your Thanksgiving leftovers! Try making a Thanksgiving leftover crescent roll, leftover turkey cups, turkey stuffed sweet potatoes, turkey pot pie, mashed potato pancakes, shepherd's pie, or even a Thanksgiving leftover sandwich. The possibilities are endless!
One of our favorites is this recipe for Thanksgiving leftover crescent rolls. The buttery, flaky crescent rolls are the perfect vessel for all of your favorite Thanksgiving flavors, and the recipe is easy to follow. Leftover crescent rolls are a great way to use up all those delicious leftovers, and they're sure to be a hit with the whole family! So get creative and enjoy your leftovers in a new way this year.
How to store leftover crescent rolls?
Store leftover crescent rolls in an airtight container in the fridge for up to 3 days. I wouldn't recommend freezing them as they will become soggy when reheated.
Thanksgiving Leftover Crescent Roll Ingredients
What's so great about these rolls made with delicious Thanksgiving leftovers is that you can make them any way you want! Simply combine your favorite leftovers inside premade dough to prepare a delicious Thanksgiving-inspired snack without letting all that extra food go to waste.
To make your own Thanksgiving leftover crescent rolls you'll need:
Leftovers. The type of leftovers you use will depend on what you have left after Thanksgiving dinner is over! We used leftover stuffing, turkey, mashed potatoes, and cranberry jelly. Keep reading for more leftover combinations you can use to create your own stuffed crescent rolls.
Crescent rolls. The key to making these delicious little snacks is crescent dough! You only need one package to make eight servings of Thanksgiving leftover snacks.
Egg. To get a crispy crust on your stuffed crescent rolls, using an egg wash is a great option. But if you don't have any eggs on hand, you can skip this step.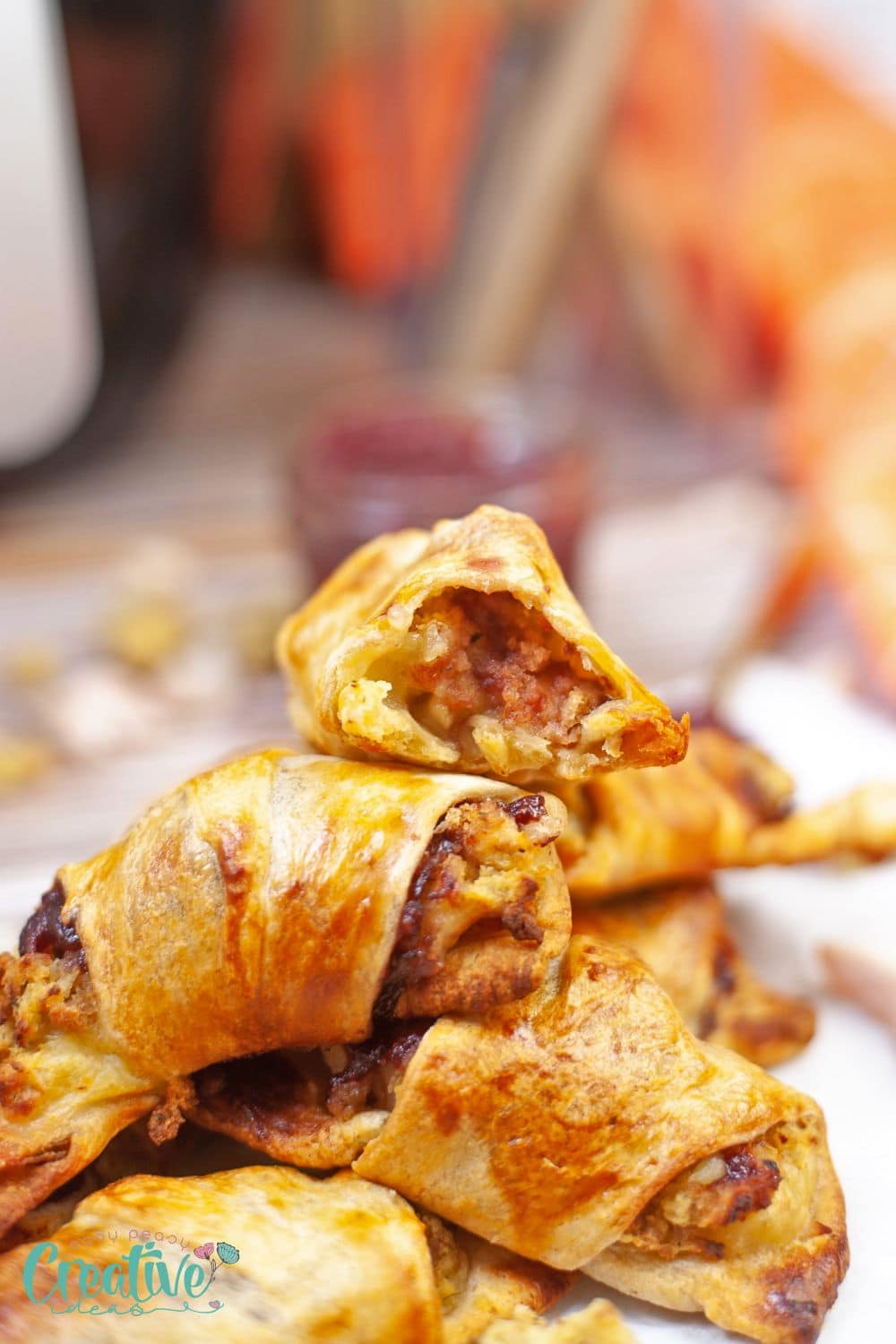 How Do I Make Thanksgiving Leftover Crescent Rolls?
You won't believe how simple it is to use up your leftovers to make these easy snacks. After you follow these instructions, serve your leftover recipe for lunch after a morning of Black Friday shopping or dinner on the day after Thanksgiving.
Separate the crescent rolls. Start by unrolling the crescent roll dough and separating it into eight triangles. Lay the triangles on flat surface for easy rolling.
Add the leftovers. Next, add whatever leftovers you want to use in your crescent rolls. Make sure to place the leftovers on the wide end of the triangle to make rolling up the dough a little easier.
Roll the crescents. Once you have your dough stuffed and ready to go, carefully roll up the dough starting at the wide end. Continue rolling until all the dough has been wrapped around the filling inside.
Bake the crescent rolls. You can bake your crescent rolls in the air fryer or the oven until golden brown. Just follow the instructions on the package for baking the bread depending on the cooking method you choose.
Thanksgiving Leftover Crescent Roll Recipe Ideas
With so many different sides and main courses to choose from at Thanksgiving dinner, there are endless possibilities when it comes to stuffing crescent rolls with your leftovers. Try these delicious leftover combinations to create some delicious after-holiday treats for everyone to enjoy.
Sliced ham, mashed potatoes, and green bean casserole
Leftover turkey, sweet potatoes, cranberry sauce, and stuffing
Ham, cheesy broccoli casserole, mashed potatoes, and corn
Turkey, sweet potatoes, stuffing, and gravy
Ham, macaroni and cheese, broccoli, and corn
Ham, turkey, mashed potatoes, and stuffing
Stuffing, mashed potatoes, green bean casserole, and corn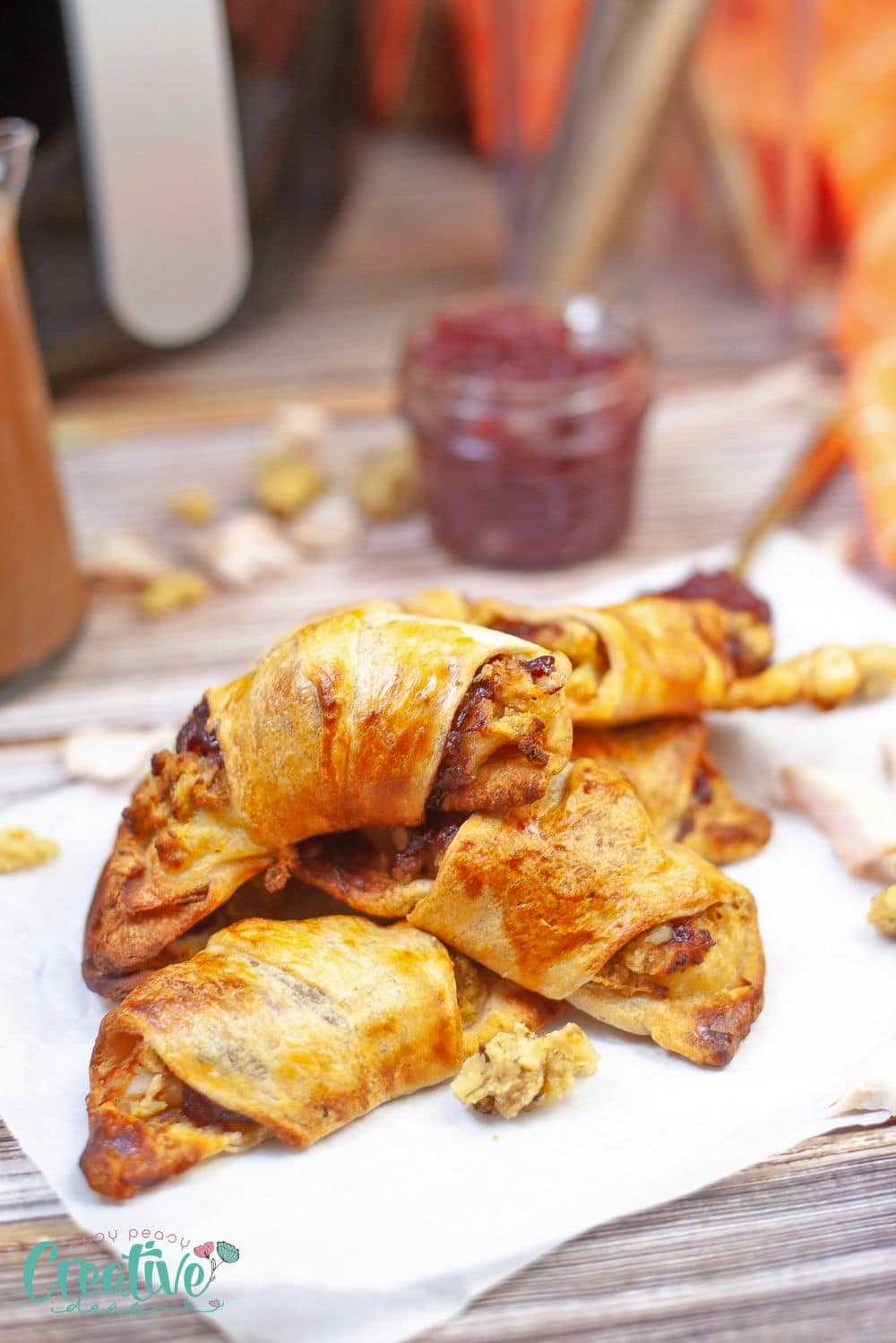 Thanksgiving Leftover Stuffed Crescent Roll Tips
You're going to love how simple it is to use up your Thanksgiving leftovers with this easy recipe. And when you use these baking tips, you can prepare a delicious meal with your extra holiday food in a matter of minutes.
1. Don't overstuff the rolls
While it may be tempting to put as much leftovers as you can on each crescent roll triangle, do your best to avoid overstuffing the rolls. If you add too much filling, it will be difficult to roll up the dough and the filling will spill out the sides of the crescent roll as it bakes.
2. Start with cold ingredients
There is no need to warm up your leftovers before adding them to the dough. In fact, placing hot ingredients on the crescent roll dough before rolling them up may make it more difficult to prepare these snacks. On top of making it hard to roll the dough around the filling, hot filling could also make the crescent rolls get soggy as they bake. Instead, start with cold filling ingredients. The filling will warm up as the crescent rolls bake.
3. Add some cheese
Everything is better with cheese, right? To add even more flavor to your Thanksgiving crescent rolls, sprinkle some shredded cheese on top of the leftovers before you roll them up. Or serve them with cream cheese once cooked.
4. Top the dough with seasoning
Add even more flavor to your Thanksgiving roll-ups with a little bit of seasoning on top of your crescent rolls. After the bread is finished baking, brush each roll with melted butter and sprinkle some garlic powder, parsley, sage, rosemary, or basil over the top of the rolls before serving them.
5. Serve the crescent rolls with dip
These rolls taste amazing on their own, but you can easily take the flavor up a notch by serving them with some leftover gravy or cranberry sauce. While the rolls are baking, warm up the gravy, then dip your rolls before taking a bite.
So if you find yourself with an excessive amount of food after Thanksgiving, don't fret. This crescent rolls recipe is the perfect way to utilize your leftovers and create something equally as delicious.
Pin to save for later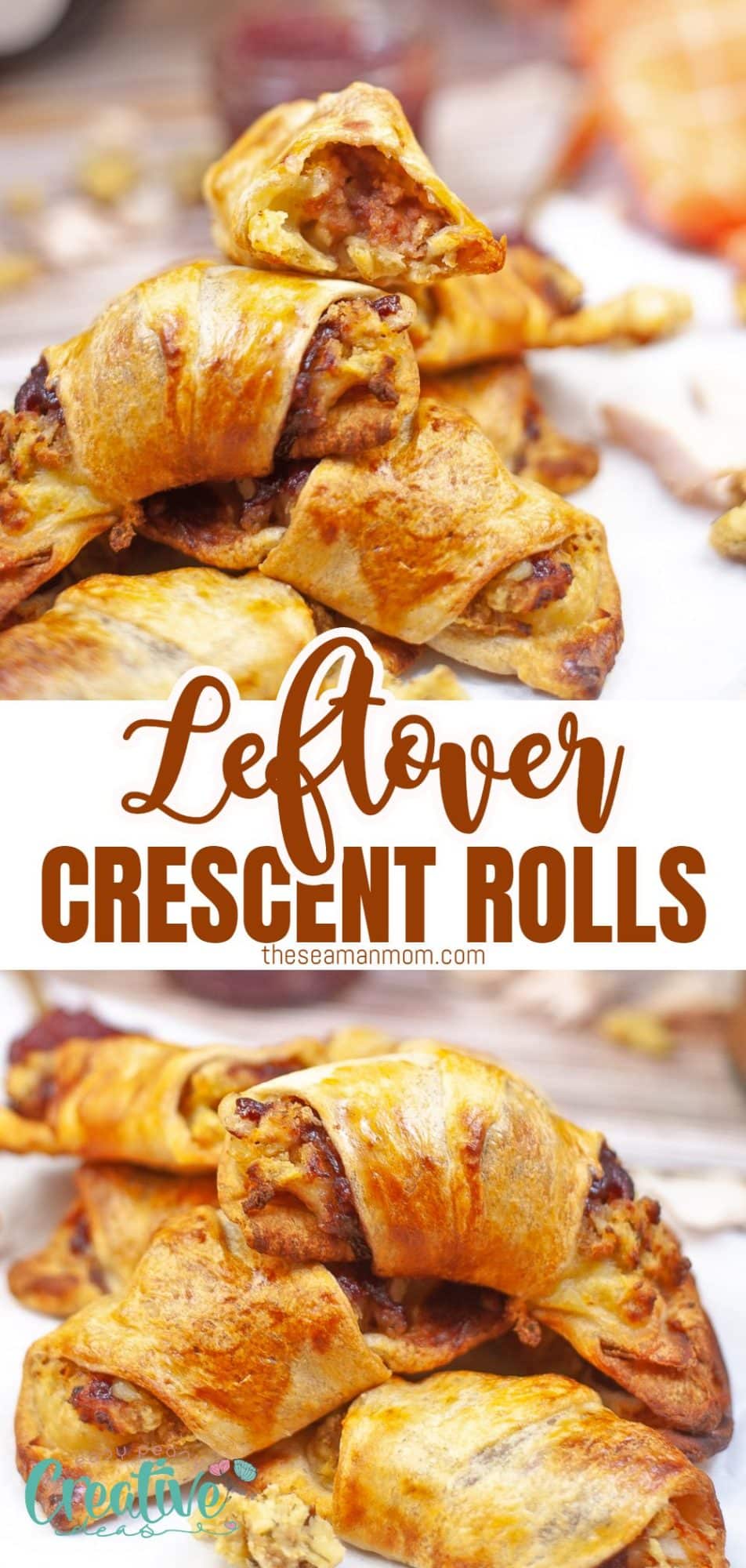 Print the recipe card
Air fryer Thanksgiving leftover crescent rolls
This Thanksgiving, don't let your leftovers go to waste! Try this delicious recipe for Thanksgiving leftover crescent rolls!
Ingredients
1

can

crescent rolls

1

cup

sliced leftover turkey

1

cup

mashed potatoes

1

cup

stuffing

1/2

cup

cranberry jelly

1

egg
Instructions
Roll out each crescent roll triangle. Place a few slices of turkey along the wide edge of the roll.

Top with a tablespoon of mashed potatoes, a tablespoon of stuffing, and a teaspoon of cranberry jelly.

Carefully roll the roll up, brush with egg wash, and place in your oil-sprayed, lined air fryer basket.

Cook at 375 degrees for 8 minutes

Remove and let cool. Dip in gravy or more cranberry jelly for extra flavor.
Most popular recipes: