Types of Buttons in sewing: A Comprehensive Guide
Article may contain Amazon & affiliate links. As an Amazon Associate I earn from qualifying purchases at no additional cost to you.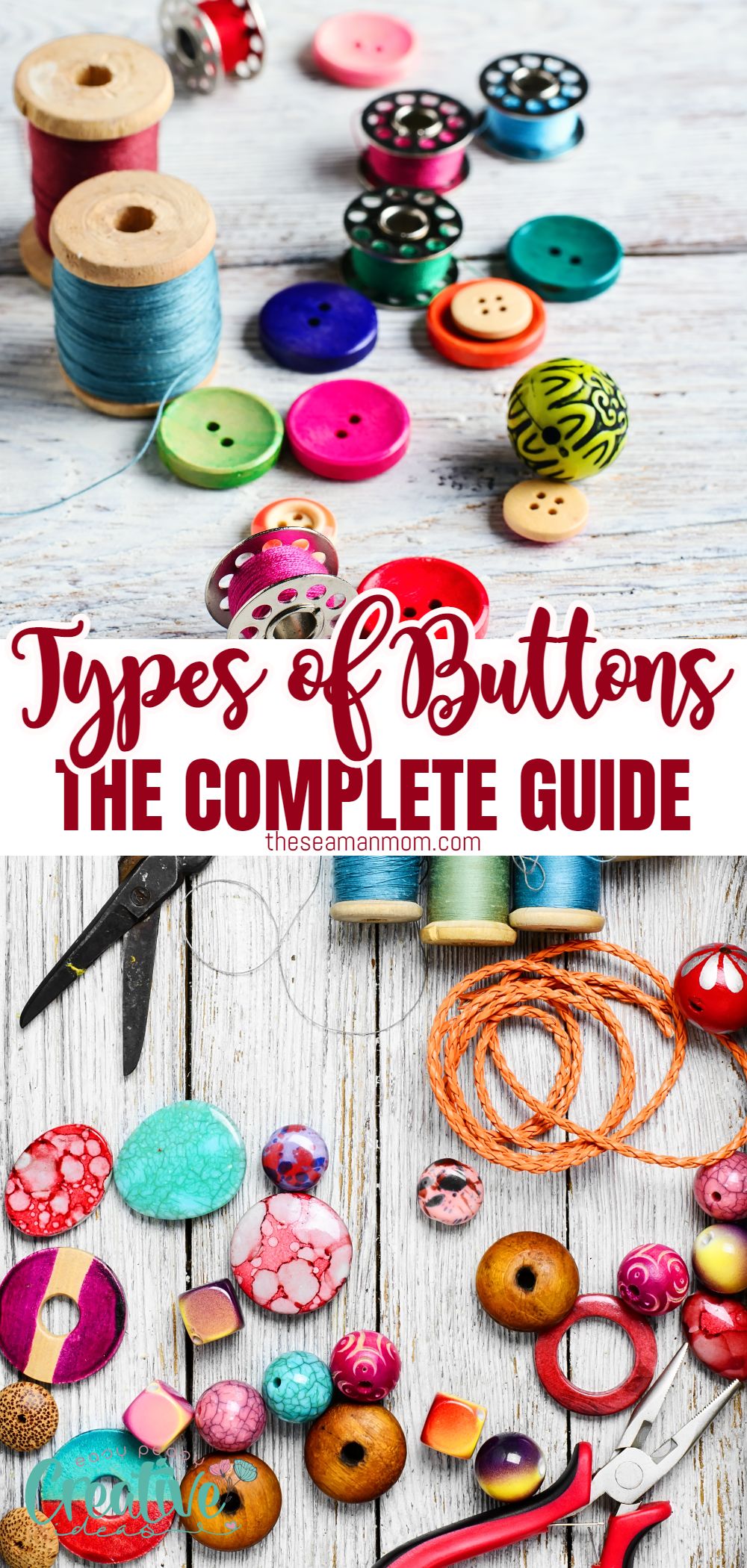 There are many types of buttons available for sewing, and each type has its own distinct advantages and disadvantages. In this guide, we'll explore the different types of buttons so you can choose the best option for your project.
Types of buttons guide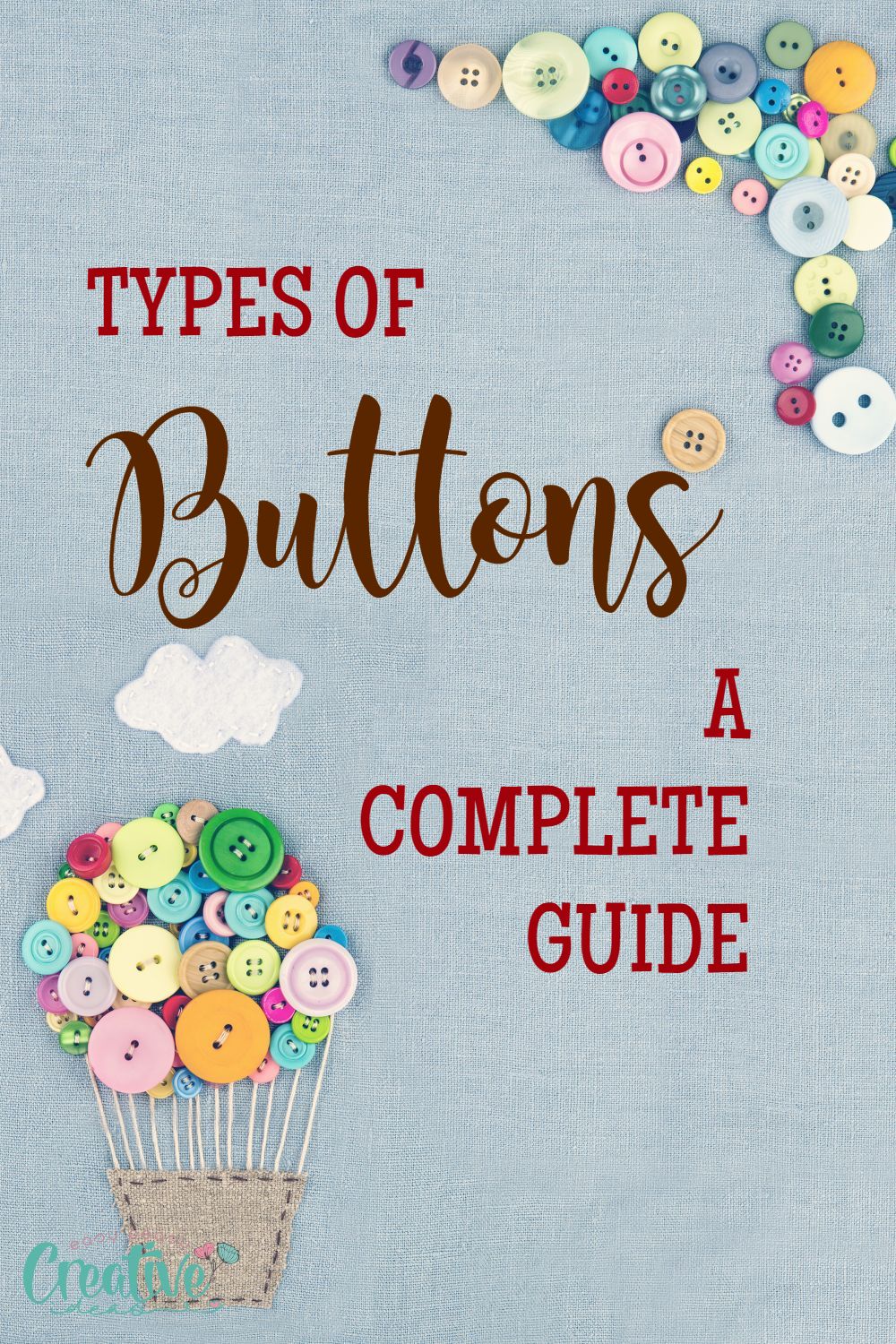 Buttons come in a variety of materials, sizes, styles, and functions, making them a versatile sewing tool. In this guide, we will explore the different types of buttons available so that you can choose the best option for your next sewing project.
You can find them made from all sorts of materials, including metal, plastic, wood, bone, and even shell. And each button has its own unique function. Some types of buttons are better suited for certain types of fabrics, while others are more versatile and can be used on a variety of fabrics. Some buttons are meant to be sewn on by hand, while others can be machine sewn. And some buttons are even waterproof, making them ideal for use in outdoor gear or swimwear.
What are buttons used for in textiles?
A button is a small, round object that is typically used to fasten two pieces of fabric together. Sewing buttons have been used for many centuries for fastening up clothing, especially when it needed to fit the body closely, so it couldn't be drawn over the head. Until today, they have evolved into many shapes and types and are also decorative. Buttons can drastically change the design of any piece of clothing, so read on to see the most widely used types of buttons.
What is the oldest button in the world?
The oldest buttons were merely decorative and were made of horn, bone, wood, or bronze. The oldest button was discovered in Pakistan, is estimated to be 5000 years old, and is made of shell. Buttons were used very scarcely until the High Middle Ages, as they were very expensive, so only the wealthy could afford them.
The Industrial Revolution made buttons available for everyone, as cheap four-hole buttons were very practical and mass-produced. Nowadays, they are very popular for their shape, as well as their functionality. They even seem to coexist happily with the more modern zippers.
Before we move on to the types of buttons, let's go over some Q&A that will be useful.
More sewing tips you will love:
Do buttons have a size?
The short answer is yes, types of buttons do have sizes, as some are made to suit certain types of clothing and others for different types of materials. There are even plus size buttons! The average button is about ¾ inch in diameter, but button sizes can range from ⅜ inch to 2 inches.
What are garment buttons?
Garment buttons are the most common type of button and can be made from a variety of materials, including plastic, metal, wood, and glass. Garment buttons are available in a wide range of sizes, styles, and colors, making them versatile sewing tools. As their name implies, garment buttons are typically used to fasten clothing, but they can also be used for other purposes, such as decoration.
What are fabric buttons?
Fabric buttons are just buttons covered in fabric. They are very versatile as they can be made from a wide variety of fabrics to match any project. If you want to learn more about making your own fabric buttons I have a complete tutorial here. Fabric used for covering buttons can be any weight, from light cotton to heavy upholstery fabric. There are even polyester buttons available.
What kind of buttons are on jeans?
The type of button most often used on jeans is a metal button, although plastic and wood buttons are also used. Metal buttons are strong and durable, making them ideal for heavy-duty garments like jeans. These buttons are called "jeans buttons", "stud buttons" or "rivets" and can be found in a variety of styles, including round, flat, and conical. They're usually inserted in the garment with a special machine.
What are the long buttons called?
The long buttons are generally used for coats and other types of heavy outerwear. They are also called "coat buttons" or "police buttons". These types of buttons are made from a variety of materials, including metal, wood, plastic, and glass. They are available in a wide range of sizes, styles, and colors, making them versatile sewing tools. Coat buttons are typically sewn onto the garment with a strong thread.
What are shank buttons?
Shank buttons have a small loop or "shank" on the back that allows the button to be sewn onto the garment. This type of button is very versatile as it can be used on a variety of garments, including shirts, jackets, and even jeans or outerwear.
What is the difference between a two-hole button and a four-hole button?
Two-hole buttons are the most common type of button, as they are very versatile and can be used on a variety of garments. Four-hole buttons are typically used for heavier garments, such as outerwear.
What is the difference between a sew-through button and a non-sew through button?
Sew-through buttons have two or four holes in them that allow the button to be sewn onto the garment. Non-sew through buttons have a shank on the back that allows the button to be sewn onto the garment.
What are fashion buttons?
Fashion buttons are buttons that are used for decorative purposes rather than having a functional purpose. They are often used to add a unique touch to a garment, and can be made from a variety of materials.
What is a snap button?
A snap button, also called a press button or popper, is a type of fastener that consists of two pieces: the socket and the stud. The socket is sewn onto one side of the garment, and the stud is sewn onto the other side. When the two pieces are pressed together, they "snap" into place. Snap buttons are often used on children's clothing, as they are easy to use and can be opened and closed with one hand.
What are lapel buttons?
These are small, decorative buttons that are typically sewn or pinned onto the lapel or collar of jackets and coats. They are available in a wide range of styles, including round, oval, square, and diamond-shaped. Lapel buttons are usually made from metal, wood, or plastic and their purpose is purely aesthetic.
Are cuff links buttons?
Cuff links are not buttons per se, but they are often used to fasten shirtsleeves. They are typically made from metal or some other type of hard material, and their purpose is to keep the shirt sleeve from gaping open, replacing the common button. Cuff links are generally only worn with formal shirts and not casual shirts.
What is a buttonhole?
A buttonhole is a small opening in a garment that allows a button to be inserted. Buttonholes can be either sewn by hand or machine. Machine-made buttonholes are more precise and have a neater appearance than hand-sewn buttonholes.
Where to find unusual buttons?
Etsy is my favorite place to go! Antique stores, and flea markets are all great places to find unusual, pretty buttons. You can also check out your local sewing or craft store, as they may have a selection of unique buttons.
Now that we have answered some common questions, let's move on to the different types of buttons. There is a large variety of button types, each with their own unique purpose and function.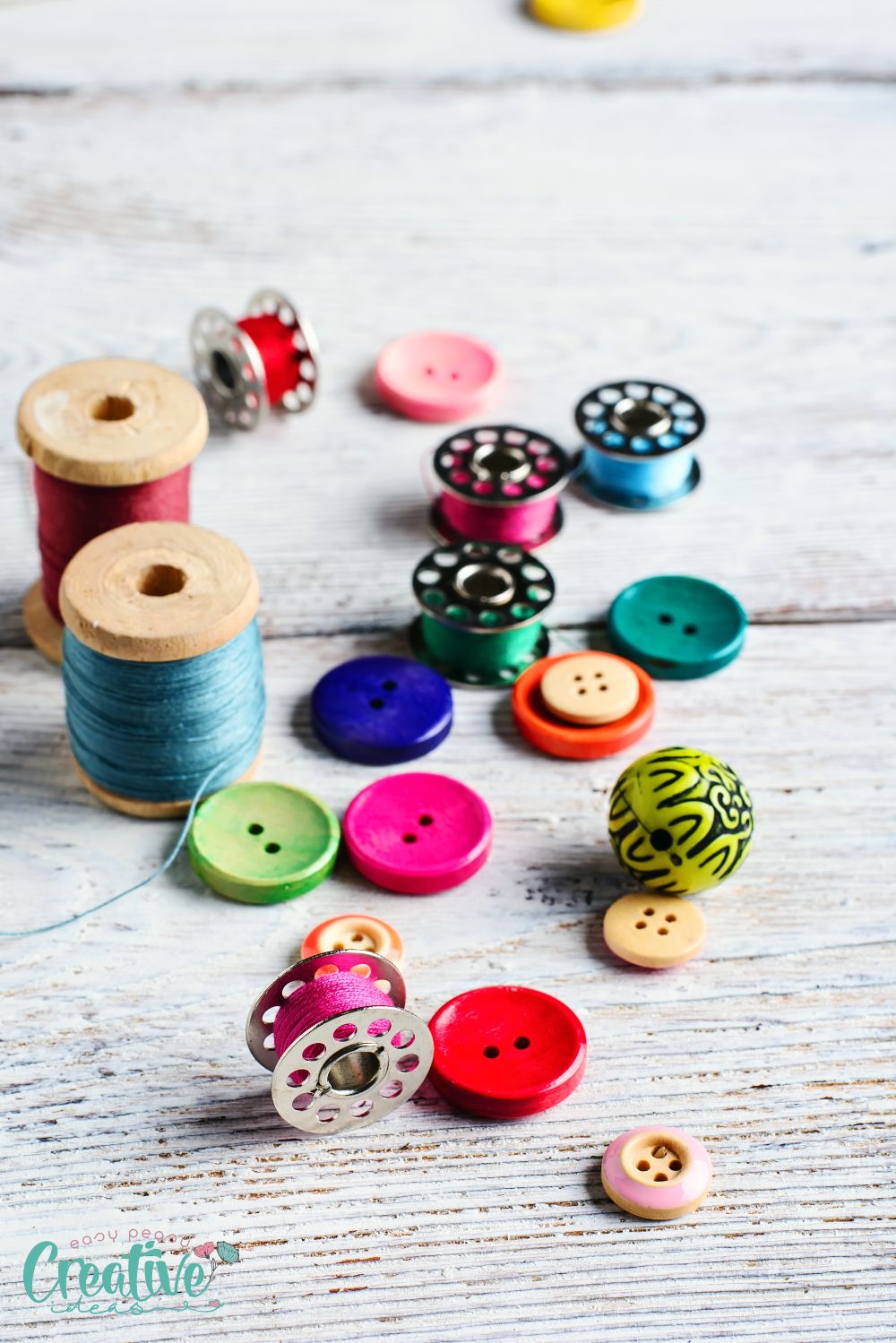 Buttons types by shape
Flat buttons
Most mass-produced buttons are flat. They are the easiest to sew on even on a sewing machine due to their shape.
They are made of plastic, metal, or wood (less frequent, though), with two or four holes in the middle for sewing onto the fabric.
Shirt buttons are a good example of flat buttons with two or four holes.
Shank buttons
Shank buttons have no visible holes. Instead, they can be attached to the garment through a small loop or hole on their back side. The shank may be a bit elevated for when you need a button with a slightly raised look.
Sewing on a shank button is a bit different from a flat one, but not too difficult.
Toggle buttons
Toggle buttons usually use loops to fasten. They have an elongated oval or conical shape with two holes in the middle for sewing. Sewing on a toggle button is somewhat like flat buttons, due to its two holes.
These buttons are great for thick coats, jackets, or cloaks, especially duffel jackets. They are very eye-catching and can be used as statement pieces for a simple garment.
Toggles can be made of wood, plastic, or bone and can also be used in a wide variety of craft projects.
Stud buttons
These are usually called jeans buttons, as they are mostly used on jeans or denim garments like jackets or skirts. They consist of two parts pressed into one another through the same hole. The tool that presses them together makes it almost impossible to separate them, so they are a very secure type of button.
These buttons are usually round and are made of metal, which allows pressing without breaking or becoming deformed.
Snaps (poppers)
Snaps are somewhere in between hook-and-eye and jeans buttons. These are made of two parts, one "male" and one "female", each pressed onto the garment or envelope in the same way as studs. They are also very sturdy and hardly come off.
They can be made of metal or plastic and come in many beautiful colors when made of plastic. Both plastic and metal studs are very reliable, so don't worry if you only find plastic ones, or if metallic silver or gold don't match your project.
Hook-and-eye
We may also see these fastenings as a type of button, although they are actually made of a hook and an eye like their name suggests. Each part is sewn onto one of the two garment parts that need to be fastened.
These are super easy to sew on and use, and very inexpensive, so they are great for mass projects when you need a cheap and fast to use fastener. They come in a great range of shapes and sizes, so you can use them for almost any project, from the smallest to the largest ones. They are most commonly used on clothing that needs to be adjustable, like skirts, pants or bras.
Decorative buttons
Their primary role is to look pretty, but many decorative buttons are also functional.
They are made of or covered with special materials like crystals, beads, shells, wax, pearls, horns, or may have a cute and unusual shape.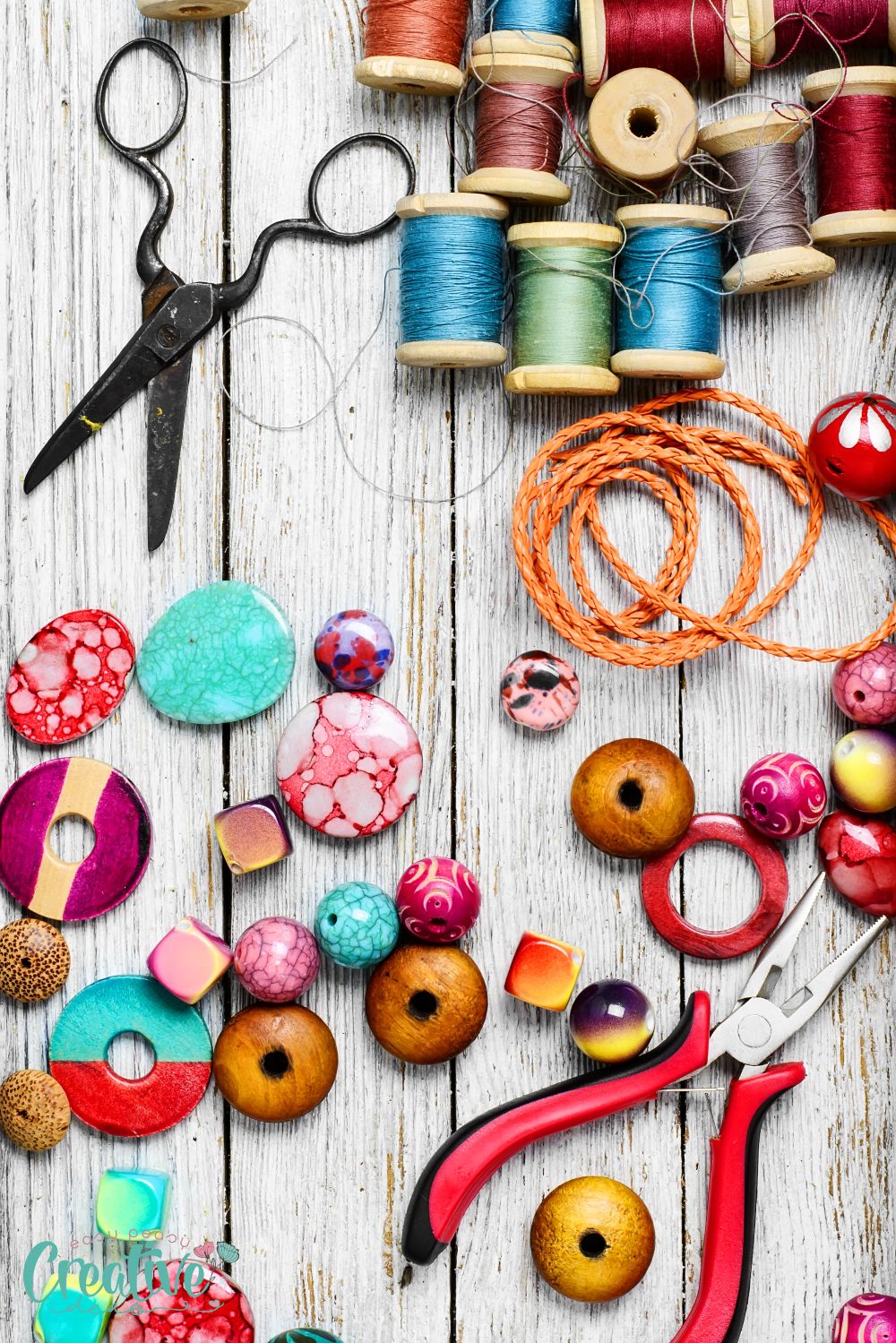 Types of buttons by material
Metal
Metal is a super sturdy material that doesn't get deformed easily. This is why most heavy-duty buttons are made of metal. Jeans buttons are always made of metal, as well as most hook-and-eye fasteners. Brass buttons have a very elegant look and are often used on blazers, coats, or other formal garments.
There are also flat, shank, or decorative buttons made of metal. Metal toggle buttons are less frequent, though.
Plastic
Plastic buttons are the most inexpensive type of buttons since the industrial revolution made plastic super available to the population. They became mass-produced, so everyone gained access to fitted clothes fastened with buttons.
Plastic can be used to imitate a lot of materials like ivory, pearl, wood, or metal and can be painted in any color. Most types of buttons can be made of plastic, except for stud buttons.
Wood
Wooden buttons would complement any boho outfit, or at least those that are environmentally friendly. The manufacturing process is easy and almost not polluting as they can even be hand-made. They can also be painted in any color, so you will find a wide range of wood buttons.
You will find many types of wood buttons, like flat, toggle, or shank buttons, as well as any shape you like: square, round, butterfly, etc.
Fabric
Fabric buttons are usually shank buttons covered with fabric. This may be a cute and quick project that makes the best buttons for your newly made piece of clothing. It also uses small fabric pieces, so it's also a great scrap fabric project.
Historically, there were also 100% fabric buttons and they are still easy to make out of small textile scraps. There are also modern button kits with applicable shanks ready to be covered and sewn onto your project.
Leather
Leather has been used ever since mankind emerged, and nowadays faux leather helps save many animal lives by replacing genuine leather. Buttons made of leather are quite heavy-duty and hard-wearing. They are great for jackets, especially leather ones thanks to their unique look.
Most leather buttons are shank buttons, but there are also flat buttons or toggle buttons made of rolled leather strips. This can be a good project for leather scraps, as it doesn't take much leather to cover a button
Shell and pearl
These very fine and pretty materials are carefully used to make cute and feminine buttons. Pearl buttons are often used on wedding dresses, adding a distinguished look. They are also great for making decorative buttons, as they are not so sturdy and don't take a lot of wear.
Shell buttons are made of natural materials like mother of pearl, abalone, or capiz. These types of buttons can be very fragile and even break when you try to sew them on.
Shell and pearl are easy to imitate nowadays, and faux shell or pearl buttons have become really inexpensive, but with the same delicate look.
Glass
Light-catching glass buttons add a fun look to any garment. They can be used as functional buttons with a decorative look, but also as decorative buttons. Although nowadays glass buttons have a medium resistance, glass is still a pretty sensitive material and is not the best for making large or high-wear buttons.
They come in all shapes and sizes and are usually flat or shank.
Buttons can be found in almost every garment type. They are necessary, so make sure you keep a good supply in your sewing room. Every time you need to throw away an old, buttoned garment, remove the buttons first and keep them in a box for future use. There is a great chance they are in good shape, and you might need them some day.
I hope this list helped you choose the best buttons for your projects and I'm really curious about the most unusual ways you used your buttons. Please share your ideas in the comments section below!
Pin to save for later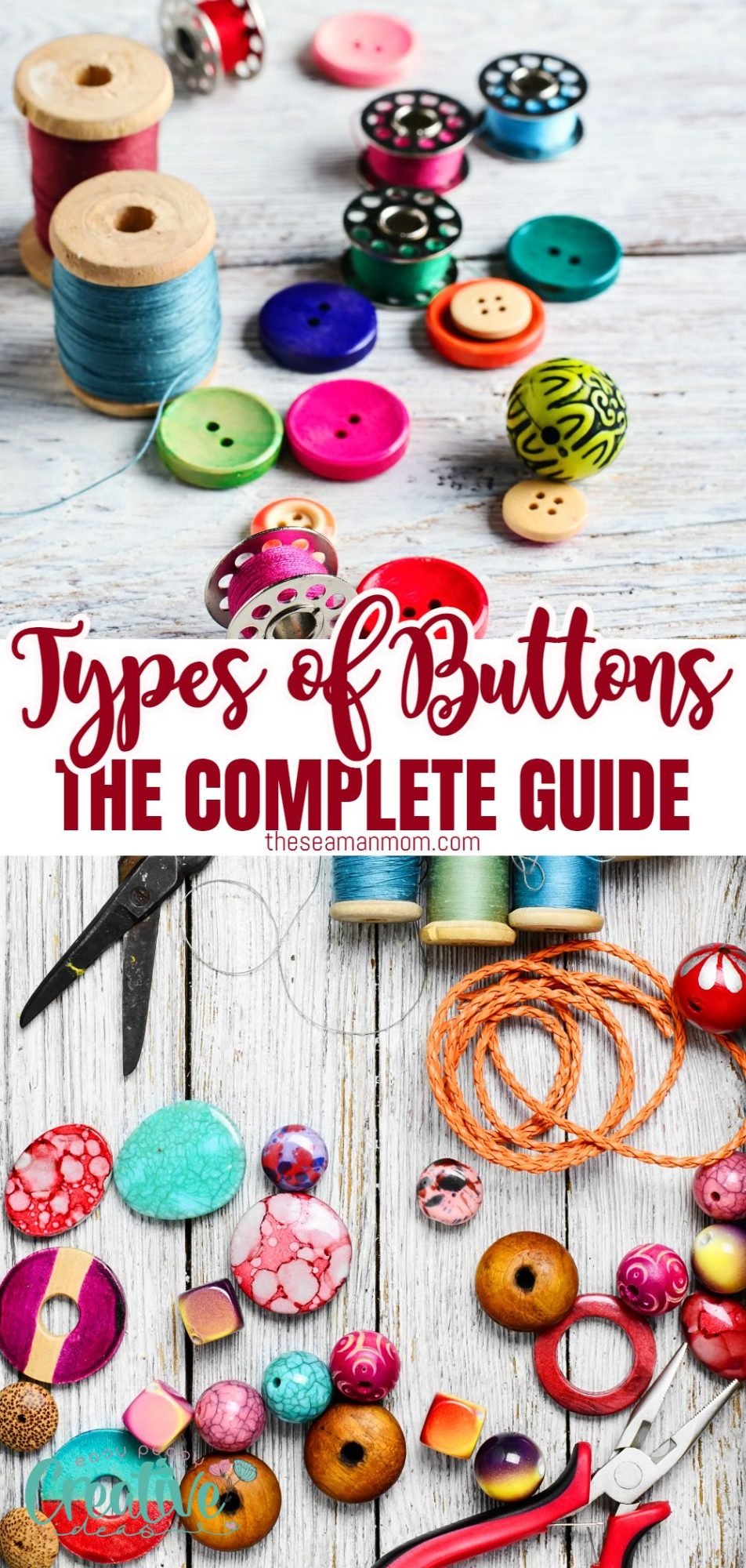 Most popular sewing projects: