The most delicious vegan PIZZA BABKA
Article may contain Amazon & affiliate links. As an Amazon Associate I earn from qualifying purchases at no additional cost to you.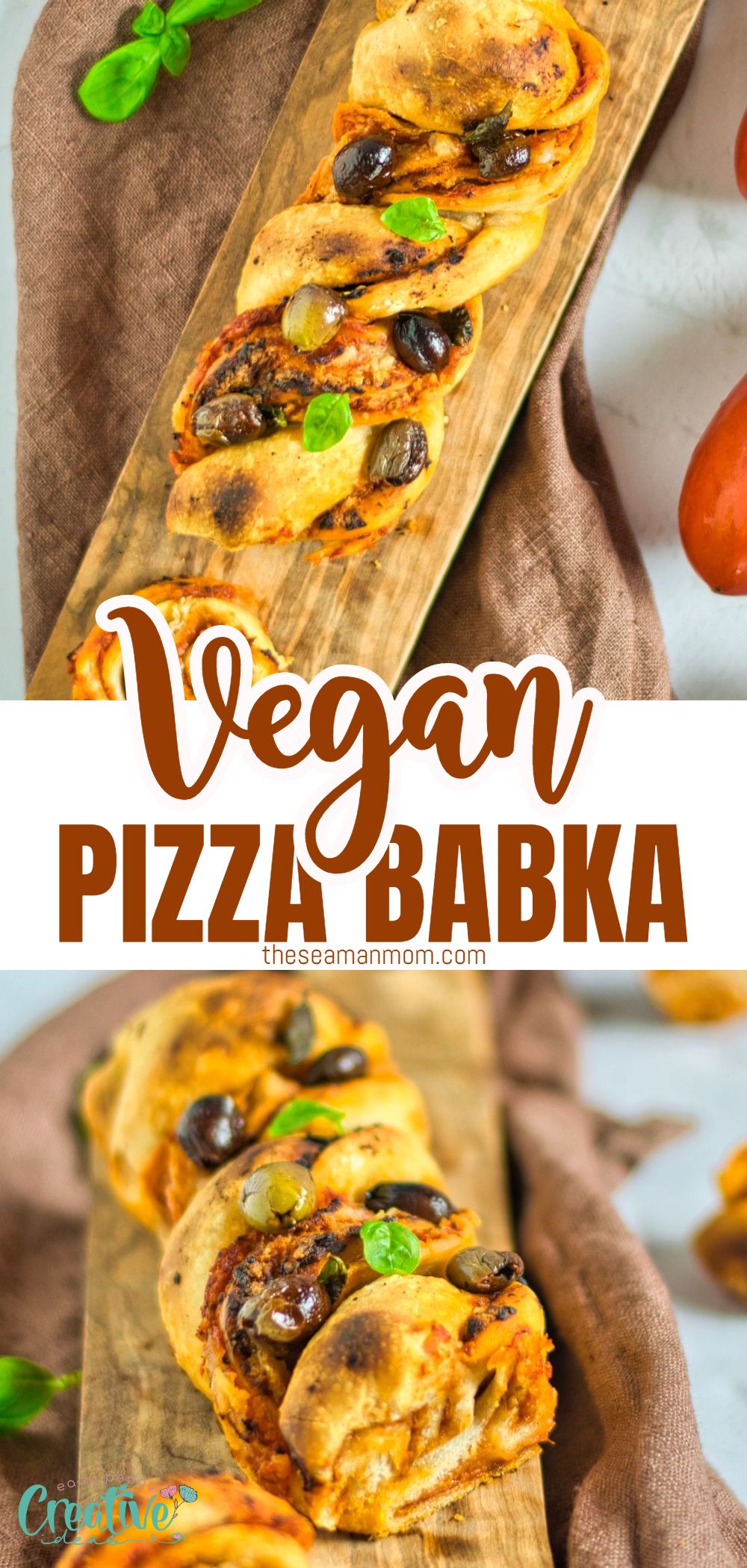 This vegan pizza babka is the perfect treat for a weekend brunch. It's made with a pizza dough, filled with tomato sauce, sun dried tomato paste, vegan cheese and basil. The result is a delicious bread that tastes just like pizza – but without any dairy or meat products! You can even make it ahead of time so you have something to look forward to on your lazy Saturday morning.
Pizza babka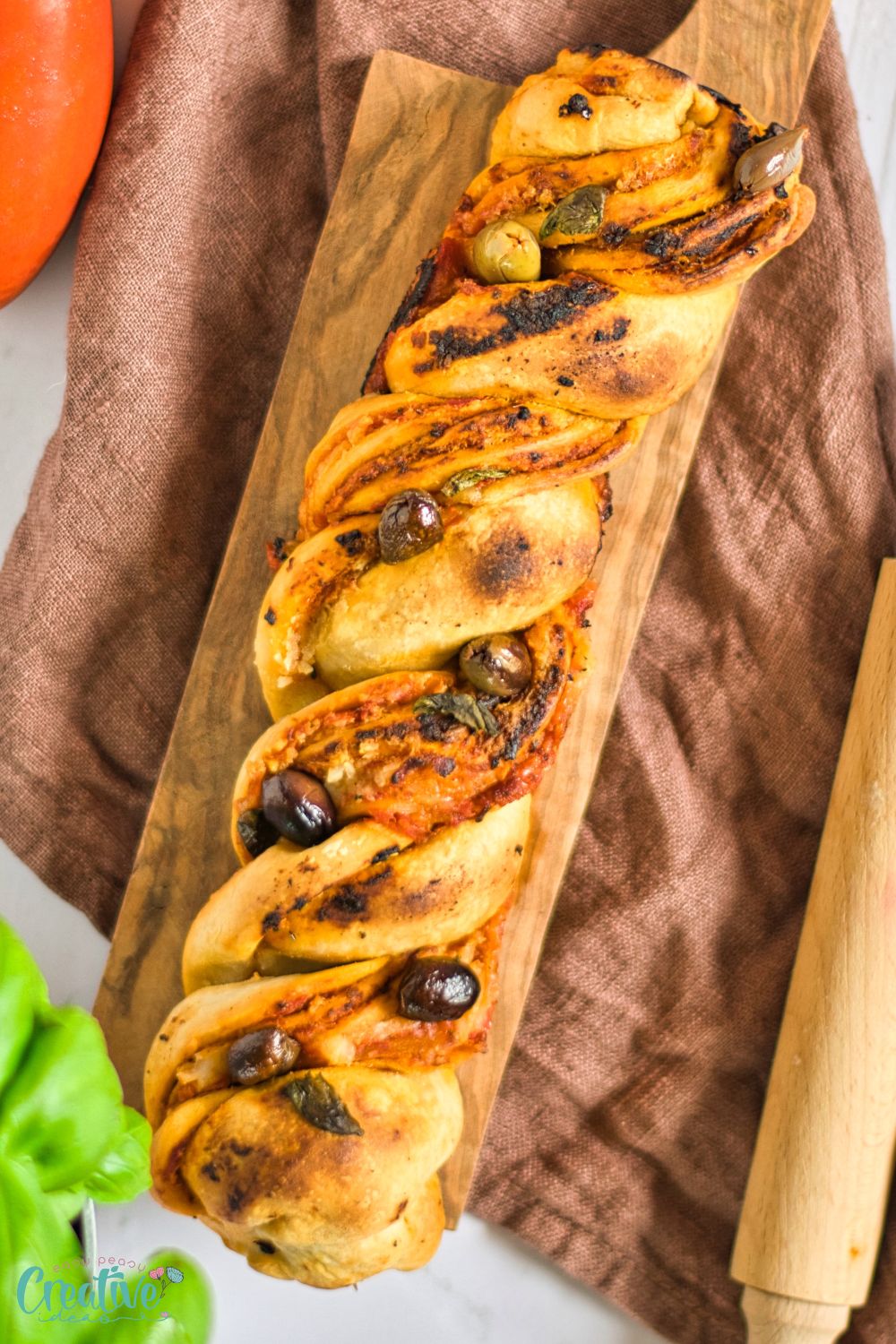 On top of being beautiful, this pizza babka is packed with flavor! You'll love the crispy crust and flavorful filling inside this oven-baked bread. But the best part about this amazing recipe is the twists of color and flavor that are woven through each slice. Once you try this simple vegan babka pizza, you'll never eat pizza the same way again.
If you love baking as much as I do, then this recipe will be right up your alley! With only 7 ingredients (and no eggs!), it's easy enough for anyone to try their hand at making this delicious vegan treat. And once you taste how good it is, I know you won't want to stop there – why not try adding some other toppings? Mushrooms or spinach would be great in here too!
Scroll through now and get started on making your own pizza babka today!
Want more pizza recipes?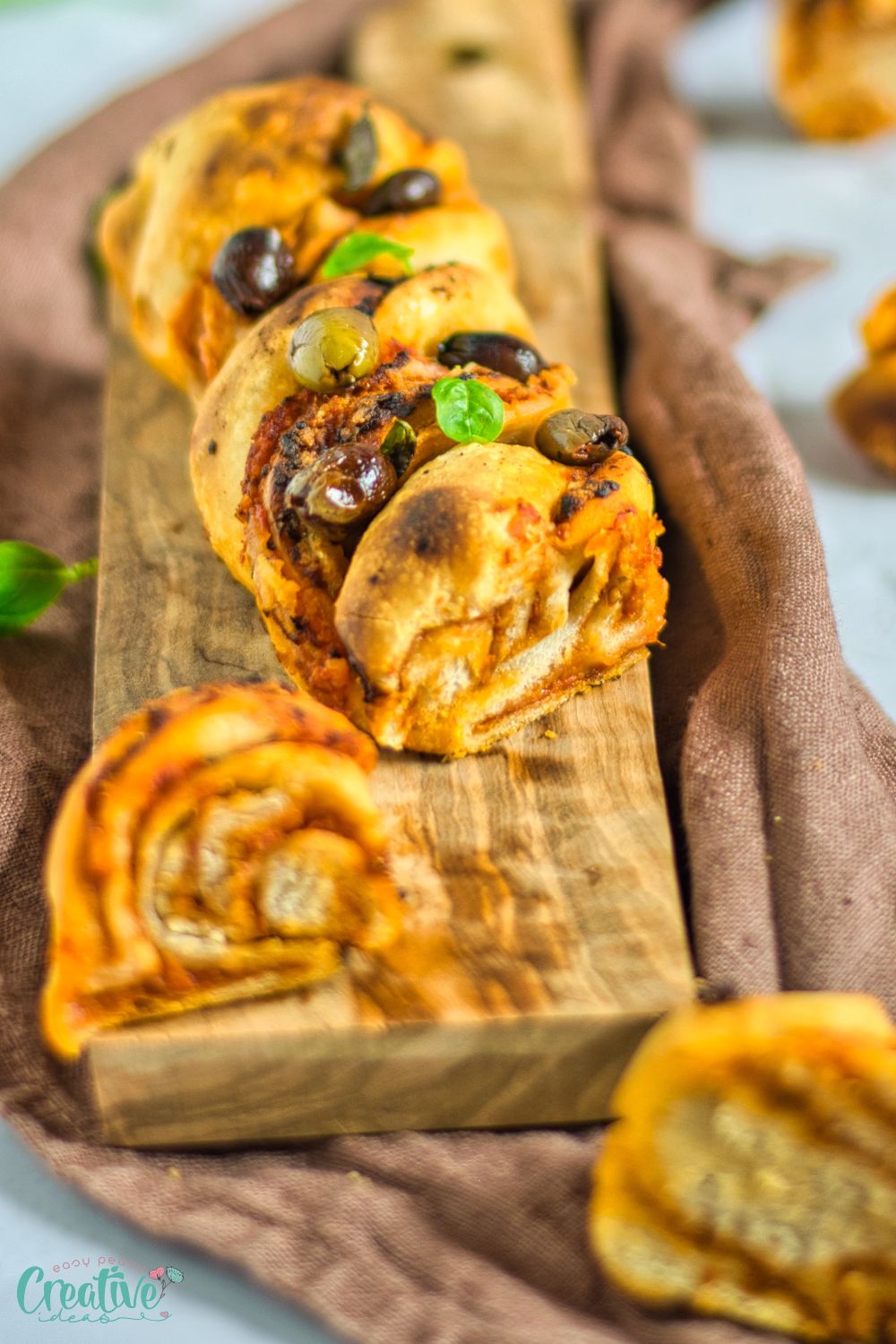 What is the pastry babka?
The original babka is known as a sweet bread. This recipe actually comes from eastern Europe (Ukraine and Poland), and might be called different things but all these variations share one common trait: they are sweetened yeast breads, that are baked into a loaf or shaped into fancy ring.
It is believed that the name "babka" (or bábovka in some Slavic languages) comes from Ukrainian or Russian, literally meaning "grandmother".
Where to buy vegan cheese
You can find these cheeses at some regular grocery stores. If you don't have access to a grocery store that carries it, I recommend purchasing online through Amazon.
Why is my babka dry?
Babka is quite dense and can go from under-baked to over-baked very quickly. The top crust will always be crispier than the rest of the bread, and it will seem like a lot of dough. To prevent this and ensure your babka comes out moist and delicious every time:
Use an instant read thermometer and make sure your oven is set no lower than 350 degrees F (177 C).
Bake babka in a water bath: Fill a 9″ x 13″ baking dish with hot tap water. Place the babka into it's dish, then place both of them into the oven. This will ensure that there is enough moisture in the oven for this dense bread not to dry out.
Bake babka until a toothpick inserted into the middle comes out clean, or with a few moist crumbs, but no dough! If you wait until the whole thing is baked through and doesn't have any moisture at all, it will be very difficult to cut and serve.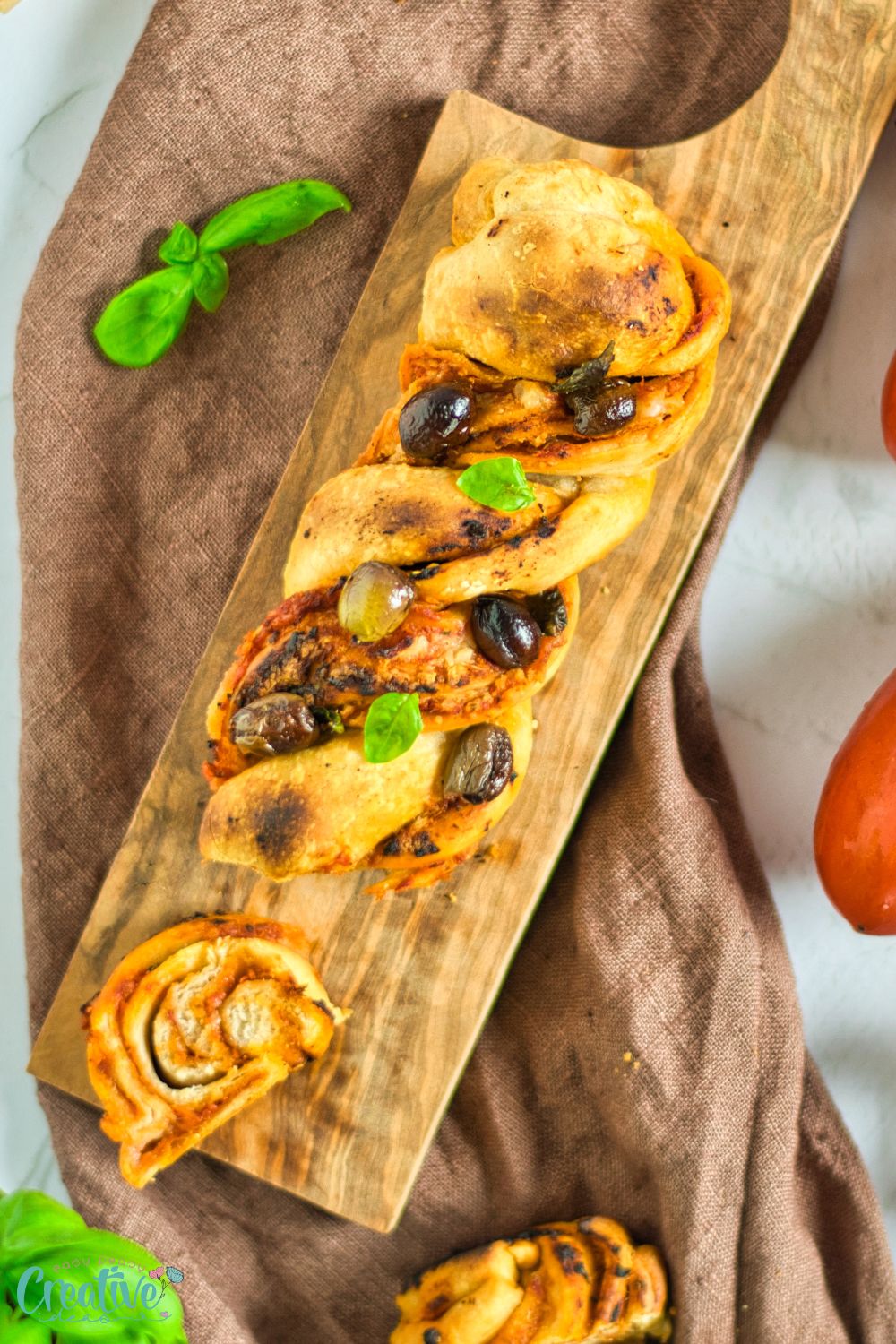 What's in a Pizza Babka recipe?
Making this recipe is so simple because you only need a handful of ingredients. You can prepare this pizza babka recipe with:
Vegan pizza dough. Use your favorite vegan pizza dough recipe to prepare your dough from scratch. Or grab a store-bought dough for quicker prep work. Most pizza dough options are vegan, but it's always a good idea to check the label on your package to be sure!
Sun dried tomato paste. Add some flavor to your pizza babka with the help of sun dried tomato paste, which also serves as a barrier to keep your crust from getting soggy as it bakes.
Tomato sauce. Traditional tomato sauce is a must when making a pizza babka. You can make your own homemade sauce or grab a jar of your favorite vegan sauce brand.
Vegan cheese. Top your babka with a handful of vegan mozzarella cheese to give your recipe the flavors of a traditional pizza without the need for dairy. Or make your own vegan cheese at home by pulsing cashews in your food processor.
Fresh basil. Using fresh basil is the best way to add tons of flavor to your babka. But if you don't have any fresh basil on hand, dried basil will also work in this recipe.
Olives. Add some toppings to your pizza babka with the help of some olives. Black or green olives are both great choices for your pizza toppings.
Olive oil. The final element of this simple recipe is extra virgin olive oil, which will help give your bread's crust a crispy texture as it bakes.
Can I make my own pizza crust?
Yes! Of course, making your own dough from scratch is a piece of cake . You'll need all purpose flour, dry yeast, olive oil, salt and water. Then just follow the directions in this recipe to prepare your dough. If you want to make your dough a little more savory, use butter instead of olive oil.
What other ingredients work well with this recipe?
You can substitute the ingredients in this recipe to suit your tastes. Try adding some Italian herbs, garlic powder, red pepper flakes or even fresh thyme for a different flavor profile!
How to Make Babka
While this recipe is made with traditional pizza ingredients, it's not prepared like a normal pizza. Instead of baking the crust flat with the toppings on top, the ingredients are rolled up inside the crust to create stripes of flavor throughout the loaf.
That means preparing a pizza babka is a little more complicated than simply sprinkling the toppings over the crust and baking! To make this pizza babka, start by rolling out your dough into a flat rectangle. Then, follow these instructions:
Add the toppings.
Spread the tomato paste and sauce over the top of the crust, making sure to leave the edges of the crust exposed to make rolling and sealing the bread a little easier. Next, top the sauce with the vegan cheese and olives.
Roll the dough.
Once all the toppings have been added, you can start rolling up the dough. Roll the dough from side to side, lengthwise, until it forms a long log.
Cut the dough.
Use a sharp knife to cut the dough down the center of the long, lengthwise. This long cut will create two long dough logs.
Braid the dough.
Pinch the top ends of the dough together with your fingers to secure them in place. Then, twist the two pieces together by bringing one side over the top of the other continuously until the dough is braided. Then, seal the other ends of the dough together at the bottom by pinching them together with your fingers.
Bake the babka
Once the dough is braided it's ready to bake. It's best to bake your babka in a loaf pan to help it form the right shape while it's baking. Bake the bread according to the recipe instructions. When the cook time is up, allow the bread to cool slightly in the pan, then remove it from the pan, leave to cool more on a rack for a few more minutes and cut it into slices to serve.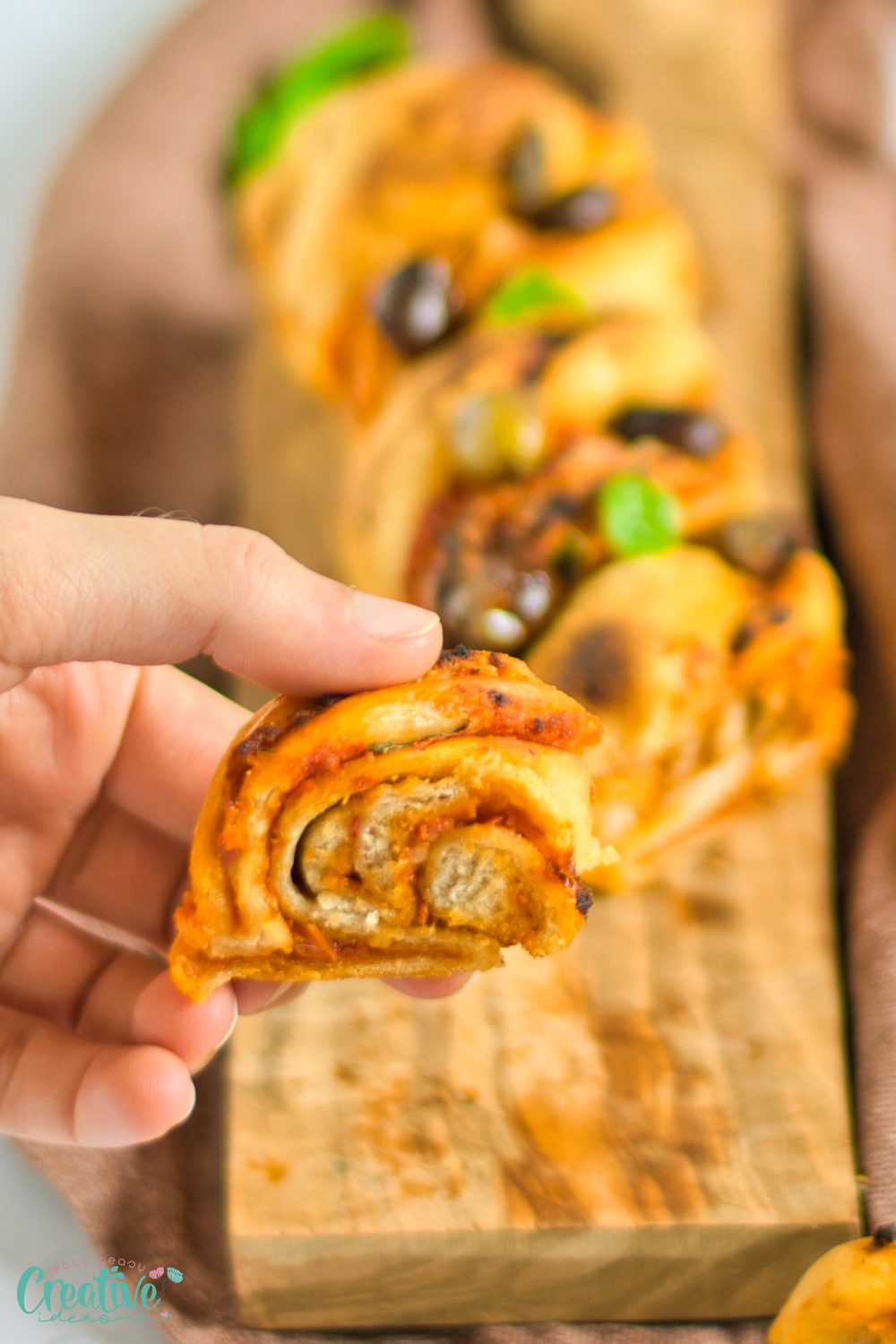 Can I make this recipe non vegan?
Sure! You can still make a pizza babka without veganizing your recipe. Just add mozzarella, pre cooked ground meat, sausage or pepperoni (or your favorite pizza toppings) to the top of your pizza dough before rolling it up. Add some grated cheese and some parmesan cheese to the top of the bread and bake. It's that simple!
Can I turn this into chocolate babka?
Yes! To make babka with chocolate, simply substitute all the ingredients for the filling for Nutella. Then, sprinkle chocolate chips on top of the dough before rolling it up.
How Do You Store Babka?
Since this bread is fully baked, it can be stored at room temperature or chilled in the refrigerator. Either way, leftover slices of your babka need to be placed in an airtight container first. When stored at room temperature, it will stay good for up to two days. If you keep the babka in the fridge, it will stay fresh up to five days.
Can you freeze pizza babka?
You can also freeze your leftovers if you won't be able to eat it all within the next few days. Place the slices on a baking sheet or plate and place them in the freezer. When the slices are frozen solid, you can wrap them in foil and transfer them to a freezer bag to store them. You can keep your babka slices in the freezer for up to three months. To thaw the frozen babka, you can remove it from the freezer and allow it to come to room temperature or heat it in the oven at 300 degrees until warm.
Let me know what else you come up with for this recipe, in the comments below! I love hearing from my readers about their favorite recipes and ideas for future posts. So don't forget to leave me feedback after trying out this recipe yourself – I always appreciate hearing from my readers!
Pin to save for later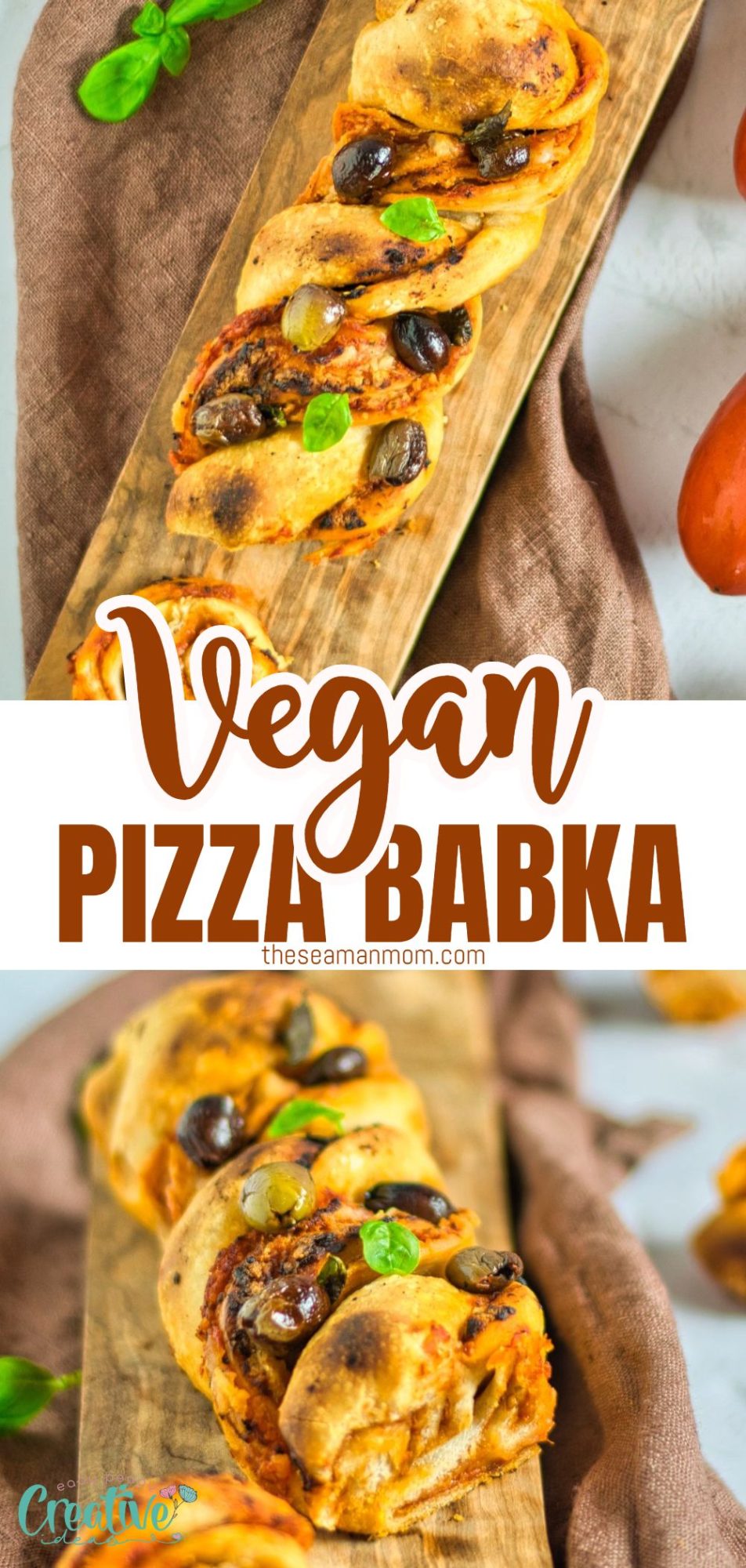 Print the recipe card
Vegan pizza babka
This vegan pizza babka is the perfect treat for a weekend brunch. It's made with a pizza dough, filled with tomato sauce, sun dried tomato paste, vegan cheese and basil.
Ingredients
7

tbsp

Sun-dried tomato paste

7

tbsp

Tomato sauce

6

tbsp

Vegan cheese

9

leaves

Fresh basil

6

Olives

1

tbsp

Olive oil
Equipment
loaf pan

rolling pin

pizza wheel

baking paper
Instructions
Start to preheat the oven to 375 F. Take a loaf pan and cover it with the baking paper. Set it aside. Take your pizza dough and roll it out, with the help of a rolling pin, into a rectangle approximately 12 inches long.

Spread the sun-dried tomato paste over the dough, leaving a slight border along the edges. Then spread the tomato sauce over and sprinkle the vegan cheese. To finish, add some basil leaves.

Roll the dough along the long side. You should have a long cylinder.

Use a sharp knife or pizza wheels to cut the dough in half lengthwise down, creating two long dough logs.

With the help of your fingers, glue together the upper ends, then start to twist one side over the other.

Move the dough to the prepared loaf pan carefully and finish by adding some olive and a drizzle of olive oil on your dough's top.

Bake for 25-30 minutes. Let it cool down a little before removing it from the pan.
Most Popular recipes: