Hiding serger tails seems like a dreadful task to you? Here's you'll learn how to hide serger tails with a super easy method! This way your garments will look finished and professional and your serger tails will never unravel! 
How to start and finish serging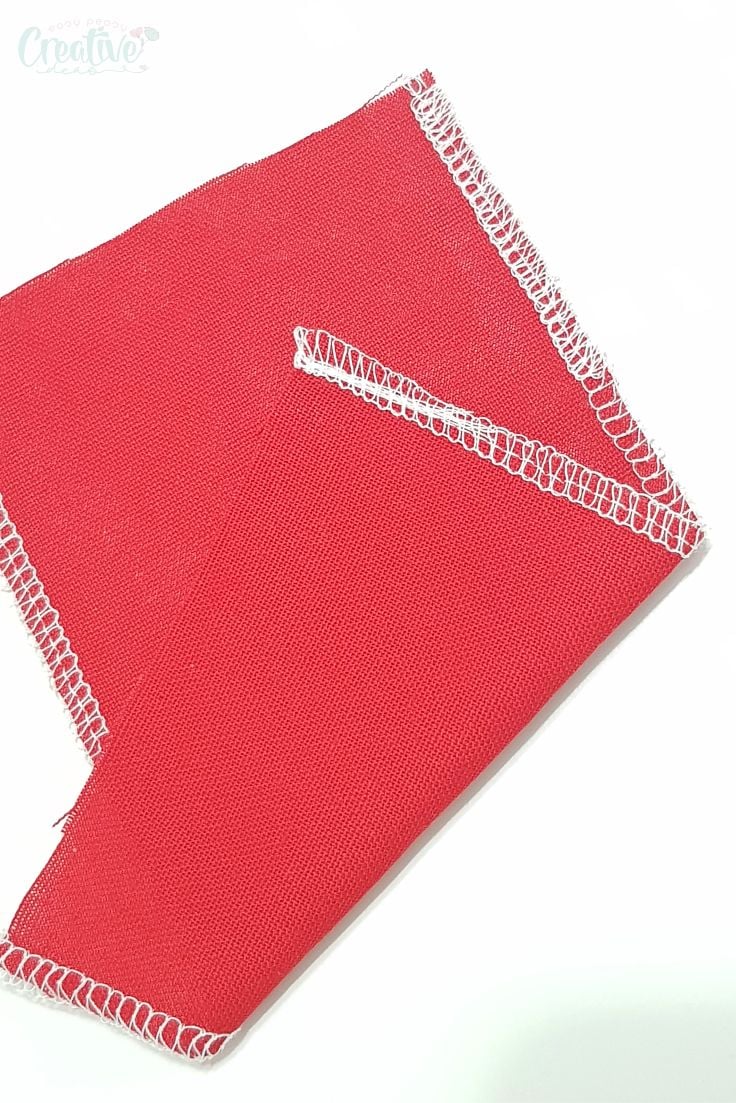 If you've ever wondered how to hide serger tails without cutting, tying or tucking the tails, you're in the right place! While I love my serger machine, I've always been terrified about starting and finishing serging because of those ugly thread tails! I never knew how to finish serger tails or how to have a clean start until I discovered this simple and quite cool method.
I never really wanted to get a serger, I was convinced it's not a necessary supply so for years I finished my seams other ways and I was pretty happy . There are so many ways to finish your seams and make them look beautiful! But last Christmas I got a nice gift, the kind of gift you can't possibly say no to because you instantly fall in love with: a Brother serger 1034d. The moment I saw this machine I realized my sewing will get an instant upgrade to a totally new and professional level! This machine was amazing and still works as great as on day one! I absolutely love it and I won't waste any opportunities to use it!
More quick sewing tips you'll love:
But…! I hated starting and finishing the thread tails, they looked quite disturbing to me, just hanging there and looking out of place! I used to spend a few good minutes hand stitching them, just to get them out of my way. My eyes were literally hurting at the sight of these ugly thread tails! I figured there must be an easy and quick method for hiding serger tails, other than cutting and unraveling the whole chain. And I got lucky! A sewist friend who's a lot more experienced than I am, showed me how to hide serger tails in a nice, easy and professional way.
These are the tails at start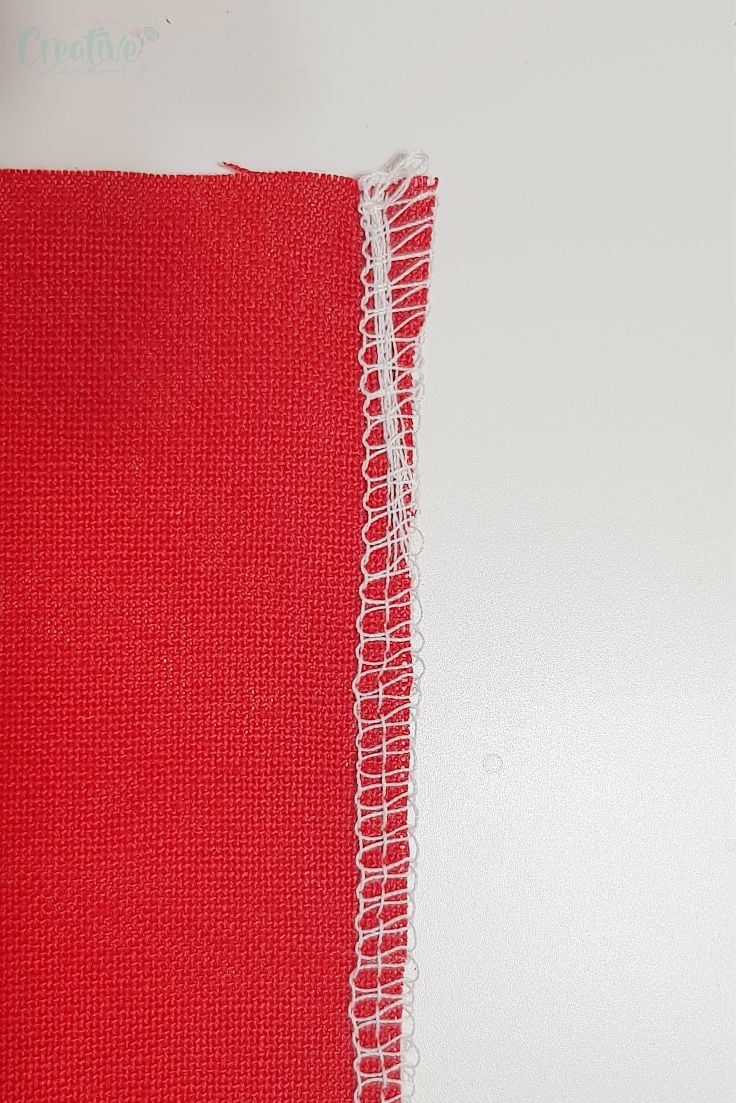 And finish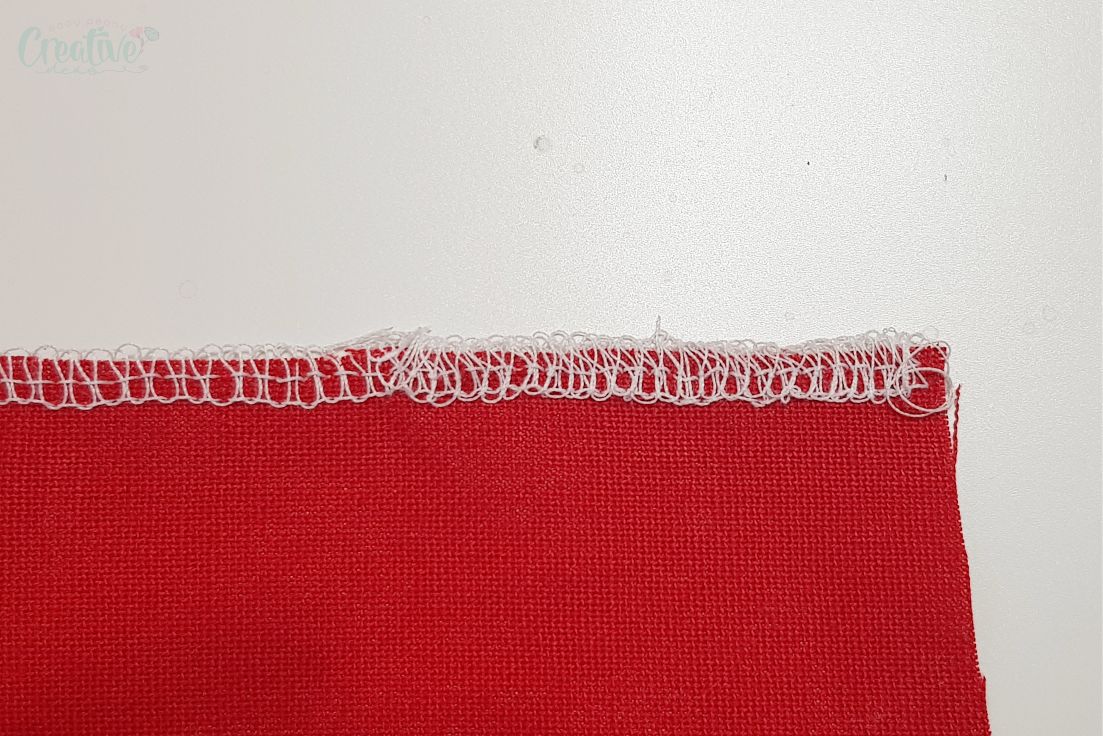 This method needs a little bit of practice but once you get the hang of it, you'll never go back to any other method you might have in use right now. With this method you'll get to hide both the starting and finishing tails and the whole process takes less than a minute. Fair enough you could always go back to your serger tails once your project is done, tuck them in, tie them, sew over them or secure them with glue but why would you spend extra time on finishing your thread tails when you can do that "as you go"?
How to hide serger tails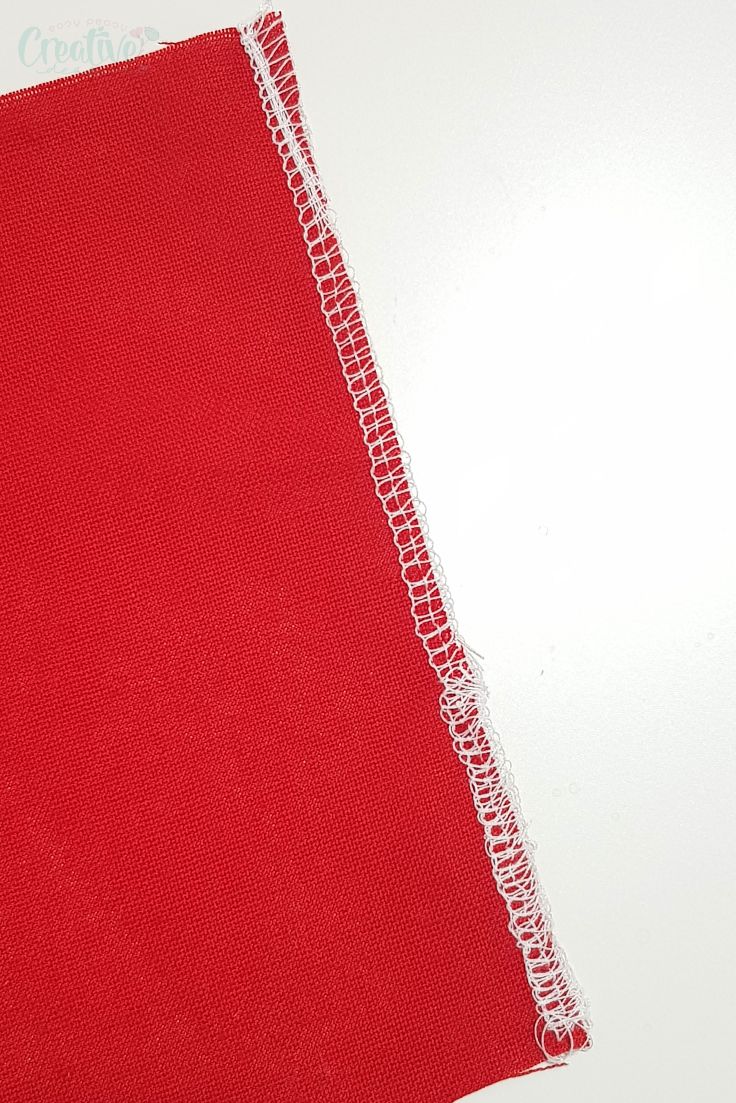 Materials:
scrap fabric to practice on
scissors
serger/overlocker machine
optional – clear serger foot
Directions:
Hiding tails at start
Start by folding your piece of fabric scrap and cutting into two pieces.
Place them right sides together, pin and sew with 1/4″ allowance along one side.
Take your project to the serger machine, lift the serger foot and place the fabric under the foot, right in front of the needles (the fabric edge should be parallel to the needles).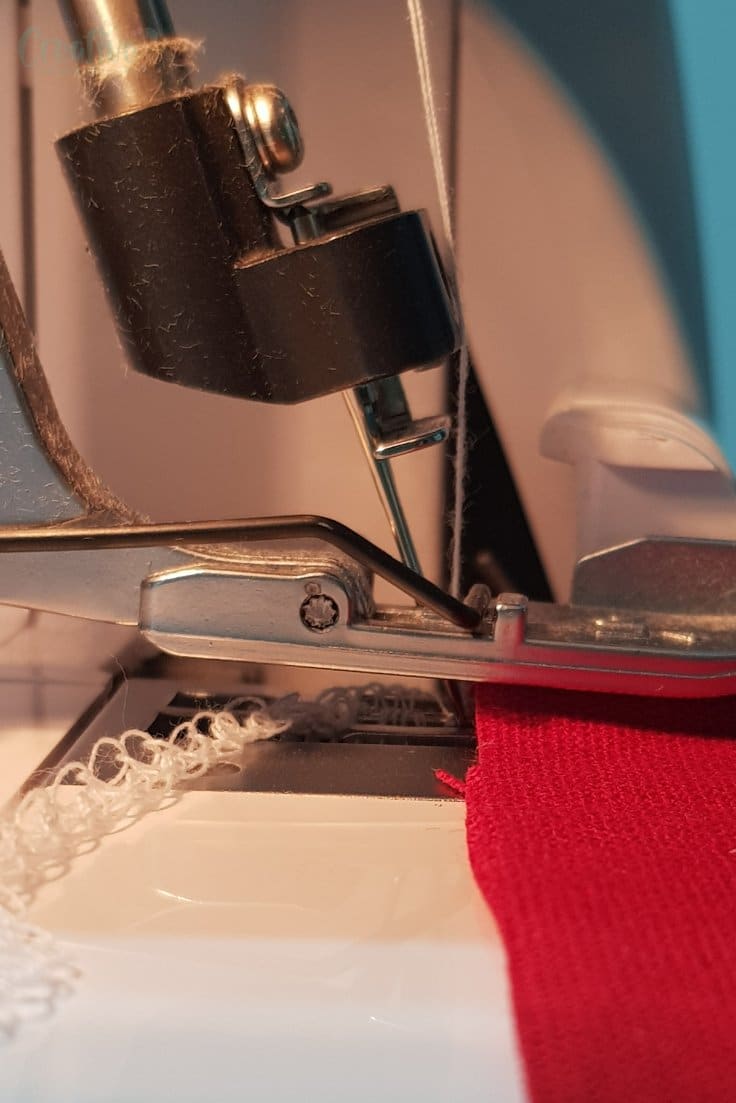 Lower the serger foot. Sew only 1-2 stitches, just enough to catch the fabric, then stop. This is where a clear foot comes in very handy so if you have a clear serger foot, use that one instead of your regular foot.
With the needles down into the fabric, lift the presser foot again.
Pull the chain of threads firmly until it unravels completely.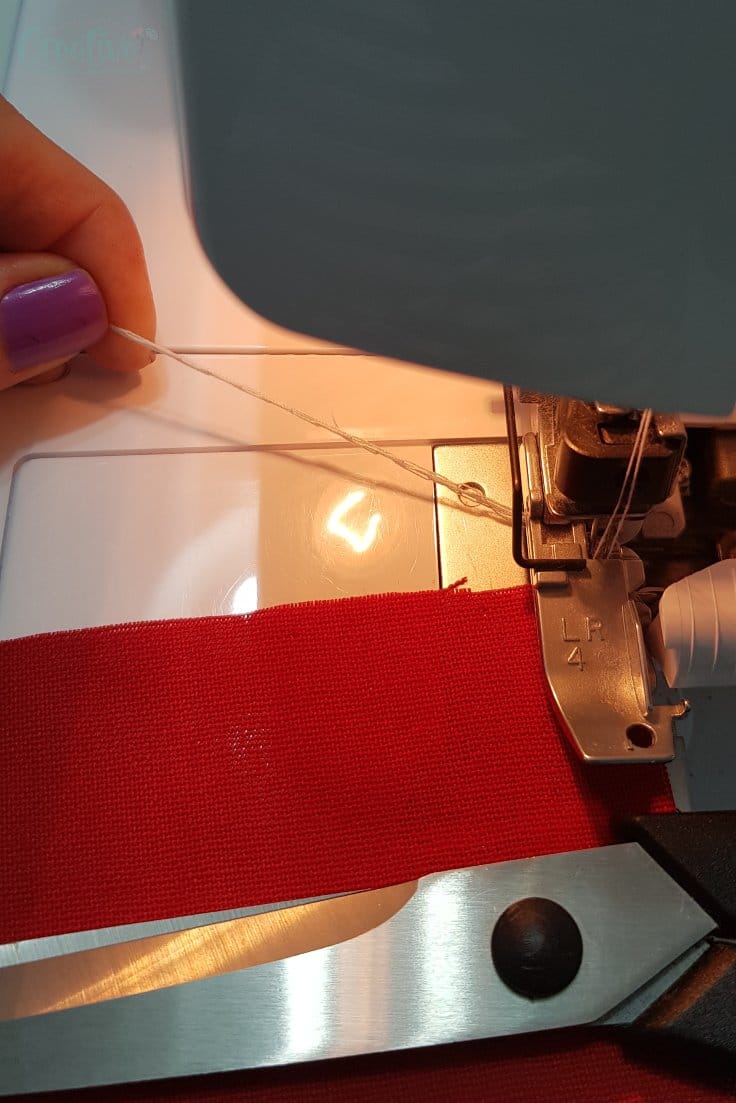 Bring the unraveled chain around the needle, under the presser foot, towards the front.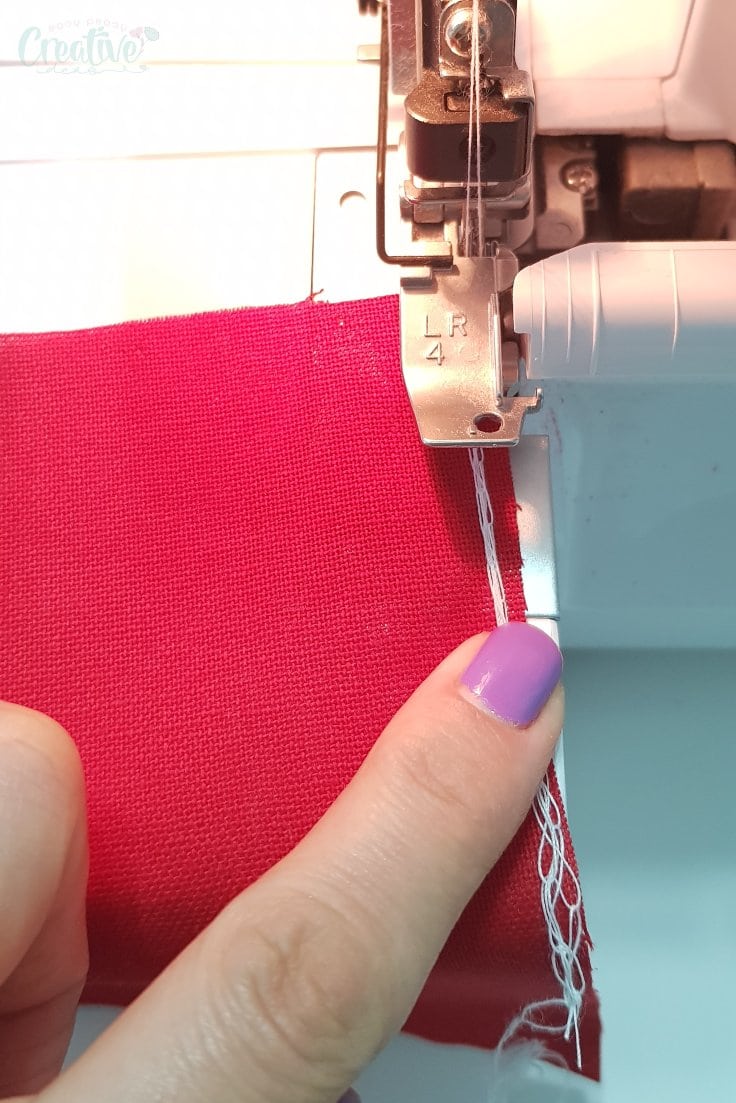 Lower the presser foot and start stitching over the unraveled chain until it reaches the knife.
Continue stitching all the way to the end of the seam.
Stop when the needles are right at the edge of the fabric (again, that clear foot comes in very handy). You need to make sure you stop right at the edge otherwise a new chain is created and you can't get rid of that. Use the wheel for the last 2-3 stitches instead of sewing with the pedal, if you need to. This is the reason this method needs a little bit of practice.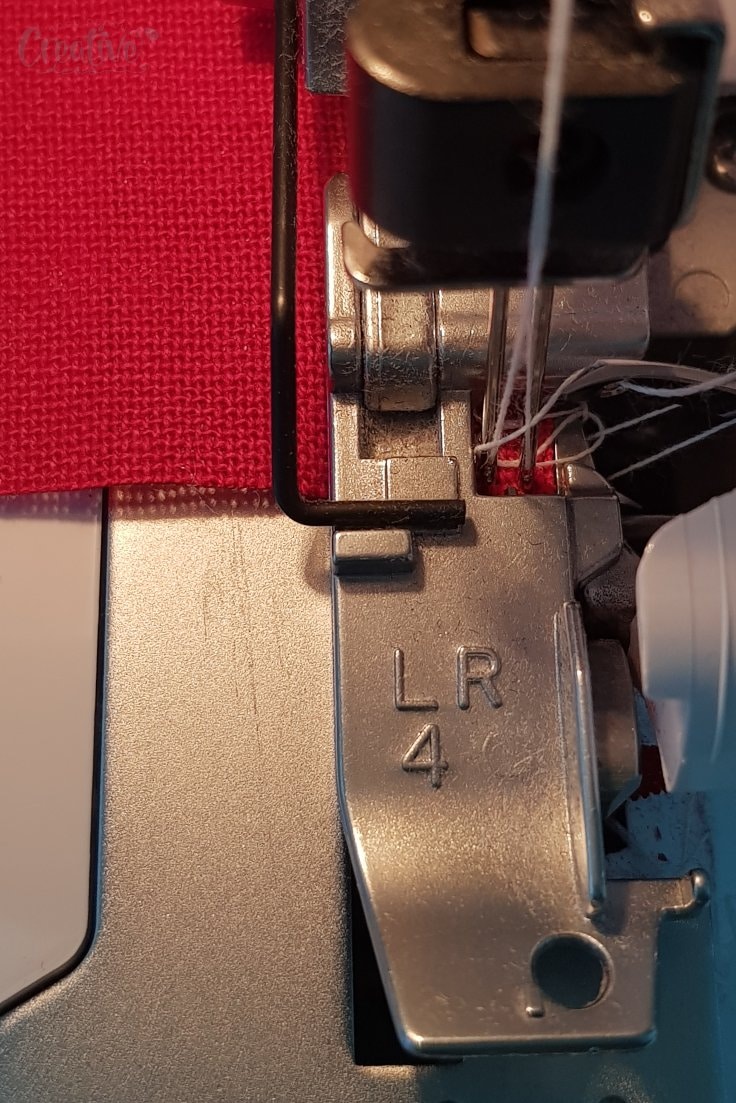 Hiding tails at end
Lift the presser foot up.
Grab the needle threads and pull them just a little. This will loosen up the tension under the needle plate so you can easily flip the fabric in the next step.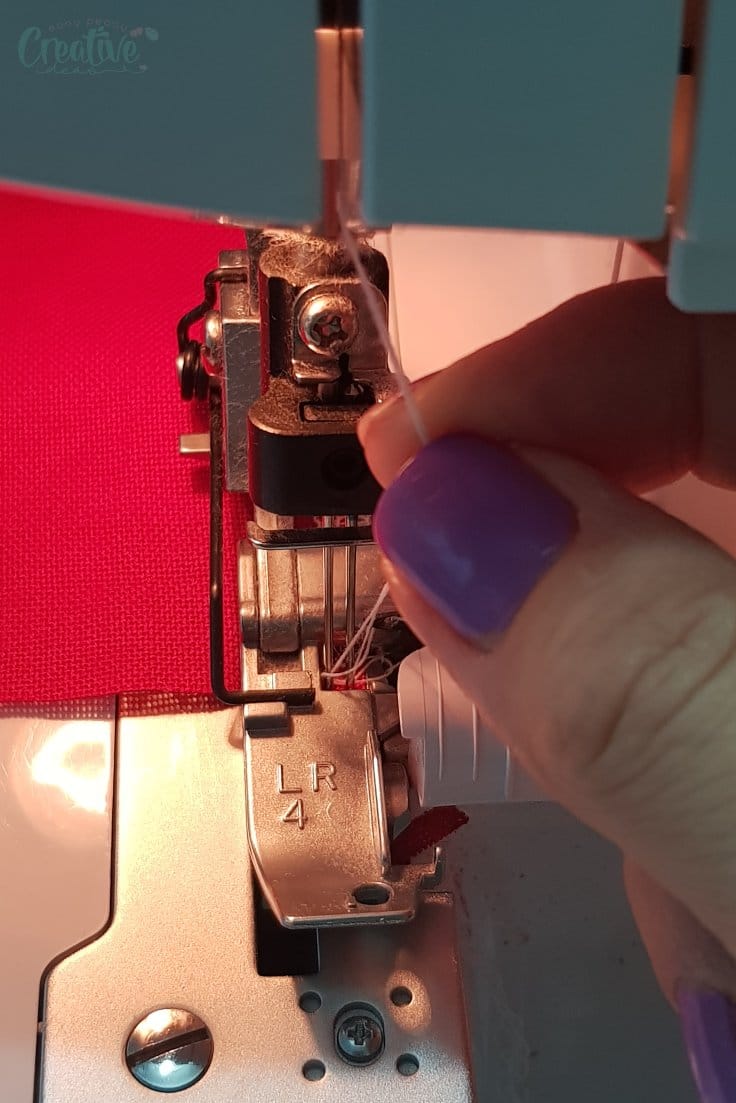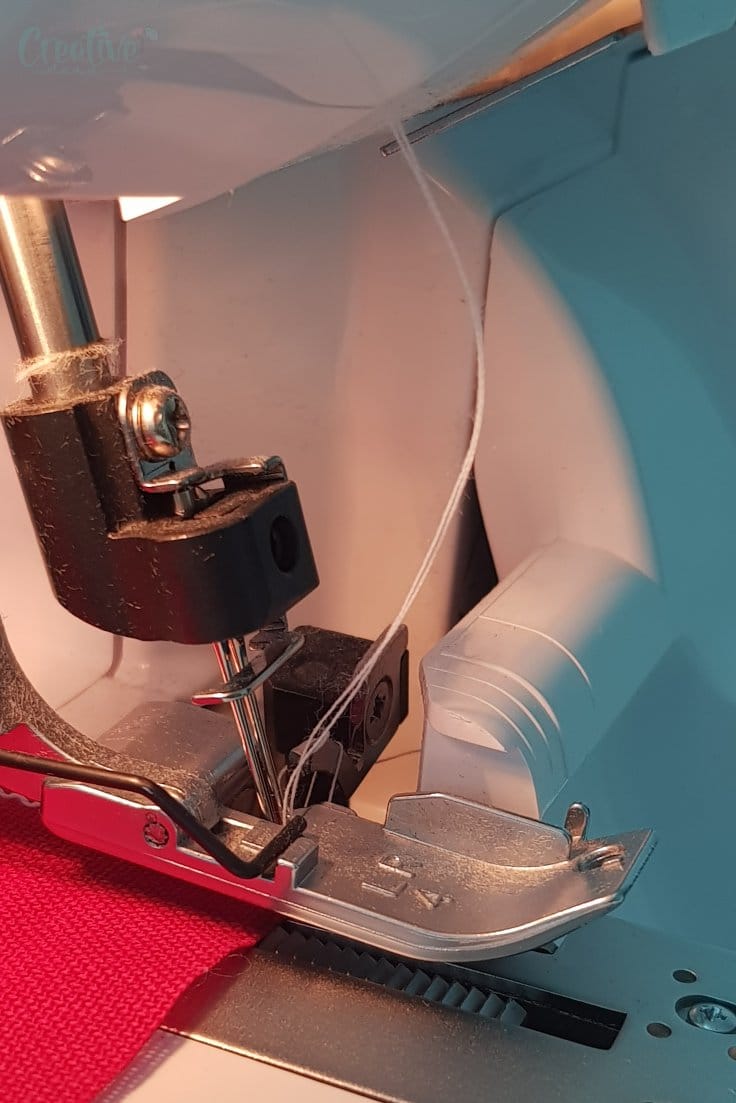 Grab the top of the fabric, slide it to the left then flip it over completely, bringing it around the needles and to the front.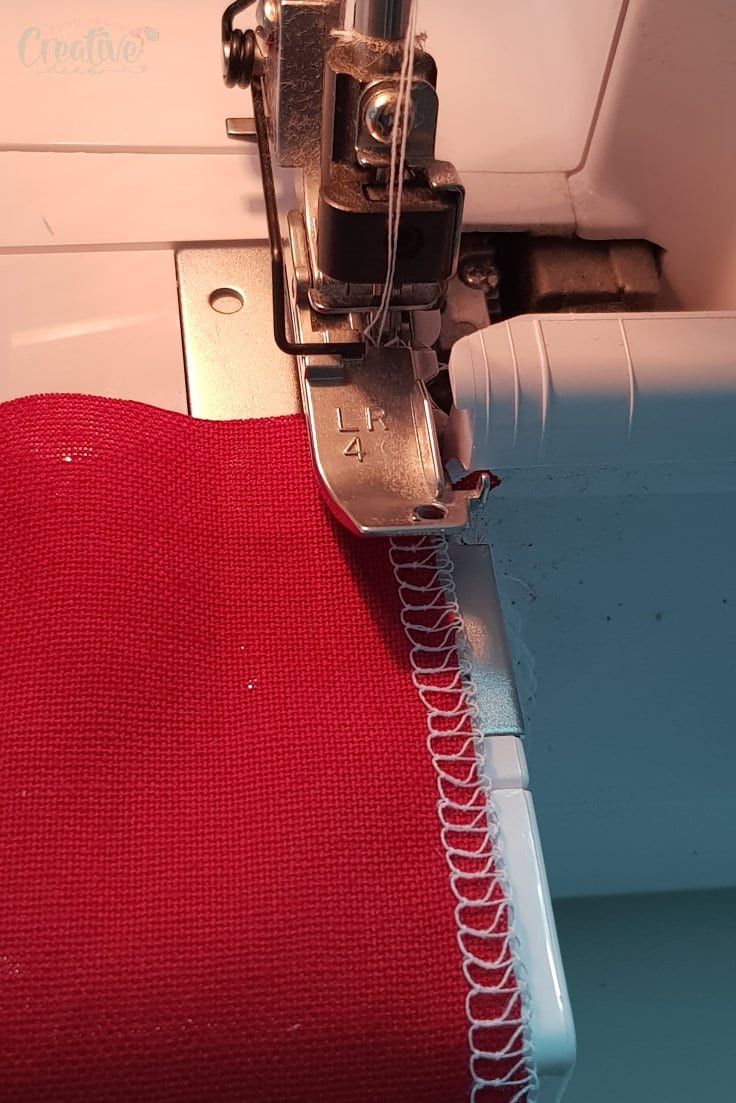 The bottom of the fabric should now be the top. The edge of the fabric should be right in front of the needles, perfectly aligned with the needles.
Lower the presser foot and sew about 1/2″.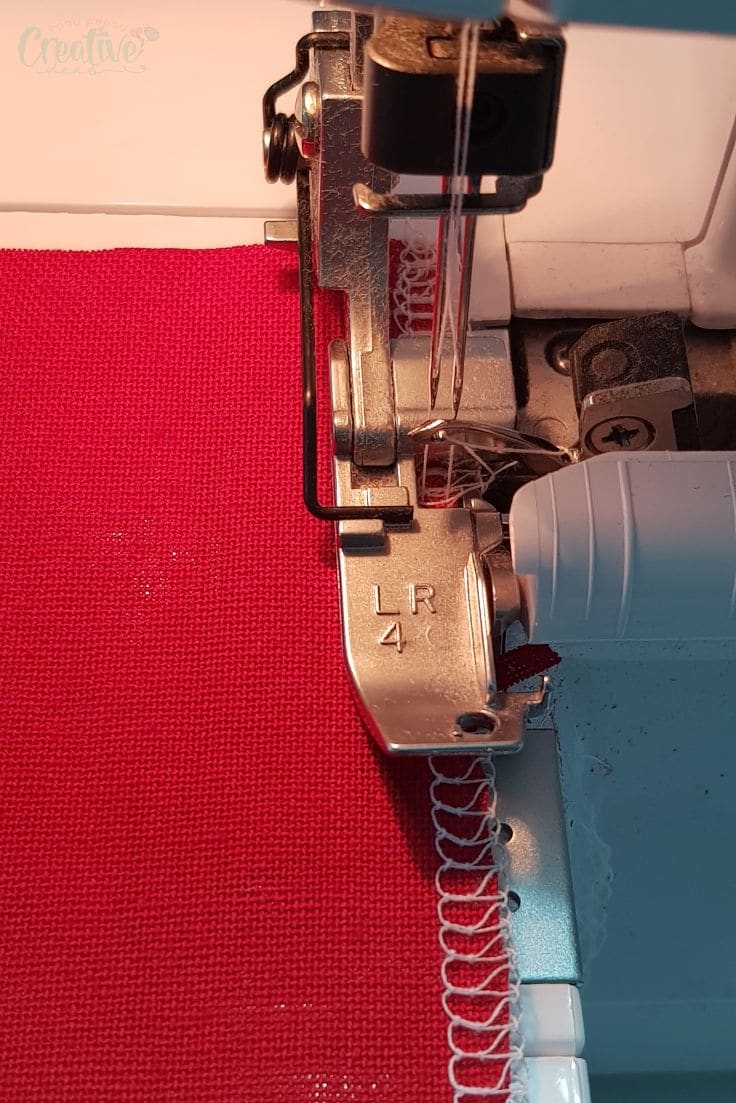 Stop and lift the presser foot again.
Push the fabric to the back so the serged seam is now parallel to the needles, the edge perfectly aligned with the needles.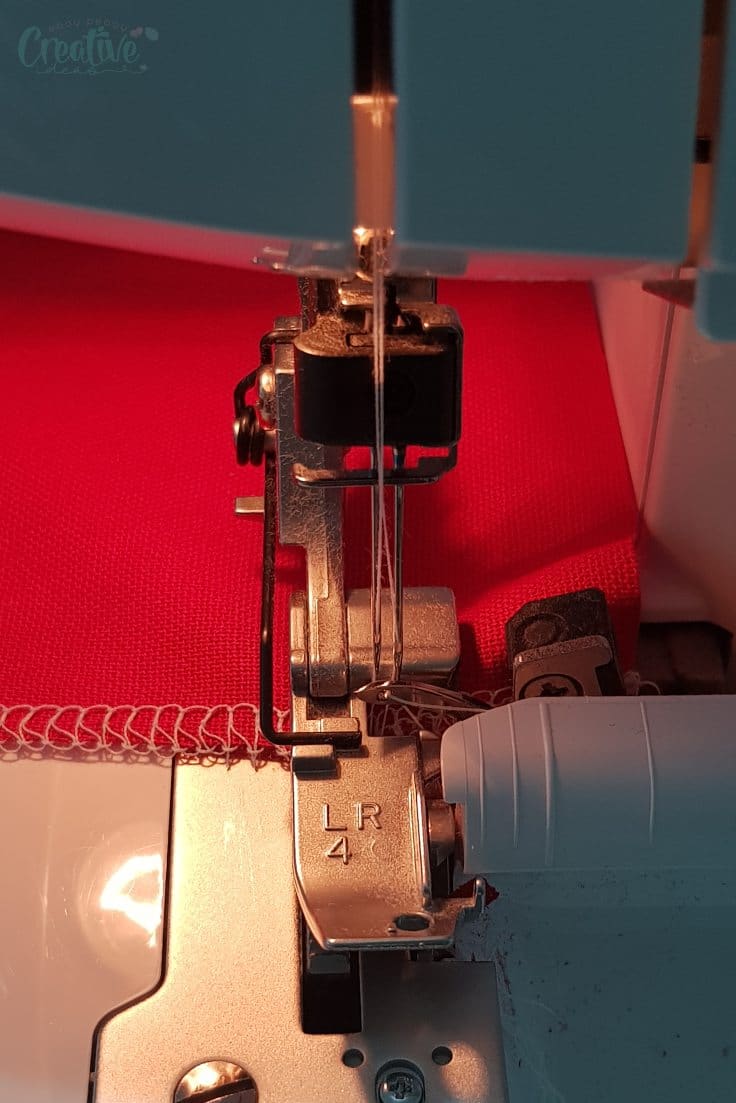 Leave the foot up and sew until the fabric is released and you're able to safely cut the chain.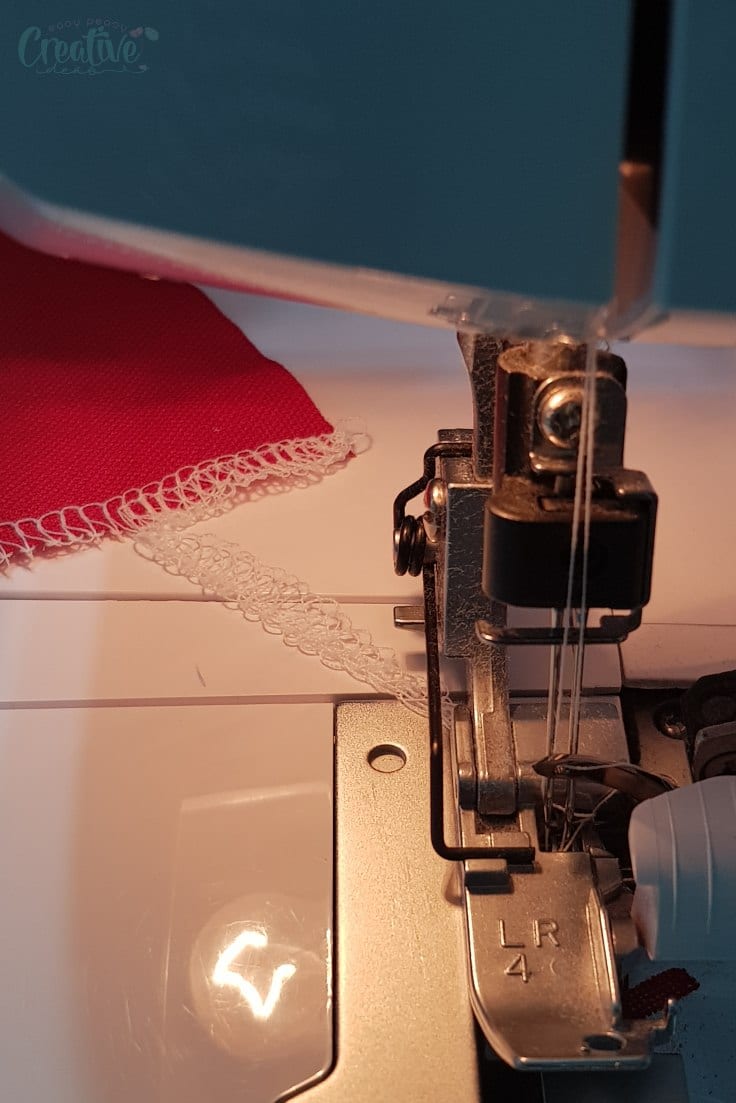 Trim the extra chain and you're done hiding your serger tails on both ends!
If you found this tutorial helpful, please let me know in the comments below and don't forget to rate it! Thanks!
Pin to save for later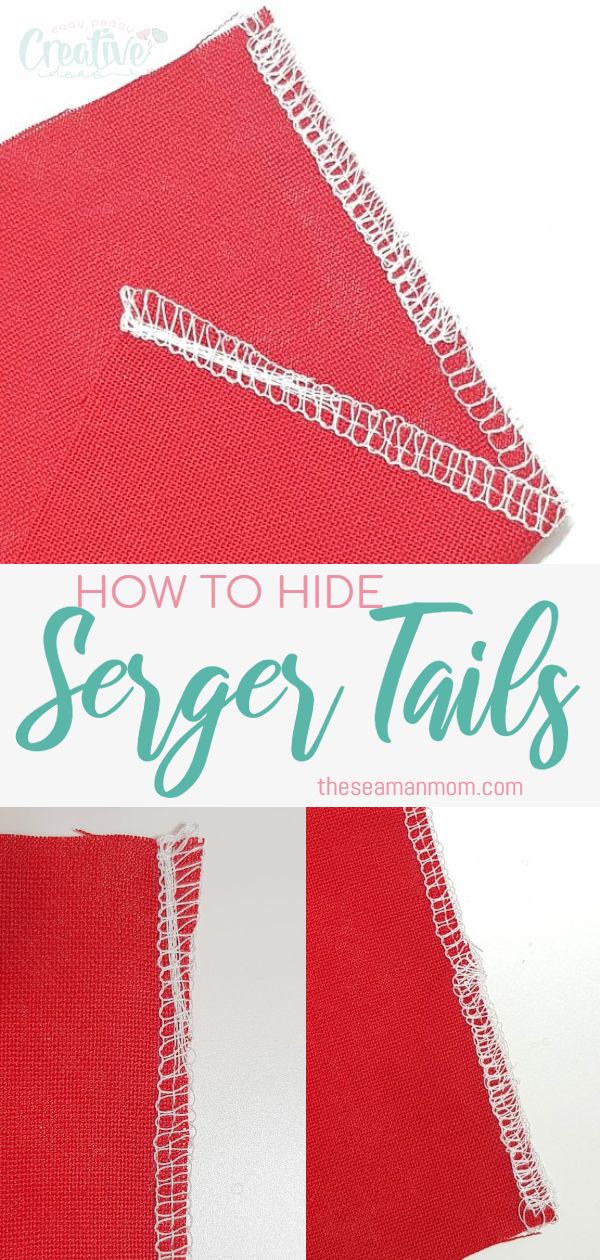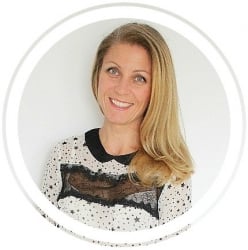 Hi, I'm Petro, author and founder of Easy Peasy Creative Ideas. Sewist, crafter, avid DIY-er, foodie, photographer, homemaker and mommy to one. I'm an expert at coming up with quick, clever sewing tips, recycling crafts and simple, easy recipes! You can find my ideas featured in reputable publications such as Country Living, Good House Keeping, Yahoo News, WikiHow, Shutterfly, Parade, Brit & Co and more. Thanks for stopping by and hope you'll stay for a while, get to know me better and come back another time. Stick around for real fun projects!