DIY seam guide quick sewing tip
Article may contain Amazon & affiliate links. As an Amazon Associate I earn from qualifying purchases at no additional cost to you.
Learn how to topstitch or sew nice, even seam allowances with an easy trick! Here's how to make your own simple and cheap seam guide with this tutorial on DIY seam guide.
DIY seam guide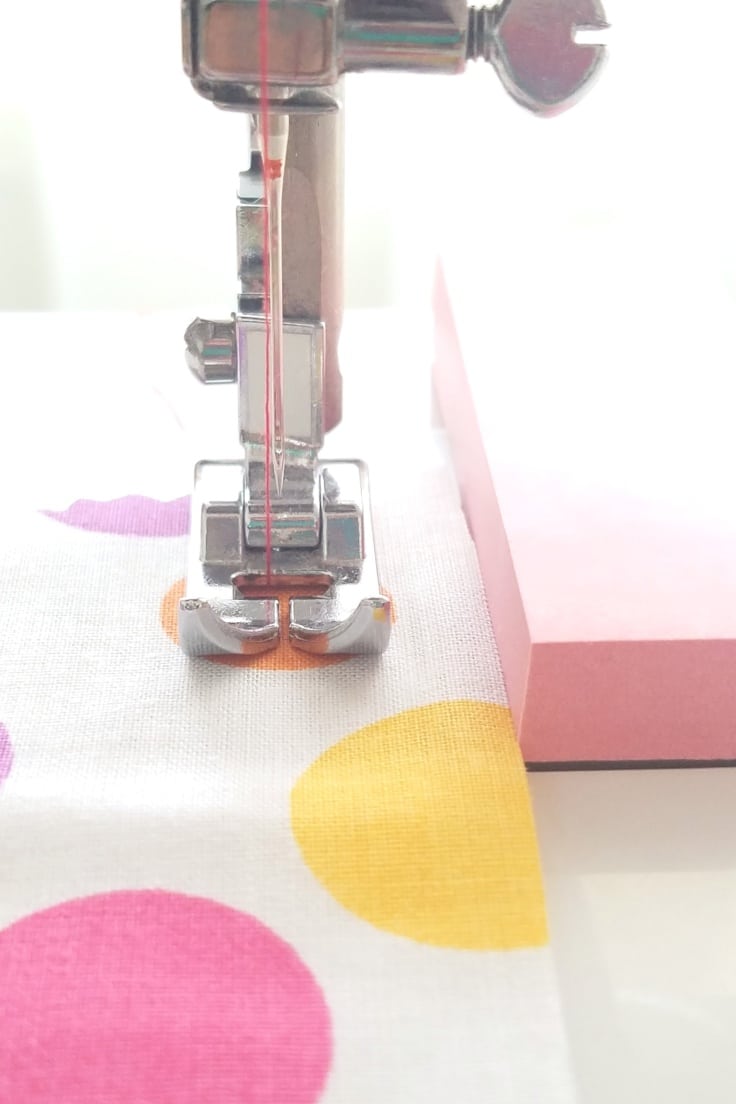 Today's tutorial is going to be super short but super sweet too! Because you'll get to learn a trick to the perfect DIY seam guide! Why is this the most amazing seam allowance guide you'll ever need? Because it's crazy cheap (most likely free) and its's ready in the blink of an eye!
But before getting into the details about how to make your own sewing machine seam guide, let's talk a little about the seam allowance, for all the ultimate beginners out there!
What is a seam allowance?
The seam allowance is the space between the edge of the fabric and the stitching line. This is calculated outside the drawn pattern, to allow you to sew your garments without taking in fabric and affecting your measurements.
What is a standard seam allowance?
You can usually find the seam allowance printed on your pattern and depends on the producer. Seam allowances can range from 1/4″ wide to several inches but usually, the seam allowance is 5/8". Different-sized seam allowances will be marked on the pattern. I personally like to use a 1/2″ or a 1/4″ allowance, depending on the thickness of my project.
How do you make a seam allowance?
If using patterns without a seam allowance, you can easily draw one while transferring the pattern to the fabric: just tie two pencils together with a rubber band (put something in between for a larger distance) and voila! You don't have to do the same job twice.
Depending on what you want to make, it may be useful to have a wider or narrower seam allowance. For example, when sewing sheer fabrics like georgette, seam allowances need to be smaller. Wide seam allowances will be visible and less aesthetic.
Also, fabrics that don't unravel will do with a smaller seam allowance. I'm talking about velvet, spandex, fur, velour or vinyl. Still, straight seams are a must if you want your garment to look good.
Want more easy sewing tips?
What is a seam guide?
Usually, seam allowances are marked on the plate of your sewing machine, right next to the presser foot. If you can follow those lines, that's great. If not, which is most of us' case, you will need something to help you out.
Not-so-straight seams, especially when they are visible, would scream "homemade!" and you don't want that. You want professionally-finished clothing that looks brand new and off the rack.
Stores sell a variety of ready-made seam guides: magnetic, adhesive, throat plate guide (if your machine didn't come with a marked one, as mine did). Seam guides are great to use, especially for quilting and decorative stitches, as you really need to do straight stitches.
Not long ago I purchased this super duper seam guide foot which proved to be really useful and oh so easy to use, I now use it in most of my projects instead of my regular foot.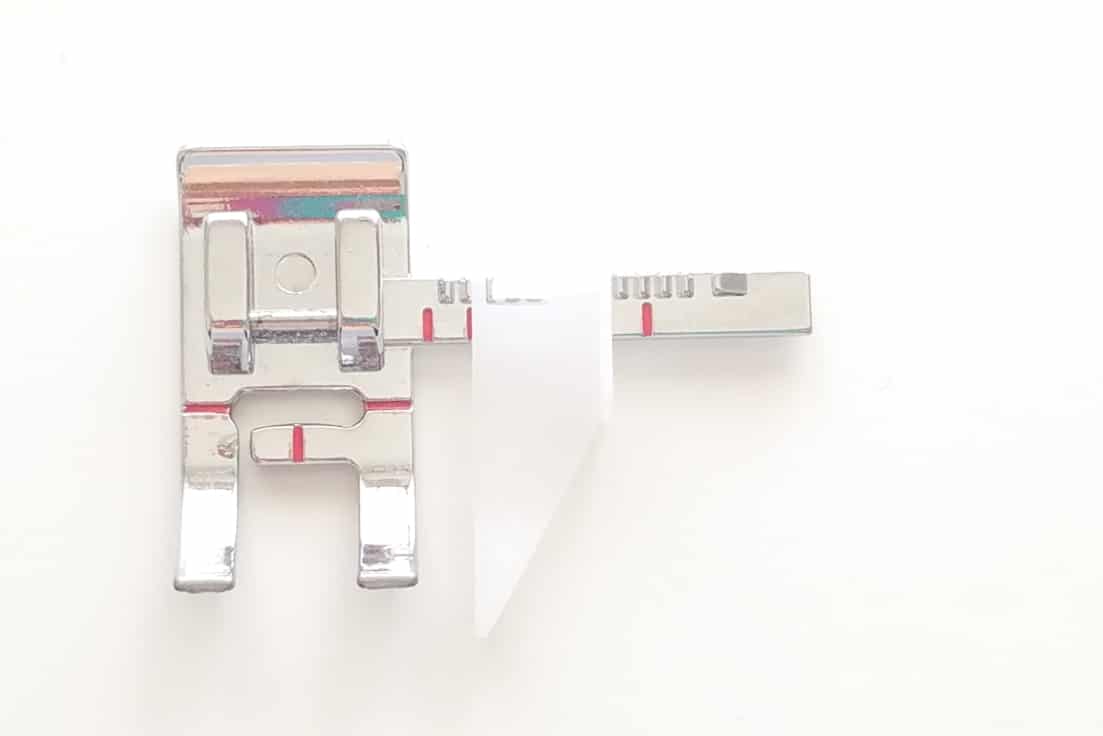 How do you make a seam guide?
It's actually really easy and on-hand to make a DIY seam guide, as chance is, you may already have everything you need. Post-its, painter's tape, rubber bands…these are all thing you would usually find in most homes.
Before this cool gadget mentioned above, I had a hard time sewing my seams super straight, nice and even all the time! I've always been pretty good at sewing really nice straight seams starting from day one of my sewing journey. But there were still times when my eyes were playing tricks on me and my hands weren't listening to the commands my brain was struggling to send unsuccessfully. So I had to come up with an idea and one day, this seam allowance guide was born.
To be honest, it wasn't my idea! It came from my aunt who's been sewing for most of her life and apparently has been using this trick ever since the world got blessed with yet another awesome invention: the post-it pads! Oops, spoiler alert! (lol in case the photo above didn't give it away just yet). Yes the trick is in the humble post-it!
What I love most about this method is that the post-it acts like a seam guide but also helps preventing the fabric from sliding and moving in the wrong direction. It's kind of forcing the fabric to go the right way and not slip. Here's a quick step by step on how to use it as a seam guide.
Tips to help you get the best seams and straight stitches
If you're feeling confident you can keep your fabric straight and don't need a stopper, you can also use a rubber band or painter's tape to mark the seam allowance on your sewing machine;
You may notice the post-it block won't be as sticky as you like after removing the last sheet. You can secure it in place with painter's tape or any tape available;
If you don't have a sticky notes block, you can stick any other blocky object you don't need, such as an eraser or match box;
To determine the length at which to place your seam guide, you can use any ruler you have. An alternative would be marking the future seam line with a marking pencil or a pin, and placing the guide at the end of the fabric;
Presser feet toes are also great guides for small seam allowances or spacing between decorative stitches, but will usually not keep the fabric in place. Unless it's a special presser foot with a lower right toe;
Striped fabrics may sometimes be helpful if stitching vertical lines and the pattern isn't curved. Just use the closest stripe as a guide. Just be careful, as this won't keep the fabric in place, either;
If you're feeling edgy, attaching a laser to your sewing machine may be the thing for you. You can install it to mark your seam, but also move it around to mark the fabric edge. You just need to secure the fabric yourself, as this won't keep it from slipping.
Sewing machine seam guide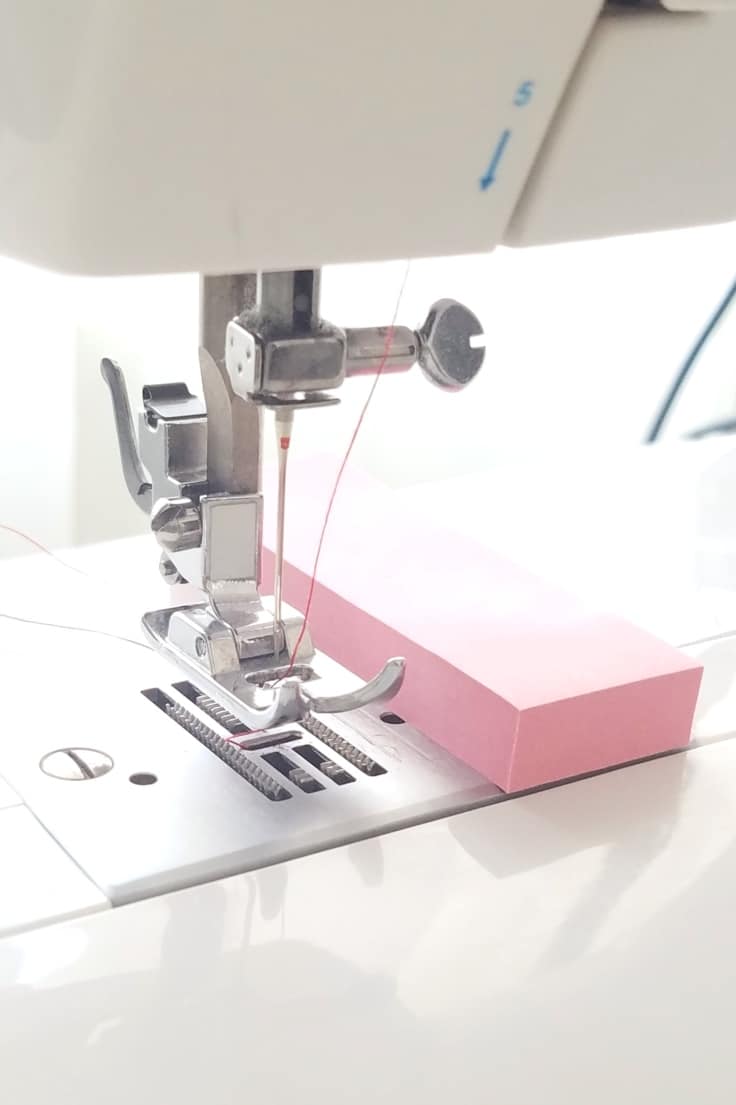 Materials:
Post-it pad (preferably a larger one with plenty glue to the back)
seam gauge or ruler
erasable marker (optional)
fabric to sew
thread
Directions:
Using your seam gauge, measure the seam allowance you need to sew, starting from the needle to the right.
Mark the spot for ease of reference (this is optional).
Remove the last page from the post it pad.
Place the post it with the glue side right next to the mark you made on your sewing machine plate and press firmly.
Place the fabric under the foot and push it to the right until the edge meets the pot it.
Start sewing. At this point you only need to make sure the fabric doesn't slip to the left as the right side is secured by the post it.
I hope you found this tutorial fun and informative! I would love to know your thoughts so please leave a comment below! Thanks and happy sewing!
Pin to save for later
Most popular sewing projects: