Wanna learn how to sew a pouch? Make a bunch of cute and practical pouches with this easy and simple lined zippered pouch tutorial! This DIY pouch is a great way for beginners to practice their zipper skills!
Zipper Pouch Tutorial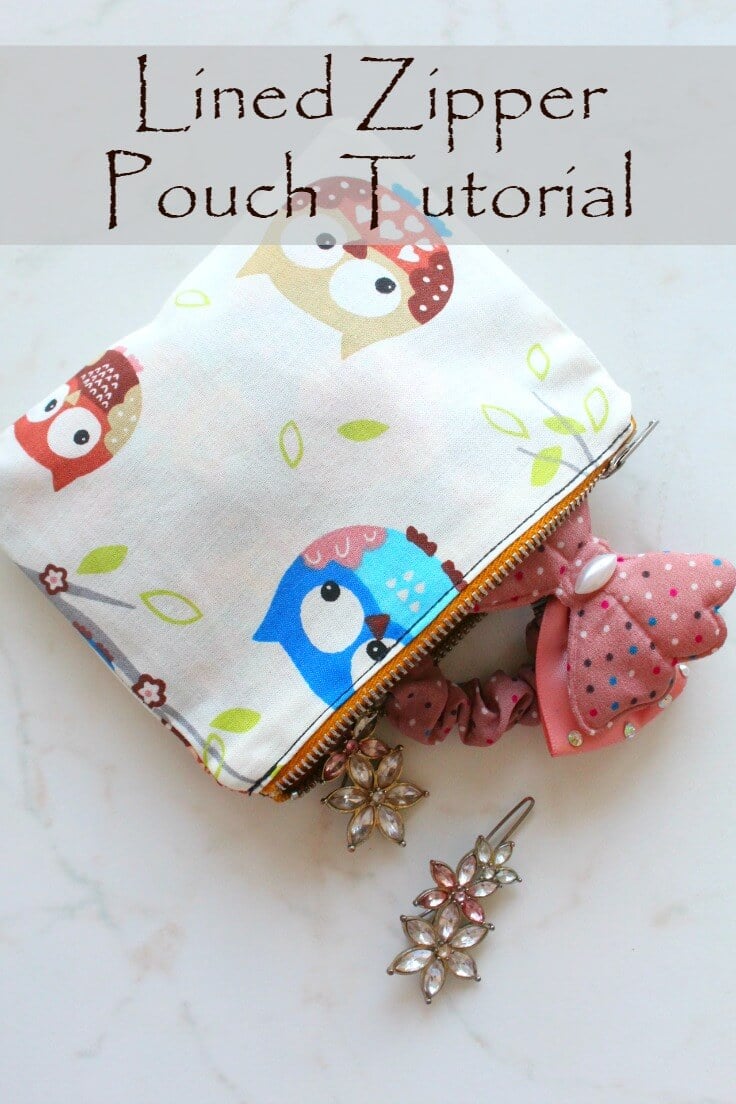 Ever wondered how to make a zipper pouch? If you're an ultimate beginner you probably feel like these are so hard to make since they involve a zipper and they are also lined. But you could not be more wrong! This easy peasy lined zipper pouch tutorial will debunk all the myths, I promise you!
Need more pouch ideas?
While I was practicing my zipper skills for these tutorials (How to sew a zipper and Zipper installation on a skirt), I thought I might as well make something practical. I'm always in need for storage ideas for my craft or sewing supplies or even my elastic bands. So this lined zippered pouch tutorial made total sense. And I could not be happier with my decision! This little pouch is so useful and was incredibly easy and fun to make, especially with the fabric choice I had.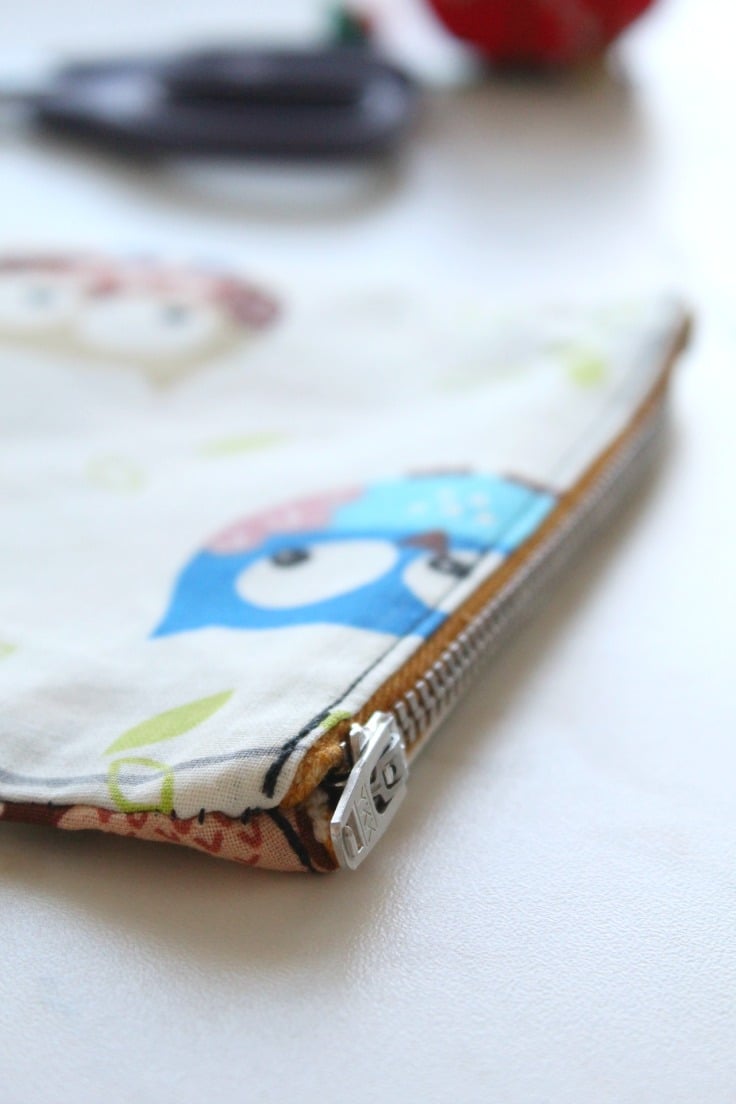 With this easy zipper pouch tutorial you could whip up a bunch of little pouches in no time! These beauties have so many uses and are great to store all kinds of stuff, from elastic bands and clips to coins, pencils, office, craft or sewing supplies etc. Or if you love essential oils as much as I do, you could use this lined zippered pouch tutorial to make some pouches for your favorite essential oils to carry when traveling. And they are such fun gifts to make, just on time for the holiday season!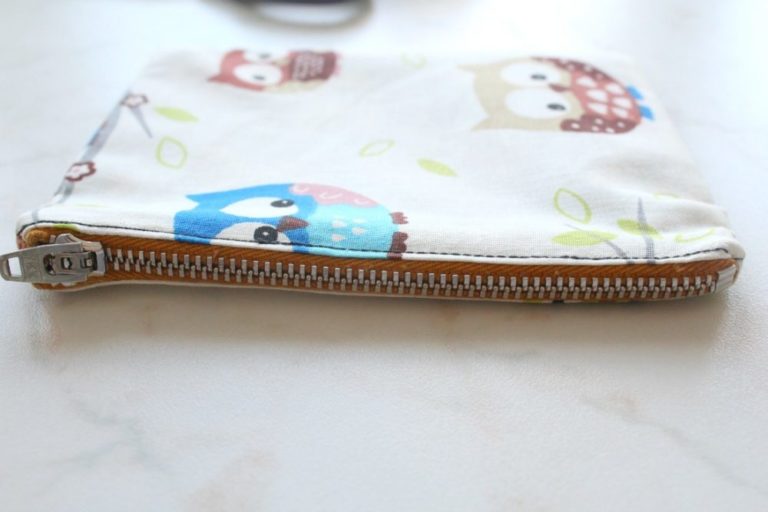 This lined zippered pouch tutorial is perfect for beginner sewists that are not too confident in using zippers on larger projects like skirts, blouses or dresses. They are also a great way to use some of your fabric scraps and a wonderful opportunity to get more organized and tidy. Also making your own pouches means you get to pick the fabric you like and choose the size you need.
Lined Zipper Pouch Tutorial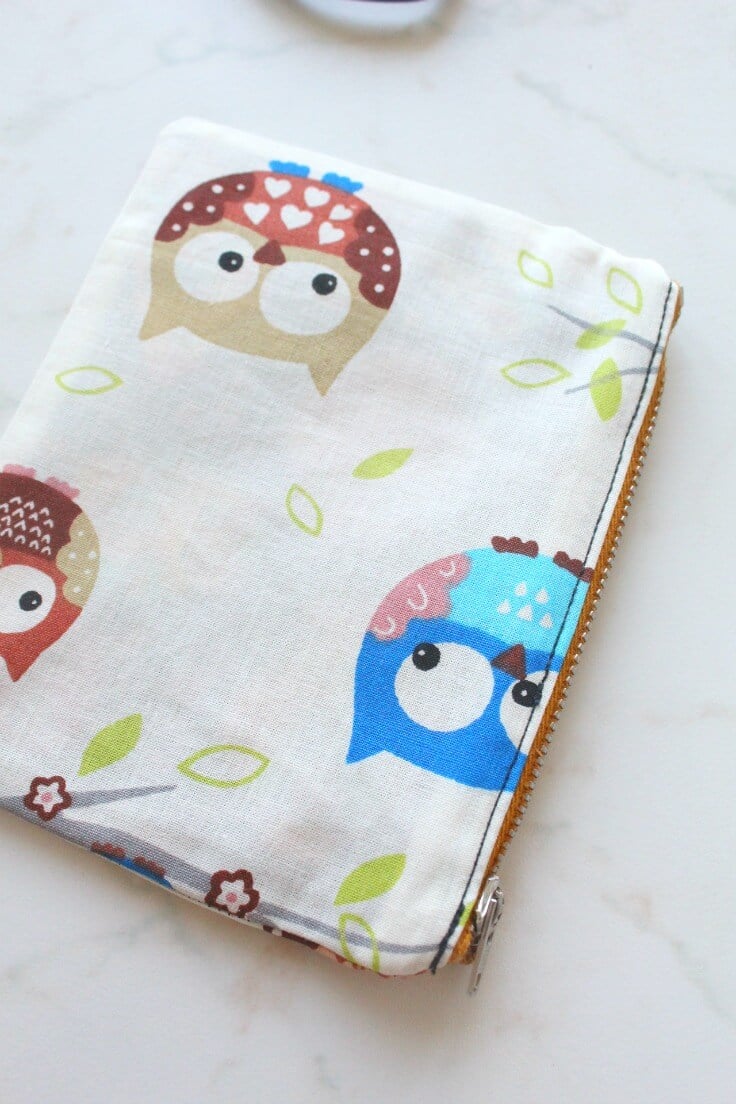 Materials:
2 strips of fabric of 6″ x 5″for outside
2 strips of fabric of 6″ x 5″ for lining
matching thread (I used contrast for this tutorial)
pins
iron and ironing board
Directions:
Take your outside fabric strips and the zipper and sew the zipper on as instructed in this tutorial, skipping the final decorative step (the topstitch one; I have mine on as I did both tutorials in one go but if you do the topstitch it will show on the inside of your pouch). Remember to use the zipper foot.
Sandwich one long edge of the zipper between one piece of lining and the outer fabric where it is already stitched to (in other words just flip one outside fabric strip over then place one of the lining strips underneath).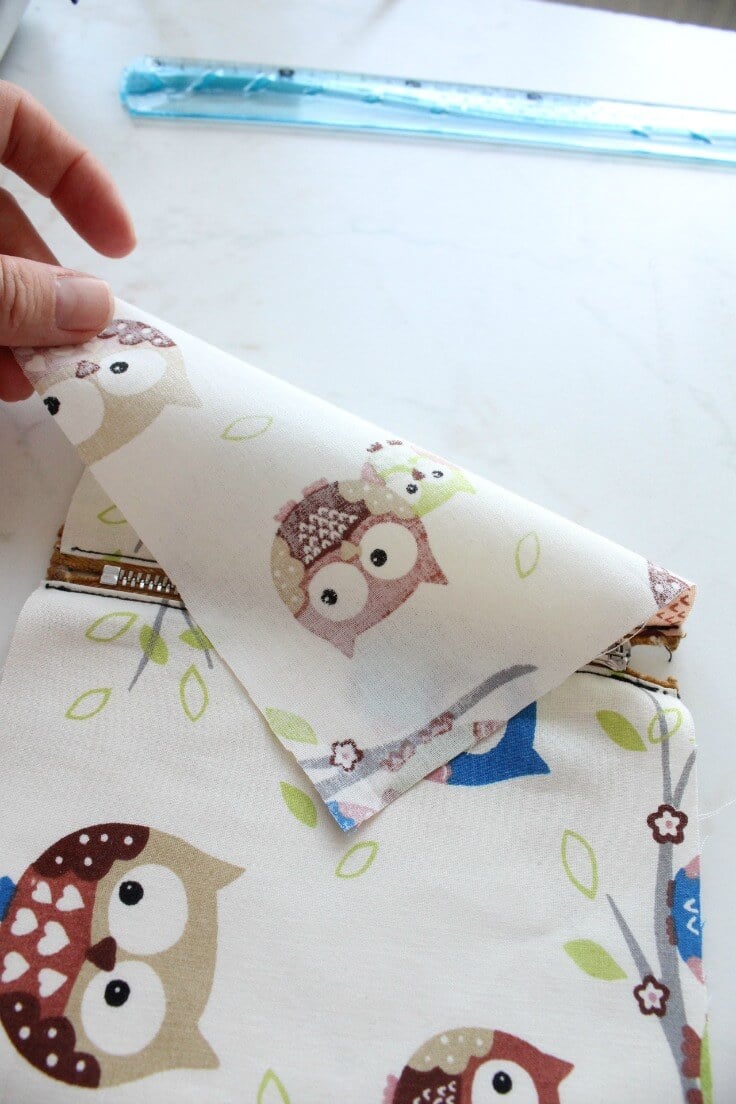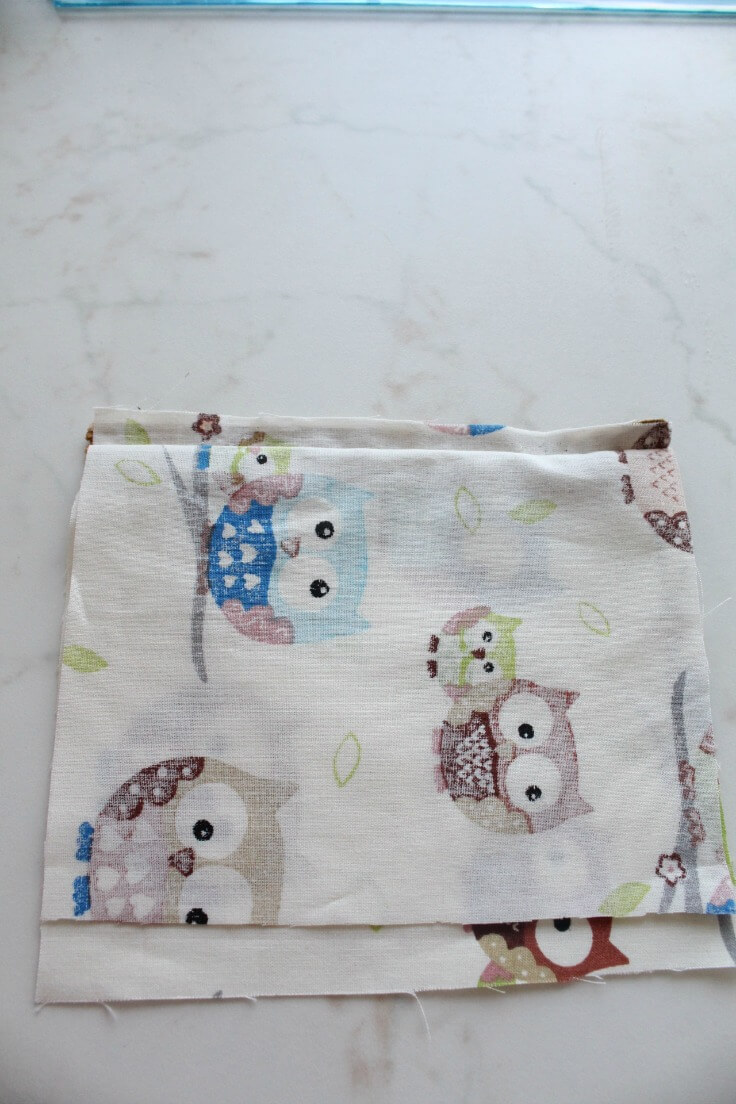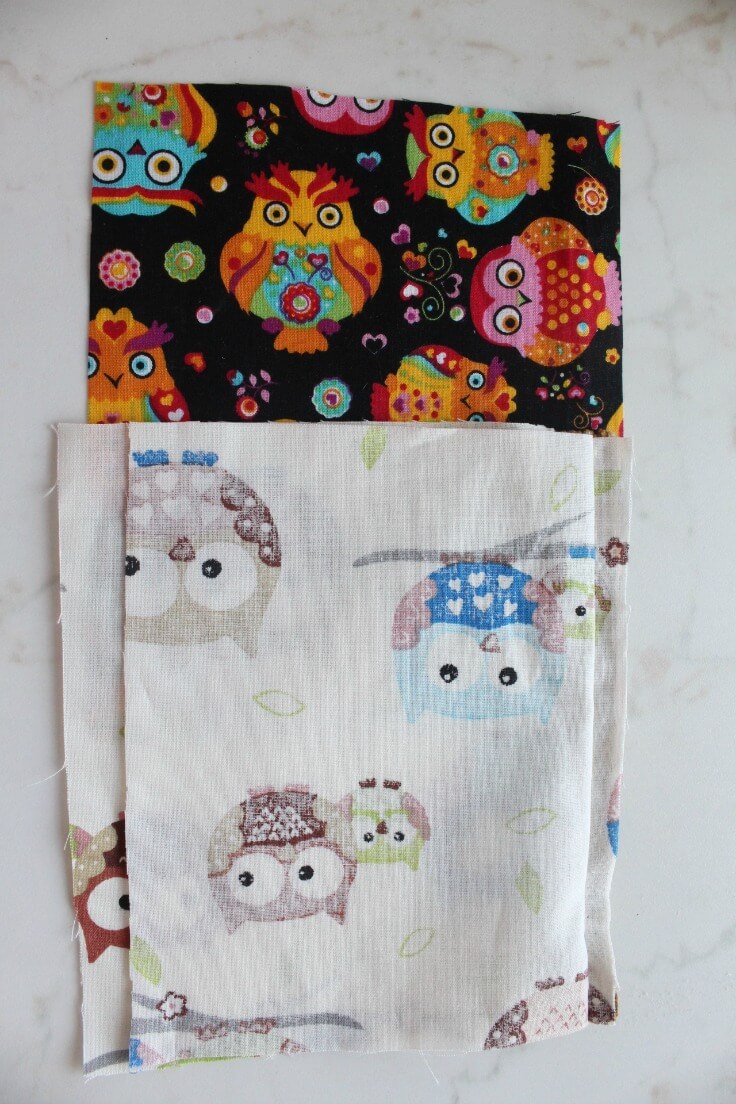 Stitch again, along the same stitching line on the outer fabric, to attach this side of the lining (remember I did a topstitch in my previous tutorial so the image here is slightly different in terms of stitching, yours should show where my finger is pointing to).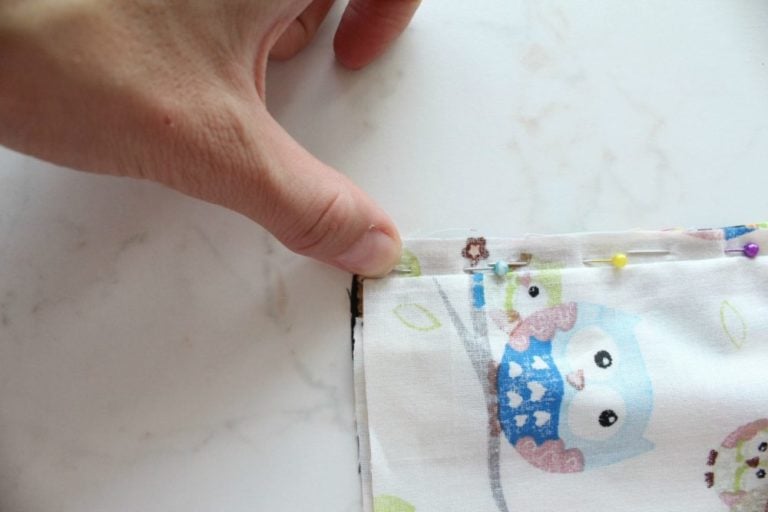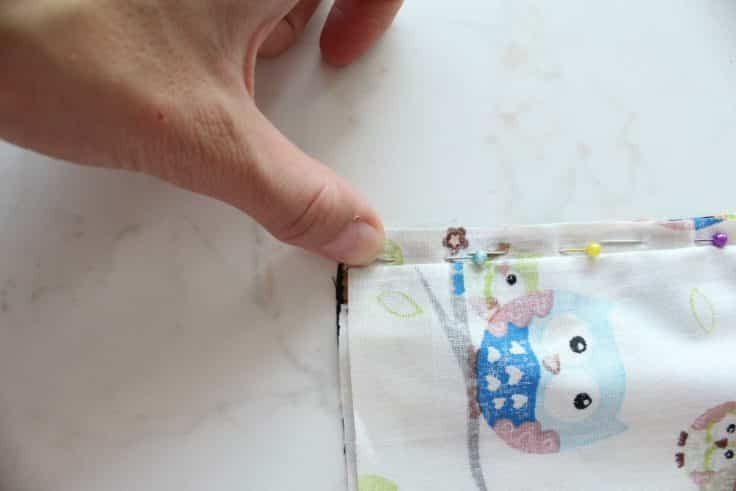 Repeat for the other side and the second lining strip.
Now is the right time for you to topstitch close to the zipper to keep the fabric from popping up and also for decorative purposes.
Open up your zipper a little, about 3/4 of the way.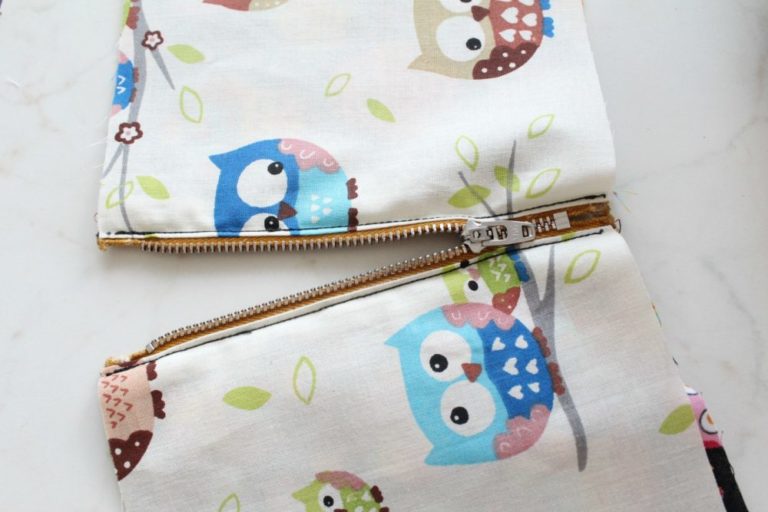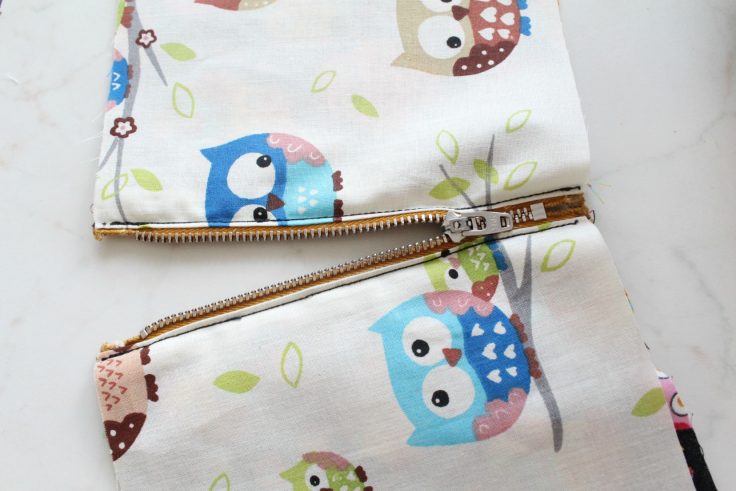 Match the outside fabrics right sides together then match the lining fabrics right sides together. Fold the zipper teeth toward the lining and make sure to match the outer fabrics at the zipper.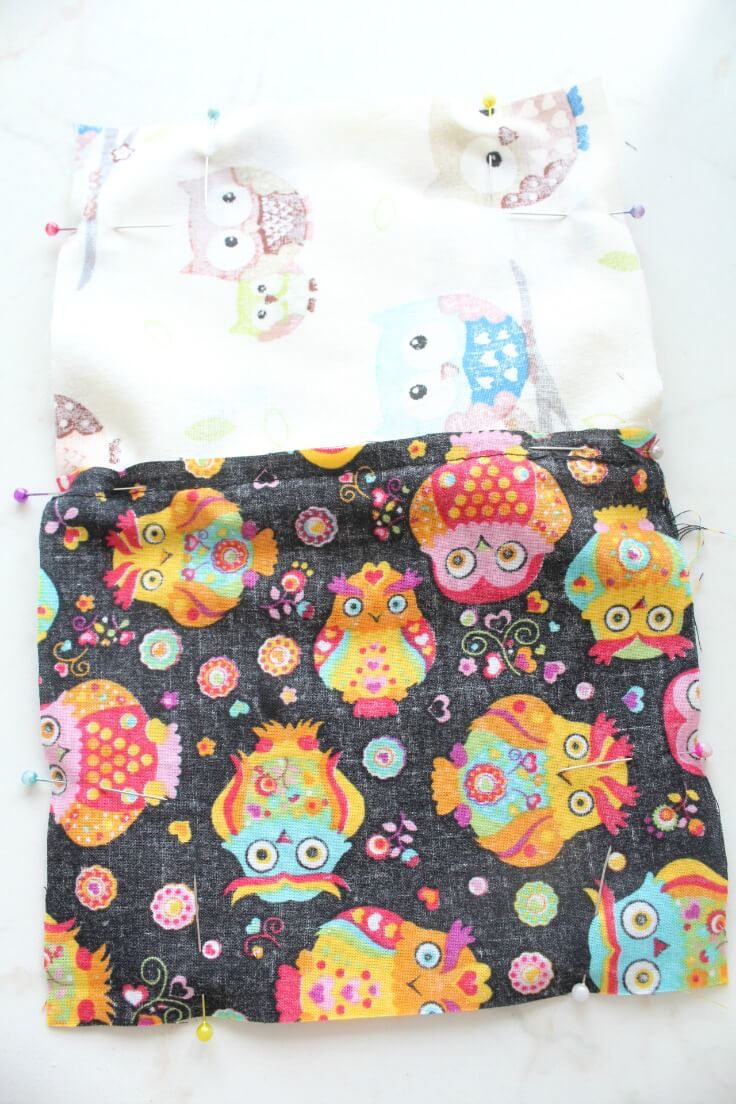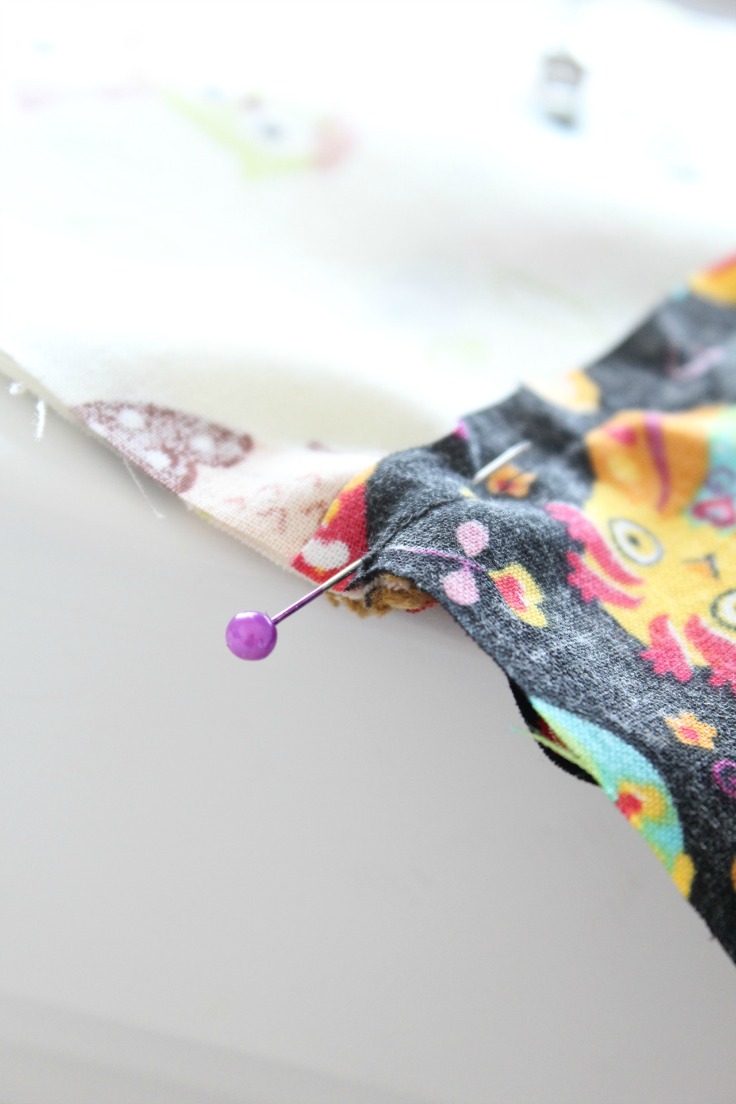 Stitch around all raw edges but leave a small hole in the bottom of the lining for turning. Clip the corners but be sure you don't clip through the stitching.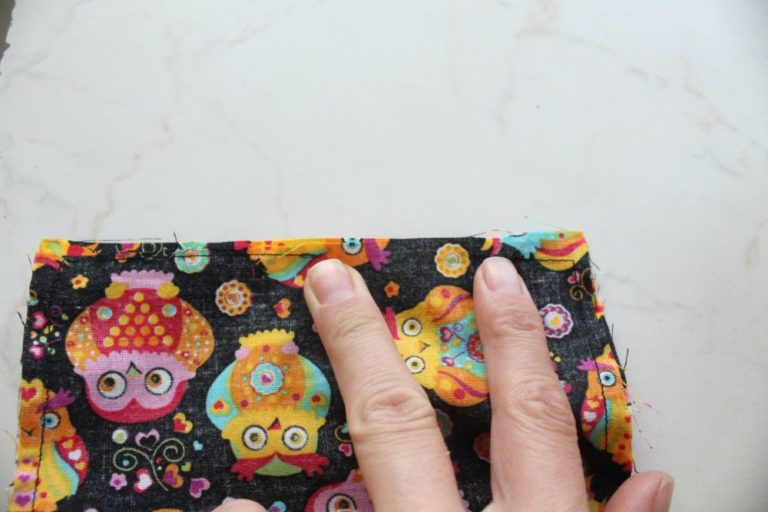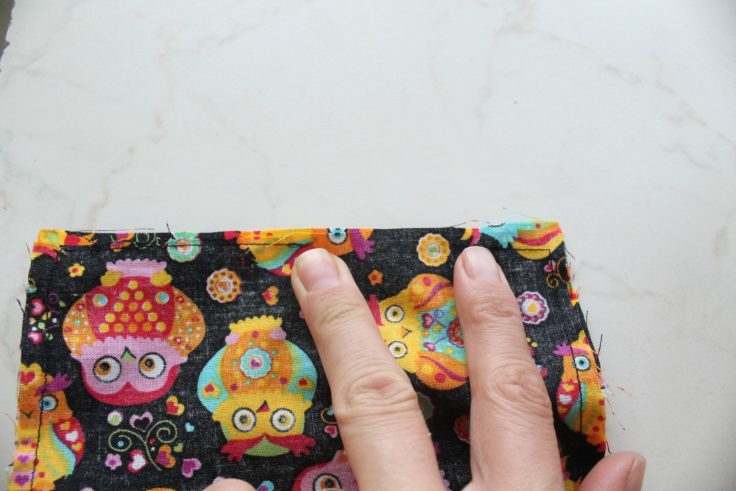 Turn the pouch right side out through the hole and use a point turner to poke the corners out so you have sharp corners.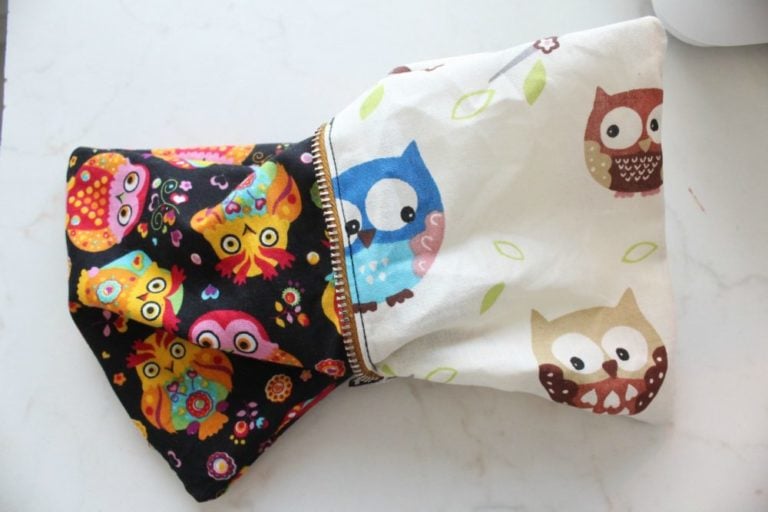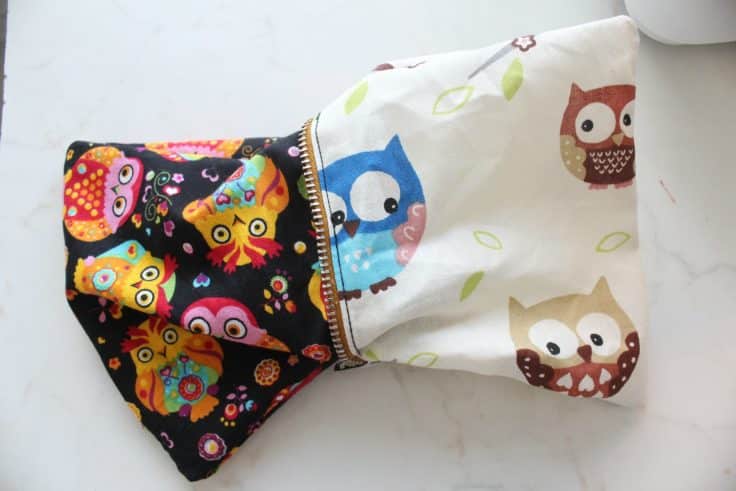 Looking at the gap you left in the lining, fold the seam inside and do a topstitch along the entire seam in the bottom of the lining.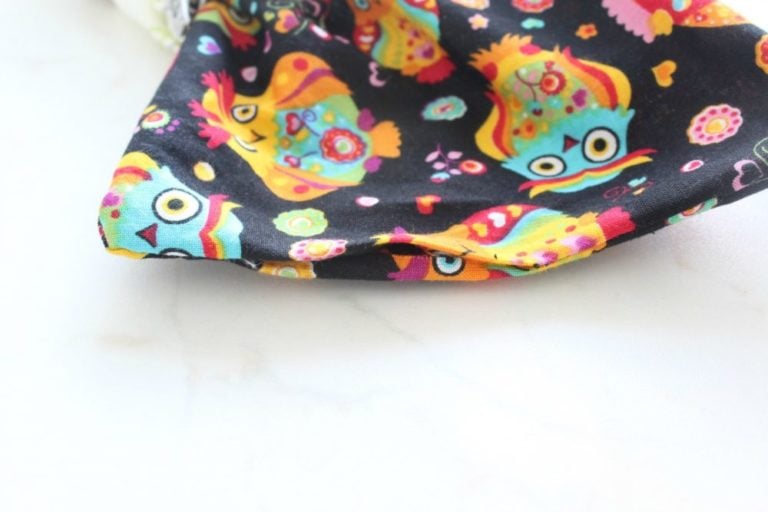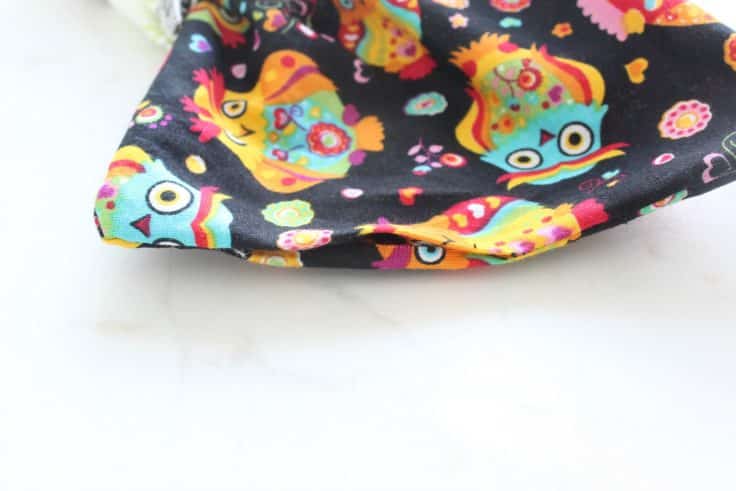 And you're done! Enjoy your adorable little pouch!
Pin to save for later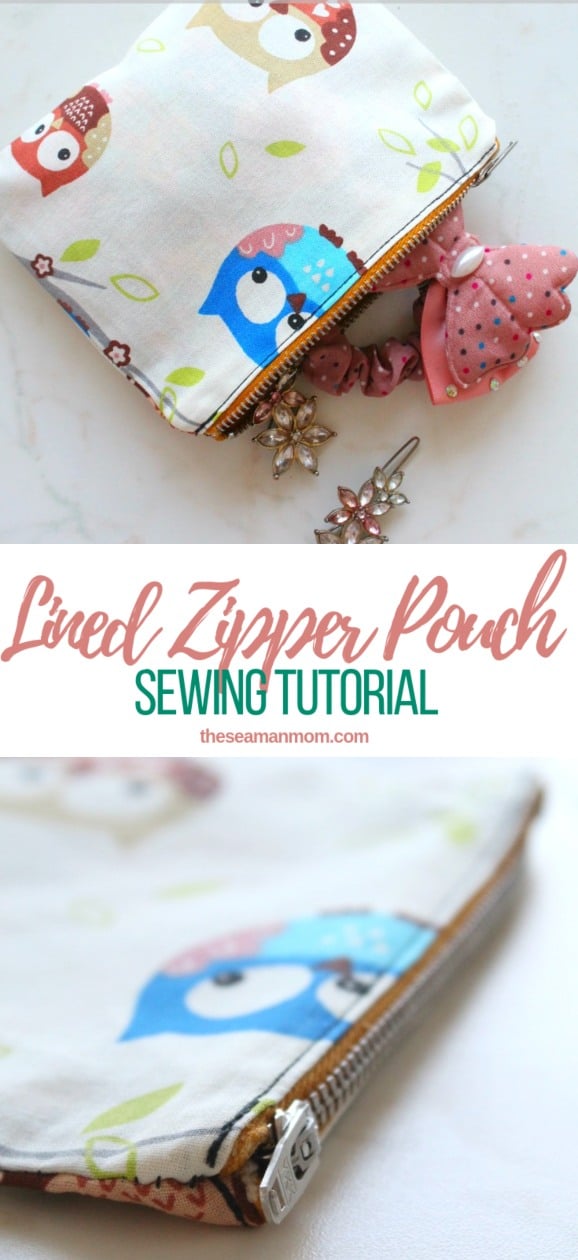 More sewing tutorials you might like: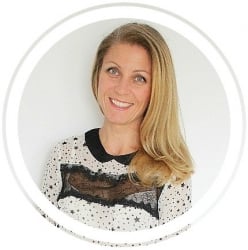 Hi, I'm Petro, author and founder of Easy Peasy Creative Ideas. Sewist, crafter, avid DIY-er, foodie, photographer, homemaker and mommy to one. I'm an expert at coming up with quick, clever sewing tips, recycling crafts and simple, easy recipes! You can find my ideas featured in reputable publications such as Country Living, Good House Keeping, Yahoo News, WikiHow, Shutterfly, Parade, Brit & Co and more. Thanks for stopping by and hope you'll stay for a while, get to know me better and come back another time. Stick around for real fun projects!