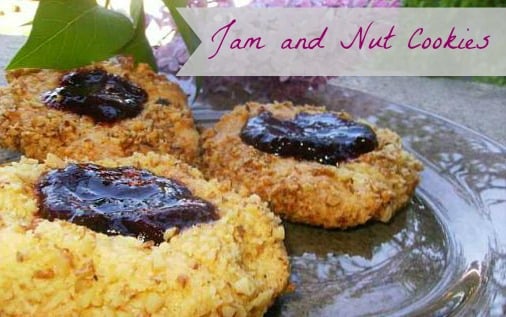 Easy breezy Jam and nut cookies
These cookies are a delicious dessert that can be served any time a year, but it's particularly delightful at Winter time (yeah, I'm ready for chillier temperatures), with a cup of hot tea, milk or coffee.
Are you a big fan of a 5 o'clock tea? Surprise your friends with a special treat! These jam and nut cookies are sure to keep them in awe. If you like a crunchy/soft combination these are the perfect cookies for you.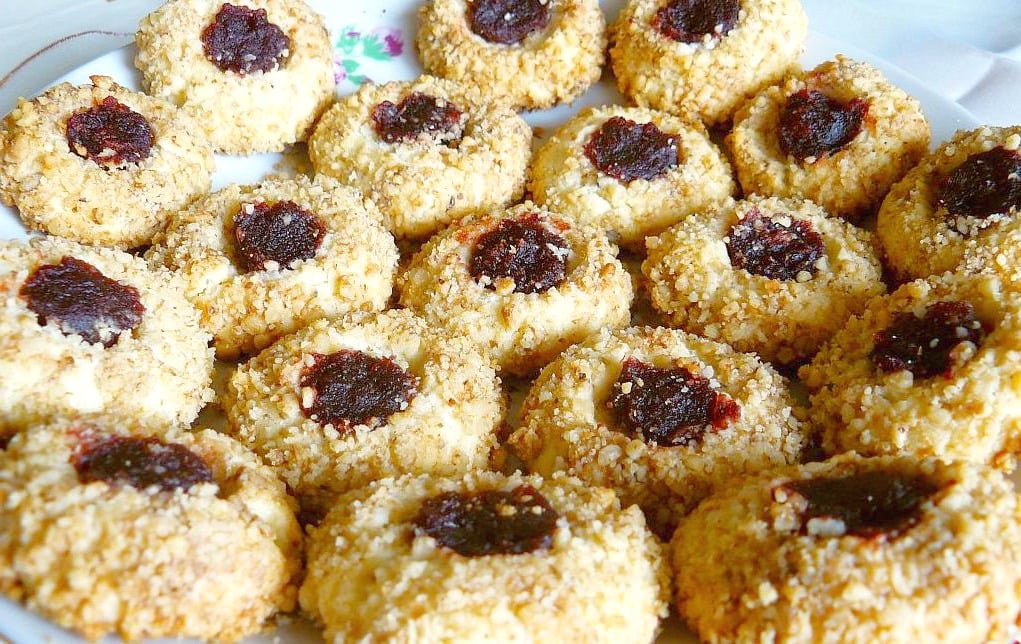 I love it that these cookies are very versatile. You can give them any shape if you have a cookie mold, or simply press them with your palm. You can make a cookie sandwich, sprinkled with nuts and cinnamon if you like. The filling can easily be replaced with a cream of chocolate or vanilla.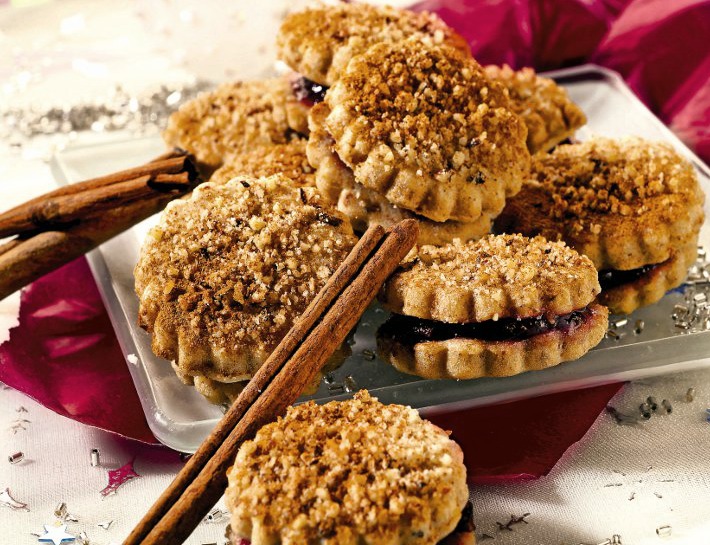 Jam and nut cookies recipe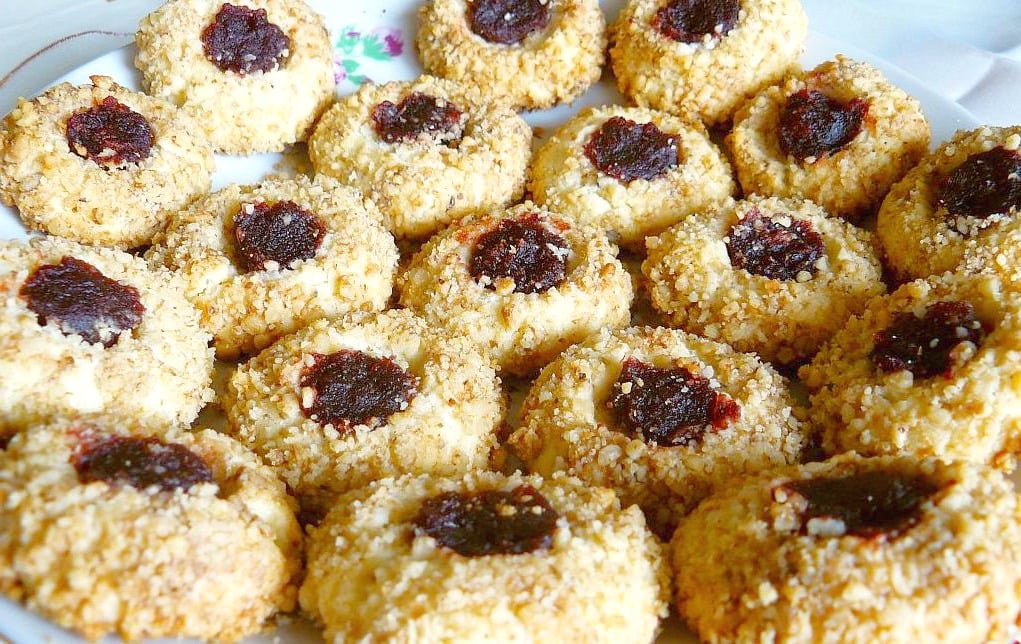 Jam and nut cookies recipe
2014-08-17 07:05:33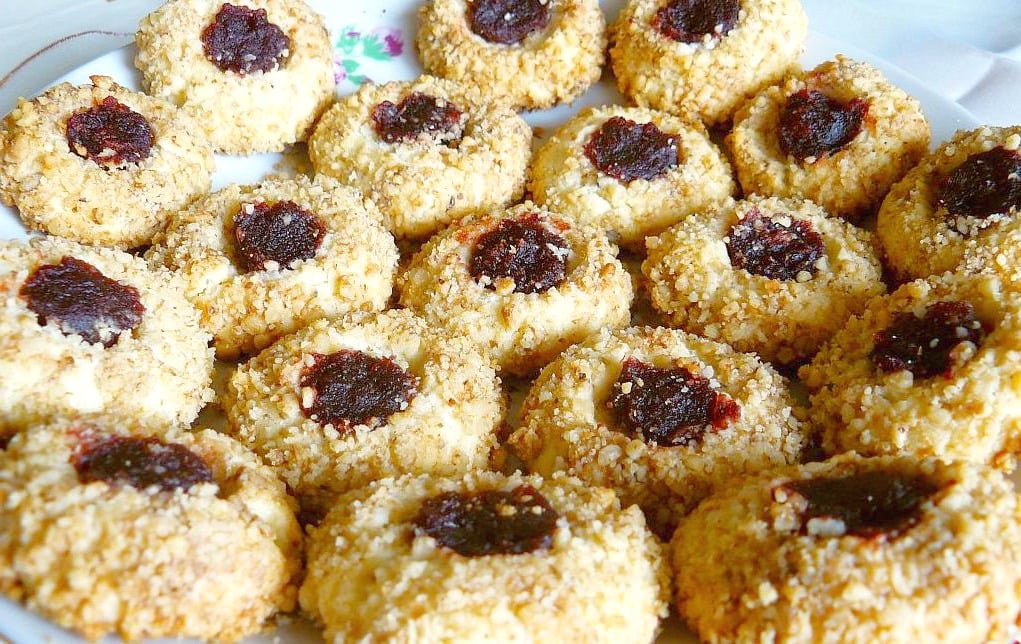 Serves 20
Ingredients
115 g butter at room temperature
10 gr vanilla sugar
1 teaspoon rum flavor
1 egg
130 g flour
1/2 teaspoon salt
80 gr ground nuts/walnuts
Jam (plum / cherry / raspberry)
Instructions
Separate egg yolks from the whites.
Mix butter with sugar and vanilla sugar using an electric device until foamy (2-3 minutes)
Add the egg yolks and rum flavor.
Mix flour with salt and the butter mixture until you get a soft dough.
Cover with plastic foil and refrigerate for 1hr.
The nuts can be baked in a tray lined with baking paper, for 10-15 minutes
Grind or crushing with a knife
Remove the dough from the refrigerator and make balls of about 2-3 cm
Beat egg whites into a foam.
Run the balls through the egg whites foam
Roll them over the nuts
Place in a pan/baking tray lined with baking paper
Slightly press the cookie balls with your palm
Make an hollow with your thumb in the middle of each ball to make room for the jam filling.
Fill with 1/2 teaspoon of jam cookies
Transfer to a preheated oven
Bake for approx. 15 minutes
Notes
These cookies are versatile, they can be shaped into any form if you own a cookie mold or used to make a cookie sandwich.
You can use any kind of jam or even replace the jam with a cream of chocolate or vanilla.
The jam and nuts cookies can be served hot or cold, next to a glass of milk, tea, hot chocolate or even coffee
Creative Homemaking by The Seaman Mom http://theseamanmom.com/