Genius bobbin storage ideas
Article may contain Amazon & affiliate links. As an Amazon Associate I earn from qualifying purchases at no additional cost to you.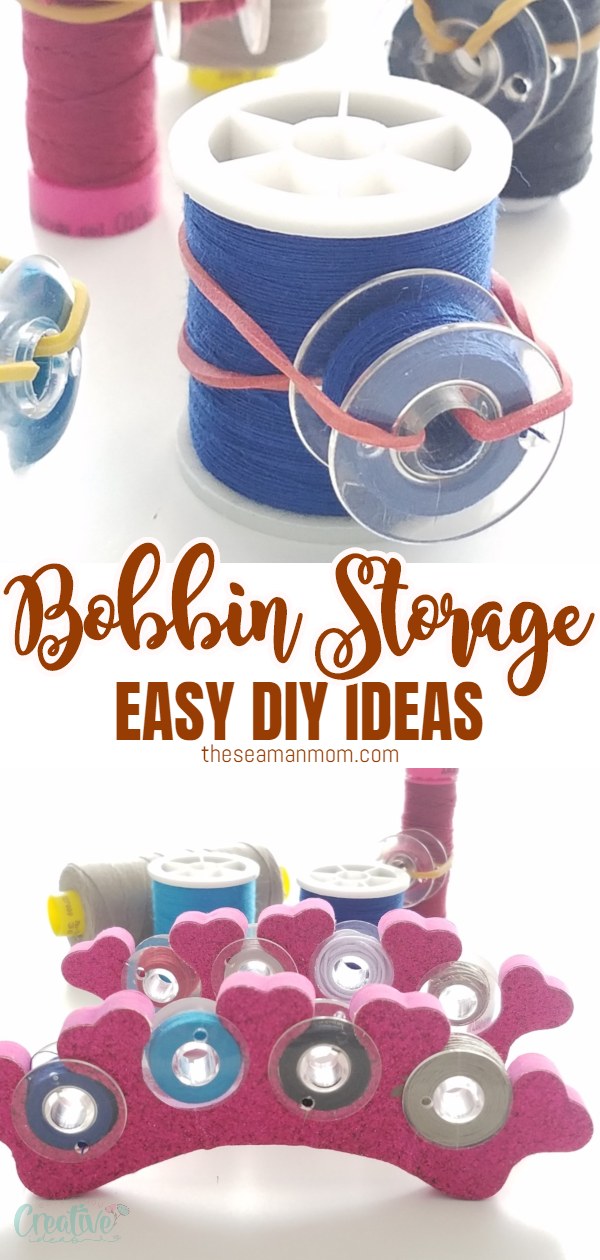 Looking for inspiring ideas for thread and bobbin storage? Storing and organizing your spools and bobbins doesn't have to cost you a thing when you make these bobbin storage ideas yourself!
Bobbin storage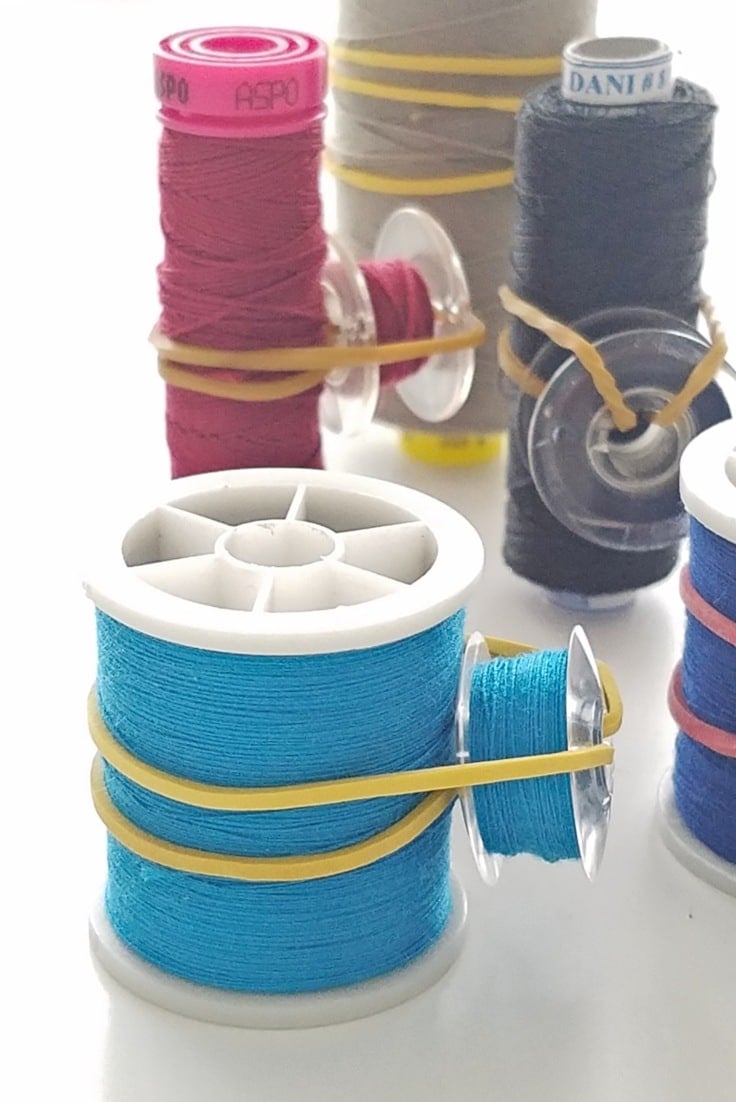 Hey guys! Today's tutorial is gonna be real quick! I just wanted to show you my bobbin storage solutions in case you're dealing with a case of messy sewing room. Trying to keep all those crazy spools and bobbins in check but they keep ending up all tangled messy and hard to use? These bobbin storage tips are real live savers!
---
This blog post has been converted to an optional PDF that's optimized for printing. Find it here. The blog post below is totally free to read! The Optimized for Printing PDF download for $2 is totally optional.
---
I started sewing a few years back and I've had troubles keeping my notions and supplies in order since day 1! Their number keeps growing with every project, so it's a continuous challenge. With so many tools, fabrics, threads and things to work with, finding what you need in a short time can get complicated.
Frugal sewers would use the same bobbins, again and again, winding over an already-wound bobbin, and not keep tens of half-wound bobbins around the whole room. Who knows if we don't need the same color again for a smaller project someday? (never mind we add so many layers, that sometimes we even forget what colors we have, or that the color we need is the last one on the bobbin). For those of us who like to move fast but stay neat and organized, this is not an option. We want to find the right one quickly!
Want more quick sewing tips?
For those of you that are really patient, I heard of some quilters that only use two bobbins for a whole quilt. They are not using thread frugally, but keep one bobbin in the winder, and the other in the machine. When the one in the machine is finished, they just switch places. I think that is a fantastic idea and I've recently started using this tip with great success!
I'm a freak when it comes to keeping my house tidy but I had to relax a bit regarding my sewing room. It was just too much to handle, I had no choice! It's been a learning curve but I think I finally got the hang of it and my sewing room looks much better than before. These bobbin organizer ideas contributed greatly!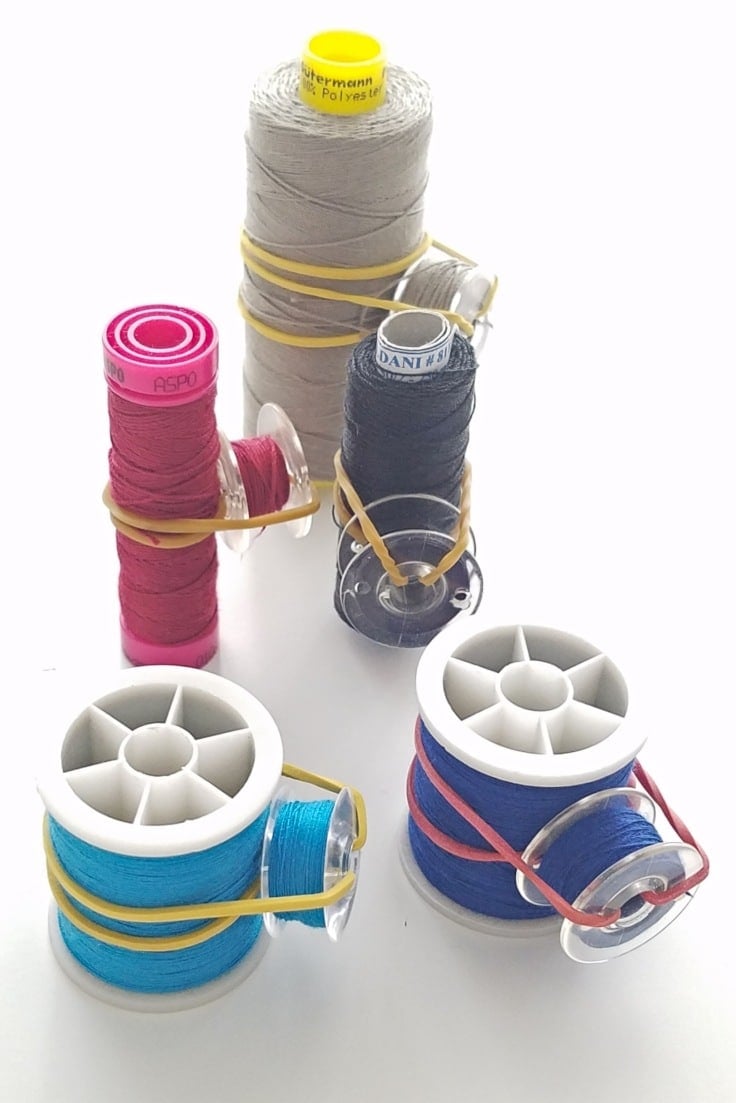 Of course, there are specialized bobbin storage towers, bobbin doughnuts or other dedicated solutions, but you have to go shopping or ordering them online, thus spend more money on them. My DIY bobbin holder solutions in this tutorial are always at hand and cost (almost) nothing.
Most popular sewing projects:
When it comes to bobbin storage I have two main handy solutions. If I know I'll be sewing with the same thread colors for a while, I prepare those spools, I wind the bobbins, sometimes multiple bobbins per spool if the project is big and attach the bobbins to the spool as seen in the photo above. This works great for thread and bobbin storage! I'll highlight the exact steps in the step by step description below.
Most times though I simply use a toe separator to store my bobbins, so this is my second solution. Honestly I prefer this option, to me it not only looks better but the bobbins are tightly stored so the thread never unwinds. The toe separators are cheap and if you find some with glitter as mine, they'll add a nice dose of cuteness to your sewing room.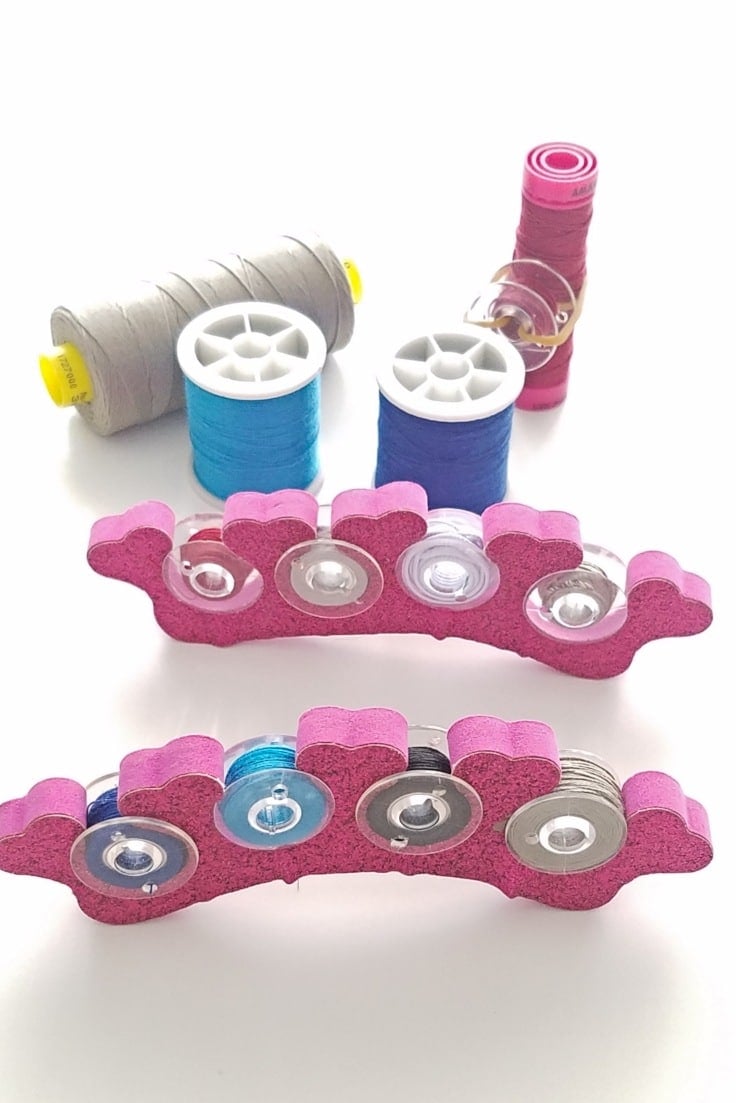 How to keep bobbin thread from unraveling
In addition to the toe separator idea which is great at keeping the thread ends under control, I have a couple of "tricks" to keep my bobbins from unraveling when not in use.
I spray a little hair spray on my fingers and smooth out the thread ends in the bobbin. Once they're all tamed, I spray a little more hair spray directly onto the thread ends then I allow the spray to dry before storing the bobbins.
I get a plastic or rubber tube (a large straw would work too) and cut a bit of the end. Then I cut this piece in half, height-wise and insert the halves into the bobbin as stoppers for the thread ends.
---