The best 36 SEWING FOR KIDS ideas to make
Article may contain Amazon & affiliate links. As an Amazon Associate I earn from qualifying purchases at no additional cost to you.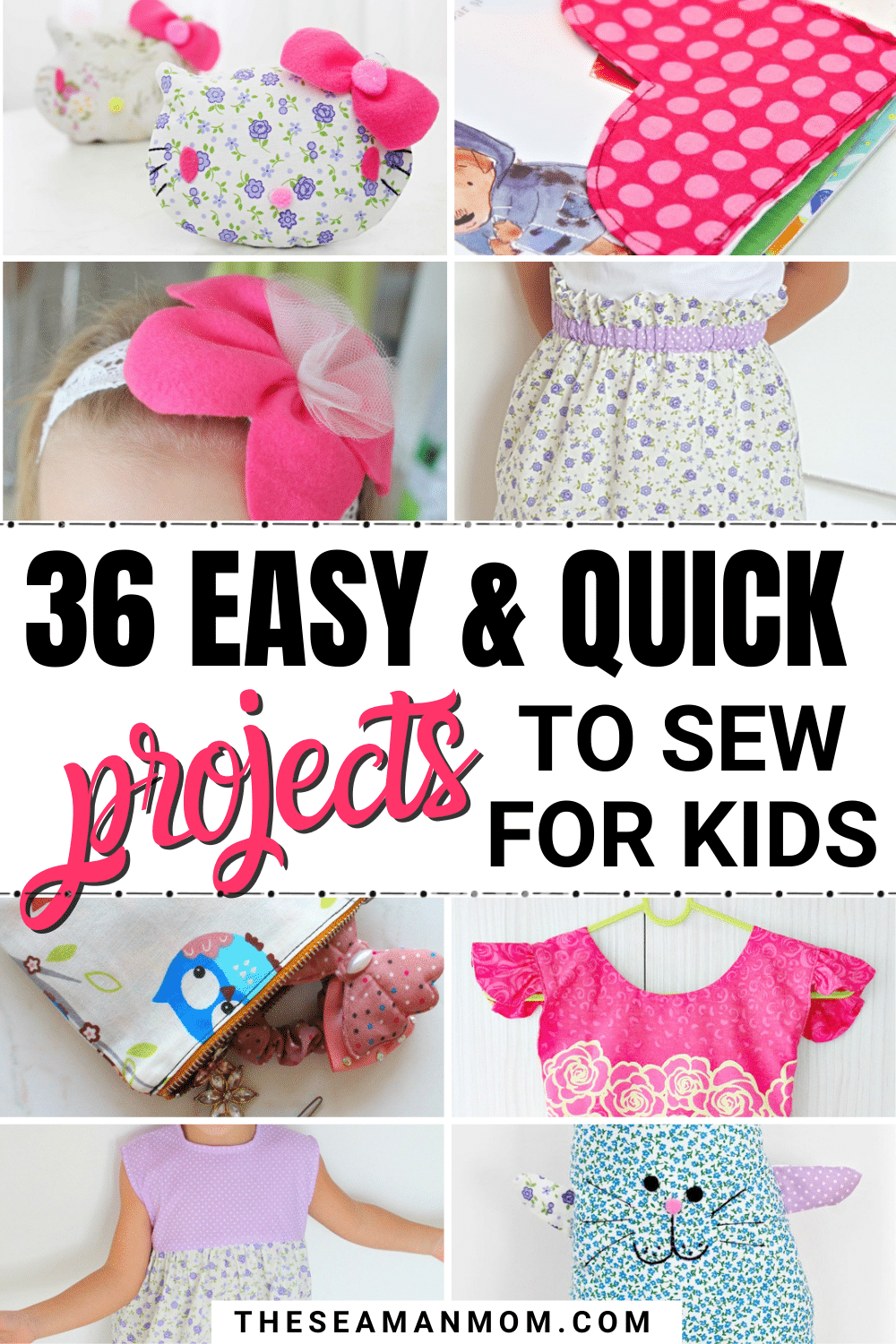 Need sewing projects for kids to make this summer? Sewing for kids is not only easy and quick but rewarding too! These awesome kids sewing ideas will help you keep your sewing skills in top shape even in busy times, like school breaks!
Sewing for kids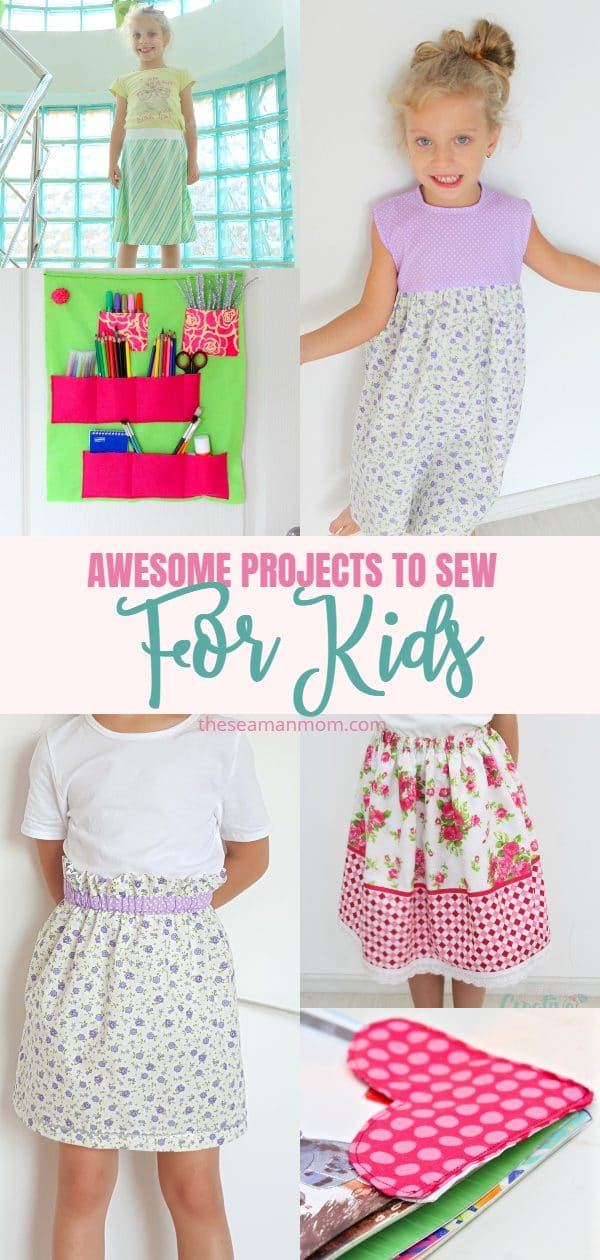 Whether you are a beginner or have been sewing for a while, sewing for children is one of the most pleasant and rewarding activities! But if you are a parent or have kids living in the same household with you, even easy and quick projects like sewing for kids can be a daunting task.
Kids need constant attention and supervision and this pretty much takes up almost all of your time, am I right? Things get even more challenging during school breaks, there's practically no free time at all! At least that's how things are around here, mainly because the moment I became a mother I decided my little angle will always be my one and only priority! That's why you won't see here, on the site as many sewing projects as I would love to share with you. Ellie is my entire world and everything else falls to second place!
But sometimes I really, really miss sewing and try and find ways to fit some sewing time in my busy schedule. And that's why most of these projects for sewing for kids are easy peasy, simple and quick! These are super quick and simple to make, you can easily tackle them down this summer, possibly during nap time.
Sewing ideas for kids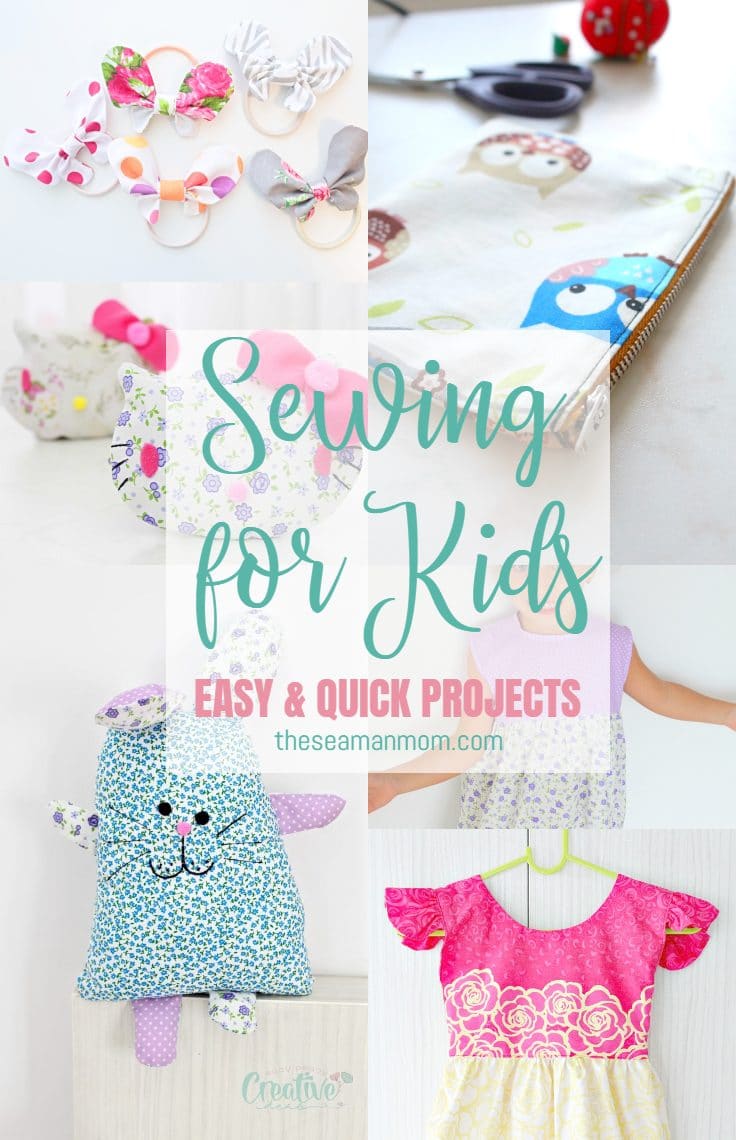 ---
Sewing clothes
---
Skirts
Making a pleated skirt cannot be easier with this box pleated skirt! No box pleated skirt pattern needed and this skirt project is suitable for sewers of all levels!
This adorable baby romper pattern has a front and back yoke, with gathered bubble bottom. I used snaps to close the back and the diaper area. You can add optional ruffles on the front to make this outfit extra yummy.
Do you love the look of those twirly full circle skirts? Here's how to make a circle skirt pattern for yourself or your little girl, without having to insert a zipper.
A kids apron pattern is a great gift idea, so easy to make and comes together in no time! This reversible apron pattern looks so adorable!
Need an easy sew skirt that you can whip up in less than an hour? This reversible skirt tutorial makes a gorgeous elastic waist skirt that is simple to make and comfortable to wear!
Wanna make a super easy but comfy and cute skirt? This paper bag skirt is just perfect for you! Great beginners project if you're looking for sewing ideas for beginners!
Need a quick summer skirt that's easy to make, comfortable to wear and looks adorable? Make this easy peasy diy a line skirt that won't take longer than 10 minutes to complete!
Dresses & tops
This is crazy easy and super cute! Sew an adorable, sweet dress for a little girl using this easy to follow, step by step flutter sleeve dress pattern.
This ultimate pillowcase dress is the perfect project for beginner sewers! Make an easy to sew, cute and comfy pillowcase dress!
Are you looking for a simple but chic and comfortable kids dress pattern? This two toned and sleeveless A line dress pattern with added ribbon details is a great project to sew for a little miss!
This adorable beach dress It is super easy to do, taking less than an hour and all you need is some pretty cotton fabric.
Make a simple but beautiful summer dress for a little girl with this easy to follow and free gathered dress sewing pattern for little girls. Simple dress pattern for beginners!
Peasant tops are a staple in every girls wardrobe along with peasant dresses! Such easy sewing patterns for beginners and look simply adorable on little ones.
This adorable free Apron Pattern is perfect for all your summer baking plans! Available in 3 sizes, toddler, twin & adult.
---
Sewing bags
---
This Hello Kitty coin purse is the perfect handmade gift that won't take up a lot of time to make and looks incredibly cute!
These fun Reusable Snack Bags are perfect for lunches, road trips, and more. The beauty of these lunch bags is that they can be totally customized to fit your needs. The interior is lined with oilcloth for easy clean up.
This crossbody bag pattern makes a very simple and easy to make round bag, perfect for carrying toys, small coloring books, pens & crayons etc
Does you child need a little bag to carry her snack and water bottle in on days out? This lovely toddler bag is reversible, fun and easy to make!
Make a bunch of cute and practical pouches with this easy and simple lined zippered pouch tutorial! This DIY pouch is a great way for beginners to practice their zipper skills on.
This quilted handbag is another quick and easy beginner project, especially if you plan on taking up quilting and didn't have the courage to do so yet. Great project for beginner quilters!
Tablets and e-readers are becoming super popular lately, but most of them don't come with any sort of protection. This is why a tablet case is a really useful accessory for everyone owning such a gadget.
In this simple tutorial I am going to show you a simple round pencil case pattern to make in no-time and uses leftover fabric. Perfect for back to school!
---
Sewing accessories & toys
---
Hair accessories
These butterfly hair bows are so simple to make with fabric scraps and are perfect for girls of all ages!
This adorable bunny hair clip is fun, quick to make and great addition to a festive outfit!
Lace can prettify almost anything so why not make your own lovely headband in just a few easy steps with this 15 minutes lace headband tutorial.
Girls love cute and colored hair accessories, so these knotted hair ties will be great for your little one! In about an hour, you will get a complete set of colored hair ties to accessorize your daughter's wardrobe.
Toys
That wonderful crinkling and crackling sound is simply fascinating for the little ears!These sensory toys are so simple to make and only take about 15 minutes to make a couple of them.
Cleaning up the toys, Lego in particular can be a pain! With this bag that doubles as a play mat, clean up is a lot easier. The bag cinches up into a great toy storage container, and it holds a lot of toys. This project is easy and is perfect for gifts!
This crazy easy free pattern will fit most standard sized dolls, so this is perfect to sew up as a gift, when you don't have a doll to measure.
Other accessories
A set of these adorable baby bibs would make the perfect handmade gift every new mom would love to have! These lovely bibs are perfect to have on hand for every occasion and are available in three sizes, from newborns to 4 years.
This easy bunny sewing pattern makes an adorable stuffed bunny that could play as a softie for smaller kids or as a decorative bunny pillow for older ones.
Sewing bookmarks has never been more enjoyable with these fabric bookmarks in a heart shape!
If you have small children, you know how they get their little feet all over the back of the front seats when they get in and out of the car! Keep the back of your seats clean and footprint free with this easy
This felt organizer is the perfect way to get your life back in order! Be ready for any occasion and tidy up with this amazing school or office supplies felt organizer sewing tutorial!car seat protector!
This bunny sleeping mask is not only super adorable but easy and fun to make too! Ready in about half an hour, this cute sleep mask is a great gift idea!
This funky DIY bean bag chair is so comfy and easy to make, you'll want to sew one for each member of your family!
I hope you liked these sewing for kids projects and found a few to sew this summer! I'd love to know your thoughts so please leave a comment below and don't forget to rate this roundup! Thanks!
Pin to save for later